Oatmeal Butterscotch Cookies are a delicious fall favorite, made with chewy oats and studded with creamy bits of butterscotch. This recipe for oatmeal scotchies is incredible, every cookie is buttery, well spiced and the texture is simply amazing.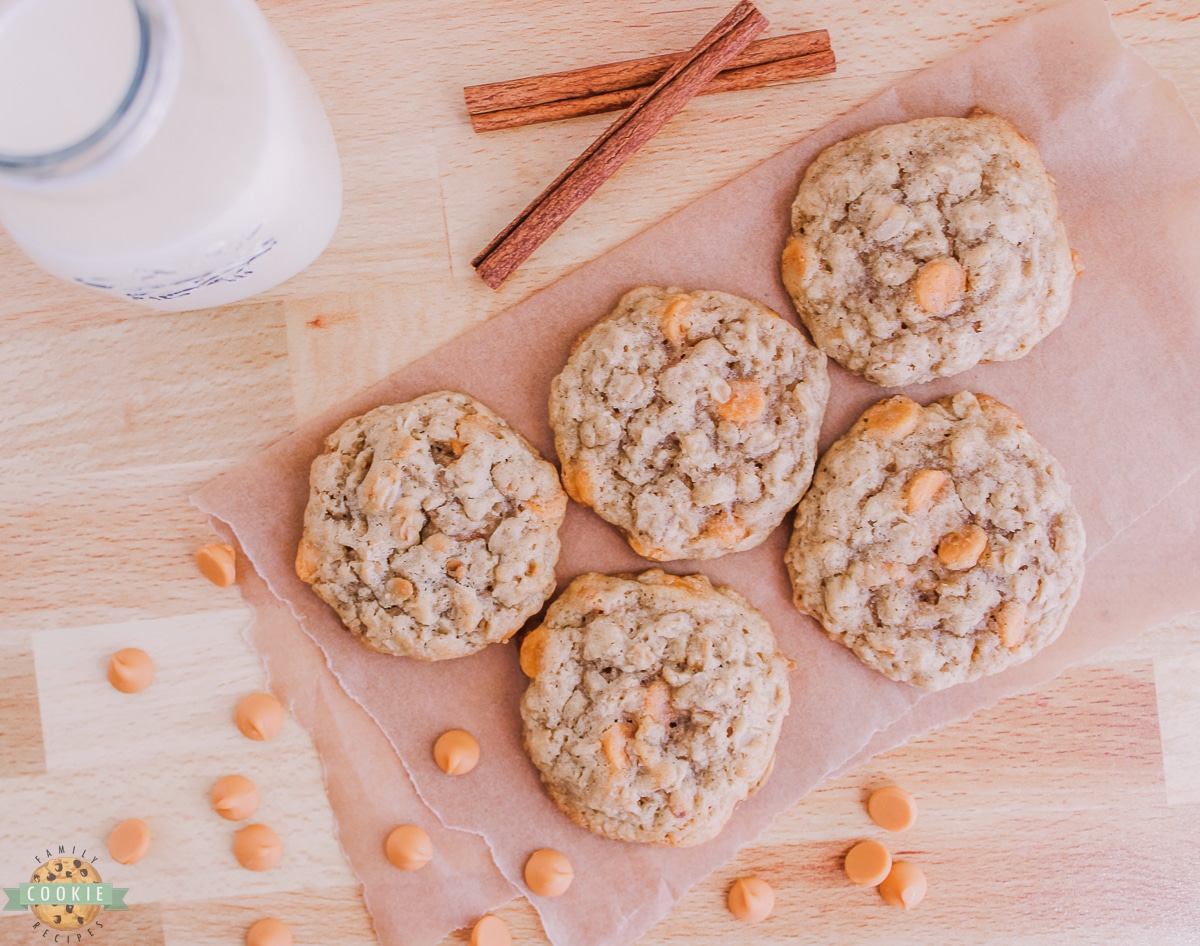 Soft, chewy, sweet, and the crisp edge on every cookie make this oatmeal scotchies recipe worth coming back to every time. Every bite of these butterscotch oatmeal cookies will have you craving the Autumn weather, cozy sweaters, and falling leaves.
Oatmeal Scotchie Cookies
Oatmeal cookies are a traditional and classic cookie flavor, and these cookies (or a version of them) have been around since the 1930's. A Toll House worker created a batch of the first Oatmeal scotchies and the rest is history.
Since then, oatmeal butterscotch chip cookies have had a special place in all of our hearts, and it is not hard to see why. This easy to make cookie recipe has amazing flavor and texture, it will quickly become a favorite in your household too.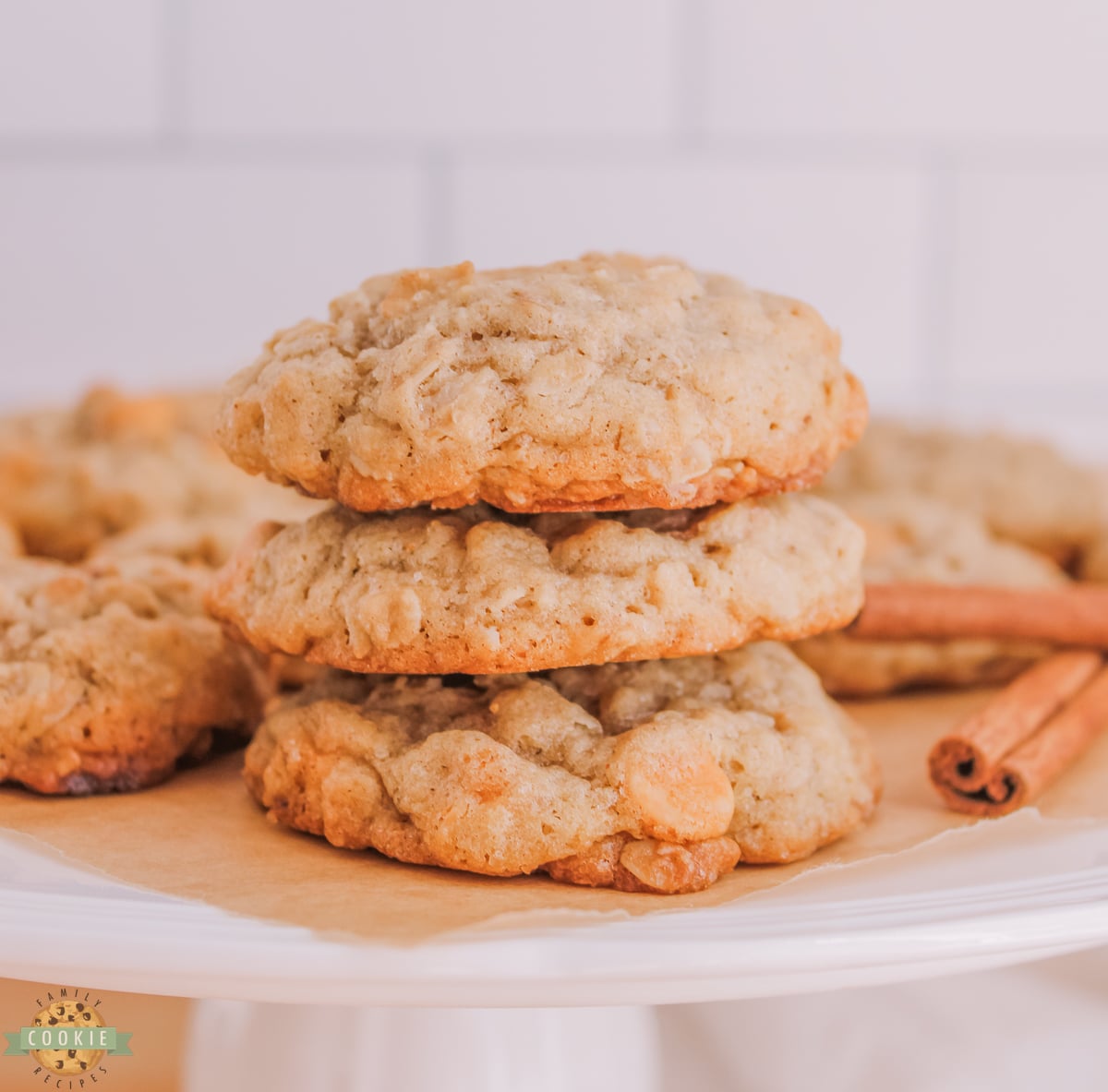 Why we think you will love these Butterscotch Cookies
In case you need more convincing to give this cookie recipe a try, here are a few more reasons to whip up a batch today.
No chilling is required. This recipe is pretty quick, assuming that you already have softened butter ready to go (if not, follow the speedy butter softening tips below). With no need to wait and chill the dough, you can have warm cookies ready to enjoy in minutes instead of hours.
Minimal steps to follow. This is a great recipe for anyone wanting to put in the minimal effort or work because it is as easy as stirring, shaping, and baking.
Basic kitchen ingredients. If you already have a bag of butterscotch morsels on hand, you may already have most if not all of the other ingredients on hand. Flour, cinnamon, sugar, butter, etc. We use very simple and easy to find kitchen ingredients to make this basic cookie recipe.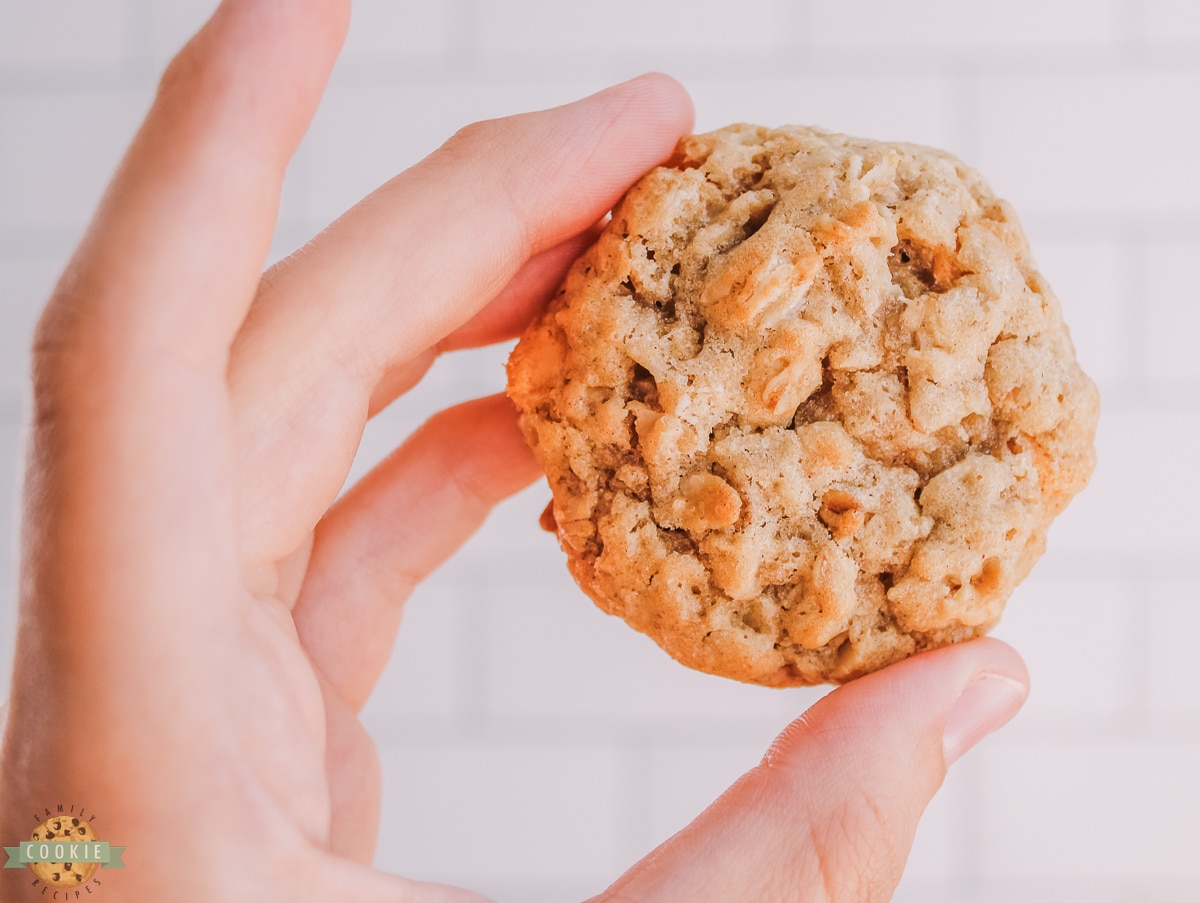 Oatmeal Butterscotch Cookie Ingredients
Flour: You will need 2 cups of flour for the base of this cookie recipe.
Salt: Add in 1 teaspoon of salt to help balance all the amazing flavors in this treat.
Baking soda: Adding 1 teaspoon of baking soda will help you get cookies that puff up and rise as they bake.
Cinnamon: For added warmth and spice, stir in 1/2 teaspoon of ground cinnamon.
Butter: You will need 1 cup (two sticks) of softened butter. Room temp is ideal but too warm will cause the cookies to spread, and too cold will give you thicker cookies.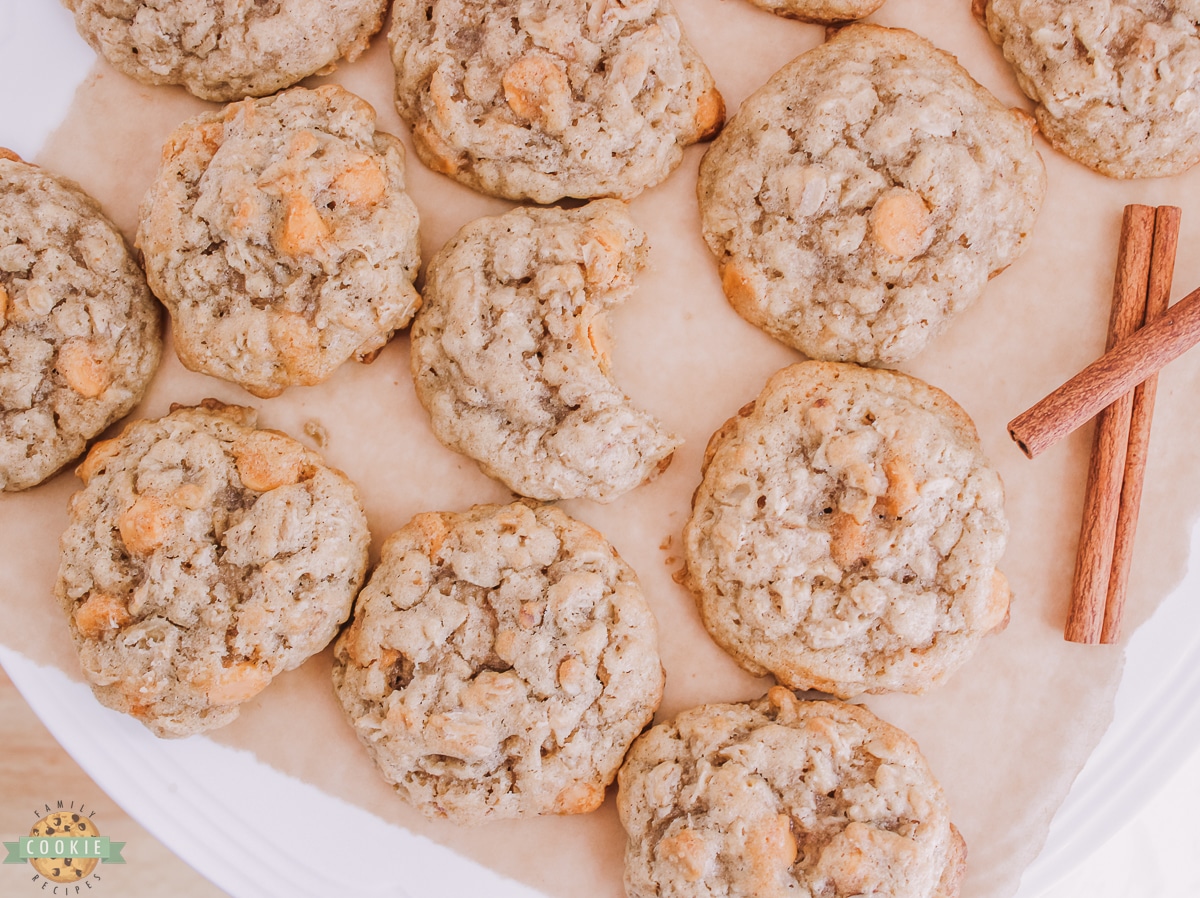 Sugars: Use 3/4 cups of each granulated sugar and brown sugar. This gives you a more tender cookie and one that is packed with flavor thanks to the brown sugar's molasses.
Eggs: Add in 2 eggs to help bind the dough together well.
Vanilla extract: Add in 1 teaspoon of vanilla extract for added flavor.
Oats: For a great chewy texture, you will need 3 cups of rolled oats.
Butterscotch chips: These cookies wouldn't be the same without 1 cup of butterscotch chips in the mix.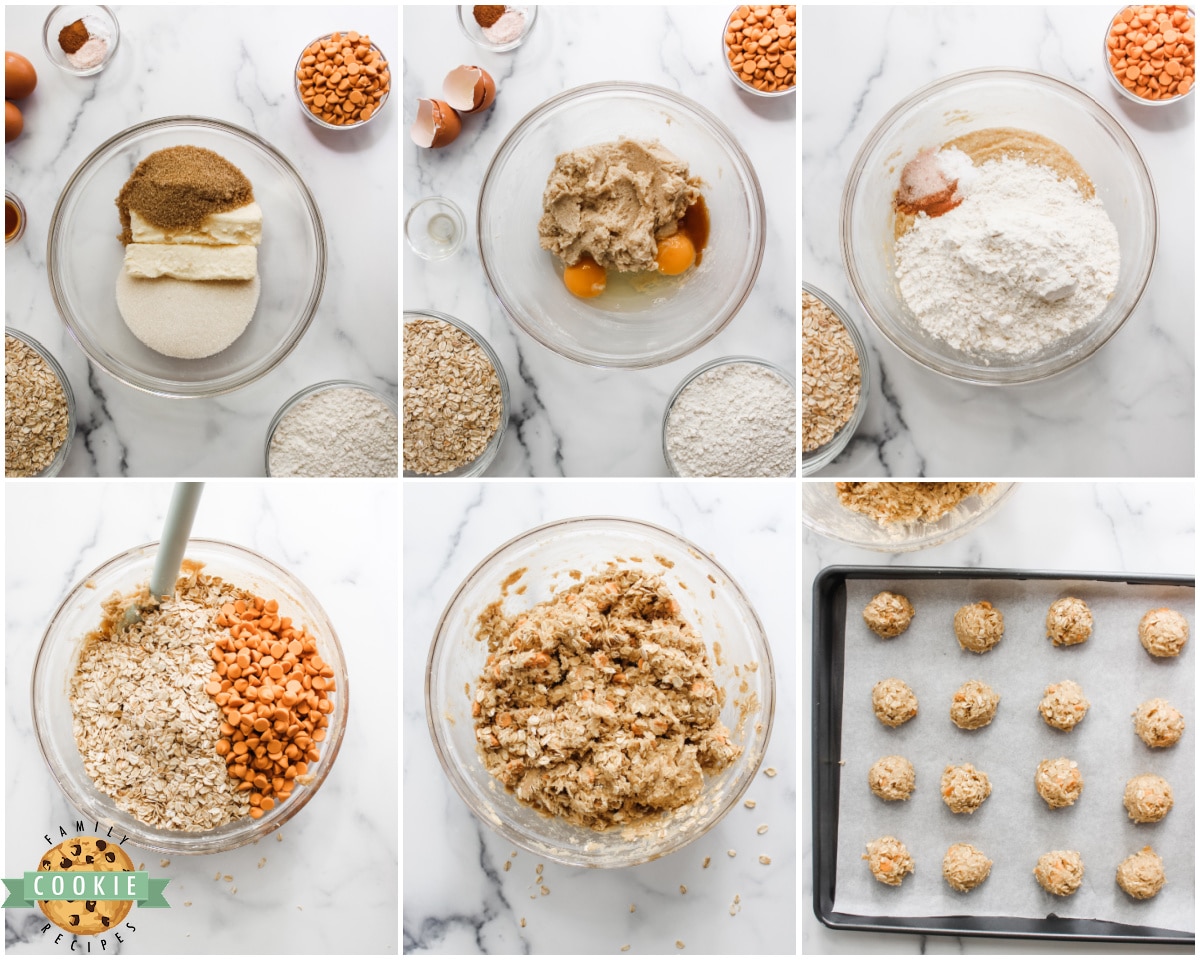 How to Make Oatmeal Butterscotch Cookies
Prep
Preheat your oven to 350 degrees F and line a baking sheet with parchment paper, silicon mat or spray with non-stick cooking spray. Set it aside.
Dough
In a large mixing bowl, using an electric mixer, cream together the butter and both the white and brown sugar, mixing until combined. Then add in the eggs and vanilla extract and mix again.
Next, add in the flour, salt, baking soda, and cinnamon until well combined.
Lastly, fold in the oats and butterscotch chips until just combined.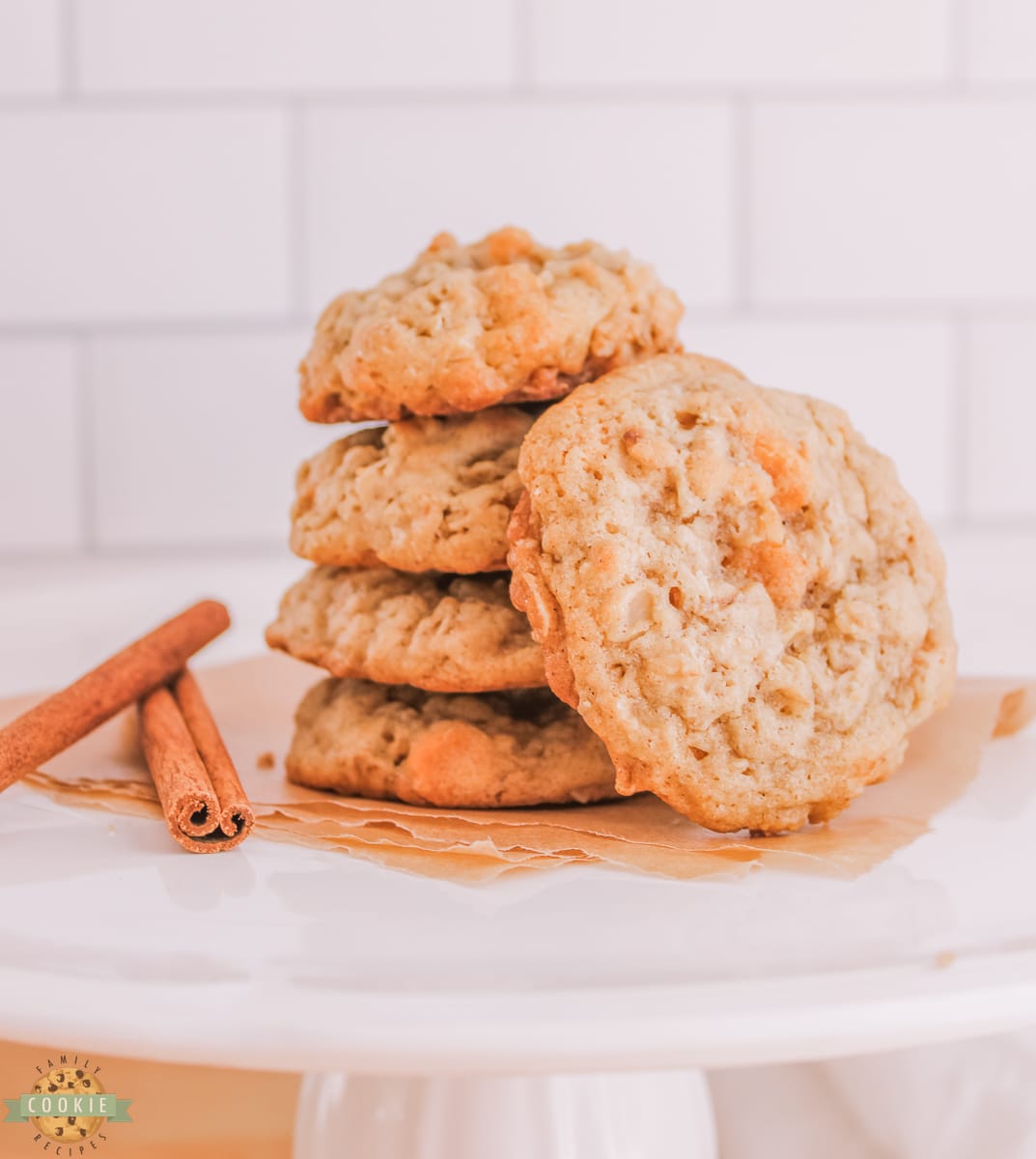 Bake
Proceed to roll the dough into 1-inch-sized balls or use a cookie scoop, place the dough onto the prepared baking sheet.
Place the baking sheet into the preheated oven and bake for 9-11 minutes. Let them cool for 5-10 minutes after baking is complete.
Serve immediately and enjoy!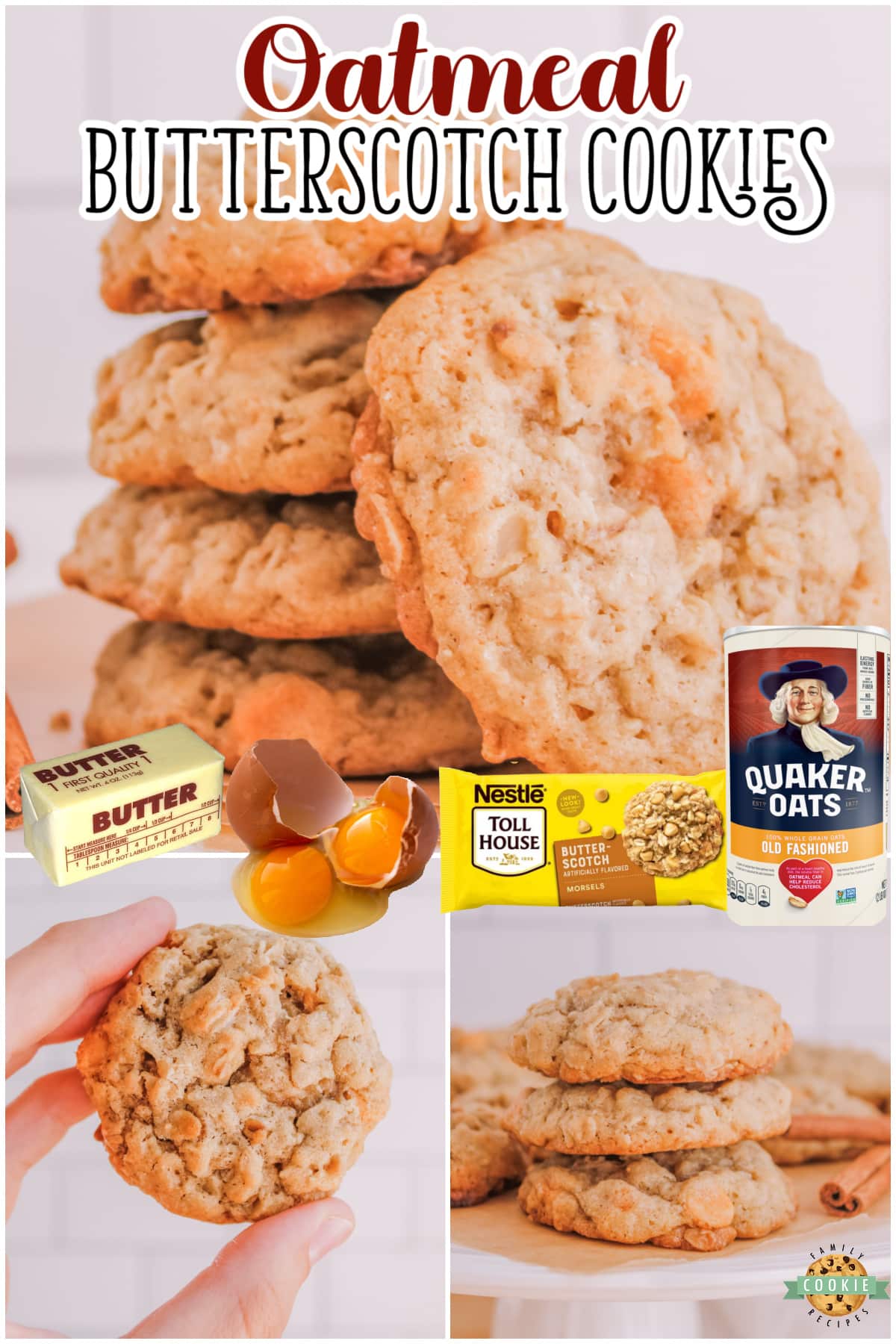 What is the best way to soften butter?
When you want softened or room temperature butter (65 degrees F) and don't have any on hand, follow these simple tips for warming it up quickly without overheating and melting the butter. Softened butter is needed to incorporate with the dough for a seamless smooth consistency so getting your butter to the proper temp is important.
Here are some ways to warm up your cold stick of butter:
Let it sit on the counter for 1 hour prior to making your cookie recipe.
Slice the butter into tablespoon sized pieces and place into a warmed glass for 10-15 minutes. A glass right out of the dishwasher or a measuring glass warmed with water in the microwave (before disposing of the water) are both great options.
Warm a small clean kitchen towel and wrap your sticks of butter (in the wrappers) for a few minutes.
I like to use a warmed tall drinking glass and place the wrapped sticks of butter in the cup before turning it over on the counter for several minutes.
How long is
oatmeal butterscotch cookie recipe

good for?

These cookies can be kept stored in an airtight container for up to 3 to 5 days. Keep in mind that they will taste better when fresher as cookies tend to go stale after a few days. For best results, keep the cookies at room temperature.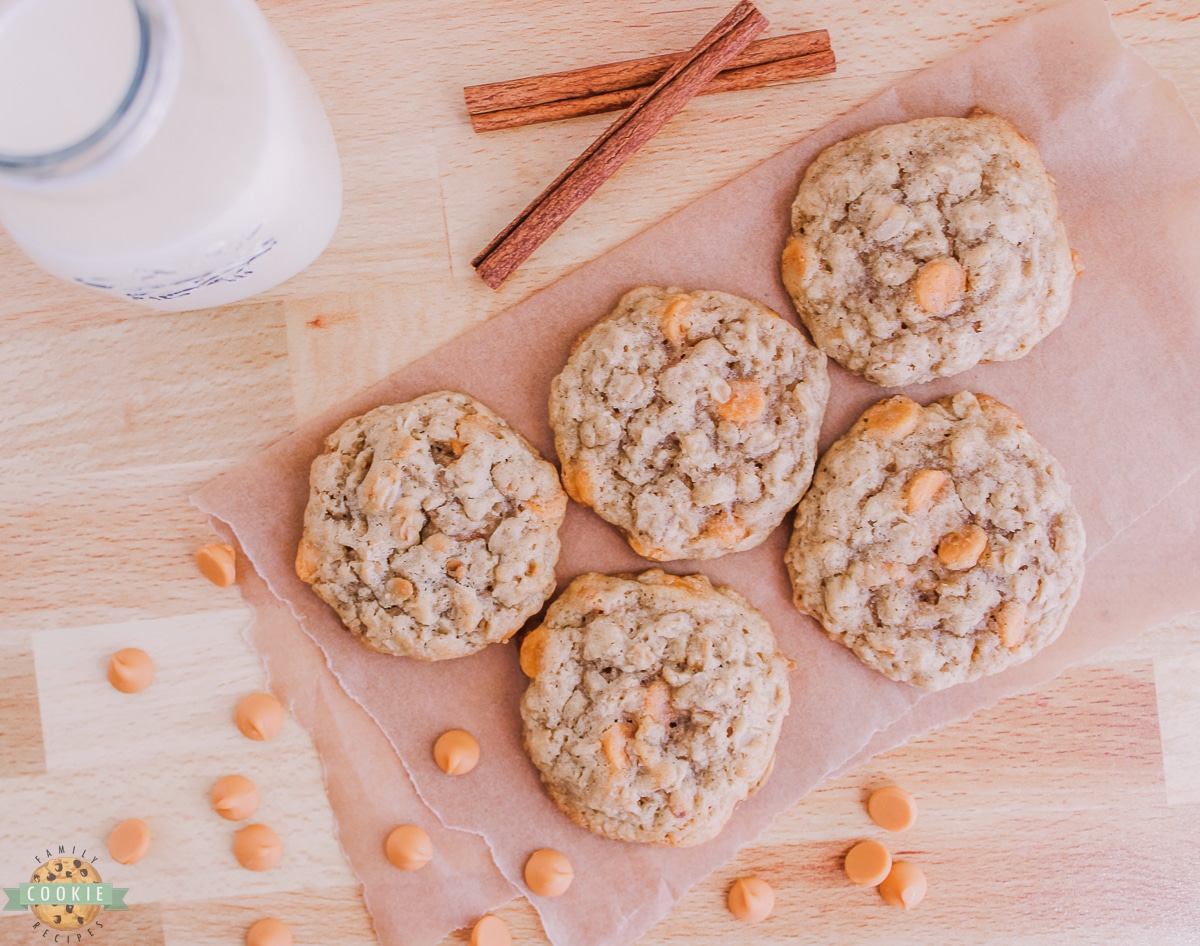 Can I freeze oatmeal scotchies?
Yes, these cookies can be frozen for up to 3 months! To do this, simply allow the cookies to cool completely before placing them into a freezer-friendly airtight container. Then freeze them until ready to eat. Simply place the cookies on the counter for a few minutes to allow them to soften enough to bite into and enjoy.
Can I use a different type of oats?
For this recipe, we really urge you to use rolled oats as they will provide the best texture without being too soft or too chewy. Quick cooking oats will give you a much softer cookie, and steel cut or whole oats will make the cookies much chewier.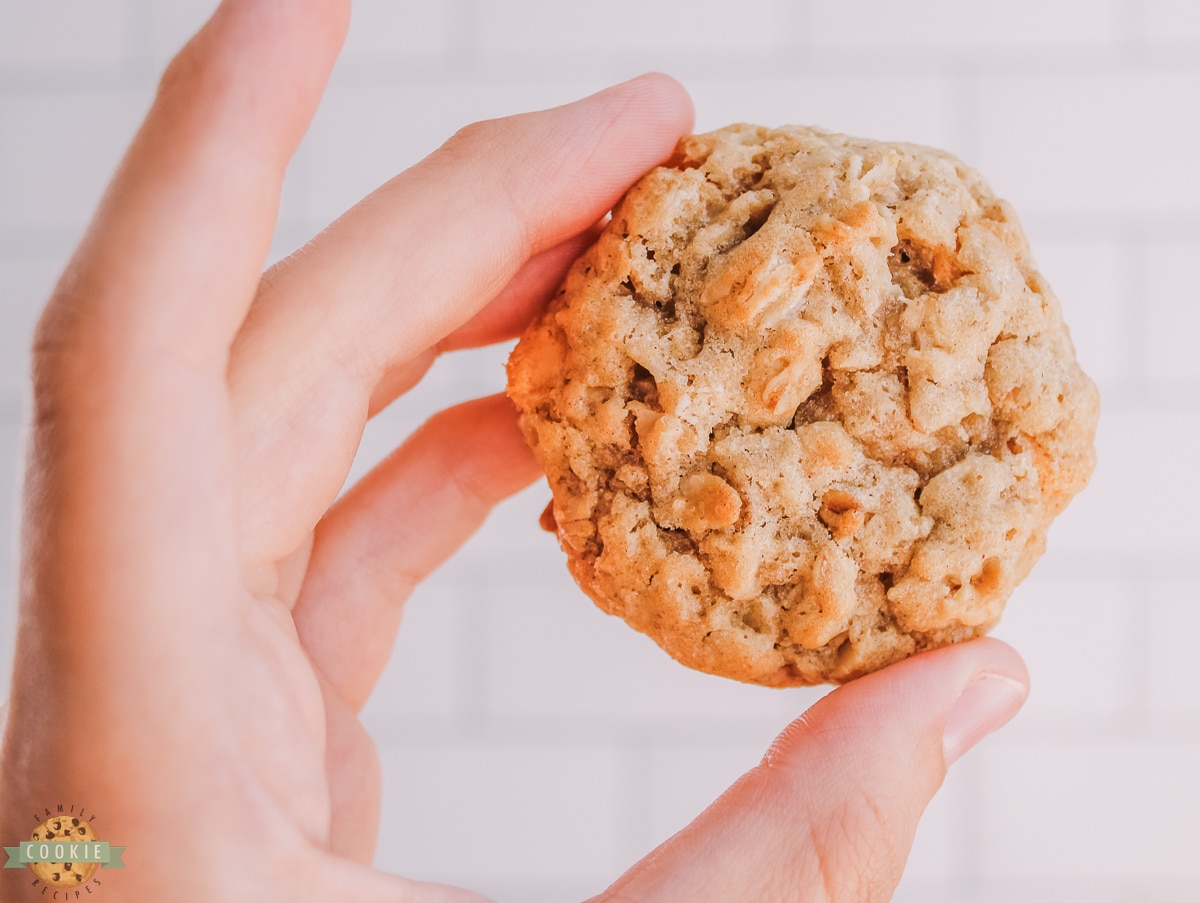 Oatmeal Butterscotch Cookies are a popular fall favorite, made with tasty oats and loaded with bits of butterscotch. This recipe for oatmeal scotchies is delightful, each cookie is buttery, well spiced and the texture is amazing.