Applesauce oatmeal cookies are packed with cinnamon spice, raisins, and chopped pecans in every bite! Soft, chewy oatmeal cookies with a wonderful flavor combination you're going to love!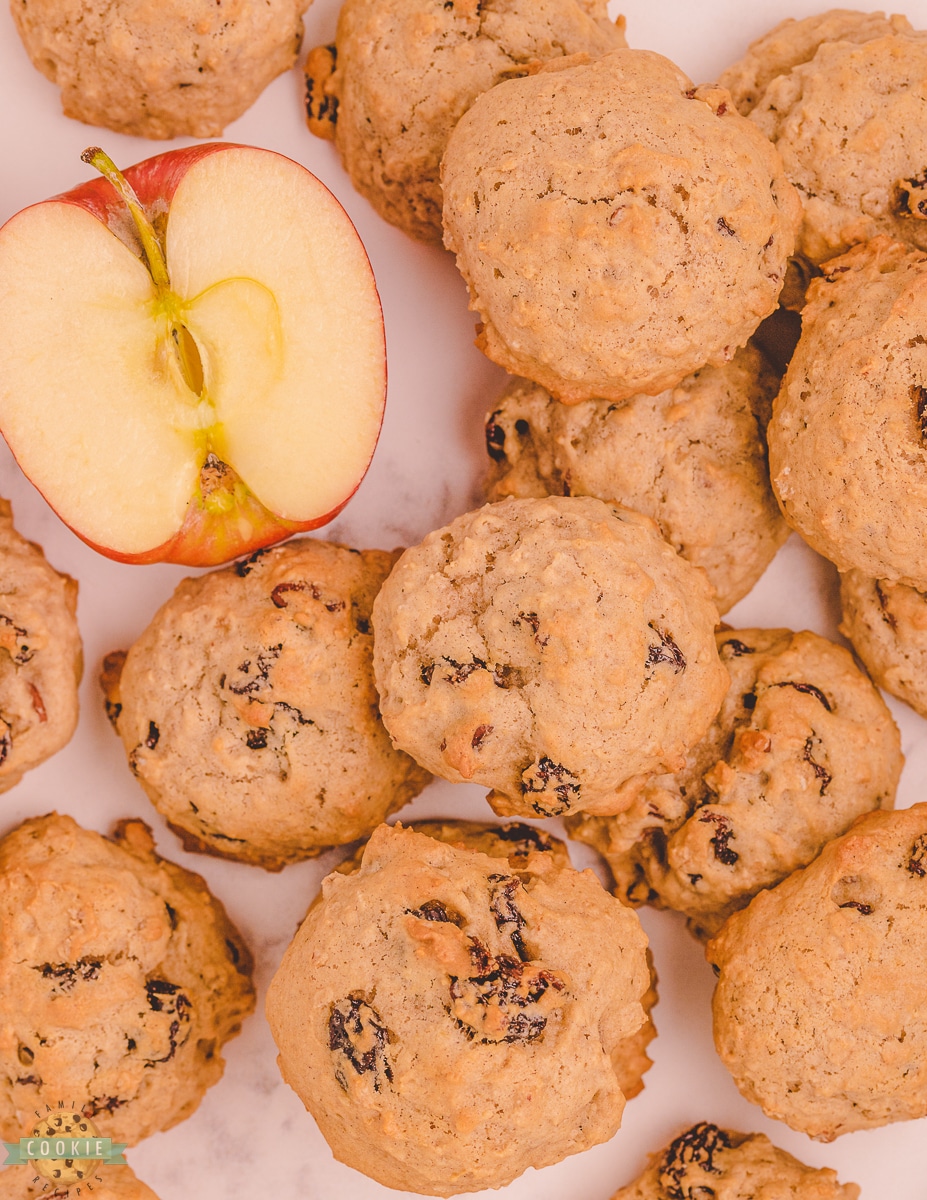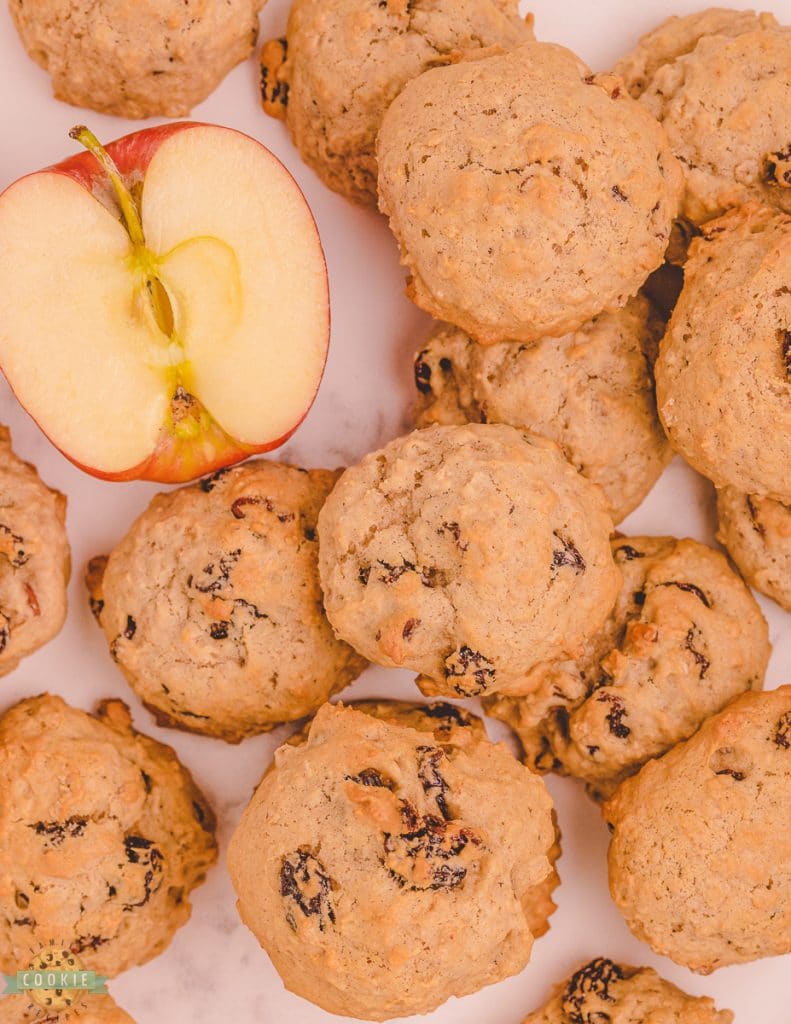 Making these oatmeal raisin cookies with applesauce gives us a softer and more tender cookie while adding in a little nutritional boost. You may even argue that these can be a great breakfast cookie! Who wouldn't want a cookie for breakfast with all of the flavors we get, these cookies would be ideal during the autumn months.
Oatmeal Cookies Made With Applesauce
These oatmeal and applesauce cookies have a wonderful depth of flavor you won't find in any other cookies. You will love how easy they are to make and how wonderful they taste because that distinct apple flavor in every bite is hard to forget.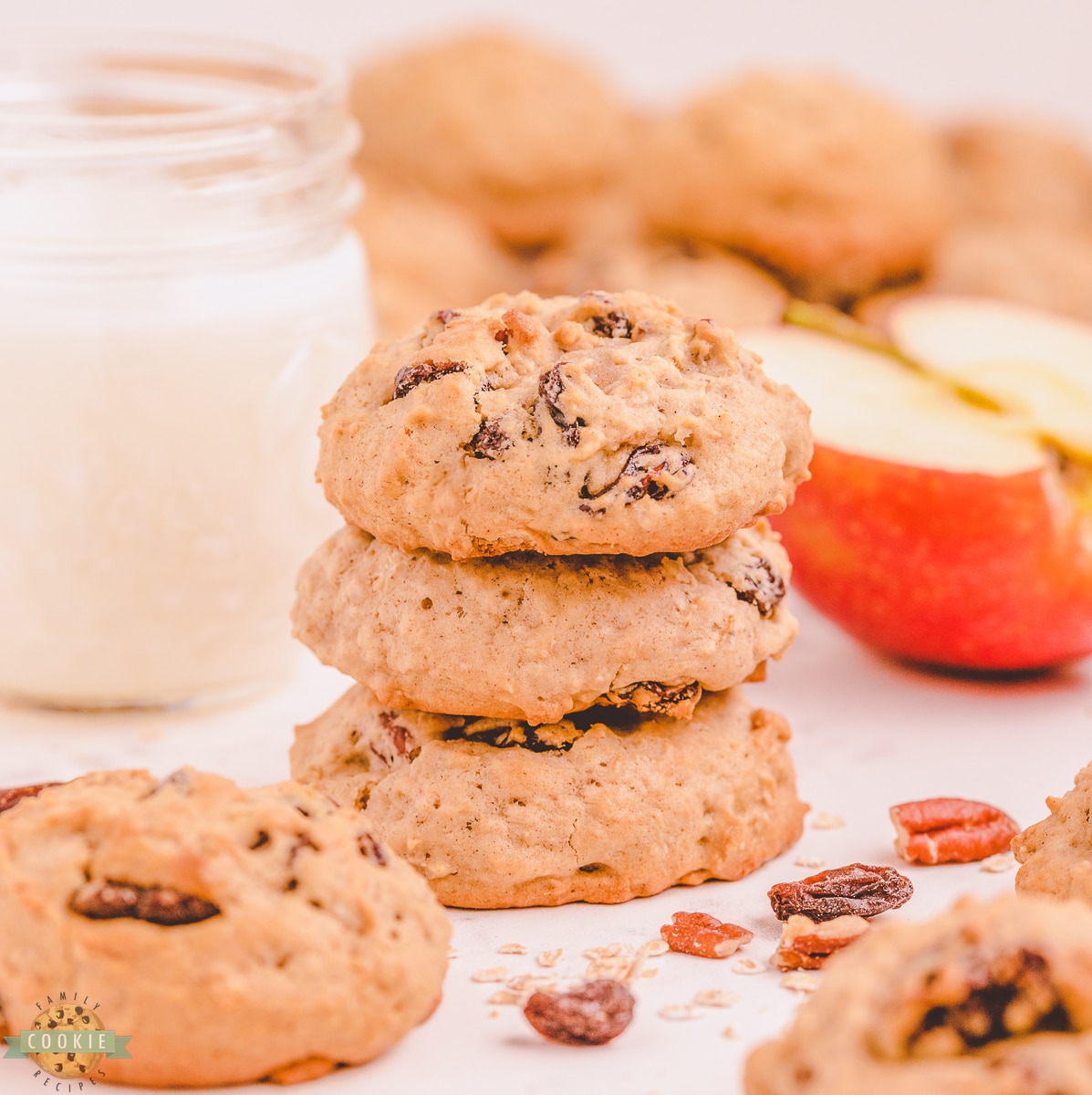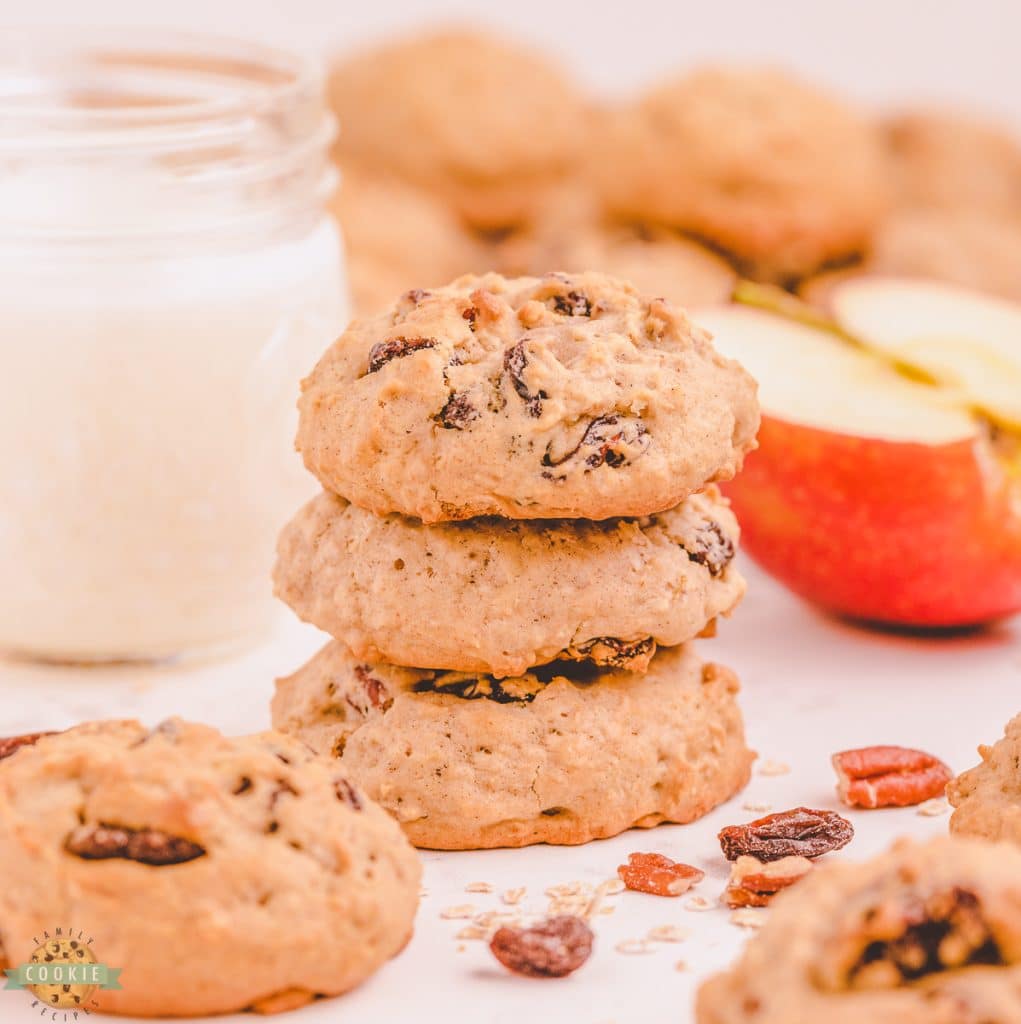 Why You'll Love This Recipe
There are countless reasons to love this oatmeal cookie recipe with applesauce, but here are three reasons why we think you're really going to want to try this recipe soon:
Simple ingredients. The ingredients needed to make these cookies are as simple as flour, sugar, butter, and applesauce. Nothing super fancy or expensive and everything should be easy to locate in your pantry or local grocery store.
Basic steps (nothing too complicated). Whether you're an experienced baker or a novice in the kitchen, you'll appreciate the simple steps like whisking, scooping, and baking.
No chilling is required. That's right! Unlike other cookies, these can be whipped up in a hurry and you don't have to chill the dough so you're only minutes away from freshly baked cookies.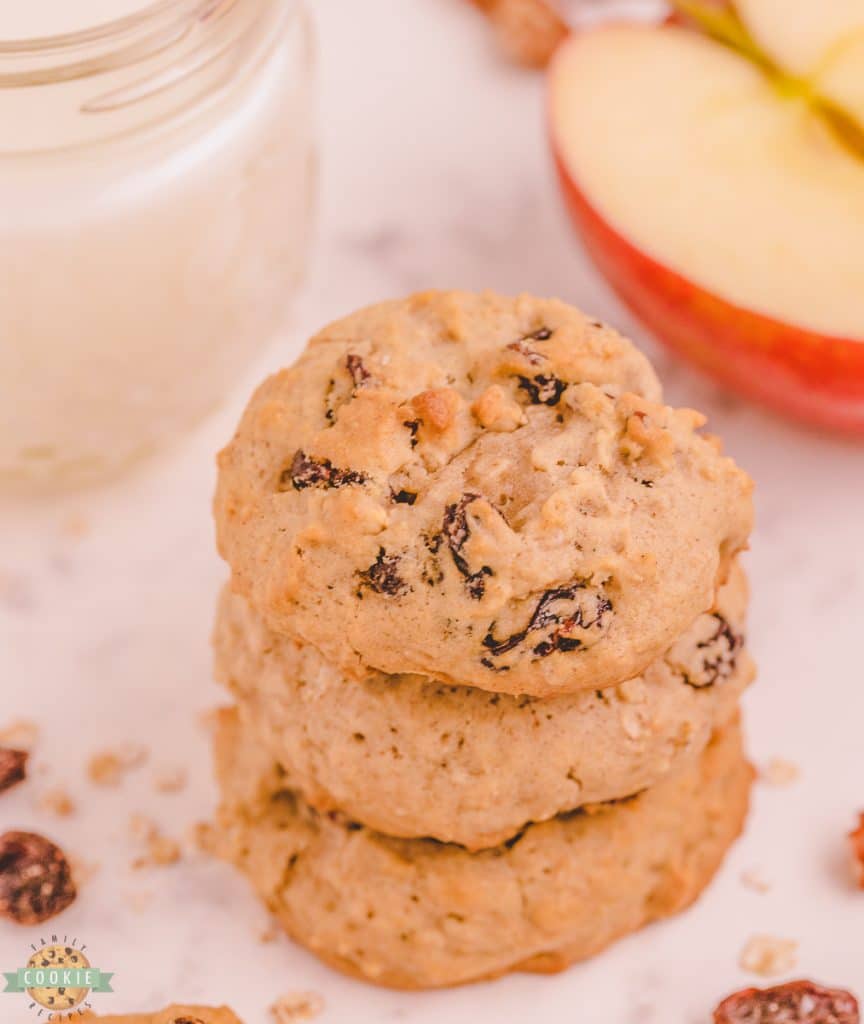 Oatmeal Cookies Ingredients
Sugar: You will need 1 cup of granulated sugar to make these cookies sweet and chewy.
Applesauce: Add in 1 cup of applesauce for these cookies to be well flavored and moist.
Butter: Use 1/2 cup (one stick) of butter to make the cookies rich in taste.
Egg: To help bind the dough together well you will need 1 egg.
Flour: The base of this cookie dough recipe is 2 cups of all-purpose flour.
Oats: Use 1 cup of quick-cooking oats to create a soft but chewy cookie texture you won't want to wait to sink your teeth into.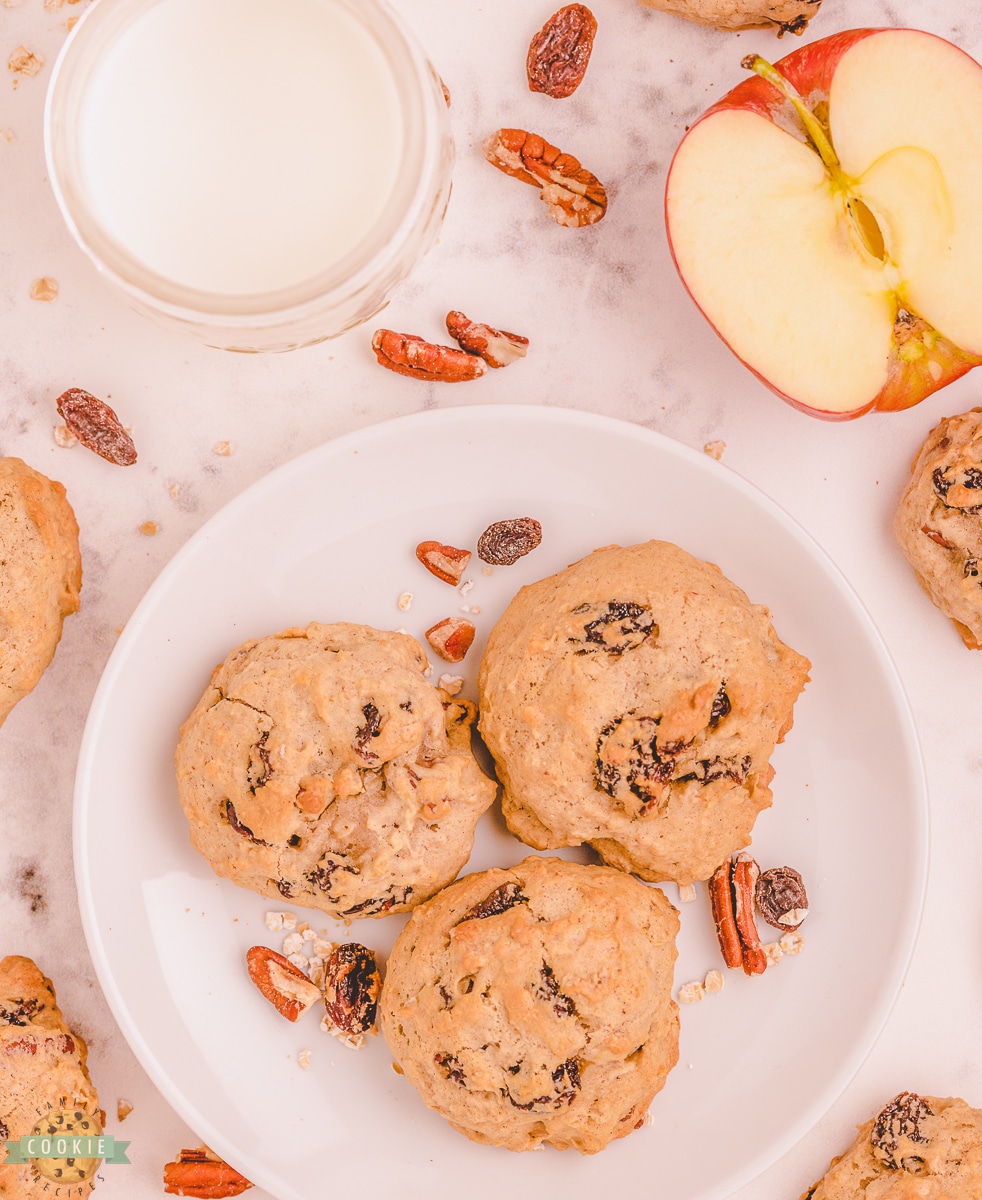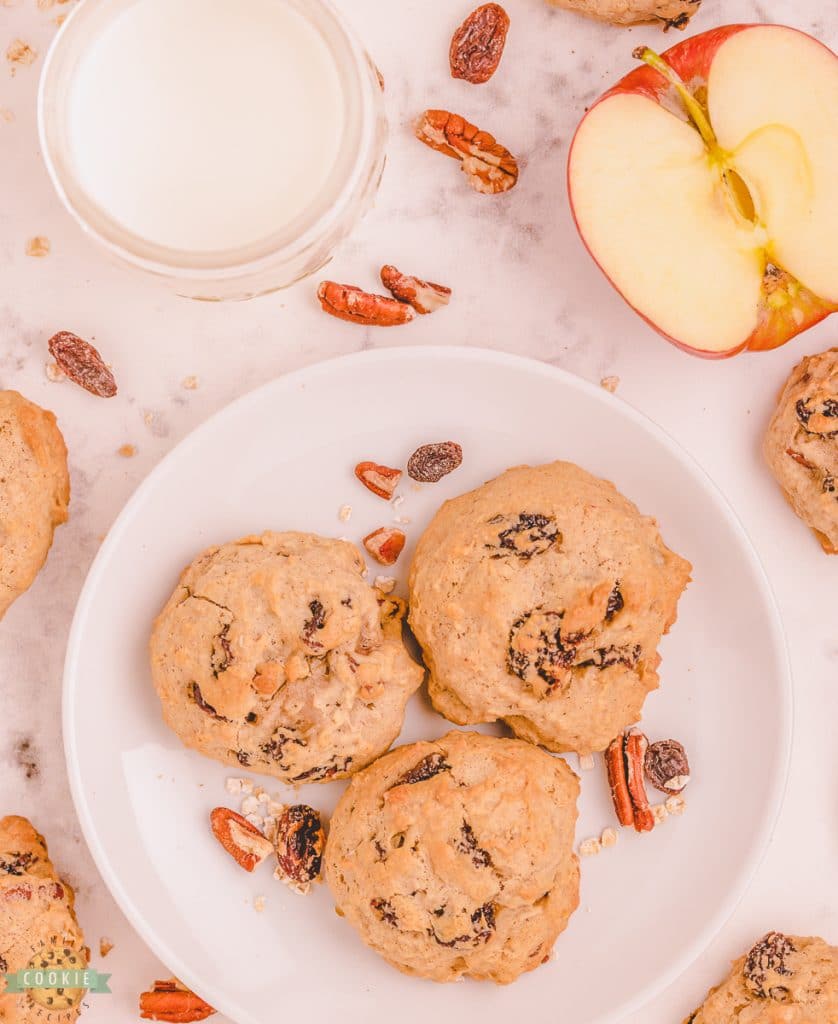 Leavening agents: Use 1 teaspoon of baking soda and 1/2 teaspoon of baking powder to get these cookies to puff up nicely as they bake.
Cinnamon: To bring a nice warmth of flavor ass in 1 teaspoon of ground cinnamon.
Salt: Adding in 1/4 teaspoon of salt will help to enhance and bring out the flavors in this cookie dough well.
Raisins: You can add 1/2 cup of raisins if desired.
Pecans: For added chewiness in every cookie you can add 1/2 cup of chopped pecans.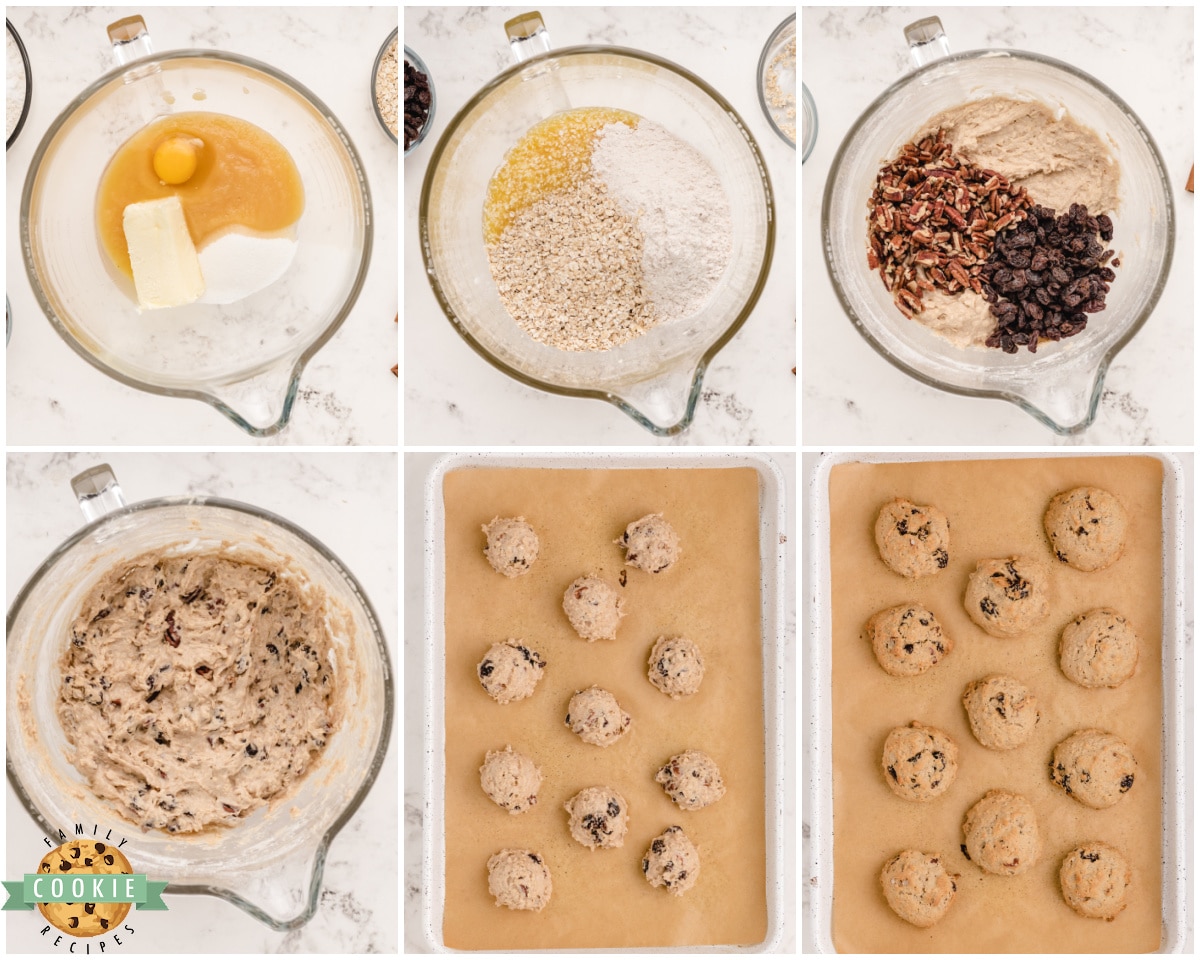 How to Make Applesauce Oatmeal Cookies
Prep
Preheat your oven to 375 degrees F.
Line a baking sheet with parchment paper and then set it aside.
Make dough
Whisk together the sugar, applesauce, and butter for 2 minutes in a large mixing bowl.
Add in the egg and then mix again to combine.
In a separate bowl, combine the dry ingredients with a whisk until well blended.
Add your dry ingredients to the wet butter mixture and mix as you slowly add it in.
Continue to whisk until a soft dough forms and then stir in the raisins and pecans.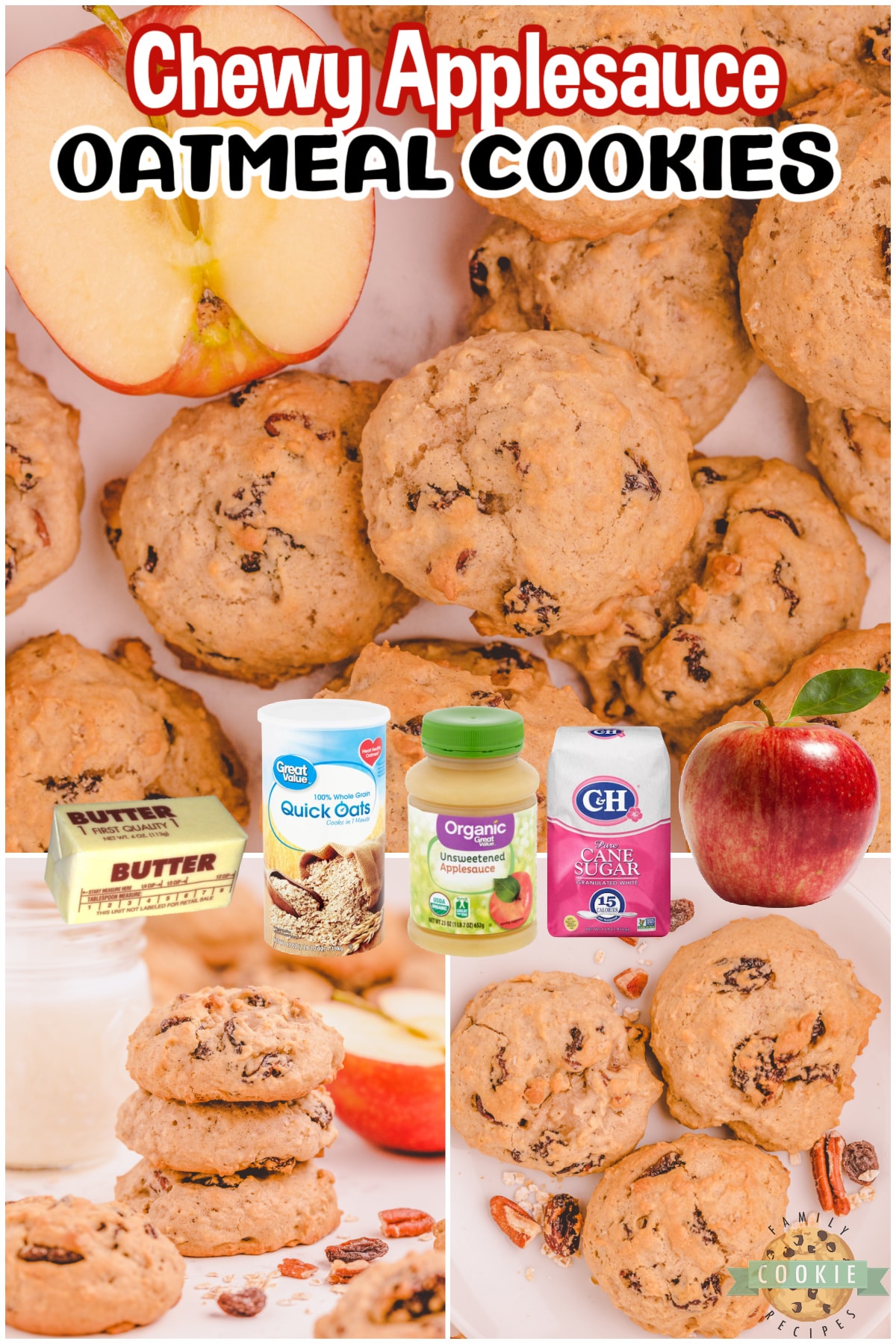 Bake
Scoop out the cookie dough using a medium-sized cookie scoop (1 1/2 tablespoons) and place them onto your prepared baking sheet.
Bake in the oven for 11-14 minutes, but be careful to not overcook them.
Allow the cookies to cool on a cooling rack before serving.
Enjoy!
Why do I need quick oats?
As you may have already noticed or guessed, there is a big difference between quick-cooking oats and regular oats. Quick-cooking oats will produce a softer texture while still giving you a chewy cookie while whole oats like steel cut will produce a very chewy cookie with a firmer texture. This is because the quick cook oats have been processed more so they can absorb more liquids and act as a binder too.
How to Get a Perfectly Round Cookie Shape
Want to know a neat little trick? After your cookies have been baked, while they are still hot and cooling on the pan, take a medium-sized round cookie cutter or a round glass/drinking mug and place it over the top of the cookie. The round shape should be slightly bigger than the cookie for this trick to work.
Swirl the round cutter/object around the cookie, knocking it into the sides a bit as you go. The more you swirl, the smaller and thicker the cookie will become. Then let the cookies cool. This is how you can get homemade cookies to look perfectly rounded. This trick won't work with cutout cookies, but it works fine with drop cookies and rolled cookies.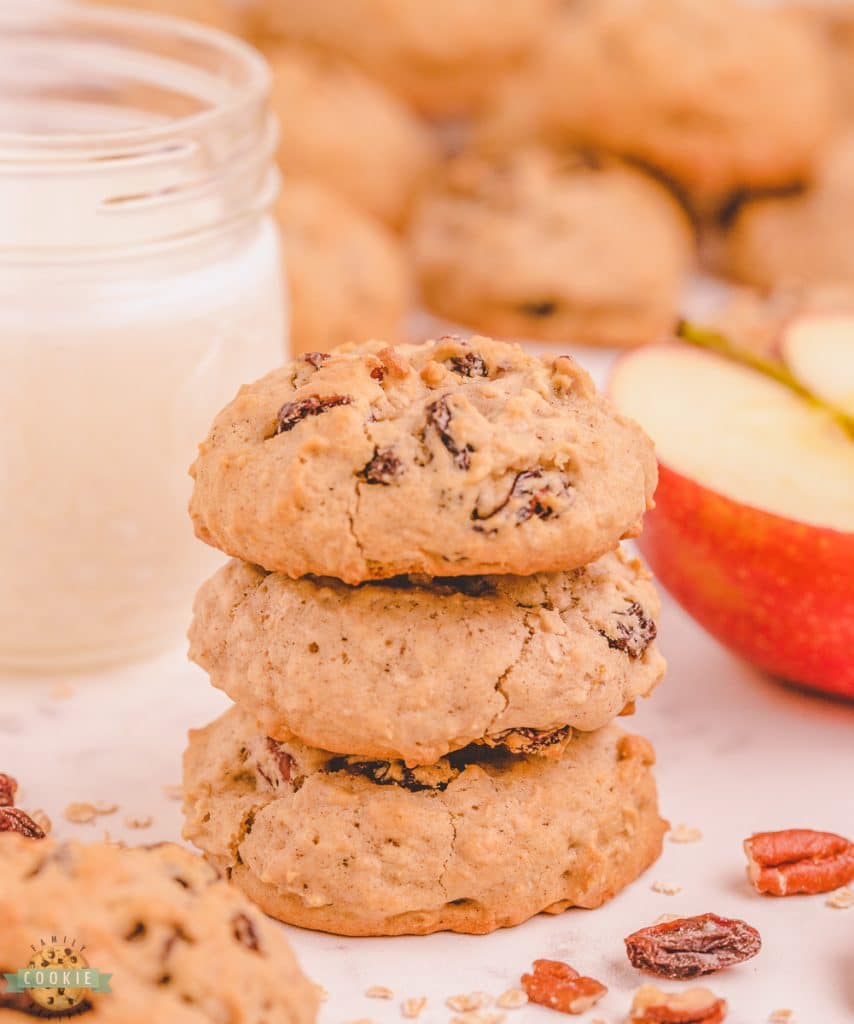 How long are oatmeal cookies good for?
These cookies can last up to a week if kept stored in an airtight container at room temperature. they can also last up to three months if kept in an airtight container in the freezer, perfect for long-term storage solutions.


This is Dad's version of family bonding time. Ha! I take my job as photographer seriously as I stand on the sidelines & observe. I love that both girls and boys are in there!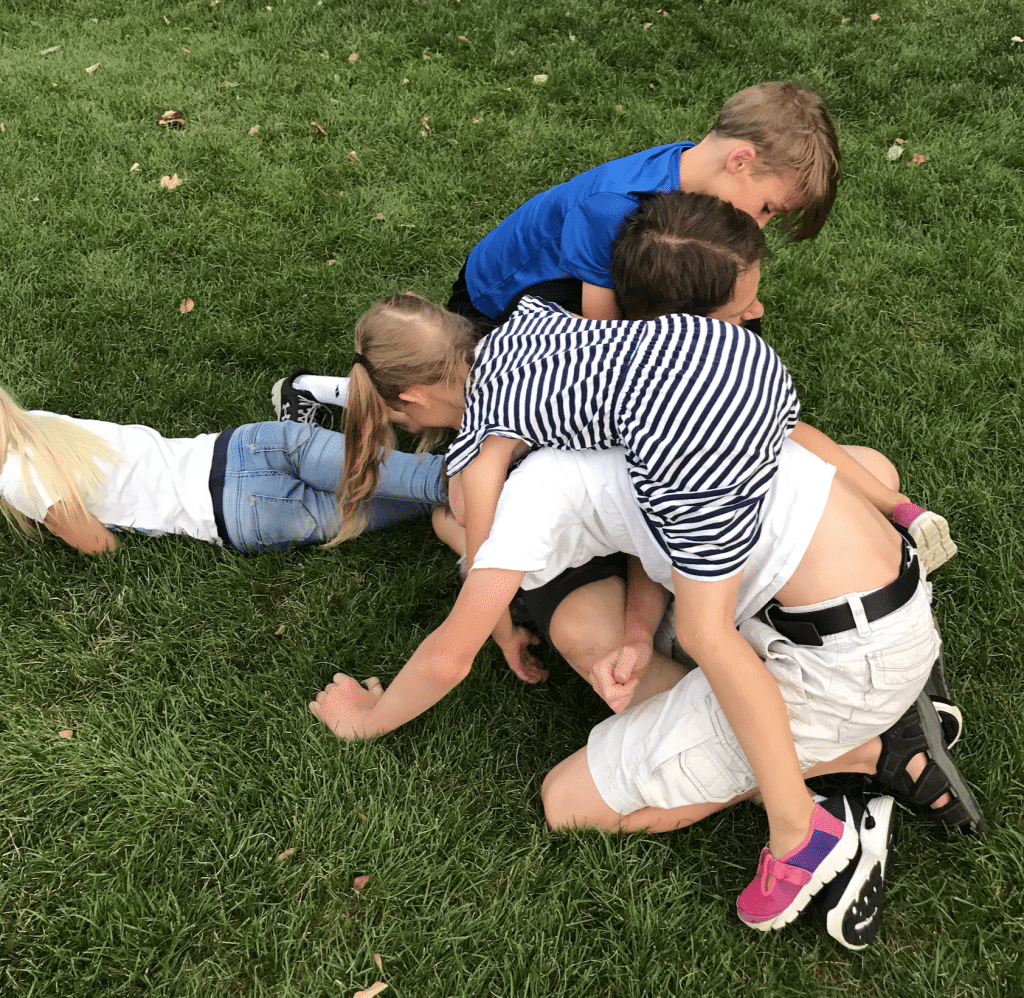 This applesauce oatmeal cookies recipe is packed with flavor and great texture in every bite. From the soft and chewy oat cookie to the cinnamon spice and chopped pecans, every bite is truly a delight!