Oatmeal Walnut Chocolate Chip Cookies are soft, chewy treats packed with amazing flavor in every bite. These chocolate oatmeal cookies are made with just a few simple pantry ingredients and in a few short steps, this recipe comes together quickly!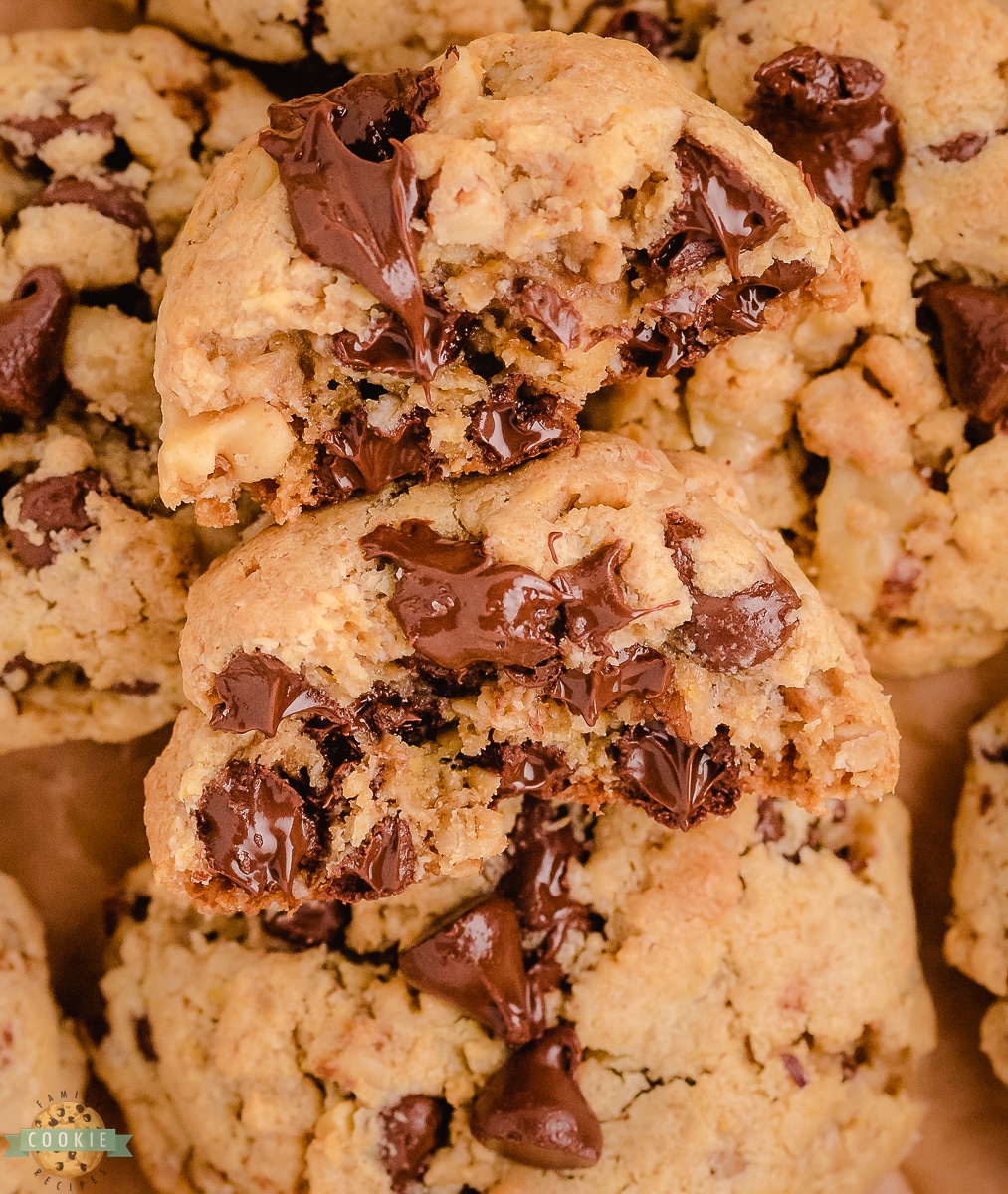 This oatmeal chocolate chip cookie recipe even has an extra ingredient to make them more flavorful and soft, boxed pudding mix! Make these chewy chocolate chip oatmeal cookies for your next event or just a casual weekday treat, they are truly a delightful sweet treat.
The BEST Oatmeal Chocolate Chip Walnut Cookies
We really do think this recipe is the BEST! Thanks to a few special ingredients this cookie recipe turns out perfectly moist and flavorful. These chewy cookies are a wonderful combination of texture and taste, a recipe that you will not soon forget. These cookies also do not spread very much when baking so you end up with thick cookies packed with ooey gooey goodness. They stay fresh for days and are always a huge hit around in my house. You are going absolutely to love these oatmeal chocolate chip walnut cookies!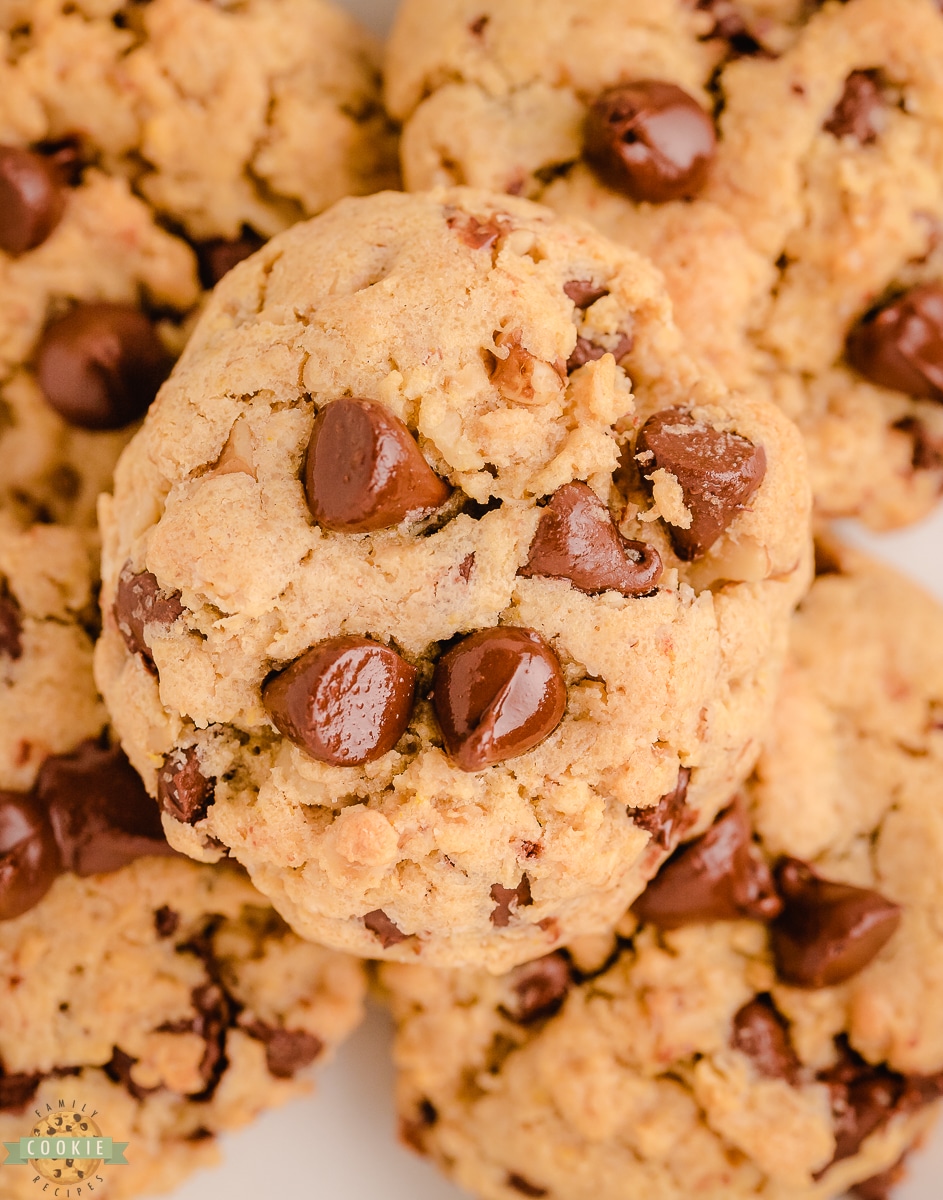 Ingredients for Chocolate Chip Cookies with Oatmeal and Walnuts
Butter: You will need ½ cup of softened butter to make these cookies rich in flavor.
Shortening: Adding in ½ cup of butter flavored shortening will give the cookies a nice soft texture.
Sugars: Use 1 cup of packed light brown sugar and ½ cup of granulated sugar to make the cookies sweet and chewy with crisp edges.
Eggs: Use 2 large eggs to make the cookie dough bind together well.
Vanilla extract: You will need 1 teaspoon of vanilla extract to help enhance the flavors in the dough.
Pudding mix: Use one 3.4-ounce sized box of vanilla instant pudding (just the dry stuff) to help add flavor and texture to these cookies.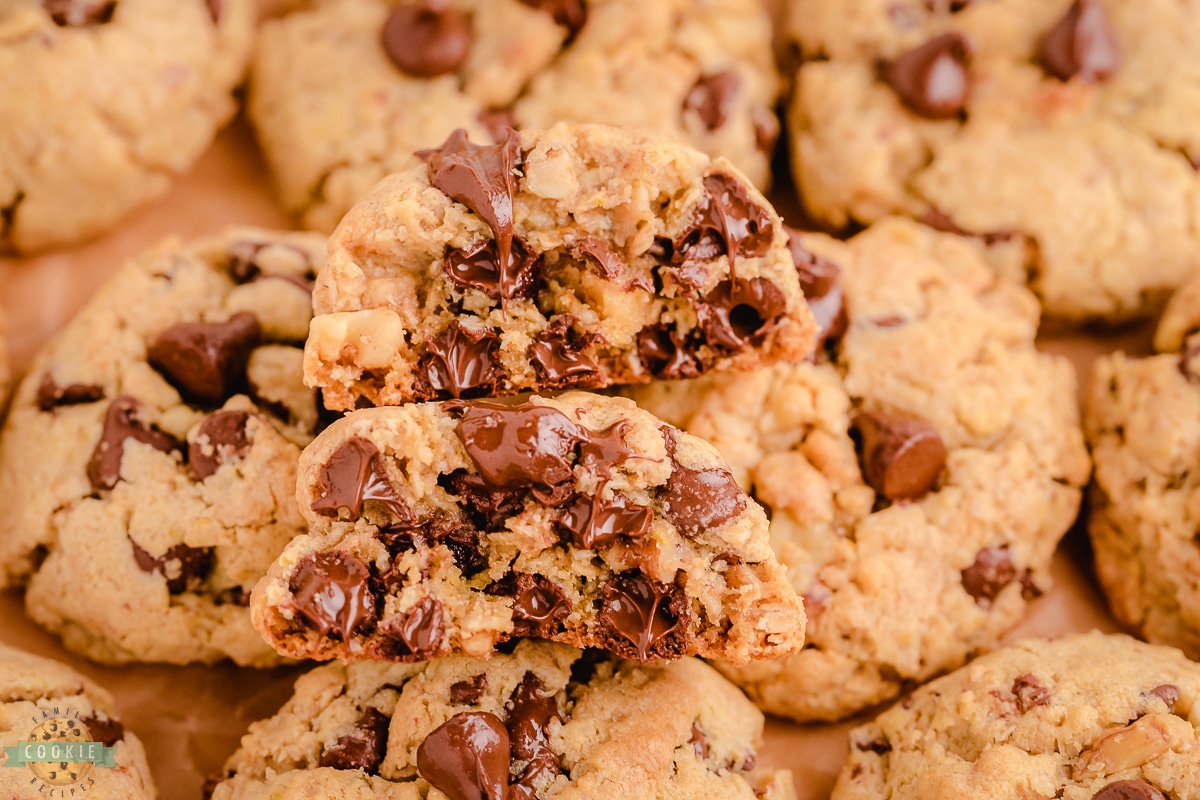 Flour: The base of the cookie dough is 1 ½ cups of all-purpose flour.
Baking soda: You will need 1 teaspoon of baking soda to help leaven the cookies properly.
Salt: Adding in ½ teaspoon of salt will help to enhance the flavors in the dough.
Oats: Using 3 cups of rolled oats will result in a perfect balance of sweet and salty in every bite.
Chocolate chips: You need 2 cups of semi-sweet chocolate chips so that there is plenty in every cookie.
Walnuts: Use ¾ cups of chopped walnuts for a perfect combination of taste and texture in this recipe.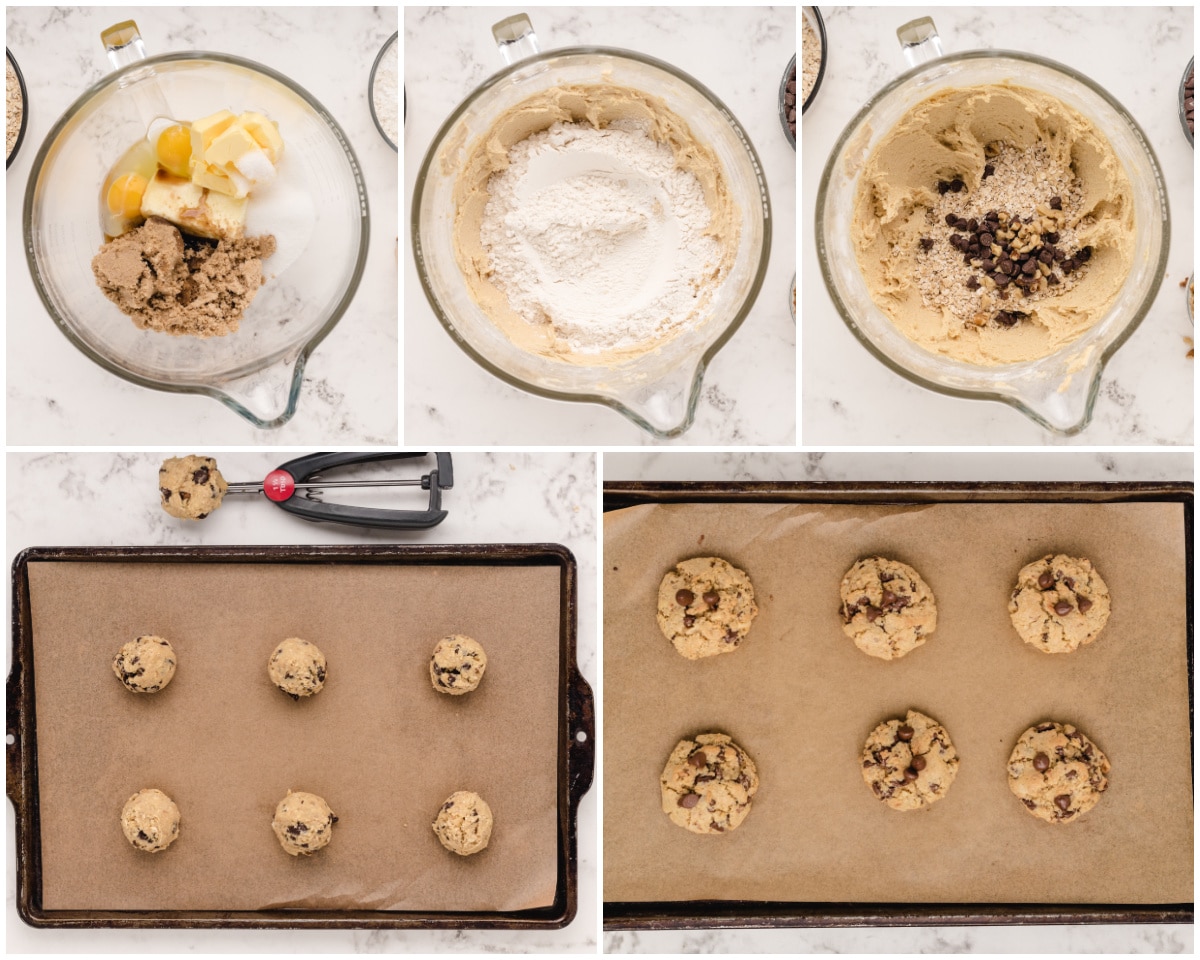 How to Make Oatmeal Walnut Chocolate Chip Cookies
Prep
Start by preheating your oven to 350 degrees F.
Then, line baking sheets with parchment paper or silicon mats and set them aside.
Making the dough
Next, in a large mixing bowl, cream together the softened butter, shortening, brown and white sugars, eggs, and vanilla extract until smooth.
After that, add in the dry pudding mix and stir to combine.
In a separate small bowl, combine the flour, baking soda, and salt.
Then, stir the flour mixture into the creamed butter mixture until just incorporated.
Lastly, add in the oats, chocolate chips, and walnuts until all is well blended.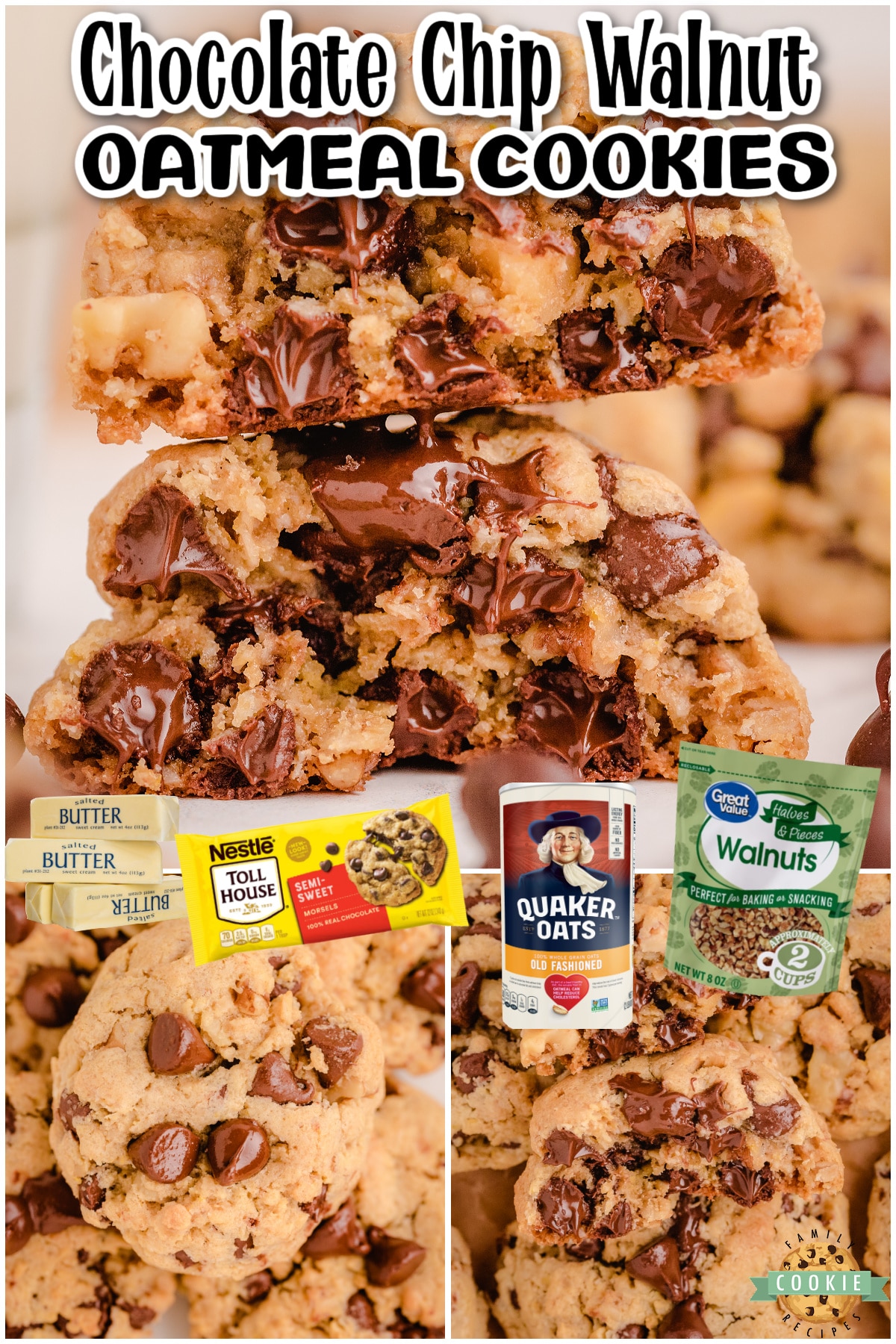 Bake
Next, drop the dough in rounded tablespoons onto the prepared cookie sheets.
Bake in the oven for 9-11 minutes. Be careful not to overbake, you want the cookies light and golden in color.
When done baking, let cool for a few minutes. Serve slightly warm and enjoy!
What is the best way to soften butter?
My preferred method for softening butter is by using the defrost function on my microwave. If you need the full ½ cup cube of butter, you can leave it in the paper wrapper, otherwise, place the amount of butter you need in a glass or porcelain bowl. Use the lowest defrost setting on the microwave and just let it run for 20 seconds. If it is still not soft to the touch, meaning it doesn't indent when you press into it, let it warm for another 5-10 seconds. Watch it closely! Butter softens very quickly.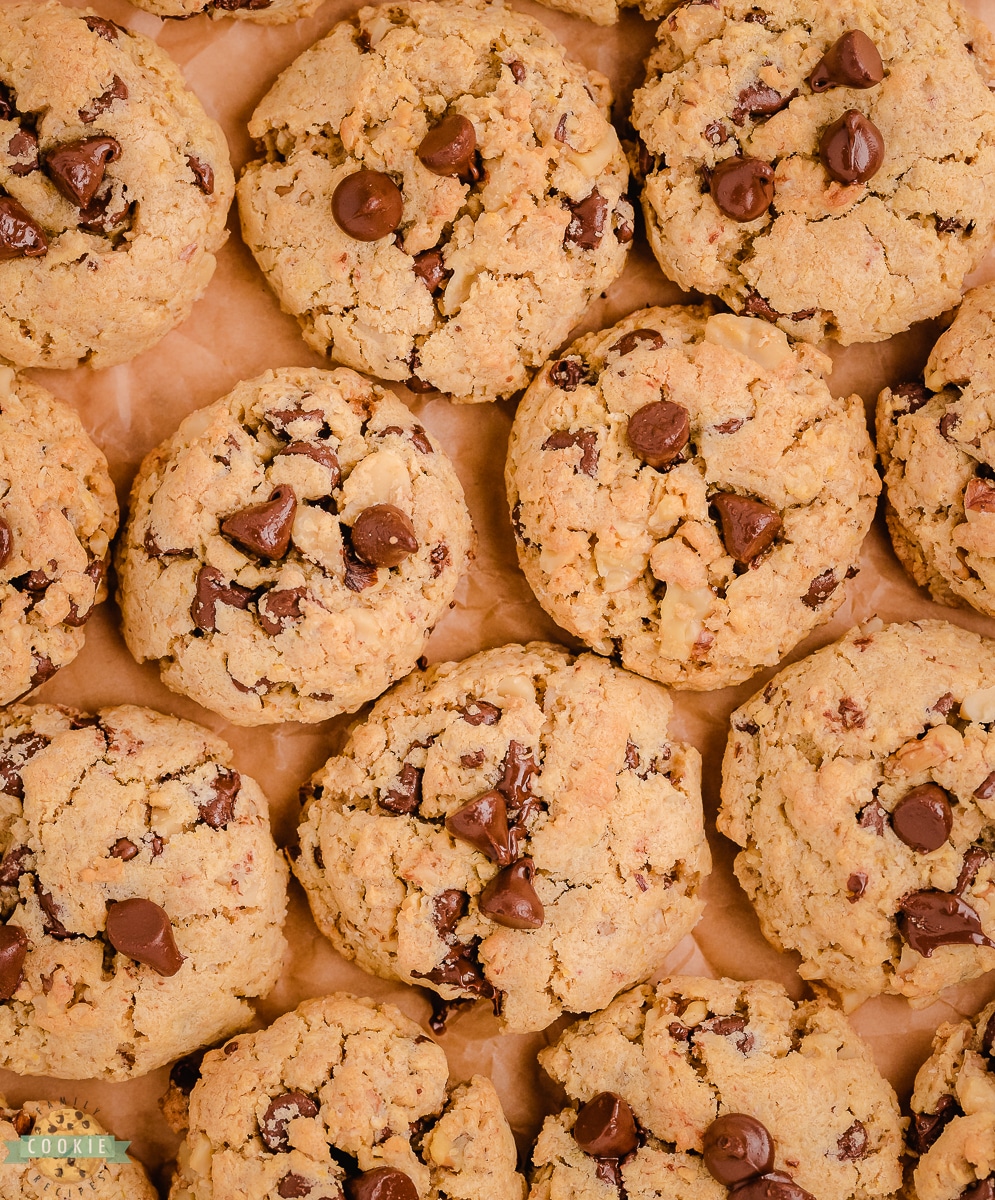 What oatmeal is best for cookies?
The best type of oats for these cookies is rolled oats because they give you a nice chewy texture without being too hard. You can also use quick oats if desired but it would give you a softer and slightly less chewy cookie texture.
How long will oatmeal cookies last?
These oatmeal chocolate chip and walnut cookies can last in an airtight container at room temperature for up to a week. For longer storage, place them into an airtight container in the freezer for up to 3 months. Simply thaw the cookies on the counter for several minutes to soften them before eating.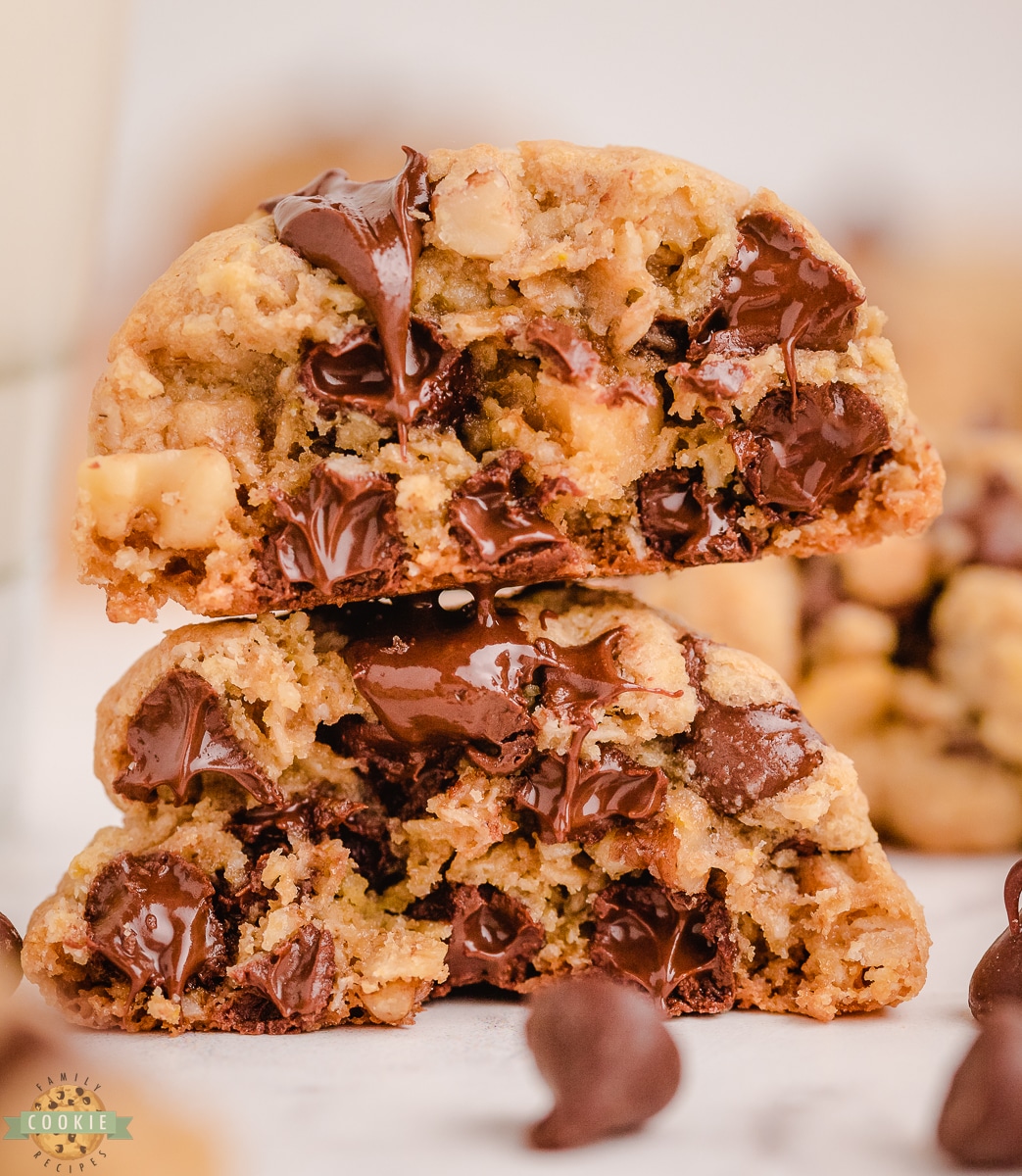 Why do my cookies burn on the bottom but aren't done in the middle?
If your cookies are always burning on the bottom, it is probably a cookie sheet issue If you are using really dark cookie sheet, the bottoms of your baked goods will tend to burn before they are actually cooked all the way through. If you use a lot of cooking spray, the same result can happen. I prefer to use lighter colored non-stick pans so that I don't have to use cooking spray at all. As mentioned above, I have been converted to silicone baking mats over the last couple of years and I love how easy it is for cookies to come off the tray – no sticking ever!

We went outside this past Easter and took some family pictures! It's never easy with 7 of us, but I do love seeing how much our family grows and changes. I love that I get a front row seat to it all, but it's also hard! How are my babies this old?!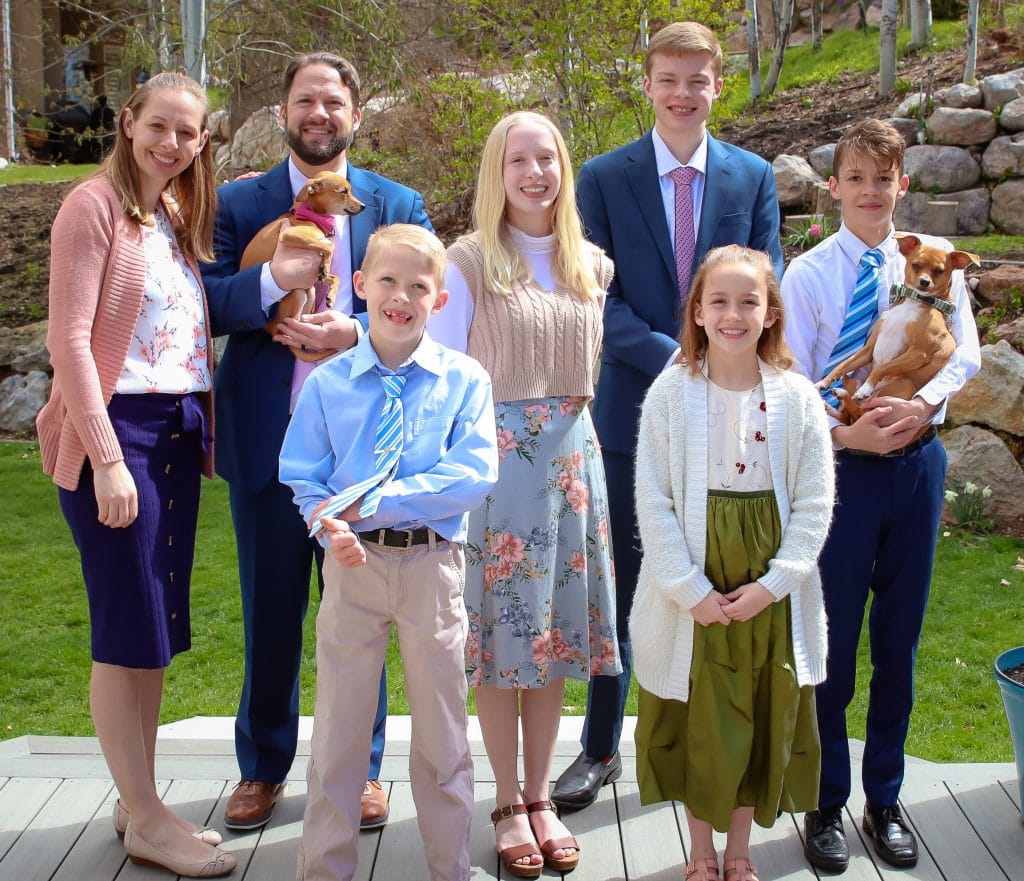 Looking for more oatmeal cookie recipes? We've got you covered!
Oatmeal Walnut Chocolate Chip Cookies are a perfectly sweet and chewy treat you are going to love. These chocolate oatmeal cookies are made with chopped nuts and sweet chocolate chips in every cookie!