Trail Mix Peanut Butter Cookies are unique, delicious cookies perfect for breakfast or a snack! Trail Mix Cookies made with a variety of nuts, a banana & peanut butter curb your sweet tooth & give a nice energy boost at the same time!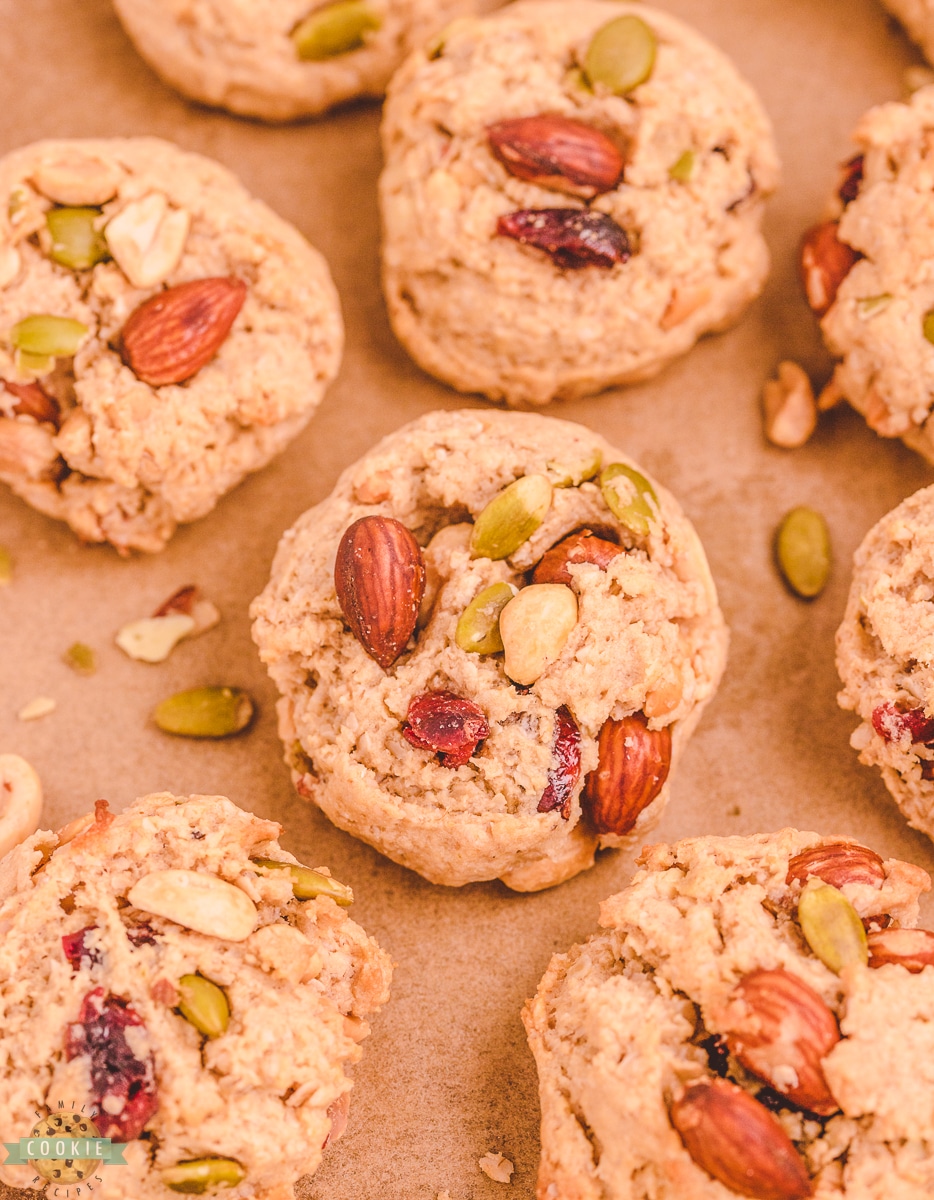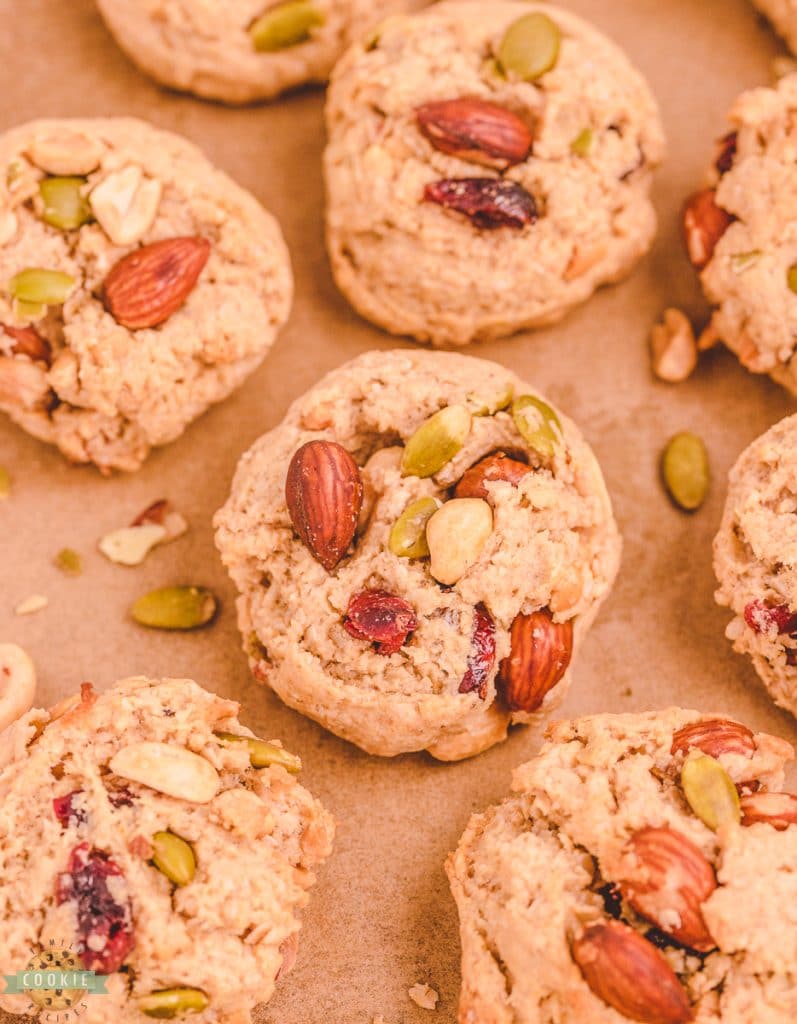 You've never had peanut butter cookies quite like this before! Made with your favorite prepared trail mix there are countless combinations and possibilities to make these cookies unique. Using trail mix with dried fruits, chocolate pieces, nut varieties and more will always give you a tasty change of pace.
Peanut Butter Trail Mix Cookies
Trail mix is a delicious and mostly healthy snack enjoyed any time of day, but it's known for packing protein in those on-the-go camping and hiking adventures too. These cookies are trails approved and can be a great way to get the kiddos to enjoy a healthier snack without the mess or hassle of getting loose trail mix everywhere.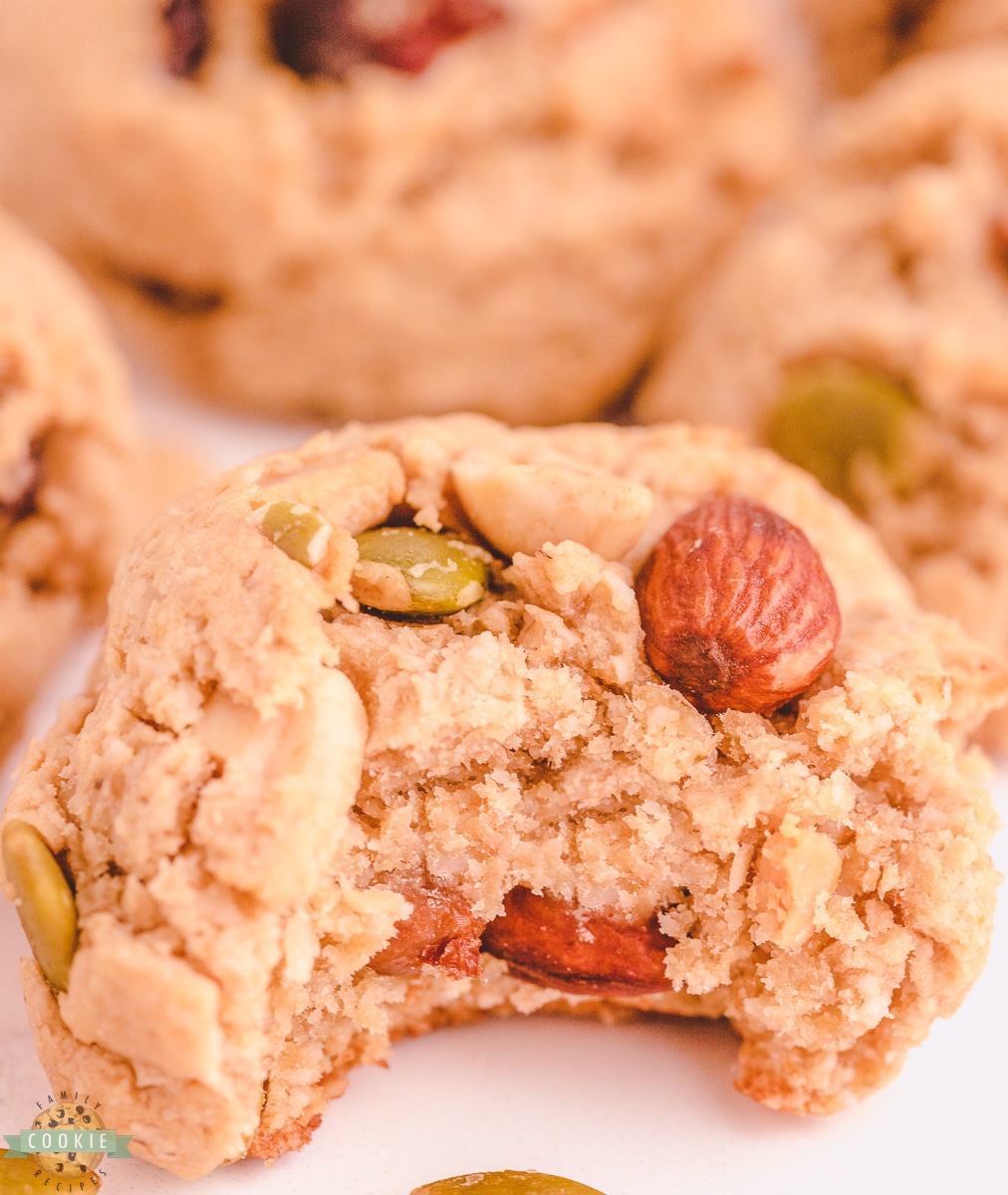 Why You'll Love This Recipe
I can think of a hundred reasons why these easy trail mix cookies are fabulous but here are the top three reasons why I'm sure you're going to enjoy them too!
Endless combinations. There are so many different types of trail mix available that you can easily use any type you want based on what you like or what you have on hand already. If you get bored of one type you can always switch it up a little by trying a different trail mix variety!
Low Cal & Low Fat! While your desired trail mix plays a part in the overall flavor of the cookie, the base recipe lends to a low calorie & low fat treat!
You don't need to chill the dough. A lot of cookie recipes will request that you chill the dough before baking but this isn't one of them! Made and baked within minutes, you're not far away from sinking your teeth into a warm and fresh from the oven cookie.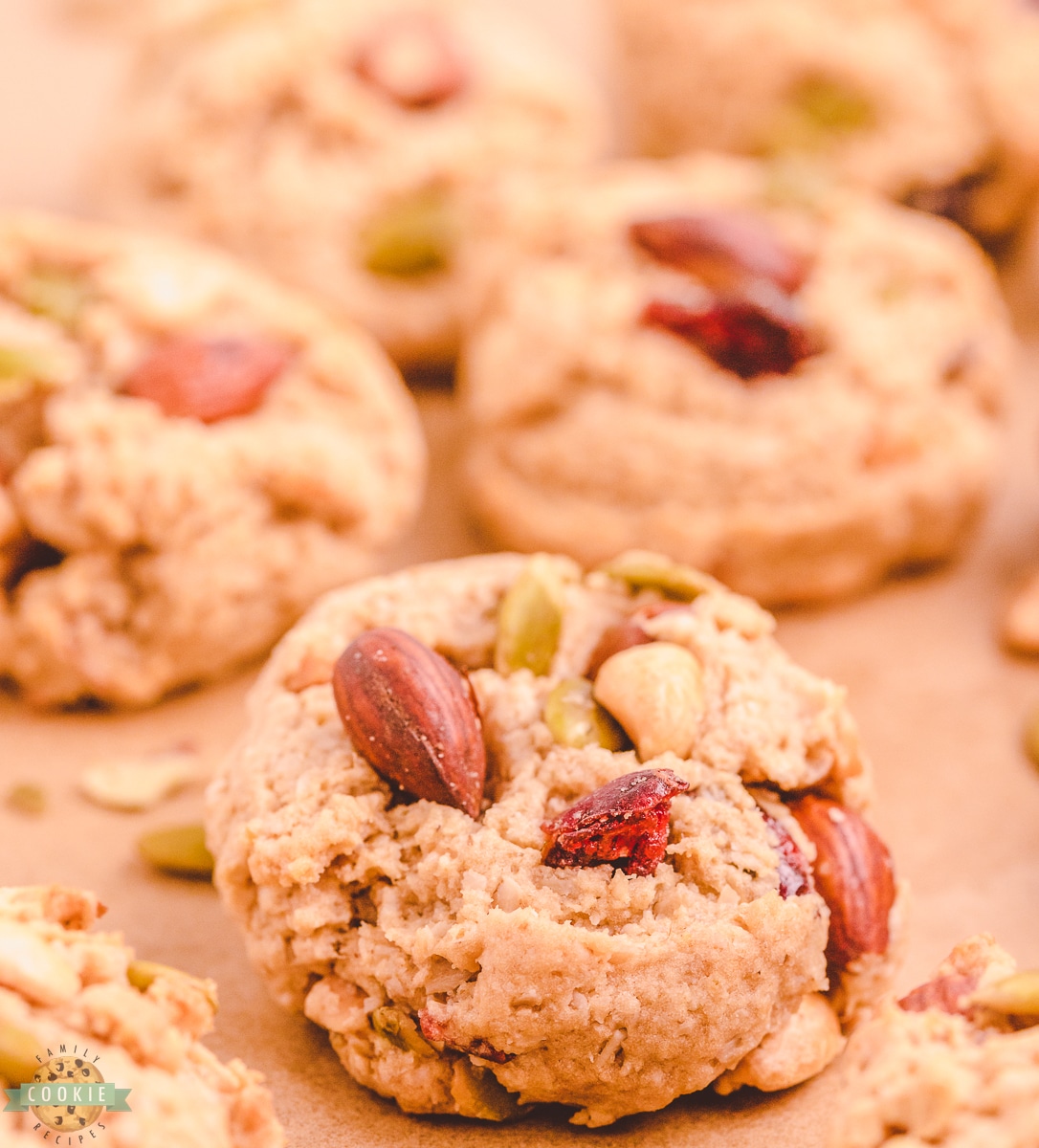 Trail Mix Cookies Ingredients
Brown sugar: For a chewy cookie with a nice depth of flavor you will need 1/2 cup of brown sugar.
Butter: Add 1/2 cup (one stick) of butter to your cookie dough for a delicious rich taste.
Peanut butter: You will need 1/2 cup of peanut butter. You can use creamy or chunky peanut butter depending on what you have on hand or would prefer.
Vanilla: Enhance the flavors in these cookies by adding 2 teaspoons of vanilla extract.
Oats: Add 2 cups of old-fashioned oats to these cookies for a nice chewy texture in every bite.
Flour: You only need 3/4 cups of all-purpose flour to help bind the cookie dough together well.
Banana: Use 1 mashed ripe banana (about 1/2 cup) to make these cookies a little sweeter and healthier.
Milk: Add in just 1/4 cup of milk to soften the dough. You can use regular cow's milk or almond milk.
Baking powder: Adding 1 1/2 teaspoons of baking powder will help the cookies to puff up as they bake.
Salt: To enhance the flavors in the cookies, add 1/2 teaspoon of salt.
Trail mix: You will need 1 cup of prepared trail mix for these cookies.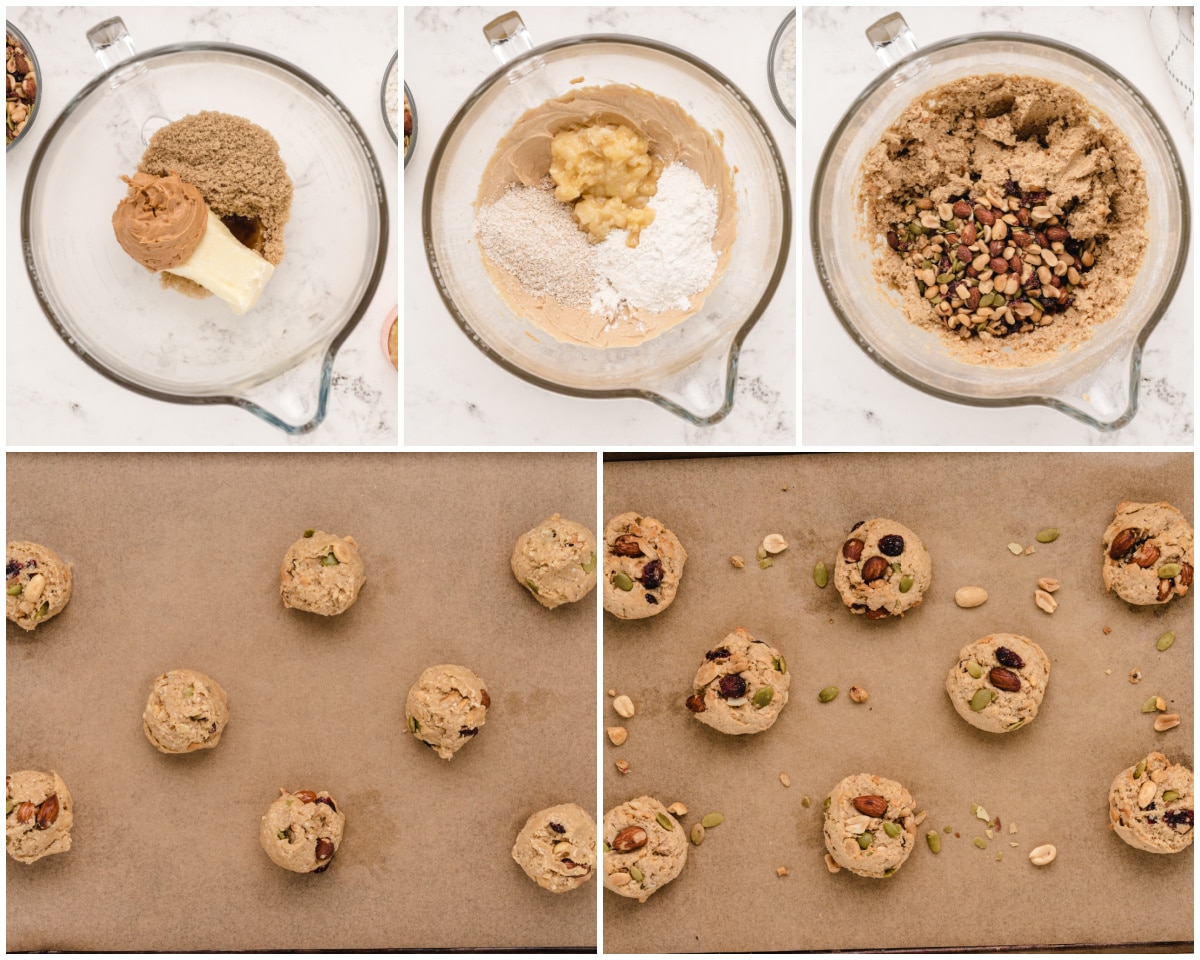 How to Make Peanut Butter Trail Mix Cookies
Prep
Preheat the oven to 350 degrees F.
Line a baking sheet with parchment paper and then set it aside.
Make dough
Whisk together the butter and sugar for about 1 minute in a large mixing bowl.
Add in the peanut butter and vanilla and then mix again for one additional minute.
Add in the oats, flour, banana, milk, baking powder, and salt.
Continue to mix until all of the ingredients are combined.
Fold in the trail mix.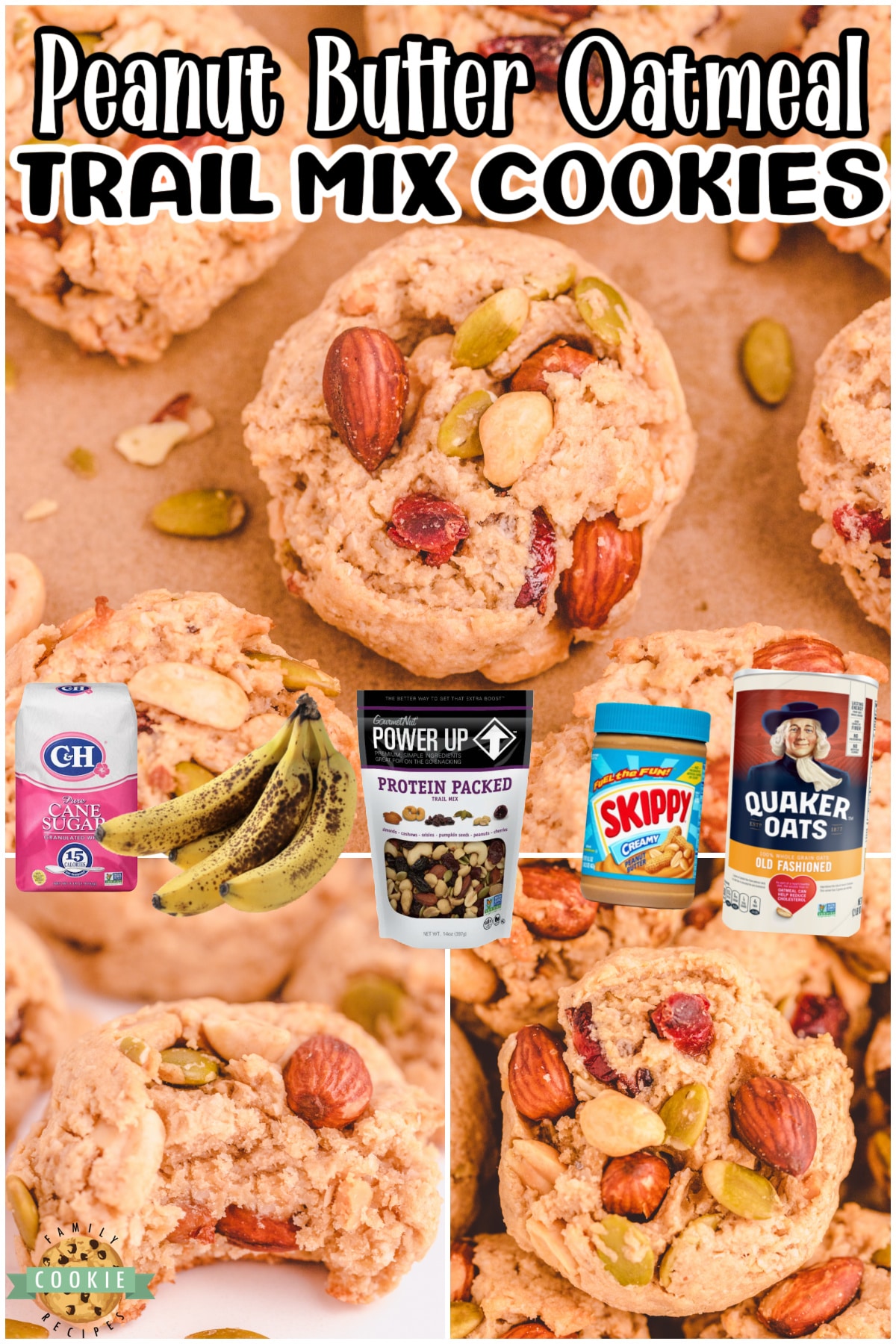 Bake
Use a medium-sized (1.5 tablespoon) cookie scoop to scoop the cookie dough and place it onto the prepared baking sheet.
Use wet hands to gently press the cookie dough balls to slightly flatten the tops.
Bake in the oven for 9-11 minutes.
Allow the cookies to cool on the baking sheet for about 2-3 minutes before transferring them to a wire rack to cool completely.
Enjoy!
When to Serve Trail Mix Peanut Butter Cookies
These cookies are great for any occasion but they will make the most incredible snacks. Serve them up at home during breakfast, after school, or take a container of cooled cookies on your next hiking or camping trip with the family. You can even make a batch for a lumberjack or wilderness-themed baby shower if desired. There's no wrong time for these cookies!
Are trail mix cookies healthy?
These cookies can be considered a healthier treat but you can always do a few things to make them even better for you. To make this a healthy trail mix cookie recipe, choose the healthier trail mix varieties (more nuts and less sugary sweets). This will reduce the sugar content and increase the protein.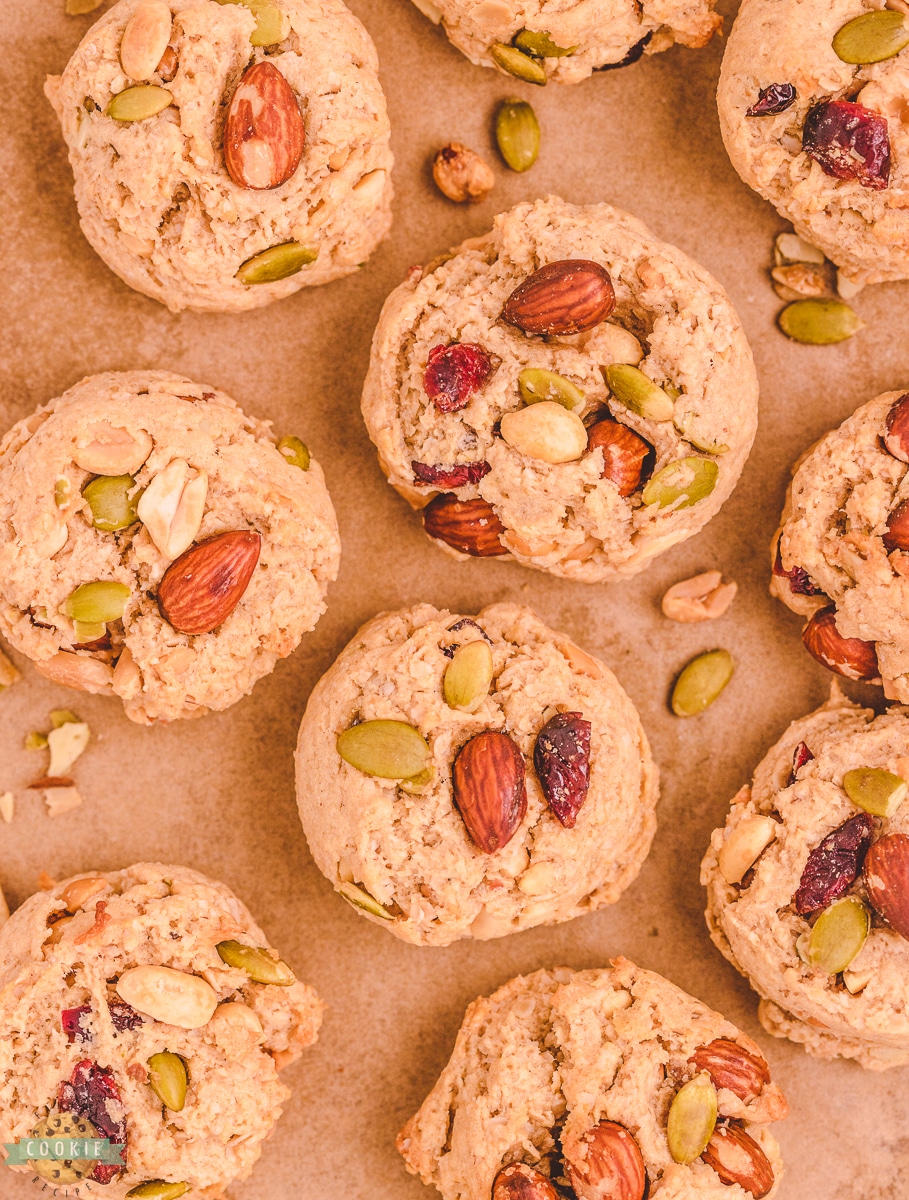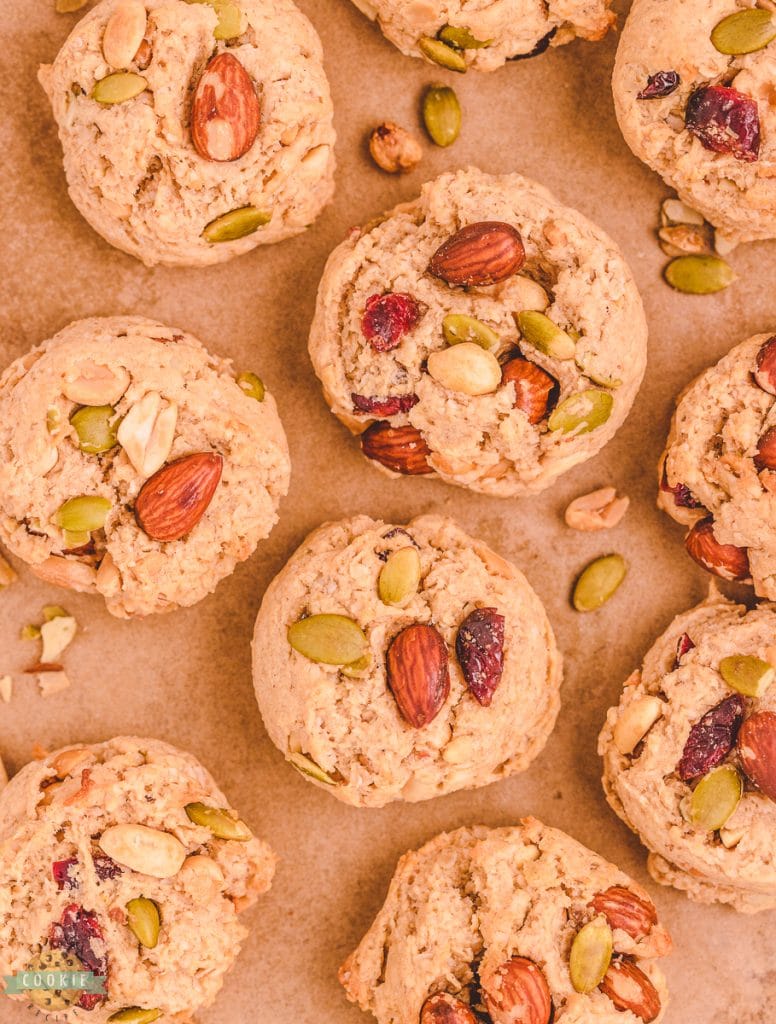 How long are peanut butter trail mix cookies good for?
These cookies are good for up to 3 or 4 days if kept stored in an airtight container at room temperature. You could also freeze them for up to 3 months if desired, but these cookies are better when fresh.


This cute kid was crawling at 5 months, walking by 10 months and could go across a set of monkey bars at 2 years old. But… he really struggled with fine motor skills like writing. So when we copied some letters to form words, I was SO thrilled! He was so proud of himself too, ha!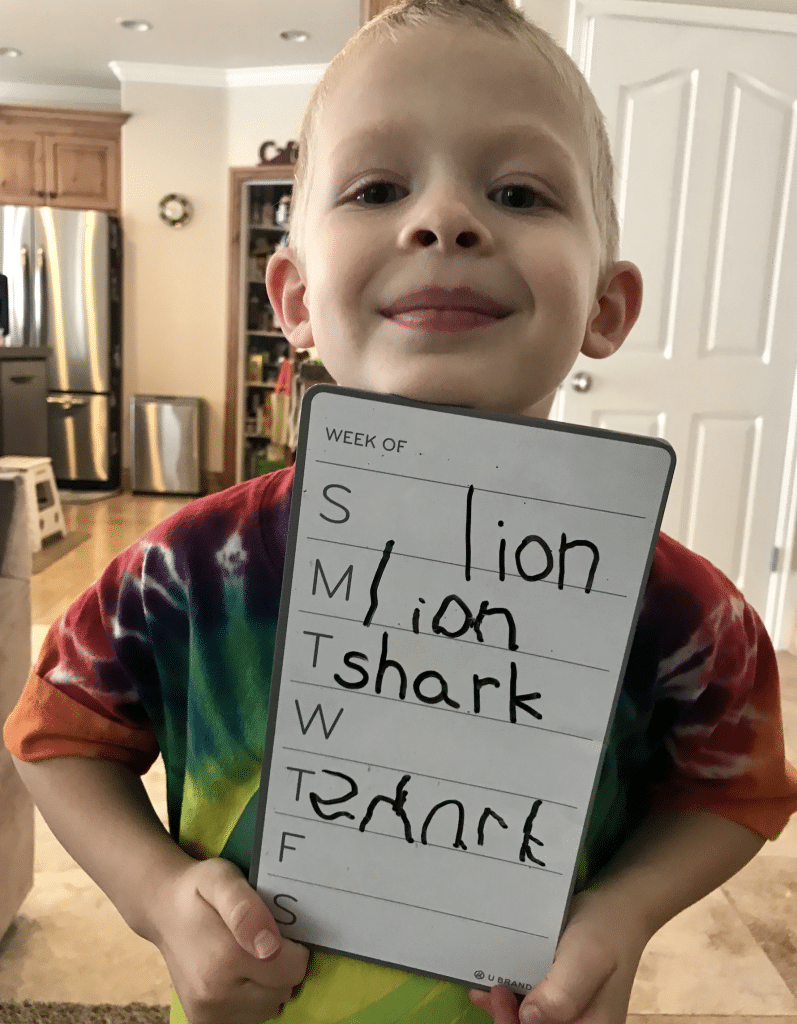 Here are some more great peanut butter cookie recipes you may enjoy:
You're going to love this trail mix peanut butter cookies recipe. Made with your favorite blend of trail mix, a ripe banana, and chewy oats these cookies are unlike any other and always perfect for on-the-go snacking.