Chewy Peanut Butter Cookies dipped in chocolate, need I say more? Perfect homemade peanut butter cookies are gluten free and made with just 7 ingredients!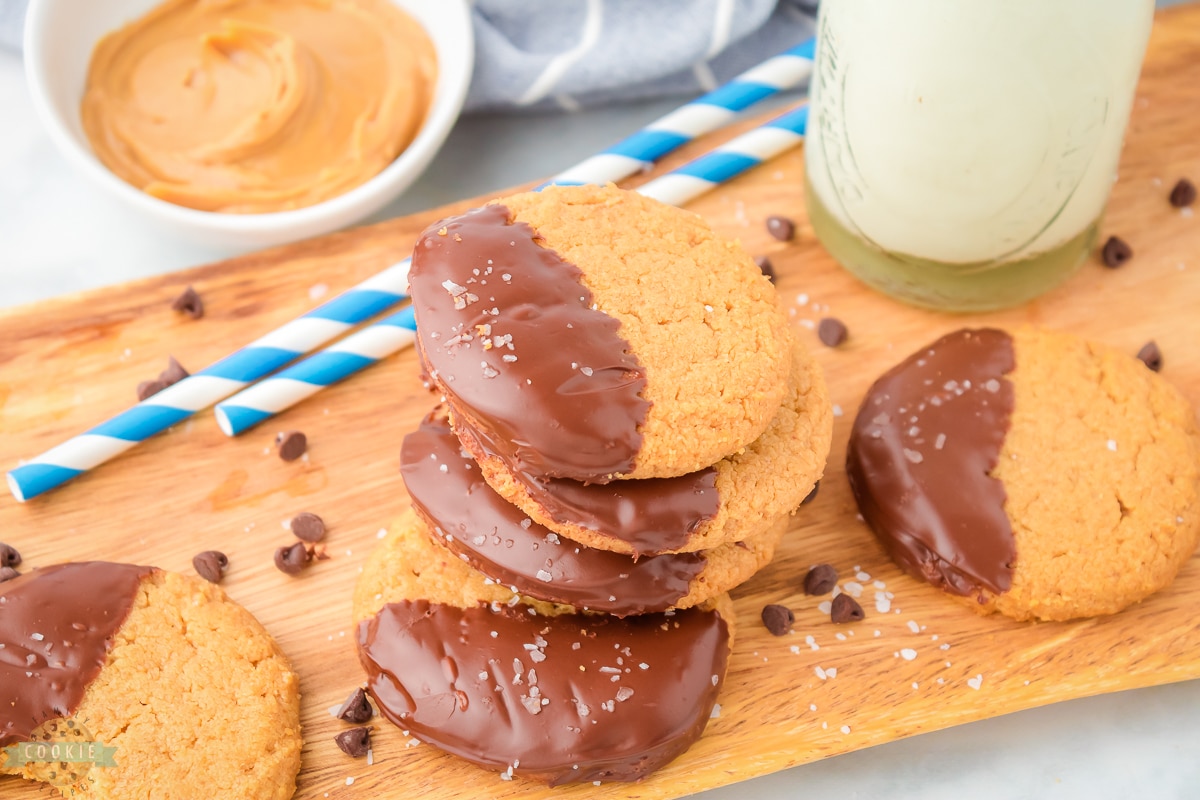 We love cookies and peanut butter is always a winner around here. Made with your favorite creamy peanut butter we get a wonderful texture of flavor packed into every bite. The seal salt and chocolate coating help elevate these simple cookies to the next level of awesome.
Gluten free peanut butter cookies
These cookies do not use flour or any flour-like alternatives making them 100% gluten free. If avoiding gluten due to allergens make sure to check labels for cross contamination warnings.
These are a perfect little treat for sharing with friends and family and once you try them you'll soon fall for the yummy Reese's peanut butter cup taste too.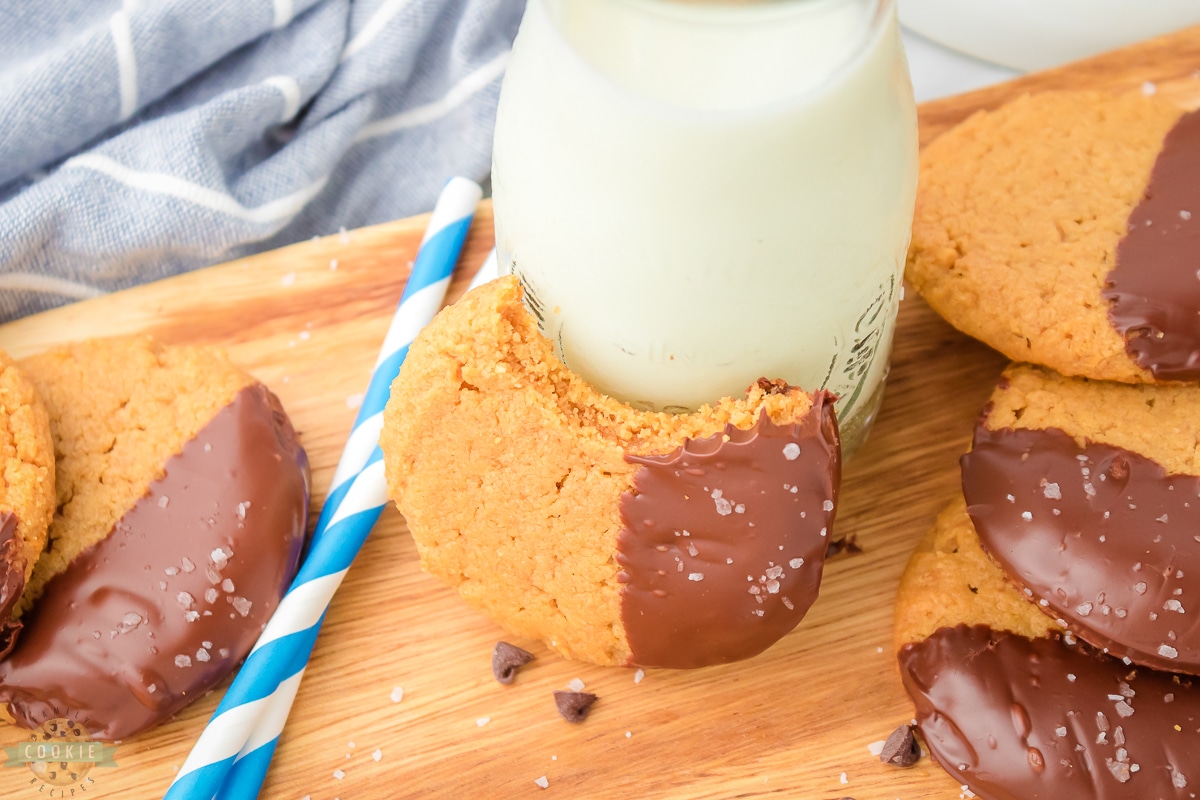 Chocolate Peanut Butter Cookies Ingredients:
-Peanut butter: You need 1 cup of creamy peanut butter for the base of these gluten free cookies. Use Jiff or another brand of creamy peanut butter but avoid using natural peanut butter as these don't work as well.
-Sugars: You will need ½ cup of white sugar and ¼ cup of packed brown sugar to make these cookies sweet and chewy.
-Egg: To bind the dough together well add in one large egg.
-Vanilla: Enhance the flavors in the cookie dough with a teaspoon of vanilla extract.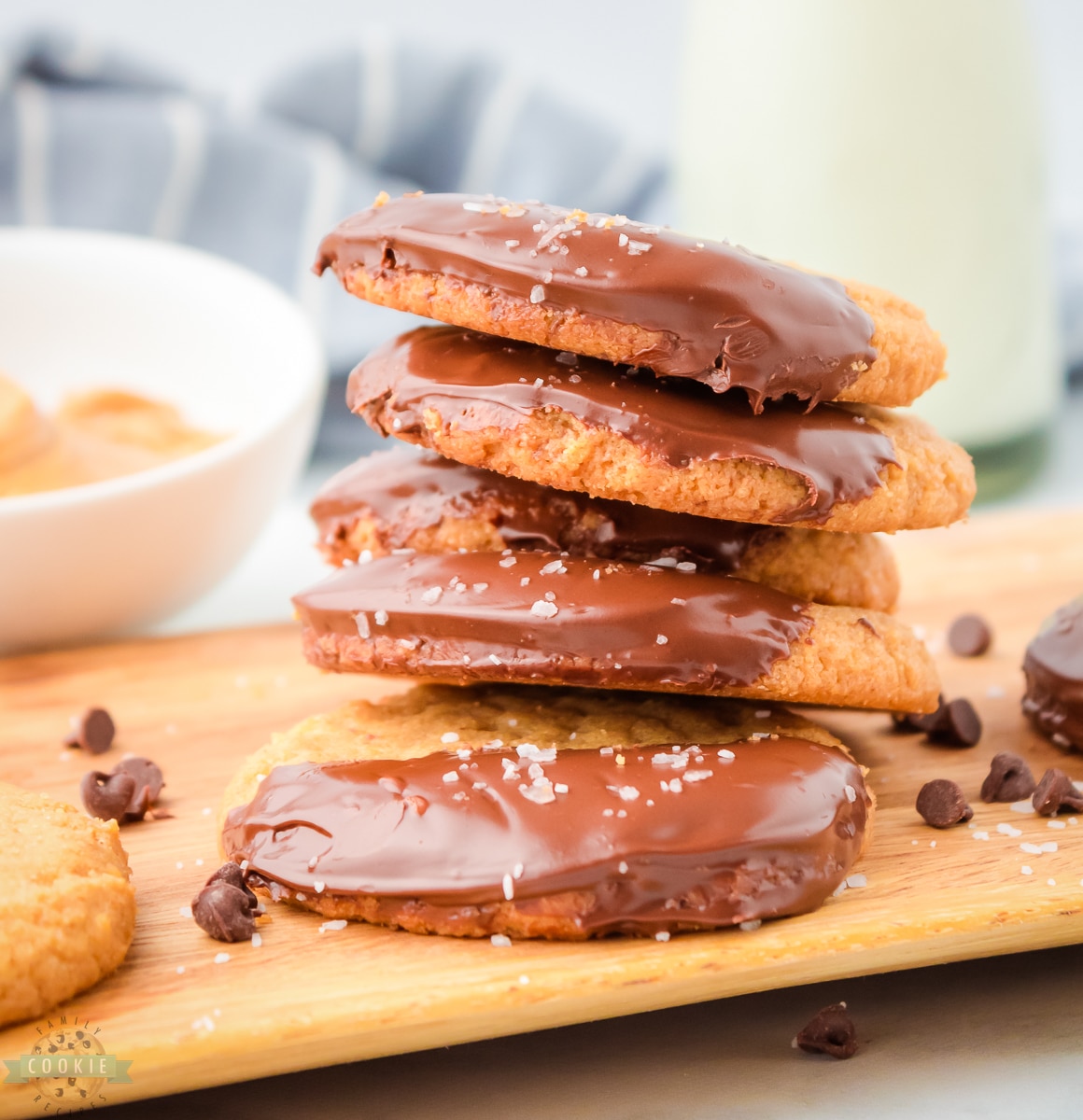 -Chocolate chips: You will need ½ cup of semi-sweet chocolate chips to melt down for dipping the cookies in. You can also use chocolate candy coating instead, but follow the package instructions for melting.
-Vegetable oil: Just ½ teaspoon of oil will help to make the chocolate melt smooth and perfectly.
-Salt: To add a nice contrast of flavor to the cookies we will sprinkle them with kosher salt or sea salt and you will need about ½ teaspoon of salt in total.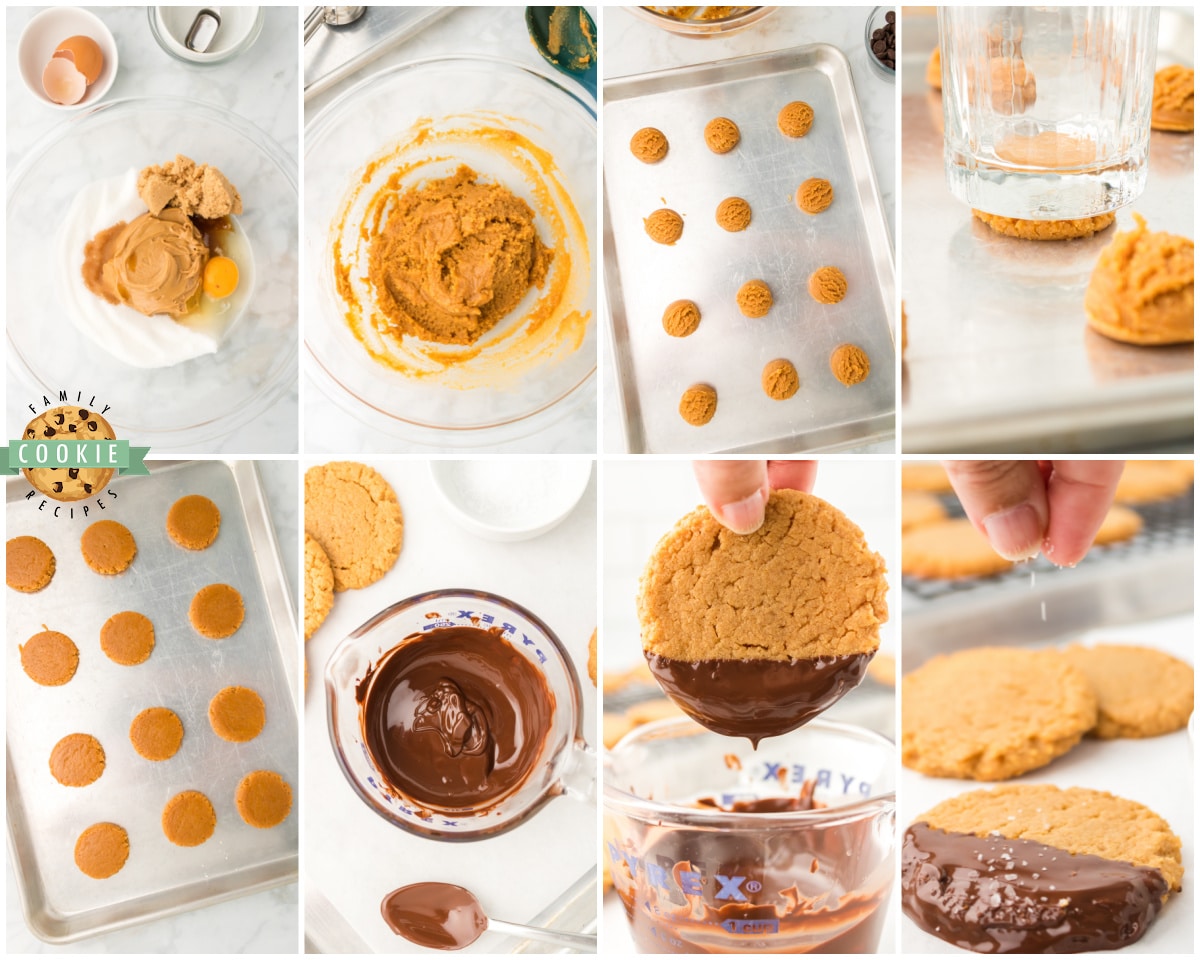 How to make chocolate dipped peanut butter cookies
Preheat your oven to 350 degrees F.
Combine the peanut butter, sugars, egg, and vanilla in a large mixing bowl. Mix until cookie dough is formed.
Use a medium sized cookie scoop and place cookie dough balls onto an ungreased cookie sheet, spacing the cookies about 2 inches apart.
Flatten the cookies with the bottom of a glass or measuring cup to about ½ inch thick.
Bake in the oven for 10-12 minutes. The cookies will appear slightly underdone but will be set up as they cool.
Repeat with the remaining dough.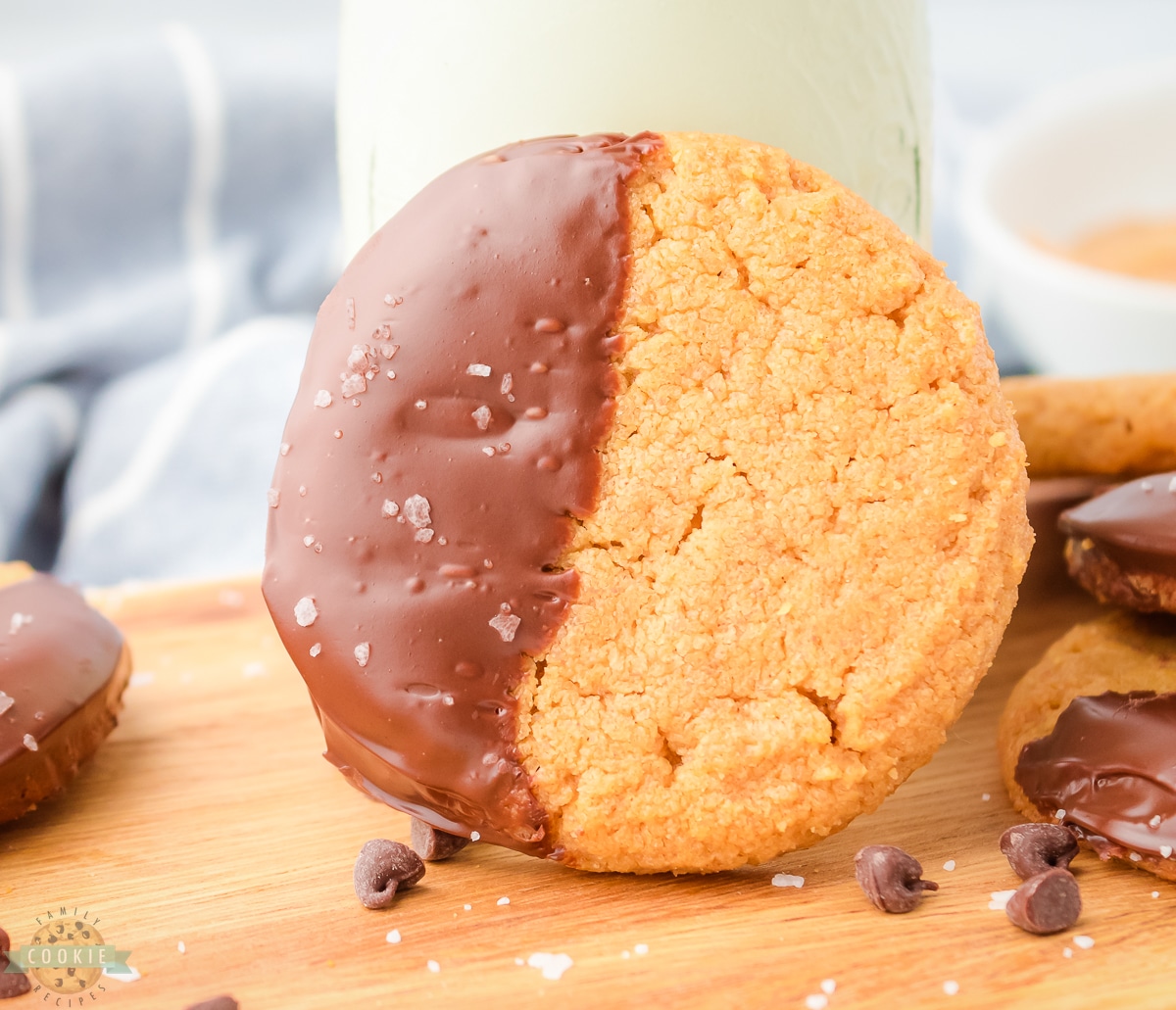 Allow the cookies to cool on the baking sheets for at least 5minutes before transferring to a cooling rack. Cool completely before moving onto the next step.
Line a cooled cookie sheet with parchment paper or waxed paper.
In a microwave safe bowl, add your chocolate chips and vegetable oil and heat for 30 seconds. Stir and then continue cooking in 25 second intervals, stirring between each until melted and smooth.
Dip the cookie into the chocolate until it is ⅓ of the way coated. Scrape off the excess chocolate from the bottom of the cookie and then place it onto the lined baking sheet.
Sprinkle the tops of the cookies with a small amount of salt and repeat with all of the cookies until done. Chill the cookies until the chocolate has hardened. Enjoy!
How to speed up the cookie cooling process
After allowing the cookies to cool at room temperature for 10 minutes you can place them in the fridge to help them chill and cool the rest of the way even faster. You can also allow the cookies to chill or cool overnight and dip them the following day.
How long are chocolate dipped peanut butter cookies food for?
These cookies can last about 3 days in the fridge if stored in an airtight container. I do not recommend storing at room temperature because the chocolate can soften and become melted.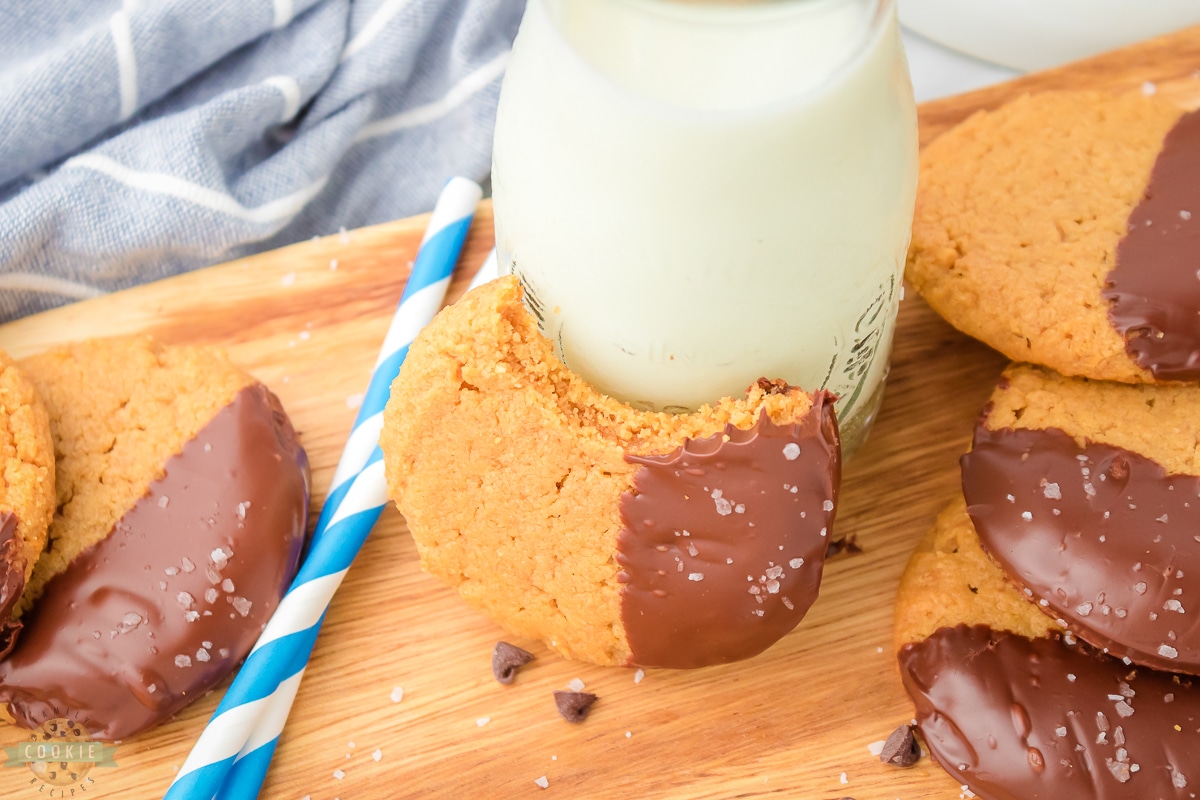 More delicious peanut butter cookies recipes to try soon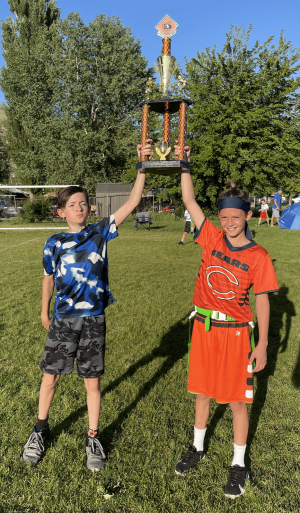 These peanut butter cookies are chewy and full of delicious peanut butter flavor.  The chocolate and sea salt makes the perfect combination and gives it a Reese's peanut butter cup taste.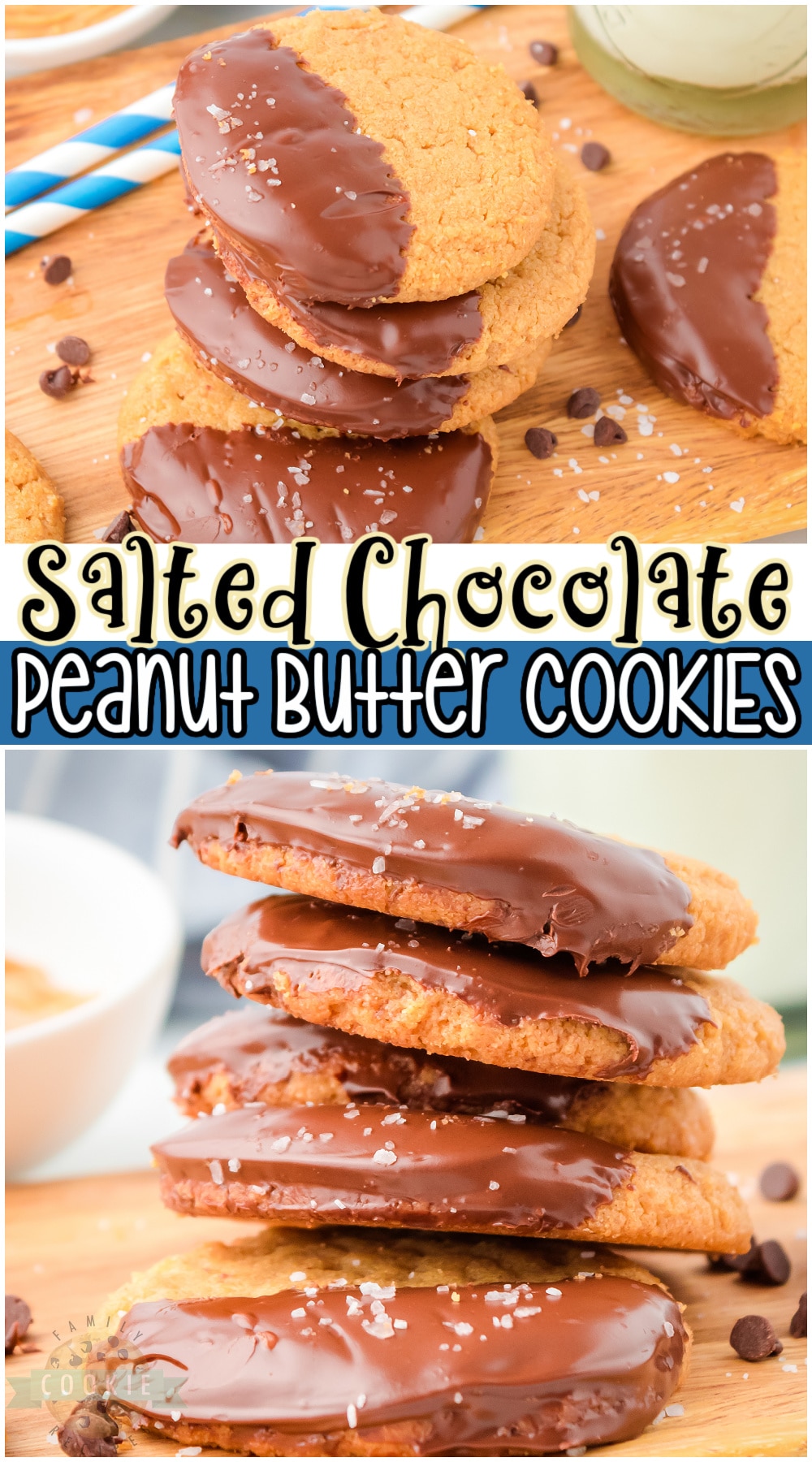 Chewy Peanut Butter Cookies dipped in chocolate, need I say more? Perfect homemade peanut butter cookies are gluten free and made with just 7 ingredients!