These keto peanut butter cookies are a great treat, especially when you're trying to stay healthy. Made with low sugar, creamy peanut butter, and dipped in dark chocolate, these cookies are the perfect bite of good decisions.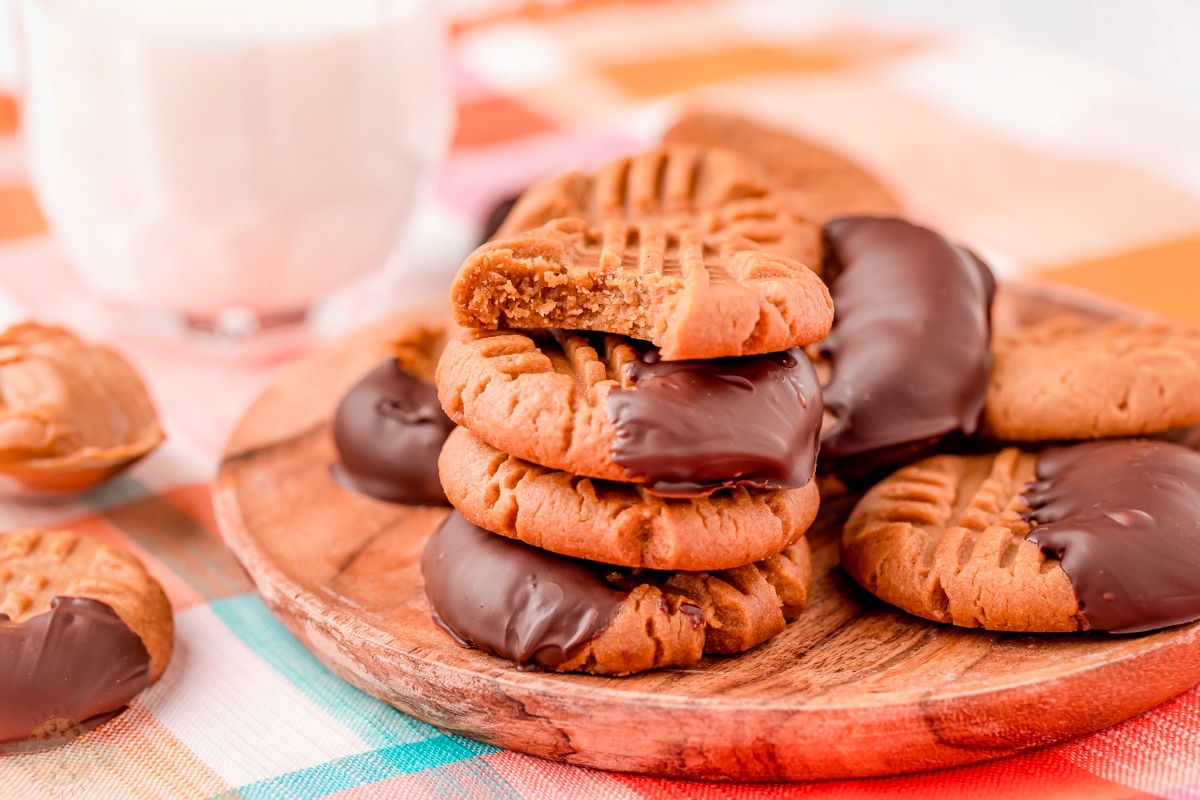 We love cookies around here and one of our favorites is the Peanut Butter cookie, and why wouldn't it be? Peanut butter cookies are one of the most recognizable and iconic cookies of all time. Those little fork marks on top really make the cookie look its part too. But having a healthier option for these delicious cookies means that we can enjoy them more often without the guilt.
What are Keto PB cookies?
Keto is a dietary choice that basically asks you to lower your carbs and sugars while increasing your protein. It's a low-carb high-fat diet similar to Atkins. Our Keto friendly peanut butter cookies help deliver on the dietary needs by not including any flour as the base and by using powdered erythritol as a low sugar option for sweetening the cookies.
This makes the cookies gluten-free. But the peanut butter, butter, and egg are what help to deliver the nice protein content in every bite. You're going to love these keto chocolate peanut butter cookies! It's a perfect blend of healthy and tasty!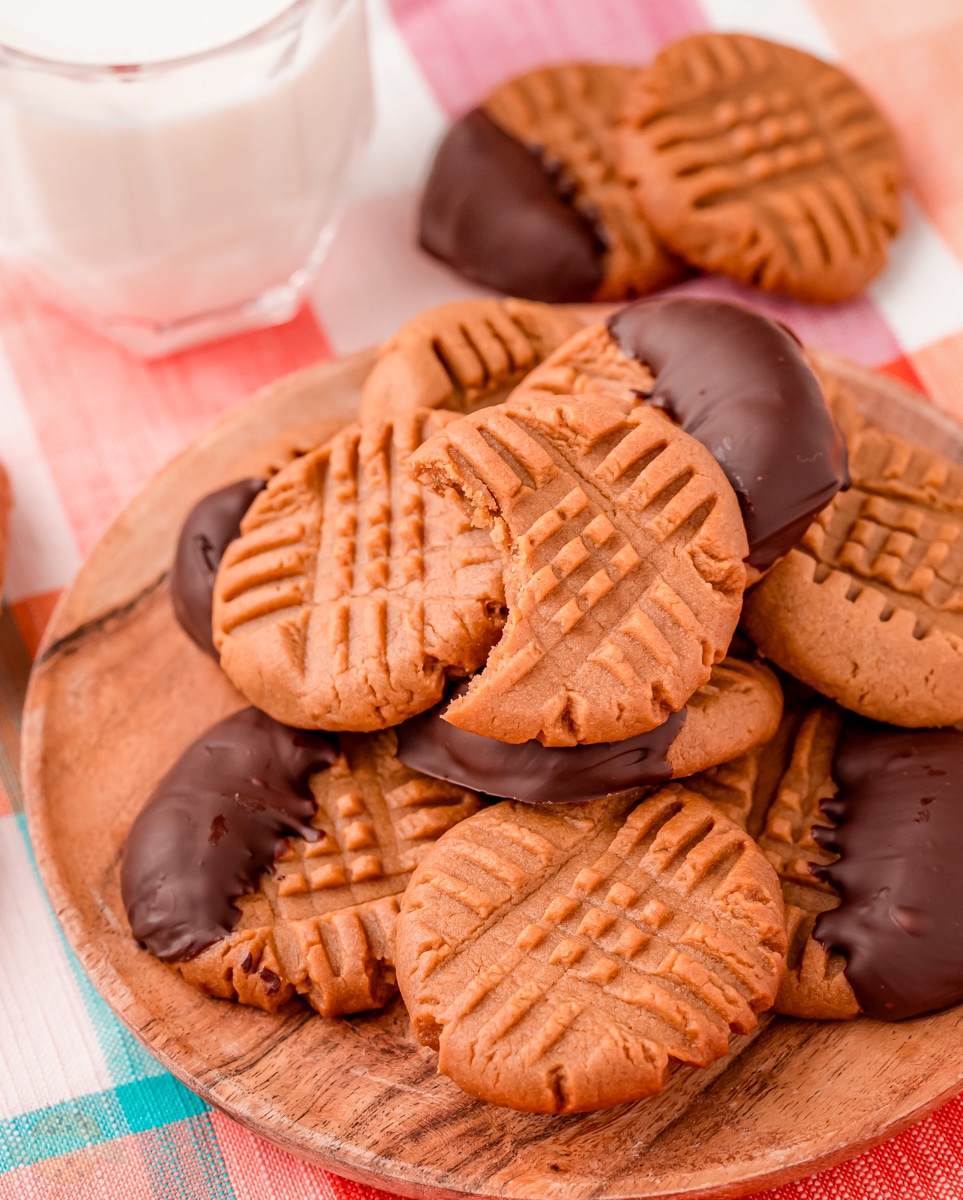 Ingredients needed for Keto PB Cookies
-Peanut butter: You'll want to use 1 cup of sugar-free peanut butter for this recipe to keep it keto-friendly.
-Powdered erythritol: ½ cup of this low sugar alternative will keep our cookies low in sugar. Granulated sugar will not work with this cookie recipe and you can even reduce the erythritol to ¼ cup if desired.
-Egg: One large egg will give us protein and a binder to hold the cookie dough together.
-Butter: You will need 2 tablespoons of salted butter for the dough. This will make the cookies richer in taste.
-Vanilla: To help enhance the flavors of our cookies, adding 1 teaspoon of vanilla extract will make it taste incredible.
-Dark chocolate chips: I like to use ½ cup of Lily's dark chocolate chips, but any keto-friendly brand will do. This is optional for dipping your cookies in after they've baked and cooled.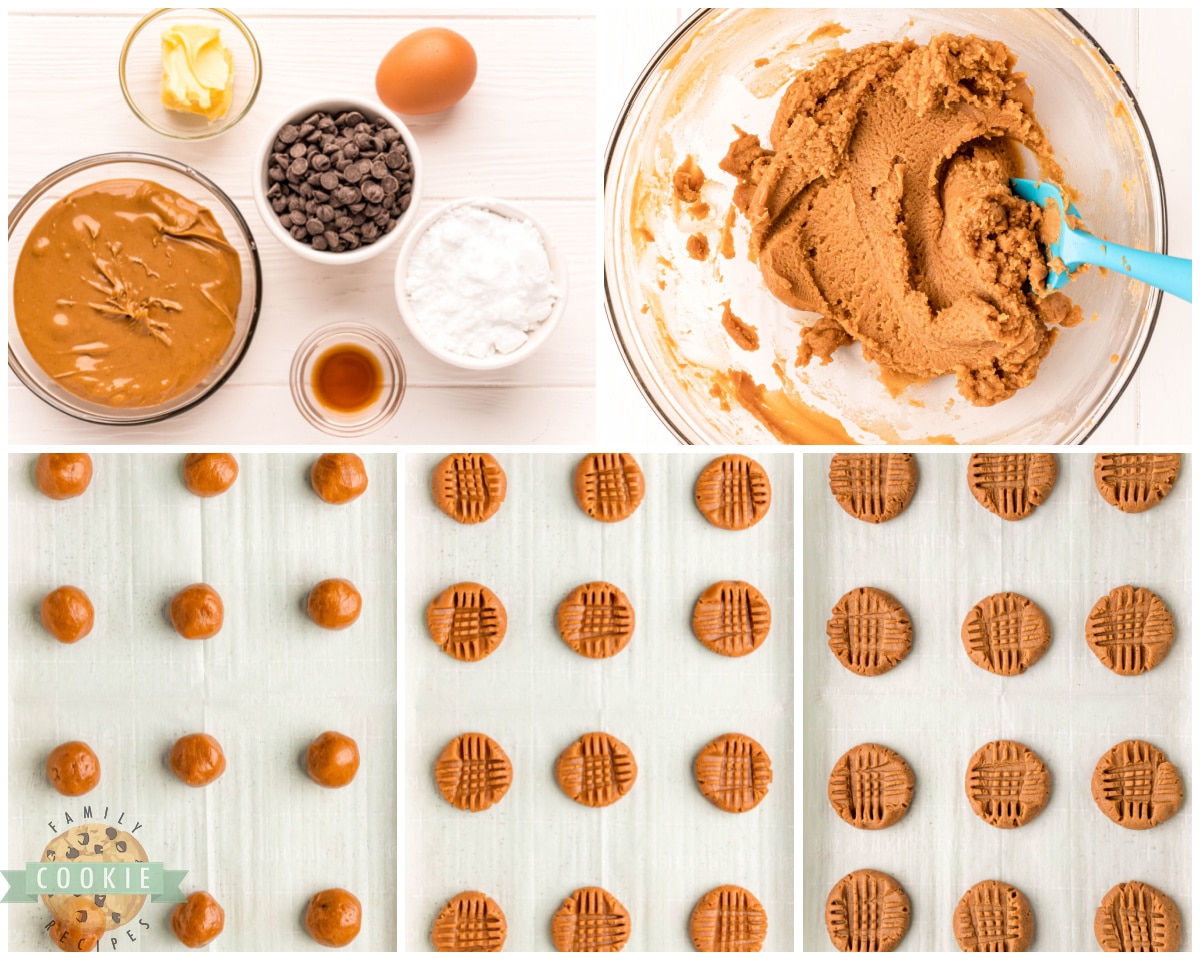 How to Make Keto Cookies
Preheat your oven to 350 degrees F and line a baking sheet with parchment paper. Set aside.
Mix together all of the ingredients (except for the chocolate) in a large bowl with an electric mixer or in a stand mixer with a fitted paddle attachment.
Scoop out the dough with a medium-sized cookie scoop and roll it into balls. Place the dough balls onto a prepared baking sheet and use the tines of a fork to criss cross a design over the top.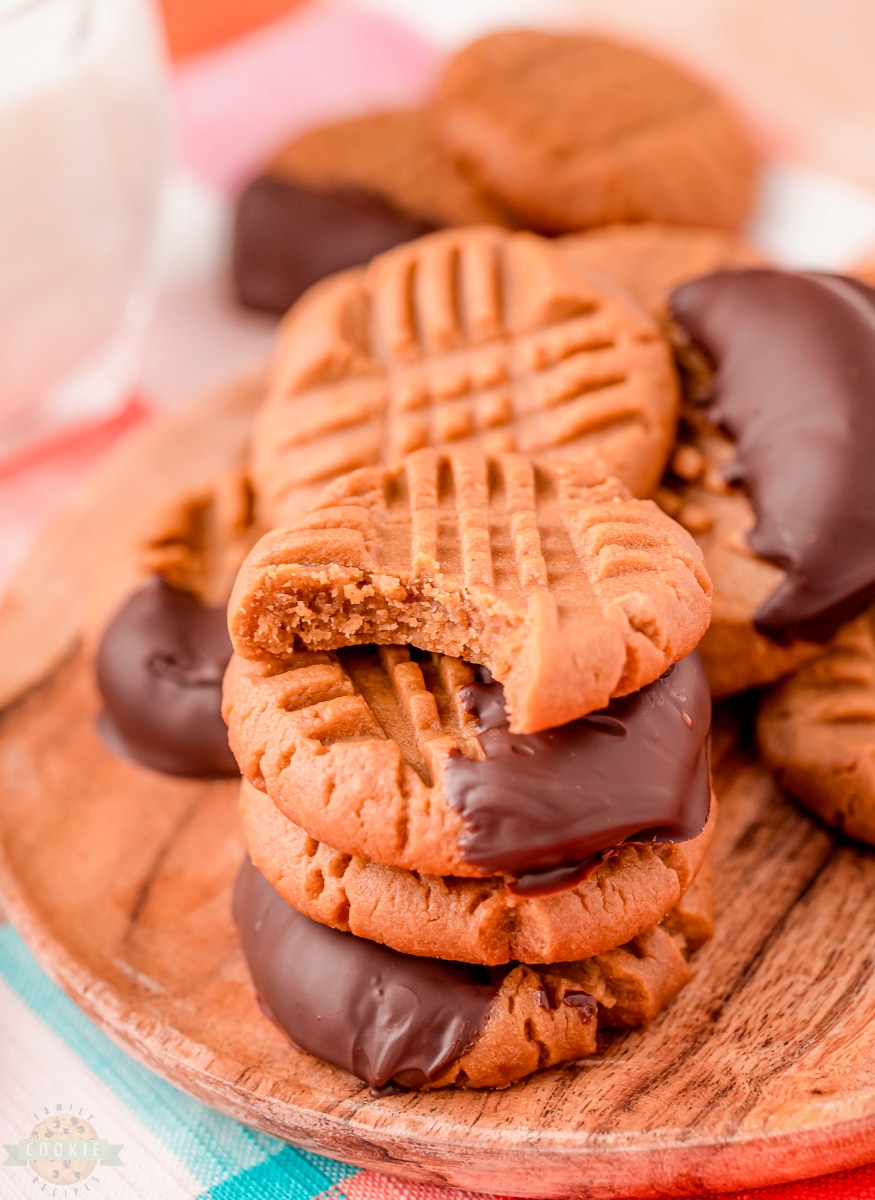 Bake in the oven for 10-12 minutes and allow the cookies to cool on the pan for an additional 10 minutes before transferring to a wire cooling rack to cool completely.
If desired, melt your chocolate chips in a small bowl in the microwave in 30-second intervals, stirring between each until smooth. Add in ¼ teaspoon of coconut oil if desired for a softer finish. Then dip the cookies in the melted chocolate and place on wax paper until firm. Enjoy!
How long are keto cookies good for?
These cookies should last up to a week if stored properly in an airtight container at room temperature.
Why are my peanut butter cookies falling apart?
If you overbaked your peanut butter cookies you'll find that they become dry and crumbly. Also if you don't allow cooked cookies to cool and set up on a cooking sheet after baking then you may also notice them fall apart as you transfer them to the cooling rack. Allowing warm cookies to sit on the baking sheet gives them the time they need to stop cooking and to harden and set into their final cookie stage so they're no longer doughy.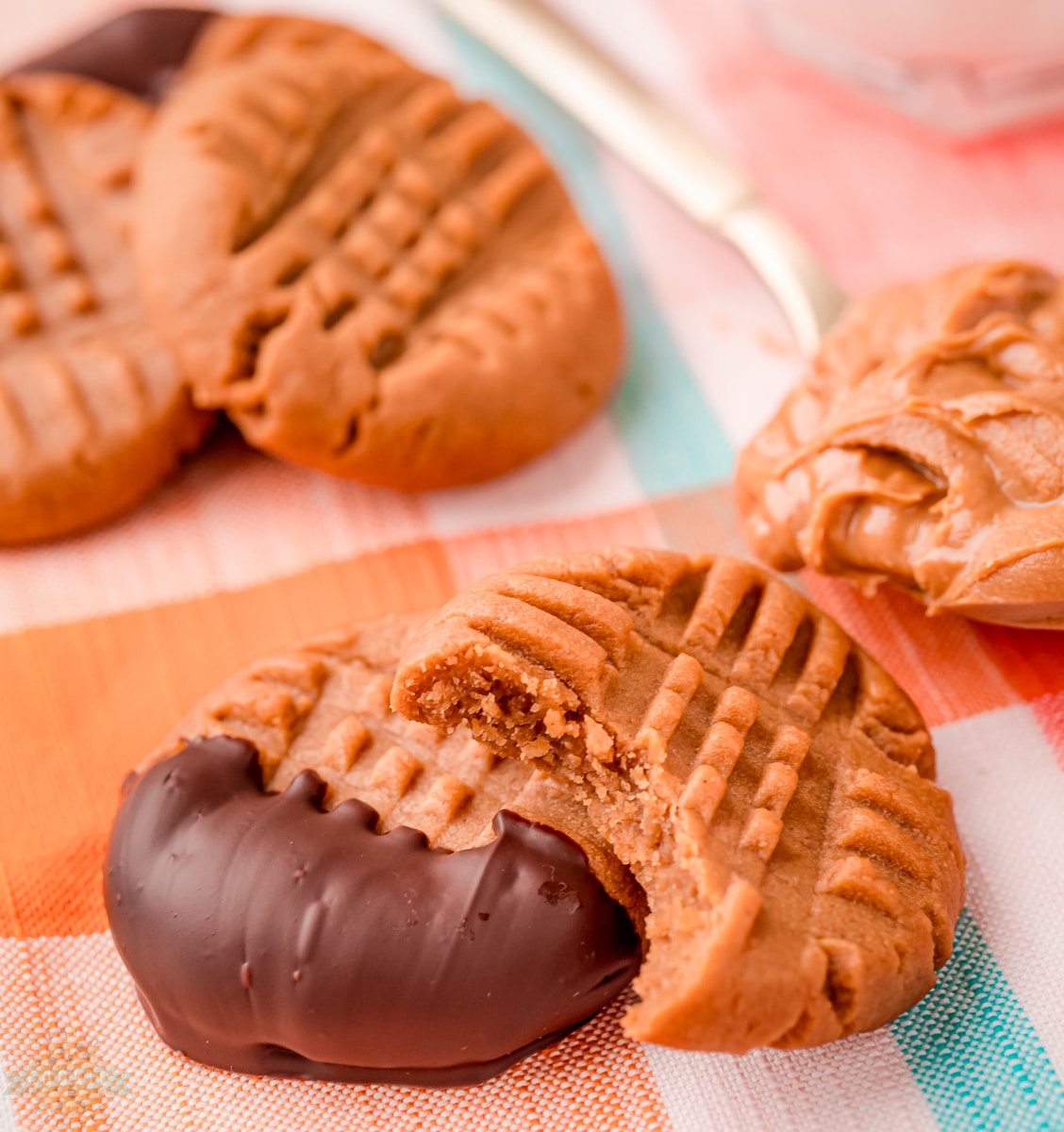 Need more healthy cookie recipe ideas?
Check out these other great peanut butter cookie recipes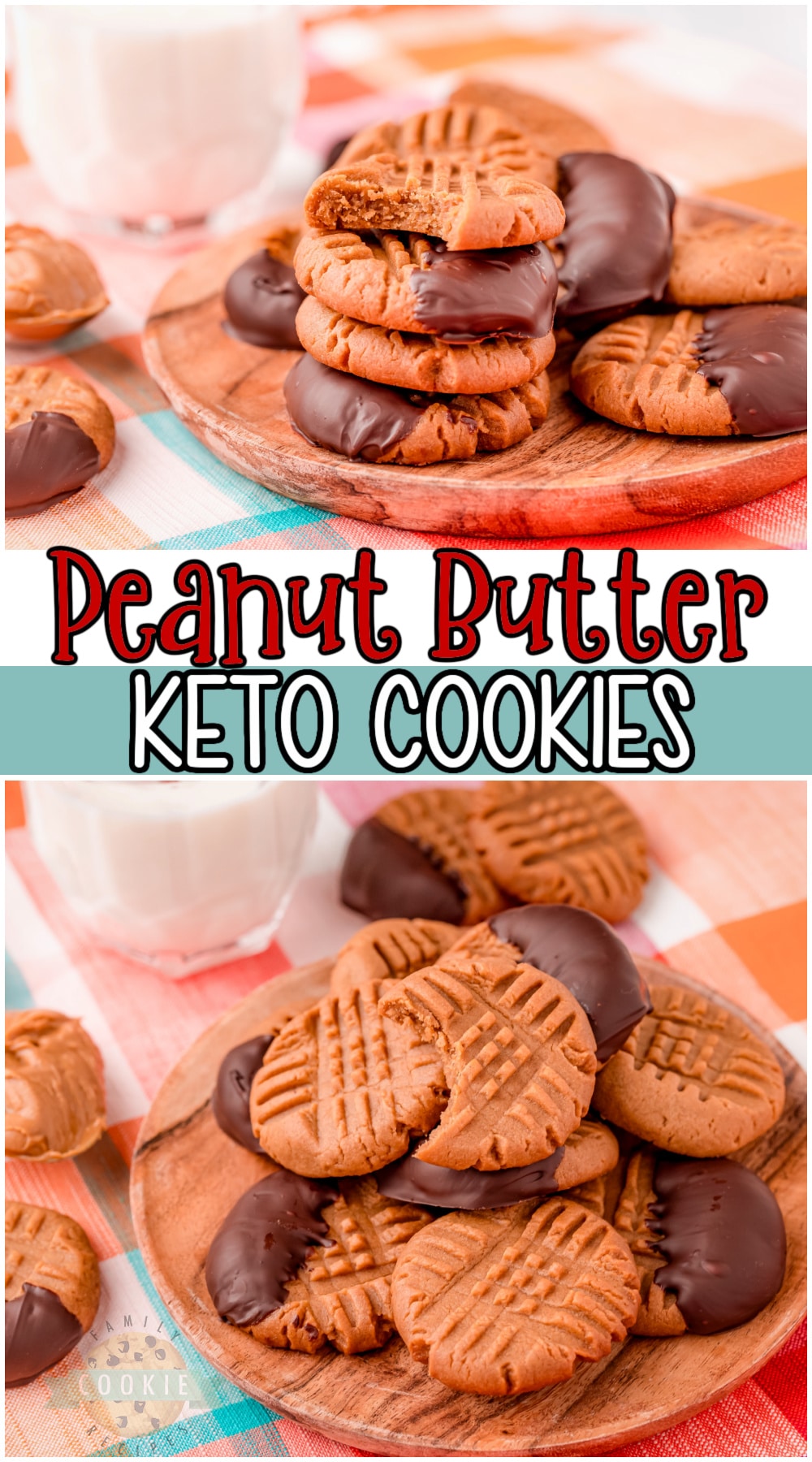 You're going to love this easy keto peanut butter cookies recipe. It's the best low carb peanut butter cookie and one you'll feel great about snacking on. Made with low sugar, creamy peanut butter, and dipped in dark chocolate, these cookies are the perfect bite of good decisions.