Granola Chocolate Chip Cookies are soft, chewy, full of protein and crunchy granola. With 5 grams of protein per cookie and a little bit of crunch, these have become my new favorite cookie!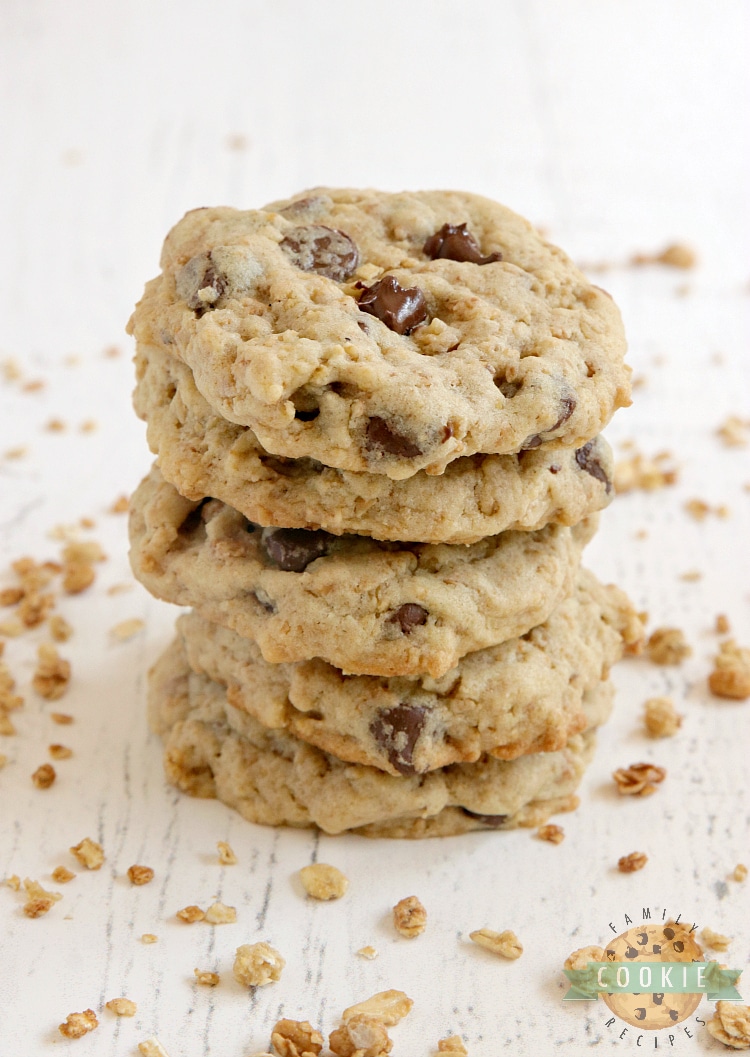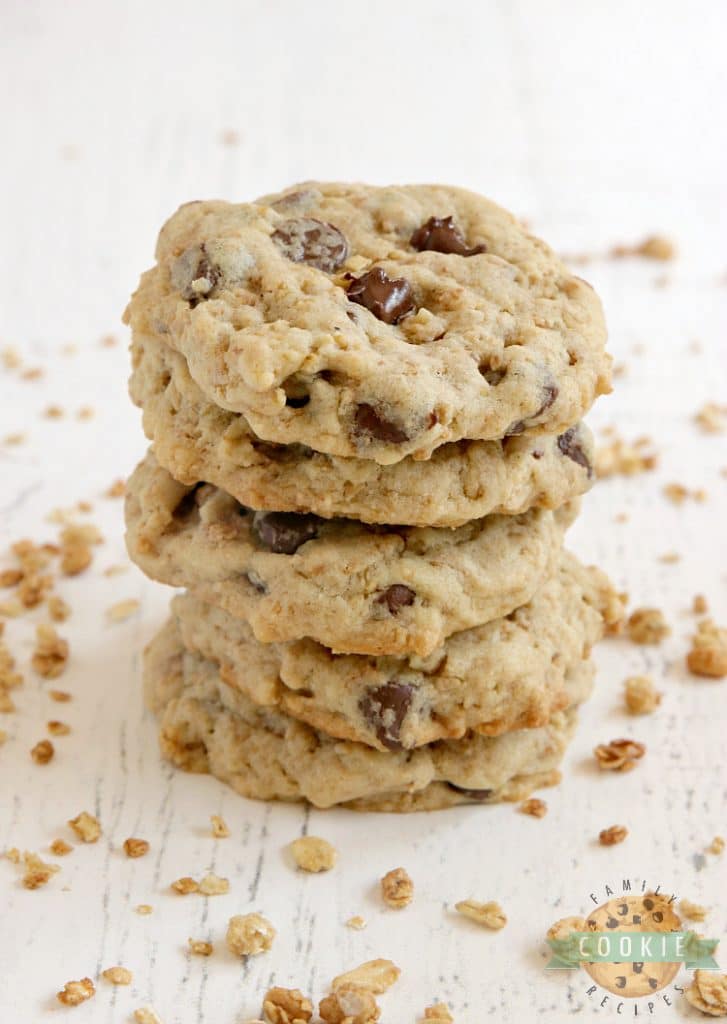 The first time I made these cookies, my family was a little skeptical. I kept talking about how these cookies were kinda healthy and full of protein, and I think they were expecting cookies that didn't taste very good. All of my picky kids were pleasantly surprised and kept asking for another one – a few of them told me that these were their favorite chocolate chip cookies ever. And I make a lot of chocolate chip cookies!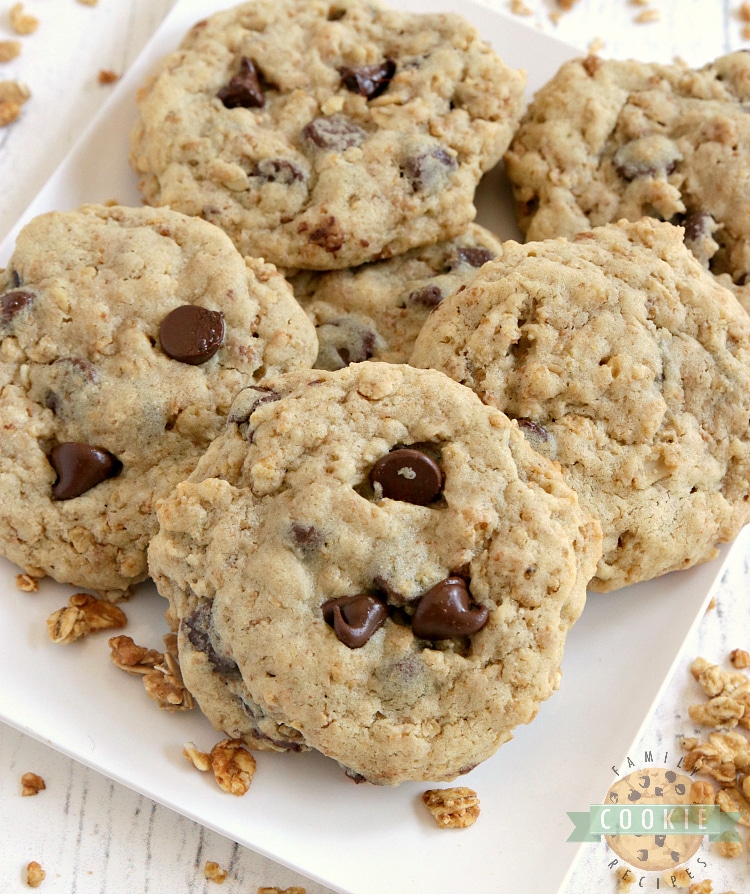 HOW DO YOU MAKE PERFECT CHOCOLATE CHIP COOKIES?
Making chocolate chip cookies is easy! Here are a few tips to getting perfect cookies every time!
Make sure you use softened butter – DON'T melt it! One of the most common errors in cookie making is using butter that is either really cold and hard, or using butter that is too warm and melted. If you have time, just leave butter out on the counter for about 1-2 hours before making your cookies. If you are like me and don't plan your cookie cravings that far in advance, just place the butter in your microwave and soften in 5 second intervals, being very careful to pull it out before it melts. I actually like to use the defrost setting on my microwave to soften butter- I don't know the technical reasons behind it, but it seems to soften the butter more evenly and takes a little bit longer so I'm less likely to start melting it! 
Most cookie recipes require that you mix the dry ingredients separately before adding the wet ingredients. This is an important step!
Spend a little extra time when you mix the butter and sugars. Creaming them together for 2-3 minutes will improve the consistency of your cookies.
Preheat the oven. This will help your cookies turn out right every time!
Use a cookie scoop! If you want all your cookies to be perfectly shaped and have them all be the same size, a cookie scoop is the way to go.
Use parchment paper or a silicone baking mat. Doing this will make it really easy to remove the cookies from your cookie sheet so that you don't have to scrape them off the pan – they will just slide right off in perfect shape!
Don't over bake the cookies – when I take mine out of the oven, they still look slightly under baked but they will continue to bake on the cookie sheet for a couple more minutes so that's ok!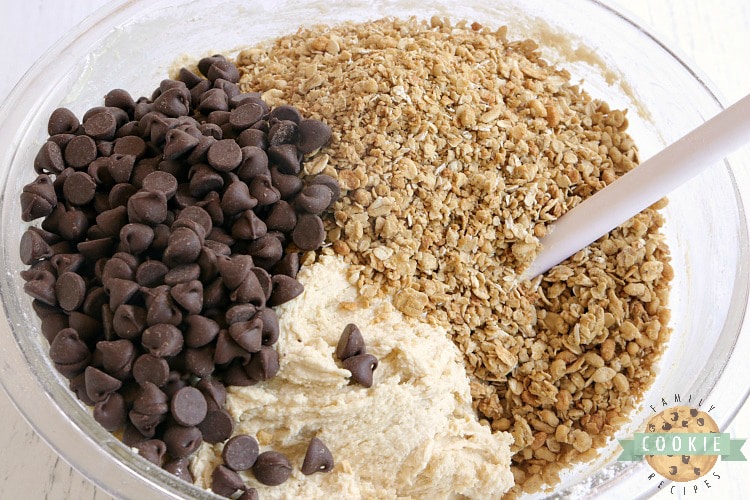 Ingredients in Granola Chocolate Chip Cookies
Butter– I always use salted butter, but unsalted works fine too! Make sure it is softened to room temperature before making the cookies.
Brown sugar and granulated sugar – I use light brown sugar, but dark brown works also. Make sure your brown sugar is fresh (not dry and hard) for best results.
Vanilla protein powder – Any kind will work, but my favorite is the one from Clean Simple Eats. Sometimes I even add another scoop to the cookies to add a bit more protein. Two scoops works great, but if you start adding too much more, it will begin to affect the taste and texture of the cookies.
Eggs & vanilla – Two key cookie ingredients. The higher the quality of the vanilla, the better.
Flour – I usually use all-purpose flour, but you can use wheat flour if you'd like. It will make the cookies more dense and change the consistency a little bit, but they are still delicious!
Baking soda & salt – Make sure your baking soda isn't old or expired!
Granola – This is the main ingredient in these cookies and the type you use will definitely affect the flavor of the cookies! I always use the Nature Valley Protein Oats & Honey kind – it's my favorite and has tons of protein in it! You can also use a homemade granola recipe if you prefer. Just make sure that whatever granola you use is broken up into small pieces – you don't want any huge chunks of granola in the cookies.
Chocolate Chips – You can leave these out if you want, but I usually don't! I prefer semi-sweet, but you can use any kind. Or swap them out for raisins or nuts (almonds/cashews/etc). These cookies are very versatile!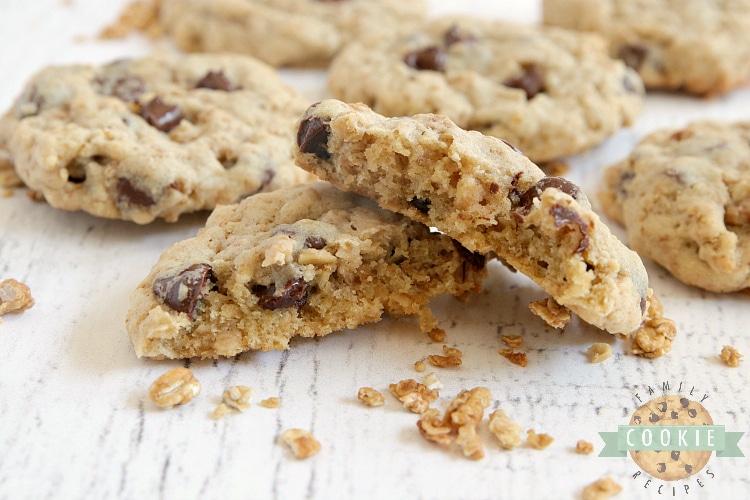 How to make Granola Chocolate Chip Cookies
Preheat oven to 350°.
In a large bowl, use an electric mixer to cream together the butter and sugars for at least 2-3 minutes. Add the protein powder and mix for another minute. Add the eggs and vanillas and beat for another 2-3 minutes.
In a separate bowl, stir together the flour, baking soda and salt. Add to the wet mixture and mix just until combined. Use a wooden spoon or spatula to stir in the granola and chocolate chips.
Use a cookie scoop to scoop out balls of cookie dough onto a prepared cookie sheet. I like to line my cookie sheets with silicone liners or parchment paper. Slightly flatten the tops of the cookie dough balls with the palm of your hand and then bake them for 8-10 minutes.
Cool on the baking sheet for a few minutes and then transfer to a wire rack to cool completely.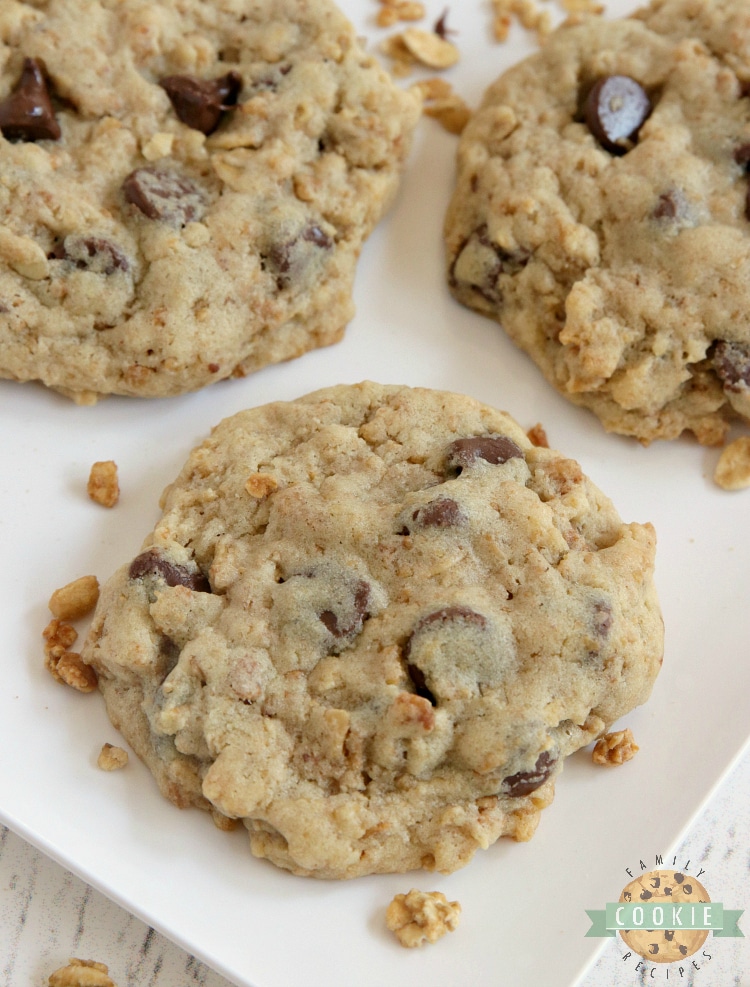 How much protein is in granola chocolate chip cookies?
It totally depends on how much protein powder you add and what type of granola you use, and how big you make the cookies! I figured out that my cookies have about 5-6 grams of protein per cookie, which is pretty good! I love finding ways to sneak protein into every single thing that I eat so that I stay full longer and make sure I get enough protein in each day.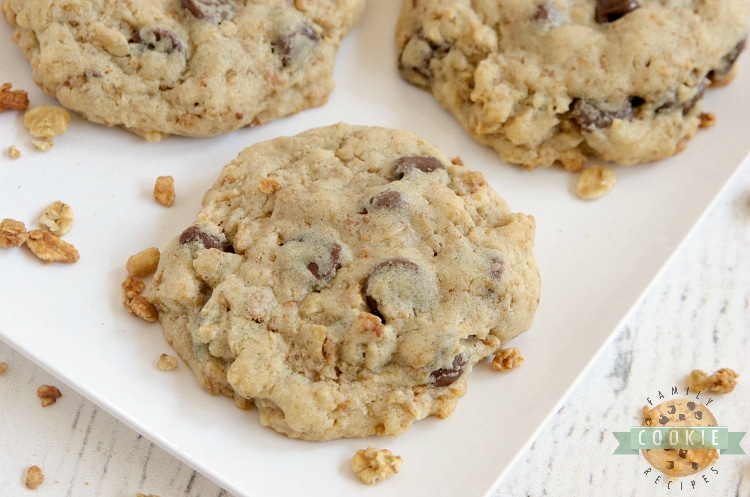 LOVE CHOCOLATE CHIP COOKIES? SO DO WE! HERE ARE SOME OF OUR FAVORITE CHOCOLATE CHIP COOKIE RECIPES!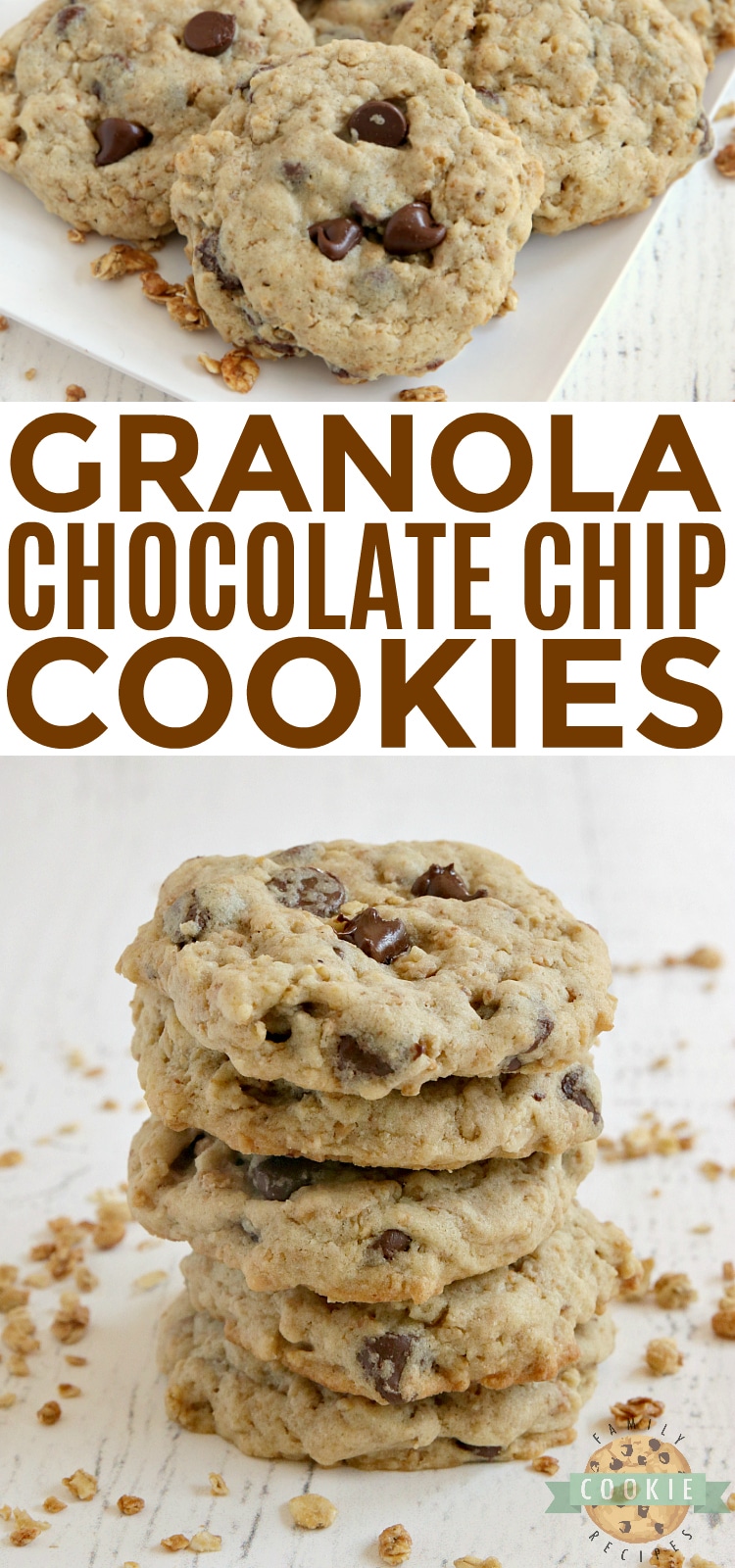 Granola Chocolate Chip Cookies are soft, chewy, full of protein and crunchy granola. With 5 grams of protein per cookie and a little bit of crunch, these cookies are absolutely delicious!

School just started a couple of weeks ago…after a very long 5 month break. It looks a little bit different this year and the masks went on right after these pictures were taken, but my kids are grateful to be able to go back to school and make new friends and get involved. Baby B is having a hard time getting used to having all of her siblings and playmates gone all day long every day, but we are finding ways to stay entertained. Love these kids so much and can't believe how big they are getting!