Avocado Chocolate Chip Cookies are soft, chewy and delicious! These chocolate chip cookies are made with avocado instead of butter – you've got to try it sometime!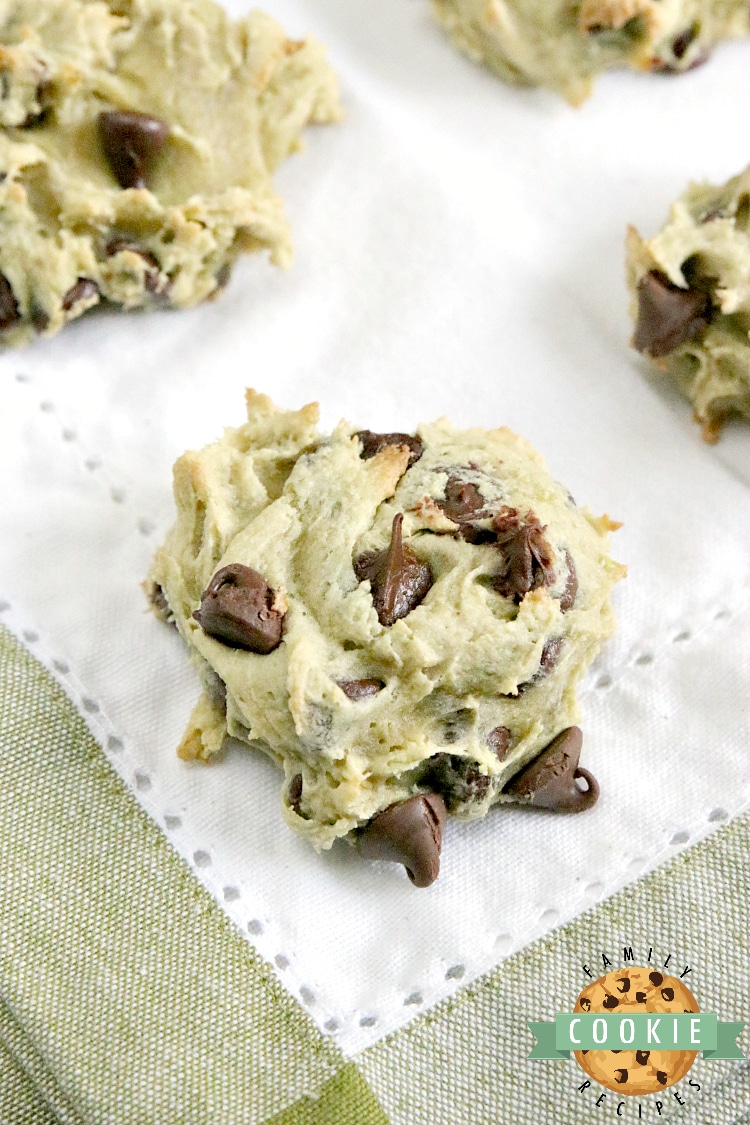 A long time ago, I heard that avocado is a great substitute for butter, and I finally decided to test it out in chocolate chip cookies. Are the cookies still high in calories and sugar? Yep, but I like to pretend they are a health food since they have avocado in them. They've got to be a little bit healthier this way, right?!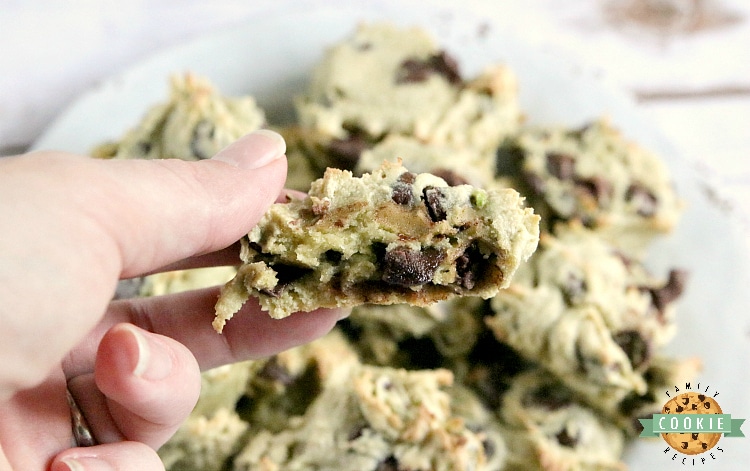 The cookies are definitely still a treat, but I love that this little swap results in a cookie that is still delicious! Sometimes when you try to add a more healthy substitute to a treat, they just don't taste very good. The consistency of these cookies is definitely a little bit different than traditional chocolate chip cookies, but the flavor is almost exactly the same! Even the cookie dough is delicious!
The avocado does add a little bit of a green tint to the cookies, but it's not very noticeable. My kids are a little bit averse to green food items, but they didn't even notice and devoured these cookies just like they usually do. They did comment that they were a little bit different, but they had no idea what the difference was.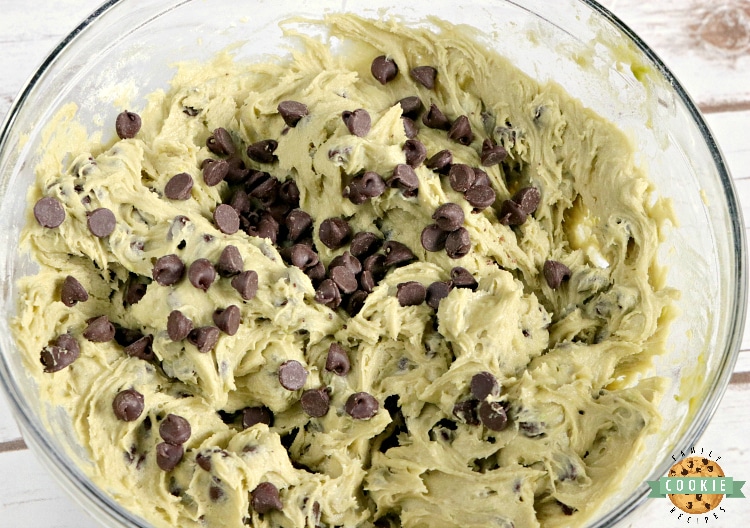 The main difference between avocado chocolate chip cookies and regular chocolate chip cookies is the consistency. The avocado version is thicker, more cake-like and a little bit chewier because the avocado does not melt in the baking process like butter does. Makes sense, right?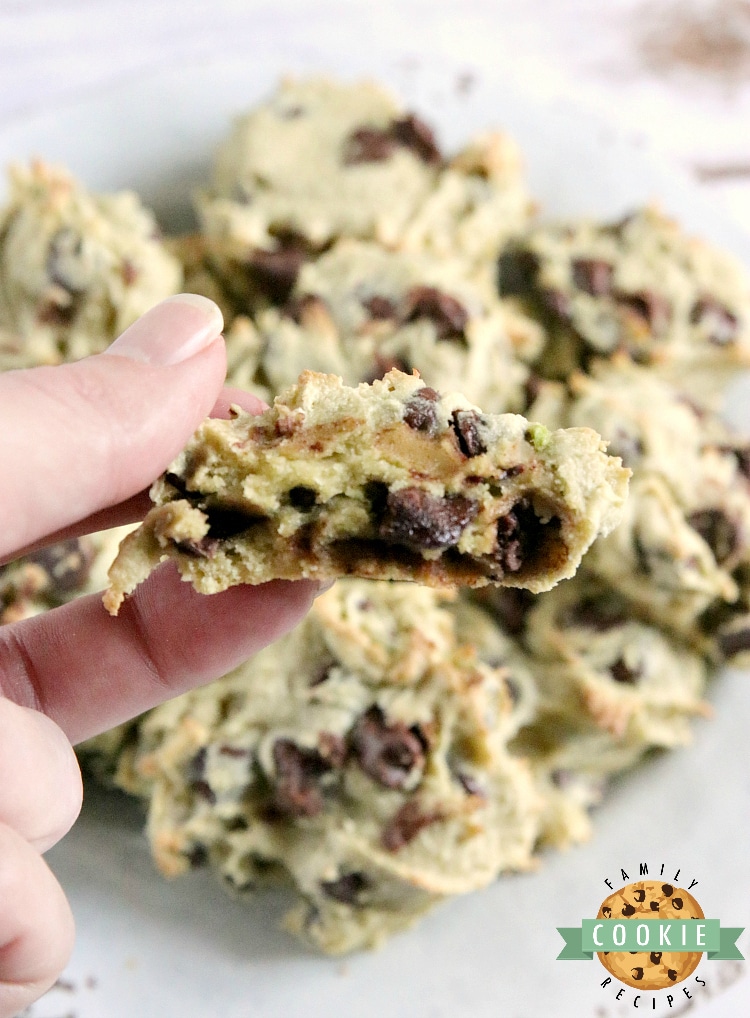 How to make The BEST Chocolate Chip Cookies:
After trying out multiple chocolate chip cookie recipes over many years, I have picked up several important tips for making the absolute BEST cookies!
Spend a little extra time when you mix the avocado and sugars. Creaming them together for 2-3 minutes will improve the consistency of your cookies.
Preheat the oven. This will help your cookies turn out right every time!
Use a cookie scoop! If you want all your cookies to be perfectly shaped and have them all be the same size, a cookie scoop is the way to go.
Use parchment paper or a silicone baking mat. Doing this will make it really easy to remove the cookies from your cookie sheet so that you don't have to scrape them off the pan – they will just slide right off in perfect shape!
Don't over bake the cookies – when I take mine out of the oven, they still look slightly under baked but they will continue to bake on the cookie sheet for a couple more minutes so that's ok!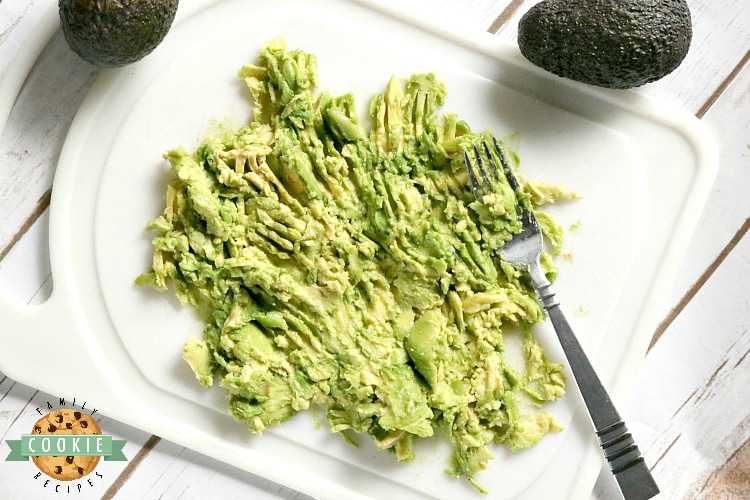 Ingredients in Avocado Chocolate Chip Cookies
-mashed avocado
-brown sugar
-sugar
-eggs
-vanilla
-baking soda
-salt
-flour
-semi-sweet chocolate chips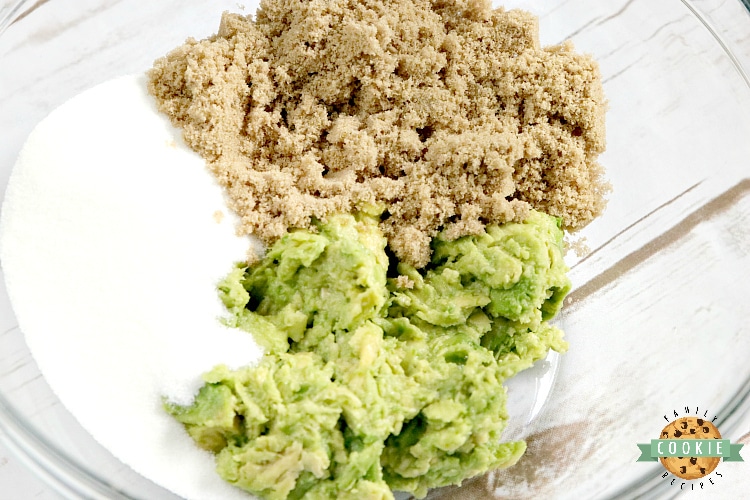 How to make Avocado Chocolate Chip Cookies
Preheat oven to 375°.
Mash the avocados until mostly smooth. I usually do this with a fork, but you can use a food processor if you prefer. Place the mashed avocado in a mixing bowl and add the sugars. Beat with an electric mixer for 1-2 minutes.
Add the eggs and vanilla and continue to beat for 1-2 minutes.
In a separate mixing bowl, mix together the flour, baking soda and salt.
Add the flour mixture to the avocado mixture and mix just until combined. This cookie dough will be a bit on the sticky side, but don't add more flour. The avocado in the recipe will prevent the cookies from spreading too much – I promise!
Stir in the chocolate chips.
Use a cookie scoop to scoop the cookies onto a greased cookie sheet or a cookie sheet that is lined with parchment paper or a silicone baking mat.
Bake cookies for 9-10 minutes, until the edges barely begin to turn a light golden brown. Let the cookies cool on the cookie sheets for a few minutes before transferring them to wire racks to cool completely.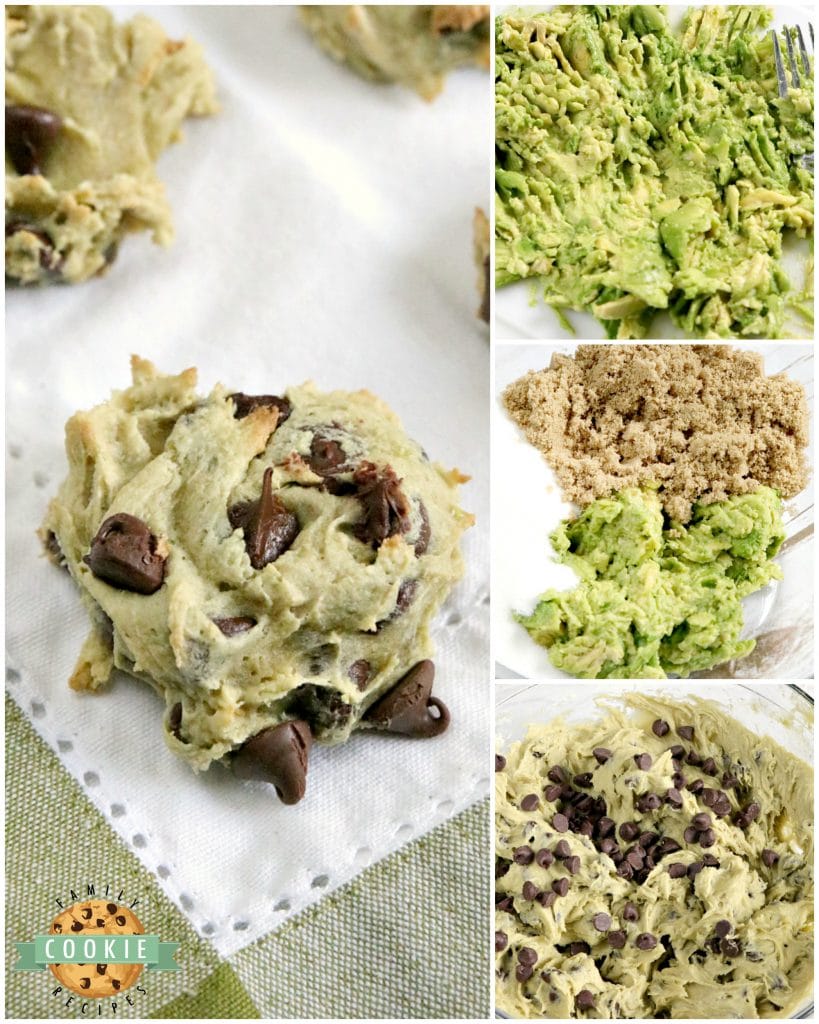 Chocolate Chip Cookie troubleshooting tips
Over the years, I have had many cookie failures along with all of my successes and I have learned a few things along the way! You may have a favorite chocolate chip cookie recipe that you love, but they don't always turn out perfectly. Why?! Here are some helpful tips for some common cookie problems!
Why are my cookies crispy and hard?
If your chocolate chip cookies are hard, crunchy or crispy, you probably baked them too long. Cookies will continue to bake for a couple of minutes on the hot cookie sheet even after you remove them from the oven, so you don't want to wait until they are golden brown before taking them out! My husband really likes a few cookies to be a little more well-done so that he can dip them in milk, so I usually make half a tray of cookies for him that get cooked a couple minutes longer.
Most of my cookies are baked until barely done. I don't even wait for the tops to start turning golden brown, but look at the edges on the bottom of the cookies. If the edges look like they are turning a little bit golden brown, they're done! You don't want the centers of the cookies to look doughy, but they shouldn't be even slightly brown on top either.
Why do my cookies burn on the bottom but aren't done in the middle?
If your cookies are always burning on the bottom, it is probably a cookie sheet issue! If you are using really dark cookie sheets, the bottoms of your baked goods will tend to burn before they are actually cooked all the way through. If you use a lot of cooking spray, the same result can happen. I prefer to use lighter colored non-stick pans so that I don't have to use cooking spray at all. As mentioned above, I have been converted to silicone baking mats over the last couple of years and I love how easy it is for cookies to come off the tray – no sticking ever!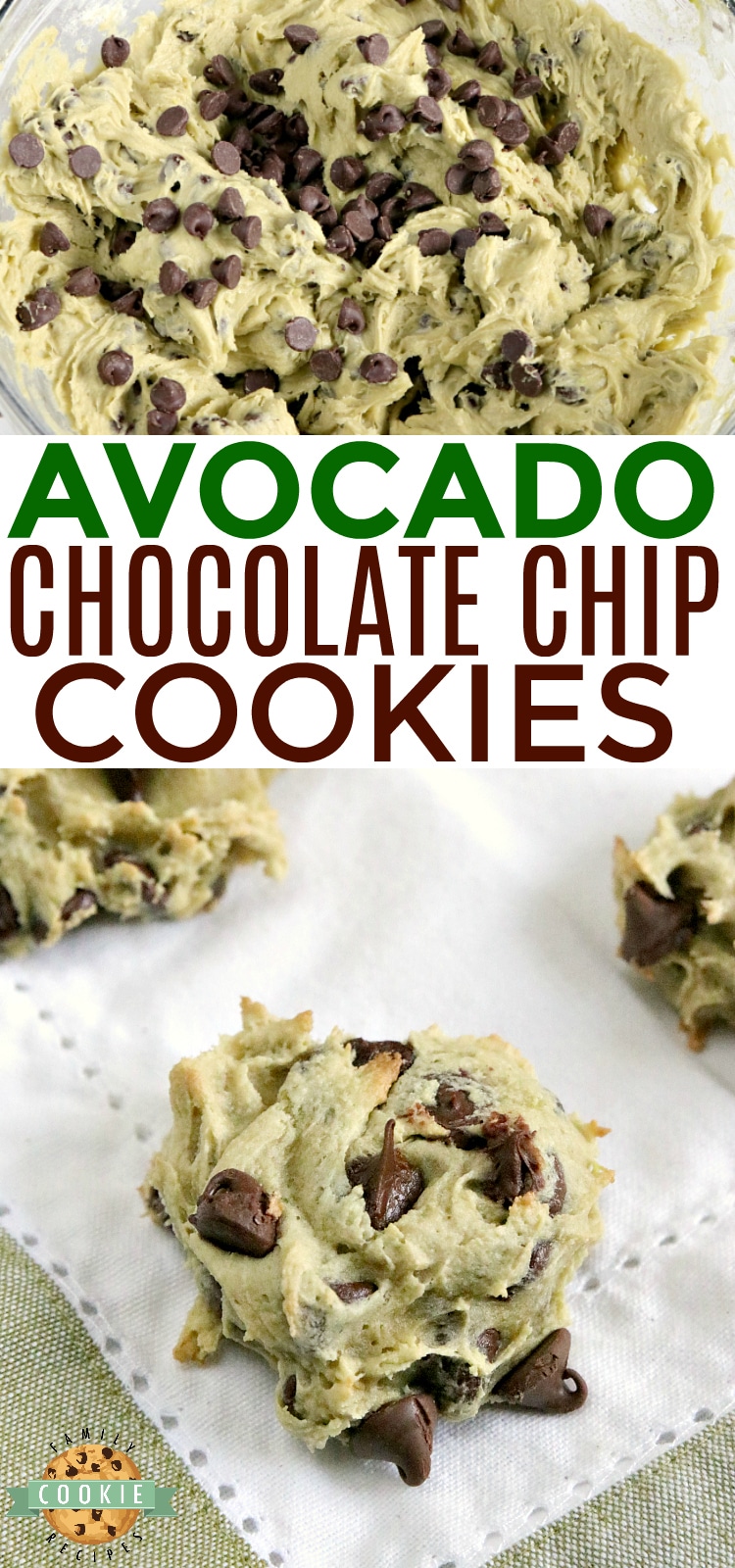 Love chocolate chip cookies? So do we! Here are some of our favorite chocolate chip cookie recipes!

This little cutie just got to go on her very first bike ride! We finally got the seat installed and a helmet that fits her – my other kids have been so excited to be able to go on family bike rides with all of us together. I was a little nervous that she might absolutely hate the helmet but she didn't seem to mind it too much and was smiling the entire 30-minute ride – she LOVED it!