Butter Pecan Chocolate Chip Cookies are a twist on a traditional chocolate chip cookie recipe! Classic ingredients with the indulgent addition of toasted brown sugar butter pecans!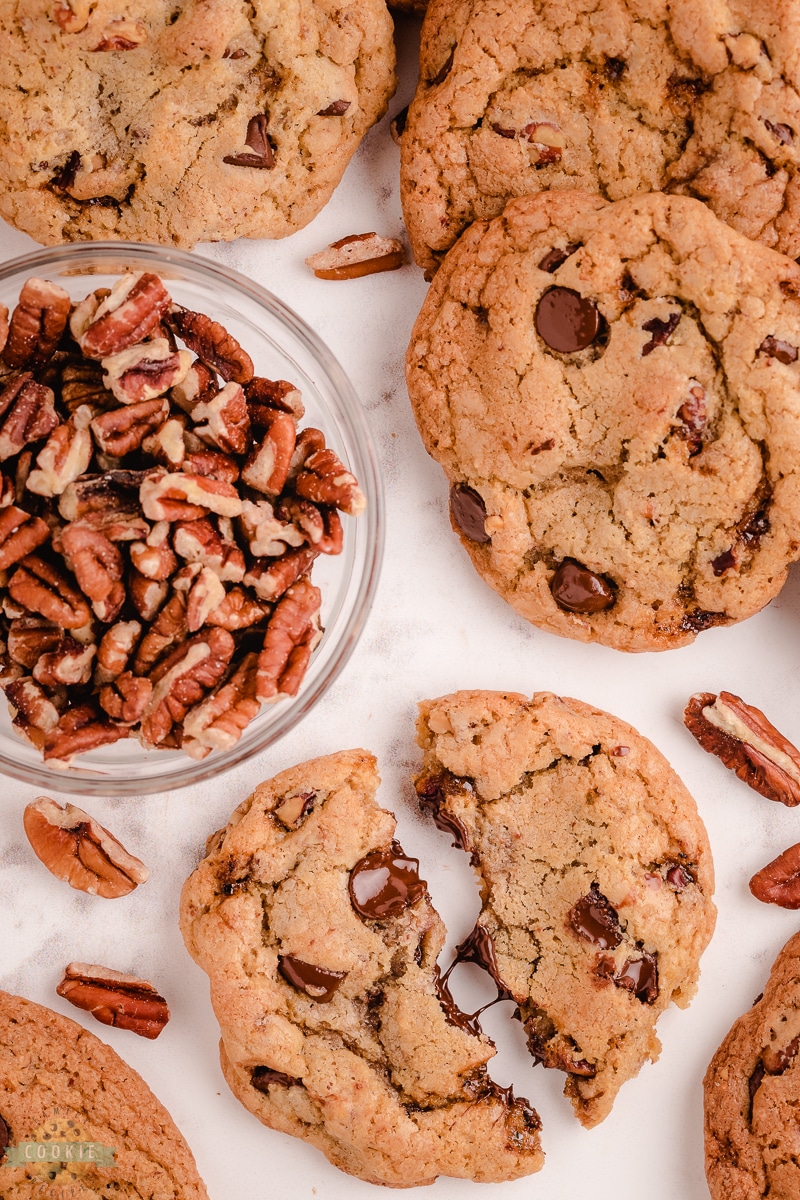 Be sure to check out our updated collection of the BEST HOMEMADE CHOCOLATE CHIP COOKIE RECIPES here!
If you like butter pecan ice cream you've GOT to try these Butter Pecan Chocolate Chip Cookies! I am not usually a cookie dough person, but as I was making these, they smelled so amazing I couldn't help but snatch a few bites of the dough. The scent of the cookies baking is heavenly too- my family was going crazy waiting for them to be cooled off enough to eat!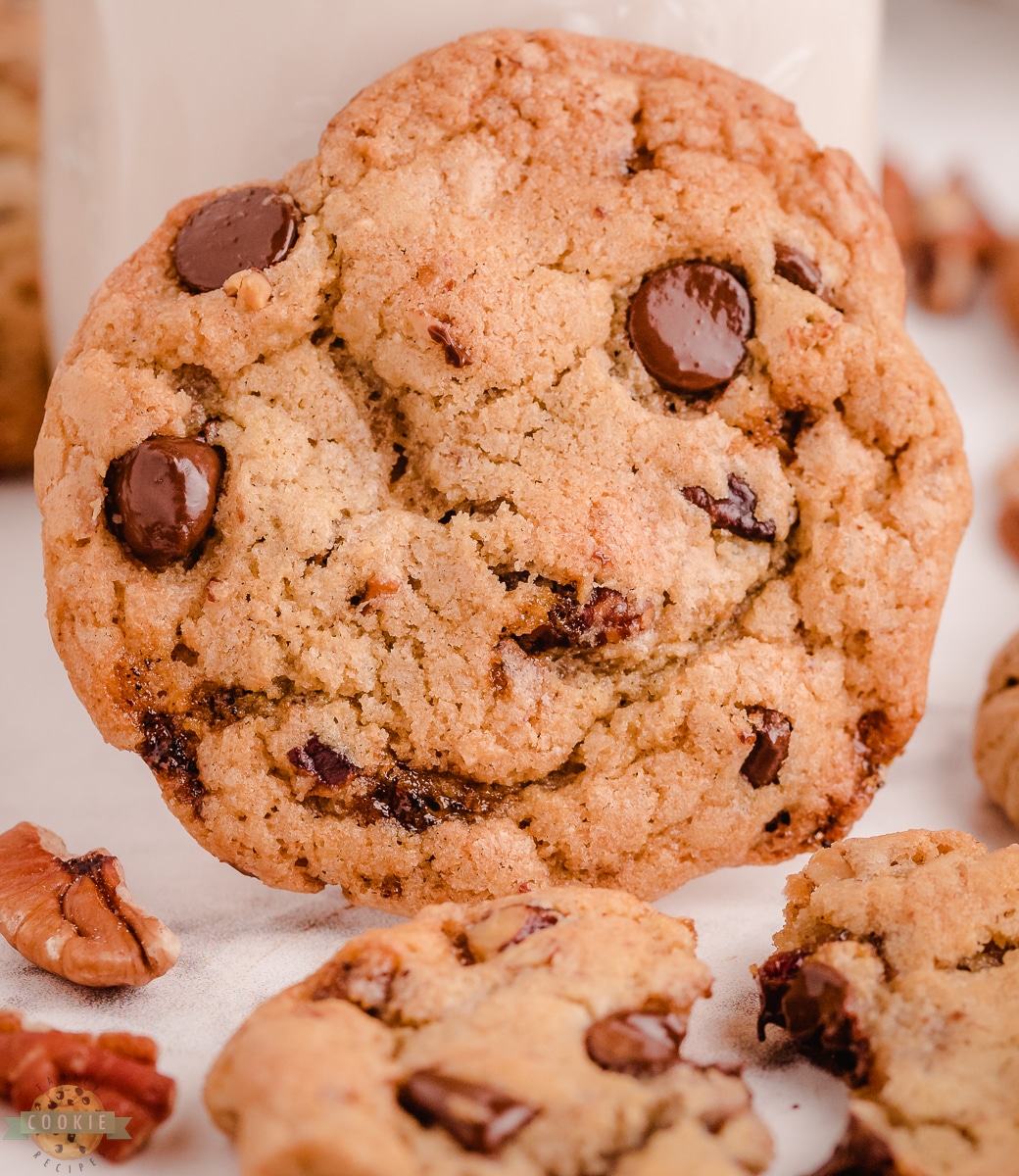 Tips to get the PERFECT Butter Pecan Chocolate Chip Cookies:
Three kitchen items make these cookies come together really fast. I actually use these items in nearly every cookie recipe I make, so they're quite versatile. First, I line my cookie sheets with a piece of parchment paper. They're sold in sizes that fit a 12×16 cookie sheet perfectly and enable to cookies to bake well without sticking- and no mess from spraying oil on the cookie sheets!
The second item is a KitchenAid mixer. I love mine! I have a Bosch as well but I find I use my KitchenAid for cookies. There is a cookie paddle that comes with every mixer that you attach to the top of the mixer. They're easy to use and help you mix the ingredients uniformly. I also use the metal whisk attachment in this recipe to make the frosting. It whips it up super fast! Add this to your wish list because it's one of my all-time used small appliances ever!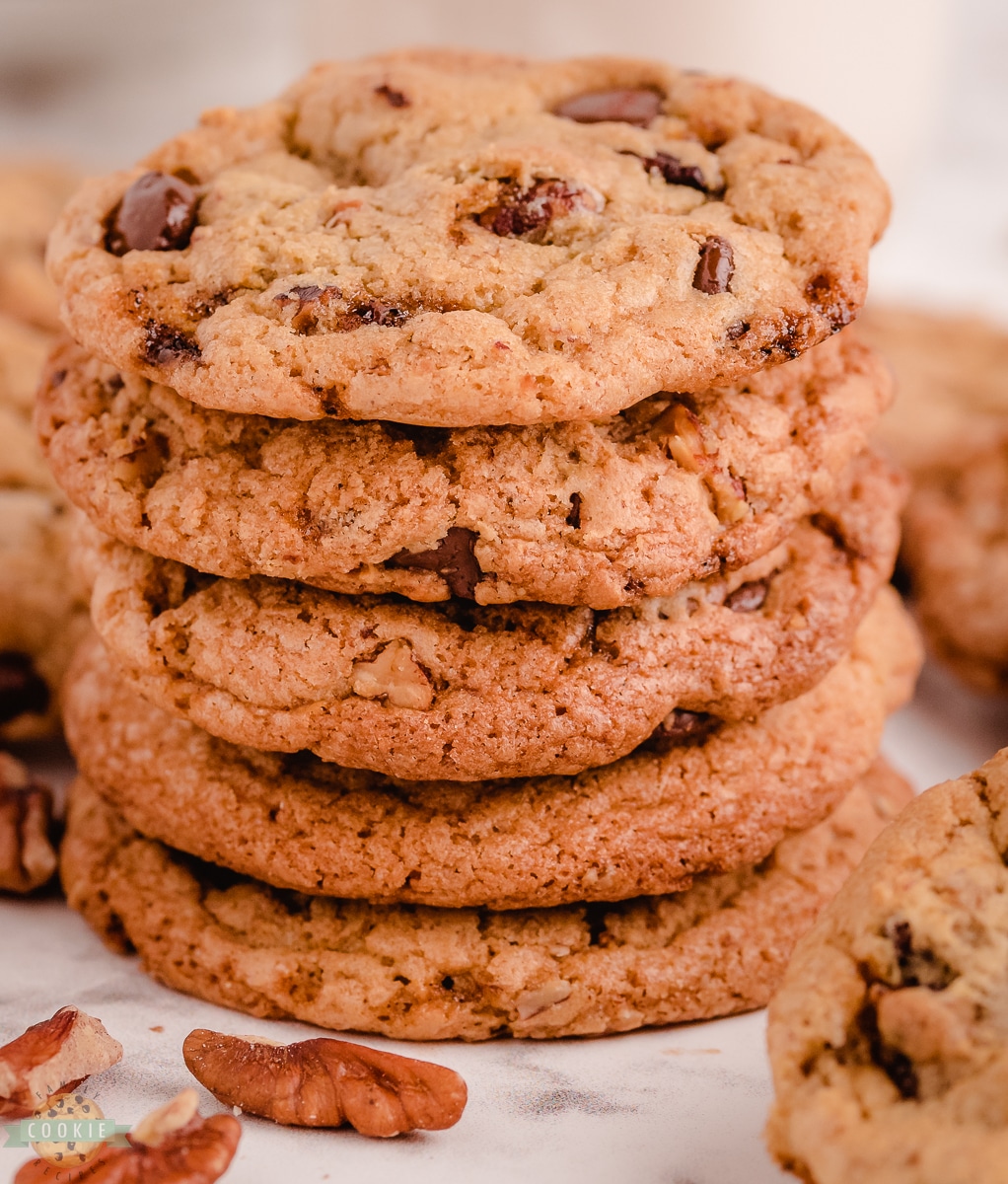 The third item is a cookie scoop! Years and years ago I used to use 2 spoons to measure and scrape cookie dough onto the pans. It wasn't a perfect process and I often ended up with oblong cookies in various sizes. A friend of mine brought cookies to a party and I noticed each and every one of her cookies looked PERFECT. Her secret? A cookie scoop! They come in three sizes- 1/2 tablespoon, 1.5 tablespoon and 3 tablespoon scoops. I used the middle size- 1.5 tablespoons for these, and most other cookies. (Although when I'm serving a large crowd, I use the small cookie scoop. People love having a smaller cookie, especially at an event with several other desserts. For this Chocolate Chip Cookie recipe, I used the middle scoop.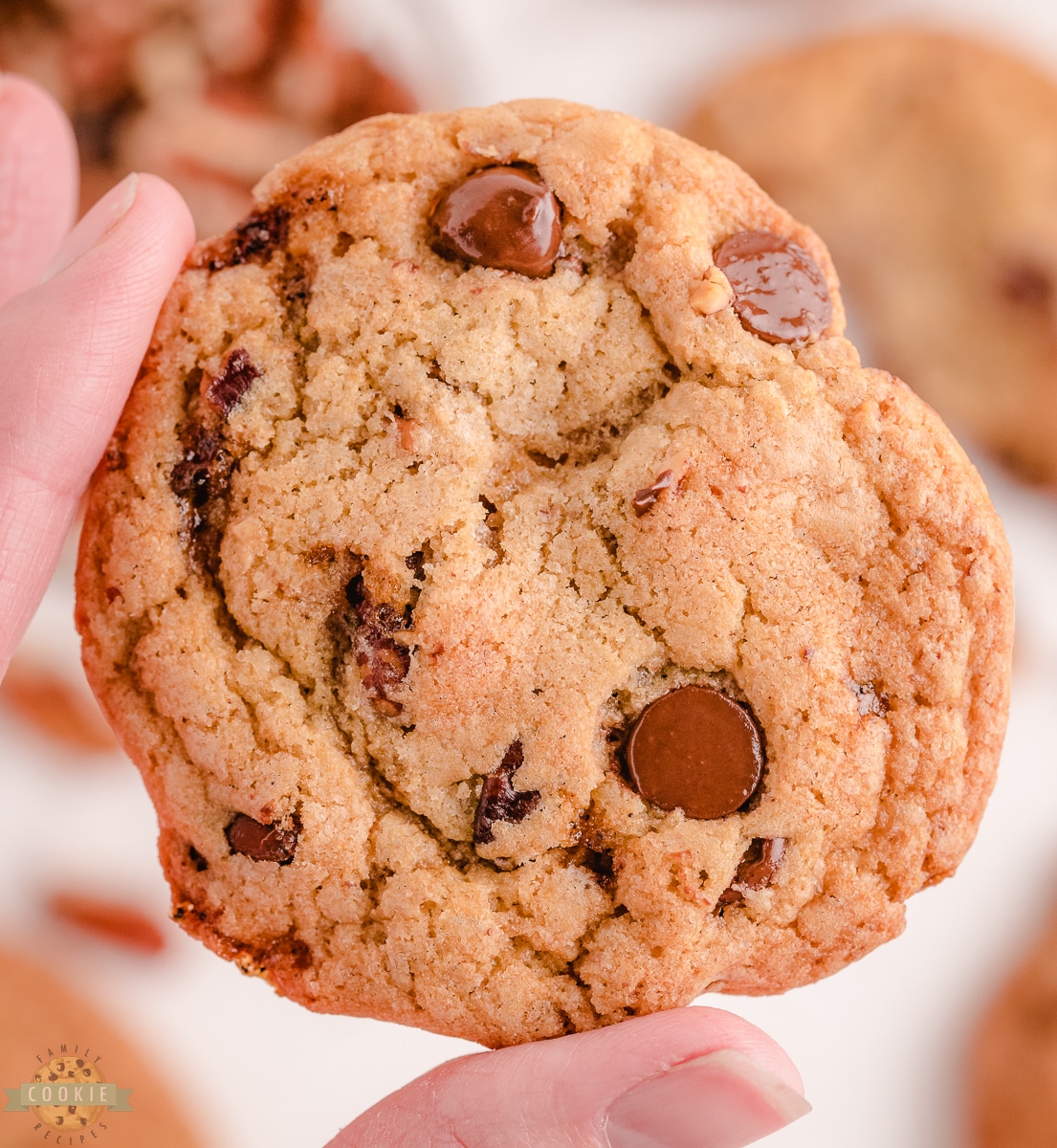 Butter Pecan Chocolate Chip Cookies Ingredients
-Butter: You will need 1 cup of softened butter (this is two sticks).
-Pecans: Use 1 cup of chopped pecans for this cookie recipe. You can buy them already chopped or chop whole ones yourself.
-Brown sugar: You will need 1/4 cup plus 2/3 cups of brown sugar, to be used in different steps of this recipe.
-Granulated sugar: You will also need 1/2 cup of granulated sugar to make sure these cookies are sweet and tasty.
-Eggs: Help the texture of these cookies turn out amazing with the use of 2 eggs.
-Vanilla: Adding in 1 teaspoon of vanilla will help to enhance the flavors in the dough.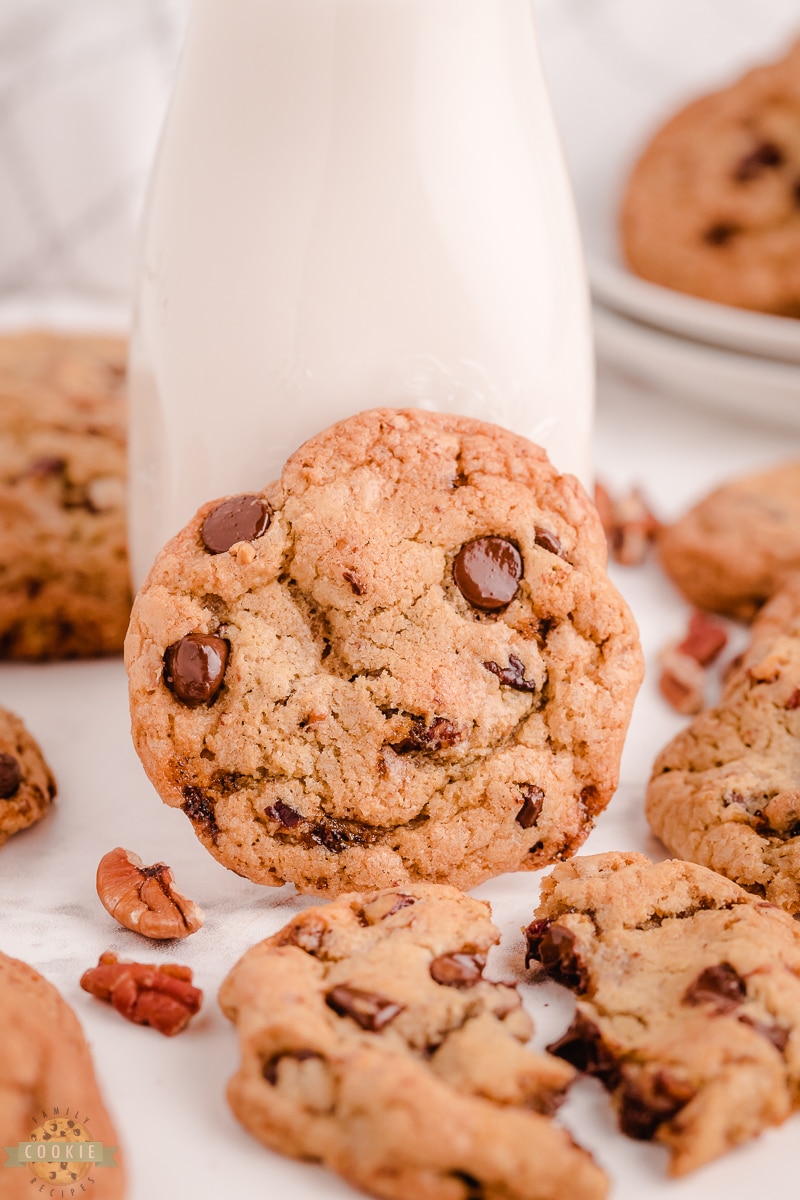 -Flour: Use 2 1/4 cups of all-purpose flour for the base of this cookie dough.
-Leavening agents: You will need 1 teaspoon of baking powder and 1/2 teaspoon of baking soda to help these cookies turn out fluffy.
-Salt: This is a natural flavor enhancer and will help the cookies to turn out great so use 1 teaspoon of salt in the dough.
-Chocolate chips: To make sure that every cookie is packed with chocolate, use 1 cup of semi-sweet chocolate chips.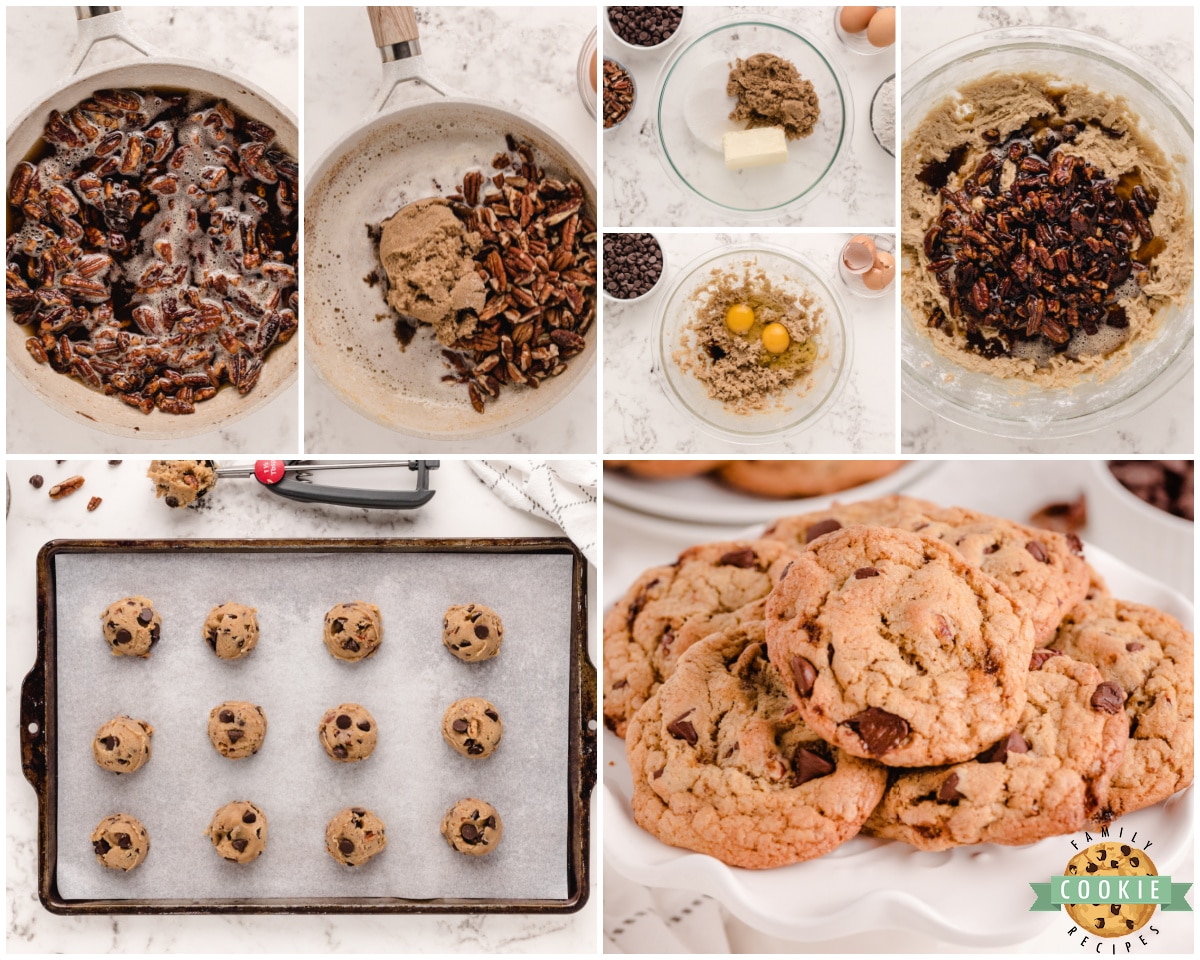 How to Make Butter Pecan Chocolate Chip Cookies
In a frying pan on medium heat add 1/2 cup of butter and cook until sizzling. This should take about 5 minutes.
Add in the chopped pecans and 1/4 cup of brown sugar.
Decrease the heat to medium-low and let the mixture cook while stirring occasionally as you prepare the cookie dough.
Combine the remaining 1/2 cup of butter, the granulated sugar, and 2/3 cups of brown sugar in a mixing bowl until creamy.
Add in the eggs and the vanilla.
In another bowl, combine the dry ingredients except for the chocolate chips.
Add your dry ingredients to the butter mixture in 3 portions, mixing between each as you go until it's all been added.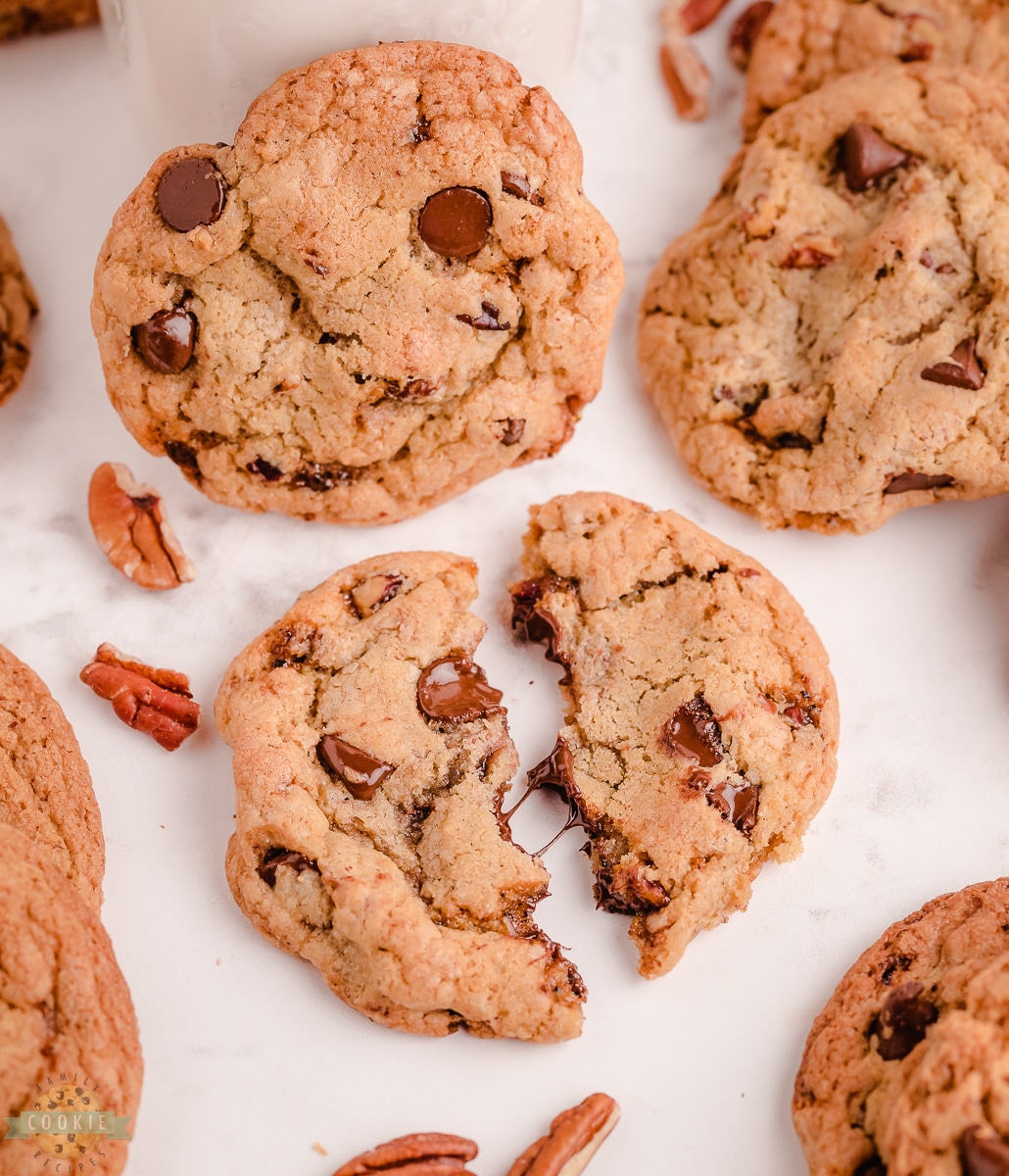 Take the buttery pecan mixture and pour it into the mixing bowl. Mix to combine.
The dough will be very soft and about the consistency of muffin batter. Place the bowl of dough into the freezer for 15 minutes to firm back up.
Preheat your oven to 350 degrees F.
After the dough has chilled, attach the bowl back to your stand mixer and add in the chocolate chips.
Scoop the dough in 1.5 tablespoon-sized portions and place it onto a parchment paper-lined cookie sheet.
Bake the cookies in the oven for 10 minutes, allowing them to rest on the pan for 2-3 minutes before transferring to a wire rack to cool completely.
Enjoy!
How long are these cookies good for?
These cookies are good for about a week at room temperature if stored in an airtight container. I recommend eating them within 3 days for the best tasting results.
Can I freeze butter pecan chocolate chip cookies?
Yes these cookies can be frozen for up to 3 months if stored in an airtight container. This makes them great for any occasion because you can simply thaw and serve.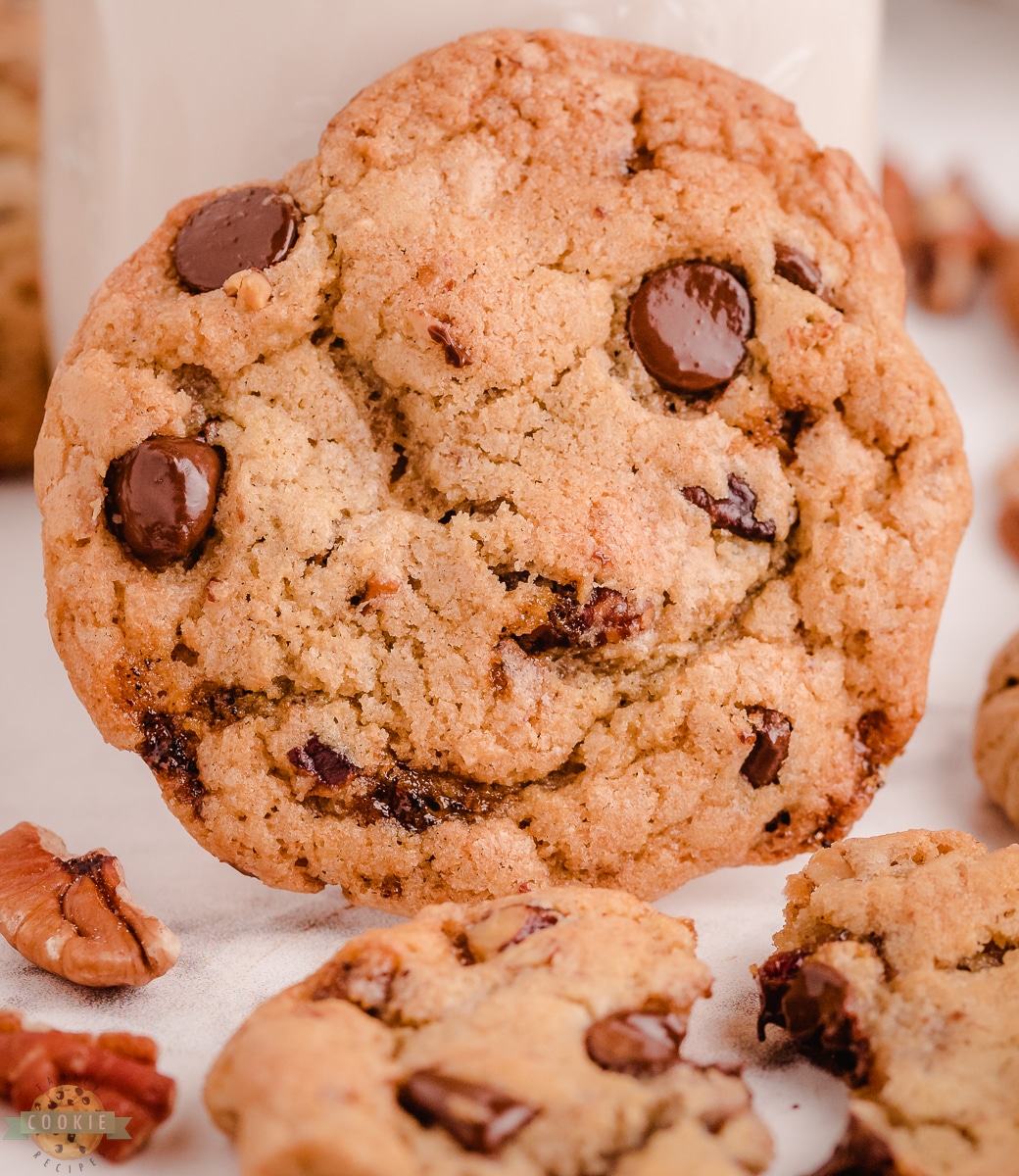 Can't get enough chocolate? Check out these other great chocolate chip cookie recipes!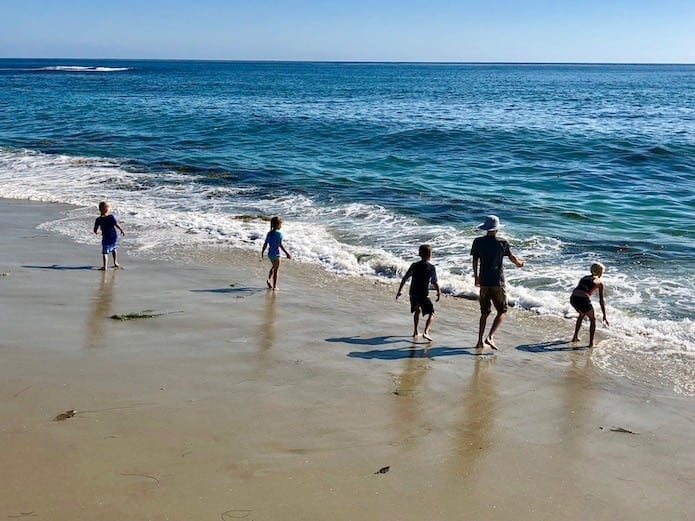 Living in a land-locked state, my family doesn't get to see the ocean very often. This summer we took a trip down to Southern California and we had an incredible time! Here's a shot of all 5 of my kids playing in the waves. I'd love to be able to say it was relaxing but let's be honest, taking 5 kids anywhere isn't relaxing! My youngest soon learned just how powerful waves were and after a couple hours, all of us were done with being covered in sand. Ha! Maybe when they're older they'll appreciate it more.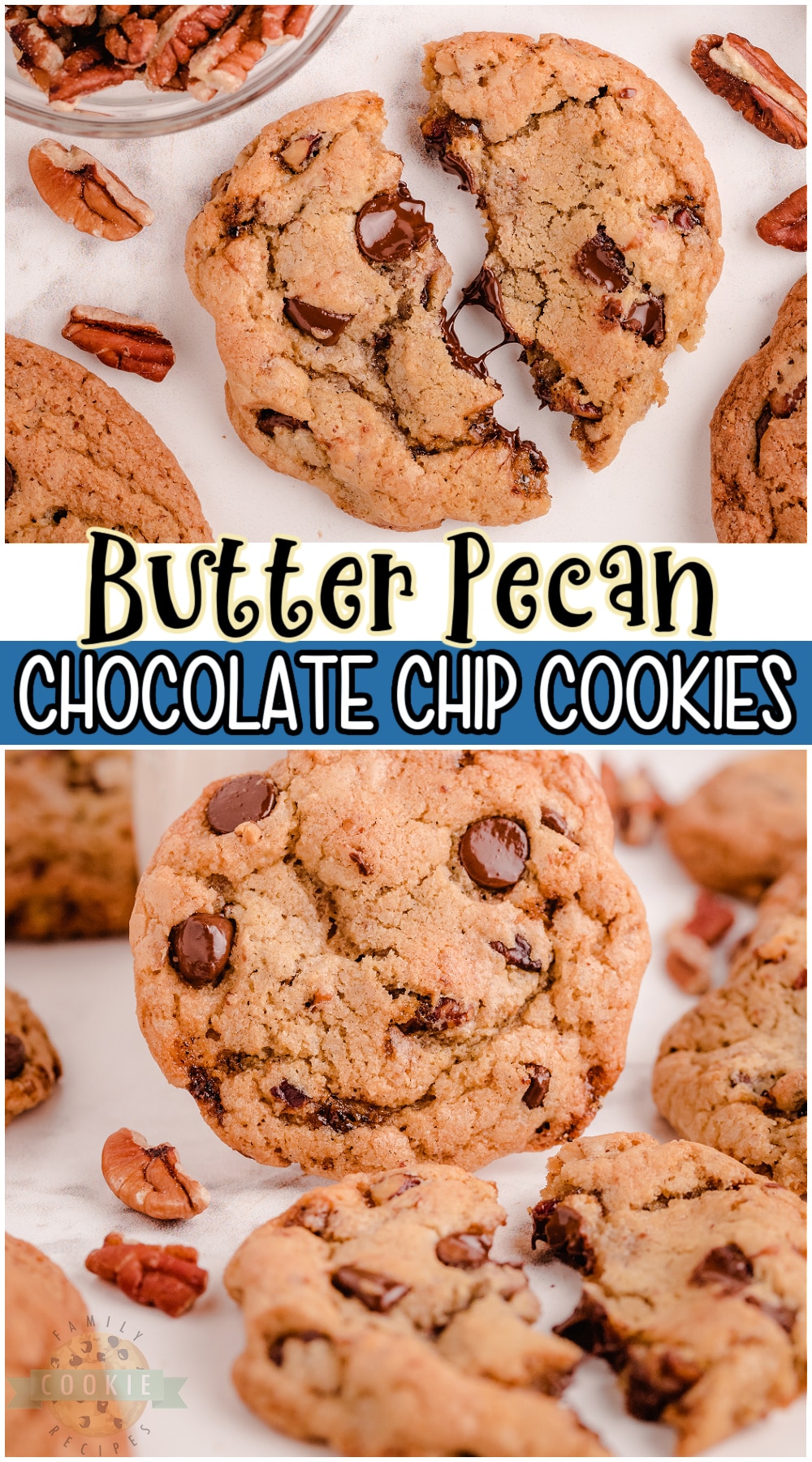 Butter Pecan Chocolate Chip Cookies are a twist on a traditional chocolate chip cookie recipe! Classic ingredients with the indulgent addition of toasted brown sugar butter pecans!