Incredible Brown Butter Chocolate Chip Cookies with the BEST flavor ever! These'll be your NEW FAVORITE chocolate chip cookie recipe; the brown butter adds a delicious caramel flavor that everyone loves.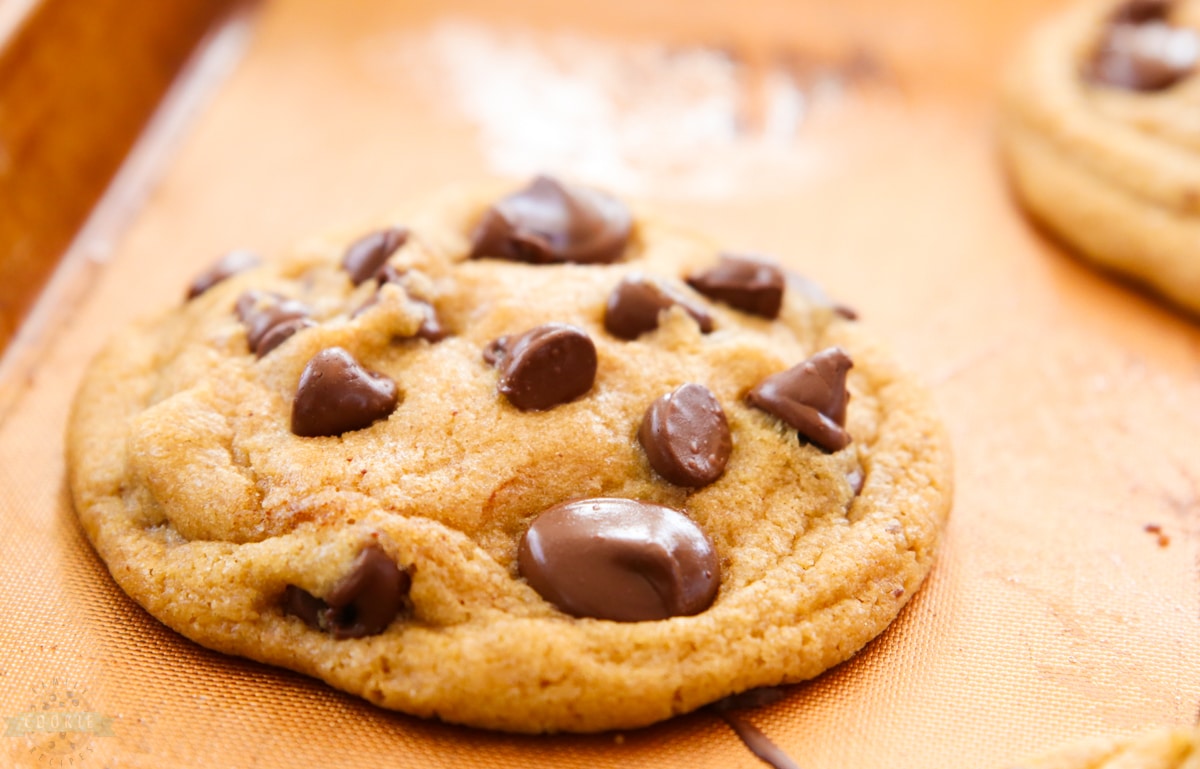 My husband decided to try a brown butter cookie recipe a couple years ago and proceeded to make it again & again, tweaking the recipe this time and that until it was PERFECT. Seriously! We made them for a large gathering of neighbors and the quadruple batch disappeared in record time. They're that good.
You know why? It's the browned butter. Yes, it does take a bit of planning beforehand because we've found they're best if the brown butter is allowed to fully cool before making the cookies. Other recipes have you chill the dough, but we've found this isn't necessary. The flavor is better if you allow the butter to sit and solidify. So we brown the butter the night before, then just cover the pot and leave it on the stove. By the next morning, everything is cool and the butter is ready to use.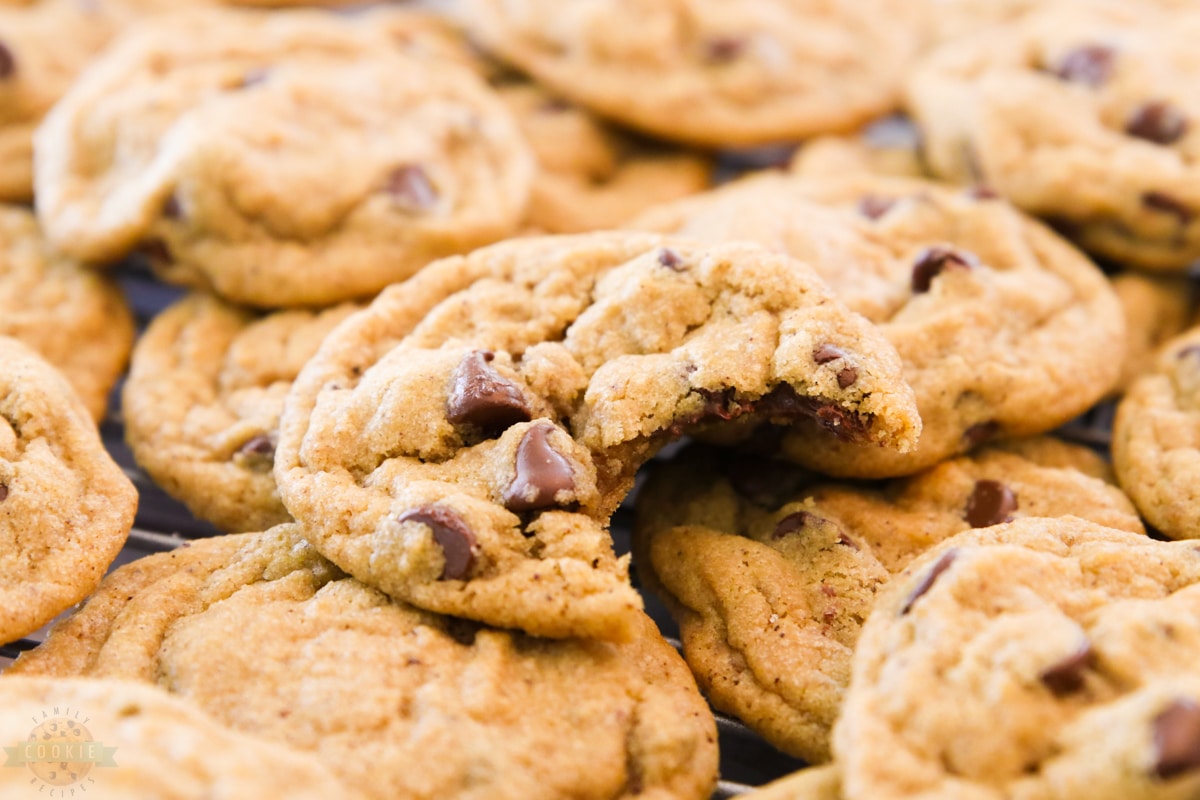 Ingredients needed for Brown Butter chocolate Chip Cookies
–Butter: You'll need 4 sticks of salted butter, which is 2 cups.
–Sugars: We use both brown sugar & granulated white sugar for this recipe. You'll use 2 1/2 cups brown sugar and just 1/2 cup white sugar.
–Eggs: You'll need 4 eggs total, but the recipe only calls for 2 eggs and 2 egg whites. This is IMPORTANT! Most other recipes use the egg yolks but we found the brown butter flavor shines when you instead use the egg whites. (I feel the 2 remaining egg yolks to my dogs!)
–Flour & leavening: We use 5 1/2 cups of all purpose or bread flour, as well as 2 tsp sea salt, 2 tsp vanilla extract, and 2 tsp baking soda.
–Chocolate: These cookies are rather indulgent, so we maintained that by using both semi-sweet chocolate chips and chocolate chunks. We used 2 cups chocolate chips + 1 1/2 cups chocolate chunks in the cookies, and added an additional 1/2 cup of each as toppings before the cookies were baked.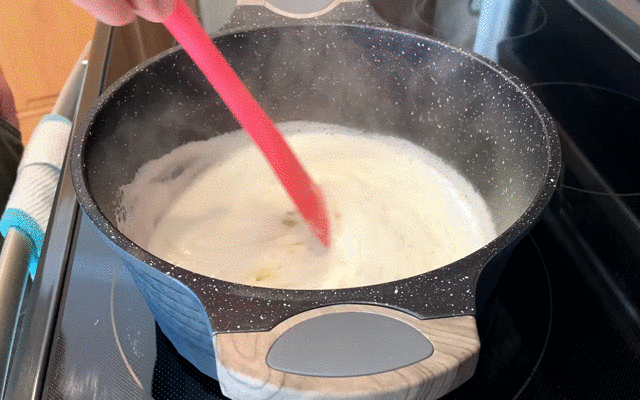 How to Brown Butter
Add all butter to a large saucepan over medium-high heat. (I know a large saucepan seems too big, but as the butter cooks, it foams up, so trust me on this one!)
Stir gently using a rubber scraper as the butter melts. Continue to stir as the butter cooks. It will first liquify, then start to bubble & foam, all while gently bubbling. Within about 5 minutes after the butter foams, it will begin to change color and brown bits will appear. It's easier to see the brown as your stir the butter- you can see the foam turn colors in the video above. I like to cook it about 45 seconds to 1 minute past when it changes color.
Remove from heat and the foam will settle and you'll be able to see BROWN BUTTER! Let cool until butter has solidified again. (It won't return to the same state as it was per-cooking. It will be more the consistency of sour cream.)
NOTE: You CANNOT use margarine to make brown butter! REAL BUTTER ONLY.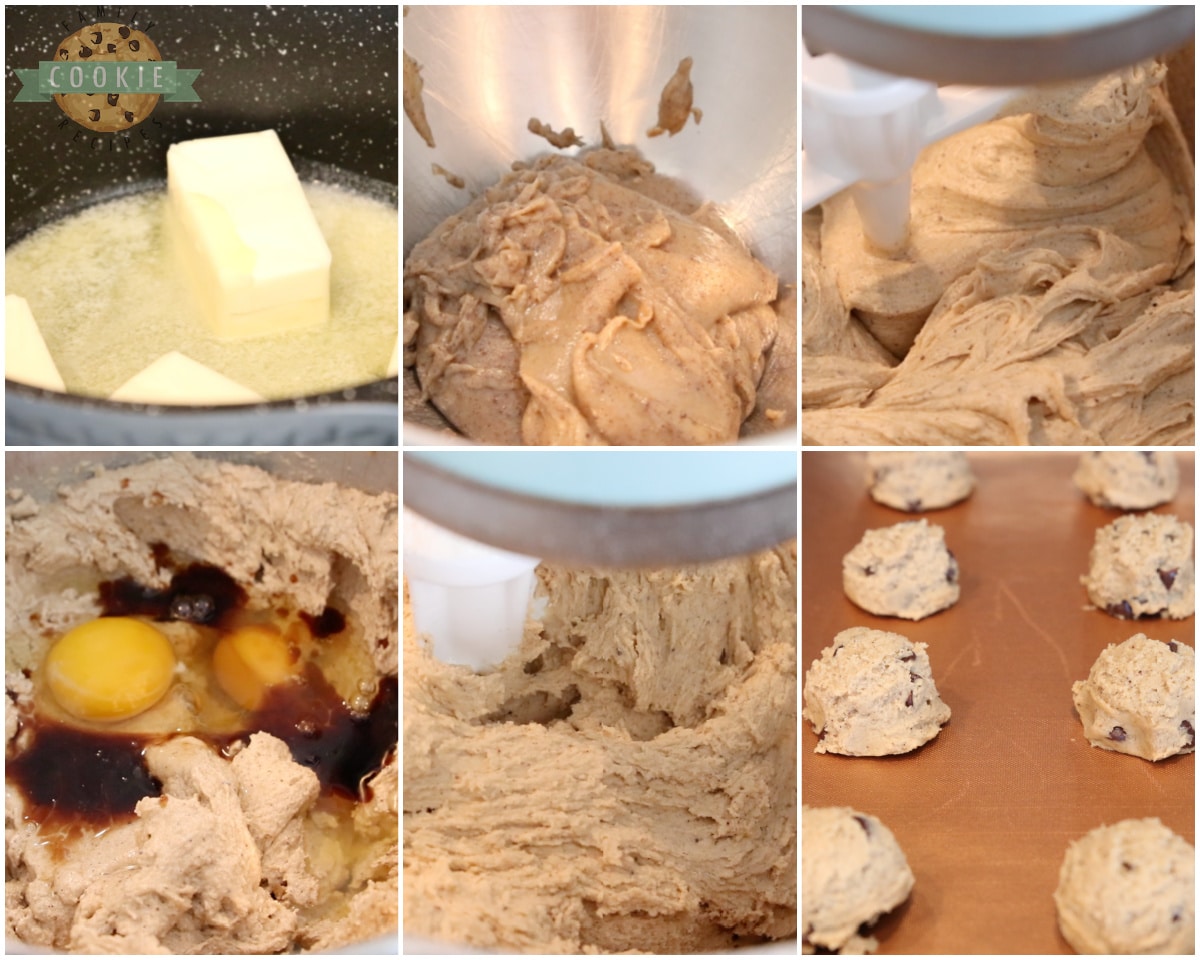 How to Make Brown Butter Cookies
Follow directions above for browning butter & letting it cool fully.
Preheat oven to 350°F. Line 3 cookie sheets with parchment paper and set aside.
Cream butter & sugars with an electric mixer until fluffy, about 2 minutes. Mix in eggs and vanilla.
In a separate bowl, whisk together flour, baking soda & salt. Add dry ingredients into the butter mixture in 2 batches.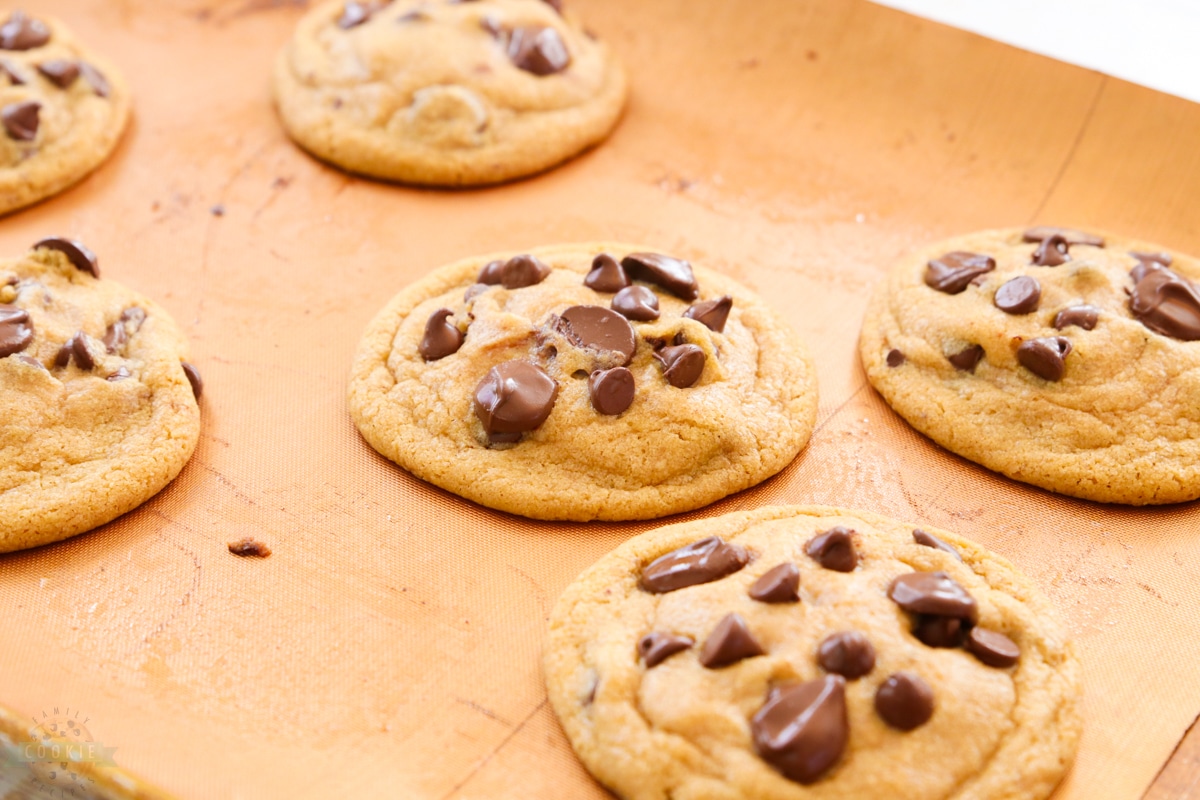 Stir in chocolate chips & chocolate chunks.
Use a medium cookie scoop to measure out balls of dough. (About 1.5 TBSP) Combine the remaining chocolate chips & chunks in a bowl and place several on top of each ball of cookie dough.
Bake at 350 for 8- 10 minutes until golden brown on edges. Let cookies rest on the cookie sheet for 3-4 minutes before transferring them to a cooling rack. Enjoy!
Can you freeze these cookies?
I love freezing cookies! There are 2 ways I prefer to freeze them. The first is by freezing the unbaked cookie dough balls. I scoop and shape the balls round with my hands, then freeze them in 1 layer on a cookie sheet. You can position them as close together as possible without touching. Freeze, then once solid, transfer them to a ziplocked freezer bag. Then you can pull them out and bake them whenever you want! You'll want to either let them thaw on a cookie sheet while preheating the oven, or add a couple minutes to the bake time to compensate for frozen cookie dough.
The second way is to just freeze the baked cookies. My mother in law does this ALL the time. They turn out pretty well, albeit a tiny bit drier and more crumbly once thawed. Oh and you've got to make sure you thaw them. Frozen cookies are pretty hard to eat. Thankfully, they only take about 20 minutes or so to thaw out.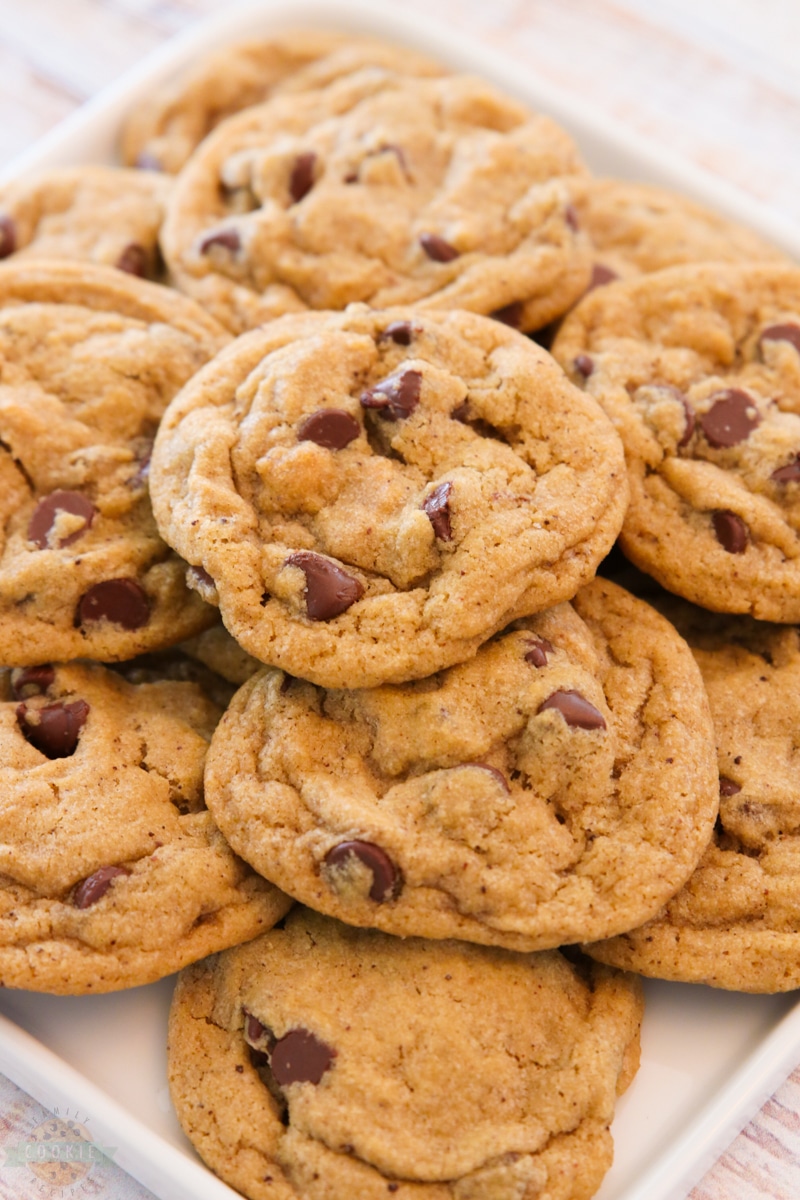 How to Make Better cookies
A few tips and tricks to making better cookies every time!
Use an Electric Mixer for Even Mixing
It's worth it to use an electric mixer! You can use a handheld one or a stand mixer; I prefer a stand mixer, but use what you have on hand.
Cream the Butter & Sugars for Longer
Spend a little extra time when you mix the butter and sugars. Creaming them together for 2-3 minutes will improve the consistency of your cookies.
Preheat the oven. This will help your cookies turn out right every time!
Cookie Scoops for Perfect Cookies
Use a cookie scoop! If you want all your cookies to be perfectly shaped and have them all be the same size, a cookie scoop is the way to go.
Make Sure your Cookies don't Stick to the Pan!
Use parchment paper or a silicone baking mat. Doing this will make it really easy to remove the cookies from your cookie sheet so that you don't have to scrape them off the pan – they will just slide right off in perfect shape!
Take them out of the oven Earlier
Make sure not to overbake your cookies. They may not even look totally done on the tops, but if the bottoms start to brown, I take mine out and they are perfect!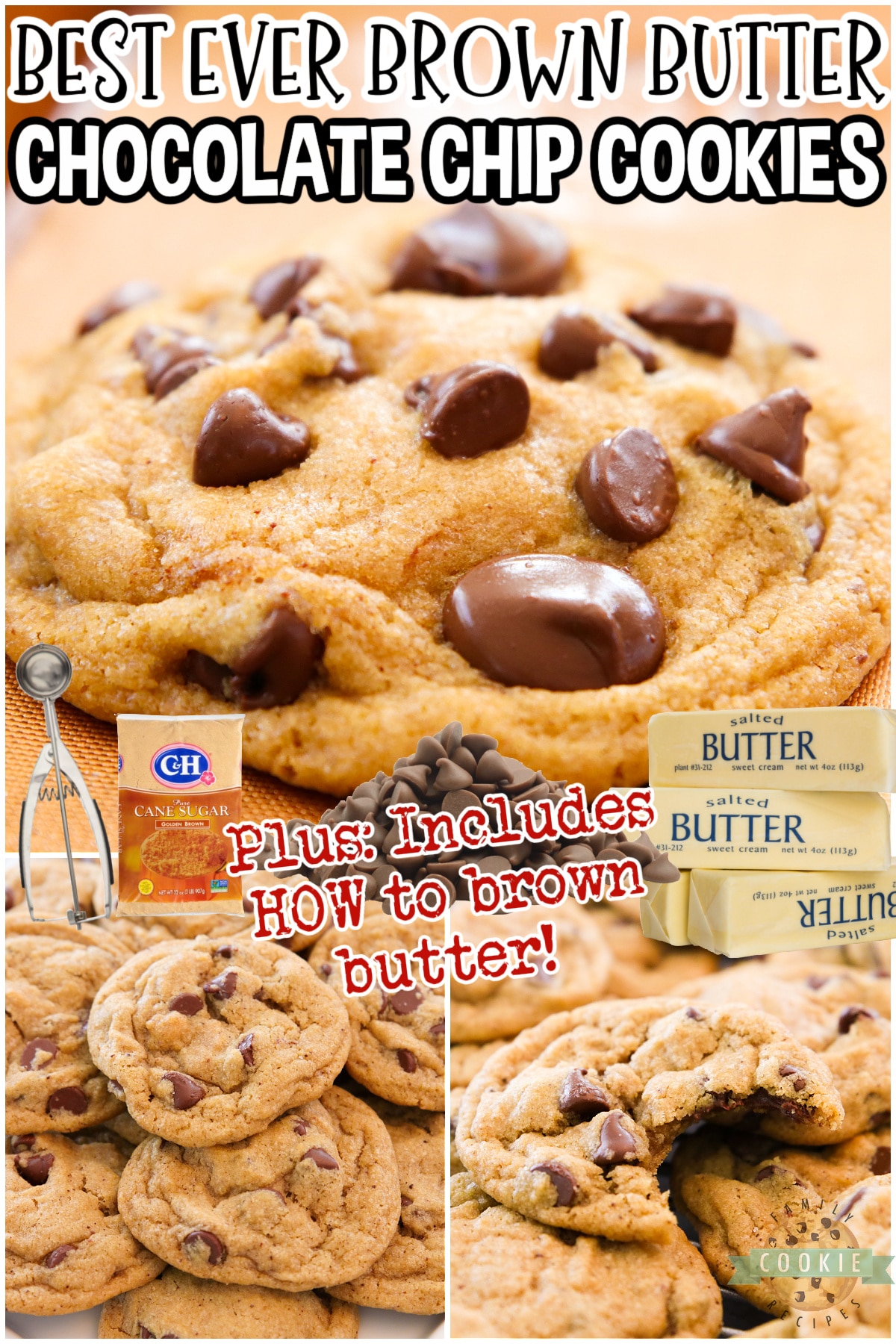 More Incredible Chocolate Chip Cookie recipes:


There's something special about cousins! It's so funny how different families are. My family is overrun with girls, but my husband's family is opposite- boys abound! We've got these 5 cute girl cousins and I'm so excited for them to form fast friendships! We recently had a girls sleepover at my house. It was a little wild and crazy, but also SO much fun!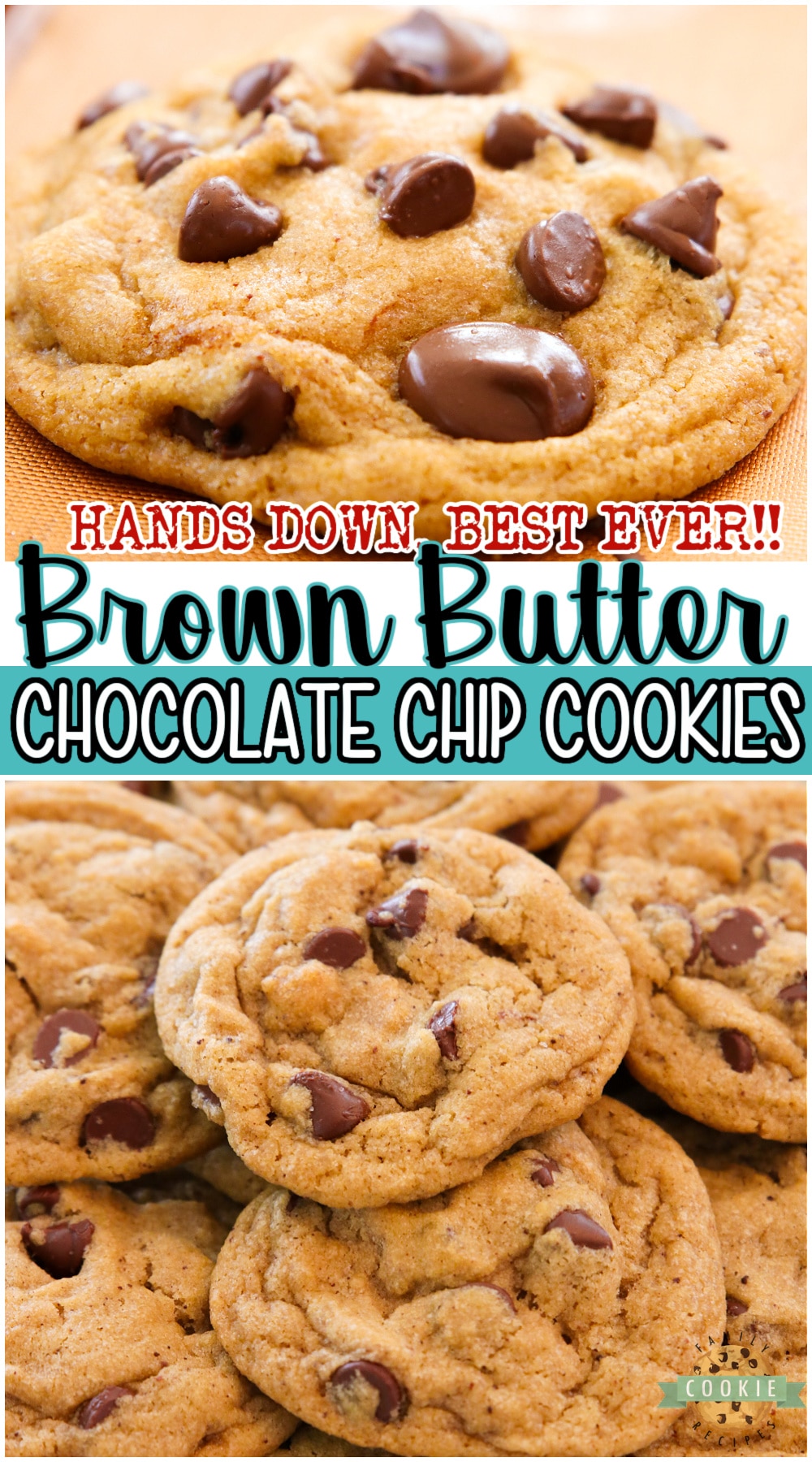 Incredible Brown Butter Chocolate Chip Cookies with the BEST flavor ever! These'll be your NEW FAVORITE chocolate chip cookie recipe; the brown butter adds a delicious caramel flavor that everyone loves.