Marbled chocolate chip cookies made with white chocolate and semi sweet chocolate for a double chocolate treat! Chocolate chip cookies with a fun black & white twist that everyone loves!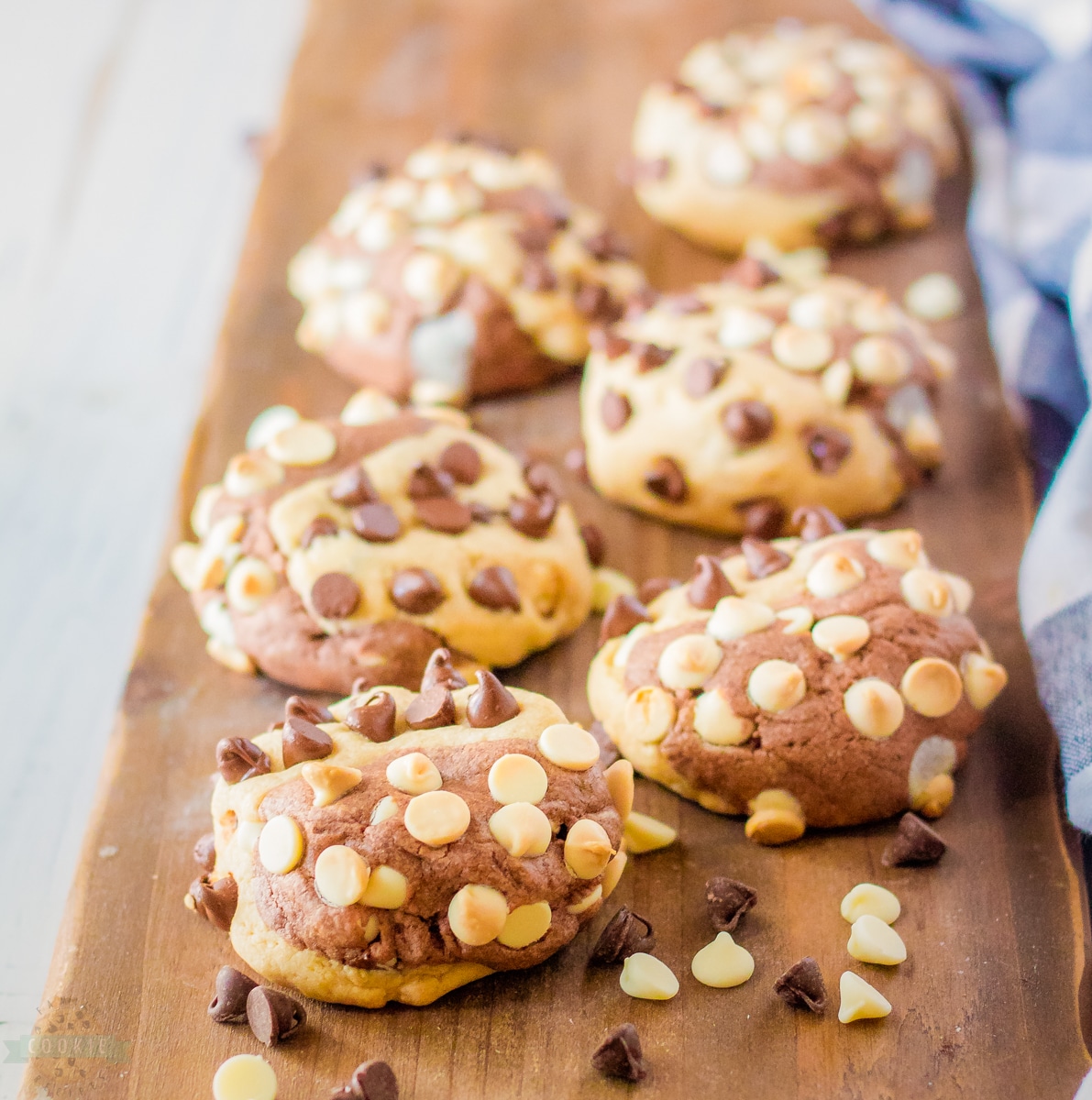 You're going to love these cookies as much as we do because this fun twist on a double chocolate chip cookie is such a fun and unconventional upgrade you don't expect but can truly appreciate. Every bite is a sweet blend of flavors in a large soft cookie.
What are marbled chocolate chip cookies?
They're a combination of the BEST chocolate chip cookies known to mankind. A chocolate cookie with white chocolate chips and a traditional chocolate chip cookie blended together for a perfect sweet and chewy treat. Not only that but we make these cookies BIGGER because bigger is better and a bigger cookie means more chocolate to enjoy so don't forget the glass of milk as you sit down for snack time.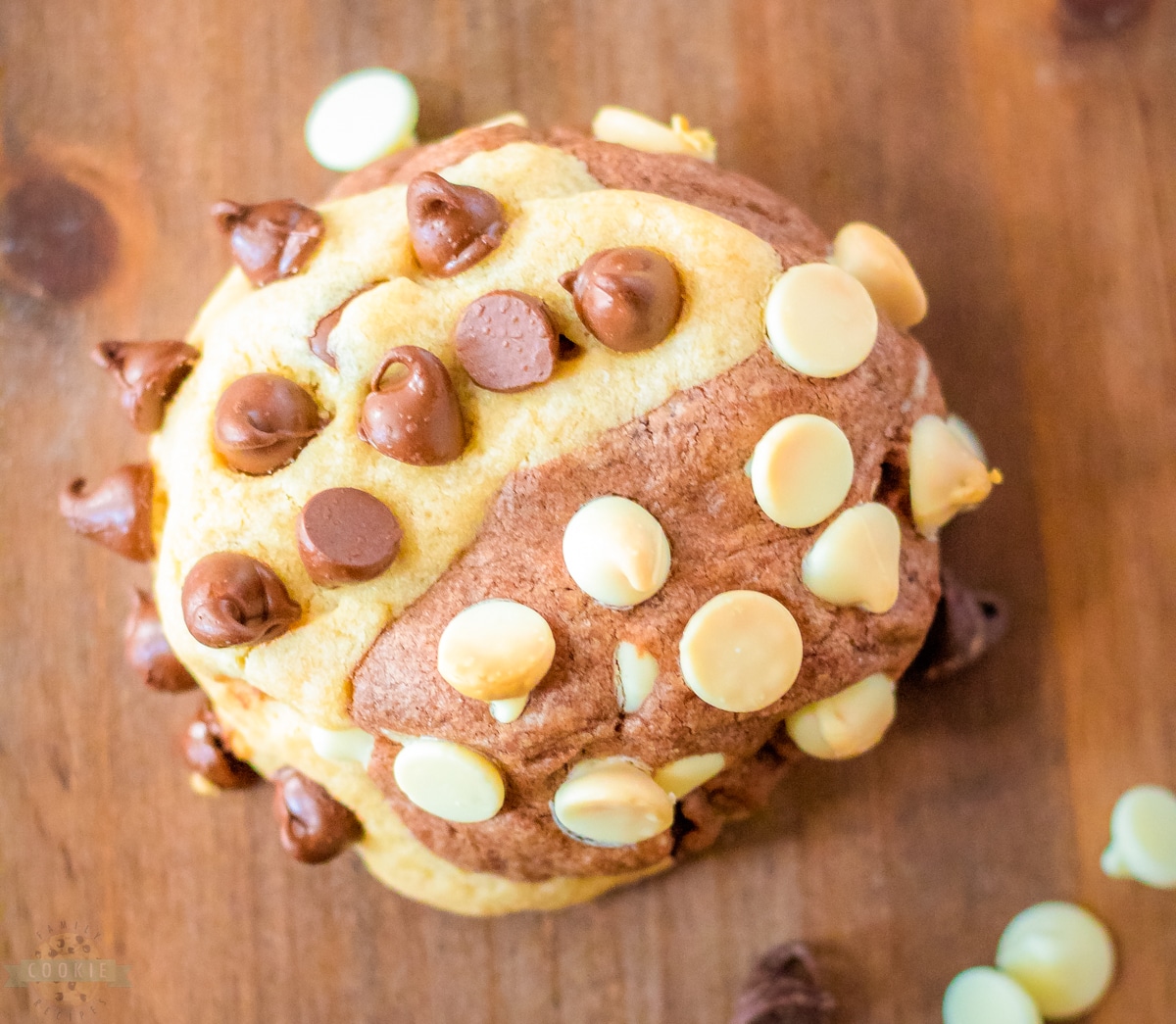 Giant Marbled Cookies Ingredients
-Butter: Adding ½ cup (one stick) of softened butter into the cookie dough is what gives us a nice and rich-tasting cookie.
-Sugars: Use a combination of ¾ cups brown sugar and ¼ cup white sugar for a sweet cookie with a nice depth of flavor.
-Egg: You will need 1 egg for a richer tasting cookie that holds together well.
-Vanilla: Adding in 1 teaspoon of vanilla extract will make our cookies taste even better.
-Flour: Use 2 cups of all-purpose flour for the gluten-filled base of this cookie dough.
-Salt: Add in ½ teaspoon of salt for an enhanced flavor in every bite.
-Cocoa: To help add more chocolate flavor you will need 1 tablespoon of unsweetened cocoa powder.
-Chocolate chips: You will need 1 ¼ cups each of semisweet chocolate chips and white chocolate chips. This is almost as much as you find in an 8-ounce bag.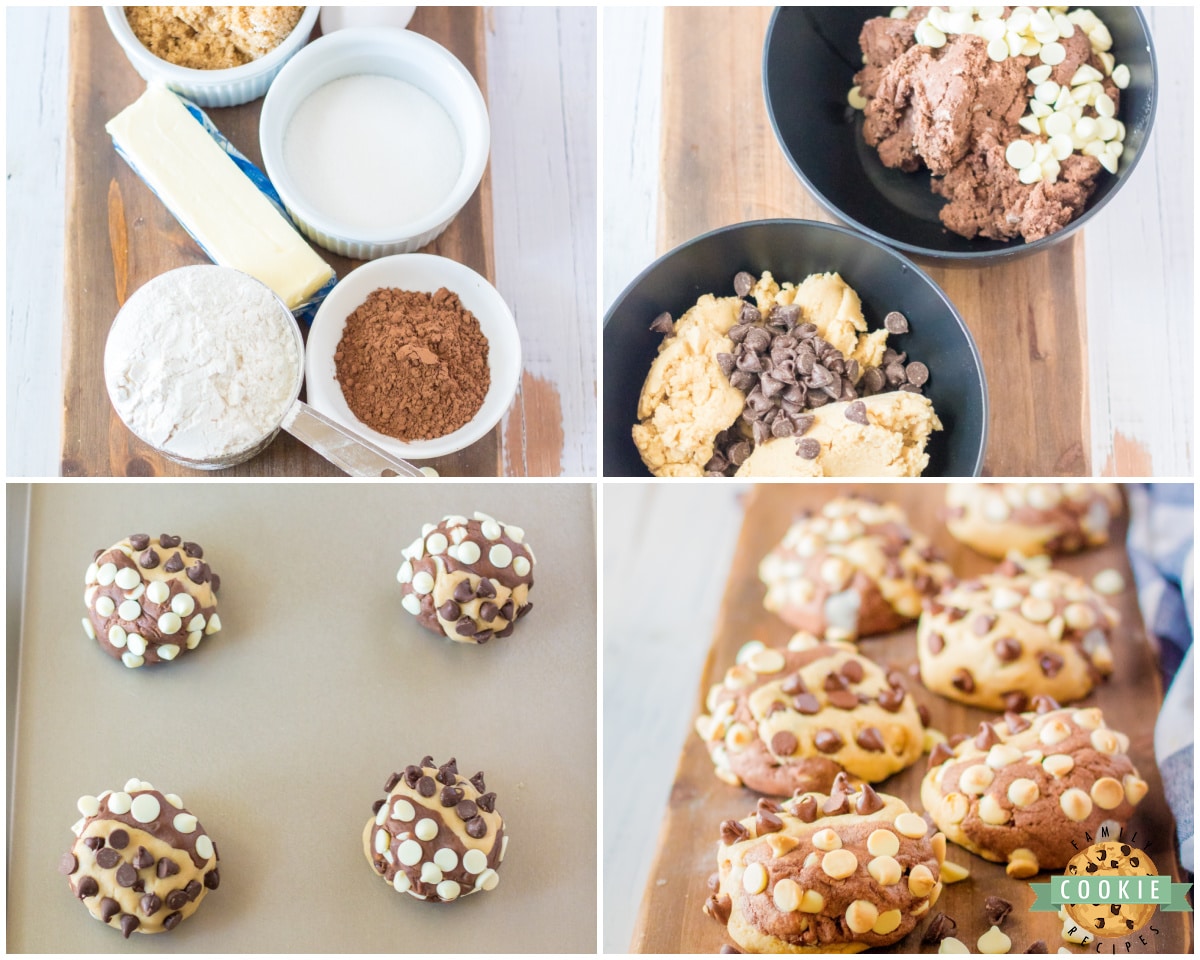 How to make marbled chocolate chip cookies
Cream together the butter and both sugars in a large bowl until light and fluffy. Beat in the egg and vanilla.
Add in the flour, baking powder, and salt. Mix until just combined.
Split the dough in half evenly and add the cocoa to half and then combine.
Add ¼ cup of semisweet chocolate chips to the plain dough and ¼ cup of white chocolate chips to the chocolate-flavored dough.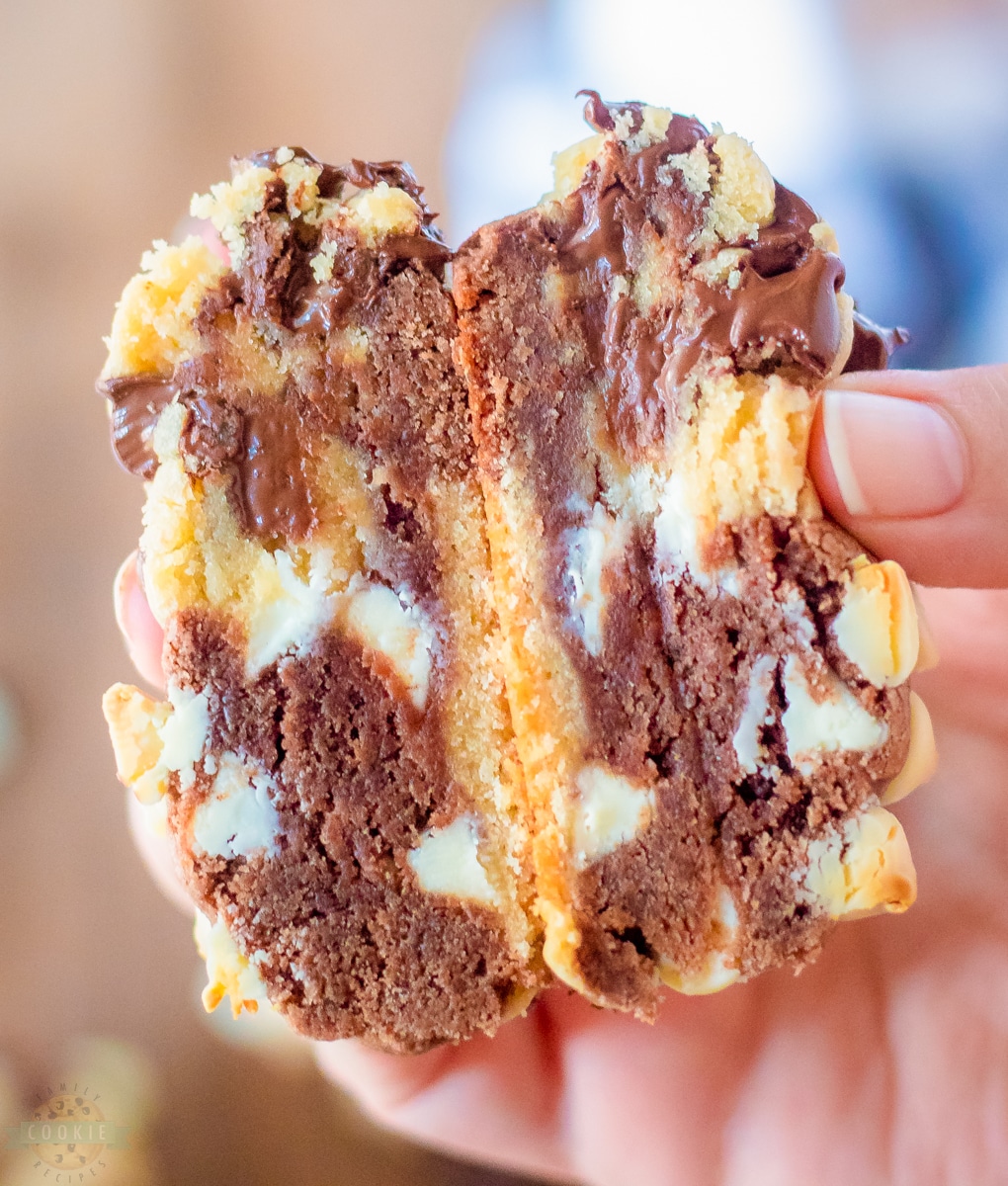 Divide each dough into 6 equal-sized portions.
Take one portion from each dough and twist them to form a ball.
Press the remaining semisweet chocolate chips into the plain side and the remaining white chocolate chips onto the chocolate side.
Place in the fridge for at least 30 minutes while preheating the oven to 375 degrees F.
Bake in the oven for 18 minutes and cool for 5 minutes on the baking sheet before transferring to a wire rack.
Enjoy!
How long are giant chocolate chip cookies good for?
These cookies, after baking, can be stored in an airtight container on the counter for about 3-5 days. That said, these cookies taste so much better when fresher and warm from the oven so don't take too long to enjoy these tasty treats!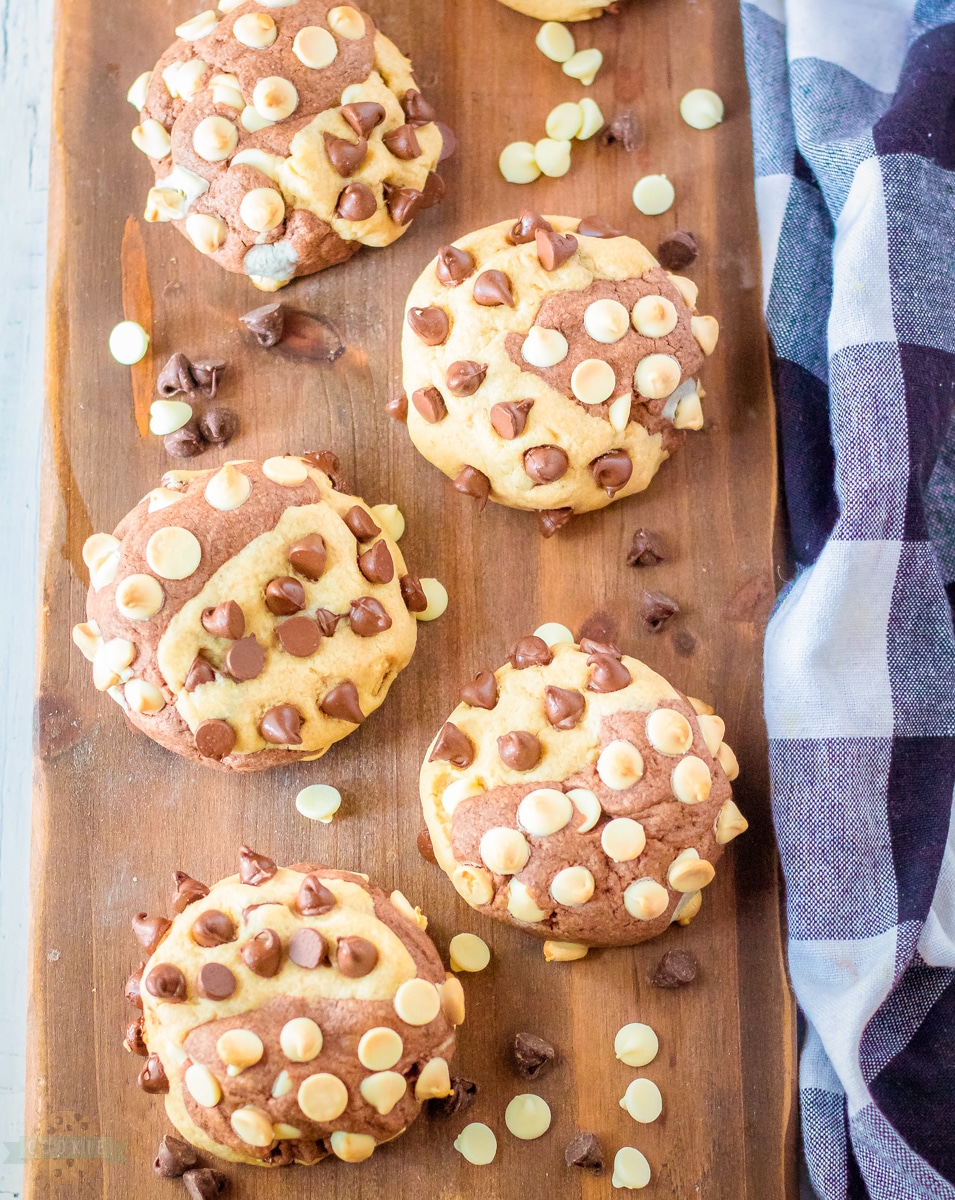 Can I make marbled chocolate chip cookies in advance?
Yes, you can make the dough and shape it out as specified in the recipe and allow it to chill in a covered container in the fridge for up to 3 days before baking. You can also choose to freeze the dough at this point instead of baking so that you only need to cook one or two at a time if desired to prevent food waste. You will bake like normal, but let the cookies rest at room temperature as the oven preheats.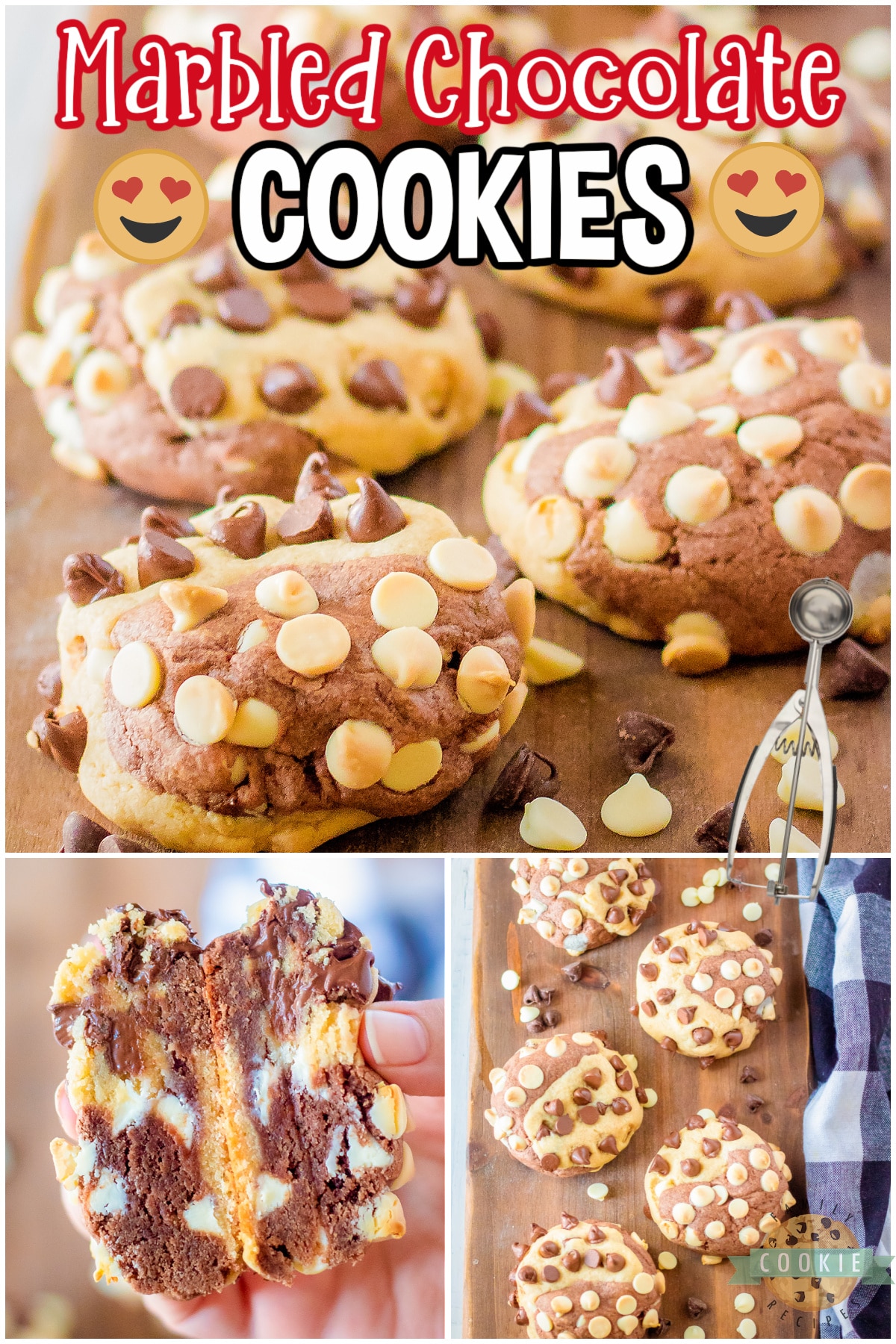 More Great Chocolate Chip Recipes You're Sure to Enjoy!


Flashback to when my littles were SO LITTLE! Oh man, those days were… exhausting. Ha! People have told me that I'll miss them that little, but I think I need more time. I still remember all the diapers, messes, crying, etc. I cherish that time in my life, don't get me wrong. But I'm also glad we've moved past it! It's a good thing they were SO cute because they were a handful!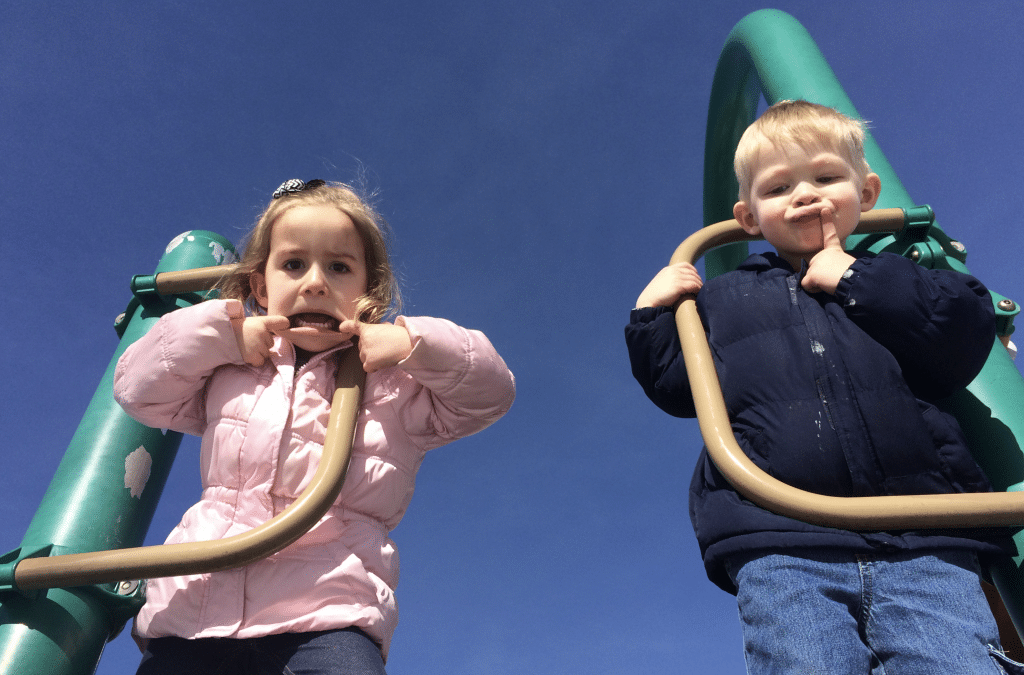 These big marbled chocolate chip cookies are twist on traditional cookies and one that you won't mind enjoying often. With so much chocolate packed into every large cookie, you're sure to feel satisfied.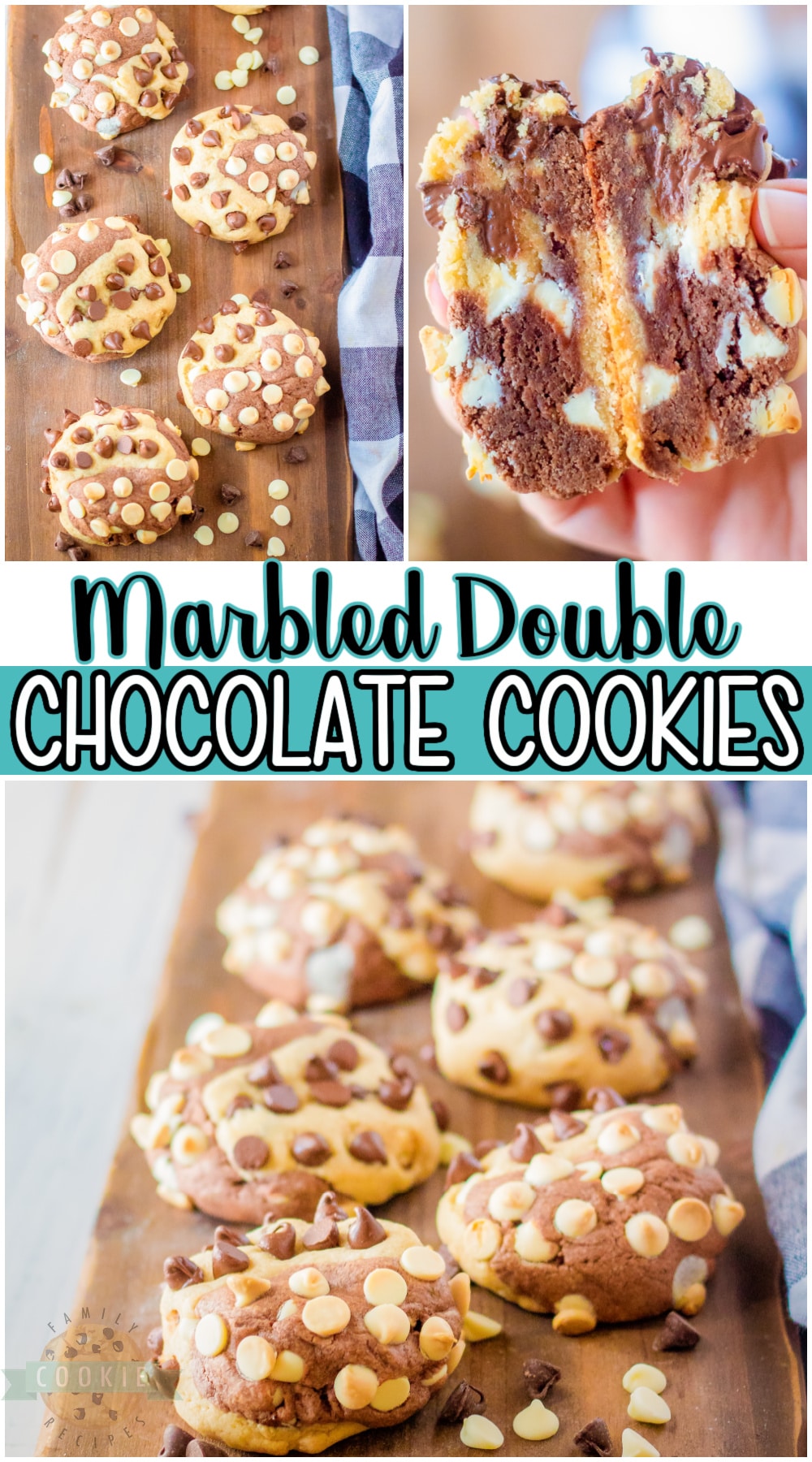 Marbled chocolate chip cookies made with white chocolate and semi sweet chocolate for a double chocolate treat! Chocolate chip cookies with a fun black & white twist that everyone loves!