Butterscotch Chocolate Chip Cookies made with butterscotch pudding mix and milk chocolate chips. Amazingly soft and chewy cookies bursting with butterscotch flavor.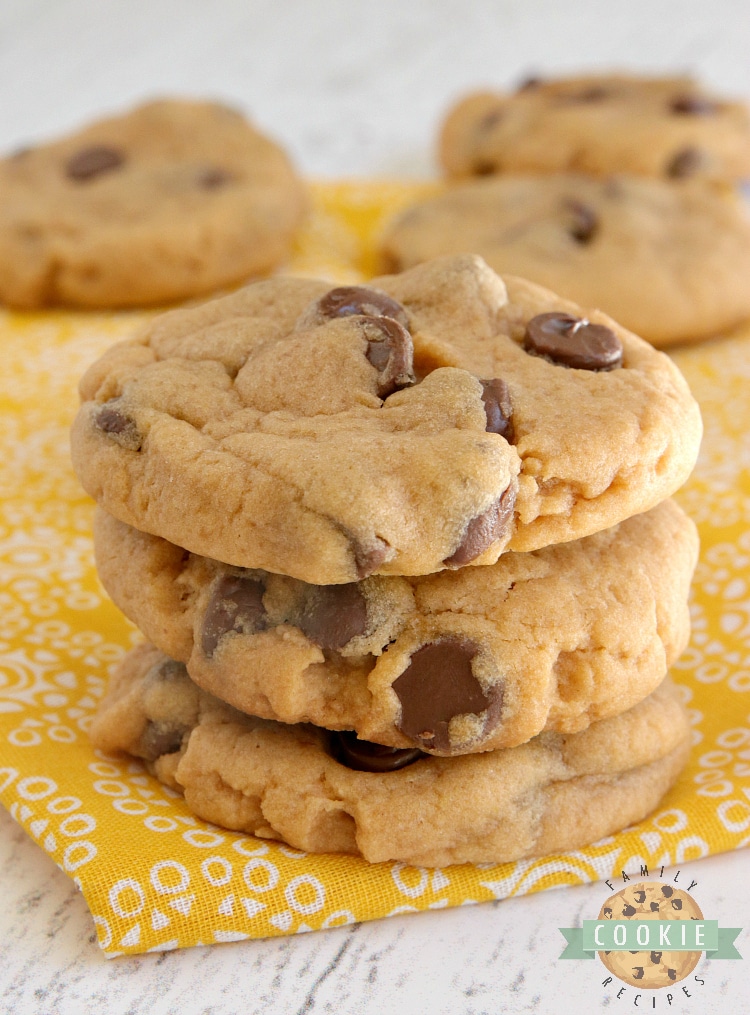 Cookies made with pudding mix are always so soft and chewy and those recipes are some of my absolute favorite cookie recipes. I've made dozens of pudding cookie recipes, but I'm not sure why I never tried butterscotch pudding before now. I think I may have a new favorite! And I'm not usually a huge butterscotch fan, so that's really saying something.
The butterscotch flavor combined with milk chocolate chips is incredible. But if you aren't wanting butterscotch or you don't have butterscotch pudding on hand, you can swap out the pudding with another flavor. Lots of possible combinations!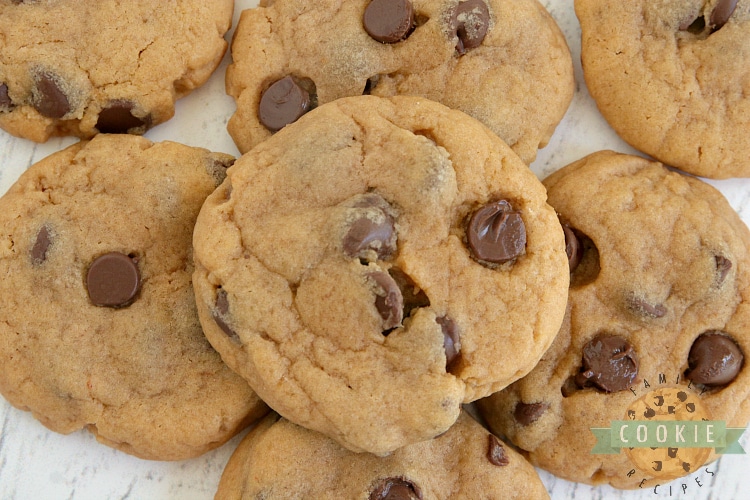 Ingredients in Butterscotch Chocolate Chip Cookies
1 cup butter, softened to room temperature
3/4 cup brown sugar
1/4 cup sugar
1 (3.4 oz) box instant butterscotch pudding mix
2 eggs
1 tsp vanilla
2 1/2 cups flour
1 tsp baking soda
1 bag (12 oz) milk chocolate chips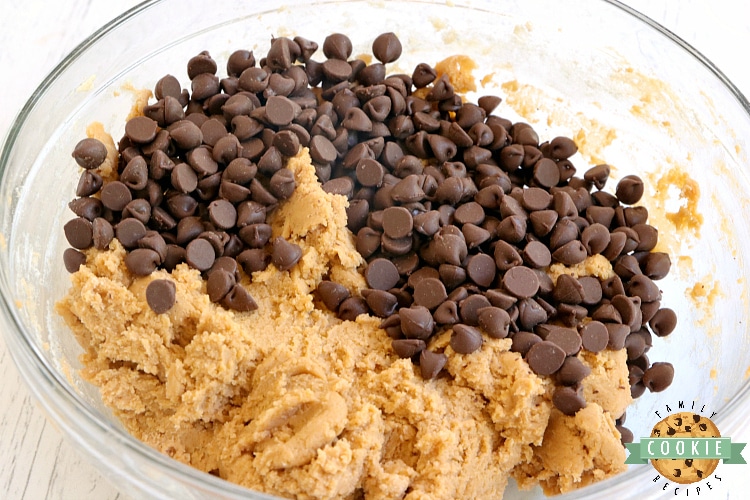 How to make Butterscotch Chocolate Chip Cookies
Preheat oven to 350°.
Cream butter and sugars for 2-3 minutes. Add pudding mix and mix for another minute. Add eggs and vanilla and mix for 2-3 more minutes.
Add flour and baking soda and mix into the batter just until completely mixed. Stir in the chocolate chips.
Use a cookie scoop to scoop the dough onto prepared cookie sheets. Use cookie sheets lined with silicone baking mats or parchment paper or lightly grease the cookie sheets.
Bake cookies for 9-10 minutes or until the middles are set and the edges barely start to brown up.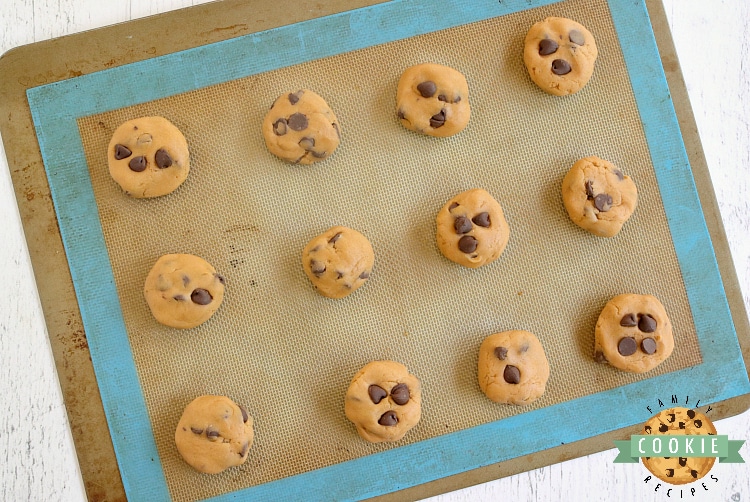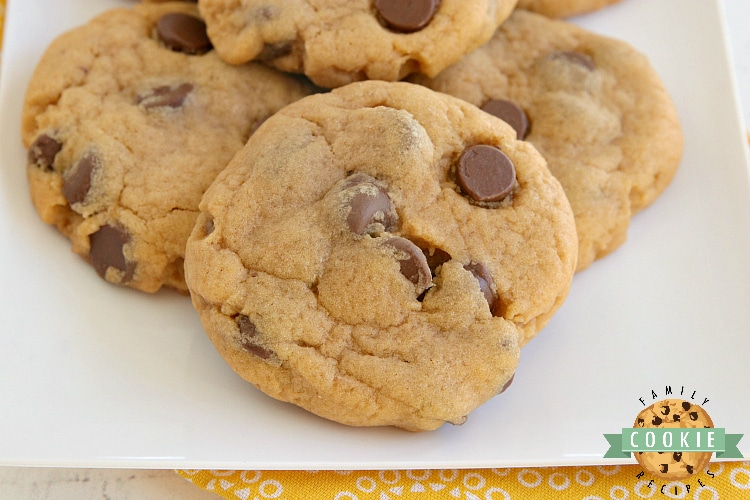 HOW DO YOU MAKE PERFECT CHOCOLATE CHIP COOKIES?
Making Butterscotch Chocolate Chip cookies is easy! Here are a few tips to getting perfect cookies every time!
Make sure you use softened butter – DON'T melt it! One of the most common errors in cookie making is using butter that is either really cold and hard, or using butter that is too warm and melted. If you have time, just leave butter out on the counter for about 1-2 hours before making your cookies. If you are like me and don't plan your cookie cravings that far in advance, just place the butter in your microwave and soften in 5 second intervals, being very careful to pull it out before it melts. I actually like to use the defrost setting on my microwave to soften butter- I don't know the technical reasons behind it, but it seems to soften the butter more evenly and takes a little bit longer so I'm less likely to start melting it! 
Most cookie recipes require that you mix the dry ingredients separately before adding the wet ingredients. This is an important step!
Spend a little extra time when you mix the butter and sugars. Creaming them together for 2-3 minutes will improve the consistency of your cookies.
Preheat the oven. This will help your cookies turn out right every time!
Use a cookie scoop! If you want all your cookies to be perfectly shaped and have them all be the same size, a cookie scoop is the way to go.
Use parchment paper or a silicone baking mat. Doing this will make it really easy to remove the cookies from your cookie sheet so that you don't have to scrape them off the pan – they will just slide right off in perfect shape!
Don't over bake the cookies – when I take mine out of the oven, they still look slightly under baked but they will continue to bake on the cookie sheet for a couple more minutes so that's ok!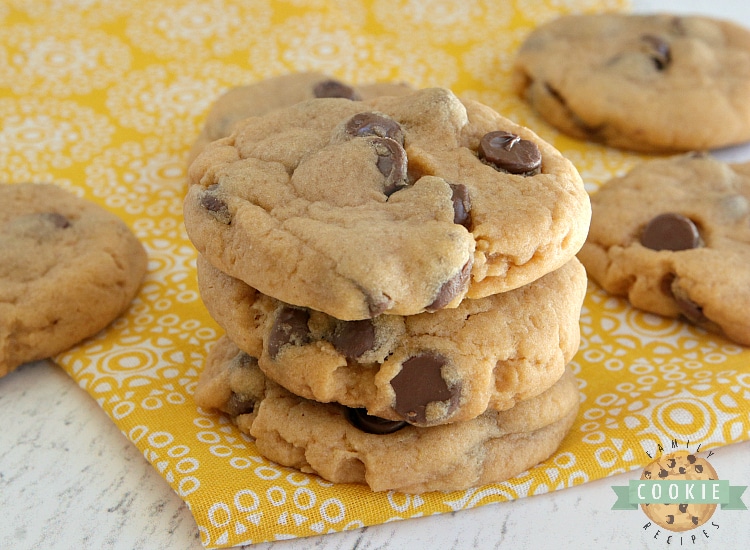 Love pudding cookies? So do we! Here are some of our favorite cookie recipes with pudding in them!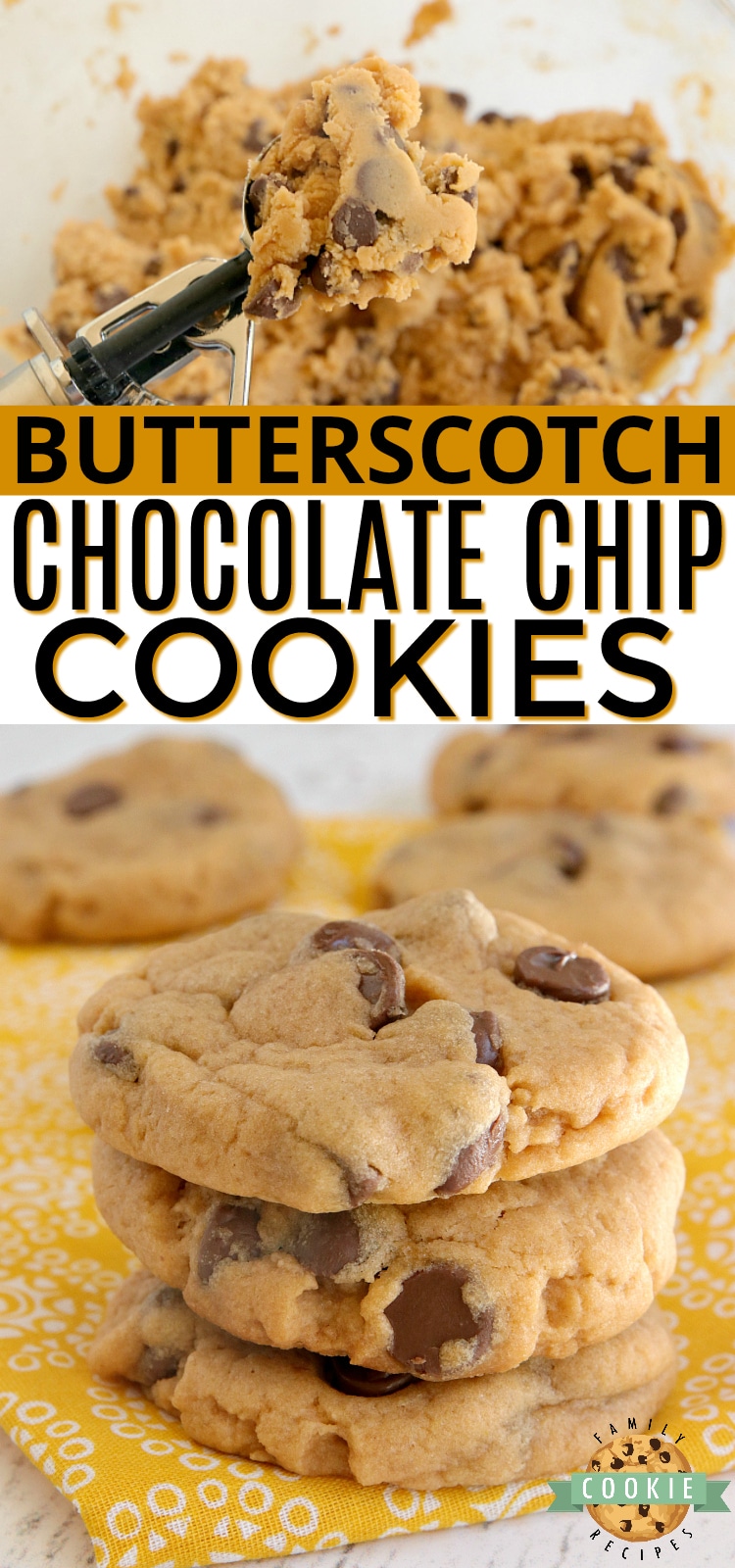 Butterscotch Chocolate Chip Cookies made with butterscotch pudding mix and milk chocolate chips. Amazingly soft and chewy cookies bursting with butterscotch flavor.


Now that all the other kids are back in school all day, little Miss B and I have been trying to find ways to entertain ourselves. We just moved here this summer, so we've been having a fun time exploring the area. Today we found the local Children's museum and she had so much fun! She really wanted to climb up on this little dinosaur, but once she was sitting there, she seemed a little bit nervous about it! This age (21 months) is absolutely exhausting sometimes, but it's also so fun to see her learning new things constantly and being so excited about even the simplest things.