Butterscotch apple cookies are soft & chewy frosted cookies made with apples, brown sugar, butterscotch chips & cinnamon! Perfect apple cookie for anyone who craves Fall flavors.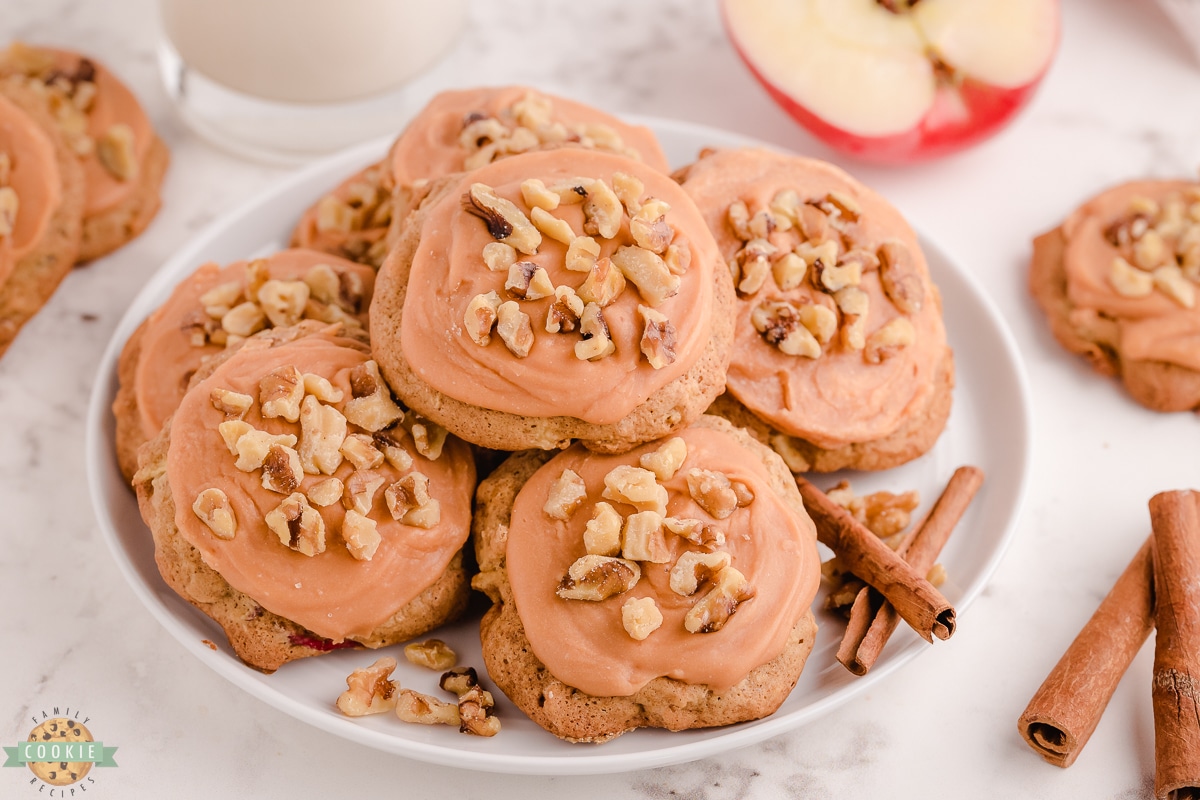 Making these butterscotch chip cookies is easy and simple thanks to the simple list of ingredients and steps to follow. The yummy flavors combine and taste almost like a caramel apple making them a great option all season long.
Apple Butterscotch Cookies
These cinnamon-spiced cookies are made with grated apple, apple juice, and chopped nuts like pecans or walnuts. Topped off with a simple glaze, these cookies are perfect treats. Every bite is a perfect blend of autumn flavors. These chewy soft cookies are a perfect taste of warmth, comfort, and sweetness.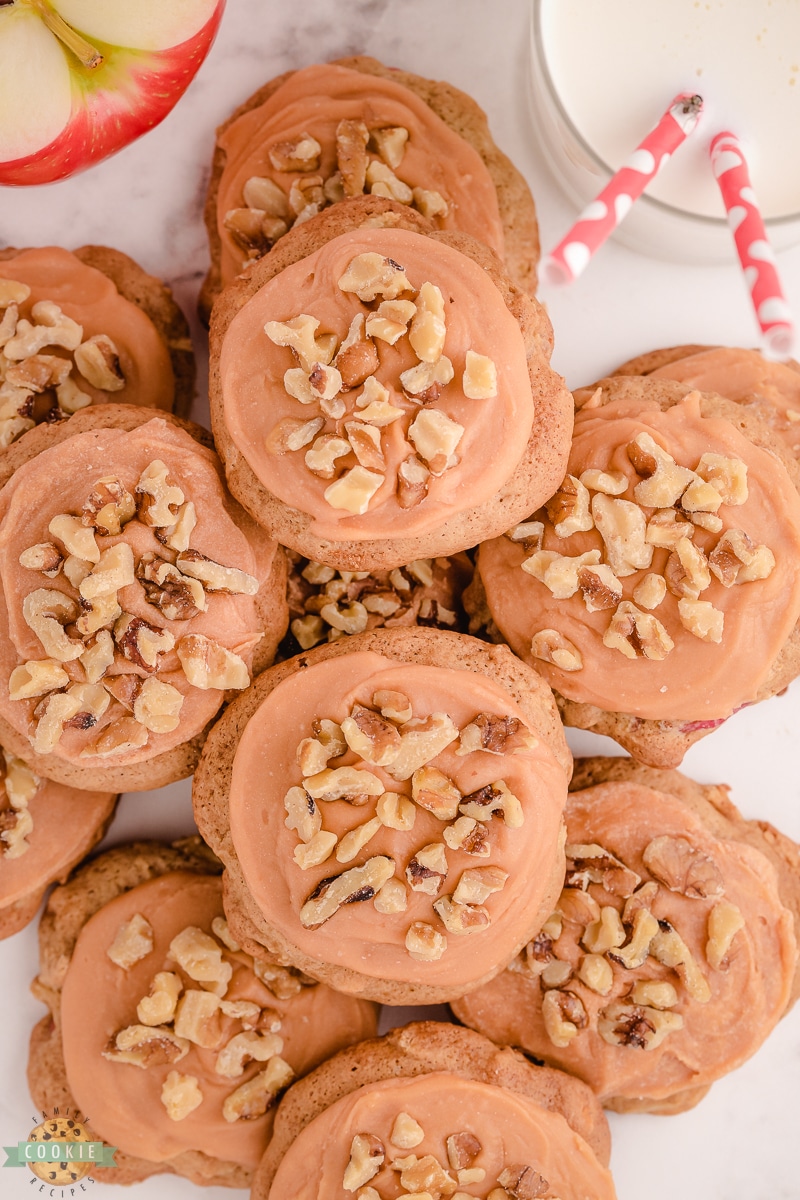 Apple Cookie Ingredients
-Flour: You will need 2 ½ cups of all-purpose flour for the base of this cookie dough.
-Cinnamon: Adding in 2 teaspoons of ground cinnamon will get the cookies to be well spiced and warm in flavor.
-Baking soda: Use 1 teaspoon of baking soda to help the cookies puff up nicely as they bake.
-Salt: Using ½ teaspoon of salt will help to enhance the flavors in the cookies and make them taste even more incredible.
-Brown sugar: You will need 1 ⅓ cups of brown sugar to give your cookies a sweet depth of flavor and chewy goodness in every bite.
-Butter: Adding ½ cup of softened butter will make the cookies richer in taste. You will also need 3 tablespoons of butter for the glaze.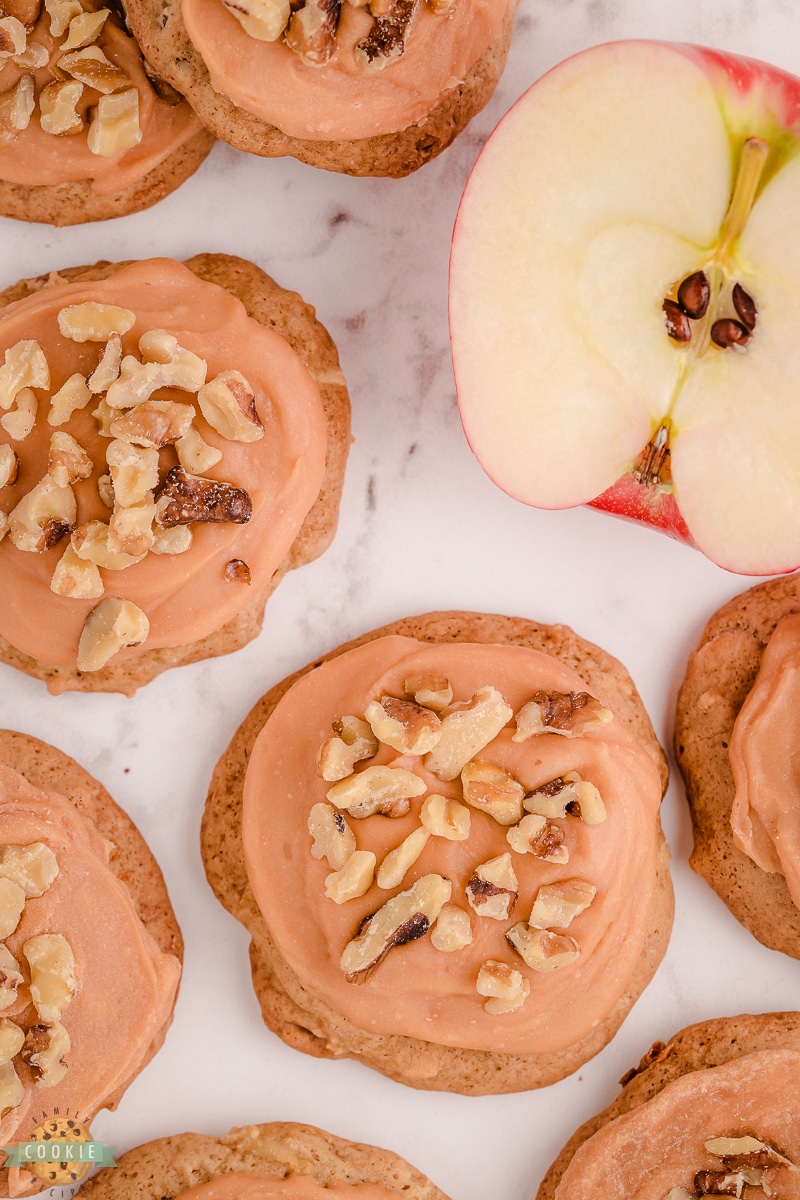 -Egg: Use 1 large egg to help bind the dough together well.
-Apple juice: You will need ½ cup of apple juice for the cookie dough and another 1-2 tablespoons of juice for the glaze.
-Butterscotch chips: You will need 1 ⅔ cups of butterscotch chips for the cookies, this is about an 11-ounce sized bag. They will be divided between the cookies and the glaze.
-Grated apple: Use ¾ cup of grated unpeeled apples so that every bite is full of flavor.
-Chopped nuts: You will need 3/4 cups of chopped nuts. Pecans and walnuts work best.
-Powdered sugar: Use 1 cup of powdered sugar for the base of the sweet glaze on top of these cookies.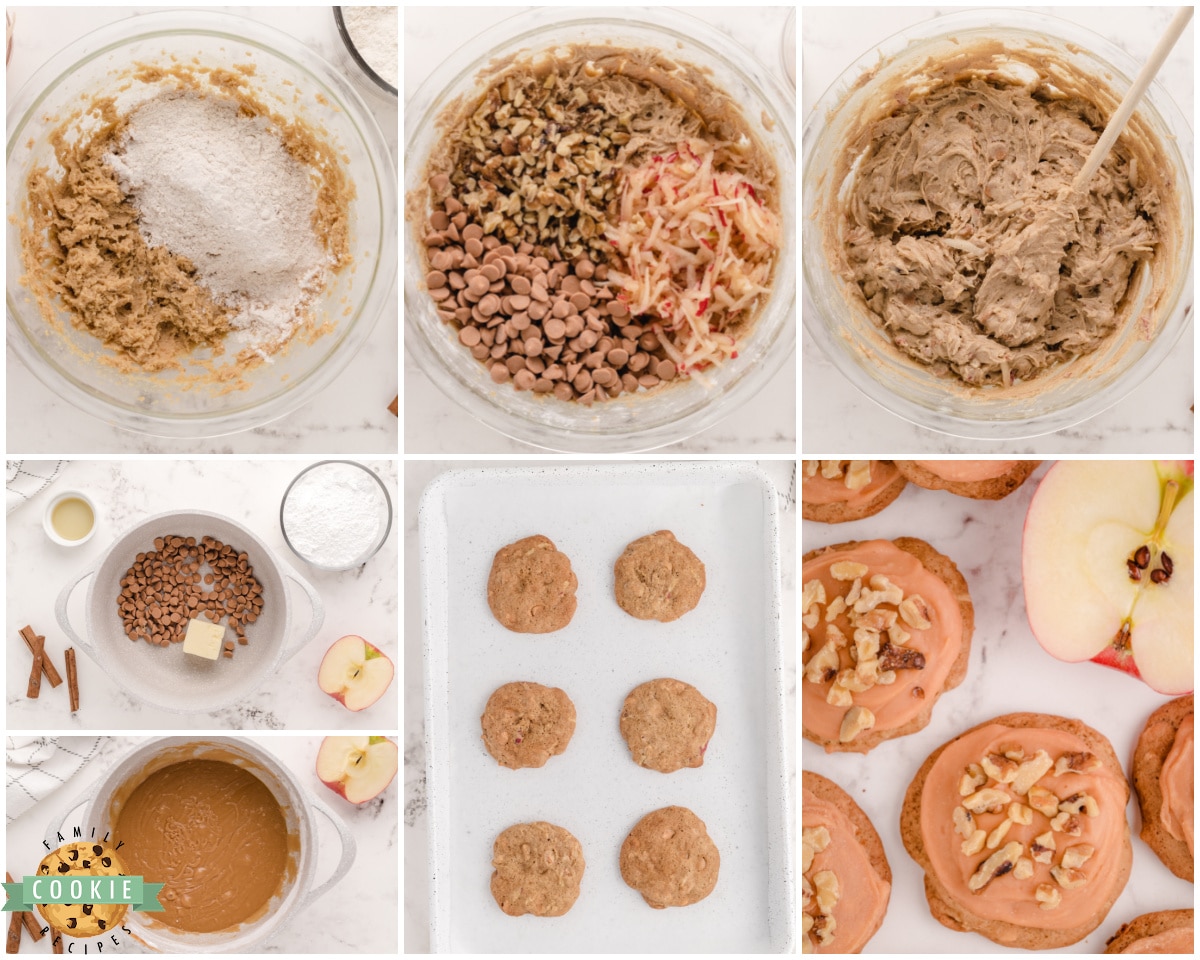 How to make butterscotch apple cookies
Preheat the oven to 350 degrees F and lightly grease your cookie sheets or line them with parchment paper and set them aside.
In a medium-sized mixing bowl, whisk together the flour, cinnamon, baking soda, and salt.
In a large mixing bowl, beat together the brown sugar and butter with an electric mixer until creamy.
Add in the egg and beat again.
Gradually add in the flour mixture, alternating with the apple juice.
Stir in 1 ½ cups of butterscotch chips, your grated apple, and ⅓ cup of nuts.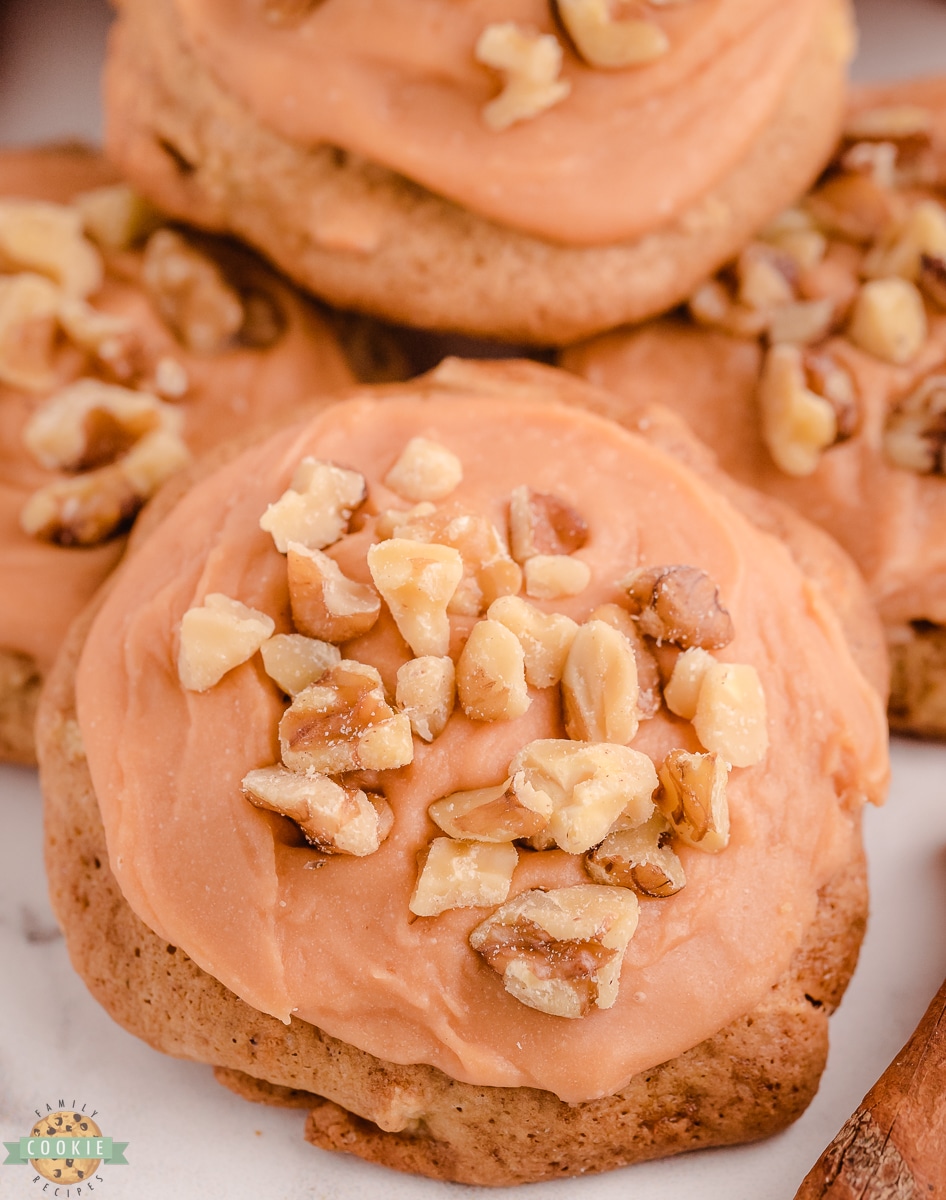 Drop the cookies by the slightly rounded tablespoons onto your prepared baking sheets.
Bake in the oven for 10-12 minutes or until lightly browned. Let the cookies stand for 2 minutes and allow them to cool completely on wire racks.
Prepare the glaze by melting the remaining butterscotch chips and 3 tablespoons of butter in a small saucepan over low heat.
When they have melted, remove the pan and stir in 1 cup of powdered sugar and 1-2 tablespoons of apple juice or until it's a good smooth consistency.
Spread the glaze over the top of your cooled cookies and sprinkle with the remaining nuts.
Enjoy!
How long are apple butterscotch cookies good for?
These cookies can last about 4 or 5 days if stored in an airtight container at room temperature. You could keep them stored in the fridge but the nuts may become chewier and the cookies may become softer in texture.
Can I freeze these cookies?
Freezing these cookies is an option for keeping them stored for much longer periods of time. You can get your cookies to last in an airtight container in the freezer for up to 3 months if desired. I recommend not adding the glaze until you're closer to serving them though as the glaze will make the cookies harder to store without sticking and the glaze may sweat as the cookies thaw later.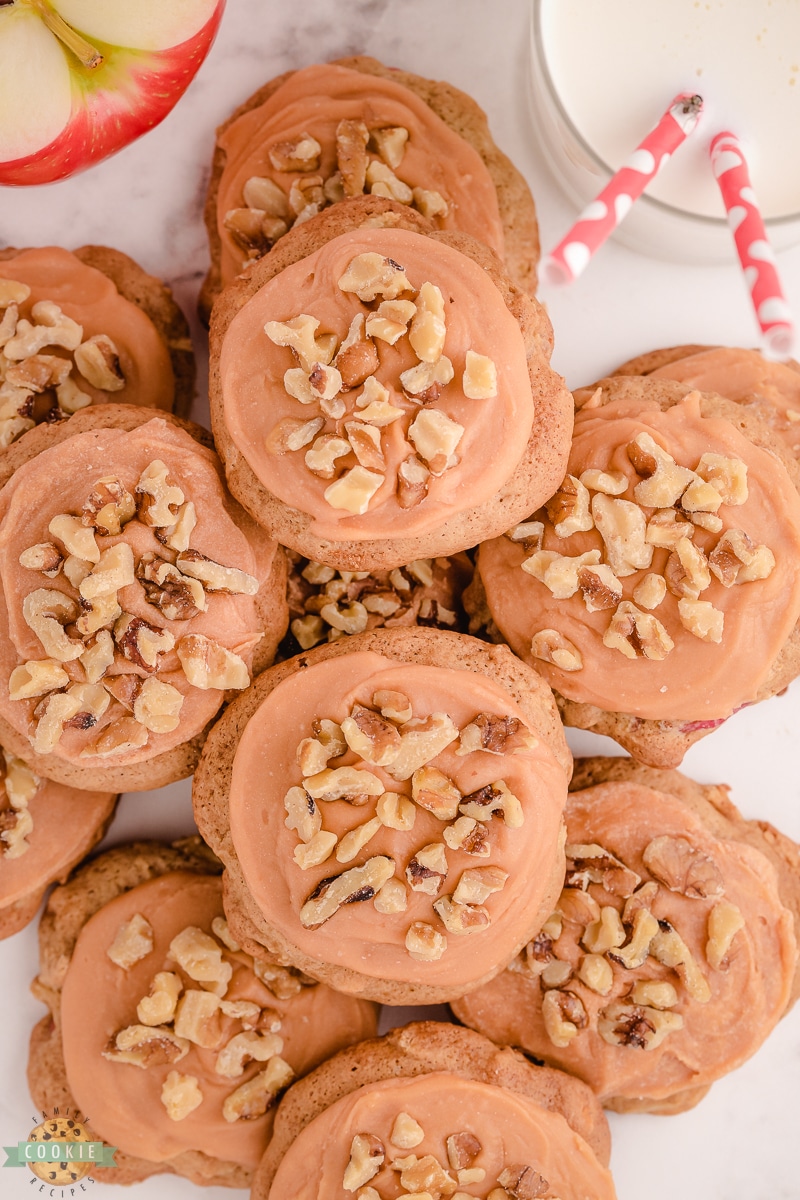 Check out these other great apple cookie recipes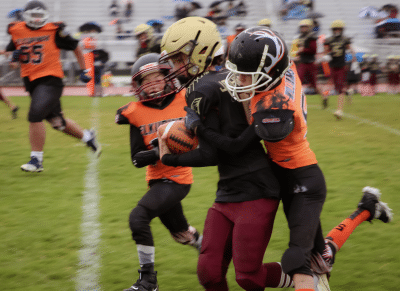 It's football season! For years and years, that meant flag football to our family, but recently, it's tackle! Ahhh, my poor Mama heart! It's been a wild ride this season. Lots of new things to learn on both my part and of course, my son's.
He played a great game this last week and it was so fun to watch him. Here he is (he's the one on the right in orange) tackling a player that likely has a solid 20 pounds on him and is easily 3-4 inches taller. The opposing team played well and were such good sports, but dang I was so happy to see my son tackle him! He only gained a few yards. Whew! Go team!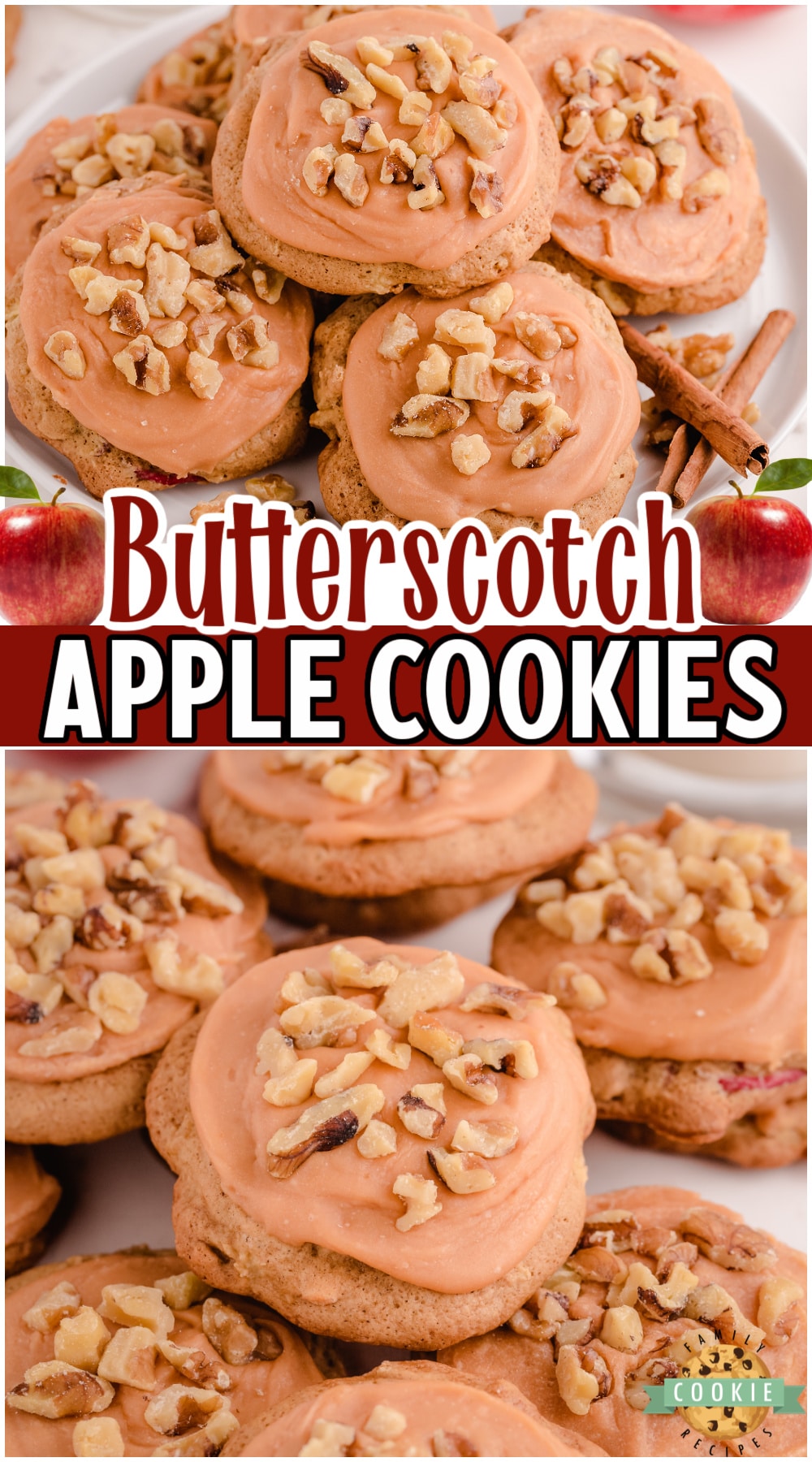 This butterscotch apple cookie recipe is easy to follow and completely delicious. Made with apple juice, apple pieces, nuts, and butterscotch chips, every bite is bursting with fall flavors.