Apple Spice Cookies are soft & chewy cookies packed with fresh apples & fall spices! With chopped apples, walnuts, and a simple powdered sugar glaze on top, these cookies are hard to resist!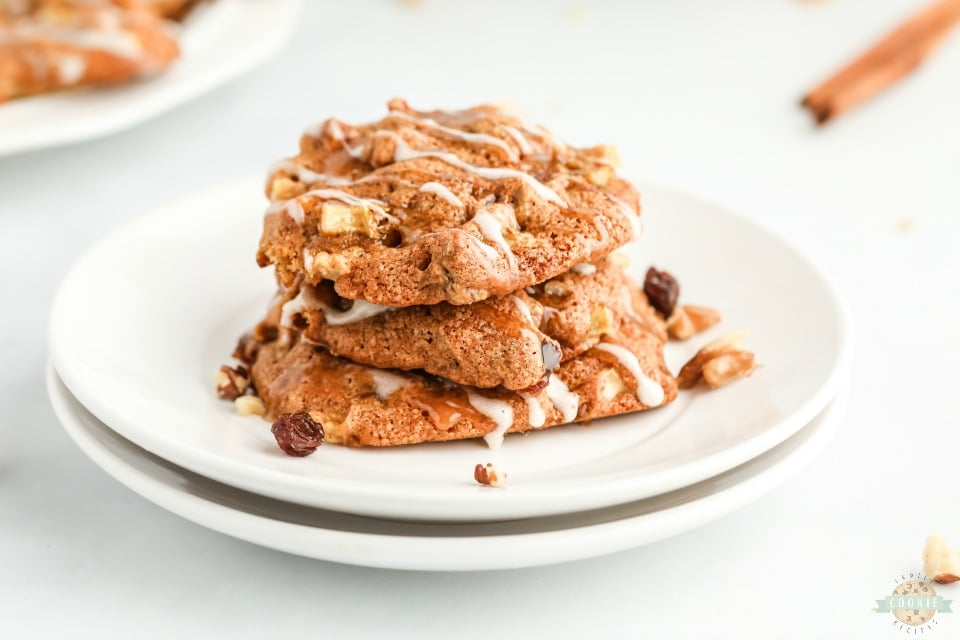 With simple ingredients and a little effort you can have some delicious spiced apple cookies. Making these cookies is as simple as any other cookie dough, the hardest part is chopping up the apple. But another great thing about this dough is that there is no chilling required!
What Are Spiced Apple Cookies?
Freshly chopped apples folded into a cookie dough batter flavored with spices, raisins, and walnuts makes this cookie delicious and packed full of flavor. Adding a simple two ingredient powdered sugar glaze over the top adds a bit of sweetness and visual appeal too.
Apple Cookie Recipe Ingredients
For the cookies you will need:
-Light Brown Sugar: With 1 1/2 cups of light brown sugar we can get a light brown and caramelized cookie that's both chewy and sweet!
-Butter: We're going to need an entire stick of melted butter (½ cup) to get the necessary fats for a rich tasting cookie.
-Egg: With one egg we can get the binder we need to hold these cookies together.
-Milk: You can use cows milk or a dairy free alternative, but we'll need ¼ cup of it to thin the thick batter enough to make the perfect cookie dough consistency.
-Flour: 2 ½ cups of all-purpose flour will work as the base of the cookie dough batter.
-Baking Soda: This is the leavening agent that will get the cookies puffed up and fluffy! We need a teaspoon's worth.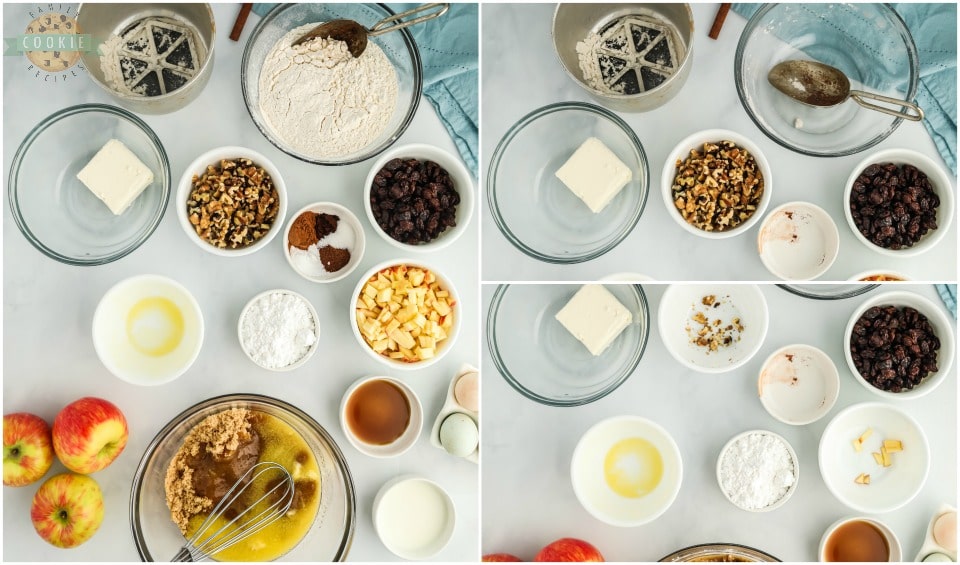 -Spices: With 1 teaspoon of cinnamon, and ½ a teaspoon of ground cloves and nutmeg we get a flavorful and slightly nutty tasting cookie that's perfect for fall.
-Salt: This is the flavor enhancer, use 1/2 teaspoon of salt to get a flavorful batch of cookies.
-Walnuts: 1 cup of chopped walnuts will add a little crunchy/chewy texture to the cookies, but it is optional if you'd like to omit for a nut-free cookie.
-Raisins: Adding ¾ cups of raisins to the dough will give you some chewy added fruit to the cookies. They also work great for flavoring the cookies.
-Apple: We need one cup of finely chopped apple, which is about half an apple, or one whole small apple. You can use any baking variety apple (I used Honeycrisp).
For the Icing you will need:
-Powdered Sugar: With just ½ a cup of powdered sugar we have enough to create a sweet white glaze that coats all of the cookies.
-Hot Water:  1-2 teaspoons of hot water will thicken the powdered sugar into a drizzling glaze for the cookies.
How to Make Spiced Apple Cookies
Preheat your oven to 350F degrees.
Whisk together the brown sugar, and butter in a large bowl
Add in the milk and the egg. Mix.
In another bowl, combine the flour, baking soda, spices, and salt.
Slowly add the dry ingredients to the wet ones and mix together to combine.
Add in the chopped walnuts, raisins, and apples, stir to combine.
Place the dough in rounded balls about 2 inches apart on a parchment paper lined baking sheet.
Bake in the oven for 12-15 minutes or until the cookies are slightly browned around the edges.
Remove the cookies from the oven and then let them cool completely on a wire rack.
Prepare the icing by whisking together the powdered sugar and hot water until smooth.
Drizzle the icing over the cookies and allow to set.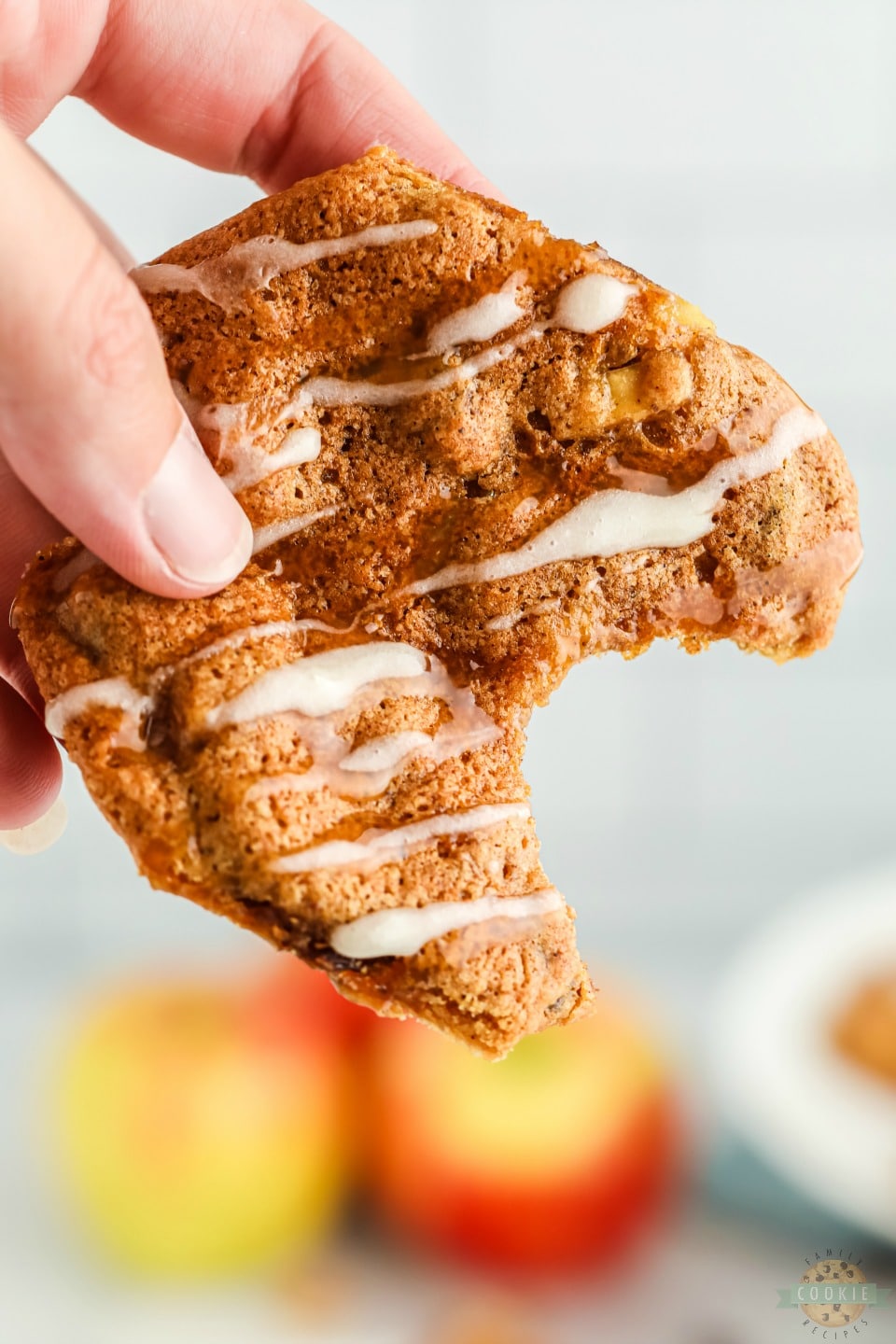 What will I need to complete this recipe?
Mixing bowl
Spoon or rubber spatula
Knife and cutting board (to cut the apple)
A baking tray
Parchment paper
How do I store the Apple Spice Cookies?
Keep your cooled and set cookies stored in an airtight container at room temperature for up to a week.
Can I eat these warm or cold?
You can eat them either way! We love to eat them when they are fresh out of the oven and warm, but they still taste incredible after they've been cooled down to room temperature.
What kind of apples should I use?
For this recipe, I used Honeycrisp apples, but you can use any good baking variety apples. For example, McIntosh works well too. Just make sure to use baking variety apples as they hold up better than the normal everyday eating apples do.
Check out these other great cookie recipes


Our two "Chipin" puppies recently turned 1! (They're Min Pin/ Chihuahua mixes.) Oh my, they are so patient with us. They're so much more fun than I ever imagined having pets would be. We just love them to pieces! They're athletic and spirited and SO SMART. They do all sorts of tricks and it's hilarious because sometimes I think they really, truly understand what we ask them to do. Like get my slippers. Or go find my phone. HA! We got them some warm clothes and I *think* they liked them. Or maybe they tolerated them. Either way, they're keepers!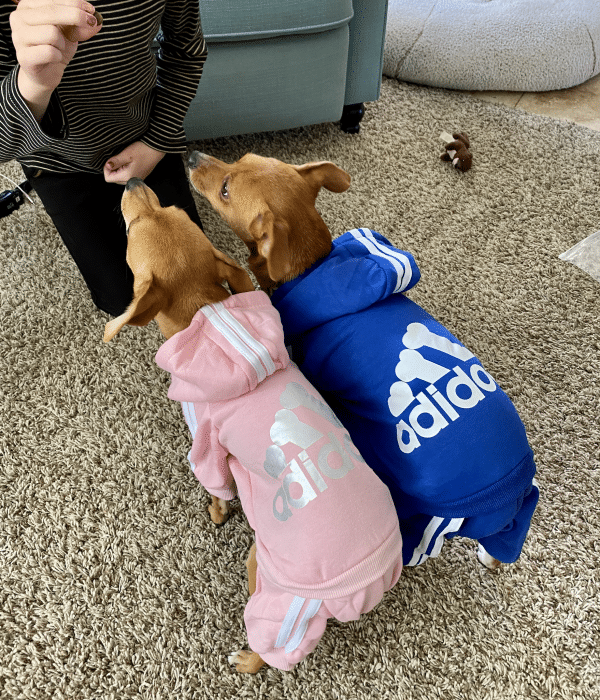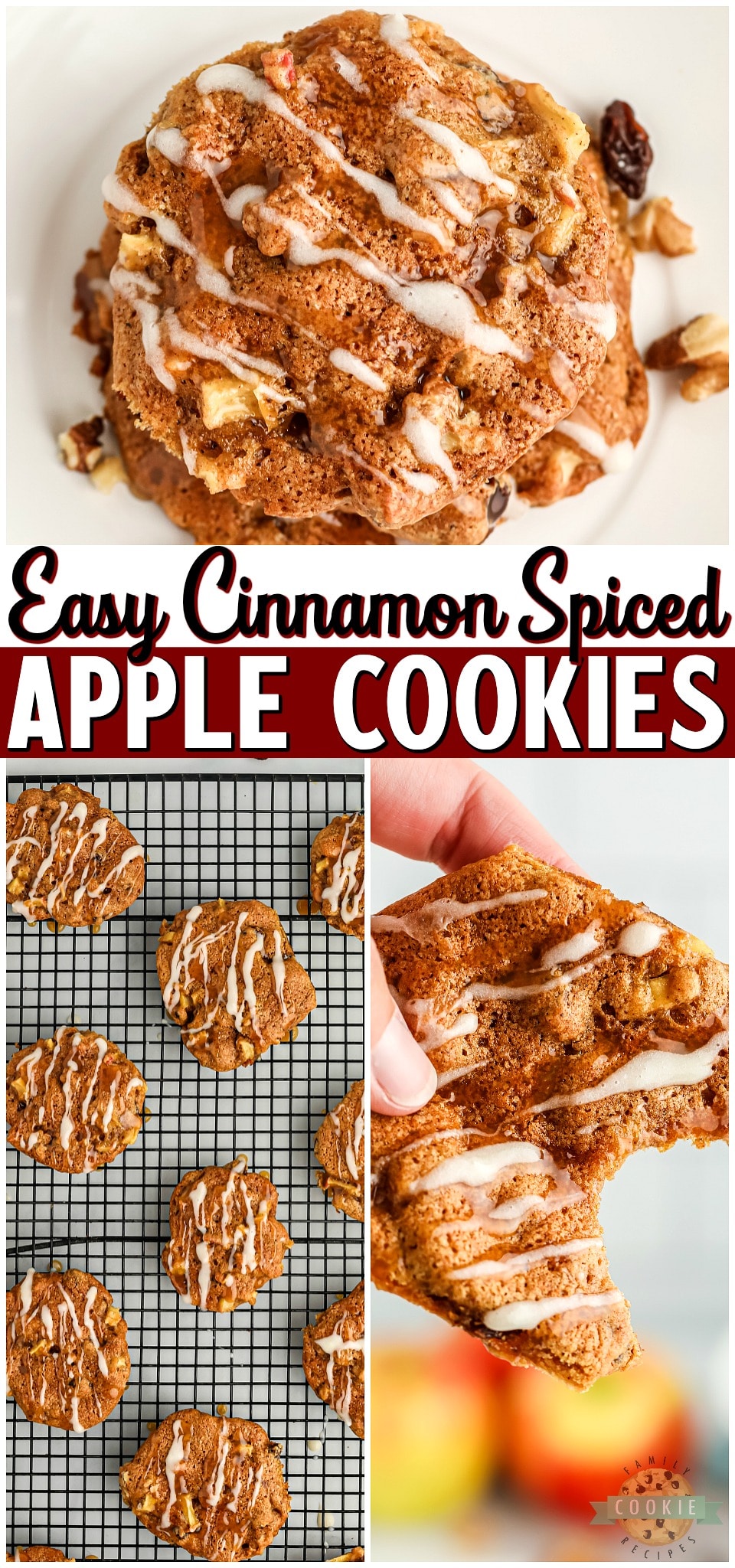 These spiced apple cookies are the perfect fall cookie! With chopped walnuts, raisins, spices, and real apple chunks, these apples are delicious and sweet.