No Bake Pumpkin Cookies are full of oats and pumpkin flavor and come together in minutes without ever turning the oven on. This easy no bake cookie recipe is quick, delicious and perfect for fall!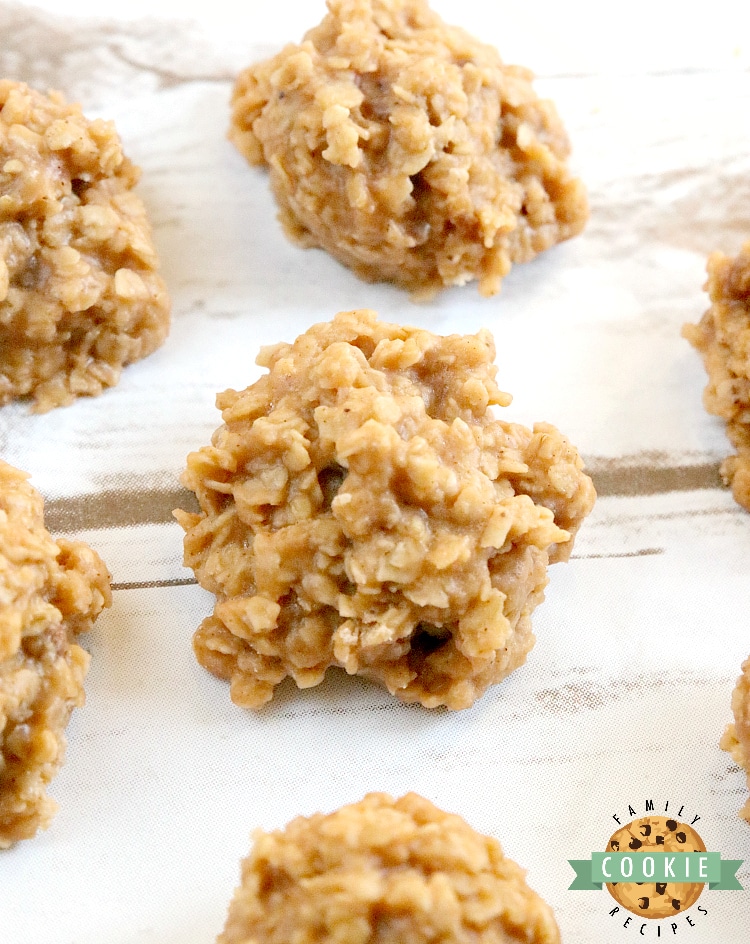 No Bake Pumpkin Cookies have become a favorite treat around my house this fall season. Our favorite traditional no bake cookie recipe is full of chocolate, peanut butter and oats. The pumpkin version doesn't have any chocolate or peanut butter in it, but is equally delicious and equally easy to make!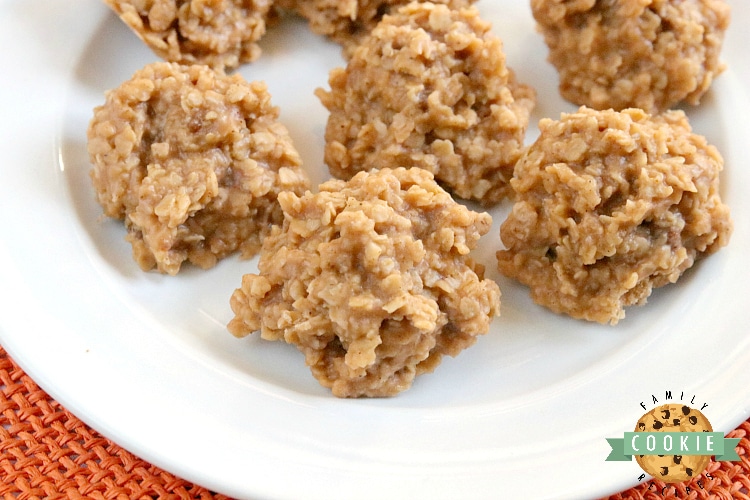 This No Bake Cookie recipe is different from all of the other ones I've tried because the recipe has pudding in it! Pumpkin spice pudding mix makes these cookies taste absolutely incredible and the consistency is so good too.
NOTE: If you can't find the pumpkin spice pudding mix in your grocery store, you can purchase it on Amazon. If the price is crazy or you don't want to wait, you can use a small box of vanilla instant pudding instead and then double the amount of pumpkin pie spice in the recipe. The flavor won't be exactly the same, but they are still delicious! 
I'm tempted to try this same recipe with chocolate pudding and I think it would taste very similar to a traditional no bake cookie recipe. You can make any flavor you want!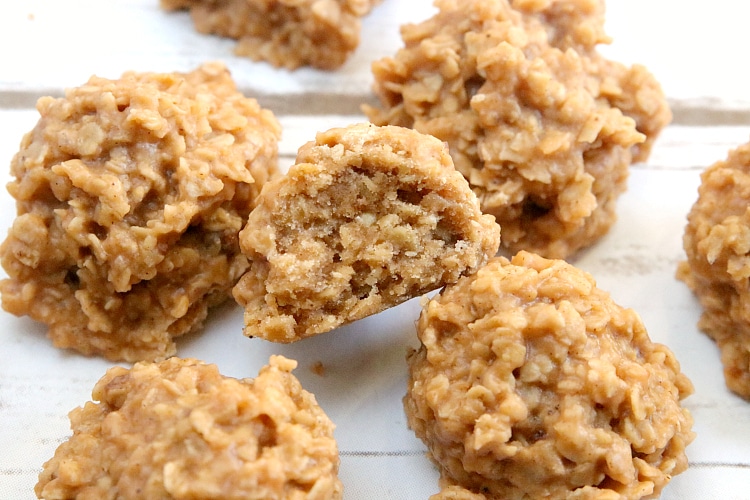 Ingredients in No Bake Pumpkin Cookies
1 1/2 cups sugar
1/2 cups brown sugar
3/4 cup butter
2/3 cup milk
3.4 oz box instant Pumpkin Spice Pudding Mix
1 tsp pumpkin pie spice
1 tsp vanilla extract
3 1/2 cups quick oats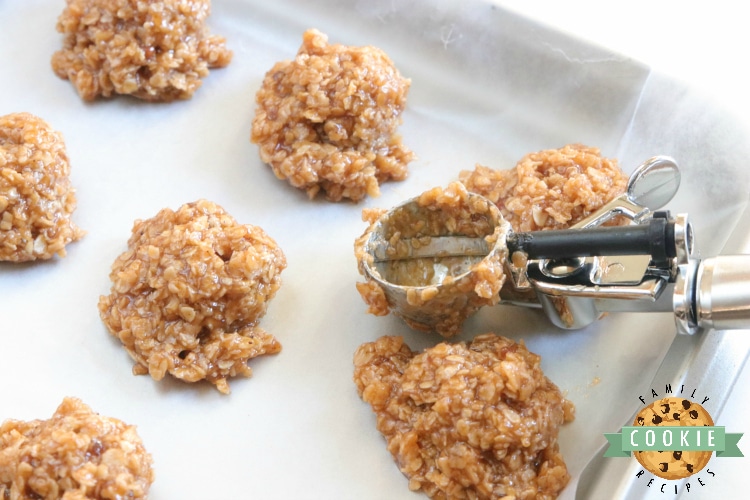 How to make No Bake Pumpkin Cookies
In a medium saucepan, combine sugars, butter and milk. Over medium heat, stirring occasionally, bring the mixture to a boil and boil for 2 minutes.
Remove the mixture from heat and add the pudding mix, stirring until well combined.
Add the pumpkin pie spice and vanilla and mix well. Mix in the oats and then let the mixture sit for about 5 minutes.
Use a cookie scoop to drop the mixture by tablespoonfuls onto a cookie sheet lined with wax paper. Allow them to cool completely in order to fully set. Store at room temperature or in the refrigerator.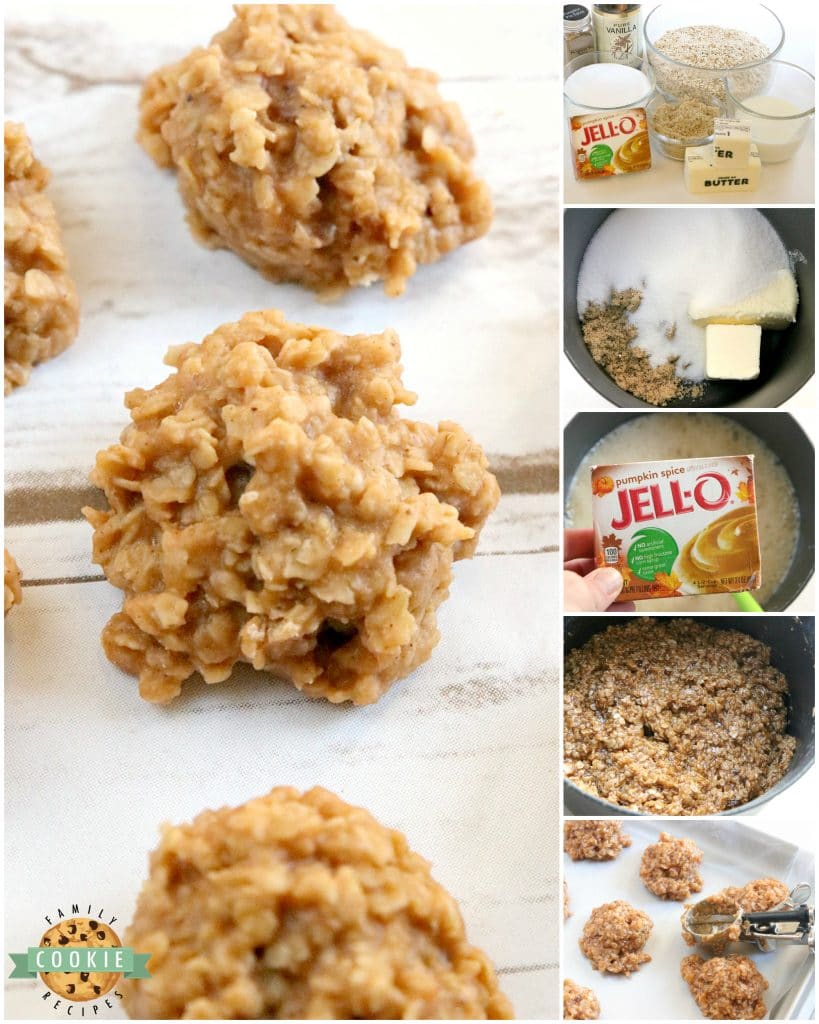 What to do when No Bake Cookies recipe won't set?
Putting your cookies in the fridge or freezer will help them firm up a bit.
To avoid your cookies not setting, make sure you boil the cookies for as close to a minute as possible.
Can No Bake Cookies be frozen?
Yes, these cookies can absolutely be frozen. It will help them firm up, and in my opinion, taste better! Especially in the summer. Although, mine are always eaten before I even open the freezer!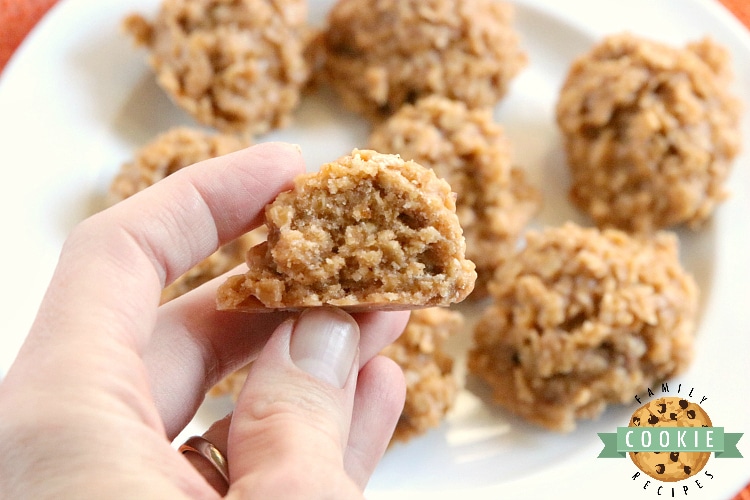 Which oats are best for No Bake Cookie Recipe?
Different recipes will call for different kinds of oats, but to make the best No Bake Cookies, you should use quick oats. Using different kinds of oats will change the texture of the cookies, and you risk them not setting up right. Being the main ingredient in this recipe, it's important to get the right kind of oats.
Do No Bake Cookies need to be refrigerated?
Putting No Bakes in the fridge will help the cookies to hold a firmer shape. They also will last longer if you keep them in the fridge.
However, they technically don't need to be refrigerated. You can store them in an airtight container in room temperature and they will be fine.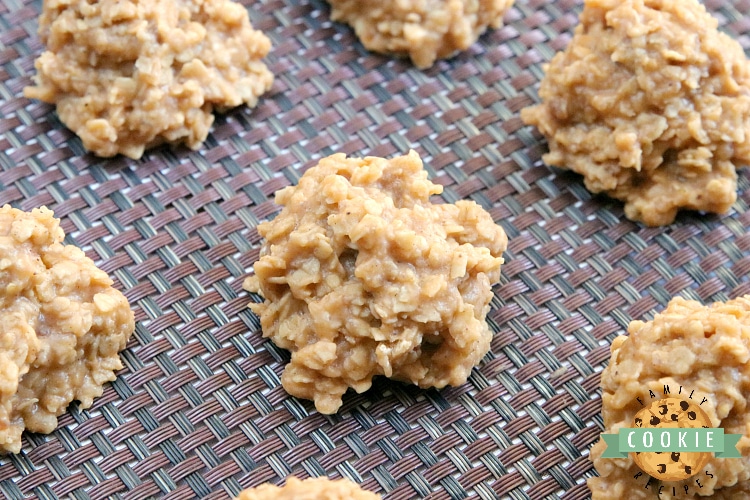 How long does it take for no bake cookies to set up?
These cookies only take about 15-20 minutes to cool and set up at room temperature, but you can reduce that time by at least half if you let them set up in the refrigerator. If you prefer the taste and texture of these cookies at room temperature just make sure to remove them from the refrigerator once set. You can definitely eat them while cold though too!


Halloween has never been my favorite holiday – I'm just not very creative when it comes to costumes. We have tried to do a family theme several times but we couldn't get all of the kids to agree on anything so we usually just do our own thing. This picture is from Halloween 4 years ago when we finally planned ahead enough and got everyone to agree on an "Inside Out" theme. It was a lot of work, but we pulled it together and it ended up working out. Except for "Joy" who decided at the last minute she didn't want to be involved and at that point, we forced her to participate although it is very clear, she wasn't being very "joyful" that night! And don't ask how I somehow drew the short straw and got to be the elephant. 😉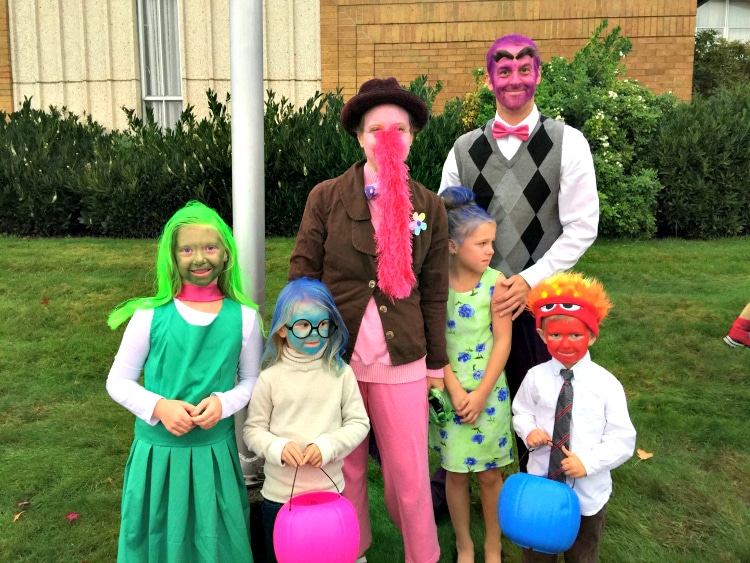 Other cookie recipes with oatmeal in them!