S'mores Cookies jam packed with marshmallow chocolate amazingness! Soft pudding cookies with mini chocolate chips & M&M's topped with marshmallows and a piece of chocolate. Easily the BEST S'mores Cookies EVER!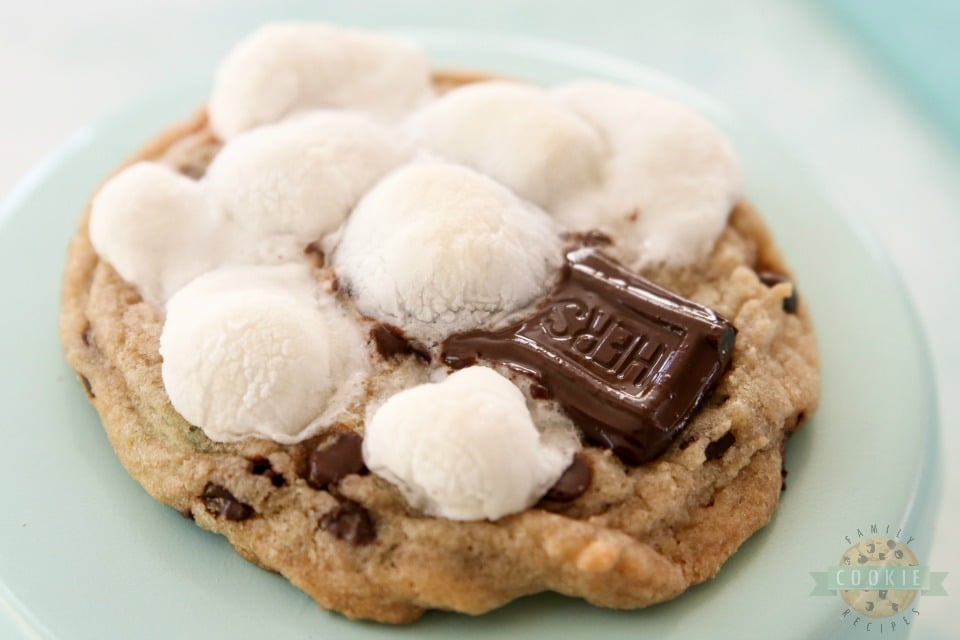 We're mid summer and our S'mores game is still going strong. These cookies are a strong contender for our best S'mores creations! They're soft & chewy with fantastic chocolate flavor and marshmallow gooeyness that everyone loves. Trust me, you'll want to save this recipe!
What are S'Mores Cookies?
S'Mores Cookies are just as it sounds- S'mores, in cookie form! We take marshmallow and chocolate and oven toast them on top of a soft chocolate chip cookie. We even added some mini M&M candies for an additional fun surprise!
Ingredients for Soft S'Mores Chocolate Chip Cookies
Here's what you'll need:
–Butter & shortening: I prefer a blend of butter and shortening in cookie recipes to get the perfect flavor and soft, light texture
–Granulated sugar & brown sugar: love the combination of sugars in these cookies!
–Eggs & milk
–Vanilla extract: I suggest using a good quality vanilla extract or a Vanilla Bean Paste. I linked my favorites!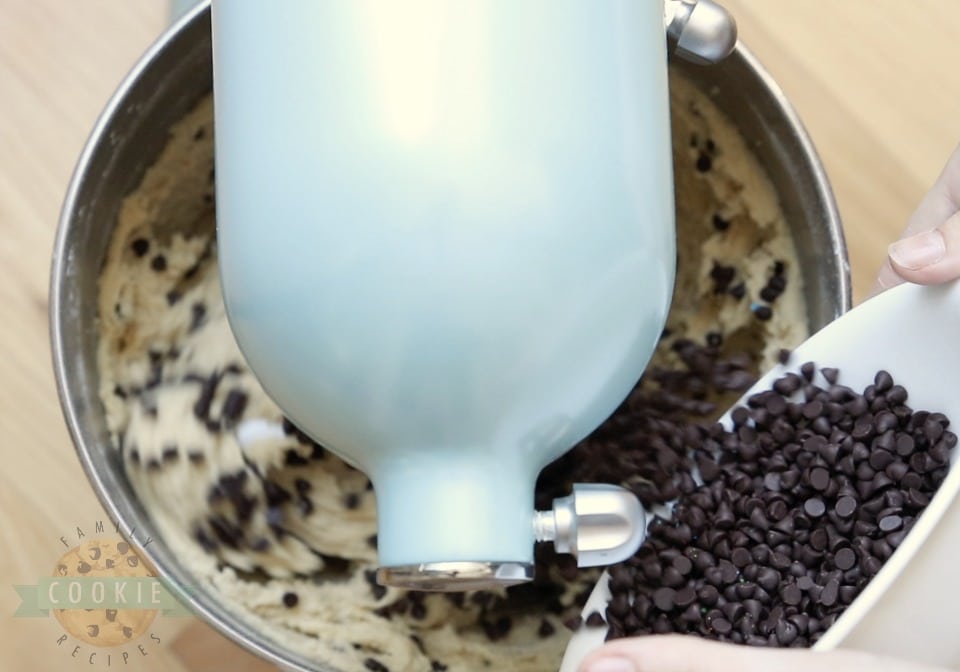 –All purpose flour: You can also use bread flour
–Vanilla pudding mix: I've honestly used Cook & Serve or Instant in cookie recipes and can't tell a difference! Use either one!
–Baking soda & salt
–Mini chocolate chips, M&M candies and Mini Marshmallows: These cookies were SO fun with all 3! If you want to simplify them, add 2 cups of mini chocolate chips and leave the M&M's out.
–Hershey's chocolate: I used 4 bars of Special Dark Hershey's Chocolate, broken up into 12 squares each
How to make S'Mores Cookies
Preheat oven to 350°F and line a cookie sheet with parchment paper.
Using an electric mixer, cream your butter and shortening for about 2 minutes, until pale. Add sugars and mix until well combined. Add your eggs, vanilla and milk & mix.
Whisk together flour, pudding mix, baking soda and salt. Pour into butter mixture and mix until flour is completely incorporated.
Stir in mini chocolate chips and mini M&M's.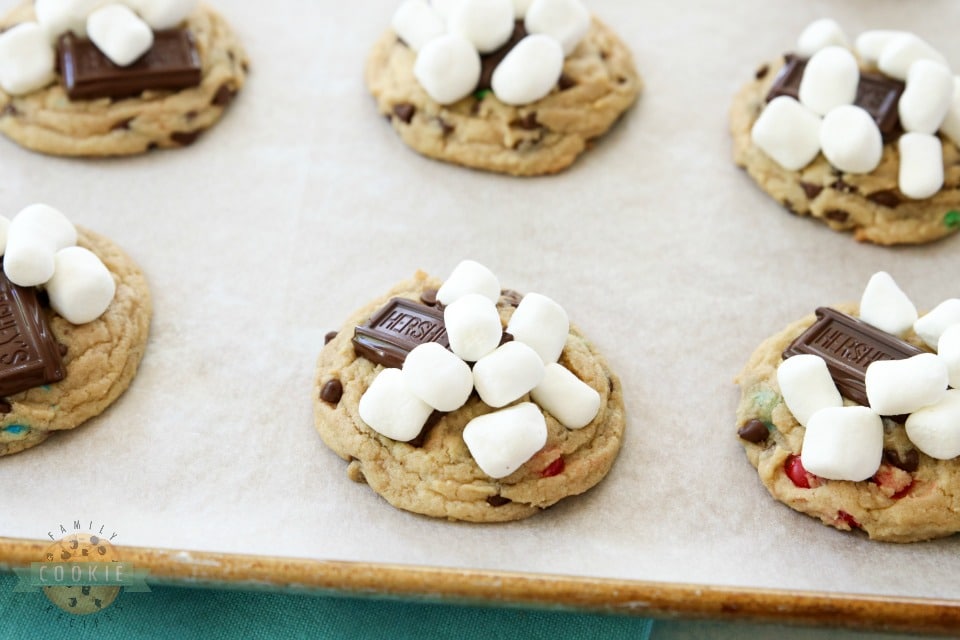 Scoop dough level using a medium cookie scoop. Place balls about 1.5-2″ inches apart on the baking sheet. Bake for 9 minutes.
Remove from oven and place 1 square of chocolate on each cookie. Arrange 5-6 mini marshmallows on top of cookies, making sure to leave some of the chocolate exposed.
Return to oven and bake an additional 5 minutes. Let cool on cookie sheet for at least 5 minutes before transferring to a cooling rack.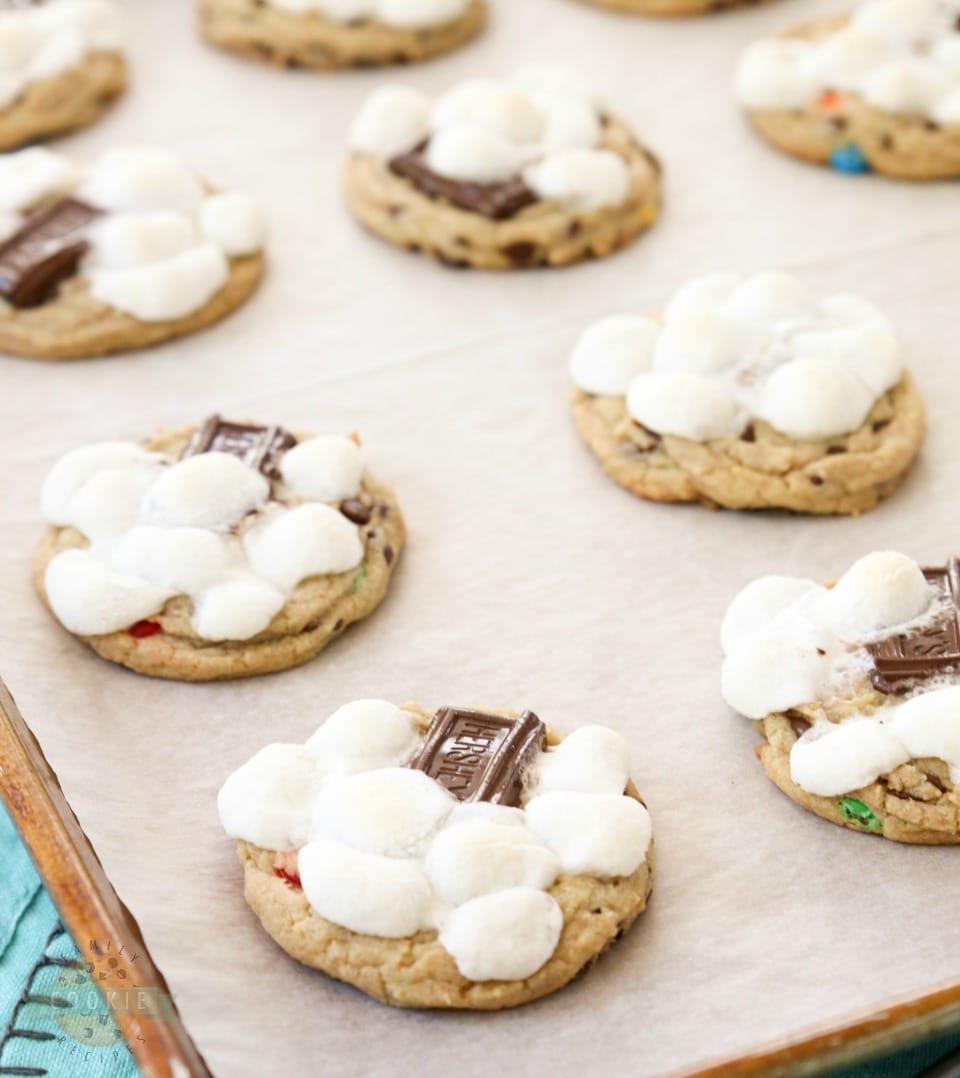 TIPS TO GET THE PERFECT CHOCOLATE CHIP COOKIES:
Three kitchen items make these cookies come together really fast. I actually use these items in nearly every cookie recipe I make, so they're quite versatile. First, I line my cookie sheets with a piece of parchment paper. They're sold in sizes that fit a 12×16 cookie sheet perfectly and enable to cookies to bake well without sticking- and no mess from spraying oil on the cookie sheets!
The second item is a KitchenAid mixer. I love mine! I have a Bosch as well but I find I use my KitchenAid for cookies. There is a cookie paddle that comes with every mixer that you attach to the top of the mixer. They're easy to use and help you mix the ingredients uniformly.
The third item is a cookie scoop! Years and years ago I used to use 2 spoons to measure and scrape cookie dough onto the pans. It wasn't a perfect process and I often ended up with oblong cookies in various sizes. A friend of mine brought cookies to a party and I noticed each and every one of her cookies looked PERFECT. Her secret? A cookie scoop! They come in three sizes- 1/2 tablespoon, 1.5 tablespoon and 3 tablespoon scoops. I used the middle size- 1.5 tablespoon for these, and most other cookies.
CAN YOU FREEZE S'Mores COOKIES?
Yes, you could freeze these cookies in 2 ways. The first way is to freeze the balls of cookie dough. Just round the balls after scooping and line a baking tray. Freeze the entire tray, then transfer the balls into a Ziplock freezer bag. Then you can bake and top with marshmallows and chocolate prior to serving.
You can also just freeze the entire cookie once it's completely cooled. Note: this takes a few hours for the chocolate on top to solidify again! Place cookies in an airtight container with a layer of parchment in between. Defrost on the countertop.


This picture makes me laugh every time. This is my father in law. He doesn't have dogs. There actually aren't a lot of pets at all in my extended family. So when we (seemingly out of the blue) got 2 puppies, we weren't quite sure how everyone would welcome them. Well. Let me tell you, these puppies and my father in law are BEST FRIENDS. They go crazy when he comes over and I'm pretty sure the feeling is mutual. I love it.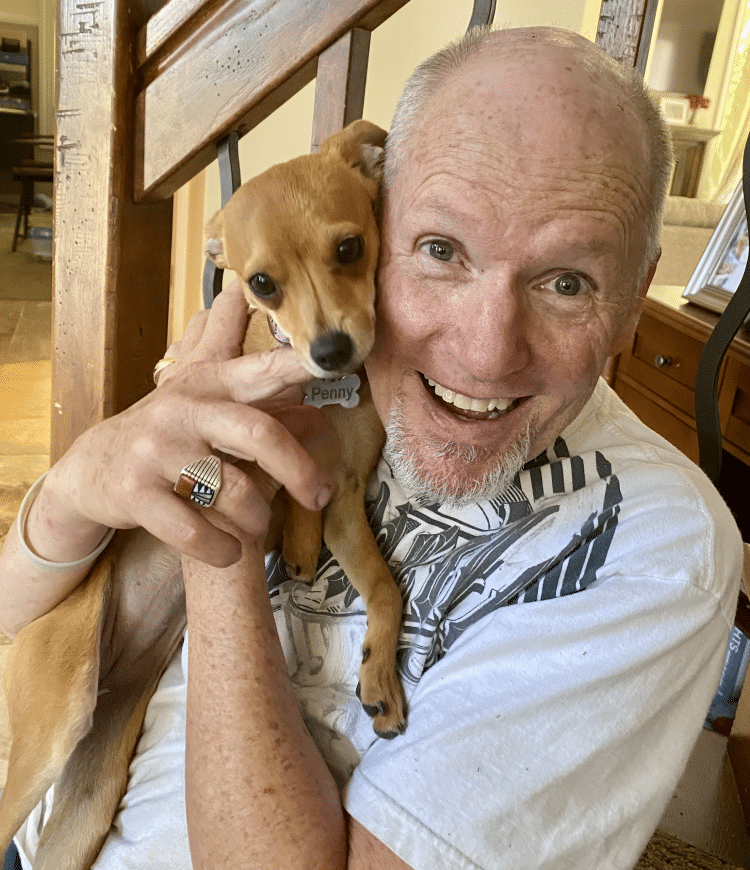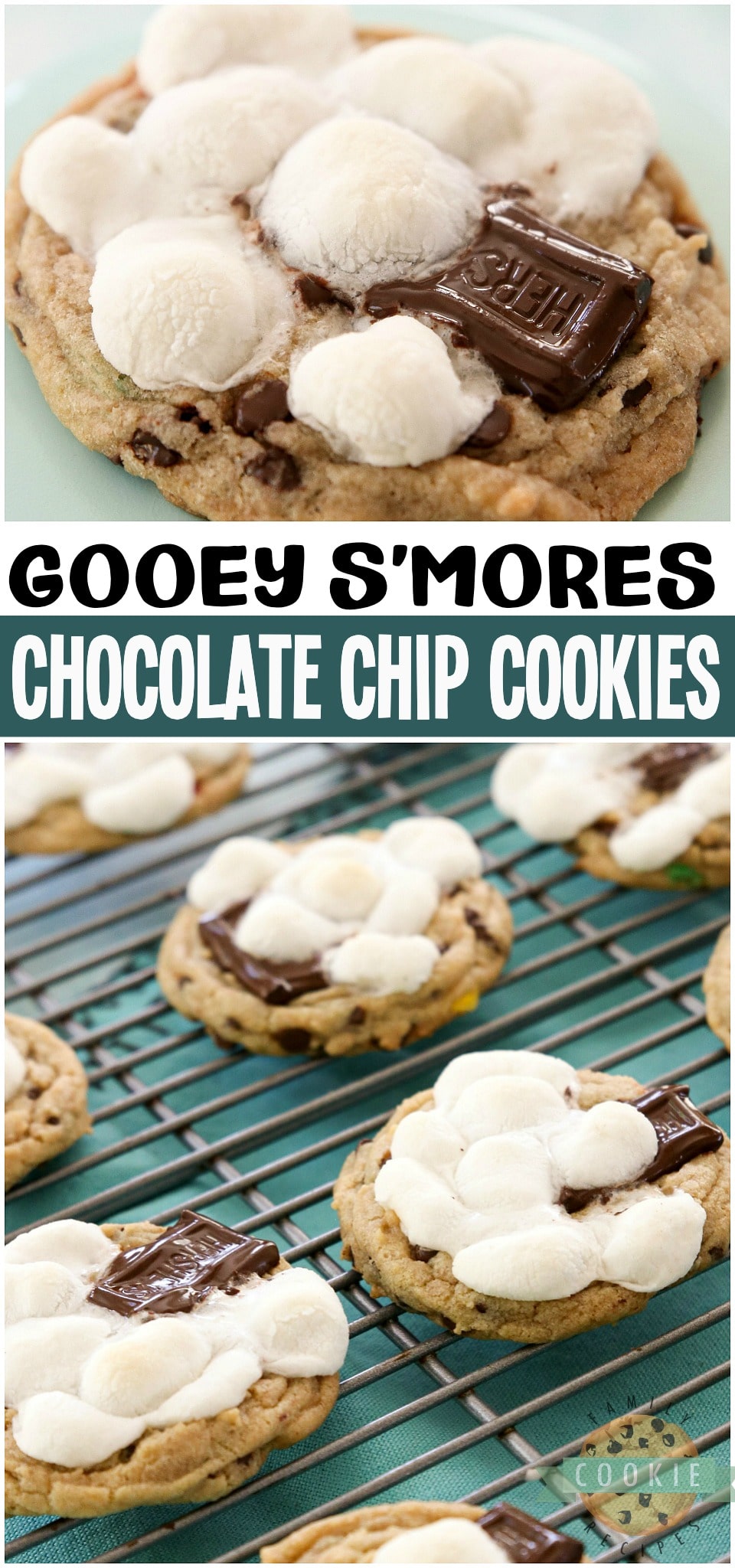 S'mores Cookies jam packed with marshmallow chocolate amazingness! Soft pudding cookies with mini chocolate chips & M&M's topped with marshmallows and a piece of chocolate. Easily the BEST S'mores Cookies EVER!