Rice Krispie Chocolate Chip Cookies are a delicious twist on a classic cookie recipe. These crispy chocolate chip cookies are made with the addition of Rice Krispie cereal, which gives them a unique texture and a satisfying crunch.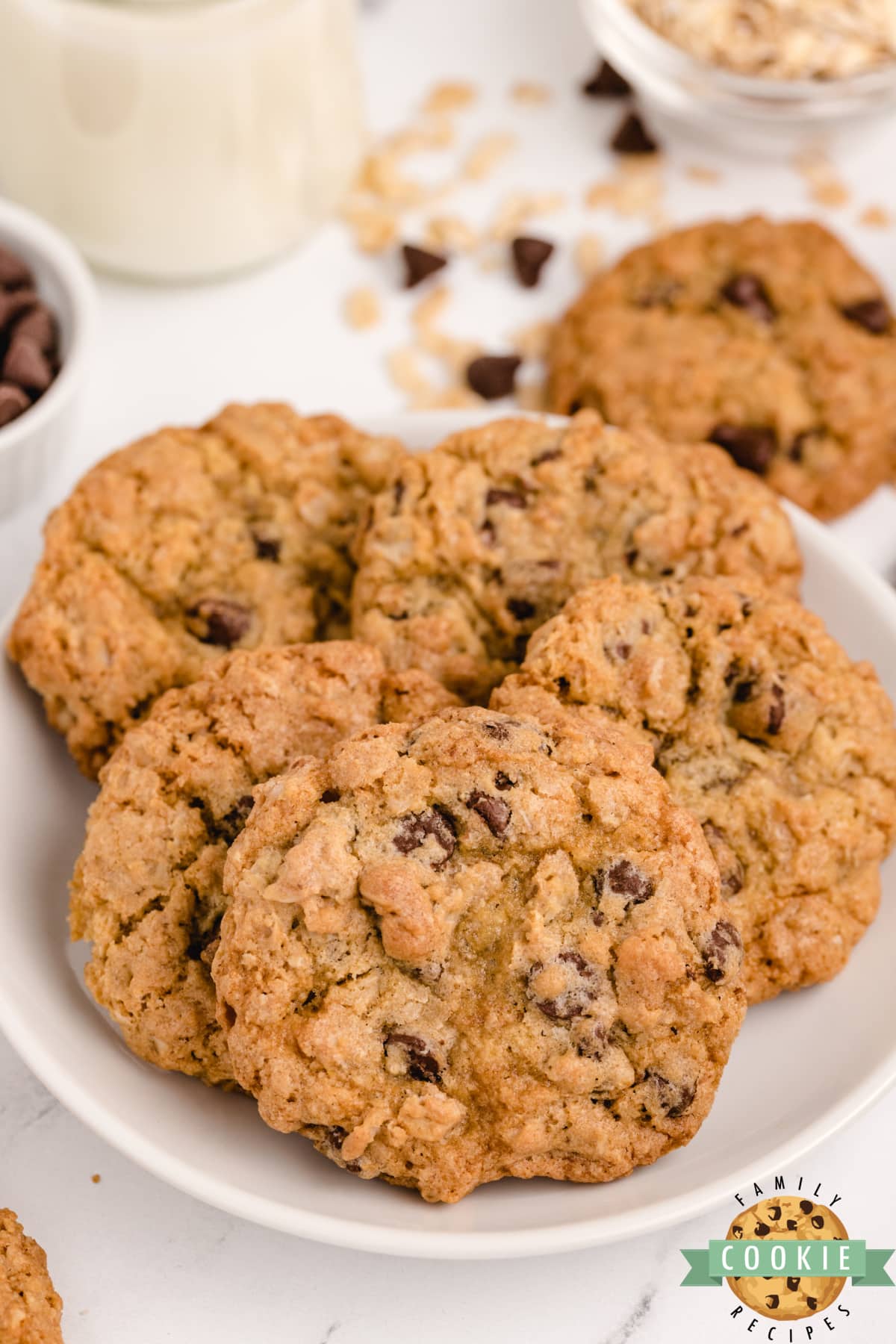 To make these Rice Krispie cookies, all you need is a few simple ingredients, including flour, sugar, butter, oats, chocolate chips, and of course, Rice Krispie cereal. The dough comes together quickly and easily, and can be made in just a few minutes. The combination of the crispy cereal, oats, and the soft cookie dough makes these chewy chocolate chip oatmeal cookies a mouthwatering treat.
Rice Krispie Cookies
The history of this delicious dessert is not well documented, but it is believed to have originated in the United States in the mid-20th century. The first known recipe for Rice Krispie Chocolate Chip Cookies was published in a cookbook in 1941.
Over time, bakers began to experiment with the recipe, adding different ingredients such as nuts, dried fruit, and even marshmallows. Some recipes also called for the use of different types of chocolate, such as white or dark chocolate.
These cookies are perfect for any occasion, from a casual afternoon snack to a special dessert for a party or gathering. They are sure to be a hit with kids and adults alike, and are a great way to add a little something extra to your classic chocolate chip cookie recipe.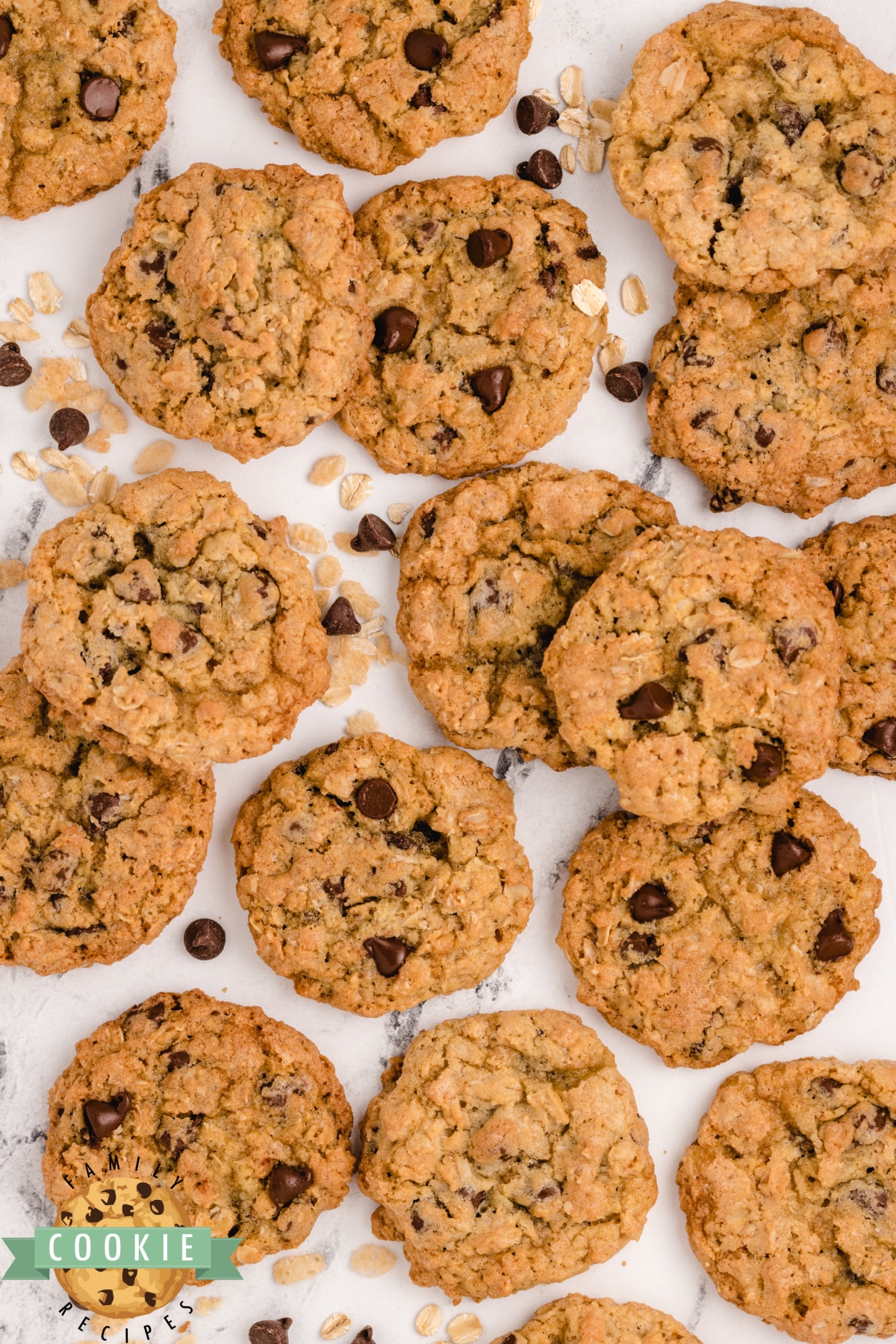 Why you'll love this simple Cookie Recipe
No dough chilling is needed. This cookie dough requires no chilling at all, meaning you can start the recipe now and have a warm cookie in your mouth in just minutes flat.
Basic ingredients. The ingredients to make these chocolate chip cookies may be different than the norm but they are all still very simple and basic pantry staple ingredients that you may already have on hand.
Easy to follow steps. This cookie recipe is perfect for any at home baker because the steps are so simple. All you have to do is mix, combine, scoop and bake.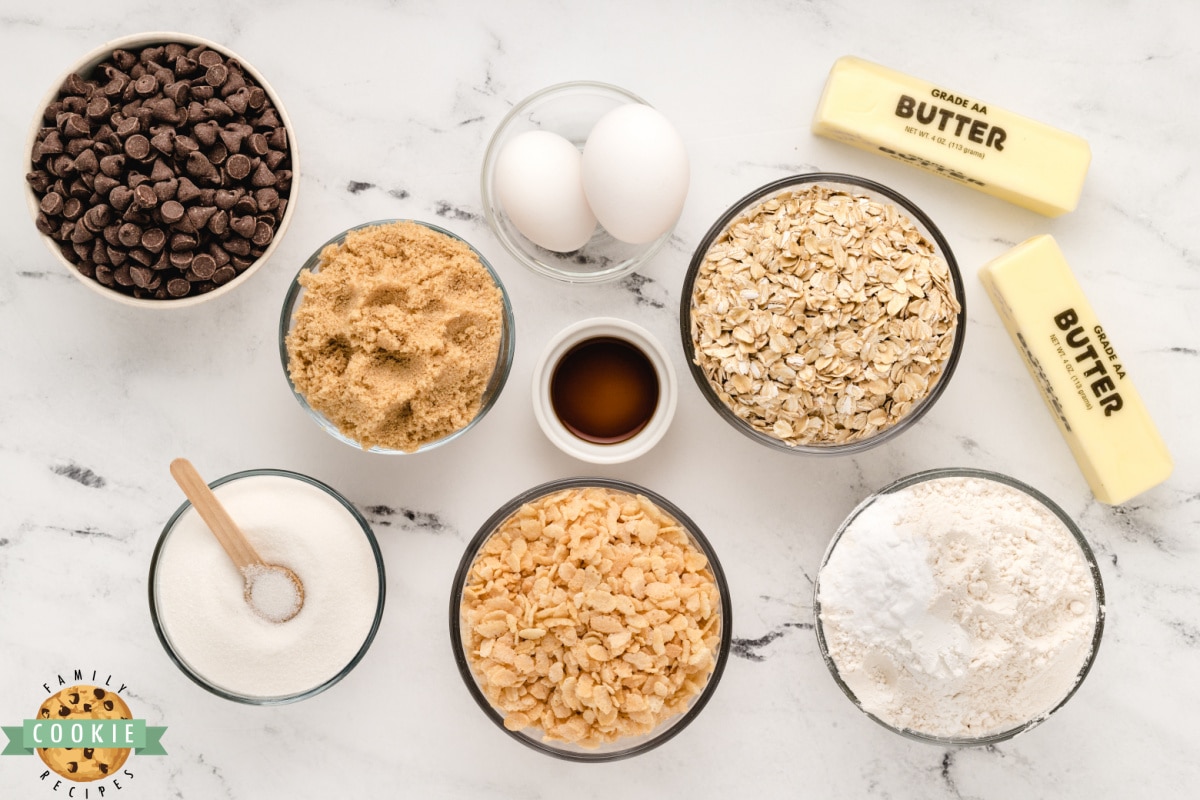 Ingredients in Rice Krispie Chocolate Chip Cookies
Butter: You will need 1 cup (2 sticks) of butter, softened to room temperature.
Sugar: Use 1 cup of brown sugar and 1 cup of granulated sugar to make the cookies sweet and chewy. For best results, make sure the brown sugar is fresh and soft.
Vanilla: 2 tsp of vanilla extract adds a lot of flavor to the cookies. The higher the quality of the vanilla, the better!
Eggs: This recipe calls for 2 large eggs to bind all the ingredients together.
Flour: For the base of the cookie dough, you need 2 cups of all-purpose flour.
Leavening agents: To help the cookies puff up and rise as they bake, use 1 tsp of each baking powder and baking soda.
Oats: 2 cups of Old-fashioned oats are the best option for this recipe, but you can use quick oats if that's all you have on hand.
Cereal: Adding 2 cups of Rice Krispie cereal gives these cookies their signature crispiness.
Chocolate chips: Use 1-2 cups of semi-sweet chocolate chips, depending on how much chocolate you want in every cookie. Mini chocolate chips work great too!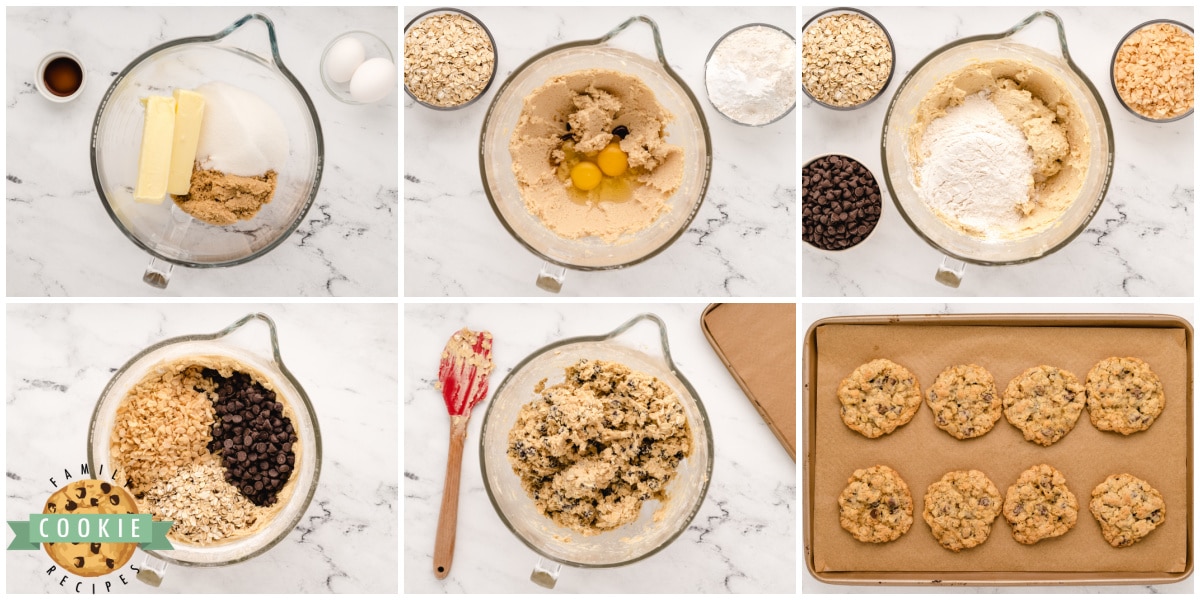 How to make Rice Krispie Chocolate Chip Cookies
Prep
Get started by preheating the oven to 350°. Then, prepare two cookie sheets with silicone baking mats or parchment paper. Set them aside.
Cookie dough
In a large bowl, combine the flour, baking powder, and baking soda. Set this bowl aside.
Next, in a separate bowl, using an electric mixer, cream the butter, brown sugar, and white sugar for about 2-3 minutes.
Then add in the eggs and vanilla extract, mix for 2 more minutes.
After that, add the dry flour mixture to the wet ingredients and mix just enough to combine everything. Be careful to not over mix.
Lastly, stir in the oats, rice krispie cereal, and the chocolate chips with a large spoon.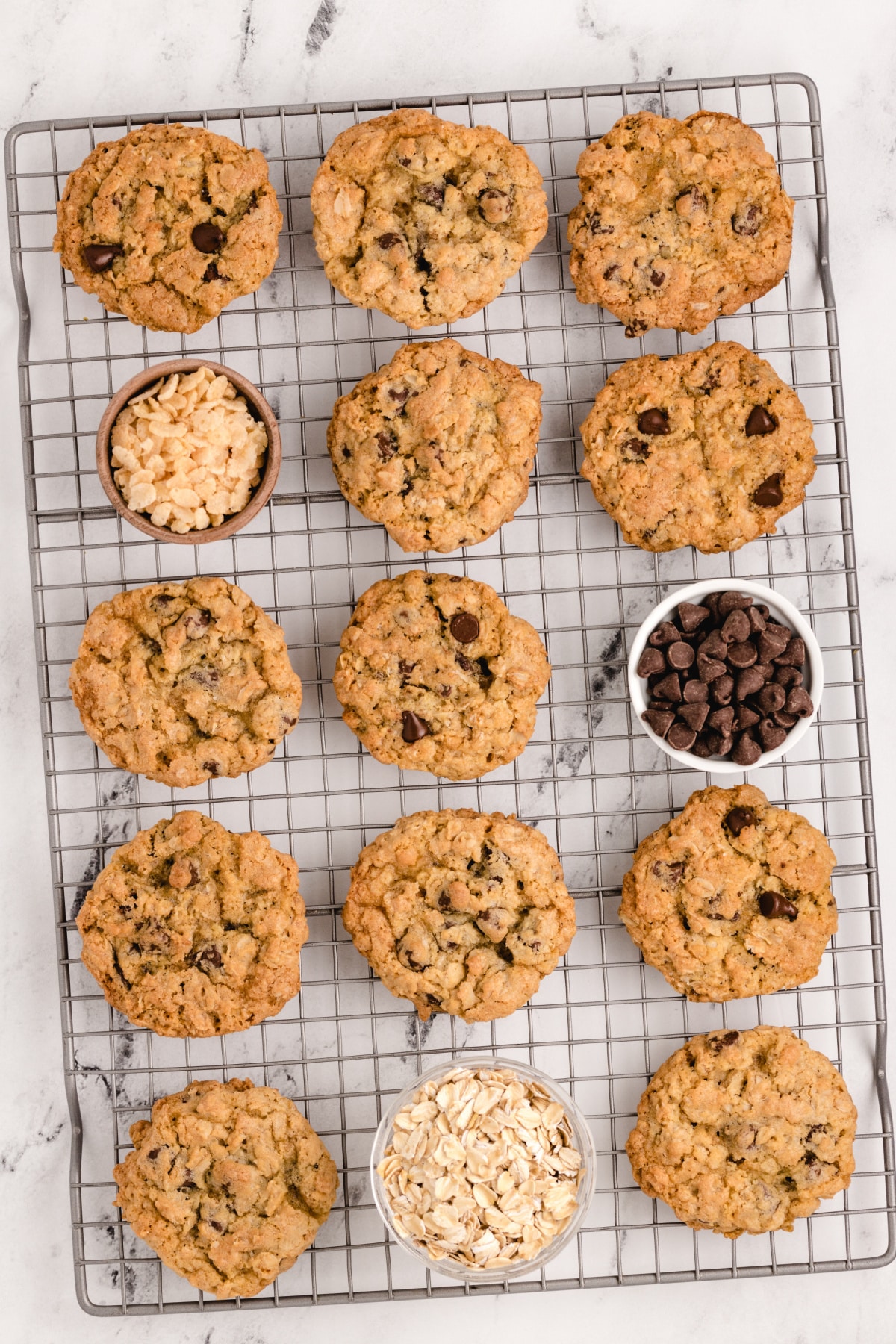 Bake
Proceed to scoop the dough using a medium size cookie scoop, about 1 1/2 TBSP of dough, onto the prepared cookie sheets.
Place them in the preheated oven and bake for 9-10 minutes or until the edges start to turn a light golden brown.
Let the cookies cool on the baking sheet for a few minutes before transferring them to a wire rack to cool completely.
Serve slightly warm and enjoy!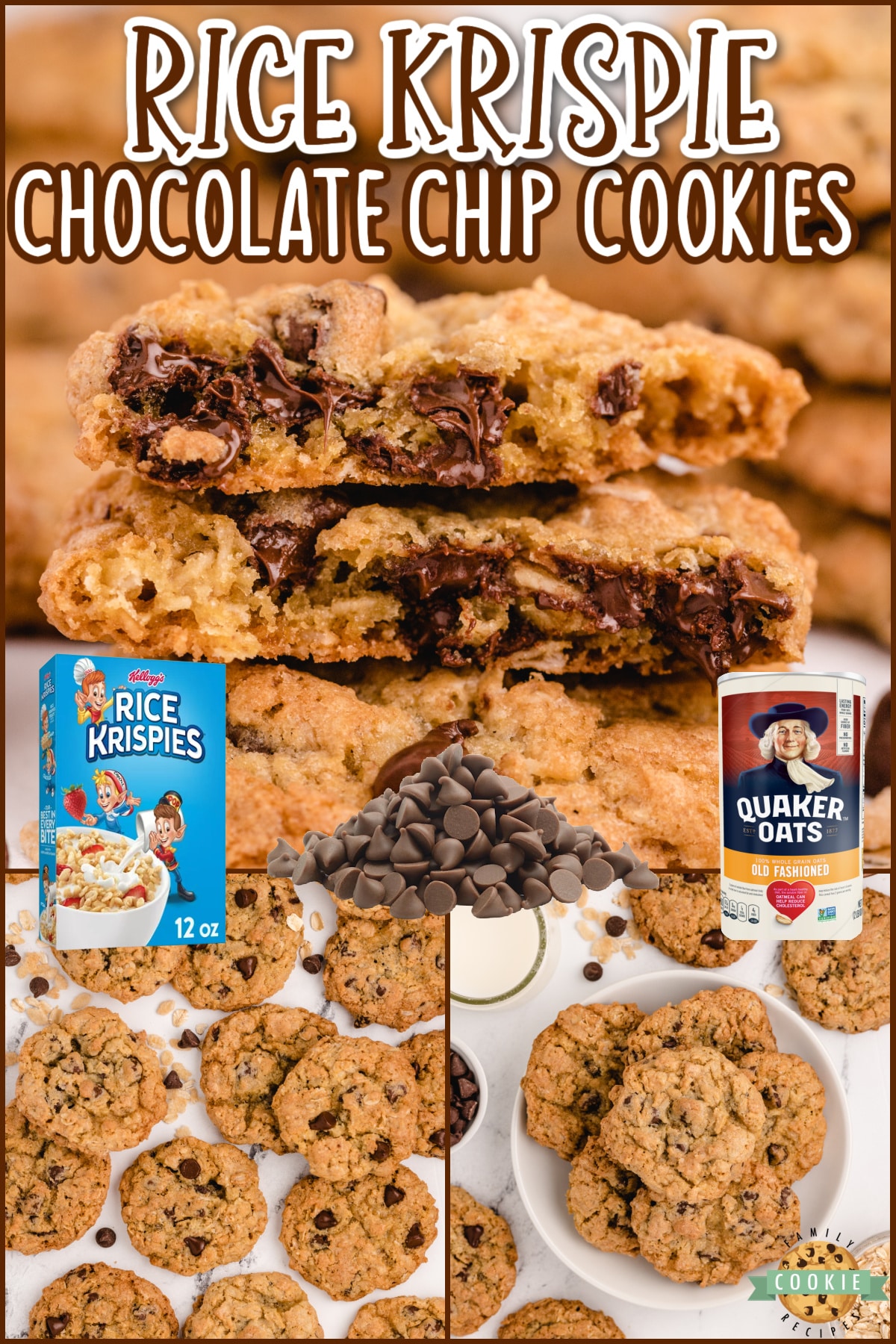 Potential Variations for Rice Krispie Cookies
Rice Krispie Chocolate Chip Cookies are a classic treat that can be enjoyed in many different ways. Here are a few potential variations to try out:
Fun Variation: For a fun twist on the classic recipe, try adding some colorful sprinkles to the mix. This will give the cookies a festive look and add a bit of extra sweetness. Simply mix in a handful of sprinkles into the cookie dough before baking.
Gluten-Free Variation: For those who are gluten intolerant or have celiac disease, there are ways to make this recipe gluten-free. Simply substitute the all-purpose flour with a gluten-free flour blend. Some popular options include rice flour, almond flour, or coconut flour. Be sure to check the labels of all ingredients to ensure they are gluten-free.
Vegan Variation: For those who follow a vegan diet, there are ways to make this recipe vegan-friendly. Instead of using butter, use a vegan butter substitute or coconut oil. Instead of using eggs, use a flax egg or applesauce. Be sure to use vegan chocolate chips as well.
How long are rice krispie chocolate chip cookies good for?
These cookies can be kept in an airtight container for up to 1 week at room temperature. For the best tasting results, I recommend eating them within 2-3 days.
What are cowboy cookies and what is in them?
Cowboy cookies are a type of cookie that originated in the American West. They are typically made with oats, chocolate chips, and pecans. Some recipes also include coconut flakes, cinnamon, or raisins. Cowboy cookies are known for their hearty texture and rich flavor.
What factors affect the texture of cookies?
There are several factors that can affect the texture of cookies. One of the most important is the ratio of wet to dry ingredients. Too much moisture can result in soft, cake-like cookies, while too little can make cookies dry and crumbly.
Another important factor is the type of fat used. Butter, for example, will result in cookies that are crisp and tender, while shortening will make cookies that are more tender and soft.
Other factors that can affect cookie texture include the type of flour used, the amount of leavening agents (such as baking powder or baking soda), and the baking temperature and time.
It is important to follow the recipe instructions carefully to ensure your cookies turn out as intended!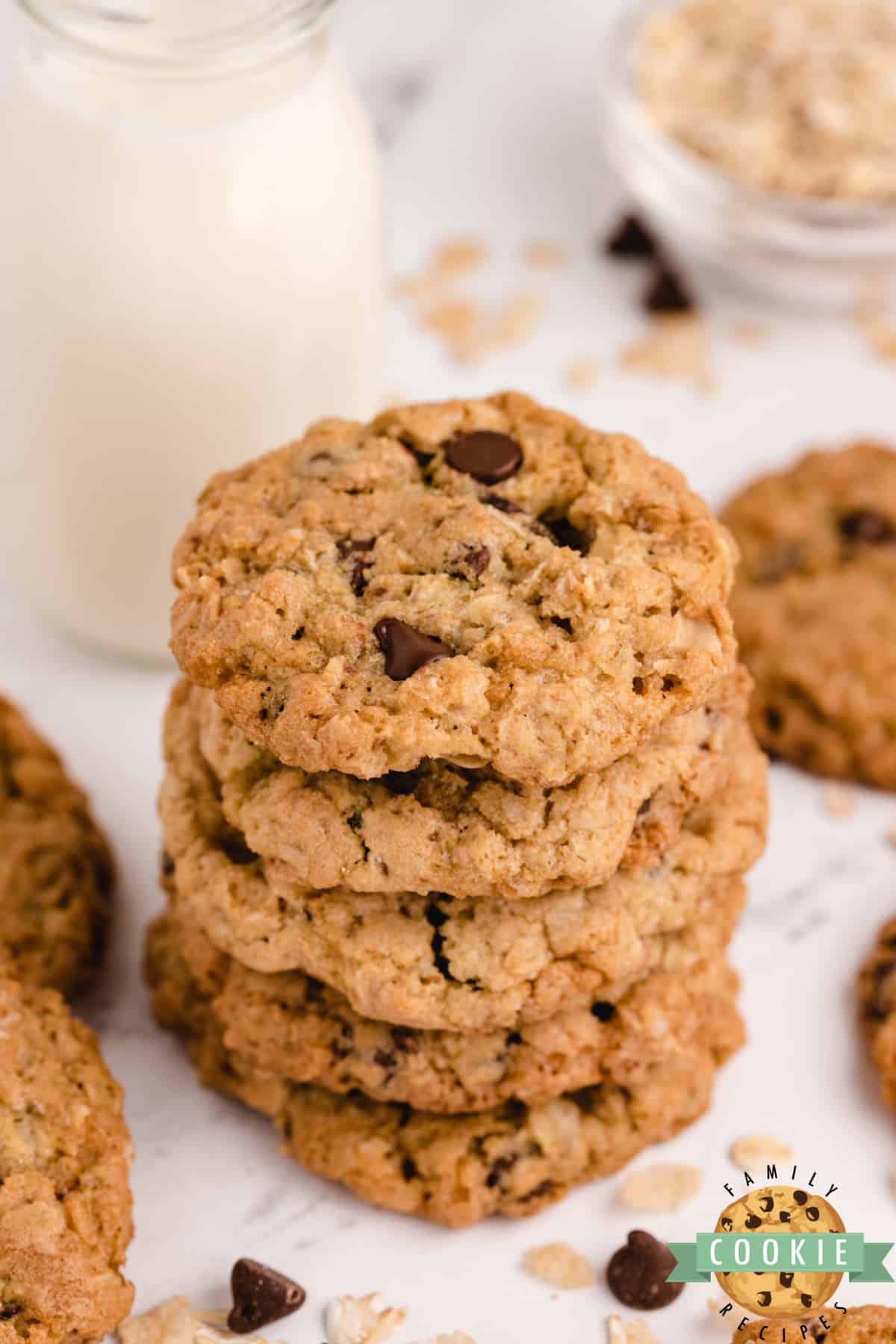 Can I freeze crispy chocolate chip cookies?
Absolutely! You can keep your cookies frozen for up to 6 months in the freezer. Make sure to keep them stored in an airtight container to keep them fresh. If you freeze them flat on a baking sheet before putting them into the container, it will keep them from sticking together.
I prefer to freeze the dough so that I can bake a batch (or just one or two cookies) whenever I want warm, fresh cookies straight out of the oven! Just scoop the dough into balls and then place them on a baking sheet in the freezer for about an hour. Place the frozen balls into an airtight container or Ziplock bag in the freezer and pull out however many cookie dough balls you need when you are ready to bake. No need to thaw them before baking, but you may need to add 1-2 minutes on to the baking time.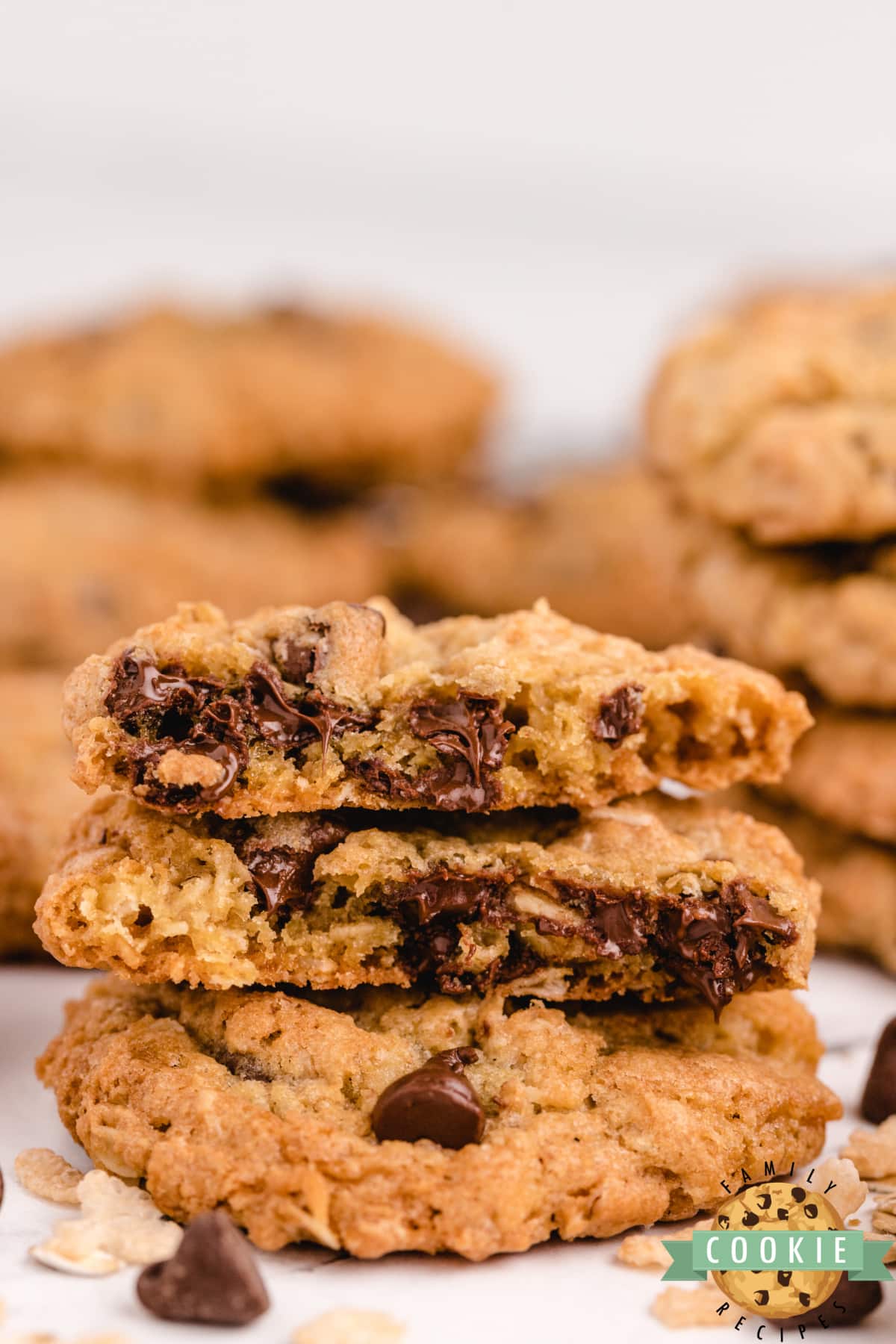 Tips for making amazing cookies every time!
Here are a few tips and tricks for creating the most delicious cookies every time.
First, I line my cookie sheets with a piece of parchment paper. They're sold in sizes that fit a 12×16 cookie sheet perfectly and enable to cookies to bake well without sticking- and no mess from spraying oil on the cookie sheets!
The second item is a KitchenAid mixer. I love mine! I have a Bosch as well but I find I use my KitchenAid for cookies. There is a cookie paddle that comes with every mixer that you attach to the top of the mixer. They're easy to use and help you mix the ingredients uniformly.
The third item is a cookie scoop! Years and years ago I used to use 2 spoons to measure and scrape cookie dough onto the pans. It wasn't a perfect process and I often ended up with oblong cookies in various sizes. My solution? A cookie scoop! They come in three sizes- 1/2 tablespoon, 1.5 tablespoon and 3 tablespoon scoops. I used the small size- 1/2 tablespoon for these and I divided them into smaller pieces!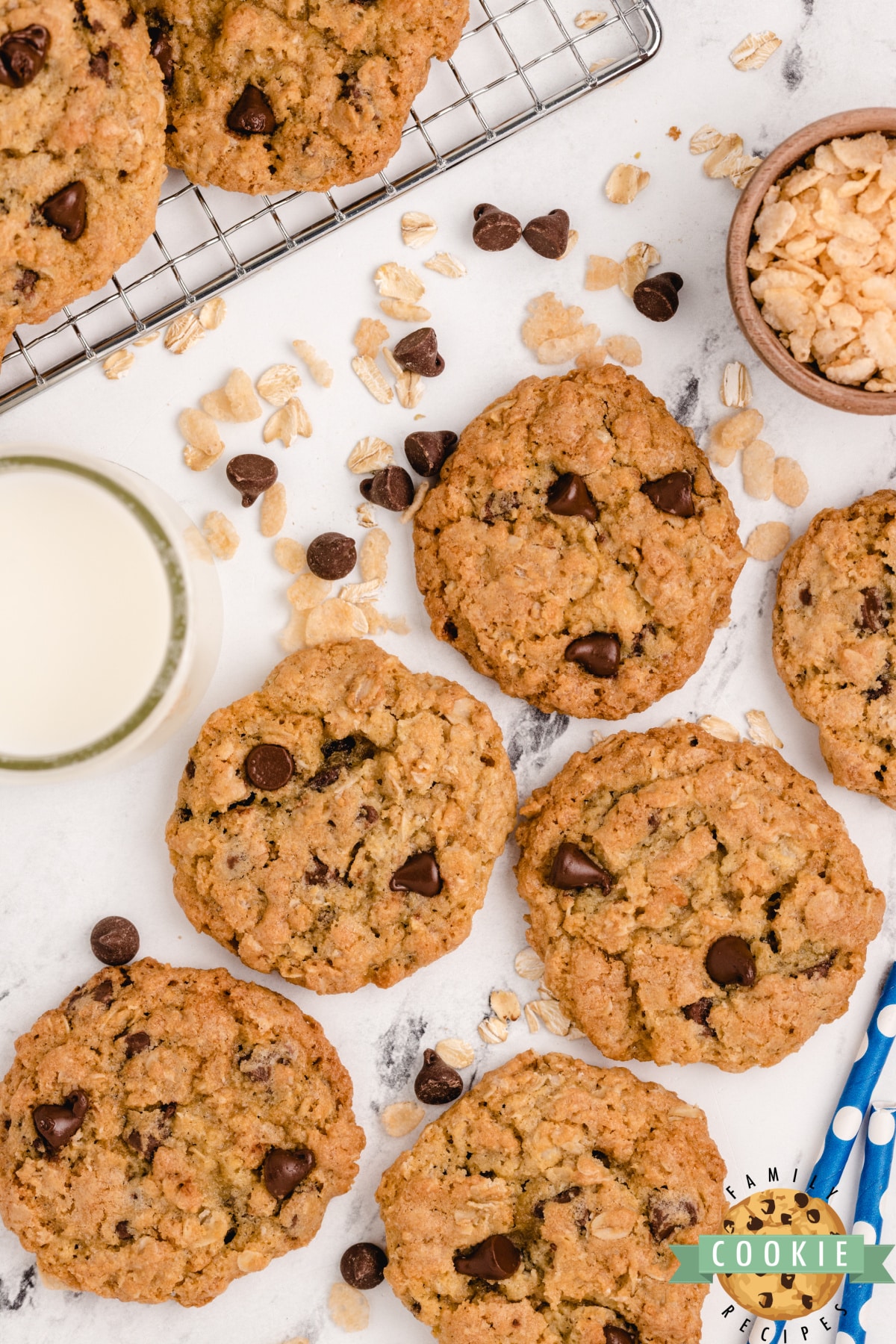 This little one is getting so big. 20 months old now and talking like crazy, climbing up on everything, singing lots of songs and developing quite the personality. We are all still just as obsessed with her as ever and everything she does makes us laugh. Well, almost everything. She is starting to get into that independently stubborn, do-everything-myself phase.
One of the "silver linings" in the last few months of chaos has been that all of my other kids have been home nearly 24/7 and have gotten to spend so much time with their baby sister. This baby girl of ours has been so lucky to have so many playmates who haven't had much else to focus on besides her. They all start school tomorrow (which still seems so surreal after being home for 5 months!) and I think it's going to be kinda hard on little sis. She adores all of her siblings and asks where they are, even if they just leave the room for a few minutes! Being home all day with just mom to entertain her is probably going to be a bit of an adjustment. For both of us!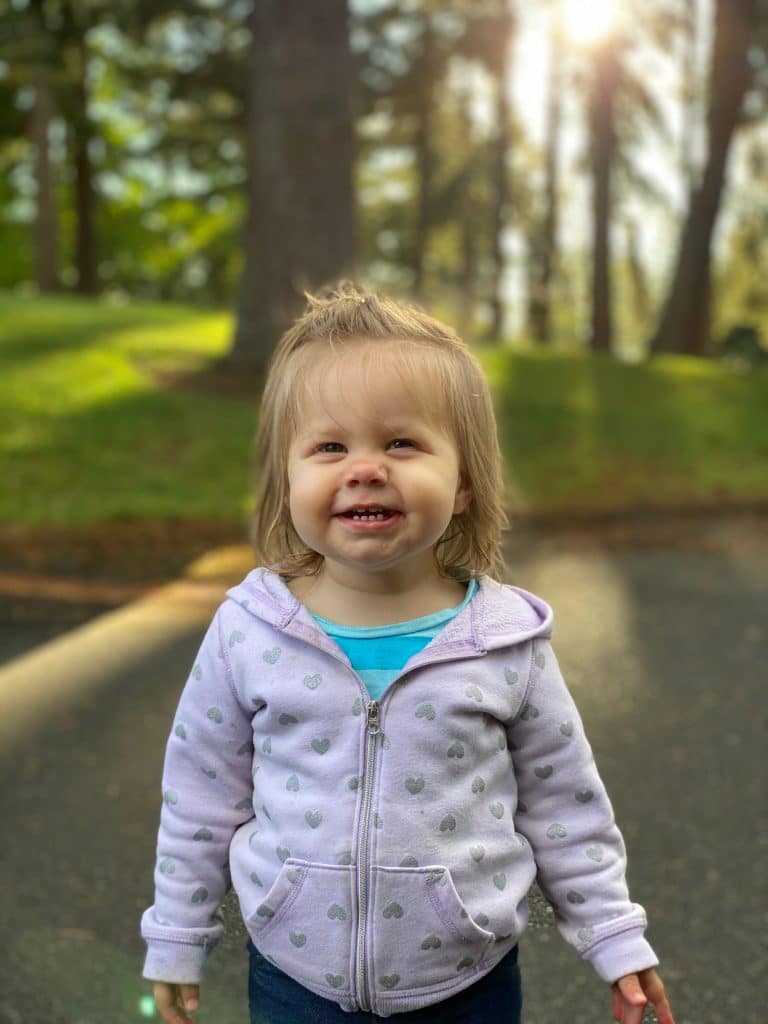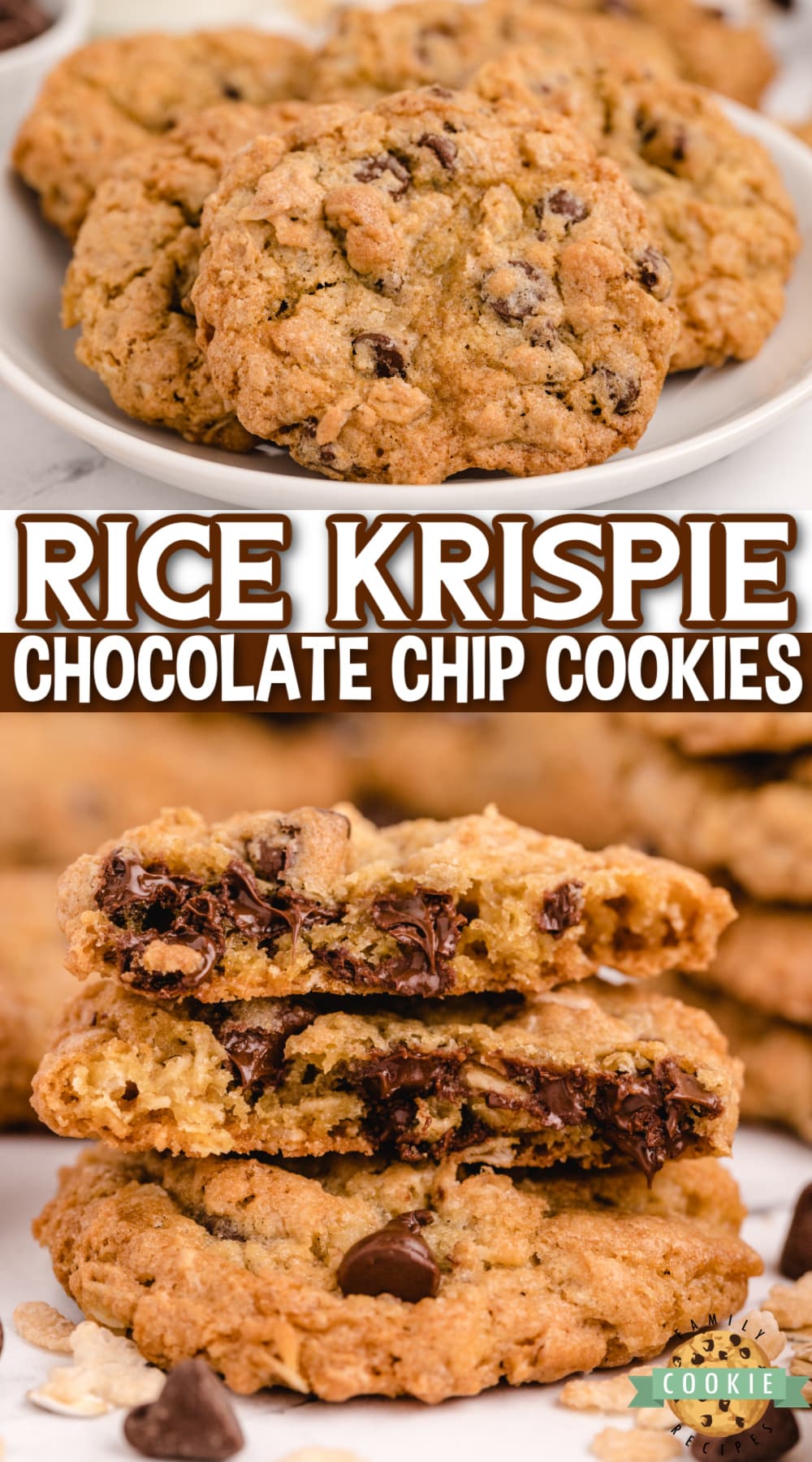 Rice Krispie Chocolate Chip Cookies are full of oats, Rice Krispies, and chocolate chips. A deliciously crunchy variation on a classic chocolate chip cookie recipe!