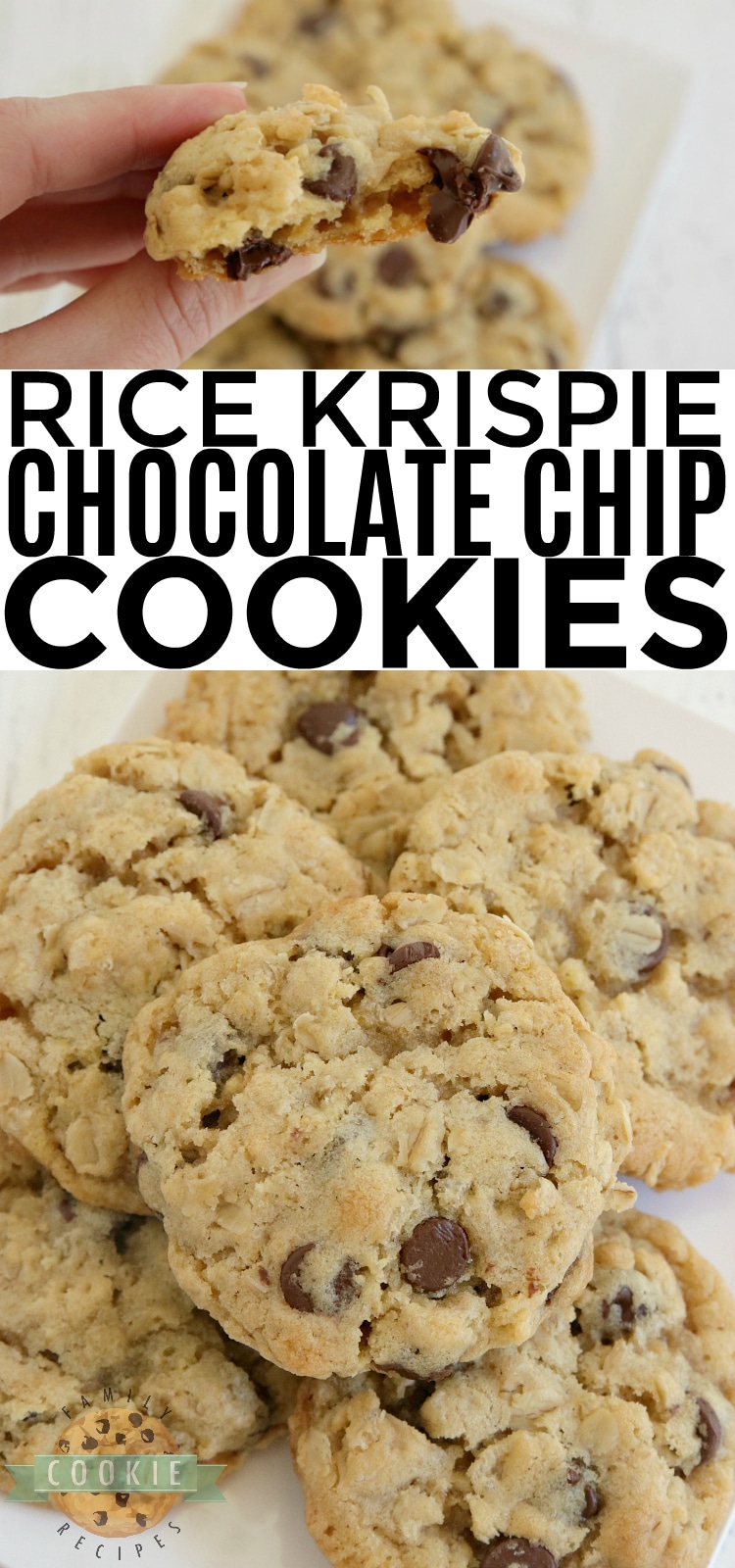 Rice Krispie Chocolate Chip Cookies are soft, chewy, and have a little extra crunch! Adding rice krispie cereal to chocolate chip cookies is such a good idea – you'll never want to eat them without that extra addition again!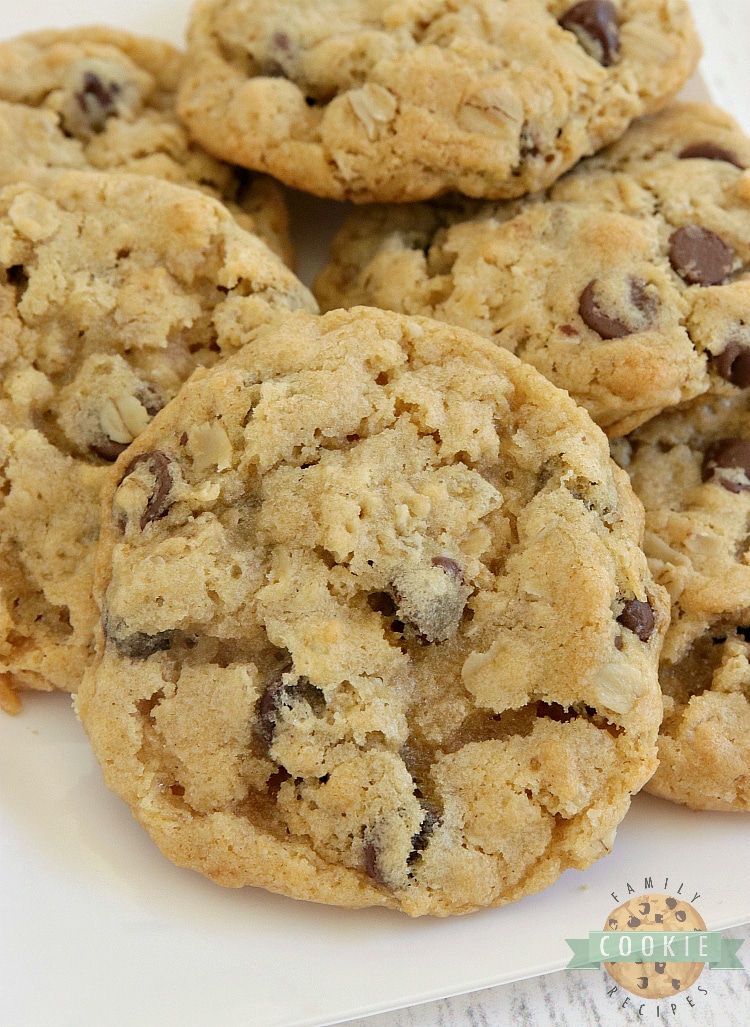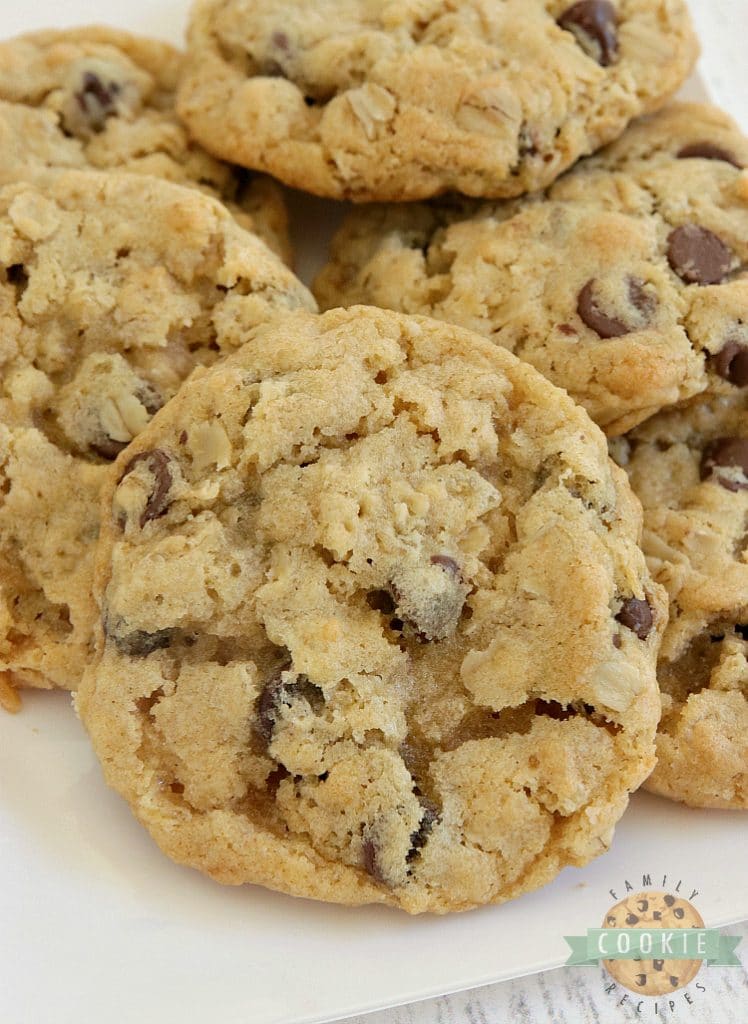 I love chocolate chip cookies. I make a lot of treats, but I think my favorite is still just good ol' chocolate chip cookies. Warm, straight out of the oven, of course! I've never added rice krispies to my chocolate chip cookies before, but I saw another cookie recipe that had rice krispies listed as an ingredient so I decided to try it out.
Rice Krispie Cookies Recipe
The rice krispies really don't change the flavor at all, but they add a crunchiness that is absolutely incredible. I love the consistency of these cookies. The cookies are super soft, just the way I like them, but the cereal adds a little bit of crispiness that is so good!
These cookies also have oats in them which I really like too – between the oats and the rice krispies, there are a lot of textures that work so well in a cookie. I promise that you'll love 'em too!
Why This Recipe Works
No dough chilling is needed. This cookie dough requires no chilling at all, meaning you can start the recipe now and have a warm cookie in your mouth in just minutes flat.
Basic ingredients. The ingredients to make these chocolate chip cookies may be different than the norm but they are all still very simple and basic pantry staple ingredients that you may already have on hand.
Easy to follow steps. This cookie recipe is perfect for any at home baker because the steps are so simple. All you have to do is mix, combine, scoop and bake.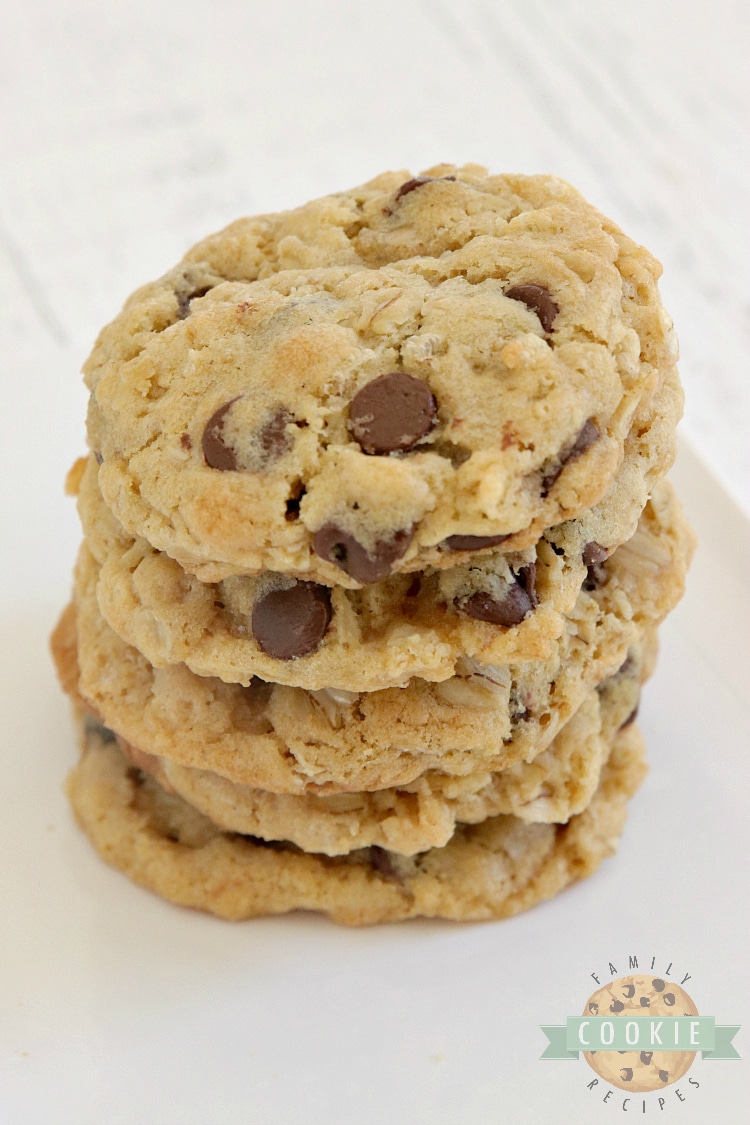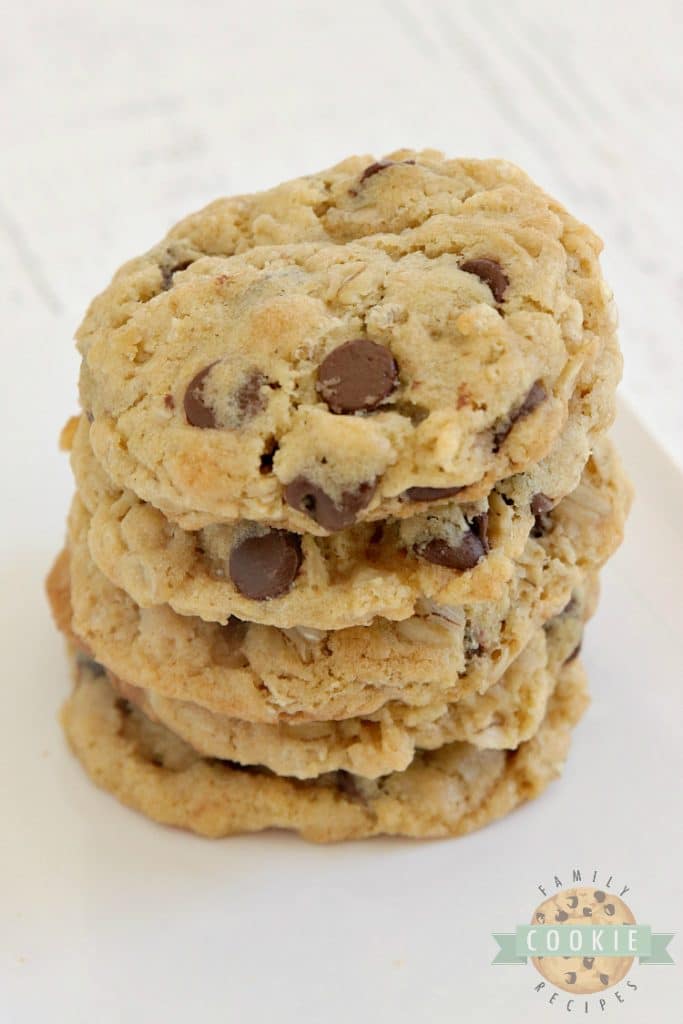 Ingredients in Rice Krispie Chocolate Chip Cookies
Butter: You will need 1 cup of room temperature softened butter to make these cookies rich in taste.
Sugar: Use 1 cup of brown sugar and 1 cup of granulated sugar to make the cookies sweet and chewy.
Vanilla: Adding in 2 teaspoons of vanilla extract will enhance the flavors in the cookies well.
Eggs: Use 2 large eggs to bind the dough together.
Flour: The base of the cookie dough is 2 cups of all-purpose flour.
Leavening agents: To make the cookies puff up and rise as they bake, use 1 teaspoon each of baking powder and baking soda.
Oats: You will want to use 2 cups of rolled oats for the cookies to I've them a chewy texture in every bite.
Cereal: 2 cups of Rice Krispie cereal are what will give them their signature crispiness.
Chocolate chips: Add in 1-2 cups of semi-sweet chocolate chips depending on how much chocolate you want in every cookie.
How to make Rice Krispie Chocolate Chip Cookies
Prep
Preheat the oven to 350°.
Prepare a cookie sheet with a silicone baking mat or parchment paper. Set aside.
Mix dry ingredients
Mix the flour, baking powder, and baking soda together in a bowl and set aside.
Mix wet ingredients
In a separate bowl, cream together the butter, brown sugar, and sugar for about 2-3 minutes with an electric mixer.
Add the eggs and vanilla and mix for 2 more minutes.
Combine wet and dry
Add the flour mixture and just mix enough to combine everything.
Stir in the oats, cereal, and chocolate chips with a large spoon.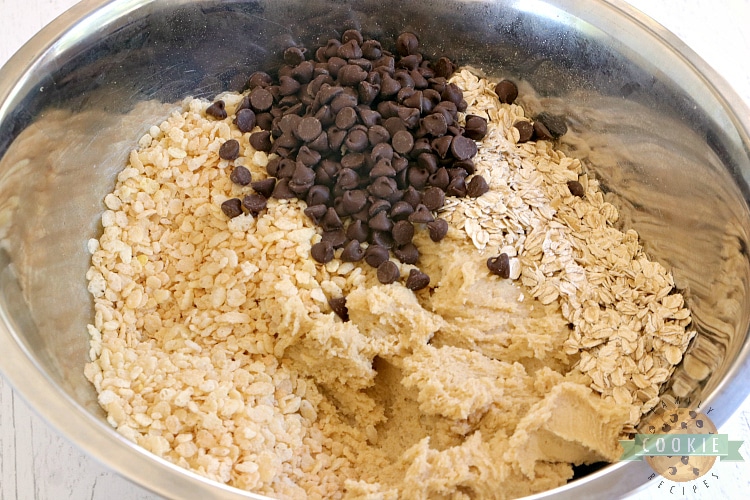 Scoop dough
Use a cookie scoop to scoop the dough onto a prepared cookie sheet.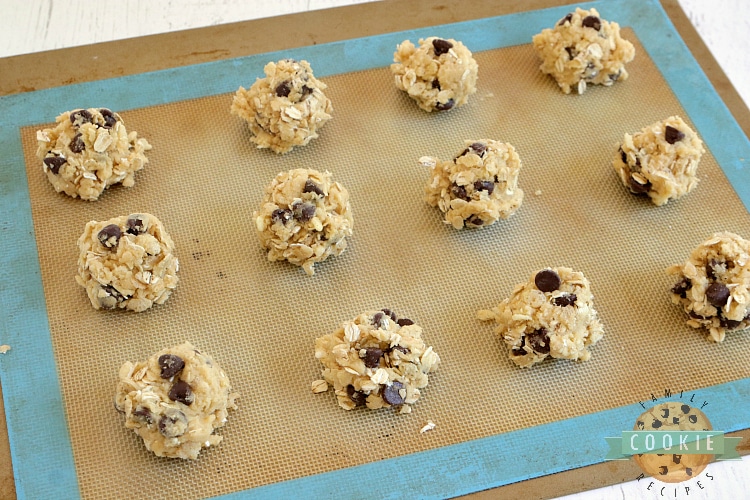 Bake
Bake for 9-10 minutes or until the edges start to turn a light golden brown.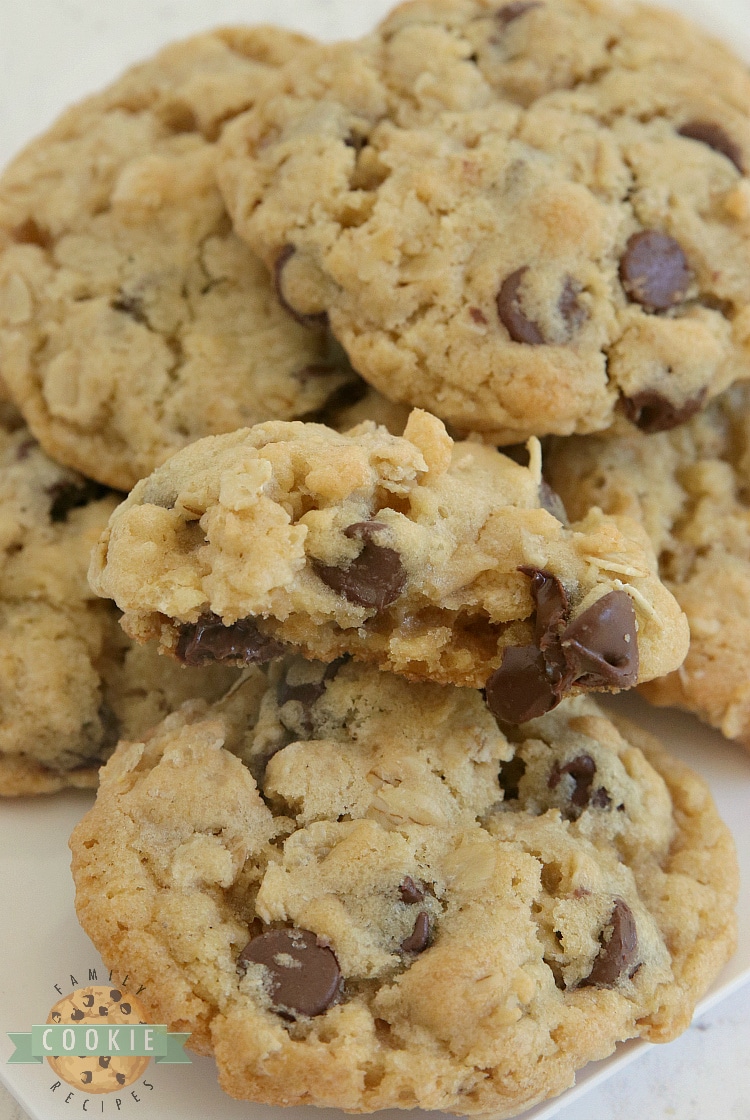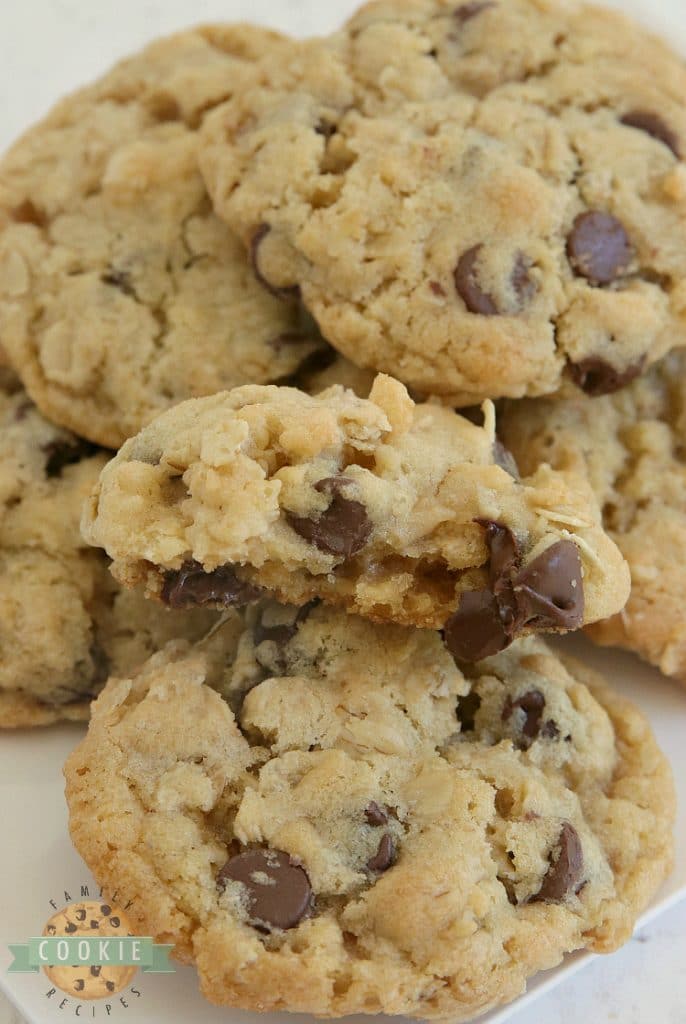 Fun Variation Ideas
For added fun try using a different version of Rice Krispies like their colorful holiday cereals. This can add a festive touch without changing anything about this recipe. Chocolate rice krispies also work well! Another great idea is to swap out the chocolate chip for butterscotch chips, white chocolate chips, or a combination of different chocolates.
How long are rice krispie chocolate chip cookies good for?
These cookies can be kept in an airtight container for up to 1 week at room temperature. For the best tasting results, I recommend eating them within 2-3 days.
Can I freeze crispy chocolate chip cookies?
Yes, these cookies can be frozen in an airtight container for up to 3 months. To eat, simply thaw at room temperature to soften.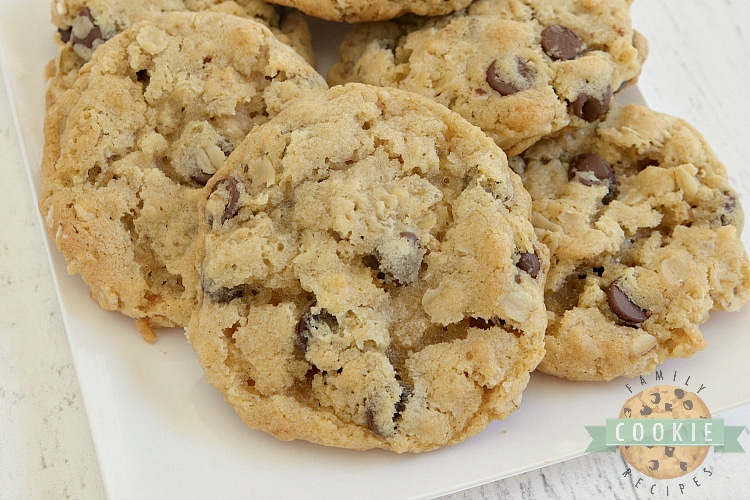 HOW DO YOU MAKE PERFECT CHOCOLATE CHIP COOKIES?
Making chocolate chip cookies is easy! Here are a few tips to getting perfect cookies every time!
Make sure you use softened butter – DON'T melt it! One of the most common errors in cookie making is using butter that is either really cold and hard, or using butter that is too warm and melted. If you have time, just leave butter out on the counter for about 1-2 hours before making your cookies. If you are like me and don't plan your cookie cravings that far in advance, just place the butter in your microwave and soften in 5 second intervals, being very careful to pull it out before it melts. I actually like to use the defrost setting on my microwave to soften butter- I don't know the technical reasons behind it, but it seems to soften the butter more evenly and takes a little bit longer so I'm less likely to start melting it!
Most cookie recipes require that you mix the dry ingredients separately before adding the wet ingredients. This is an important step!
Spend a little extra time when you mix the butter and sugars. Creaming them together for 2-3 minutes will improve the consistency of your cookies.
Preheat the oven. This will help your cookies turn out right every time!
Use a cookie scoop! If you want all your cookies to be perfectly shaped and have them all be the same size, a cookie scoop is the way to go.
Use parchment paper or a silicone baking mat. Doing this will make it really easy to remove the cookies from your cookie sheet so that you don't have to scrape them off the pan – they will just slide right off in perfect shape!
Don't over bake the cookies – when I take mine out of the oven, they still look slightly under baked but they will continue to bake on the cookie sheet for a couple more minutes so that's ok!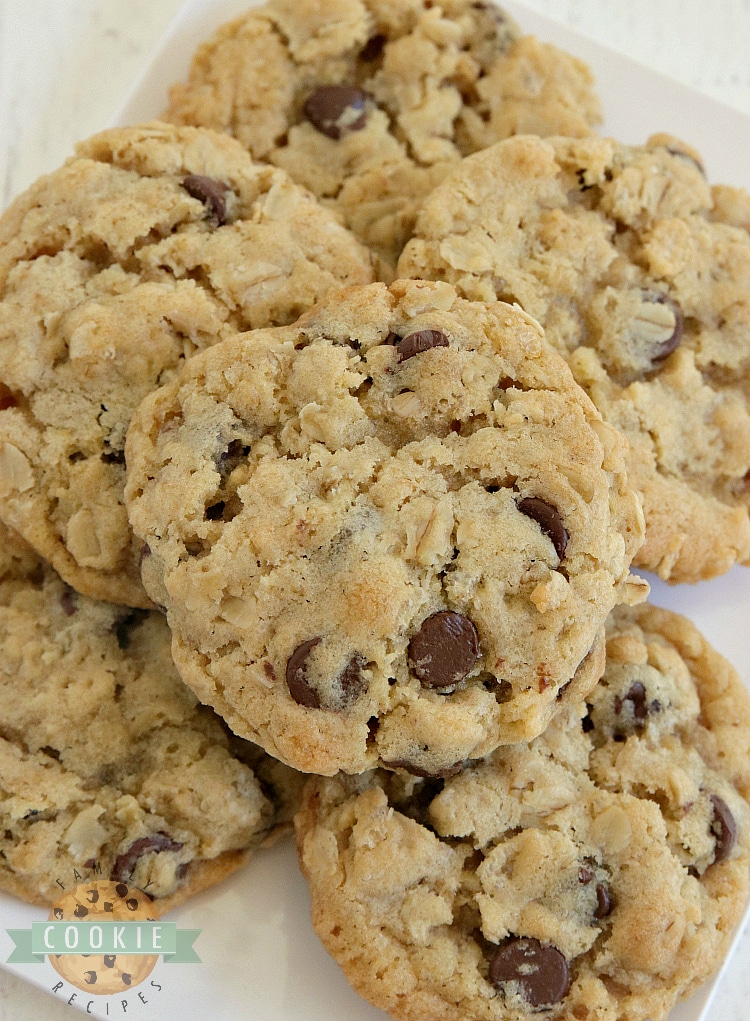 Love chocolate chip cookies? So do we! Here are some of our favorite chocolate chip cookie recipes!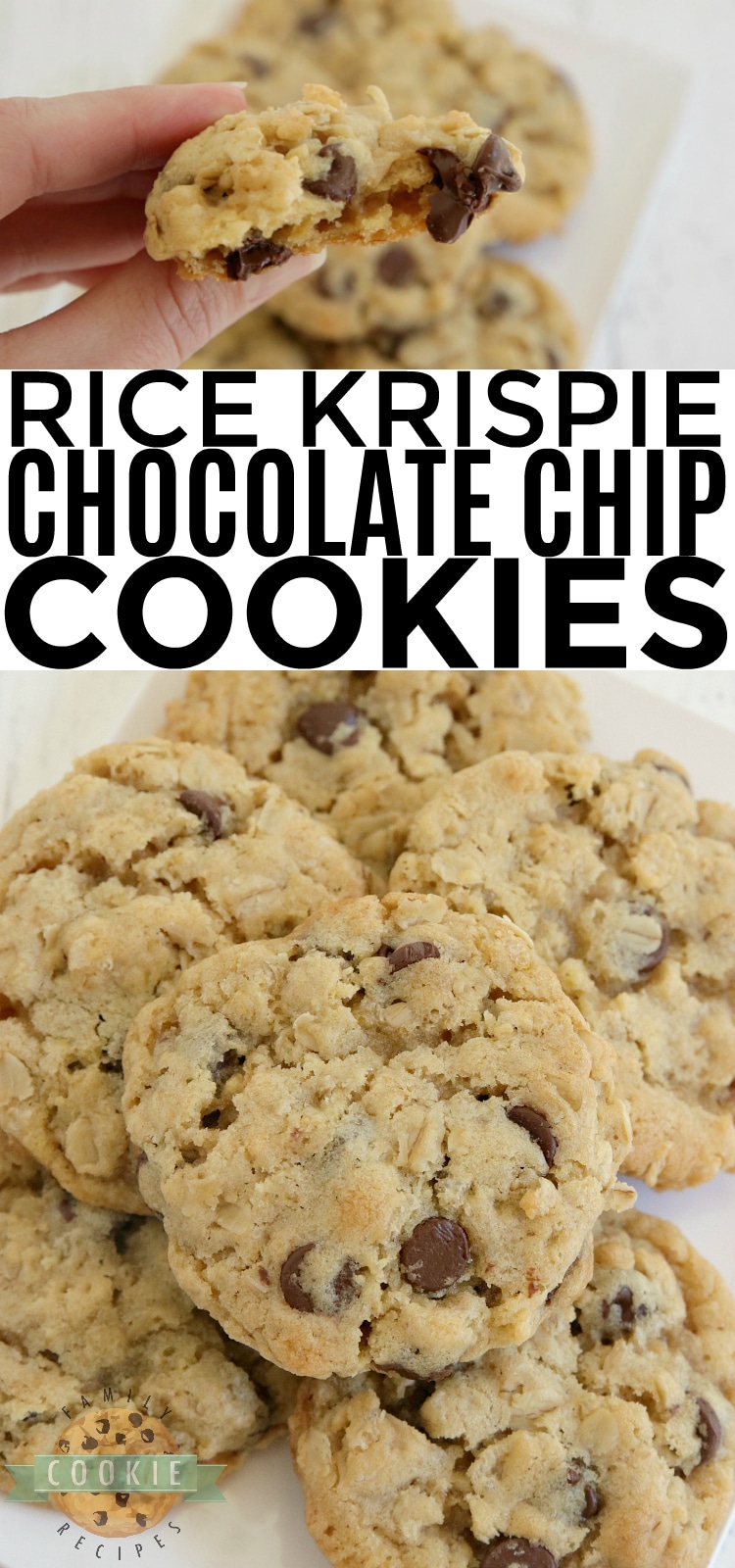 Rice Krispie Chocolate Chip Cookies are full of oats, Rice Krispies, and chocolate chips. A deliciously crunchy variation on a classic chocolate chip cookie recipe!


This little one is getting so big. 20 months old now and talking like crazy, climbing up on everything, singing lots of songs and developing quite the personality. We are all still just as obsessed with her as ever and everything she does makes us laugh. Well, almost everything. She is starting to get into that independently stubborn, do-everything-myself phase.
One of the "silver linings" in the last few months of chaos has been that all of my other kids have been home nearly 24/7 and have gotten to spend so much time with their baby sister. This baby girl of ours has been so lucky to have so many playmates who haven't had much else to focus on besides her. They all start school tomorrow (which still seems so surreal after being home for 5 months!) and I think it's going to be kinda hard on little sis. She adores all of her siblings and asks where they are, even if they just leave the room for a few minutes! Being home all day with just mom to entertain her is probably going to be a bit of an adjustment. For both of us!