Surprise chocolate kiss cookies are soft and chocolaty cookies with a chocolate kiss hidden inside! Easy Kiss cookies rolled in sugar for a perfectly sweet chocolate treat.
What Are Surprise Chocolate Kiss Cookies?
Surprise chocolate kiss cookies are a delicious and tender chocolate cookie with a secret inside. Hidden beneath the layer of sugar coating and chocolate cookie we find a hidden Hershey kiss that is soft and melt in your mouth good.
Surprise Chocolate Kiss Cookies Ingredients
-All Purpose Flour: This flour will help to create the dough needed for the cookies. You can probably get away with using 50/50 whole wheat flour if desired.
-Unsweetened Cocoa: Cocoa powder helps to flavor the cookie dough so that it tastes nice and chocolatey and adds another layer of flavorful and rich chocolate goodness.
-Baking Powder: The leavening agent needed to make the cookies rise up and feel fluffy.
-Salt: Salt works as a great wingman to make the other flavors in this recipe taste good.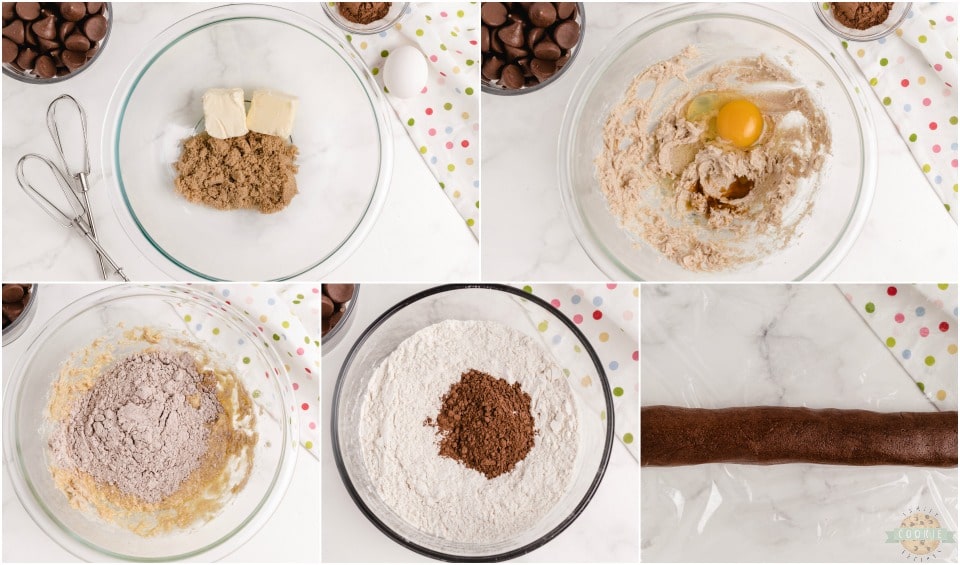 -Unsalted Butter: While you could use salted butter, you may think the dough is too salty as a result, therefore I recommend unsalted.
-Packed Brown Sugar: Brown sugar adds a flavor depth thanks to the molasses and adds the caramelized sweetness our cookies need.
-Egg: The binding agent in this dough, don't forget it or the cookies may crumble!
-Vanilla: I like using high quality vanilla extracts because they're simply incomparable to others, but use what you have on hand because you don't want to leave it out!
-Hershey's Kisses: These surprise cookies would be nothing without some kisses inside! We're going to need about a package's worth, but there should be some leftover for snacking. 😉
How to Make Surprise Chocolate Kiss Cookies
Here's how to make these cookies:
Mix the Cookie Dough Together
In a mixing bowl, combine the flour, cocoa powder, baking powder, and salt in a bowl and then set it aside.
In another mixing bowl, cream together the butter and brown sugar until they're light and creamy.
Beat in the egg & vanilla and then mix until well combined.
Add in the flour mixture, mixing well.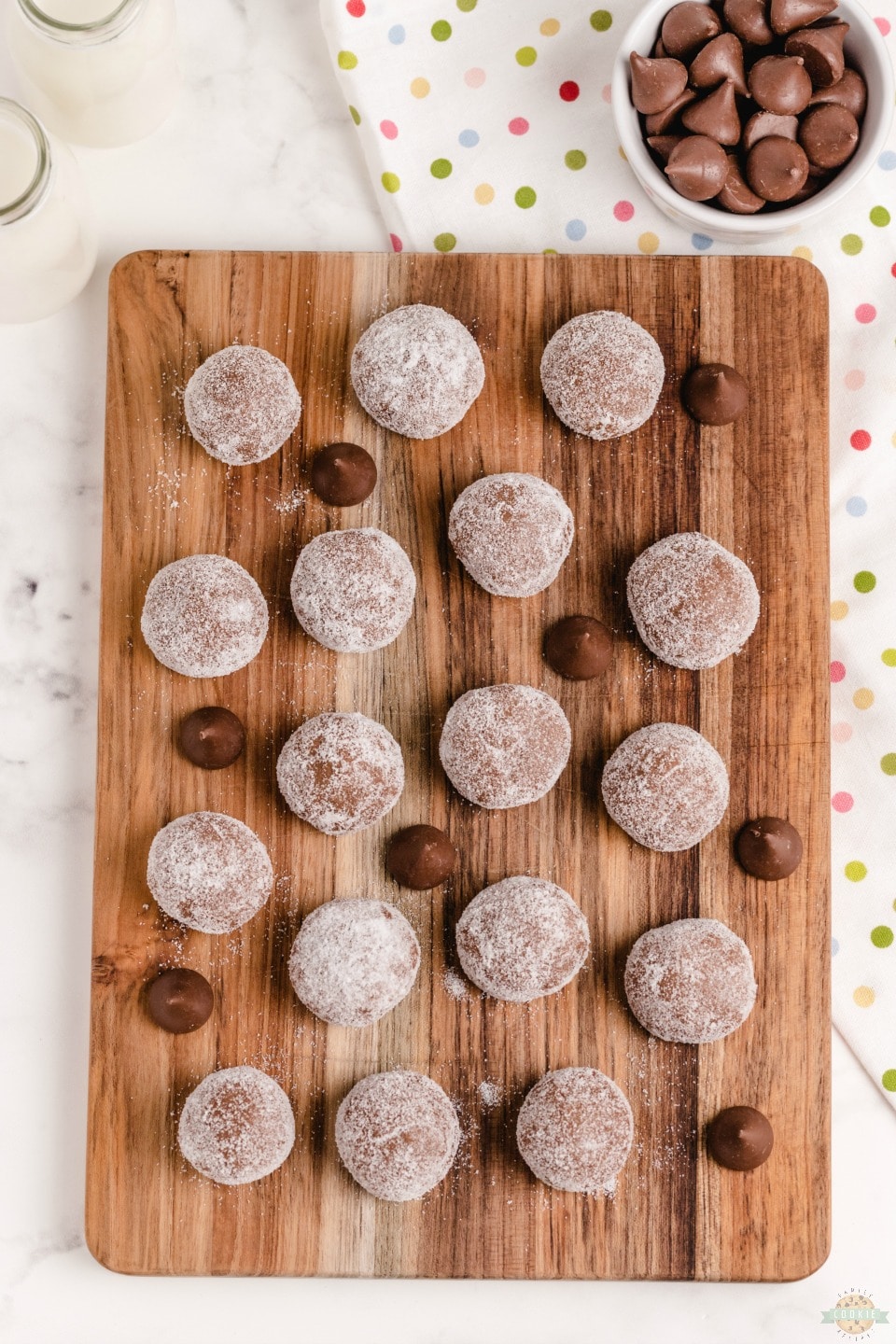 Chill the Dough
On a piece of plastic wrap, place your cookie dough down in the center, and then wrap it up into a log, using the plastic wrap to secure it in shape.
Place the cookie dough in the fridge for at least an hour, but preferably overnight (but no more than 12 hours!)
Slice & Roll Cookie Dough
When the dough has been successfully chilled, slice the cookie dough into 1/4 inch thick slices.
Soften the cookie dough slightly by rolling it around in your hands and then flatten it.
Insert the Chocolate Kiss!
Place an unwrapped Hershey Kiss in the center of the dough and then wrap it up and over the sides of the kiss and roll it around to securely hide it away.
Place the cookies dough balls onto a greased cookie sheet and continue until all of the cookies have been made.
Bake & Sugar Cookies
Bake in a 350F degree oven for 10-12 minutes.
Remove the cookies from the oven and immediately place them into a shallow dish filled with granulated sugar. Be careful as the cookies will be very hot.
Transfer the cookies to a cooling rack. Best enjoyed when warm.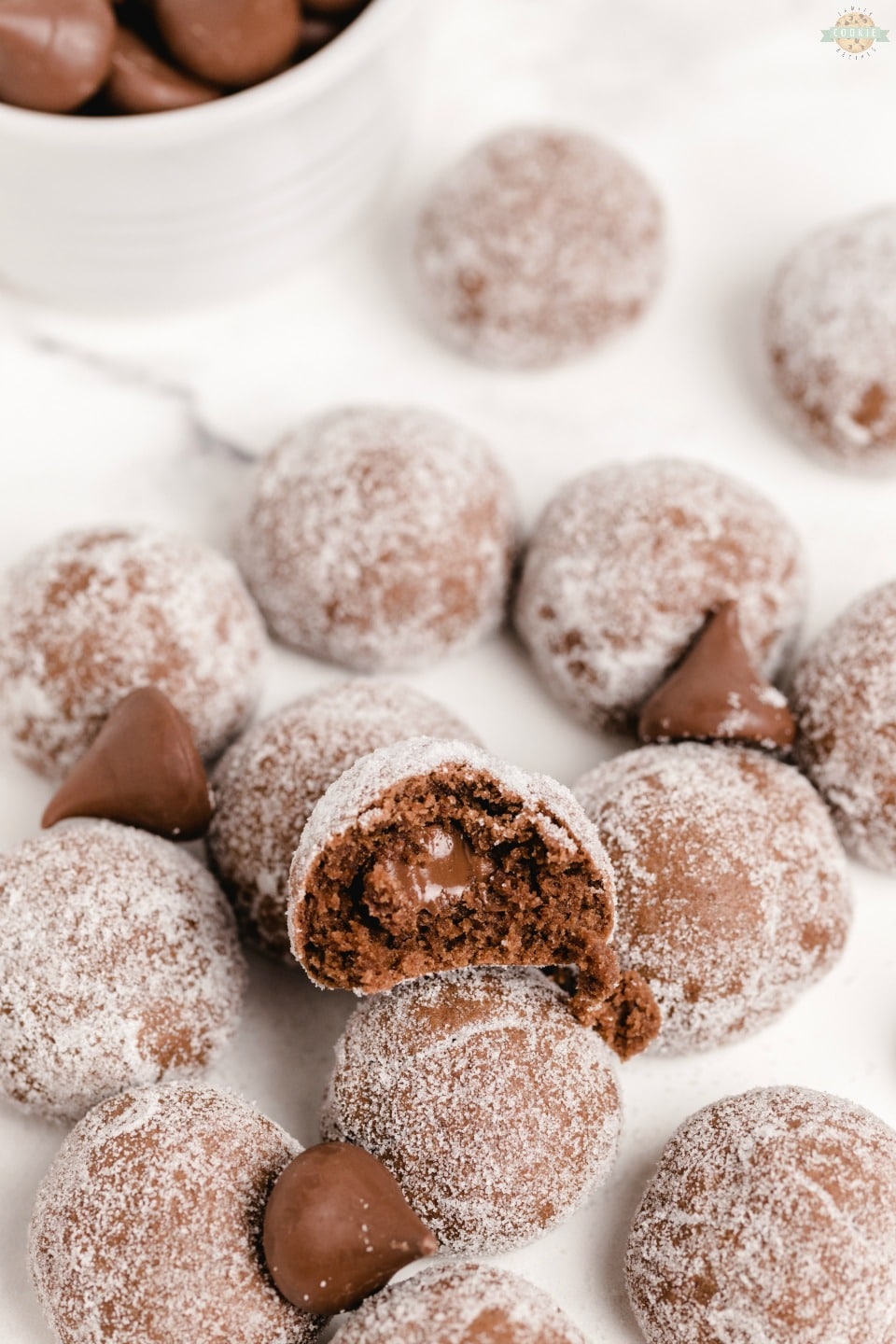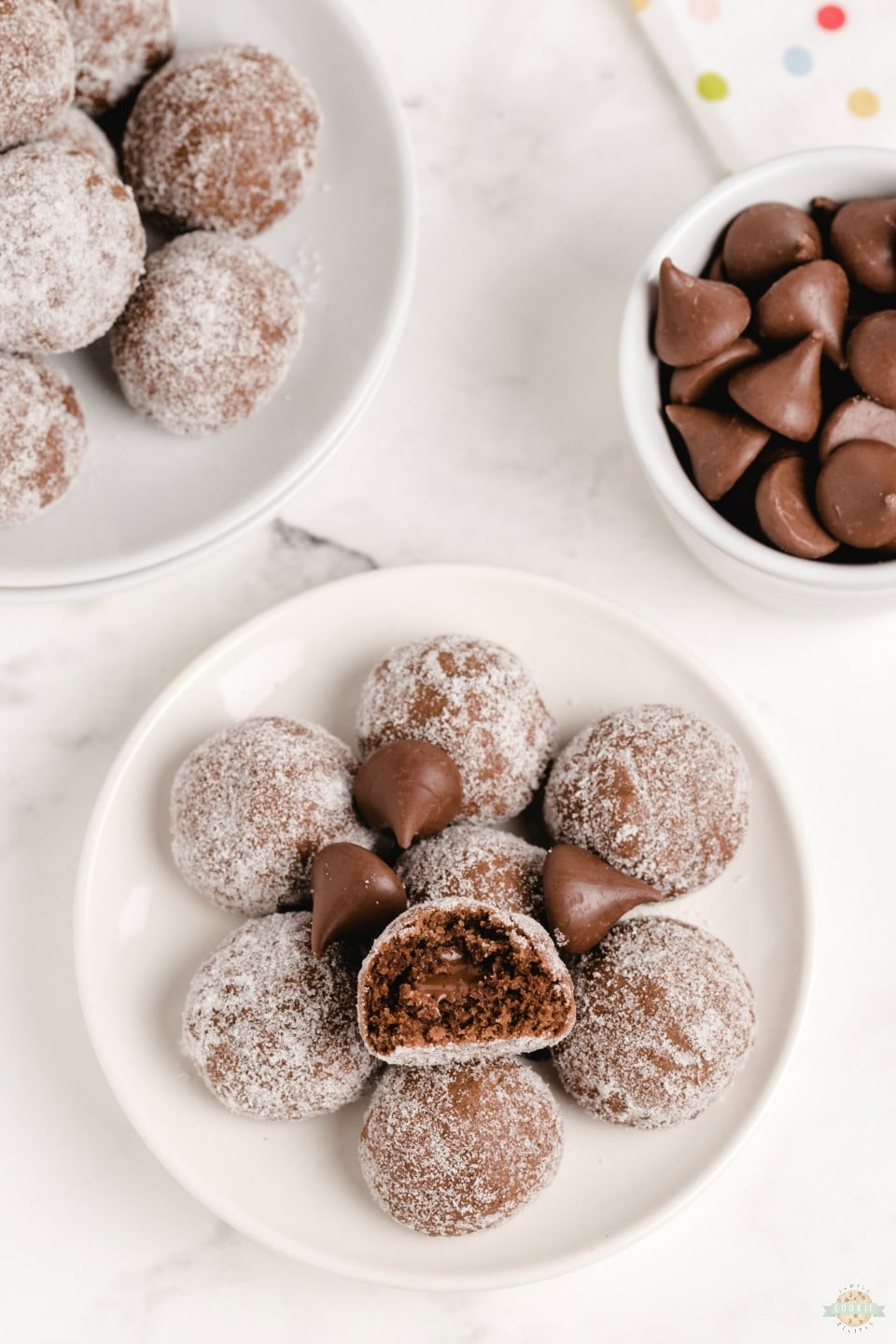 CAN I USE FLAVORED HERSHEY KISSES?
Oh yes absolutely! Swapping out the Hershey kiss for something seasonal like peppermint or white chocolate is a great way to add new layers of yum to this recipe. Make a few batches and hide different kisses in each and then enjoy a game of chance as you eat your way through them with family and friends.
CAN I TRY SOMETHING OTHER THAN A HERSHEY KISS?
While you're open to trying whatever you want, allow me to quickly say that I've personally tried swapping the center out for peanut butter balls and caramel filling and neither one held up nearly as great as a Hershey kiss did.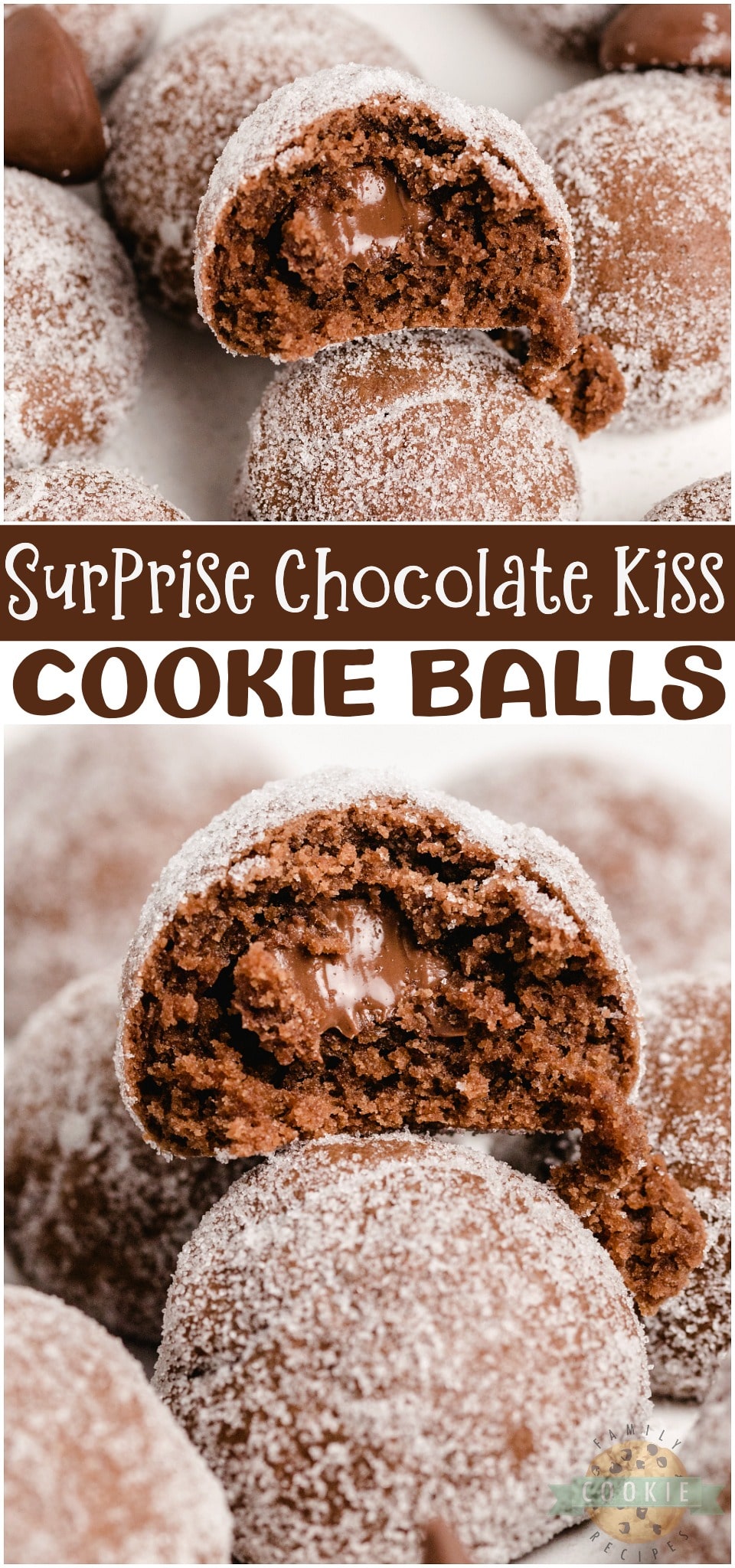 Hidden Surprise Chocolate Kiss Cookies are a delicious and tender chocolate cookie with a secret Hershey kiss hidden inside. With a sugar coating around the outside, these balls of sweetness are melt in your mouth good.