Caramel apple pie cookies are a delicious treat made with a sugar cookie crust and then filled with a fresh apple pie filling. Fabulous apple pie flavors, only in cookie form for every home baker to enjoy!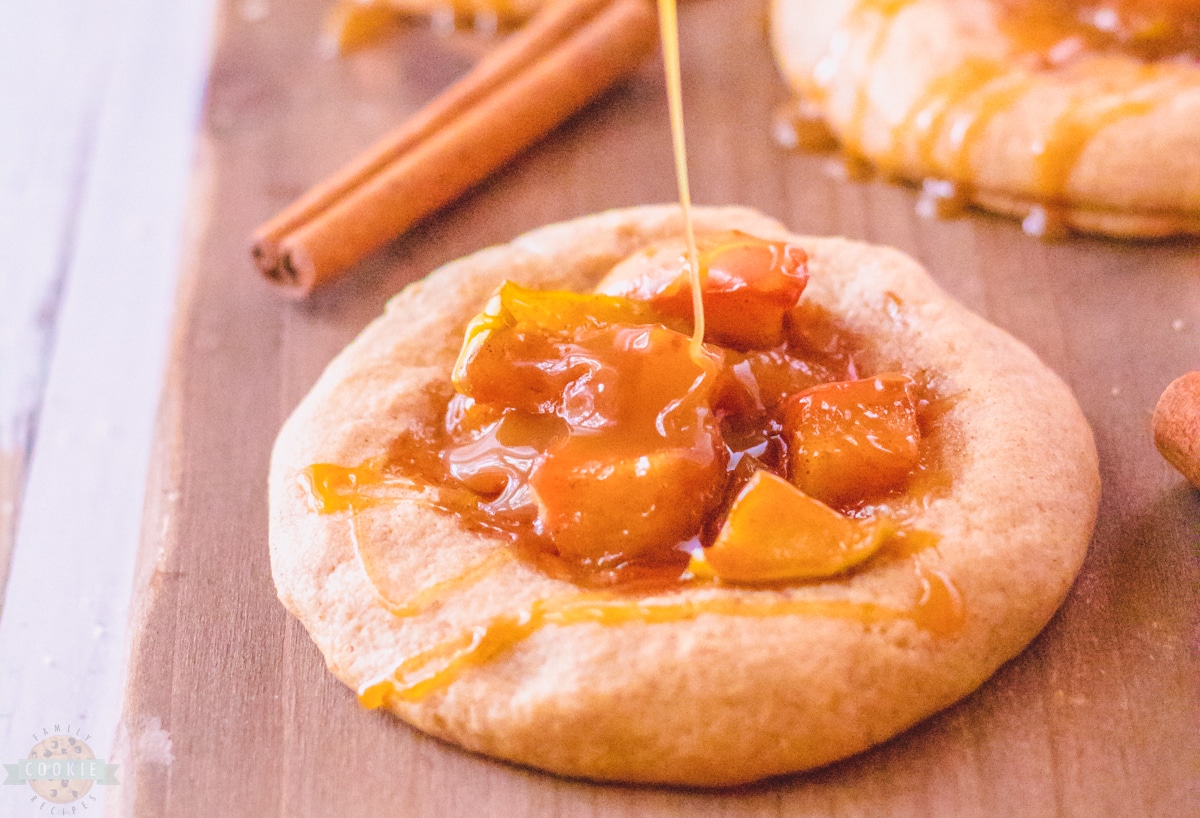 These apple pie thumbprint cookies leave little to be desired because every bite is packed with flavor, texture, sweetness, and spice. Bring some of these cookies to your next party or BBQ and watch them disappear, they're just so good! For added flavor (and appearances) you can drizzle some caramel sauce over the top and have yourself a caramel apple pie cookie worthy of celebrating Autumn with.
Apple pie cookies
Apple pie cookies are a flavorful combination of a sugar cookie and then filled with a simple homemade apple pie filling. While we don't use actual pie crust, the flavors in every apple pie stuffed cookie do not disappoint. Every bite is a wonderful experience and one you will definitely enjoy.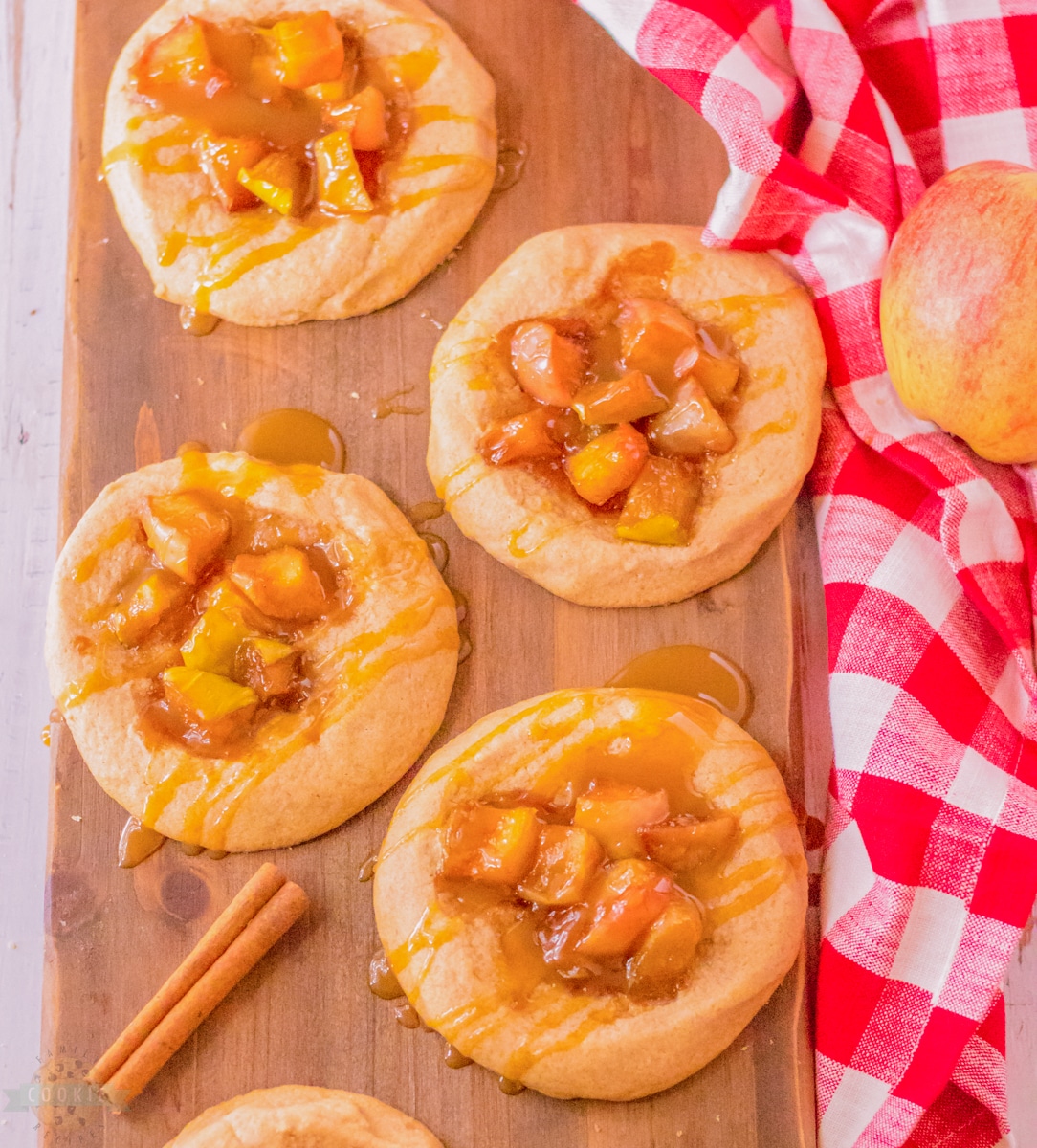 Apple Pie Cookie Ingredients
-Butter: You will need ½ cup of softened unsalted butter to make the dough nice and rich tasting.
-Sugars: Using both ¾ cups of brown sugar and ¼ cup of granulated sugar will give you a sweet cookie with a good depth of flavor.
-Egg: You will need 1 egg to help bind the cookie dough together.
-Vanilla: Use 1 teaspoon of vanilla to help enhance the flavors in your cookie.
-Flour: The base of the cookie dough recipe is 2 cups of all-purpose flour.
-Cinnamon: Adding 1 teaspoon of cinnamon will help to make the cake well spiced.
-Salt: Use ½ teaspoon of salt to enhance the flavors in your cookie.
-Baking powder: With ½ teaspoon of baking powder you can help your cookie to puff up while it bakes.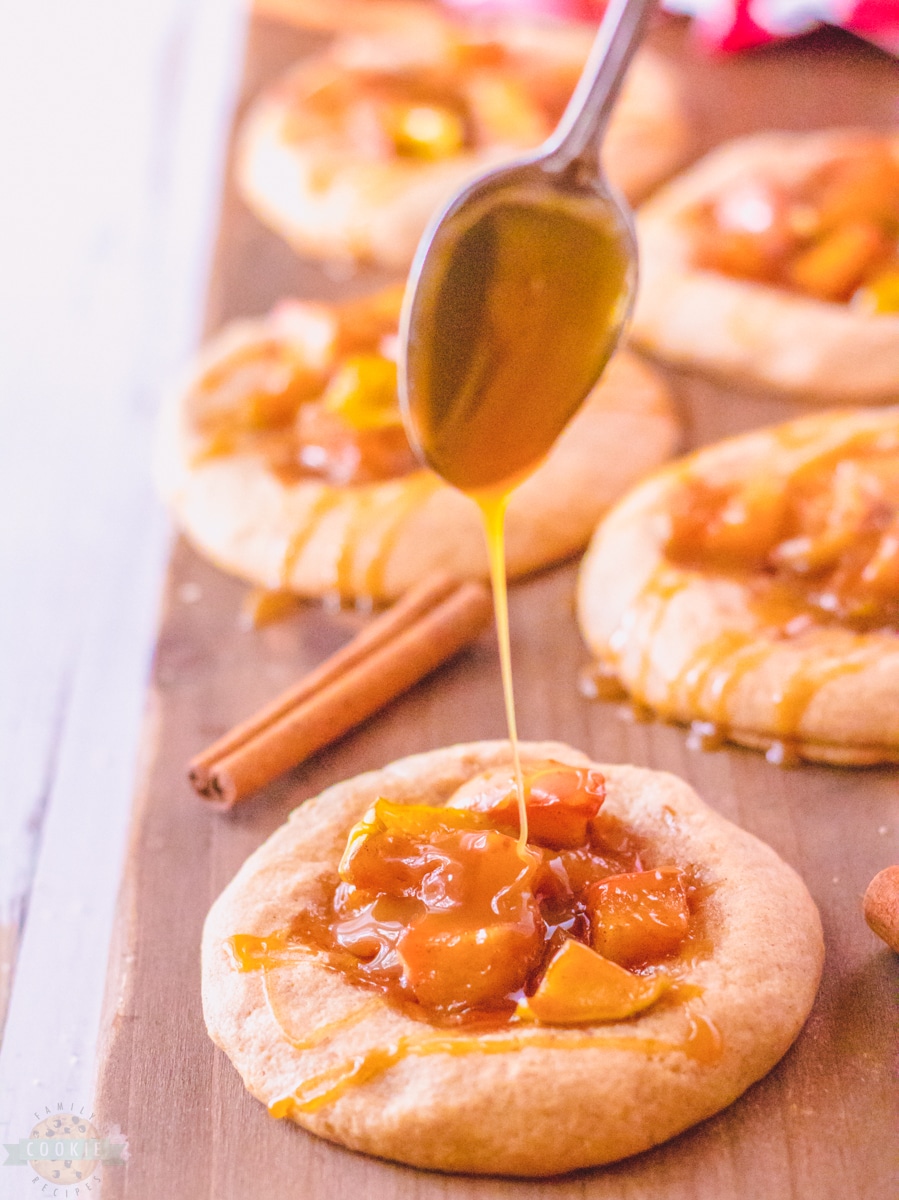 For the Filling, you will need:
-Apples: You will need 2 apples, peeled and diced.
-Butter: One tablespoon of butter will help us to keep our filling tasting great.
-Brown sugar: USe 1 tablespoon of brown sugar so that your filling is sweetened.
-Cinnamon: We want our filling to be nicely spiced so add in ½ teaspoon of cinnamon
-Cornstarch: This will help to keep our filling thick. Use ½ teaspoon of cornstarch.
How to make apple pie cookies
Heat your diced apples, butter, brown sugar, and cinnamon in a small skillet.
Let the mixture cook over medium heat for 8-10 minutes or until the apples are tender.
Stir in the cornstarch and cook for another minute until thickened. Set aside.
Cream together the butter and both sugars until fluffy in a large mixing bowl.
Beat in the egg and vanilla.
Add in flour, baking powder, and salt, mixing until just combined. The dough will be crumbly.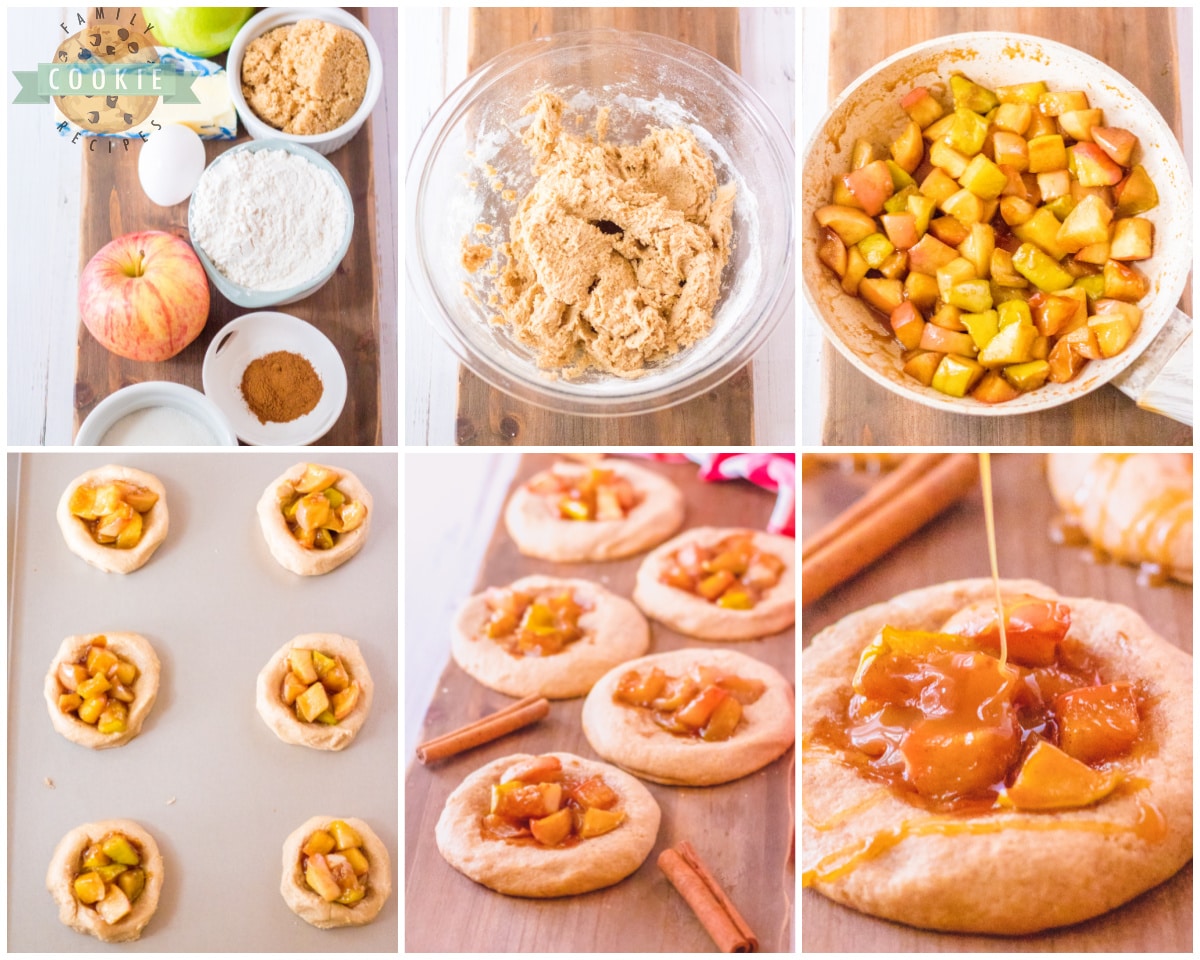 Divide the dough into 6 equal-sized pieces and form each one into a ball.
Press an indentation into the middle of each dough ball to create a bowl shape for the filling to go into.
Place the dough bowls into the fridge for at least 30 minutes.
Preheat the oven to 375 degrees F.
Fill each cookie with some apple pie filling.
Bake the cookies in the oven for 18 minutes.
Let the cookies cool for 5 minutes on the baking sheet before transferring to a wire cooling rack.
Serve topped with caramel sauce. Enjoy!
What type of apples should I use for apple pie filling?
You can use any good baking apple variety including (but not limited to) Granny Smith, Braeburn, Jonagold, Honeycrisp, and Pink Lady. These apples all have a different flavor profile so you can go for a sweeter or more tart cookie depending on which apple you choose.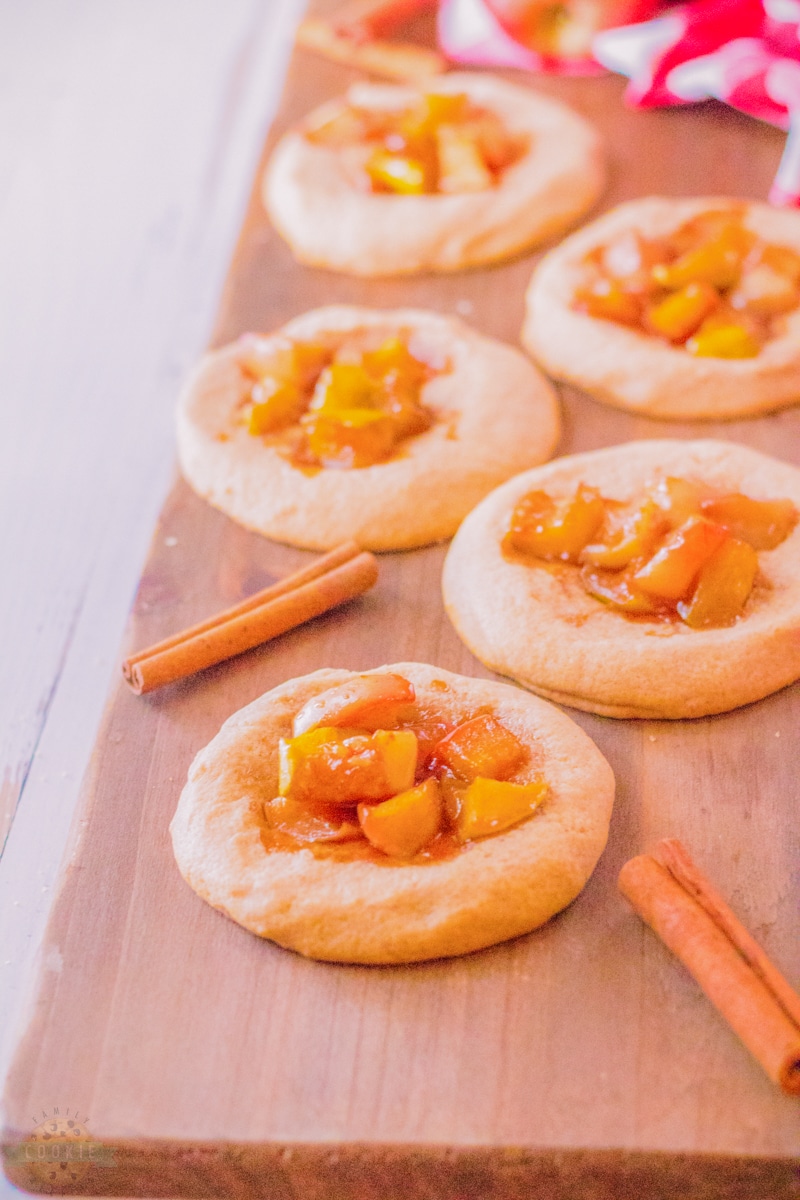 How long are apple pie cookies good for?
If kept stored in an airtight container in the fridge, these cookies can last about 3-5 days. That said, I recommend eating them fresh and warm from the oven because that's when they truly taste the best. Yum!
Looking for more apple cookies? Check out these suggestions!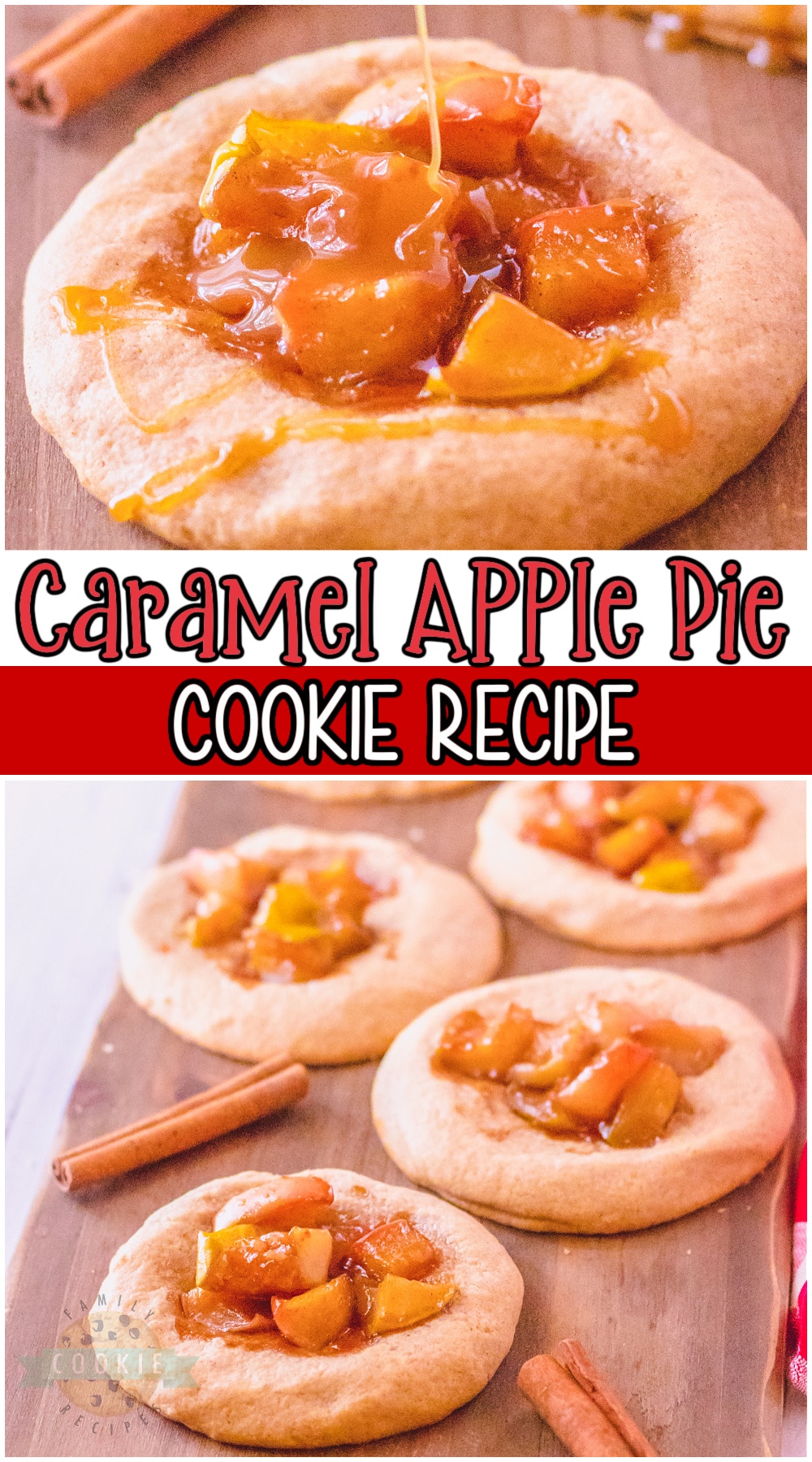 You're going to love these fun and easy apple pie cookies. Filled with a homemade apple pie filling nestled inside a sweet sugar cookie crust, every bite is a summer delight.