Butterscotch Pretzel Cookie Bars are sweet & salty cookie bars with great butterscotch flavor! Cookie bars loaded with pretzels, chocolate + butterscotch chips that everyone loves!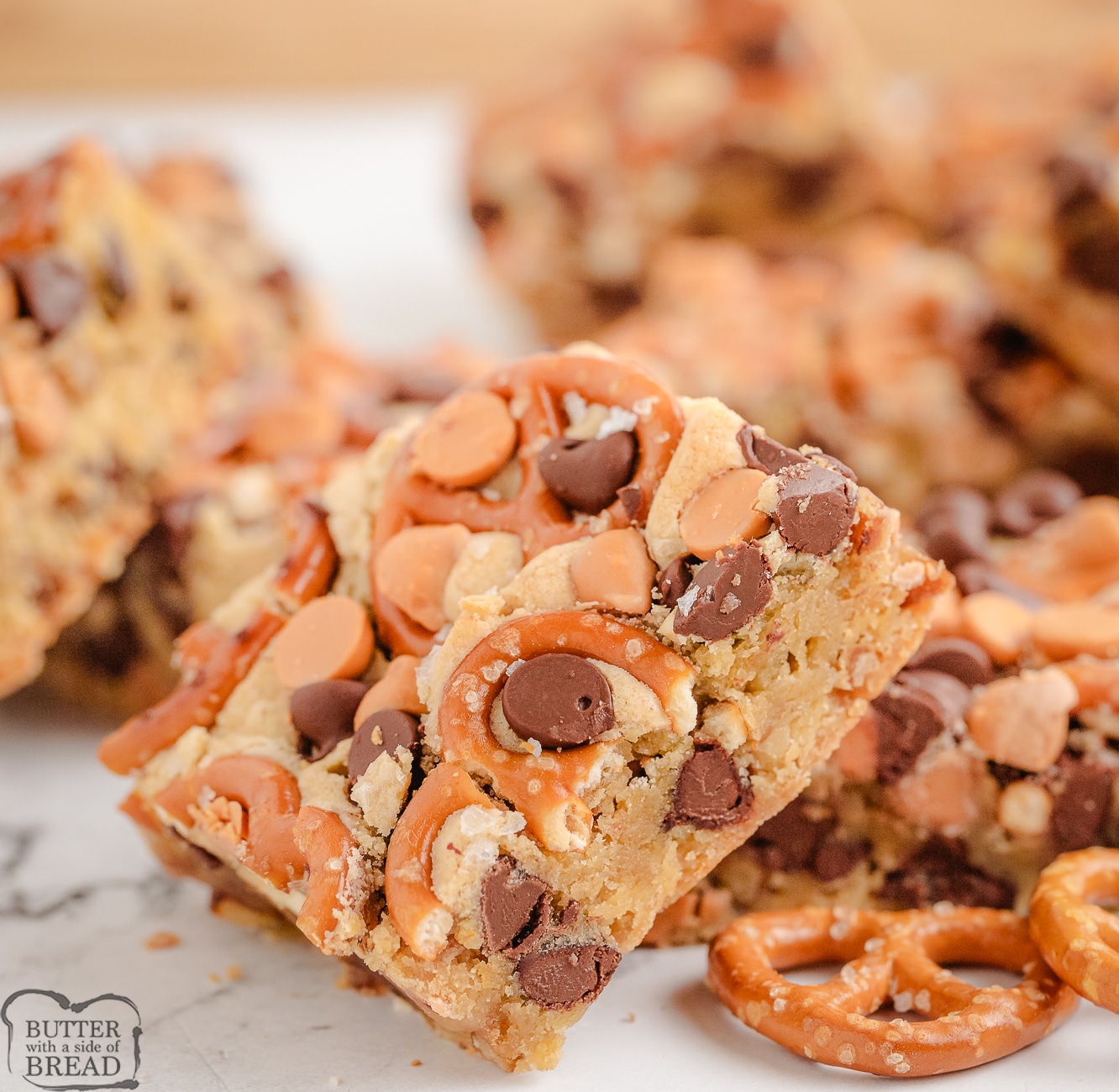 These butterscotch cookies are a perfect combination of sweet and salty, a delicious treat perfect for any occasion. This chocolate chip cookie bar recipe is made with a buttery cookie crust, filled with butterscotch chips and pretzels, and topped with a layer of chocolate and sea salt.
Easy Chocolate Chip Pretzel Cookie Bars
These pretzel cookie bars are a delicious dessert that combines the sweet and salty flavors of butterscotch, pretzels, and chocolate chips. The recipe for these bars is easy to follow and can be made in just a few simple steps. The bars are perfect for potlucks, parties, or just a sweet snack. They are a great way to satisfy a sweet tooth while also getting a little bit of saltiness from the pretzels.
Overall, these Butterscotch Pretzel Cookie Bars are a delicious and easy-to-make treat that anyone can enjoy. They are perfect for those who love the combination of sweet and salty flavors and are sure to be a hit at any gathering.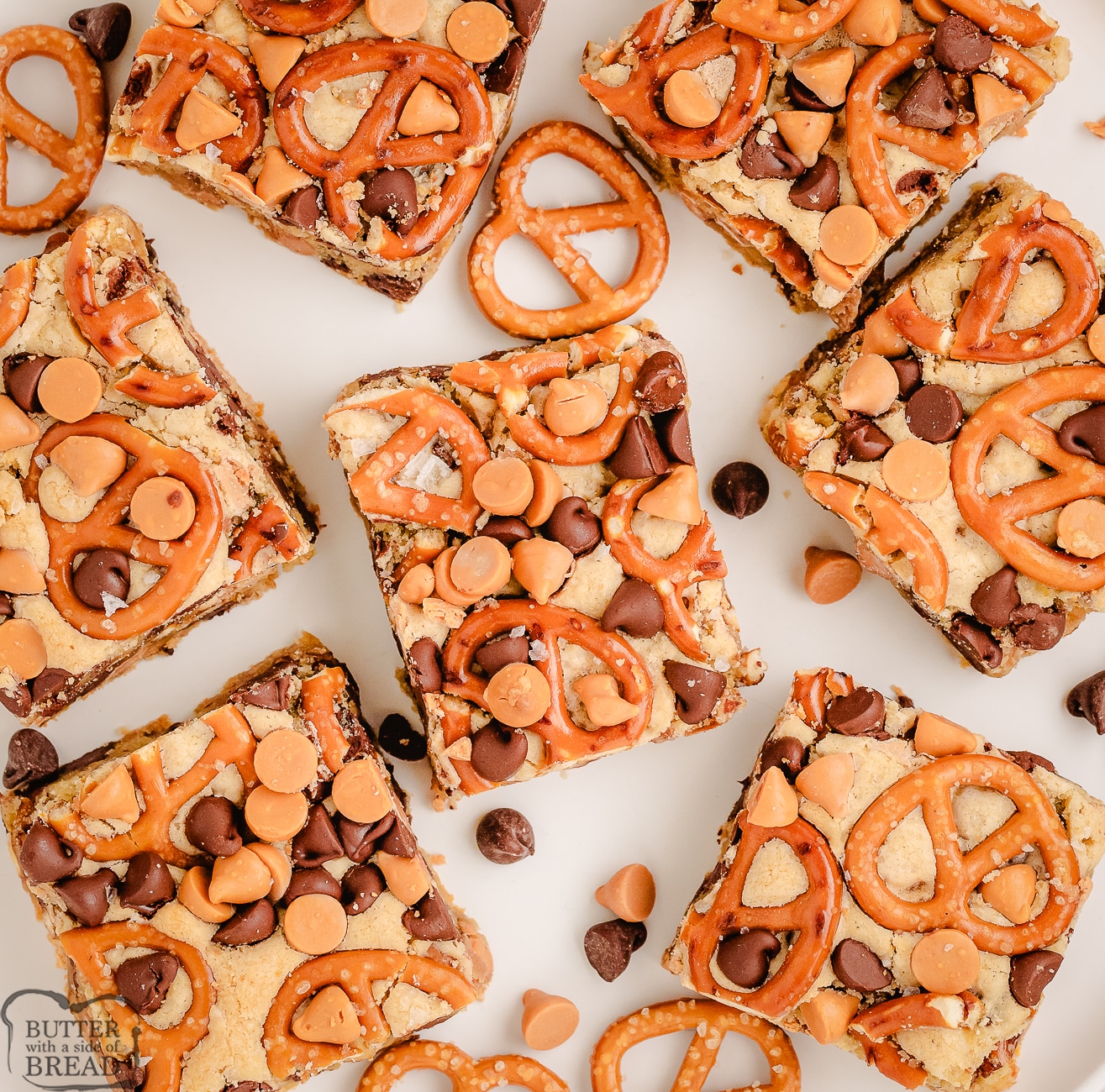 Tips & Variations to try!
When making Butterscotch Pretzel Cookie Bars, there are a few tips and variations to keep in mind to if you want to add even more deliciousness to this recipe!
One tip is to use high-quality ingredients. Using high-quality butterscotch chips and pretzels will make a big difference in the final taste of the cookie bars. Another tip is to make sure the pretzels are broken up into small pieces. This will ensure that the pretzels are evenly distributed throughout the cookie bars.
For a variation, try adding dark or even white chocolate chips to the recipe. This will give the cookie bars a chocolatey twist that pairs well with the butterscotch and pretzels.
Another variation is to add chopped walnut or pecans to the top of the bars, this adds another layer of incredible crunch and taste!
When it comes to serving the cookie bars, they can be enjoyed warm or at room temperature. They can also be served with a scoop of vanilla ice cream or a drizzle of caramel sauce for an extra special treat.
Overall, Butterscotch Pretzel Cookie Bars are a delicious and easy dessert that can be customized to suit individual tastes. By following these tips and trying out different variations, anyone can create a unique and tasty treat that everyone will love.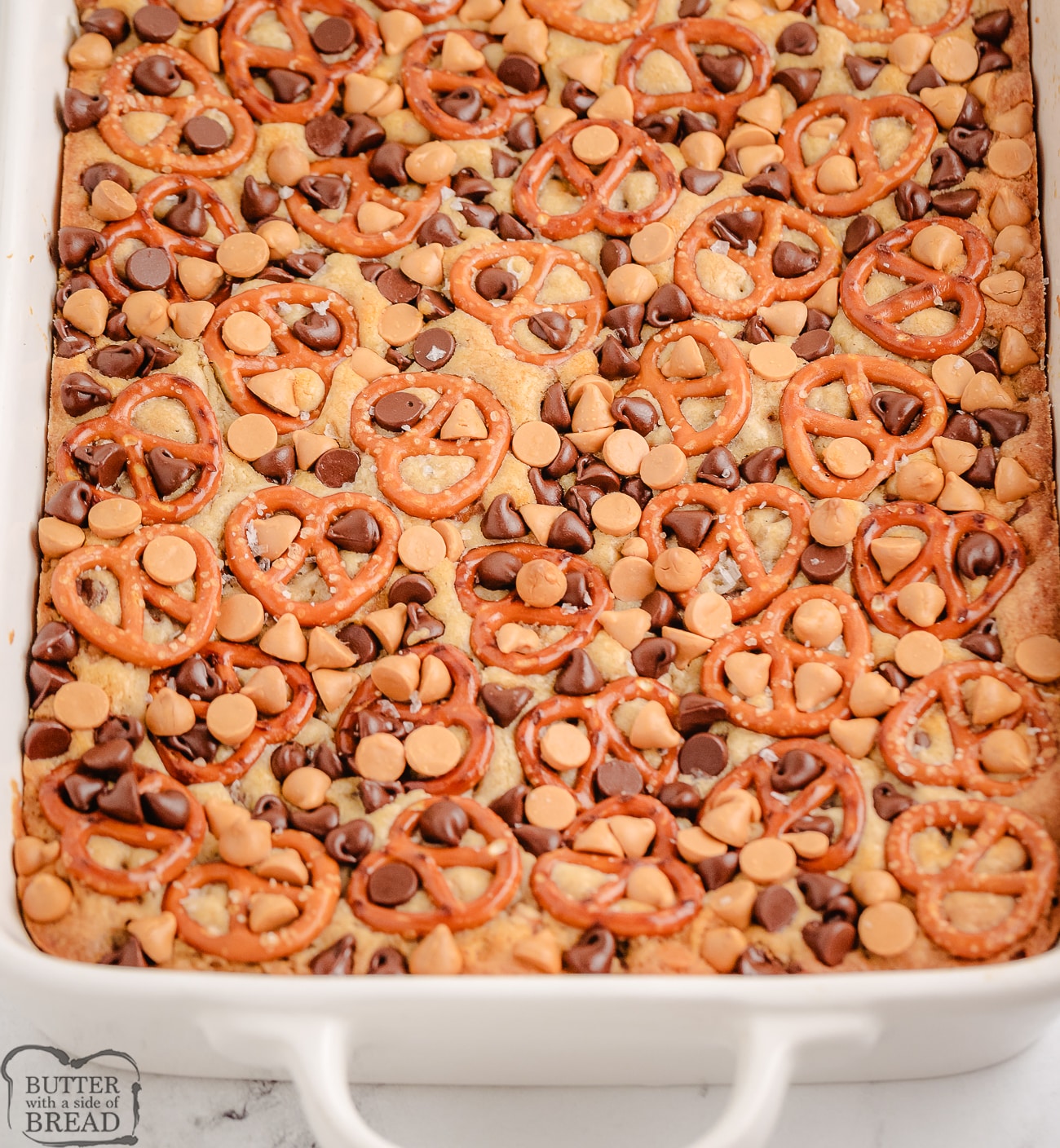 Sea Salt Butterscotch Cookie Bar Ingredients
Butter: To make these bars, it is important to use 1 cup of unsalted butter, room temperature, as it helps to control the salt content of the recipe.
Brown sugar: Add in 1 cup of brown sugar to give these bars a lovely depth of flavor.
White sugar: You will need ½ cup of white sugar to create nice chewy, sweet dessert bars.
Vanilla extract: Using 2 tsp of vanilla extract will enhance all the wonderful flavors in this recipe.
Eggs: To help bind the ingredients together and give these bars amazing texture, use 2 eggs plus 1 egg yolk only.
Flour: 2 ½ cups of all-purpose flour is used to give the bars structure.
Salt: Add ½ tsp of salt to balance the many incredible flavors in this cookie bar recipe.
Leavening agents: You need 1 tsp of baking powder & ¼ tsp of baking soda to leaven the batter.
Chocolate chips: Use 1 ¼ cup of semi-sweet chocolate chips for even more amazing taste.
Butterscotch chips: Add 1 ¼ cup of butterscotch chips as the star ingredient of these bars, providing a rich, buttery flavor.
Mini pretzels: You will need 1 cup of pretzels, coarsely crushed, adding a delicious texture and flavor to the batter. In addition, keep some Mini Pretzels whole to add to the top of the bars for even more delicious crunch.
Flakey sea salt: Using some flakey sea salt to sprinkle the top of the bars before baking adds another delicious layer of flavor to this heavenly treat.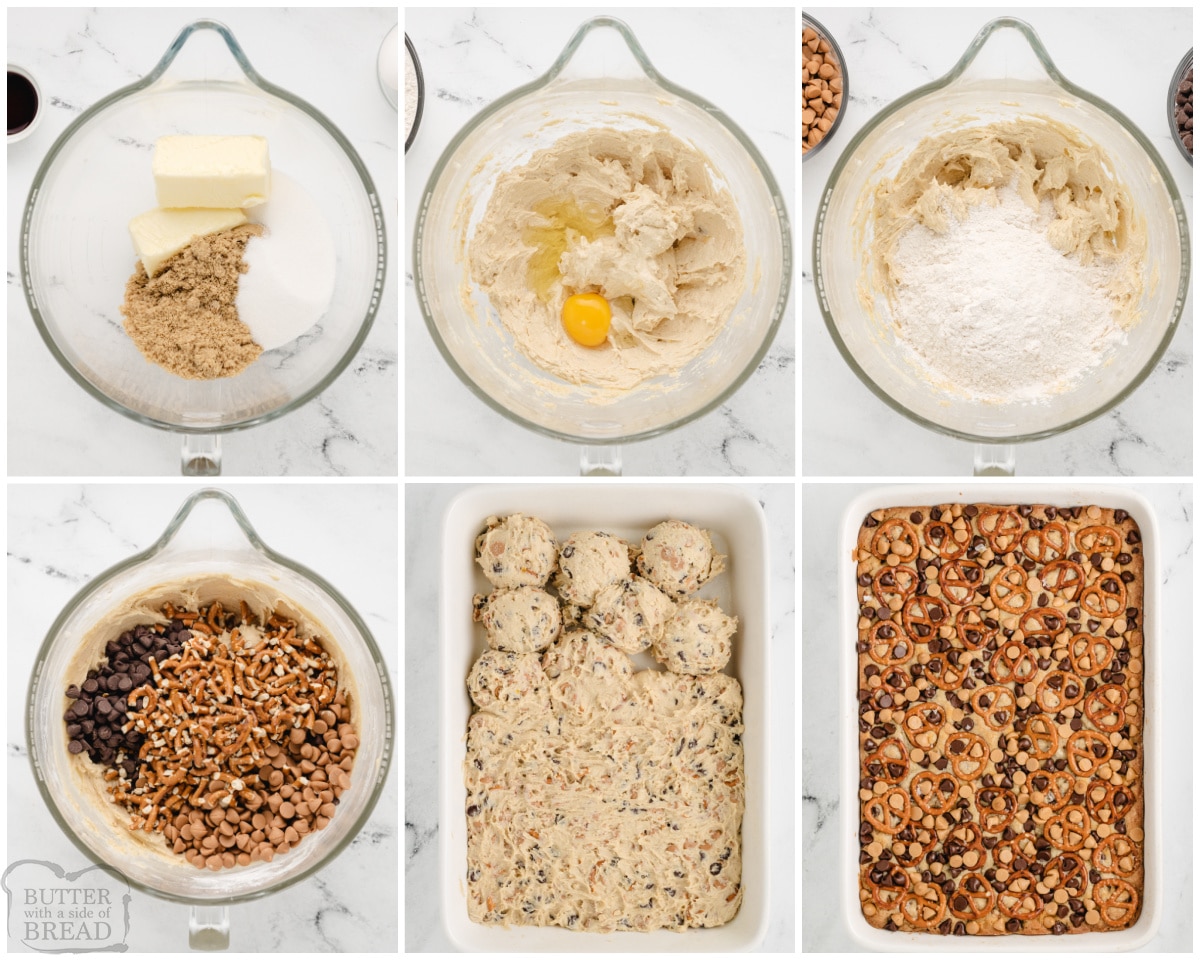 How to make Sea Salt Butterscotch Pretzel Bars
Prep
Start by preheating the oven to 350°F. Then, spray a 9×13 pan with non-stick spray and set aside.
Also, chop some of the pretzels to obtain the 1 cup required for the cookie dough. Make the pieces small enough to be bite size, but not too small so that you don't have chunks of pretzels.
Batter
In the bowl of a stand mixer, fitted with a paddle attachment, beat the butter and both sugars for about 3 minutes until light and fluffy. Next, add in the vanilla extract and mix again.
After that, add in the eggs and egg yolk, one at a time, beating after each addition.
In a separate bowl, combine the flour, salt, baking powder and baking soda and whisk together. Once combined, slowly add this dry mixture into the wet mixture and stir.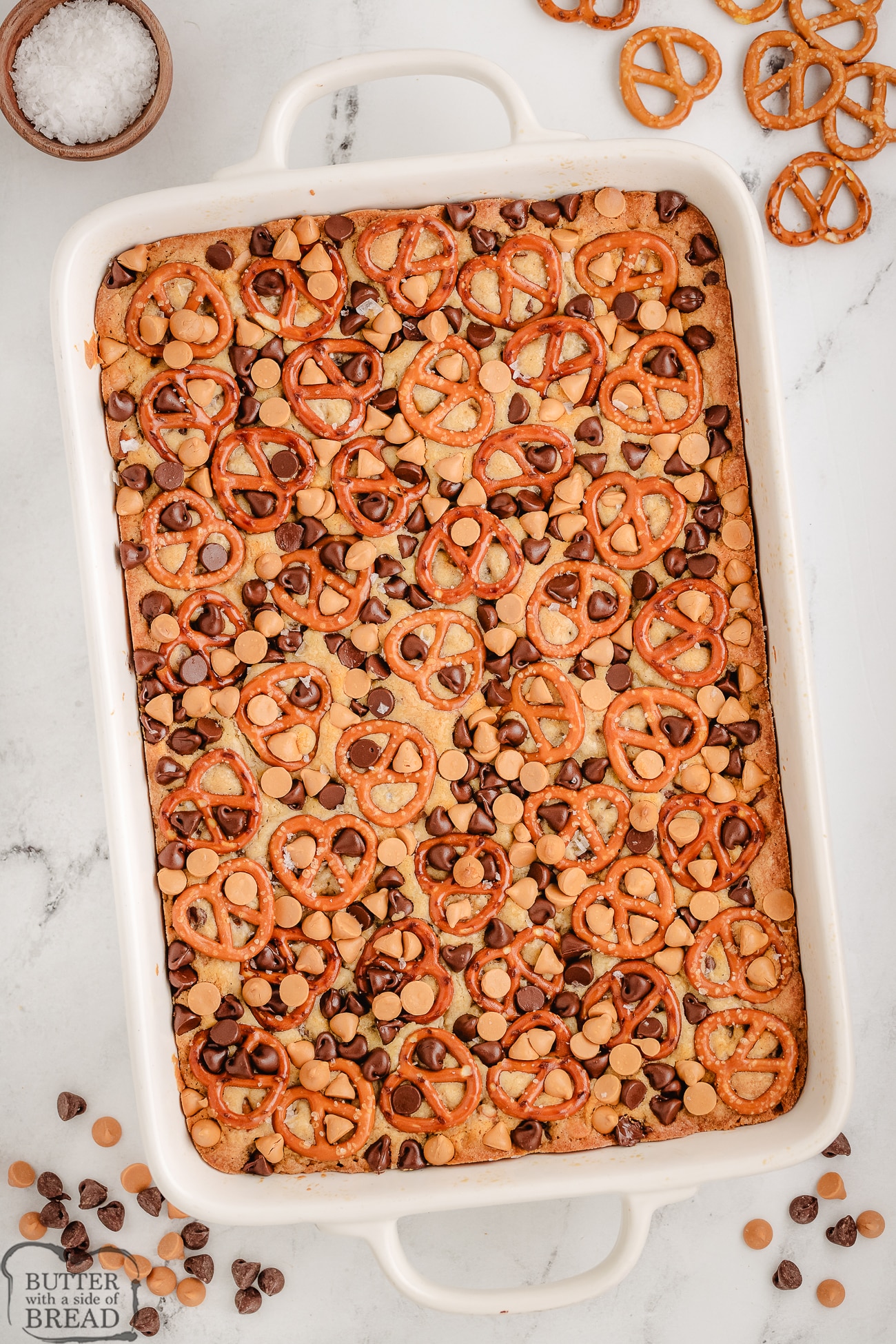 Now add in the chocolate chips, butterscotch chips and pretzels bits, fold in using a spatula (so the pretzels don't get broken up too much).
Bake
Proceed to scoop balls of dough into the prepared baking pan. Using slightly damp fingertips, press the dough down and smooth out the top. Top with additional butterscotch chips, chocolate chips and whole mini pretzels. Then sprinkle lightly with some flakey sea salt as well.
Place in the preheated oven and bake for 20 minutes or until the edges turn a golden brown. After baking is complete, let the bars cool on a cooling rack.
Serve and enjoy!
HOW DO I STORE CHOCOLATE CHIP COOKIE BARS?
Keep these cookie bars stored in an airtight container, at room temperature, for up to a couple of days (if they last that long!) For best results, these cookies will last about 3-5 days. If desired you can reheat the cookie bars in the oven or a microwave to get that warm and fresh from oven taste back into the cookies.
WHAT TYPE OF VANILLA EXTRACT SHOULD I USE?
A few years ago I tested 10 different vanilla extracts and found new favorites! I love using TOTONAC's Mexican Vanilla for everyday use. It's pure vanilla and contains no alcohol, which I like because I don't like the taste of extracts made with alcohol. Each time I try another, I go back to Totonac's quickly afterward; it's so good! I also love using Nielsen Massey Vanilla Bean Paste. Again, this one has the best flavor by far!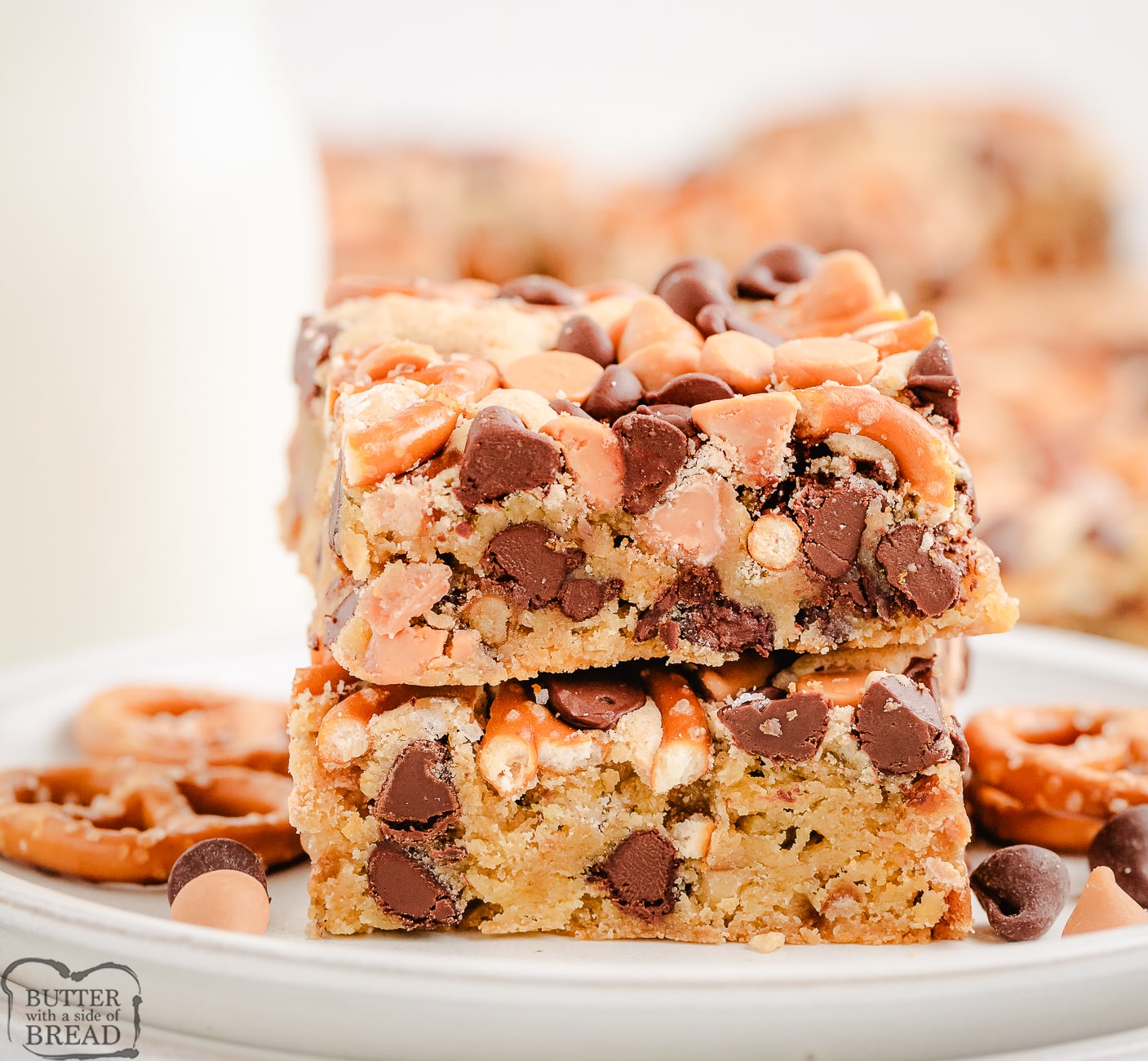 Tips for making amazing cookie bars!
Spend a little extra time when you mix the wet ingredients together. Adding a few extra minutes (as the recipe states), will make a huge difference in the texture and consistency of the cookie bars.
Don't over mix when you combine the wet and dry ingredients. You'll want to mix just long enough for everything to be combined.
Preheat the oven. This will help your cookies turn out right every time!
Use parchment paper. Doing this will make it really easy to remove the cookies from your 9X13 pan.
Make sure not to over bake your cookie bars. Once the edges begin to turn even the lightest golden brown, take them out of the oven! I prefer to err on the side of being slightly undercooked for cookies because if they cook even a little bit too long, they can get hard and I really like soft cookies!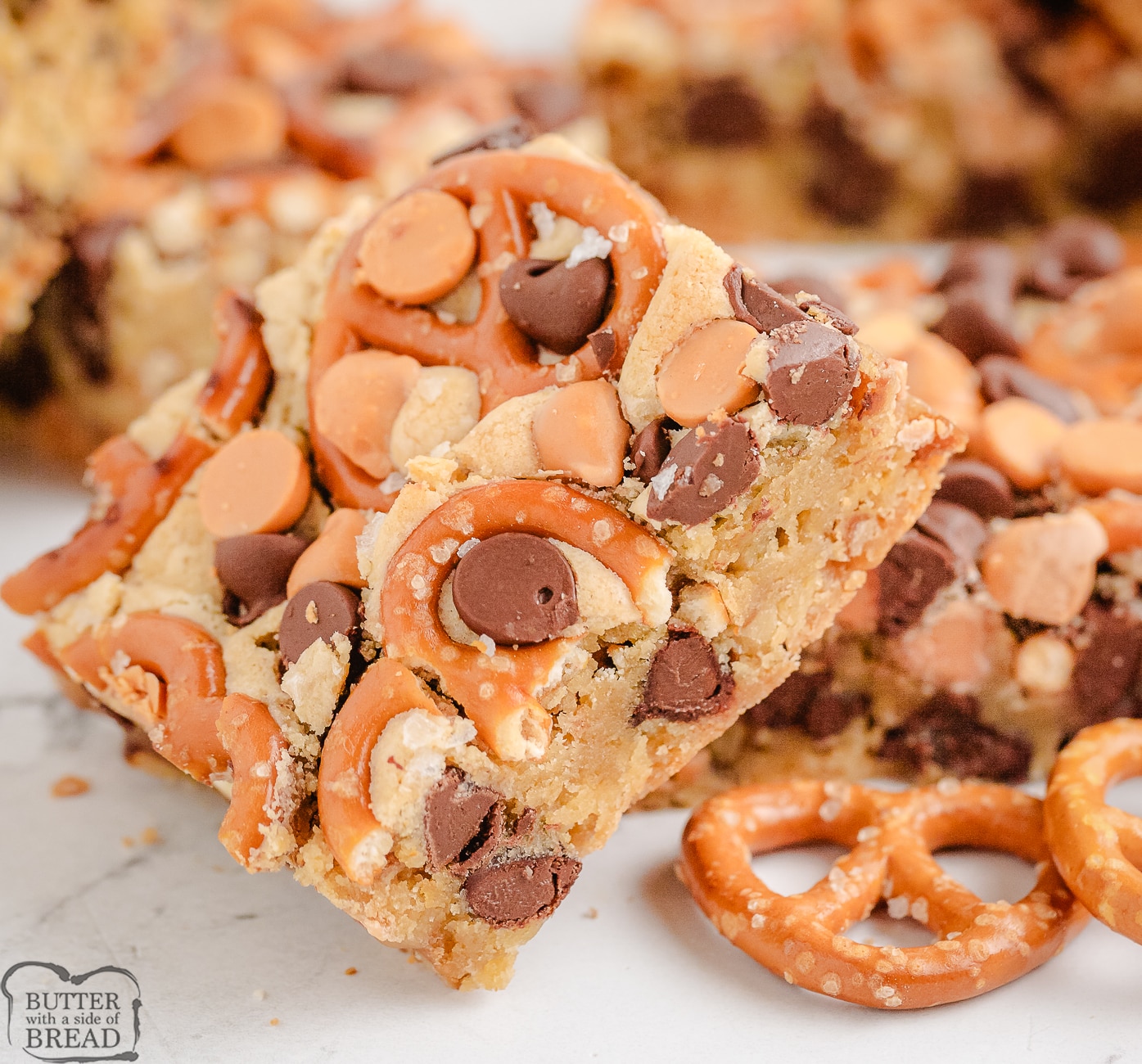 Try more incredible cookie bar recipes here!
These delightful Sea Salt Butterscotch Pretzel Cookie Bars are made with sea salt, pretzels, chocolate and butterscotch chip! Make these sweet, salty butterscotch bars with amazing flavor baked into every bar!