Fudgy Oatmeal Cookie Bars are made with a thick chocolate ganache in between two layers of a soft and chewy oatmeal cookie recipe.  This cookie bar recipe is absolutely amazing!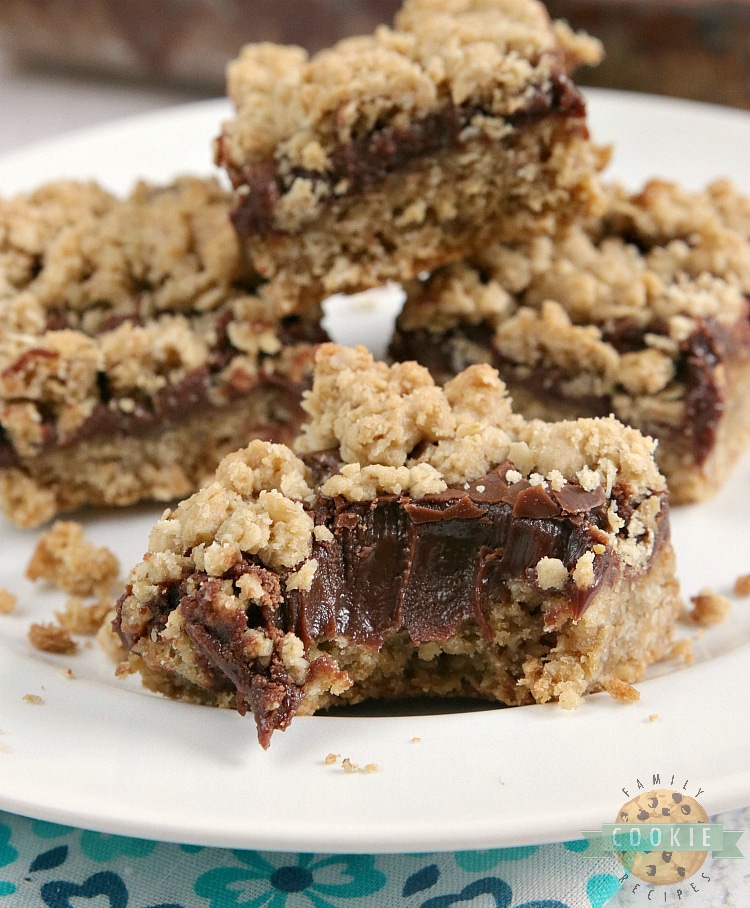 Fudgy Oatmeal Cookie Bars add chocolate to a delicious oatmeal cookie. I absolutely love oatmeal cookies, but I do like them with a little bit of chocolate. The fudgy, chocolate ganache layer in the middle of these cookie bars is soooo good. And so simple to make too. You may even want to double the fudge layer so that you can eat half of it with a spoon. Or maybe that's just me.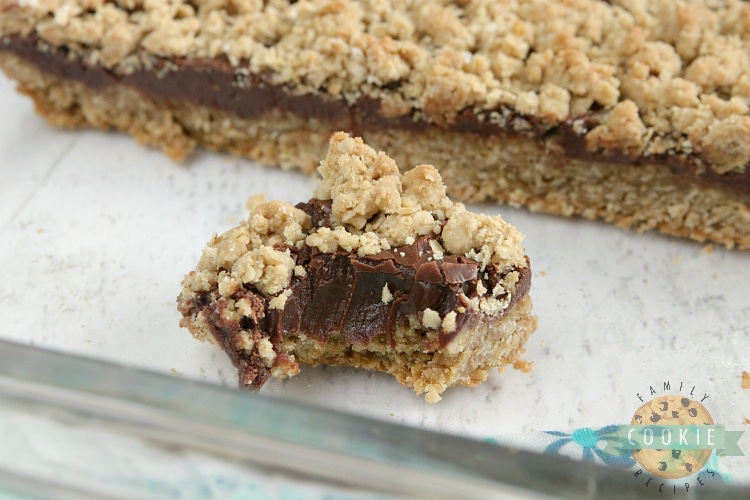 I love making bar cookies because it circumvents the scooping and baking of multiple trays of individual cookies. I like to make cookie bars when I'm short on time. This recipe only takes about 30 minutes from start to finish and makes enough cookies for a large crowd!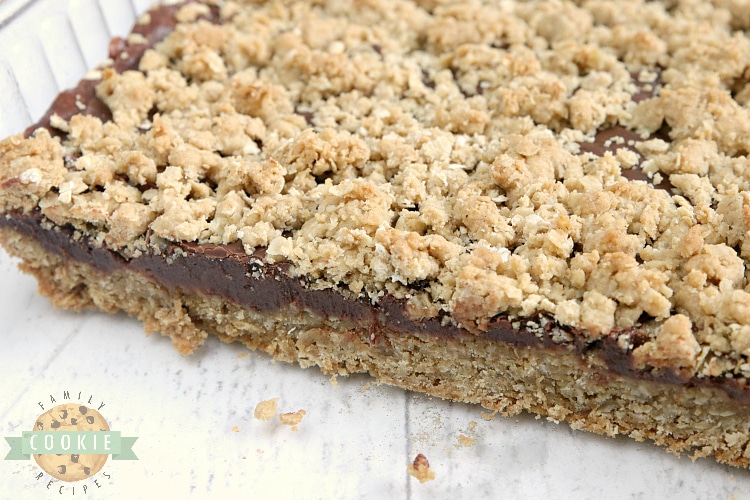 Ingredients in Fudgy Oatmeal Cookie Bars
Oatmeal Cookie Layers
3 cups quick oats
2 1/2 cups flour
1 tsp baking soda
1 tsp salt
1 cup butter, softened
2 cups brown sugar
2 eggs
2 tsp vanilla
Fudge Layer
2 tsp vanilla
1 can sweetened condensed milk
1 1/2 cups semi-sweet chocolate chips
2 Tbsp butter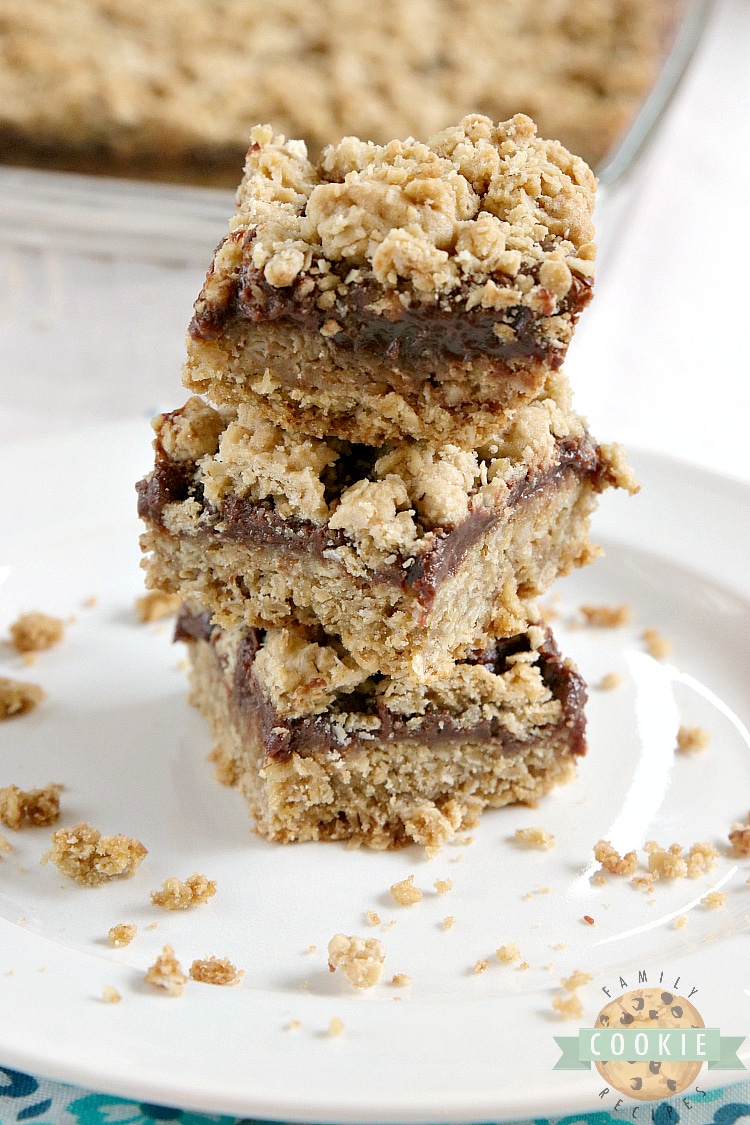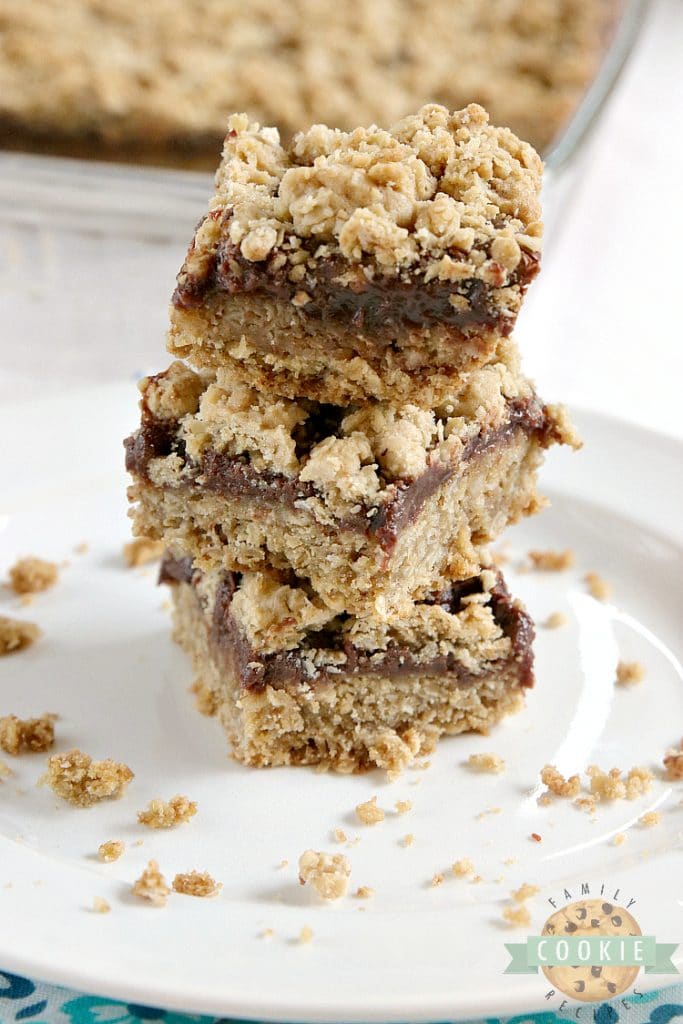 How to make Fudgy Oatmeal Cookie Bars
Preheat oven to 350°.
In a large bowl, combine the oats, flour, baking soda and salt.
In a separate bowl, beat the butter for 2-3 minutes until whipped. Add brown sugar and beat for another 2 minutes. Add the eggs and vanilla and continue to beat for another 1-2 minutes.
Add the dry ingredients to the butter/sugar mixture and mix just until barely combined. Set aside while making the chocolate layer.
In a medium saucepan, mix all of the chocolate fudge ingredients together over low heat. Stir until everything is melted and smooth and then remove from heat.
Press 2/3 of the oatmeal cookie dough into the bottom of a greased 9X13 pan. Spread the chocolate fudge over the oatmeal layer and then drop the remaining oatmeal cookie dough over the top.
Bake for 20-25 minutes or until the top begins to lightly brown. Let cool completely before cutting. They can be stored and served at room temperature, but they are delicious cold from the fridge as well!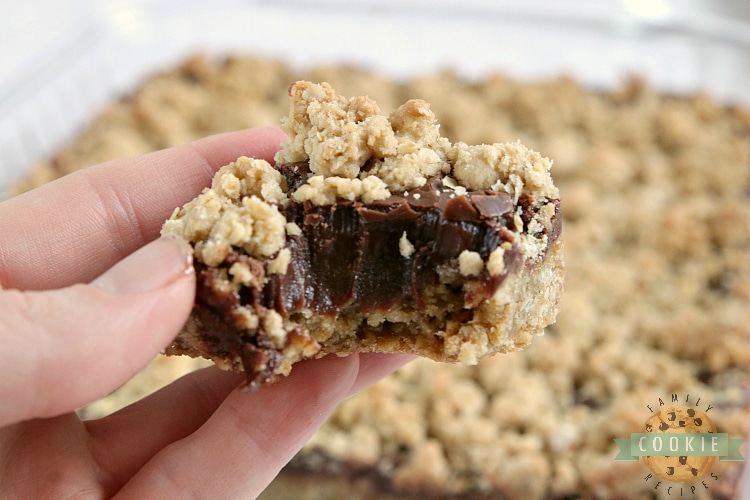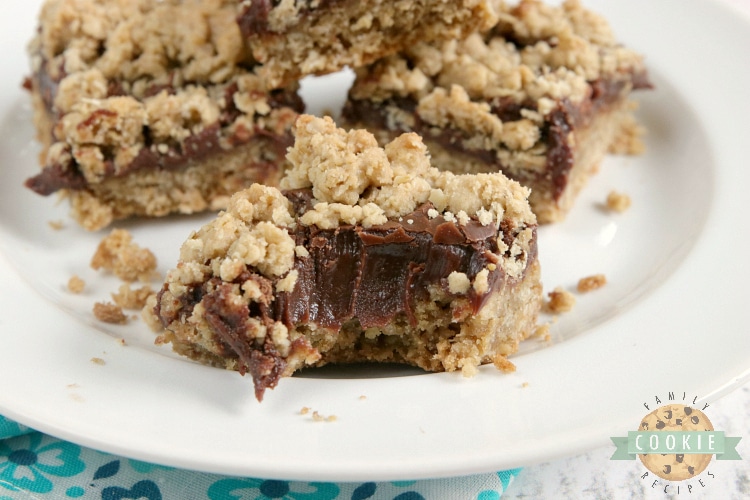 What type of oats to use in oatmeal cookie bars?
I like to use quick oats in this recipe, but you can use old-fashioned oats if you prefer. The cookie bars will be chewier, but still delicious!
How to soften butter
If you have time, just leave butter out on the counter for about 1-2 hours before making your cookies. If you are like me and don't plan your cookie cravings that far in advance, just place the butter in your microwave and soften in 5 second intervals, being very careful to pull it out before it melts. I actually like to use the defrost setting on my microwave to soften butter- I don't know the technical reasons behind it, but it seems to soften the butter more evenly and takes a little bit longer so I'm less likely to start melting it! 
Like cookie bars! Here are some of our favorite bar cookie recipes!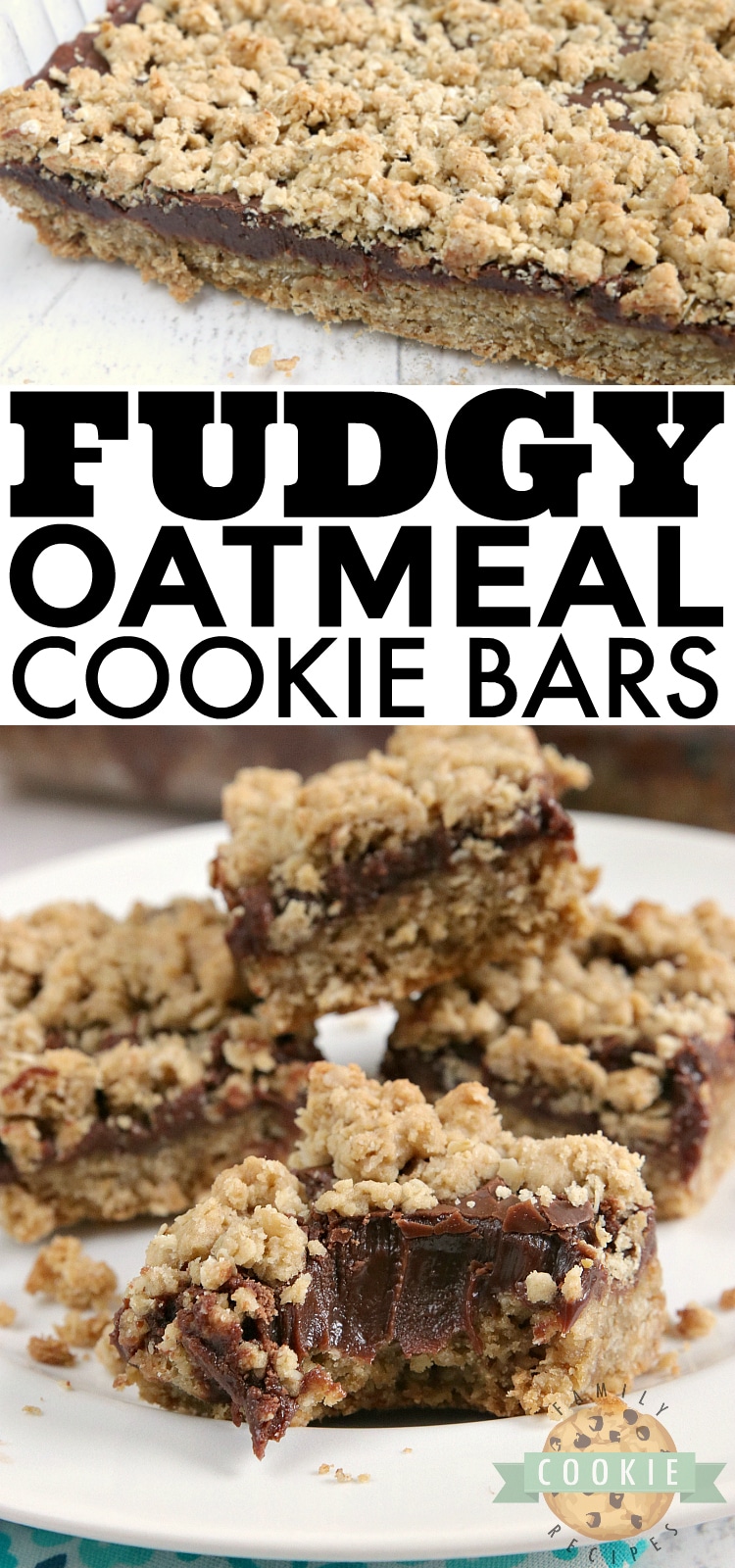 Fudgy Oatmeal Cookie Bars are made with a thick chocolate ganache in between two layers of a soft and chewy oatmeal cookie recipe.  This cookie bar recipe is absolutely amazing!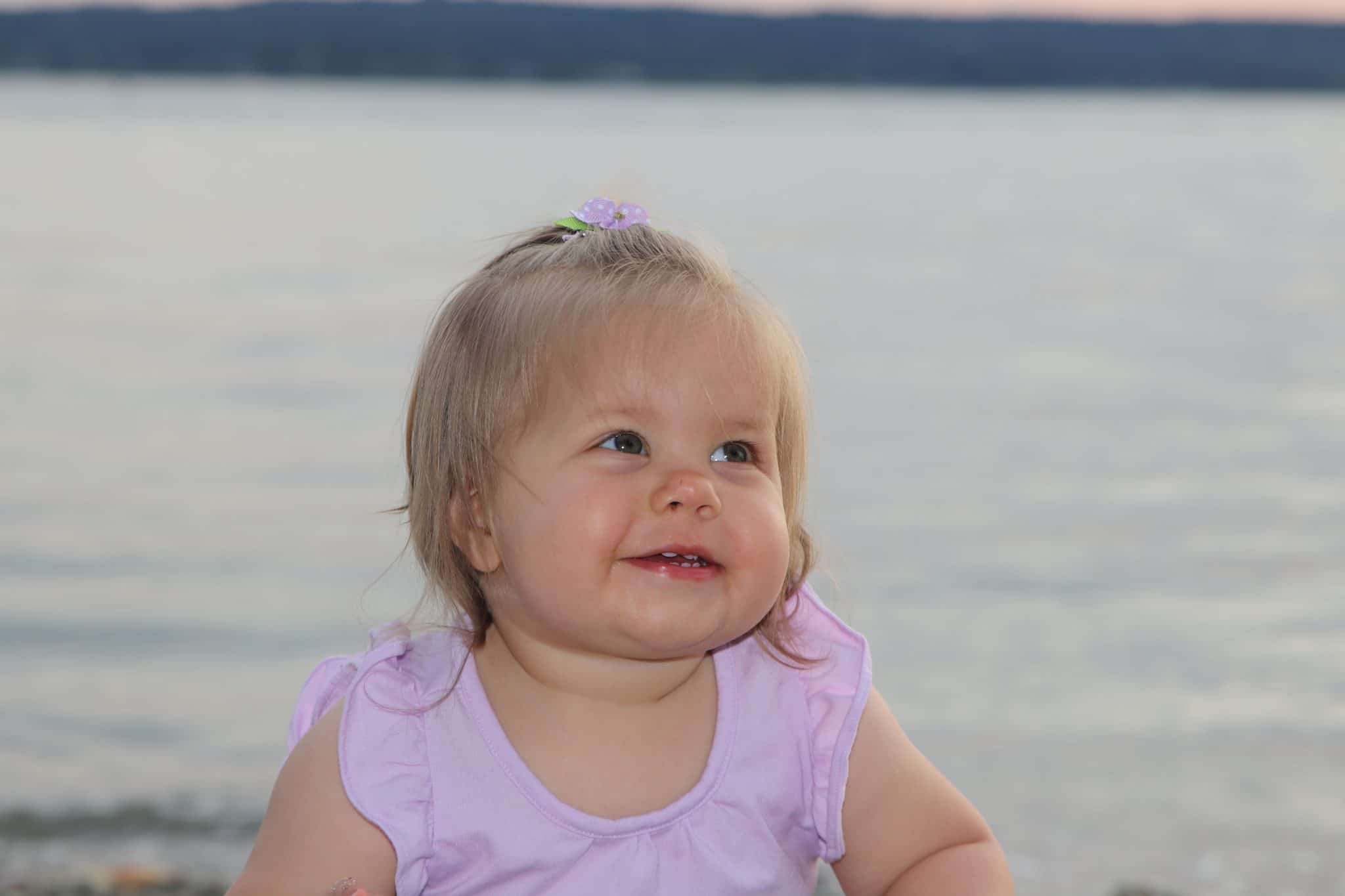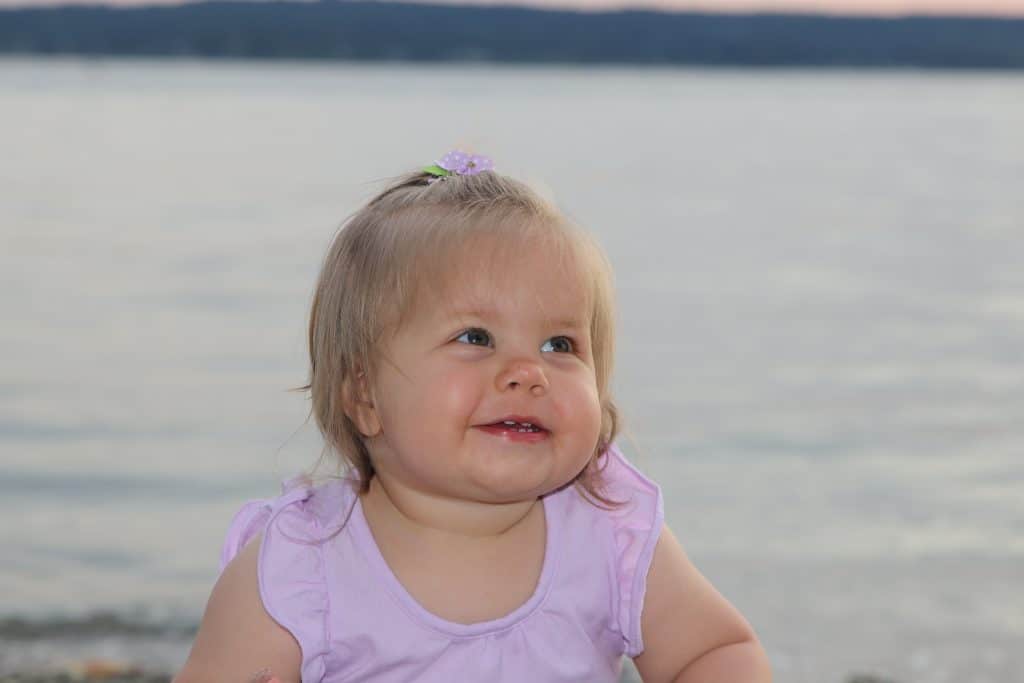 Doesn't this picture just make you smile?! We took all the kids to the beach the other night because the weather was beautiful and we wanted to try to get some pictures by the water. This little one hasn't been to the beach before and all she wanted to do was go in the water. Which would be fine if we lived somewhere besides Western Washington, where the beaches are extremely rocky and the water is a balmy 44° year-round. No thanks! We did let her get her feet wet and the frigid water didn't even begin to deter her. She just wanted to keep going…and I didn't want to follow her in so our beach trip didn't last very long. Good thing this little stubborn 17-month old is so stinkin' cute!