Mint Chocolate Chip Cookie Bars are a perfect and delicious treat to serve for so many occasions! These cookies bars are made from scratch with simple ingredients and are always a fun treat!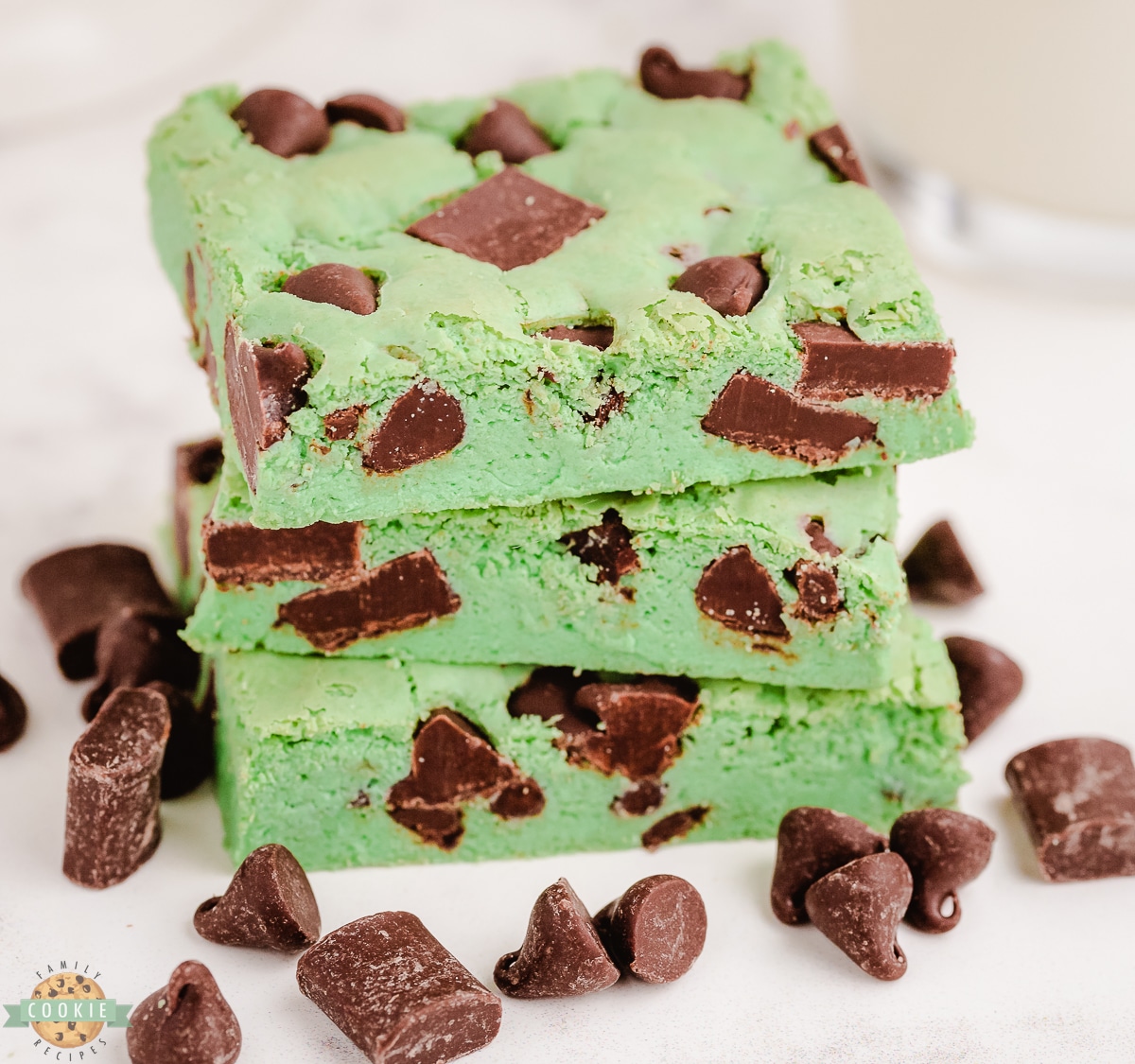 Serve up a batch of chocolate chip cookie bars for St Patrick's Day, Easter, or Christmas! The fun green hue of this pudding cookie can be enjoyed throughout the year because mint and chocolate are always a wonderful pairing!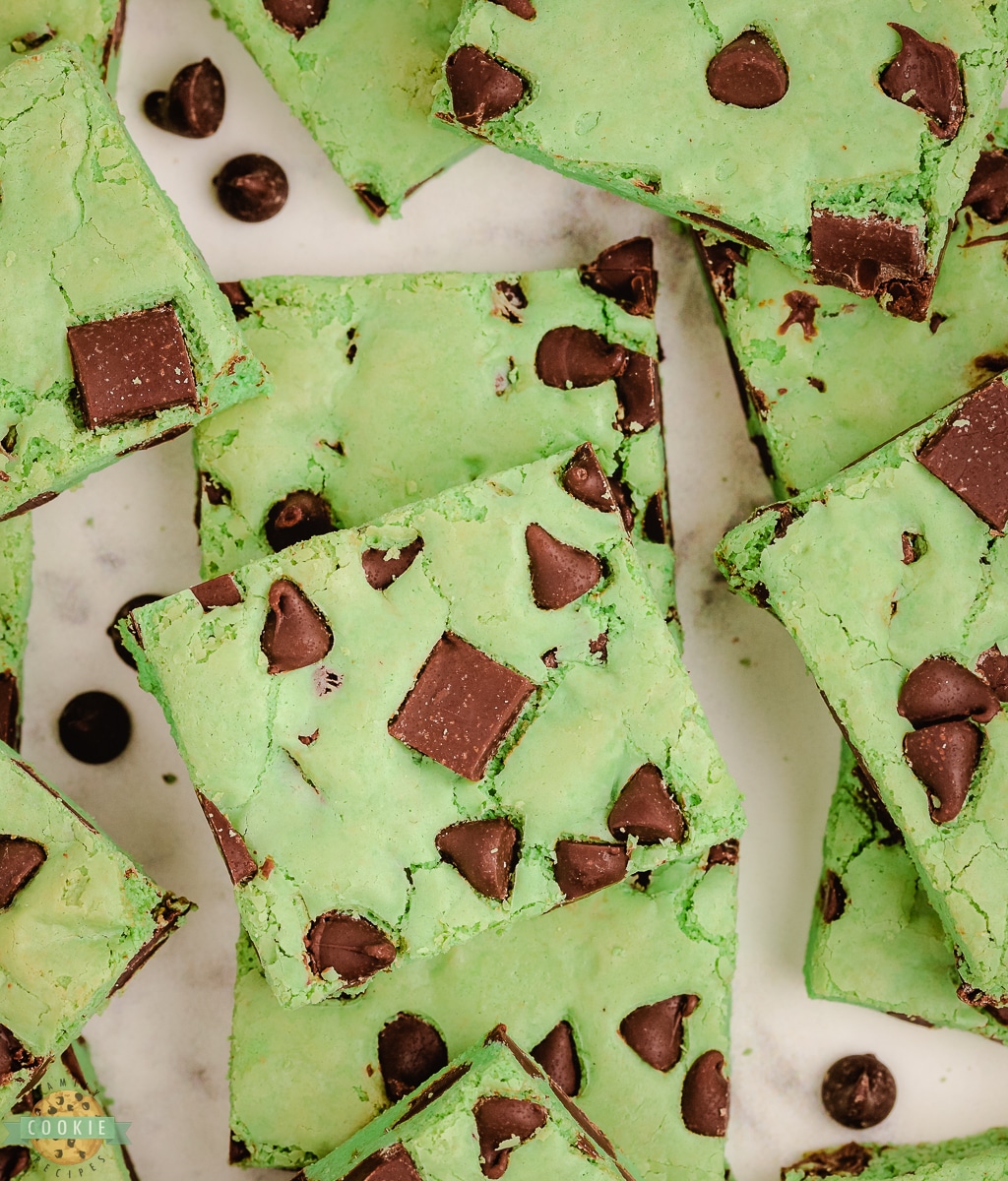 Mint Chocolate Chip Cookie Bars
These homemade mint chocolate chip cookie bars are a simple and refreshing treat that everyone will enjoy. They are thick and delicious, like a blondie, but made from scratch using our favorite cookie dough recipe. These cookie bars turn out soft in the center with the perfect chewy edges so there is something for everybody with this creative recipe! You can even omit or change up the food coloring if desired, but we think it gives these cookie bars a special little "something extra". Really you cannot go wrong with this sensational cookie recipe, try it today and see what we are talking about!
Why you should make these Mint Chocolate Chip Cookie Bars
They are so easy to make, you can have a treat made in no time!
You need simple ingredients you most likely already have in your kitchen.
These cookies are versatile and can be made into any festive holiday treat by changing up the food coloring!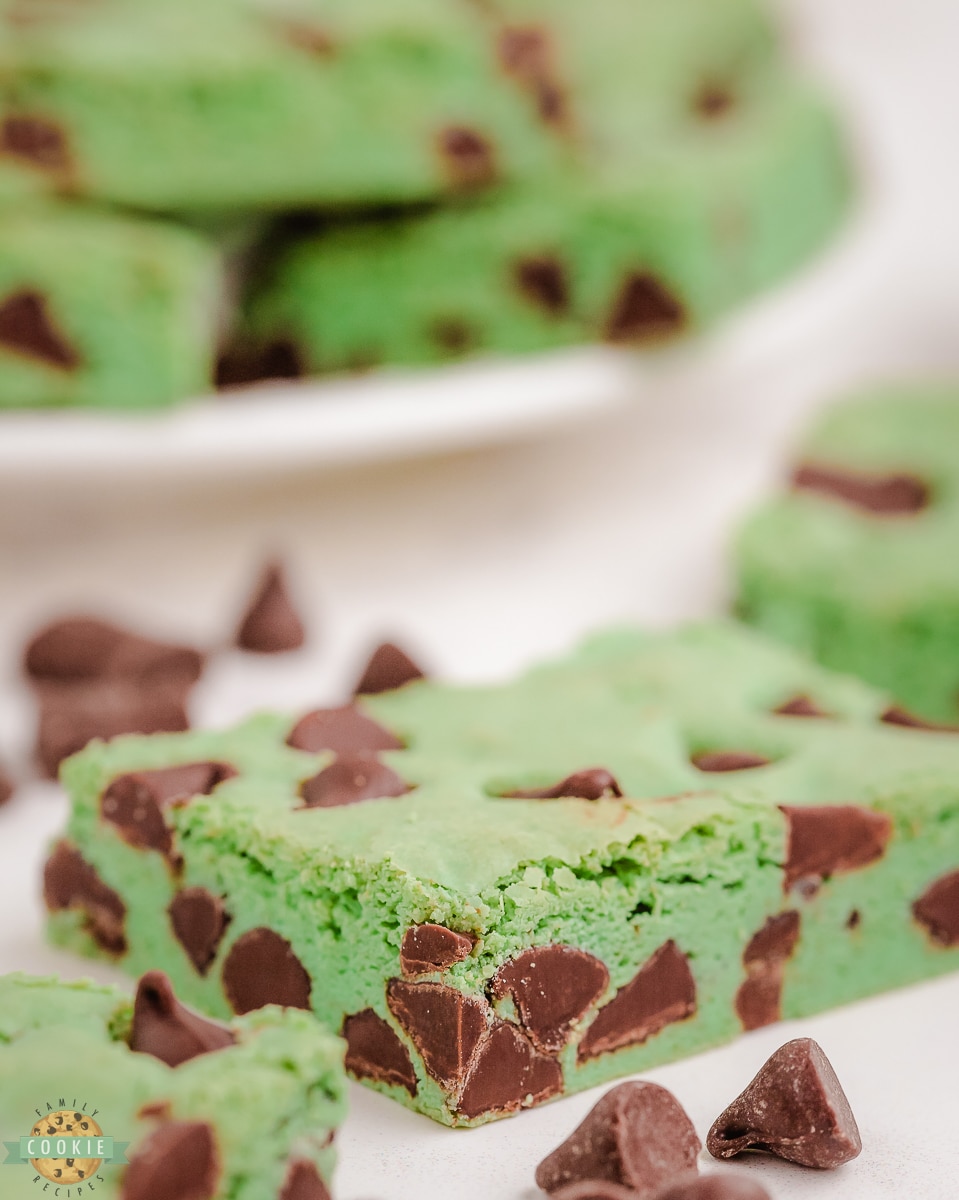 Mint Chocolate Cookie Bars

Ingredients

-Sugar: You will need 1 cup of granulated sugar to help make these cookies sweet and chewy.

-Butter: Use 1 stick (½ cup) of softened butter for a nice rich taste in every bite.

-Egg: You will need to use 1 large egg to help bind the dough together well.

-Sour cream: Adding in ½ cup of sour cream adds richness to the cookies and makes them soft in texture.

-Pudding mix. By adding in 1 small (3.4ounce) sized box of Jello Instant Vanilla Pudding we add flavor and chewiness to the cookies which are simply incredible.

-Salt: To help enhance the flavors in this dough use ½ teaspoon of salt.

-Baking soda: You will need ½ teaspoon of baking soda to help these cookies puff up and leaven properly as they bake.

-Flour: The base of this cookie dough recipe is 2 cups of all-purpose flour.

-Mint extract: For the wonderful mint flavor, add in 2 tsp mint extract.

-Food coloring: You will need 3 drops of blue food coloring along with about 10-15 drops of green coloring to reach the desired hues.

-Chocolate chips: Use 1 ½ cups of chocolate chips so that every slice is speckled with the perfect amount of chocolate.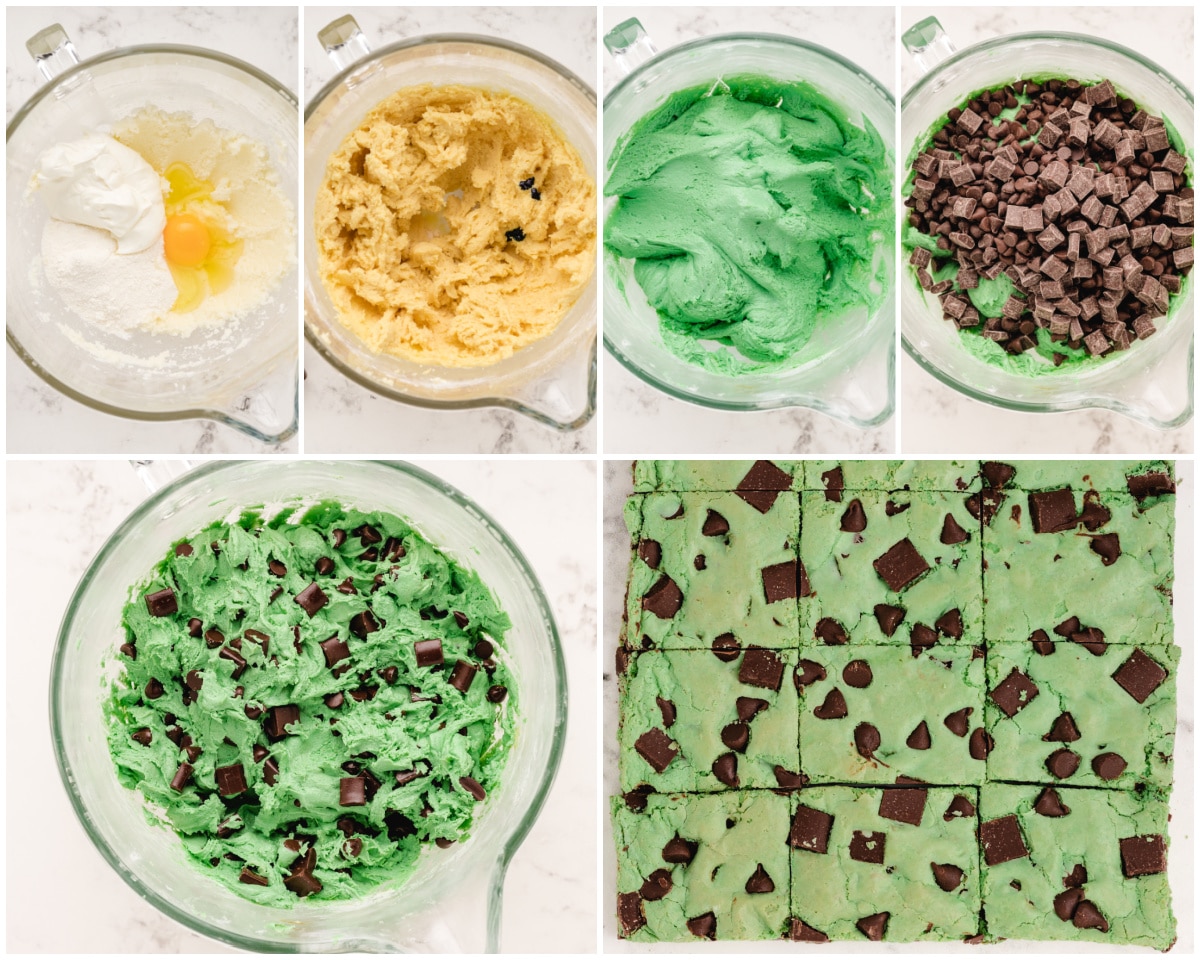 How to Make Green
Mint Chocolate Chip Cookie Bars
Prep
Preheat your oven to 350 degrees F.
Then, line the inside of a 9×13 baking dish or a quarter-sized baking sheet with parchment paper and then set it aside.
Cookie Dough
In a large bowl, cream together the butter and sugar until well blended.
Then, add in the egg, sour cream, and pudding mix and stir until combined. Set aside.
In a separate small bowl, whisk together the flour, salt, and baking soda.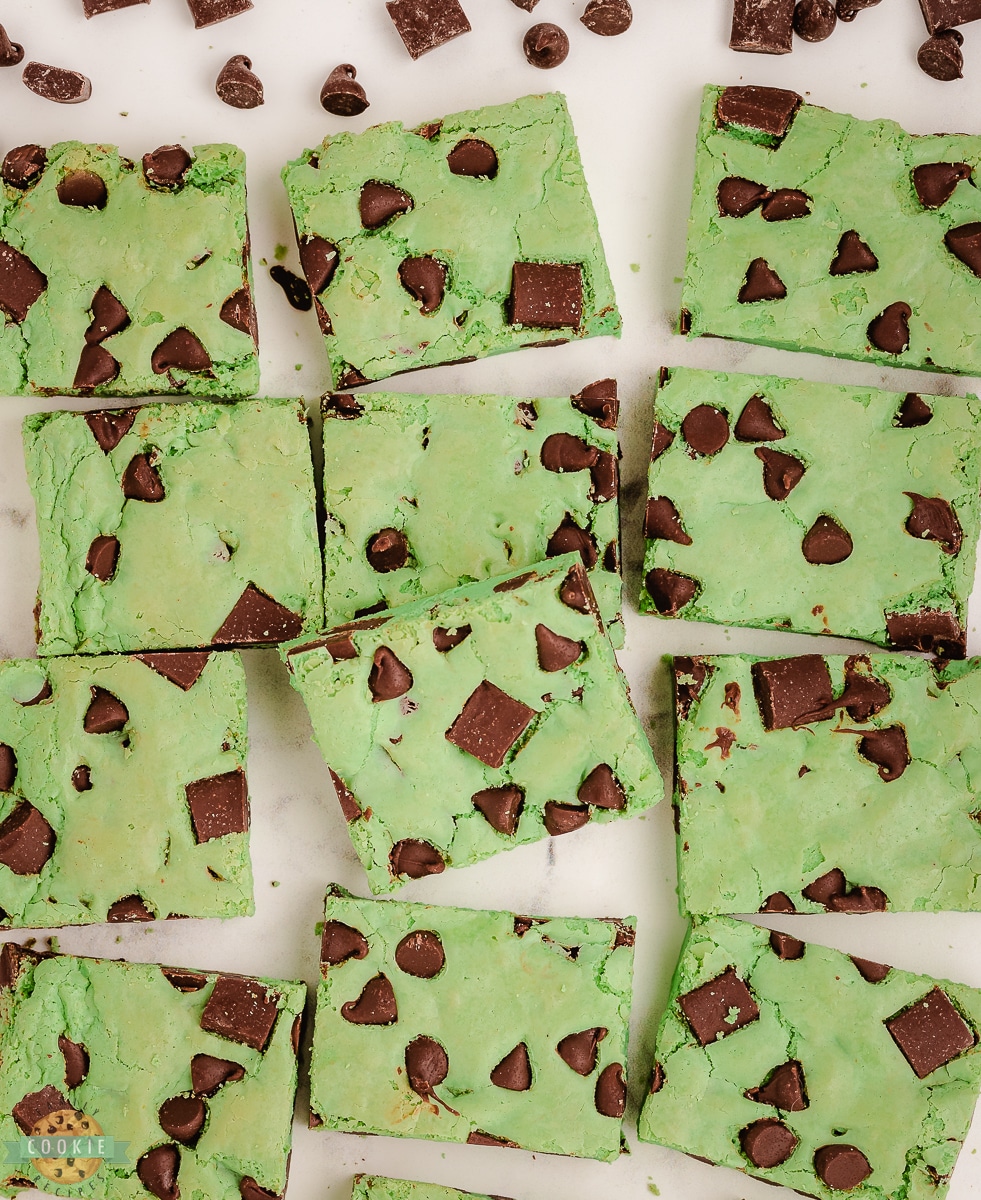 After that, combine the dry flour mixture to the wet butter/pudding mixture and mix until combined.
Next, add in the mint extract and food coloring until the desired color is achieved.
Lastly, fold in the chocolate chips. I used ¾ cups of chocolate chips and ¾ cups of chocolate chunks for a nice variety but you can use all of one or the other but a combination of the two is pretty wonderful!
Bake
Press the dough out into your prepared baking dish and then place it into the preheated oven.
Proceed to bake for 20-22 minutes before transferring to a cooling rack.
Slice into squares, serve and enjoy!
How do you know when a cookie bar is done?
You will know that your cookie bars are done when the tops no longer look glossy and you can insert a toothpick or wooden skewer into the center of the cookie bars and have it come out dry or with just a few moist crumbs on it.
How long are cookie bars good for?
You can keep these cookie bars stored in an airtight container for up to 1 week or place them into the freezer in an airtight container for up to 2 months. I recommend having the cookie bars already cut into serving-sized pieces for easier storage and snacking.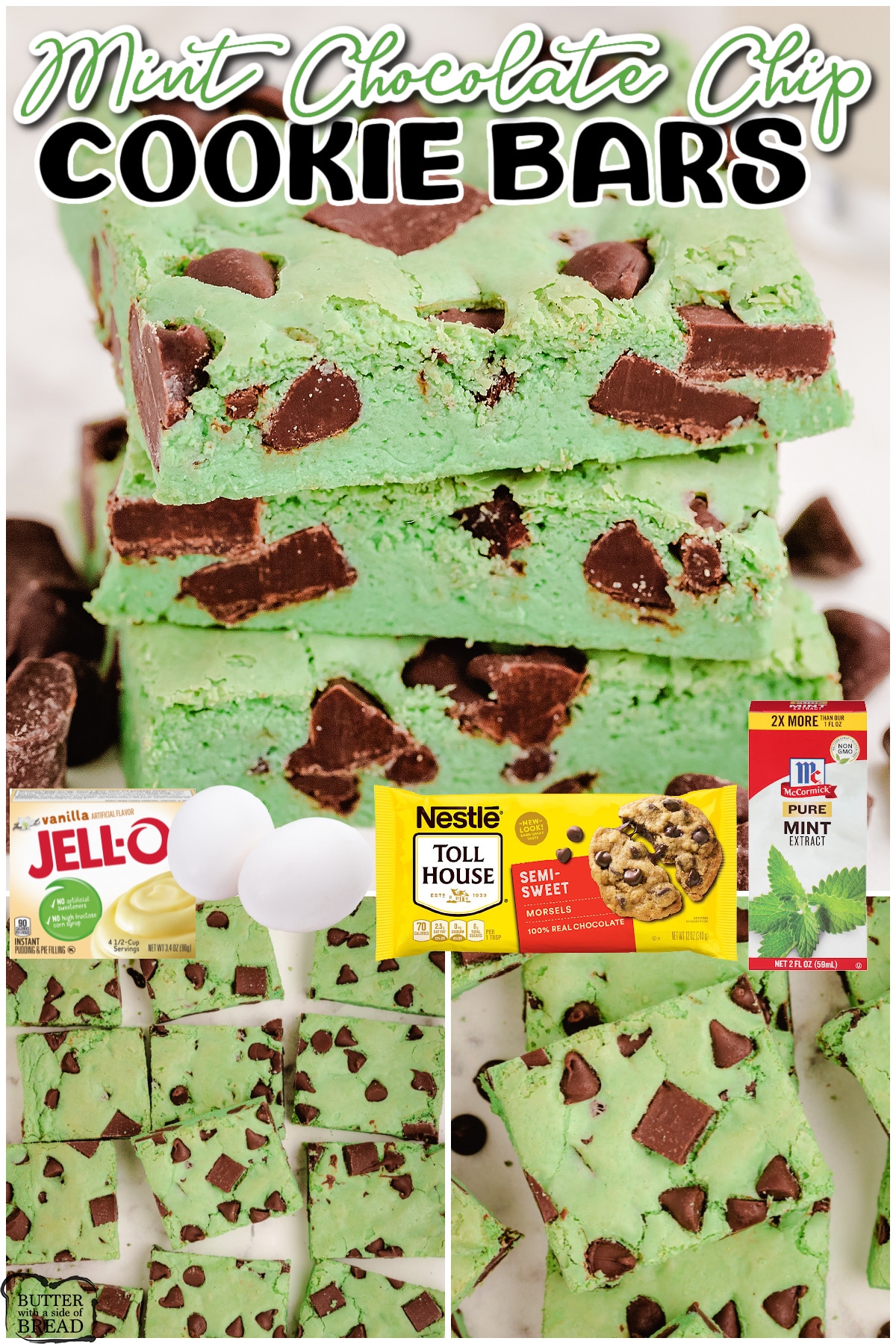 Do cookie bars harden as they cool?
Yes, these cookie bars will become more firm as they cool. When the cookie bars are fresh from the oven they are soft and gooey, like any regular chocolate chip cookie but as they cool and settle they become much more sturdy.

These two monkeys just make me laugh! They are my youngest and they are a couple years apart in age, but yet they are such good friends. When L went off to Kindergarten, leaving A at home, he was so distraught! I'm sure when L goes off to Jr High, there will be similar feelings, even if they both try and play it cool. 😉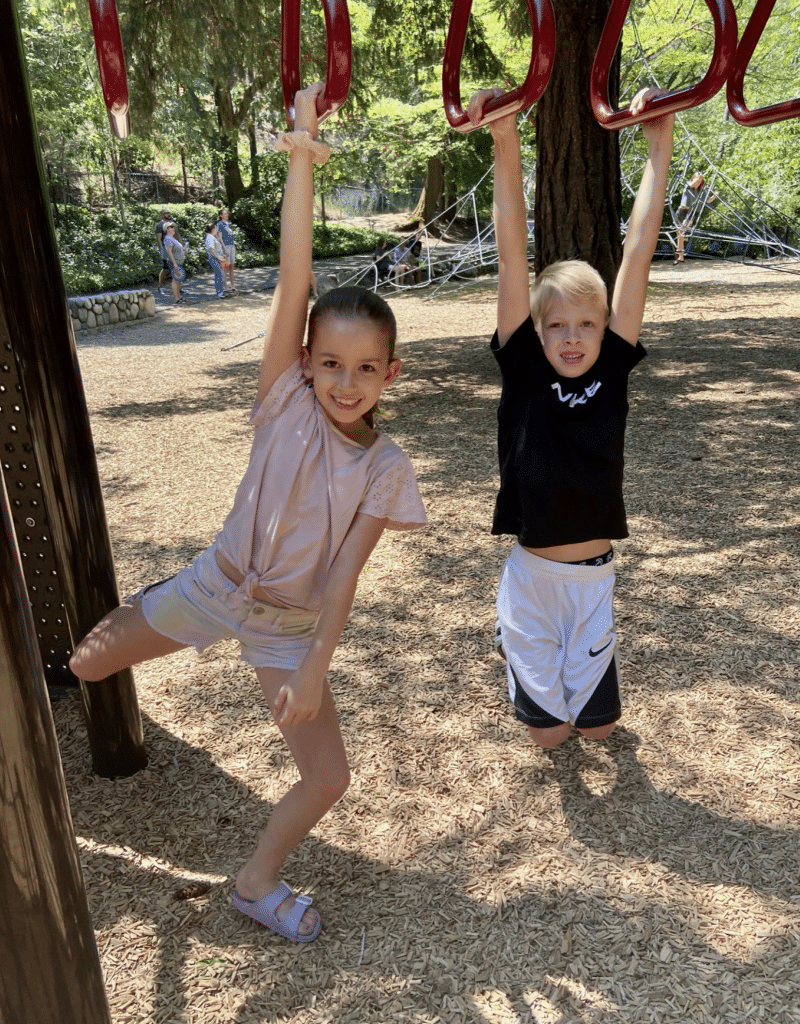 Looking for more cookie bar recipes? Check out these sweet suggestions: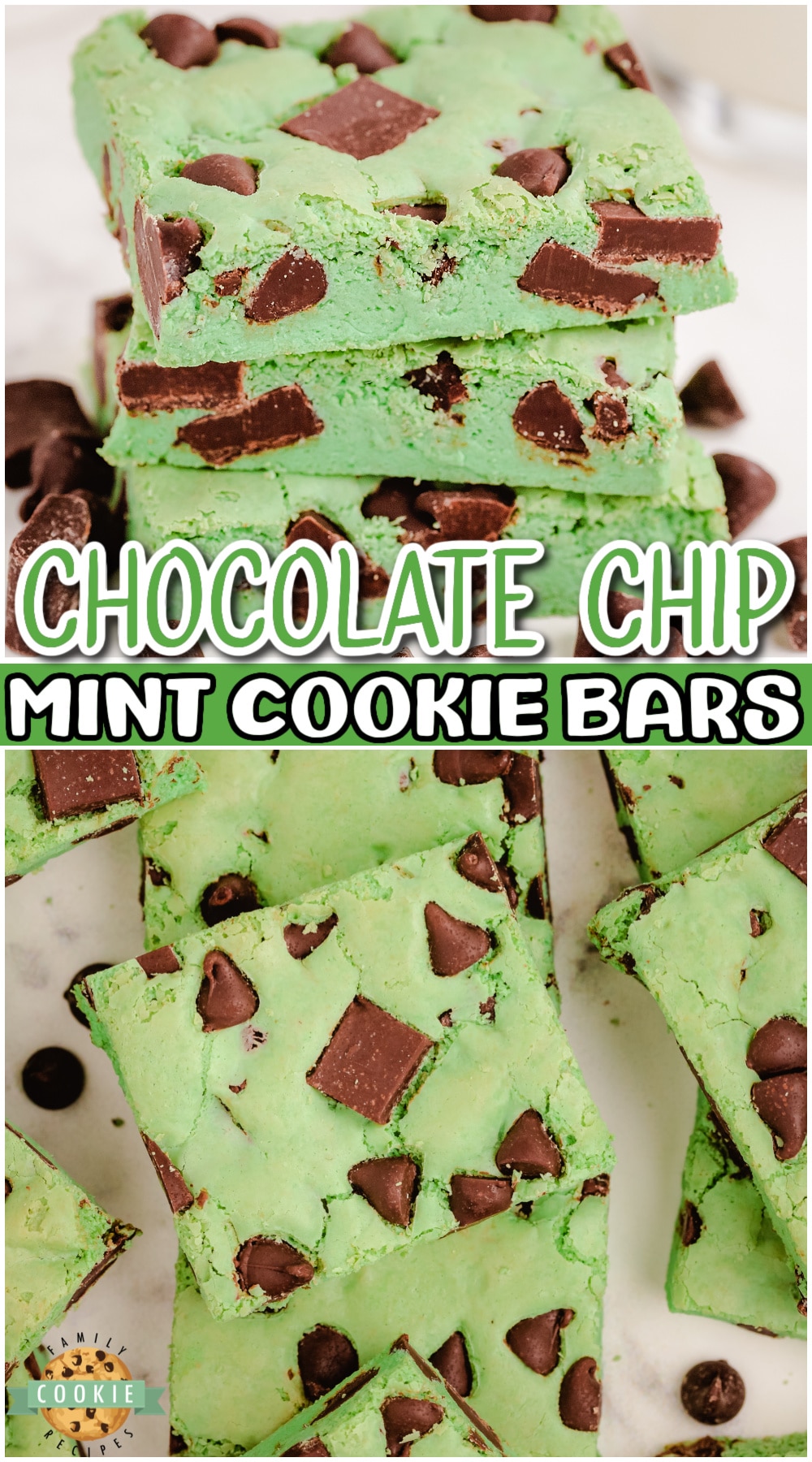 Made to be perfectly sweet and chewy these Mint chocolate chip cookie bars are a perfect festive treat. With a touch of green coloring and studded with chocolate chips throughout, every bite of these cookie bars is sweet, refreshing, and fun.