Tagalong Cookie Bars made with a shortbread cookie crust with a peanut butter layer with chocolate on top. Simple to put together, and taste just like your favorite chocolate peanut butter Girl Scout cookies.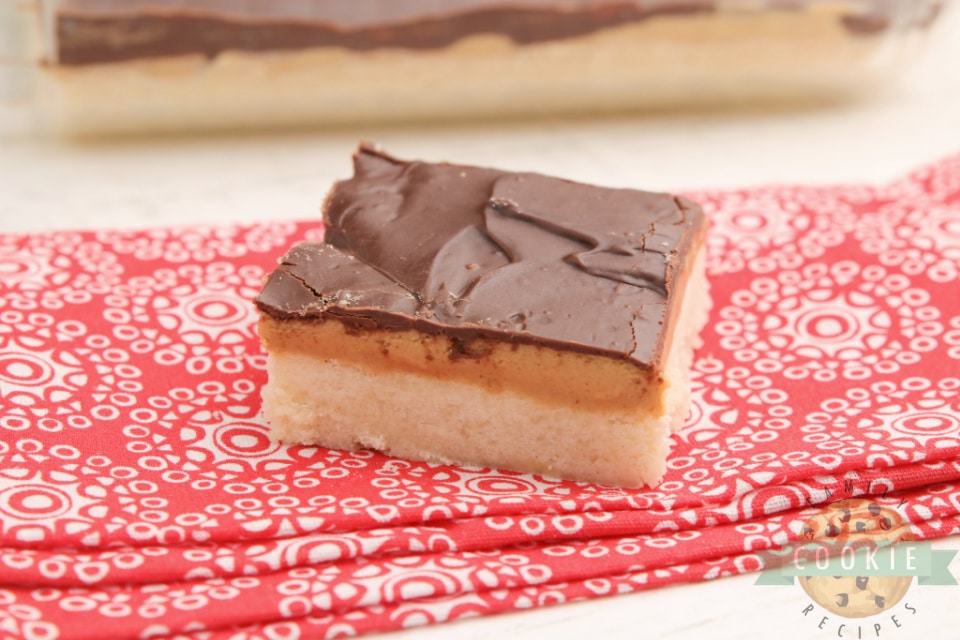 I have always loved Tagalong cookies – the Girl Scout cookies in the red box that have peanut butter in the middle and are dipped in chocolate. There is something about those cookies that is just amazing. These Tagalong Cookie Bars are so easy to make because you don't have to scoop or shape individual cookies. All three layers are made with just a few simple ingredients, and the results taste so much like the original cookies.

Ingredients in Tagalong Cookie Bars
Cookie Layer:
1 cup butter, softened to room temperature
1/2 cup sugar
2 cups flour
1/4 tsp baking powder
1/2 tsp salt
1/2 tsp vanilla extract
2 Tbsp milk
Peanut Butter Layer:
1 1/2 cups peanut butter
3/4 cup powdered sugar
1/2 tsp vanilla extract
Chocolate Layer:
1 cup semi-sweet chocolate chips
1 Tbsp shortening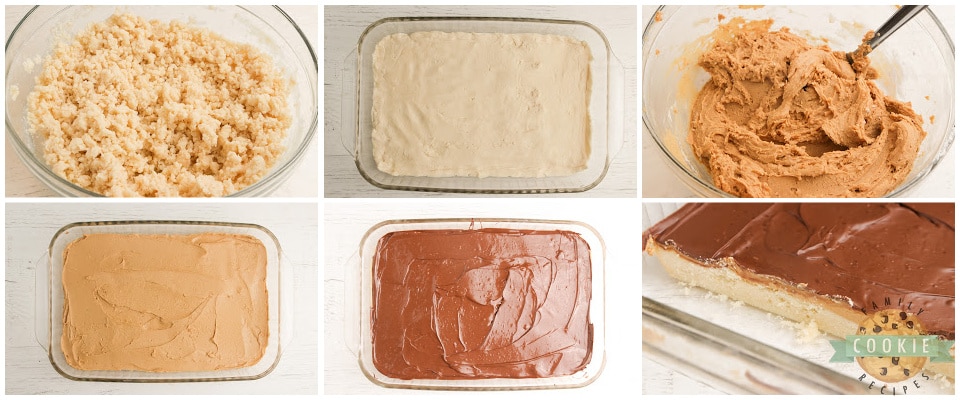 How to make Tagalong Cookie Bars
Preheat oven to 350°. Grease a 9X13 pan with non-stick cooking spray.
In a bowl, whisk together the flour, baking powder and salt. Set it aside.
In a large bowl, beat together butter and sugar with an electric mixer for about 2-3 minutes. Add the flour mixture and the vanilla and milk and mix just until combined.
Spread the dough evenly in the prepared pan. I used a small rolling pin to evenly distribute the dough smoothly.
Bake for 15-18 minutes or until the edges just barely begin to turn a light golden brown. Remove from oven and let the bars cool completely.
To make the peanut butter filling, mix the peanut butter and powdered sugar together until smooth. Spread the peanut butter filling evenly over the cooled cookie crust.
To make the chocolate layer, place the chocolate chips and shortening in a microwave-safe bowl and microwave for 45 seconds. Stir and then microwave for another 30 seconds. Stir until melted and smooth, microwaving for another 15 second interval if necessary. You don't want to cook the chocolate too long so don't heat any longer than necessary!
Pour the chocolate evenly over the peanut butter layer and then spread with a butter knife until the peanut butter layer is completely covered. The chocolate will set up after a few hours at room temperature, but you can speed the process up by putting the bars in the refrigerator for about 30-60 minutes. Slice into bars and store/serve them at room temperature.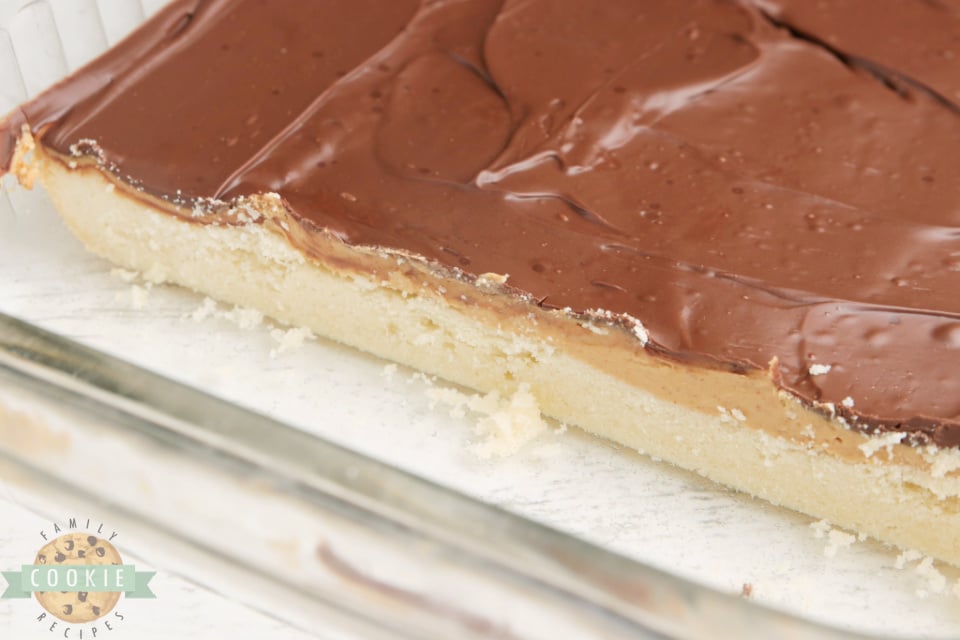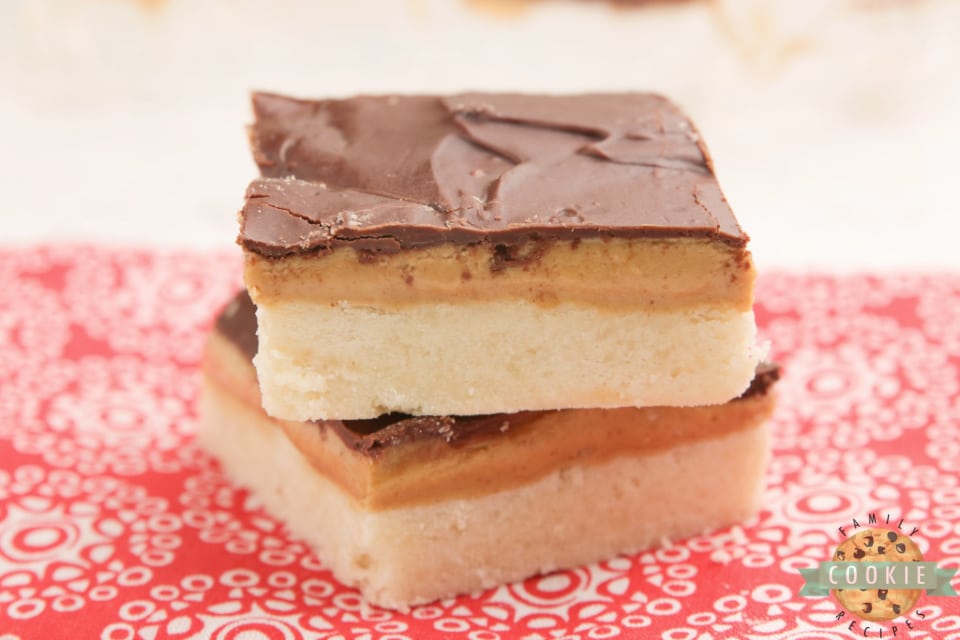 TIPS FOR MAKING THE BEST CHOCOLATE PEANUT BUTTER COOKIE BARS
Do not melt the butter! The butter needs to be softened (at room temperature), but using melted butter will ruin the cookies.
Spend a little extra time when you mix the butter and sugar. Creaming them together for 2-3 minutes will improve the consistency of your cookies.
Preheat the oven. This will help your cookies turn out right every time!
Make sure not to over bake your cookie bars.  Once the edges begin to turn even the lightest golden brown, take them out of the oven! I prefer to err on the side of being slightly undercooked for cookies because if they cook even a little bit too long, they can get hard and I really like soft cookies!
LIKE COOKIE BARS! HERE ARE SOME OF OUR FAVORITE BAR COOKIE RECIPES!

Tagalong Cookie Bars made with a shortbread cookie crust with a peanut butter layer with chocolate on top. Simple to put together, and taste just like your favorite chocolate peanut butter Girl Scout cookies.


It's gotten really warm all of the sudden down here in southern Utah, and we are pulling out all the short sleeves and shorts. It's supposed to get up to 86° this week and it's barely even April! This little one loves to be outside so I'm hoping we get at least a few more weeks of warmth before it gets way too hot out there. She really hates for me to comb her hair, but in the last couple weeks I've finally been able to bribe her to sit still for a few minutes at a time so I can try to control the craziness that is her hair these days.
I love doing these little messy pigtails! They keep her hair out of her face and let's be honest…you can only get away with this hair-do for a couple of years of your life, so I'm going to take advantage while I can! As cute as it is though, it kind of makes me sad because I feel like it makes her look so much older!