Christmas Sugar Cookie Bars are thick, soft and absolutely amazing! Best sugar cookie bar recipe that I've ever tried!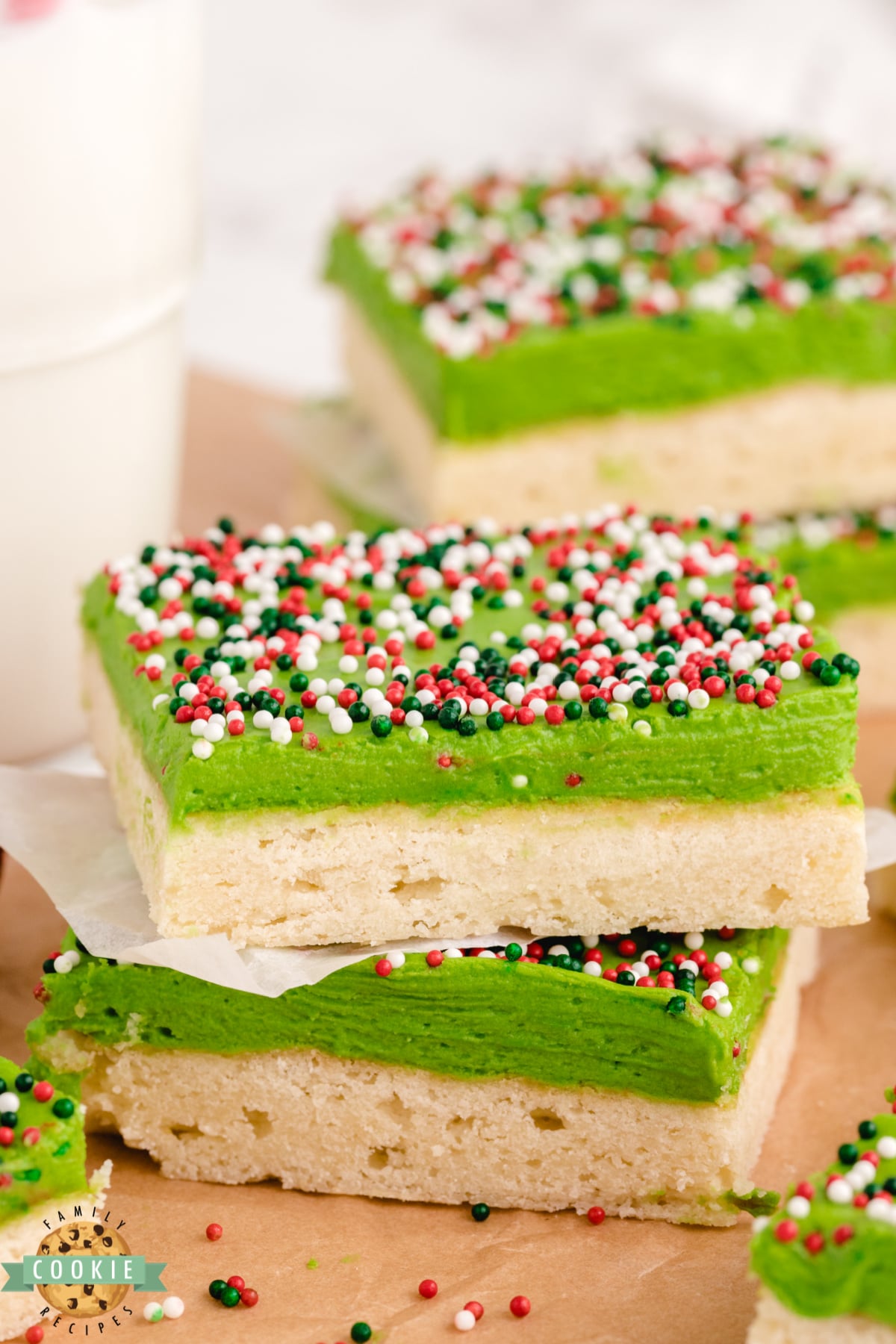 Sugar cookies are a holiday must, but sometimes I just don't have the time or energy for rolling out the dough, cutting out the cookies and frosting each cookie individually. Cue the sugar cookie bars!
I've tried many different sugar cookie bar recipes over the years, and most of them are pretty good, but this one is absolutely incredible. Perfect thickness. Perfect texture – not dry or crumbly at all, but thick and soft. And the frosting is delicious too! Even if you don't think you are a fan of sugar cookies, you need to try this recipe.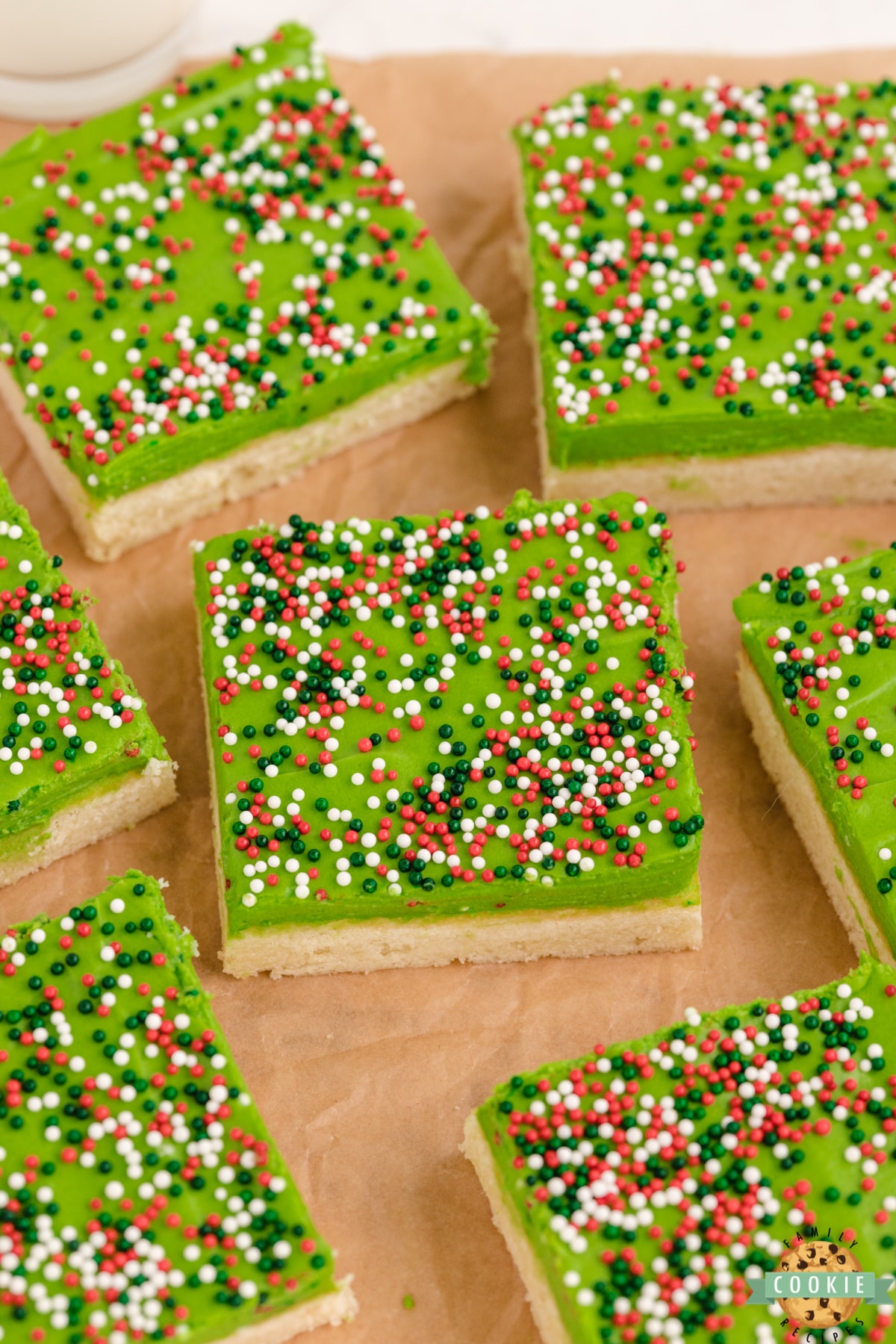 The key to making the best sugar cookie bars?
I think the reason this recipe is so superior to all others is because there is cream cheese in the sugar cookie dough. The rest of the ingredients are pretty standard, but the cream cheese absolutely creates the perfect texture for these cookie bars.
And that little bit of almond extract isn't completely necessary, but it adds a fantastic flavor, so don't leave it out!
Also, make sure to beat the dough according to the directions. It may feel like you are mixing for longer than you normally do, but I promise that the results will be worth it!
When to serve sugar cookie bars?
Turn the frosting green and add some holiday sprinkles and you have the perfect Christmas dessert! The nice thing about the recipe is that it can work for any holiday…just change the frosting color and pick the right sprinkles and you can have the perfect dessert for Valentine's Day, the 4th of July, Easter, Halloween, baby showers, etc.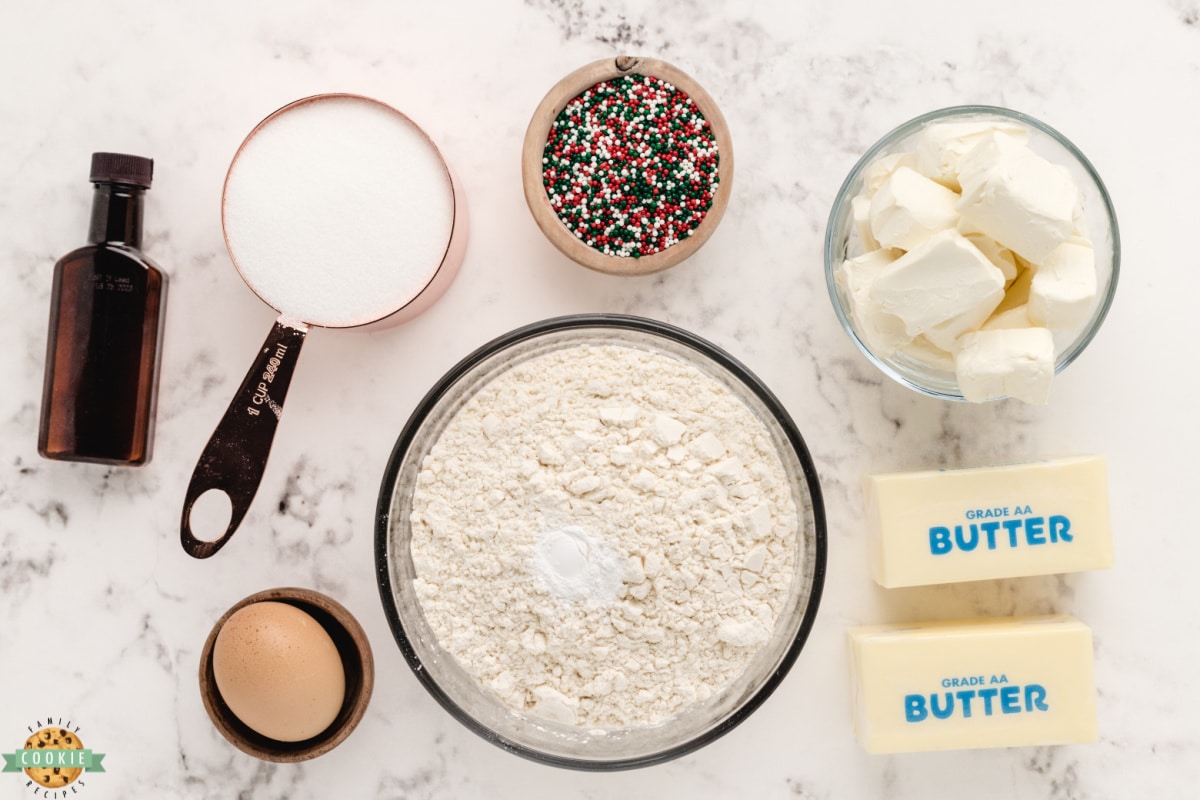 Ingredients in Christmas Sugar Cookie Bars
Butter – You will need 2 sticks of butter for this recipe. Real butter works best and make sure the butter is softened to room temperature before adding to the sugar.
Sugar – Regular granulated sugar adds all the sweetness to these delicious cookie bars.
Cream cheese – One 8-ounce brick of cream cheese is what makes these sugar cookies so amazing. Regular cream cheese works best, but you can also use a low-fat or non-fat version. Just make sure to soften it before adding to the recipe.
Egg – You only need 1 egg to bind everything together.
Almond extract – This is the other "secret" ingredient that makes these cookie bars the best. You can leave it out and they will still be good, but I love the additional flavor boost that comes from adding the almond extract.
Vanilla extract – The higher the quality of the vanilla, the better!
Baking powder – Acts as the leavening agent in the cookies. Make sure your baking powder isn't expired!
Flour – All-purpose flour works best in this recipe.
Frosting: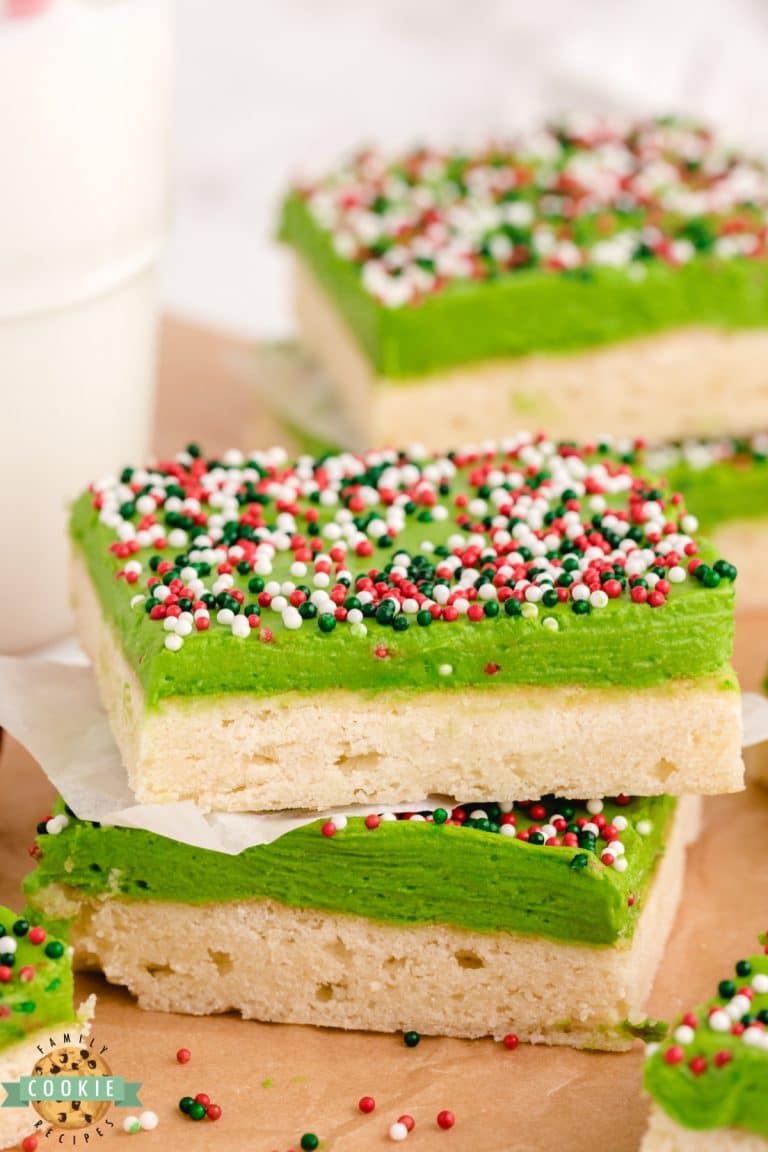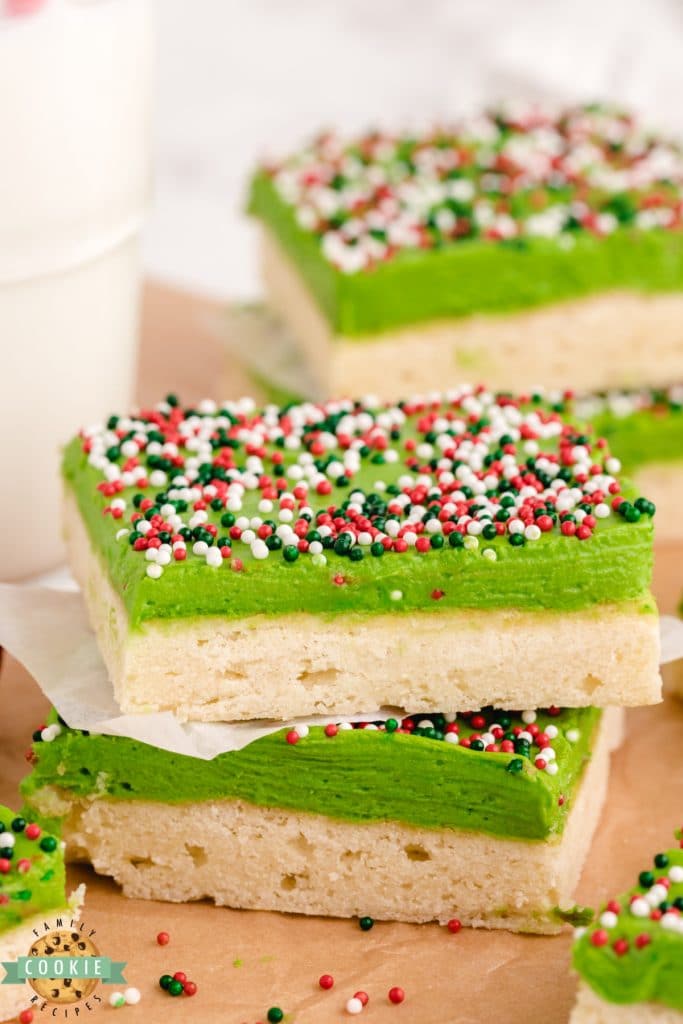 SUGAR COOKIE FROSTING INGREDIENTS
Butter – More butter! Again, make sure to use real butter and soften it to room temperature before making the frosting.
Cream cheese – You only need half of a brick of cream cheese for the frosting. Regular, non-fat or low-fat all work well. Make sure it is softened to room temperature as well.
Powdered sugar – Powdered sugar is the main ingredient in frosting so don't leave it out!
Milk – Milk helps to thin out the frosting to desired consistency. Any type of milk or cream works great. Just add a little bit to begin with and add a little more if you want to thin the frosting out.
Vanilla extract – Adds a little extra flavor to the frosting. The higher the quality, the better.
Food coloring – Add some food coloring to make the frosting any color you want! Easy to adapt these bars to any holiday, party or special occasion.

How to make Sugar Cookie Bars
Preheat oven to 350°.
In a large bowl, beat the butter, sugar, cream cheese and egg for about 4 minutes.
Add the almond extract and vanilla and beat for another minute.
Add the flour and baking powder and beat for 2 more minutes.
Press the dough into a greased 10″X15″X1″ pan and bake for 20 minutes. Let the bars cool and then add the frosting.
Mix all the frosting ingredients together and beat until smooth. Frost the cooled bars and then slice and serve.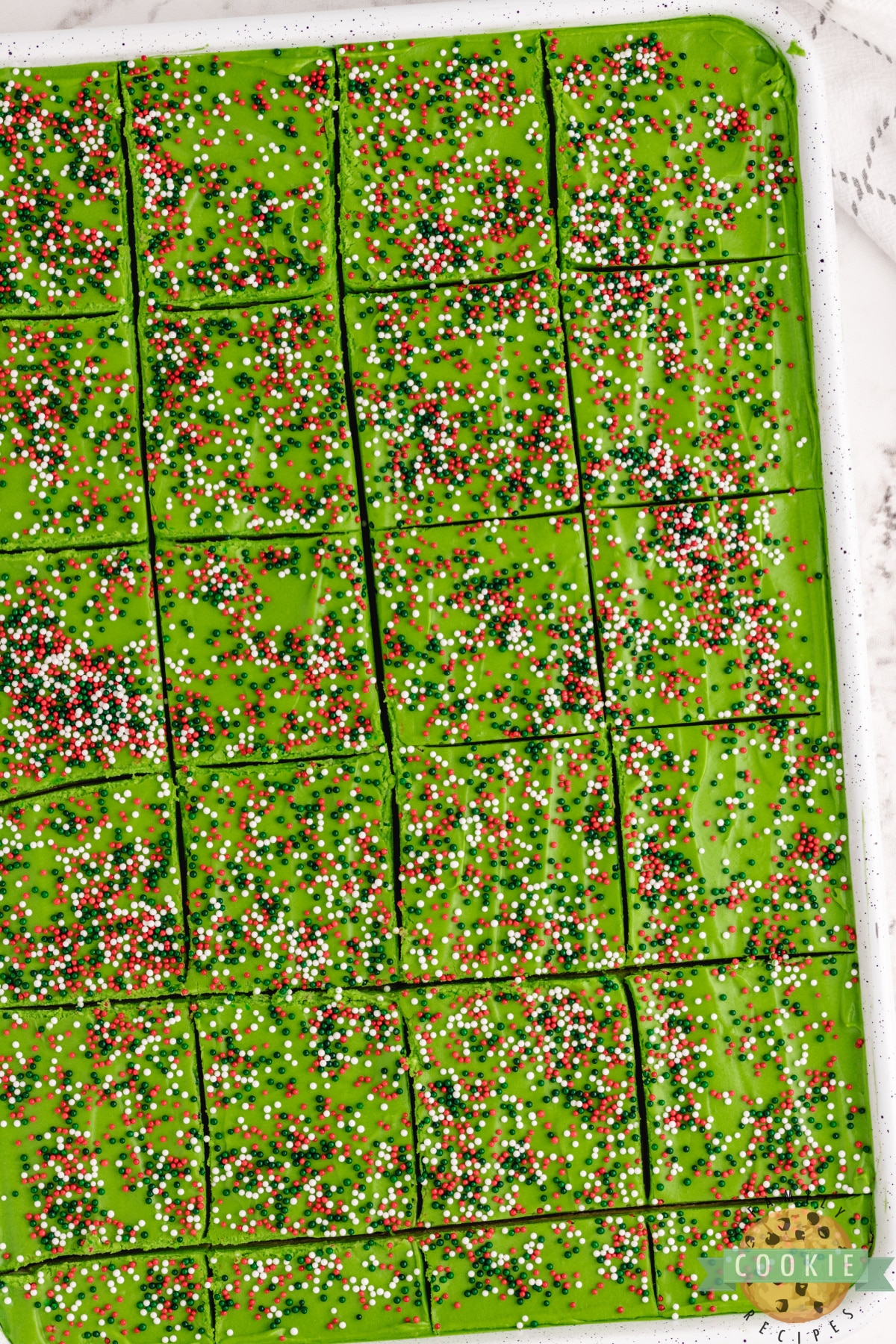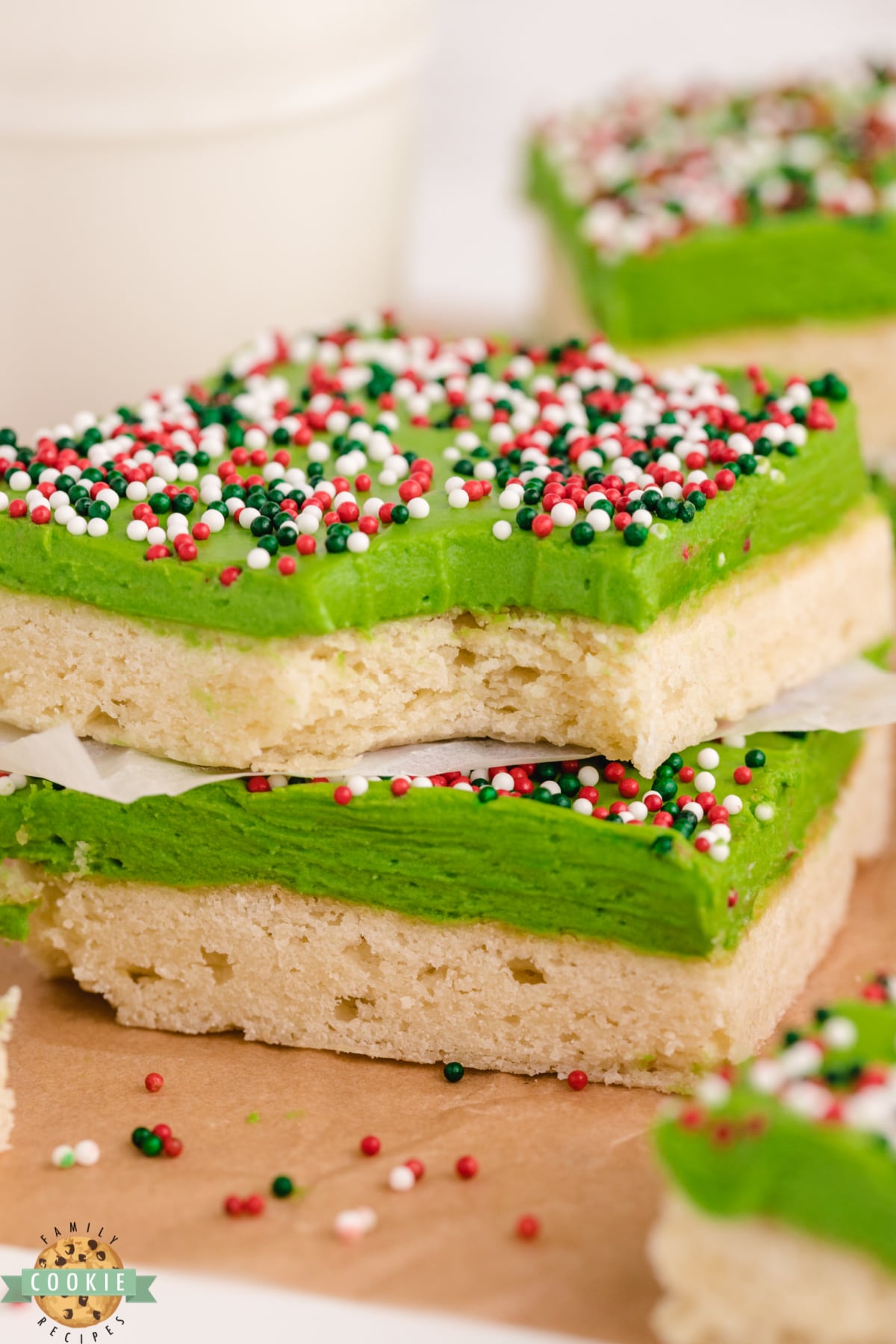 HOW TO CUT PERFECT COOKIE BARS
The answer to getting every single cookie bar cut and looking perfect is parchment paper! I used to always get frustrated with desserts that are made in a 9X13 pan because I felt like I was always destroying the entire first row trying to get them out of the pan! Then I discovered that if you use parchment paper, you can remove all the cookie bars from the pan and slice them perfectly.
If you don't have parchment paper, you can just grease your pan like you usually do but your first row may just not be quite as pretty! This cookie bar recipe is one of the easiest to cut into squares – they stay intact much better than many other desserts!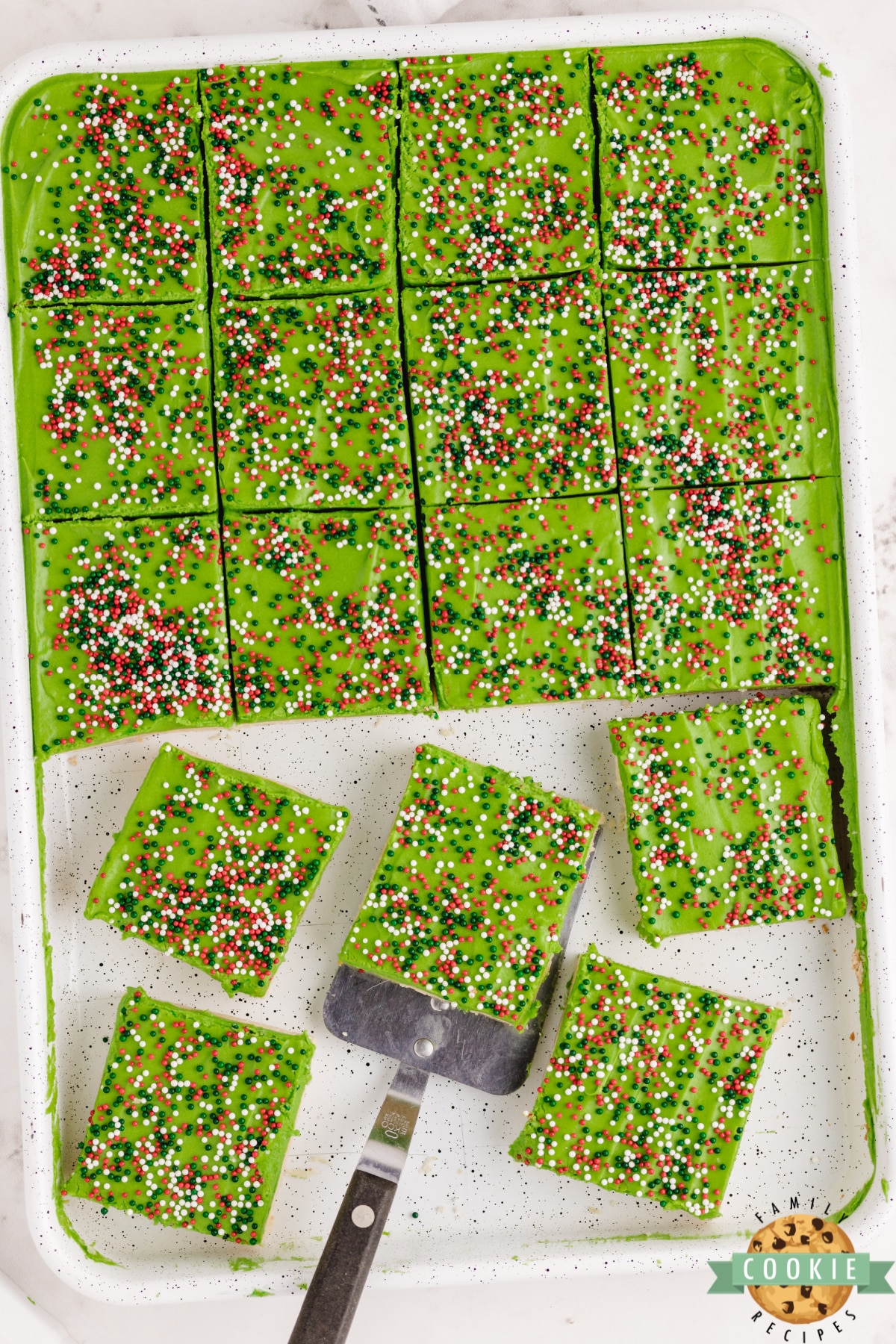 TIPS FOR MAKING THE BEST SUGAR COOKIE BARS
Do not melt the butter! The butter needs to be softened (at room temperature), but using melted butter will ruin the cookies.
Spend a little extra time when you mix everything together. Adding a few extra minutes (as the recipe states), will make a huge difference in the texture and consistency of the cookie bars.
Preheat the oven. This will help your cookies turn out right every time!
Use parchment paper. Doing this will make it really easy to remove the cookies from your 9X13 pan.
Make sure not to over bake your cookie bars. Once the edges begin to turn even the lightest golden brown, take them out of the oven! I prefer to err on the side of being slightly undercooked for cookies because if they cook even a little bit too long, they can get hard and I really like soft cookies!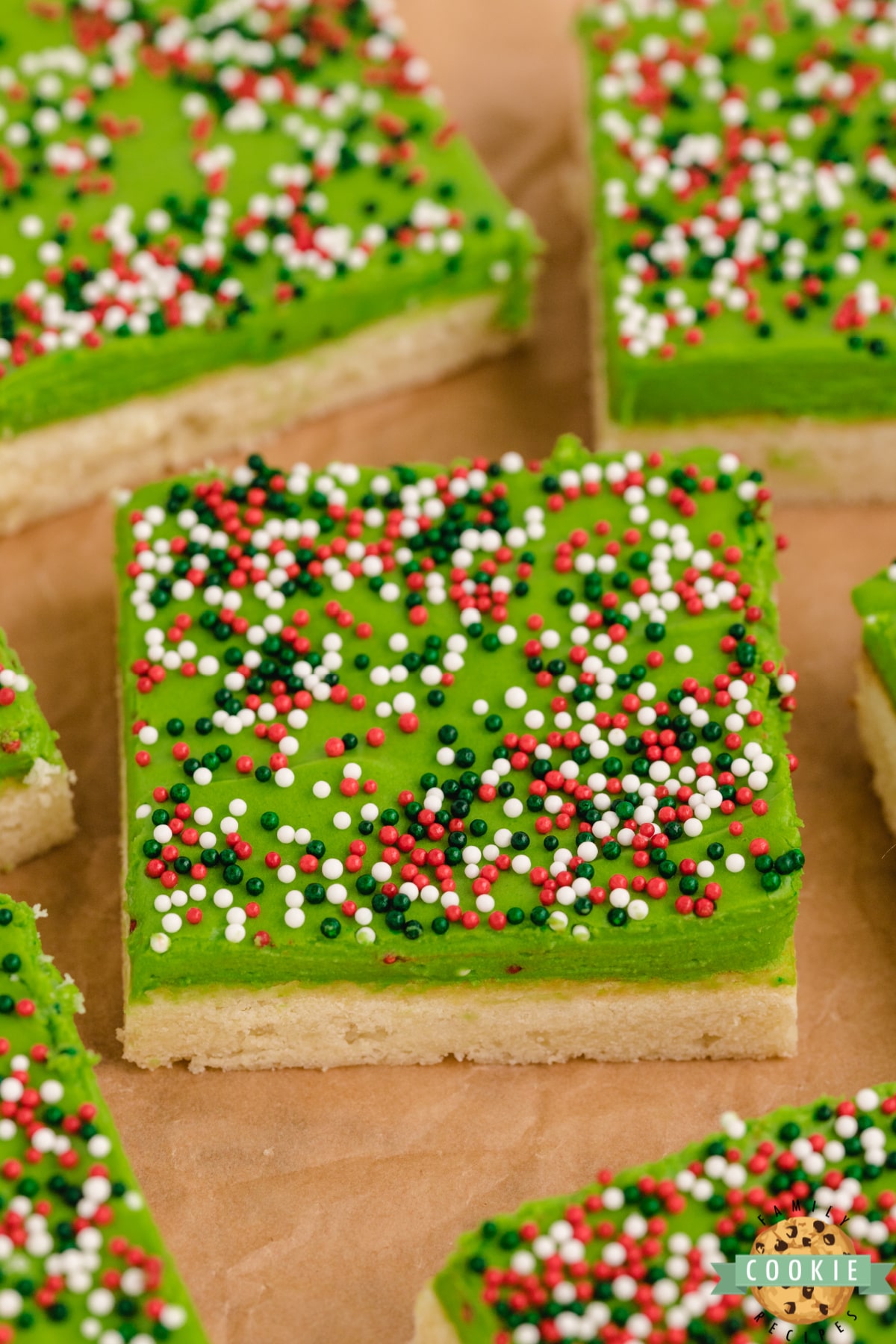 LIKE COOKIE BARS? HERE ARE SOME OF OUR FAVORITE COOKIE BAR RECIPES!


I was looking through Christmas photos from years past and found this little gem from about 5 years ago. 5 years doesn't seem that long ago, but my kids look like babies in this picture! Gotta love those Christmas morning photos on the stairs. Or maybe that's only my family tradition…anyone else always get a picture of the kids coming down the stairs on Christmas morning?!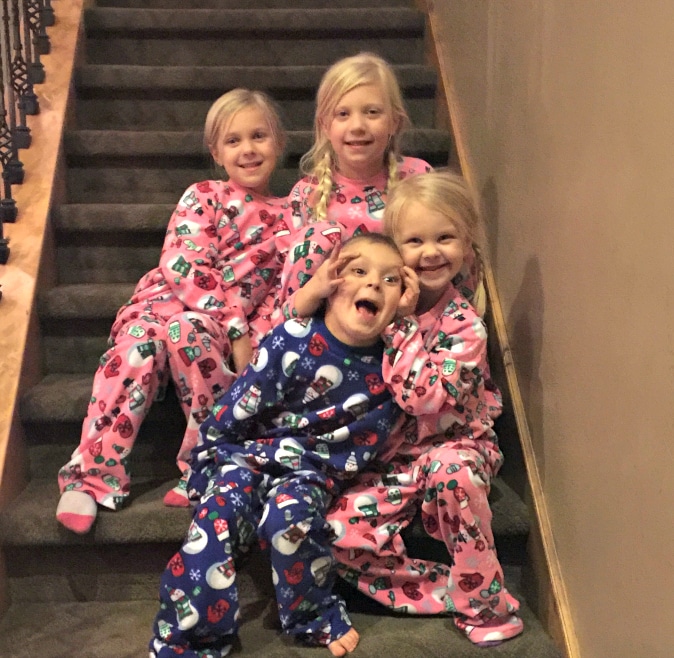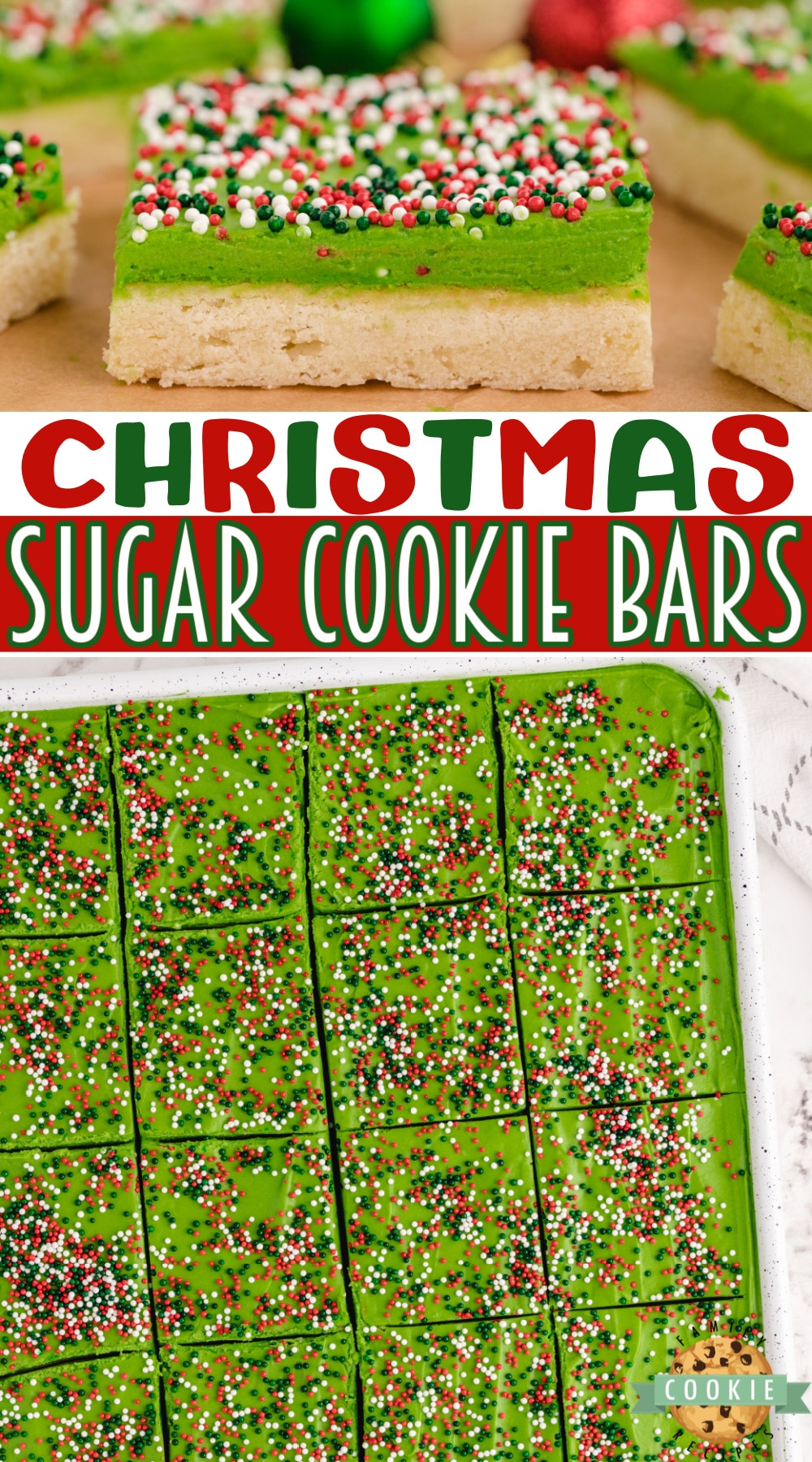 Christmas Sugar Cookie Bars are thick, soft and absolutely amazing! Best sugar cookie bar recipe that I've ever tried!