Frosted Peppermint Cookie Bars are festive holiday sugar cookies baked into bars & topped with sweet white chocolate & peppermints! Easy cookie bar recipe with lovely peppermint flavor perfect for Christmas baking.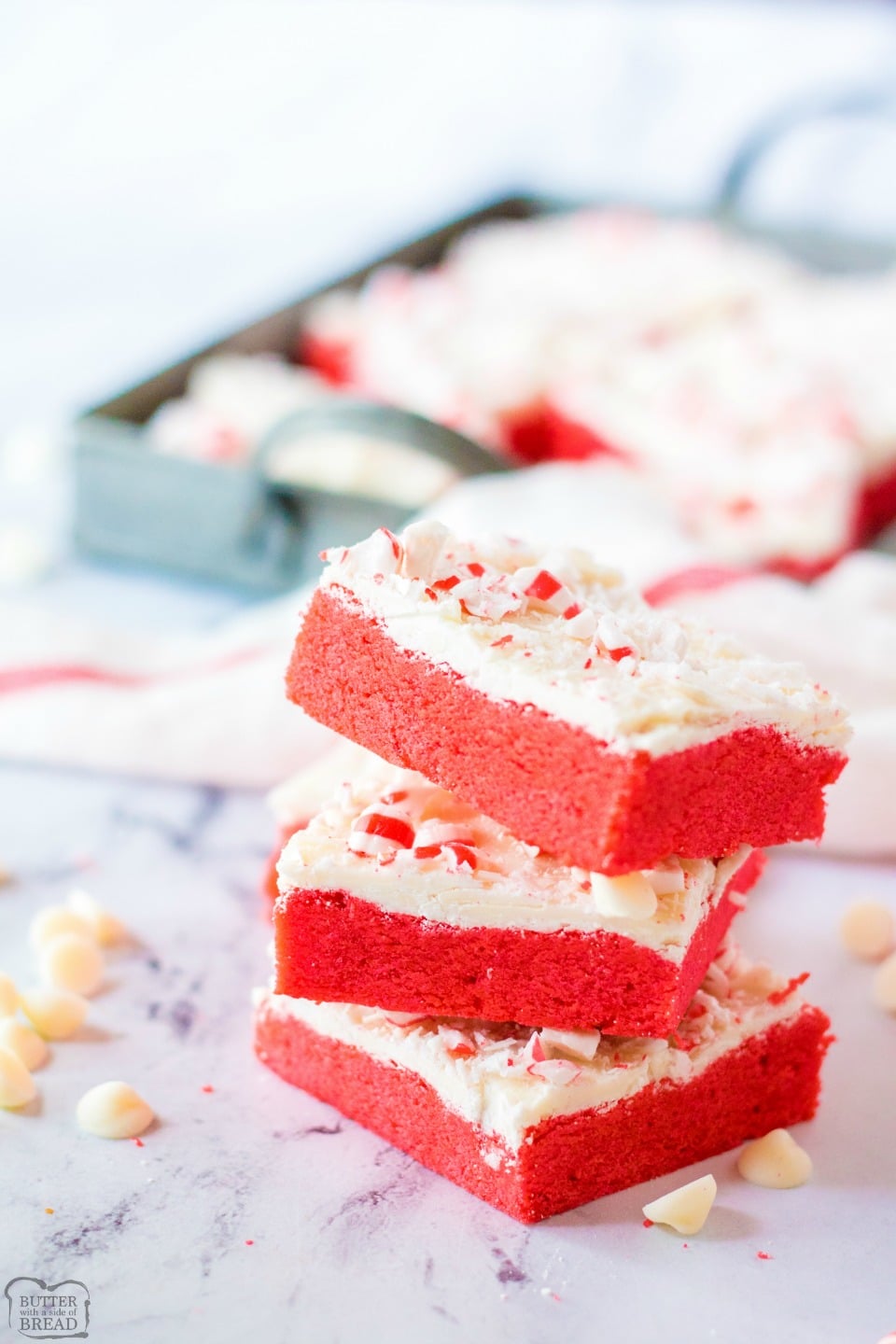 Making these peppermint sugar cookie bars is a great way to make a lot of treats without a lot of effort. Making bar cookies is always easier than rolling out dough balls and cycling pans through the oven. You're going to love these simple peppermint cookie bars, especially with the melted white chocolate and peppermint candies on top!
What are peppermint cookie bars?
They're a simple sugar cookie flavored with peppermint extract and given a vibrant red color. Top it off with melted white chocolate and crushed peppermint candies and every bite tastes as good as it looks. With so much wintery flavor packed into every bite, you'll want to serve these cookies up with a nice glass of hot cocoa for the full affect.
Peppermint cookie bar ingredients
-Flour: We need 2 1/2 cups of all-purpose flour for the gluten base of our cookies.
-Salt: With 3/4 teaspoons of salt, we can really enhance the flavors in this dough.
-Baking powder: Just 1/2 teaspoon of baking powder is enough to help these cookies puff up while baking.
-Butter: We need 2 sticks (1 cup) of softened unsalted butter to get a rich tasting cookie.
-Sugar: We like our cookies sweet and chewy and adding in 1 1/4 cups of granulated sugar will do exactly that!
-Egg: We only need one large egg to help bind the cookie dough together.
-Food coloring: We want some good quality red food coloring to make these cookies RED. I recommend Wilton's Gel-based "no flavor" red coloring as it will pack a lot of flavor without that dye color taste that most reds have.
-Vanilla extract: Giving us a good flavor base to work with is 2 teaspoons of vanilla extract.
-Peppermint extract: We just need 3/4teaspoon of peppermint extract to get a good minty flavor throughout the cookie bars.
-White chocolate chips: Two cups of white chocolate chips (about 8 ounces) is going to give us a great topping over the bar cookies.
-Peppermint candies: We want about 8-10 crushed peppermint hard candies so that we have enough to sprinkle over all of the cookies so that every bite gets a crunchy bite.
How to make peppermint cookie bars
Preheat your oven to 350 degrees F and line a 9×13 baking dish with foil. Grease the foil lined pan too!
Whisk the flour, salt, and baking powder together in a medium sized bowl.
In a large bowl, combine the butter and sugar with an electric mixer until light and fluffy.
Next, beat in the egg, food coloring, and both extracts.
Gently beat in the flour mixture, until just combined.
Spread the dough evenly in the baking dish. It's okay to use your hands!
Bake for 30-35 minutes until a toothpick can be inserted into the center and come out clean.
As soon as they come out of the oven, sprinkle the white chocolate chips on top. Let them sit for about 2-4 minutes to melt.
When the white chocolate chips look like they've melted enough, spread them all over the top of the cookie bars and then sprinkle with crushed peppermints.
Let the bars cool completely and the chocolate set. You can pop them in the fridge to speed up this process.
Remove the bars in the foil and then slice into bars and serve. Enjoy!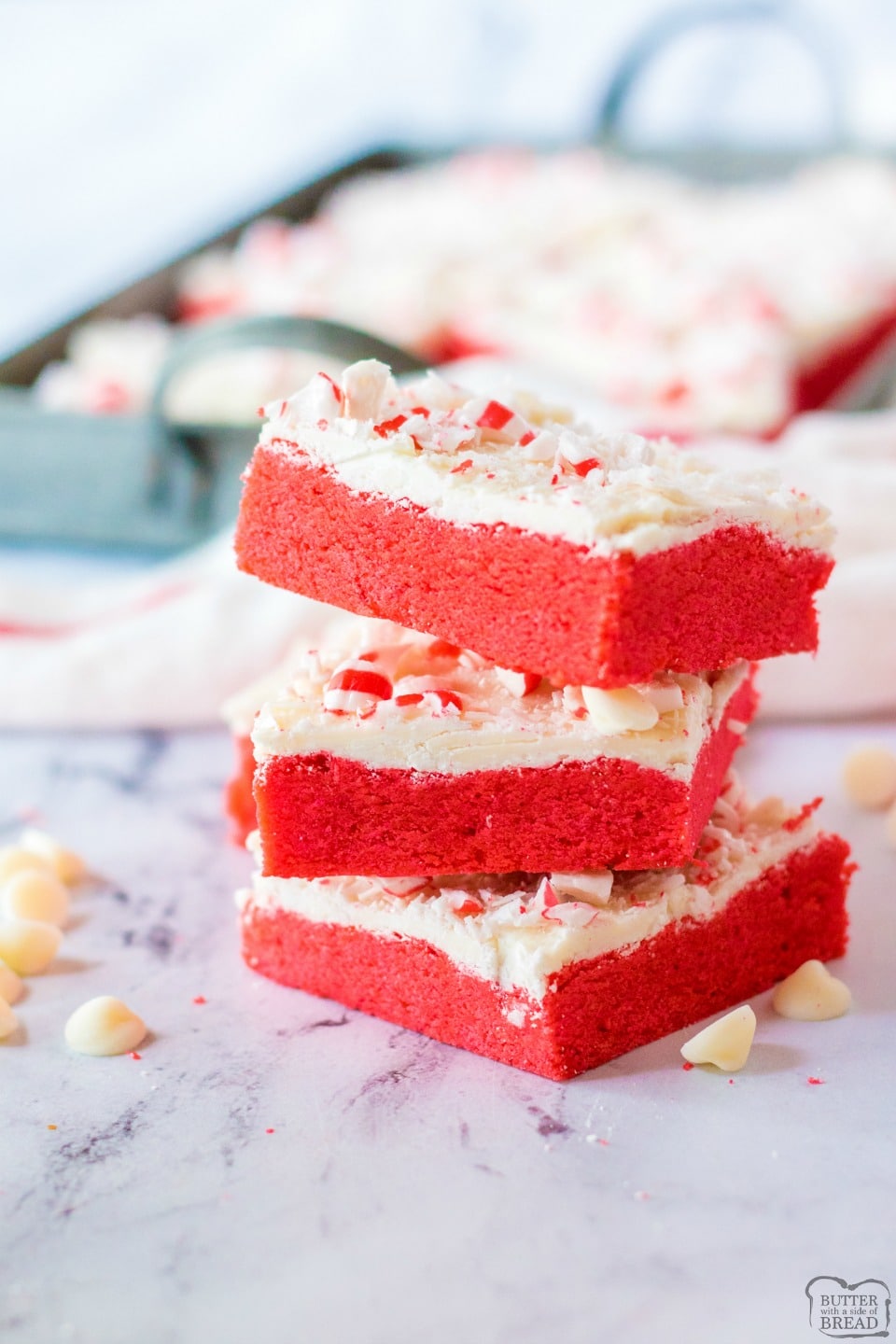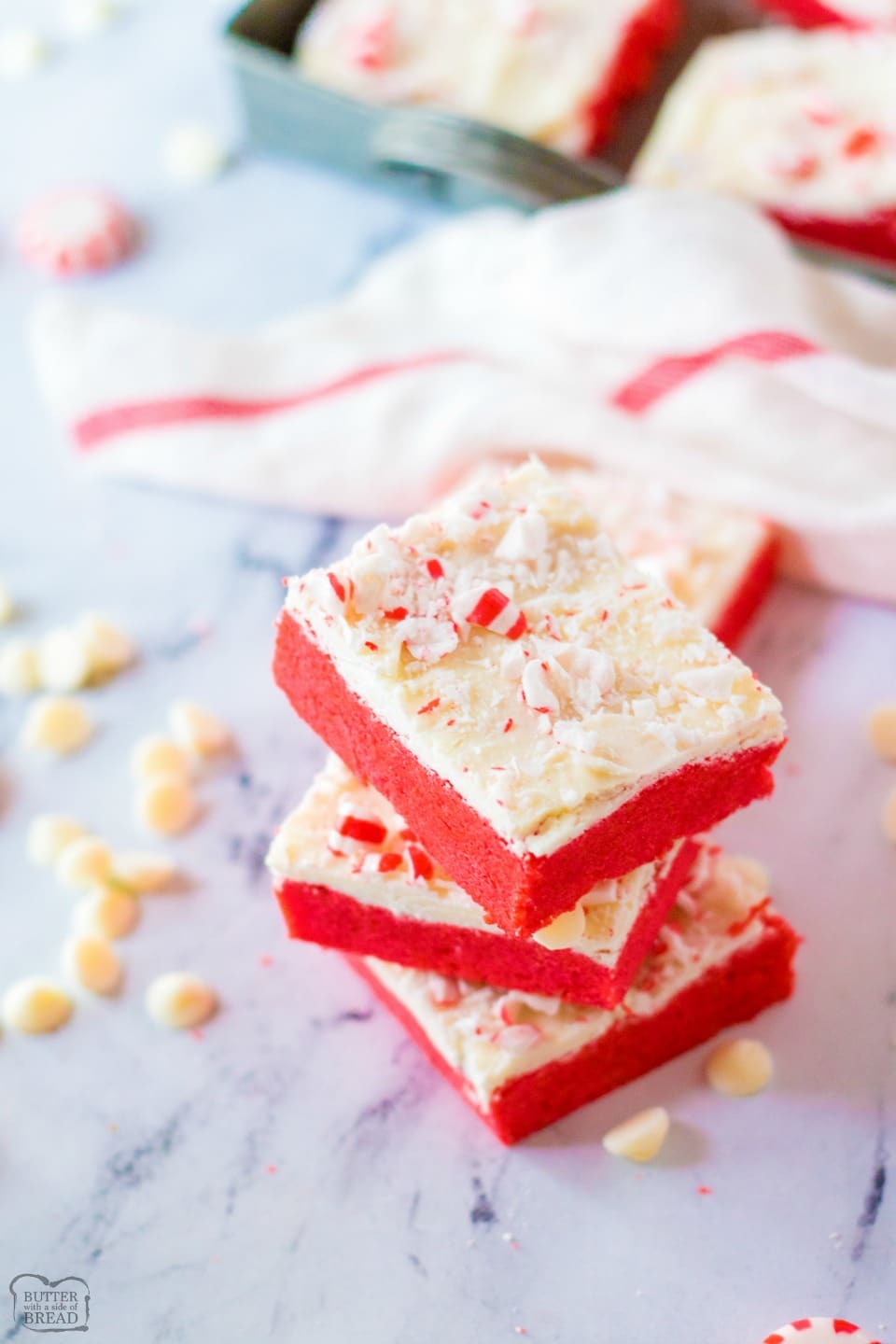 How long are peppermint cookie bars good for?
These cookies are good for up to a week if stored in an airtight container at room temperature. Of course, you'll want to eat them sooner rather than later for tastier results.
Can I freeze peppermint cookie bars?
Yes! These cookie bars freeze pretty well and can be kept frozen for up to 2 months, but there is an important thing to note. If you plan on freezing the cookies, do not add the chocolate and peppermint topping. I know, sad. But, it's for good reason. When chocolate thaws, it sweats and as peppermint unfreezes, it becomes a gooey and chewy mess of runny colors. We don't want either of those to ruin our cookie eating experience so it's best to just add the freshly melted chocolate and crushed candies before serving.
You can melt the white chocolate in a microwave safe bowl in 30 second intervals, stirring well between each until smooth, and then drizzle it over the cookies when ready.
Check out these other great cookie recipes!


We recently got a new fireplace insert! We've never actually had a fireplace before and our previous insert didn't work very well, so we never used it. We're using it daily right now (hello, snow!) and although we all really love it, our dogs REALLY, REALLY, REALLY love it.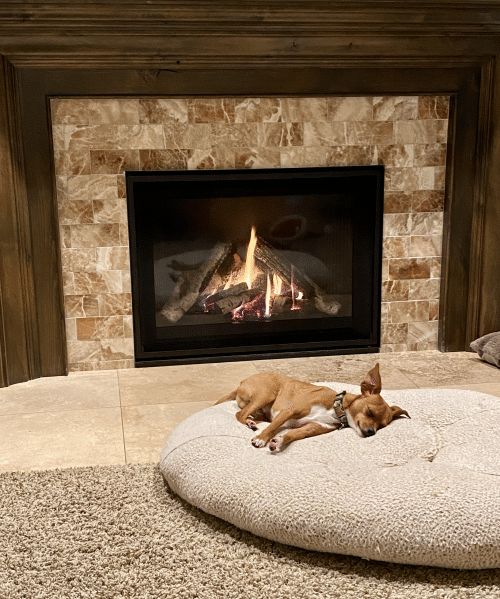 It's hilarious watching them try and make decisions on where to sit… mom's lap, or the fireplace?? That's never been a tough decision UNTIL NOW! ha!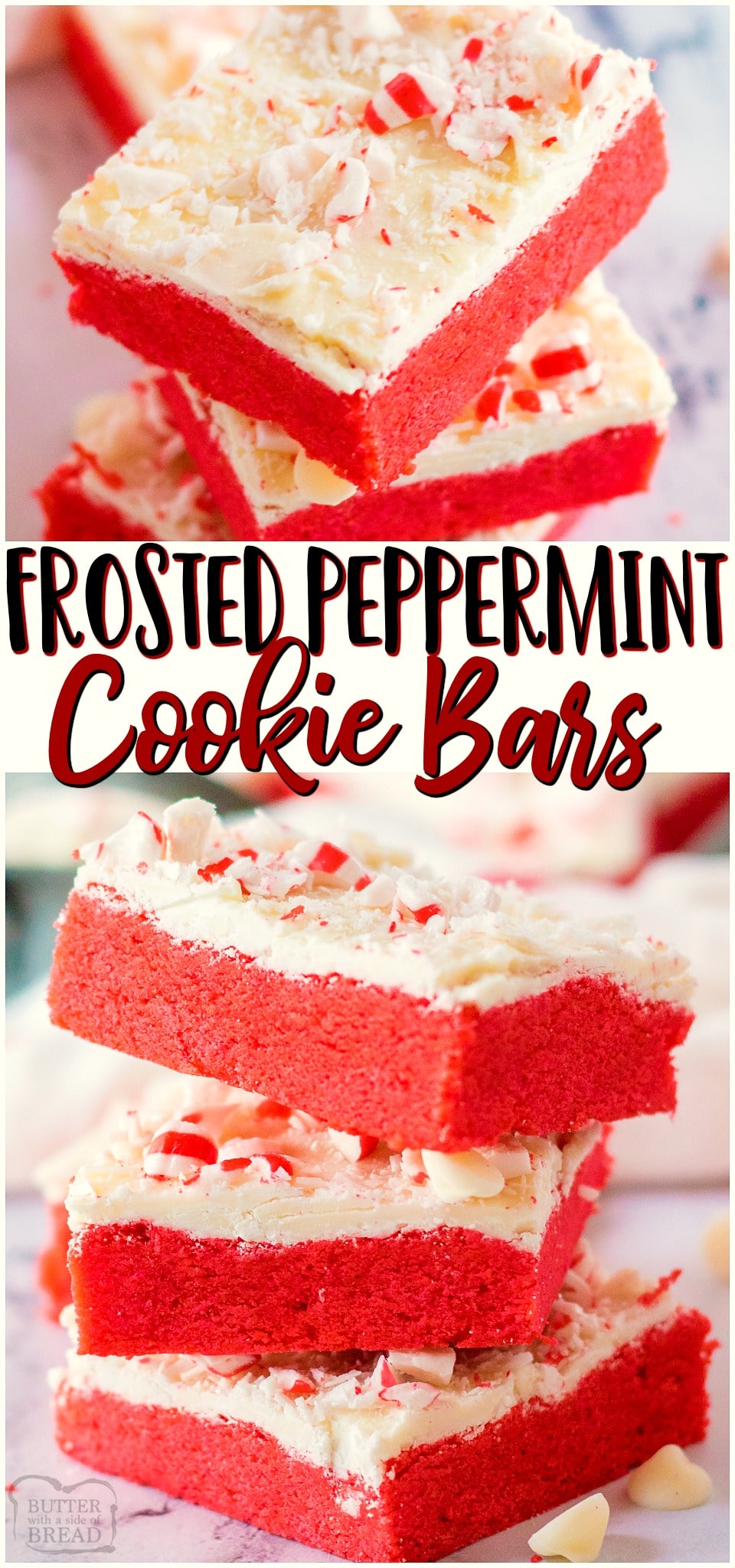 Frosted Peppermint Cookie Bars are festive holiday sugar cookies baked into bars & topped with sweet white chocolate & peppermints! Easy cookie bar recipe with lovely peppermint flavor perfect for Christmas baking.