Loaded Reese's Cookies PERFECT for Reese's Peanut Butter Cup lovers! Soft & buttery cookies packed with Reese's Pieces & topped with mini PB cups for an over-the-top Reese's dessert!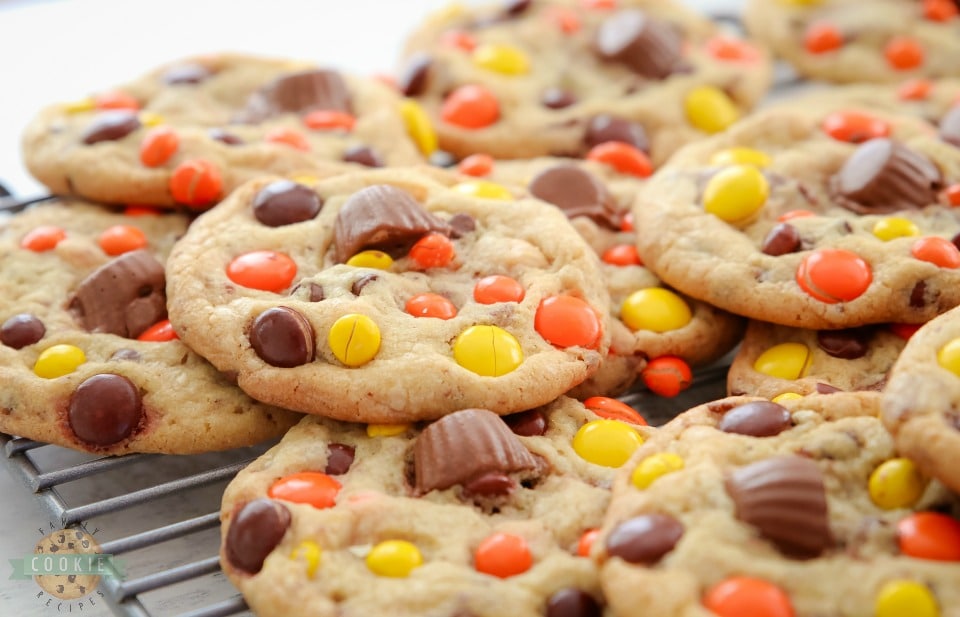 If you enjoy Reese's in any form, you'll want to print the recipe and bake these cookies soon! They are AMAZING. I reduced the amount of sugar in the dough to compensate for all the Reese's I added into and on top of the cookies. They're not overly sweet, but they do have a lot of Reese's flavor! The soft & chewy cookies are packed with Reese's Pieces & Mini Peanut Butter Cups for a completely awesome dessert.
Ingredients for Reese's Pieces Cookies
-Butter: Using softened butter we can get a creamy base that blends with sugars and that helps to make a rich flavored cookie.
-Shortening: Using shortening in cookies helps to get a crisp, light and airy texture.
-Sugars: We need both granulated sugar and brown sugar to make this cookie dough perfectly sweet with a great texture.
-Eggs: Using eggs we get the binder that helps to keep these cookies together
-Vanilla extract: I personally love the high quality stuff because nothing compares to how great it tastes, but a little vanilla can create a good base for the flavors to branch off of.
-Flour: Using all-purpose flour we get a good cookie dough base.
-Baking Soda and Salt: The leavening agent and sidekick. Salt works to make other flavors taste great.
-Chocolates: We need 5 types of chocolates & candies for these LOADED cookies! Sure, you can sub in others if you'd like, but do your best to add them all!
Exactly How Many Reese's Go in these Cookies?
So, I hope you like Reese's! Because we put A LOT in these cookies. They taste incredible though, so just trust me on this! In addition to 1/2 cup mini chocolate chips, we'll use 4 different types of Reese's candies:
3/4 cup Reese's Peanut Butter Chips- found on the baking aisle, amongst the other chocolate chips
9 oz Reese's Pieces- just the regular sized candies
7.6 oz Reese's Mini Peanut Butter cups- found on the candy aisle, you need the MINI Peanut Butter Cups- the bag of unwrapped candies
5 oz  Reese's Mini Pieces- these are the smaller version of Reese's Pieces and can be found on the candy aisle and/or by the ice cream toppings (I got mine at Walmart.)
How to Make Loaded Reese's Cookies
Preheat oven to 350°F. Cover a cookie sheet with parchment paper & set aside.
Mix the Cookie Dough
In smaller bowl, mix flour, baking soda and salt. Set aside.
In a mixing bowl, add butter and shortening and mix well until pale and creamy looking. Add in sugars and mix until combined. Add the eggs and vanilla; mix again.
Pour the flour mixture into the butter mixture and mix until dry ingredients are incorporated.
Stir in the mini chocolate chips, peanut butter chips, 1/2 cup Mini Peanut Butter cups and 1/3 cup Mini Reese's Pieces.
Add A Ton of Reese's
Combine both sizes of the leftover Reese's Pieces into a shallow bowl.
Scoop the dough out using a medium sized cookie scoop and then press the ball of dough into the bowl of Reese's. Use your hands to gently overturn the cookie dough right side up, pressing the Reese's Pieces into the dough so that they don't fall off. The top part of the cookie dough ball should be covered with Reese's. Take 1 of the remaining Mini Peanut Butter Cups and press it into the top of the dough ball, amongst the Reese's Pieces. Now the cookie dough should be pretty loaded with Reese's!
Bake the Reese's Cookies
Place the dough balls on the prepared baking sheet about 1.5"-2" apart.
Bake for 11-12 minutes until the cookies just barely begin to turn light brown on the edges.
Let them cool on the baking sheet for 10 minutes before transferring to a wire cooling rack.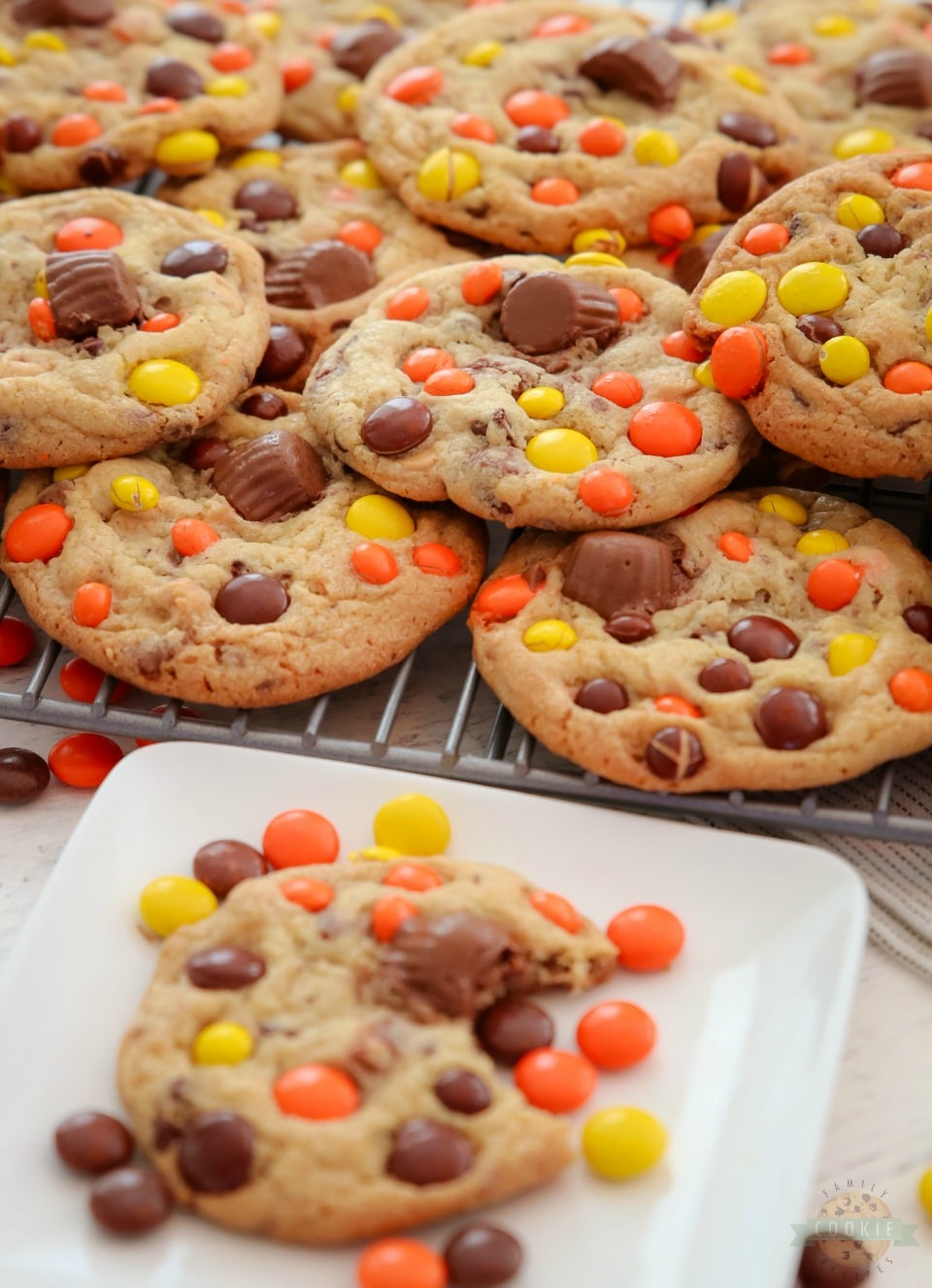 CAN YOU FREEZE Reese's COOKIES?
YES! Freezing Reese's cookies is a great way to prolong their shelf-life and enjoy a sweet treat whenever the mood strikes! Simply place the cooled cookies in an airtight container or Ziploc bag and freeze for up to 3 months.
HOW DO I KNOW WHEN MY Reese's COOKIES ARE FINISHED BAKING?
If they are lightly browned around the edges and still look a little doughy at the top, they're finished. Letting them rest on the cookie sheet for 10 minutes will allow them to complete their cooking process without overdoing it and allow them to firm up before transferring to the cooling racks.
CAN I USE ALL REGULAR SIZED Reese's?
You definitely could, and they would still be incredible (of course) but you may have a little more trouble getting the cookie dough ball to hold so many Reese's because they're bigger in size. The Mini sized Peanut Butter cups and Reese's Pieces work so well in this recipe. If you can't find the mini cups, you can cut larger cups into pieces.


We live in a snowy climate and it's been so fun to introduce our kids to skiing! It's not too often you can get 3 generations of family to ski together!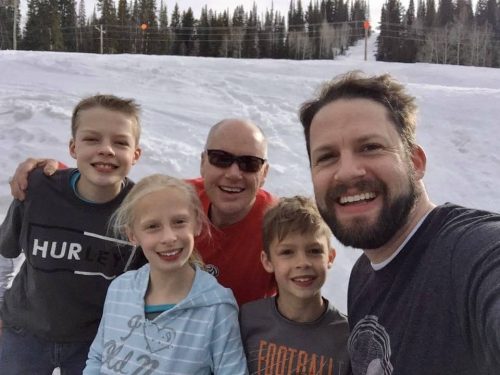 Here is the group after a fun day on the slopes- Grandpa didn't even fall once!
LOOKING FOR MORE EASY COOKIE RECIPES? CHECK THESE OUT: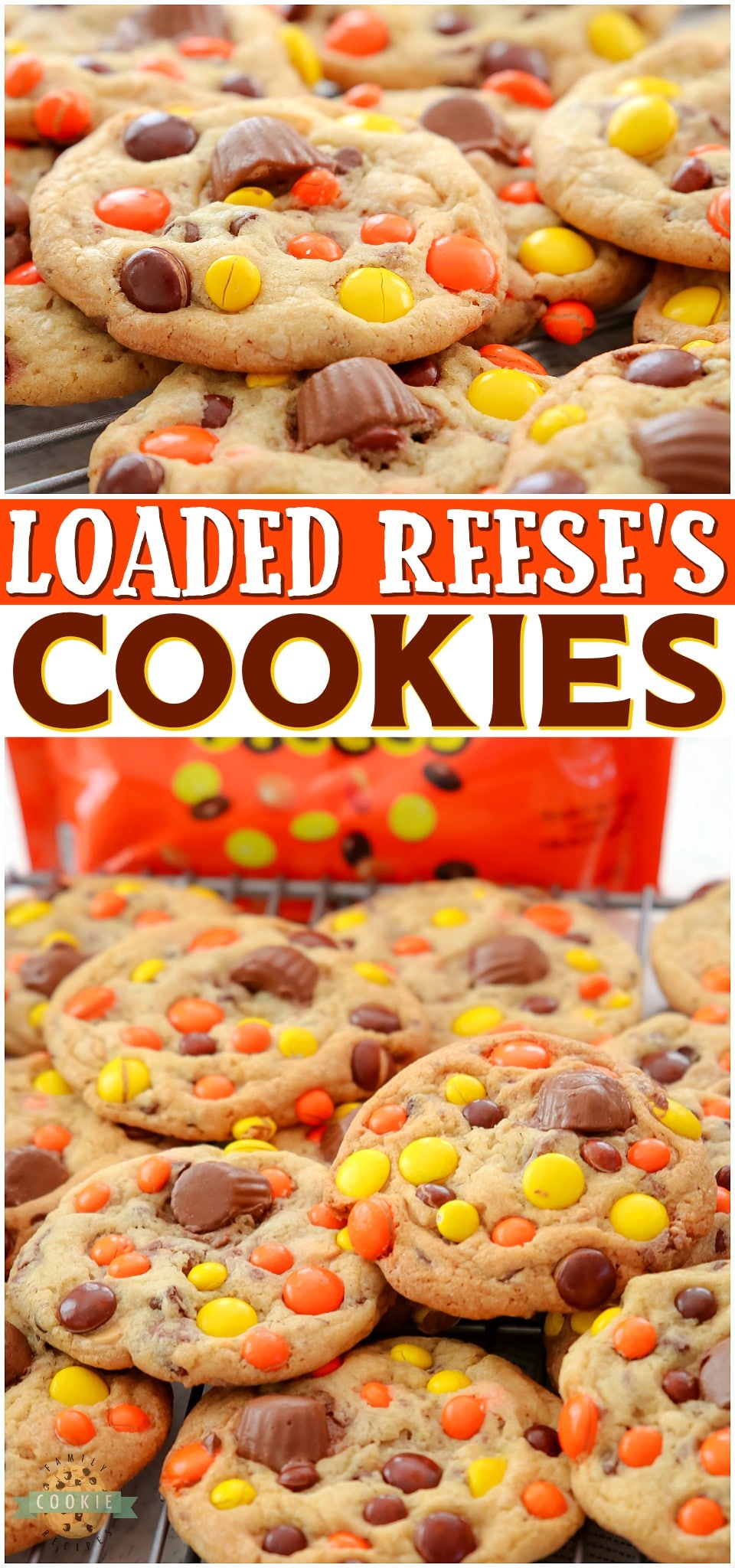 Loaded Reese's Pieces Cookies PERFECT for Reese's Peanut Butter Cup lovers! Soft & buttery cookies packed with Reese's Pieces & topped with mini PB cups for an over-the-top Reese's dessert!