Sea Salt Butterscotch Pretzel Cookies are sweet and salty cookies that pack a crunch & a whole lot of flavor! With sea salt, pretzels, chocolate + butterscotch chips, these loaded cookies are amazing!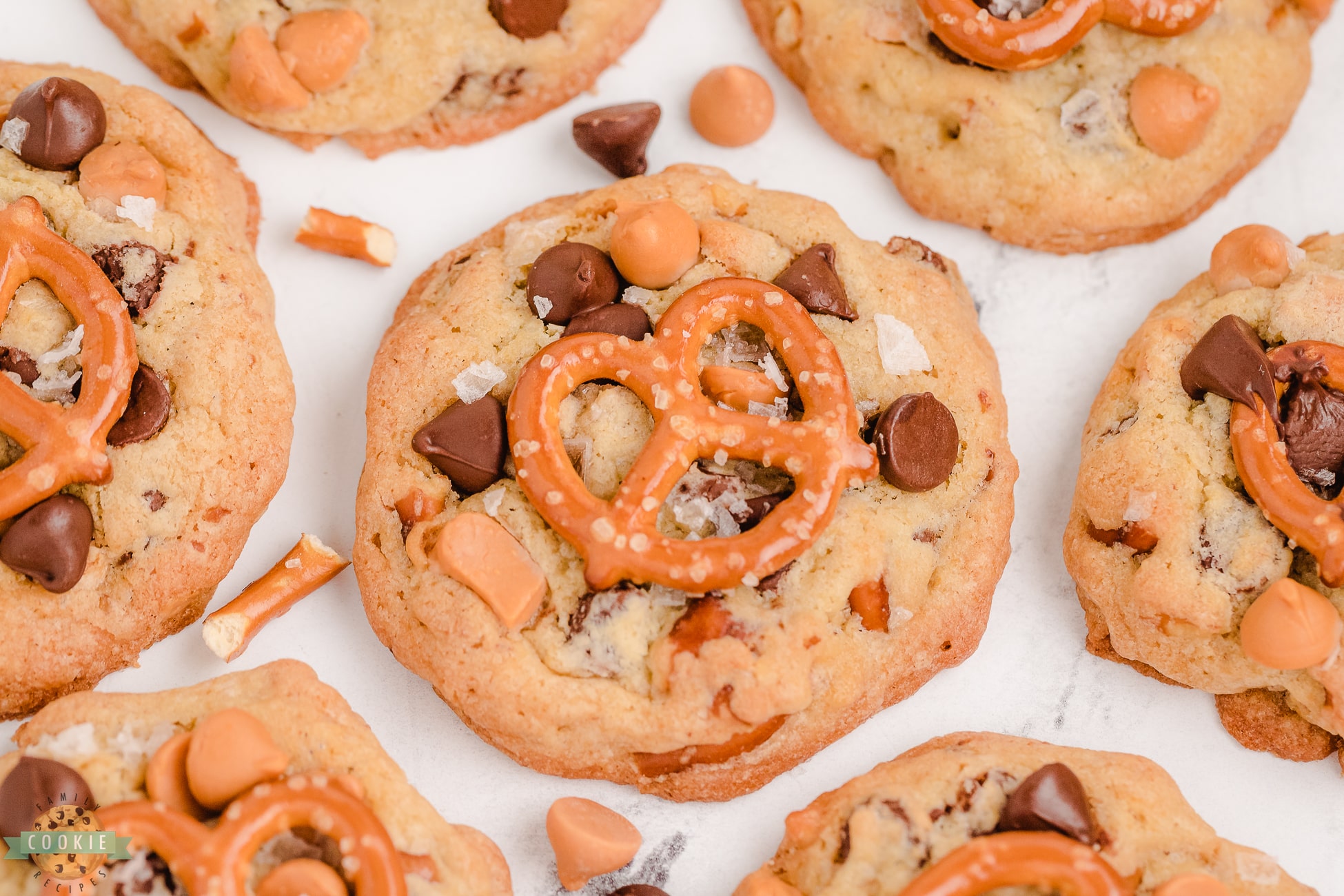 You're going to love these Sea Salt Butterscotch Pretzel Cookies. They are so simple and easy to make that they are a great go-to recipe when you're looking for a salty/sweet cravings fix. They also make quite the statement at cookie exchanges and parties due to their unique appearance.
Sea Salt Butterscotch Pretzel Cookies
These cookies are a unique and wonderful combination of all things good in life. With an enhanced basic cookie dough packed with butterscotch chips and chopped pretzels, every bite is an experience. Adding the little flakes of sea salt and a drizzle of chocolate over the top just makes them that much more irresistible!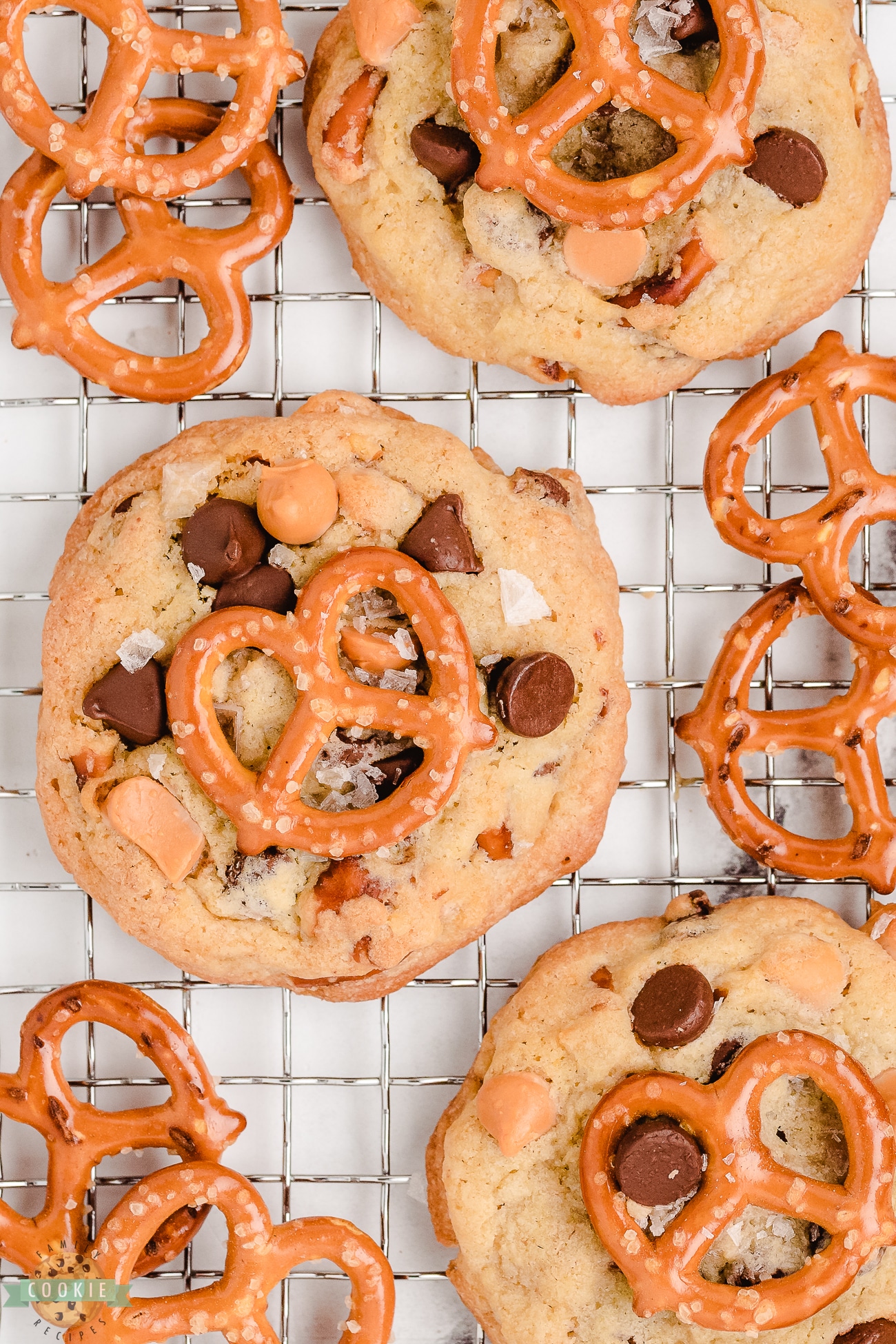 Butterscotch Pretzel Cookies Ingredients
–Butter: We're going to need 1 cup of room temperature butter (preferably unsalted) so that the dough turns out nice and not too salty (as if there were such a thing).
-Sugars: Using 1 cup of brown sugar and 1/2 cup of white sugar we add a depth of flavor from the brown molasses and add sweetness. See recipe note for how to sweeten the cookies more and make them softer if desired.
-Vanilla: We will need 2 teaspoons of vanilla extract to help work as a flavor base for the dough. I like using high-quality vanillas because there is a flavor difference and it's not too expensive to purchase. Use which one you prefer or have on hand.
-Eggs: We will need 2 whole large eggs, plus the yolk of an additional egg. You can turn the leftover egg white into a healthy cooked snack while you wait for the cookies to bake and cool.
-Flour: We will need 2 1/2 cups of all-purpose flour to get the gluten base for these cookies. See recipe card notes on adjusting the flour to get a softer cookie.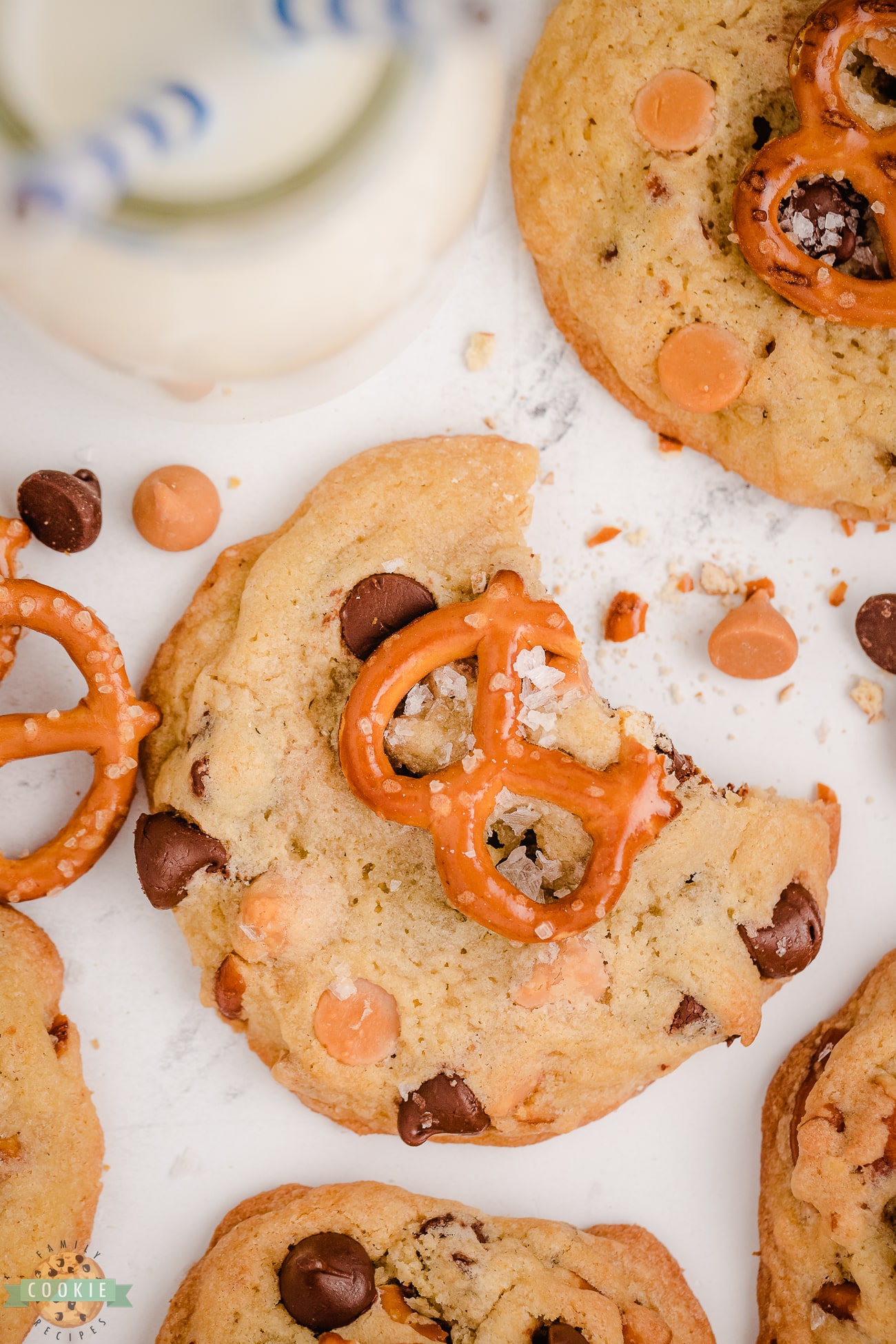 -Salt: Salt acts as a flavor enhancer and makes other flavors come to life. Using 1/2 teaspoon of salt, we can get a delicious cookie dough where all of the flavors shine.
-Leavening Agents: Using 1 teaspoon of baking powder and 1/4 teaspoon of baking soda we can get a puffy little cookie that tastes great and cooks more evenly.
-Chocolate & Butterscotch Chips: One of the co-stars of this cookie dough recipe is the 1 1/4 cup each of chocolate chips & butterscotch chips that we add into the dough. Don't forget these delicious morsels!
-Pretzels: We are going to need 1 cup of chopped pretzels, plus more (chopped or whole) to use as an optional topping for the cookies.
-Flakey Sea Salt: This can be found in stores or online at Amazon. Flakey sea salt adds a great appearance (like a fresh fallen snowflake on a cookie) and adds a little saltiness while not being as overpowering as table salt. Do not substitute with table salt!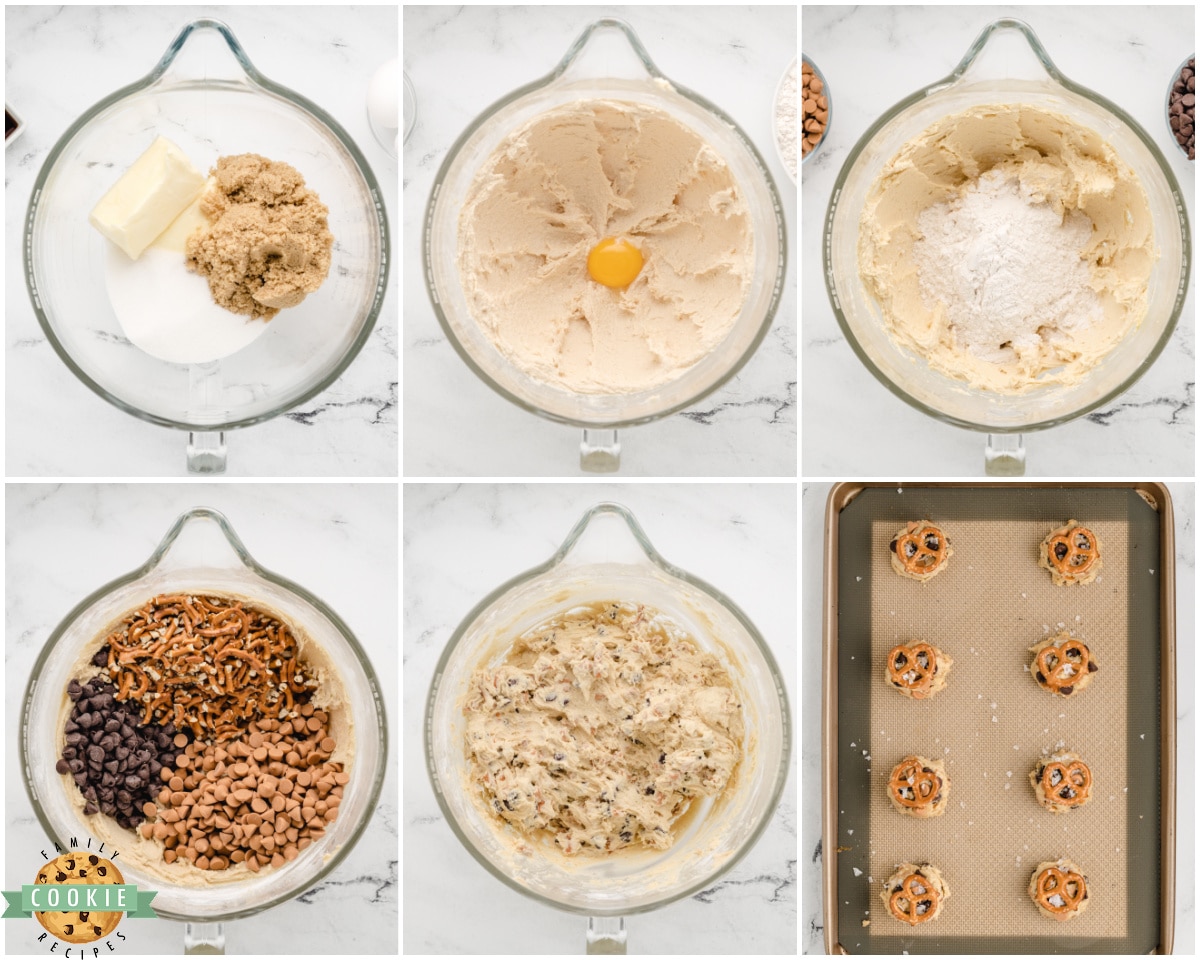 How to Make Butterscotch Pretzel Cookies
Preheat your oven to 350F degrees and prepare two baking sheets by spraying them with nonstick cooking spray. Set them aside.
Beat the butter and both sugars in the bowl of a stand mixer for about 3 minutes using the paddle attachment. Add in the vanilla and then continue mixing.
Add in the eggs and the egg yolk, one at a time, beating well after each addition.
Combine the flour, salt, baking powder, and baking soda in another bowl using a fork. Once combined, slowly add the flour mixture to the wet mixture. Stir until incorporated.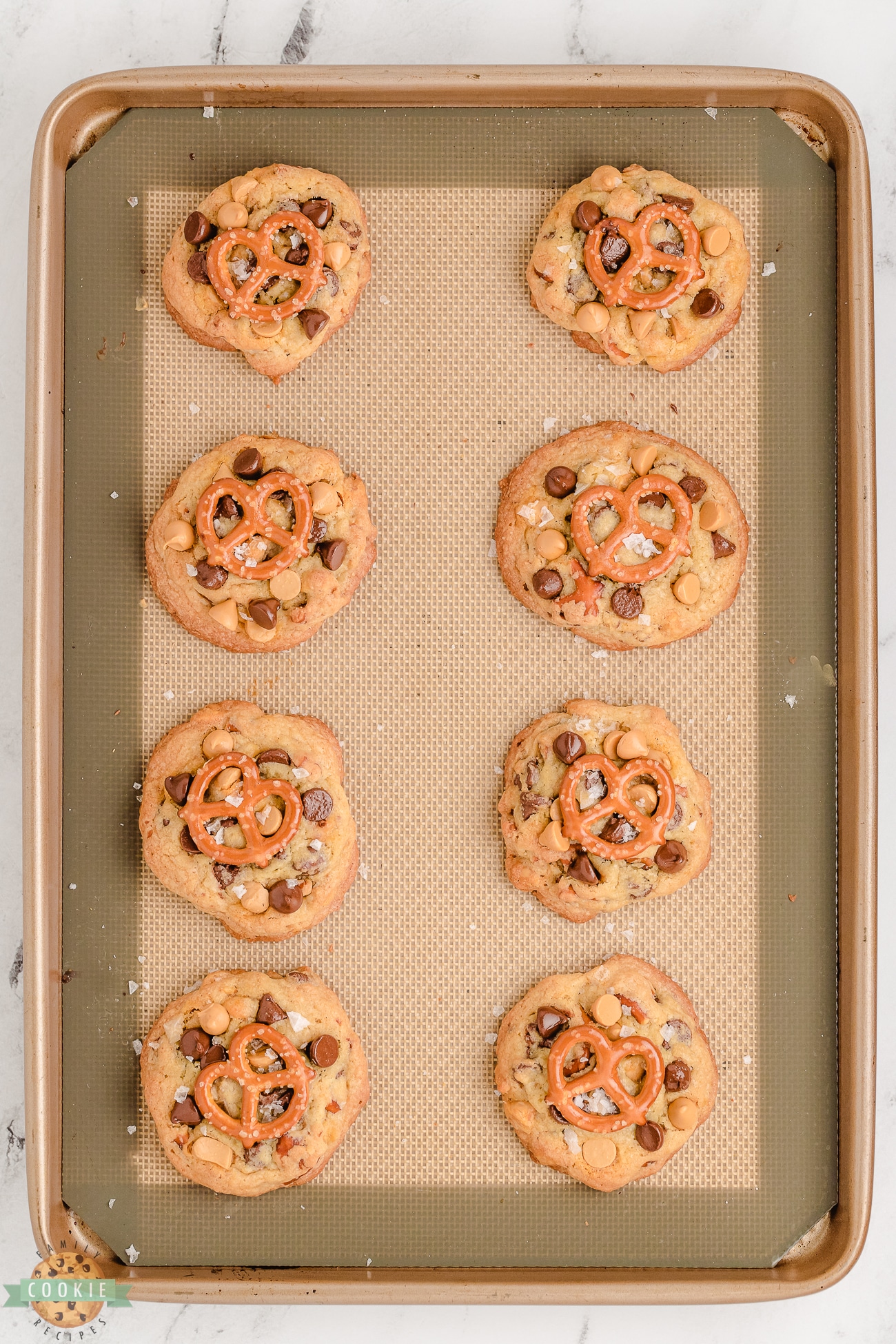 Once the dough has come together, remove the bowl from the stand mixer and place it on the counter. Using a large spoon or spatula, fold in the butterscotch chips and chopped pretzel pieces.
Scoop the dough out of the bowl using an ice cream scooper and place them onto the prepared baking sheets.
Dampen your fingers slightly and then press the dough down and out into disks. Sprinkle the flakey sea salt over the top and press them onto the pretzels.
Add additional pretzels to the top of the cookies if desired.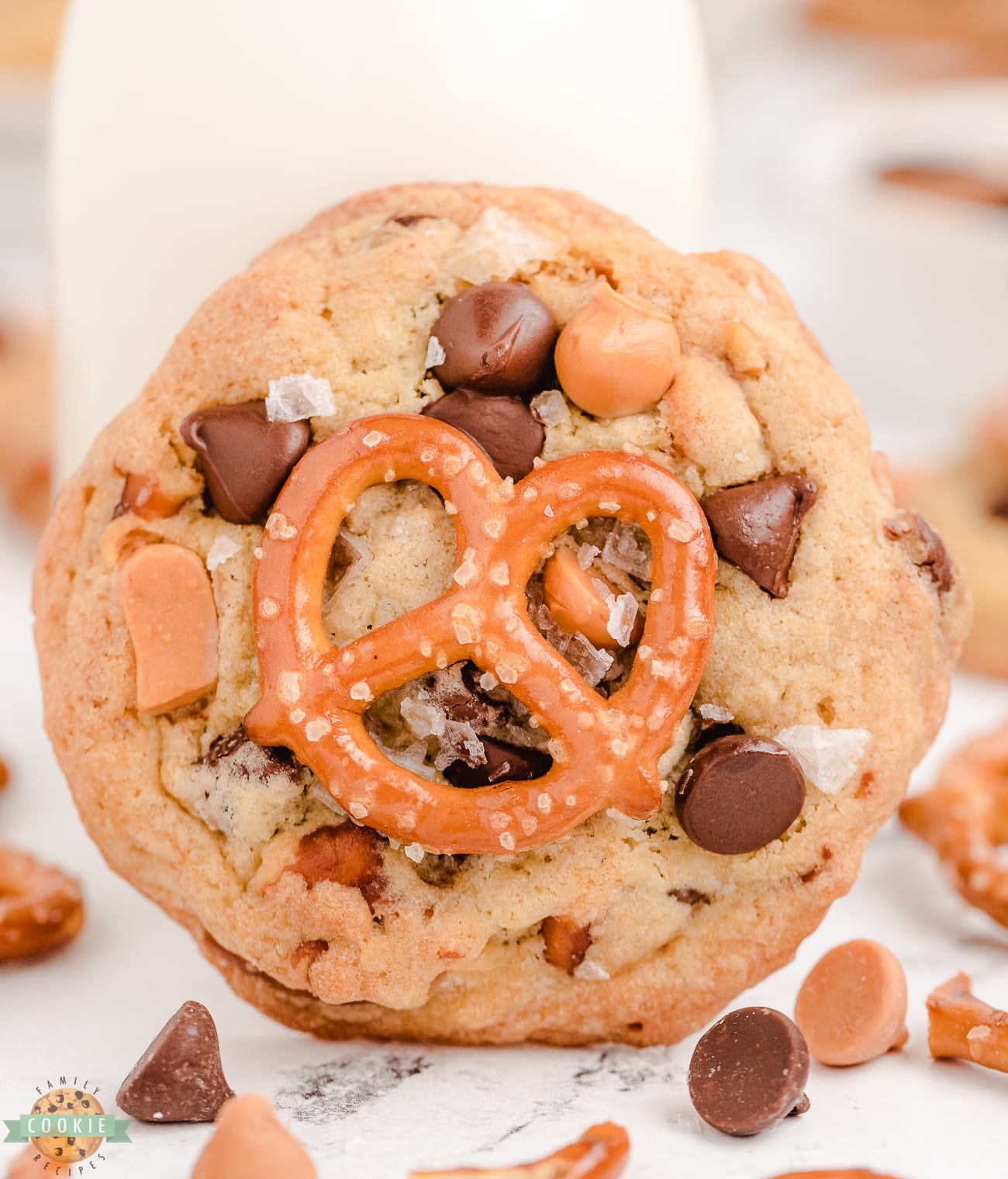 Bake in the oven for 15-18 minutes or until the edges of the cookies turn a golden brown color. Let the cookies cool on a cooling rack.
While the cookies are cooling, prepare the chocolate drizzle. Place the chocolate in a microwave safe bowl and microwave it in 30 second intervals, stirring between each, until smooth. Use a spoon to drizzle the chocolate over the tops of the cookies.
Eat these cookies with a cup of cold milk or by themselves! Enjoy!
What kind of pretzel should I use?
You can use any pretzel that you prefer, but I'd recommend sticking to the thin snack sized ones. Whether that be small pretzel sticks or the small shaped ones, they are still easier to break down into chopped pieces and eat than a thicker pretzel rod would be. You could even leave some rounded pretzels whole and press them into the top of the cookies for a fun look!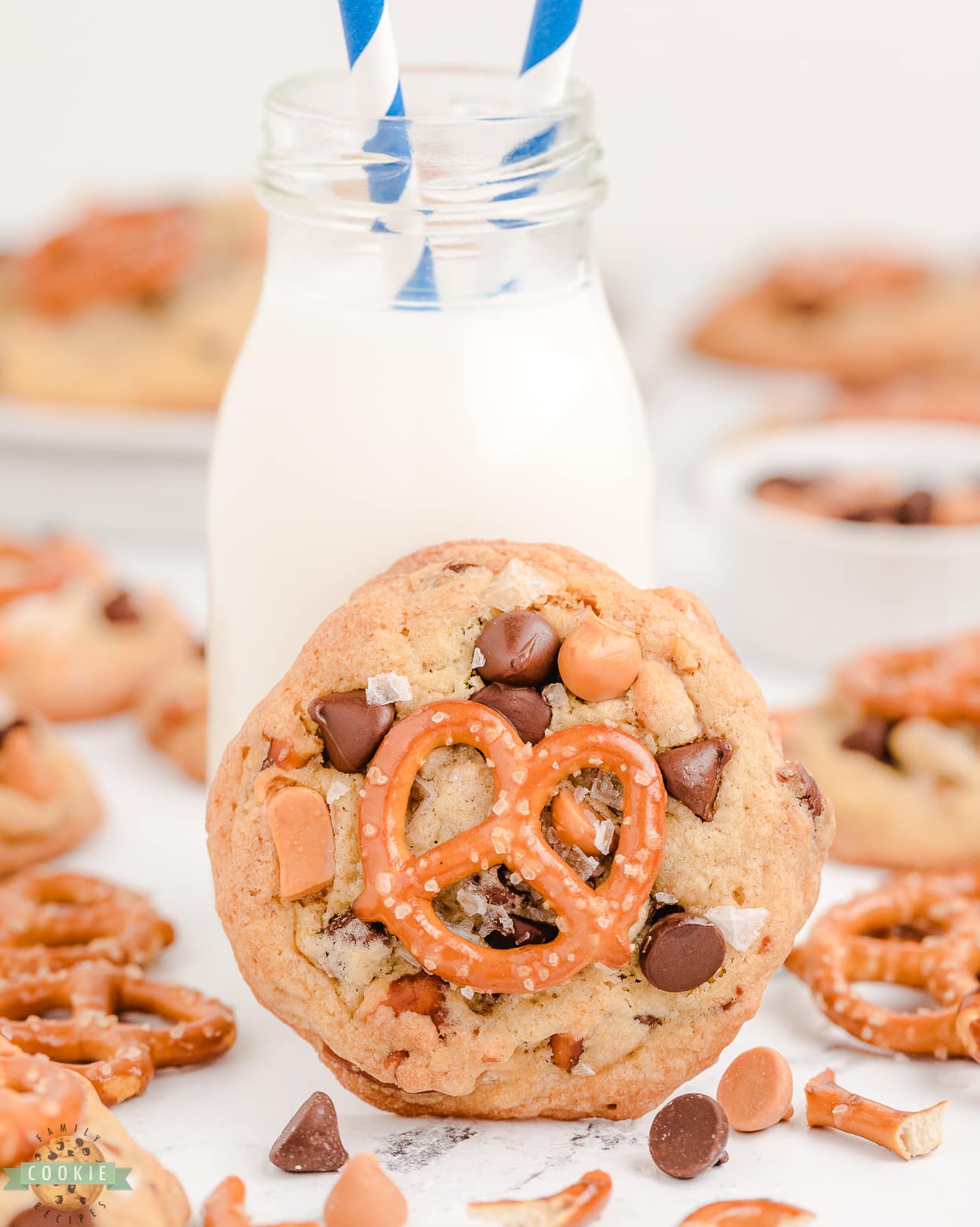 How long are these cookies good for?
If kept in an airtight container at room temperature then these cookies should be good for up to a week. Any longer than that and the cookies might become stale. For longer preservation, you can always opt to freeze these cookies in an airtight container for up to 3 months.
What's the difference between butterscotch and caramel?
They're actually very similar and the only major difference is one or two ingredients used to make them. One uses white sugar while the other uses brown sugar. They can be used interchangeably in recipes but the flavors will change as well due to their distinction. So if you can't find butterscotch chips or are looking for a simple change, substituting caramel bits could make a delicious cookie as well.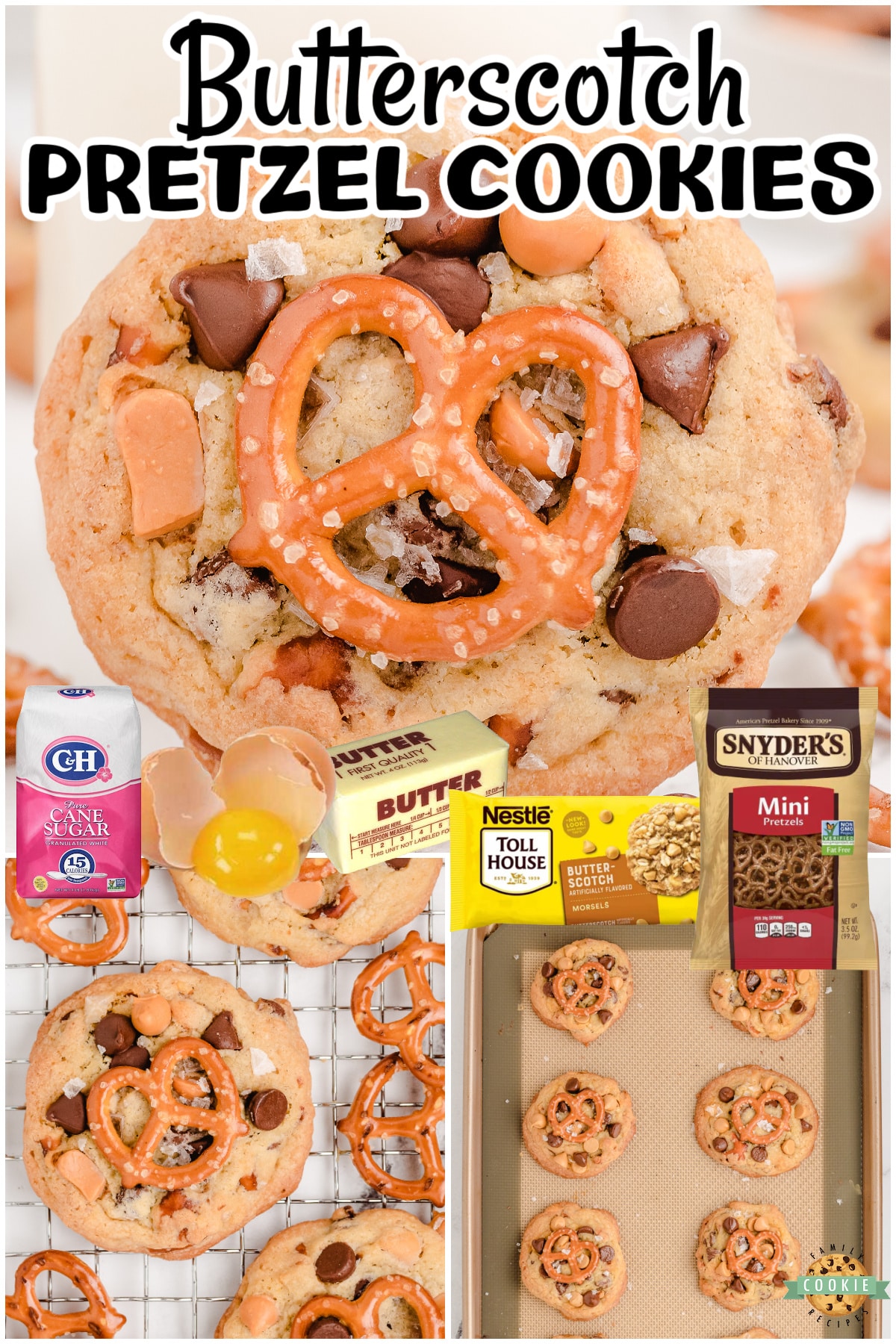 As my kids get older I I love seeing their unique personalities grow and develop. This one is my youngest daughter and let me tell you, she may be small but she makes up for it in SPIRIT! She is always moving, talking, dancing, singing… you get the idea. Both of my daughters have been very interested in photography lately. It's so fun to see what pictures they take! This was one of those unexpected finds that just made me smile. Impromptu handstand!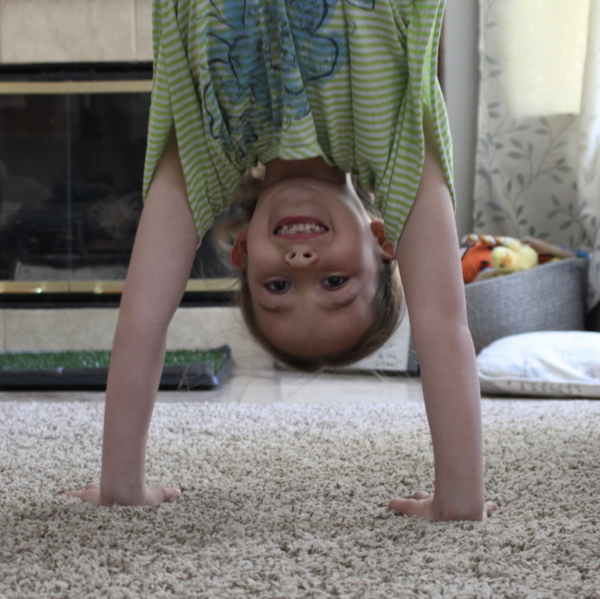 More delicious cookie recipes you'll want to try soon!
Sea Salt Butterscotch Pretzel Cookies are sweet and salty cookies that pack a little crunch and a whole lot of flavor! With sea salt, pretzels, butterscotch chips, and a chocolate drizzle these loaded cookies are a family favorite!