Sour Cream Sugar Cookies are classic cookies with sour cream for a perfectly soft texture. Soft cut-out sugar cookies with pillowy frosting and sprinkles perfect for any occasion!
What are sour cream cookies?
If you've never had one you'll be in for a real treat! Sour cream sugar cookies are a cookie dough unlike any other. With a flavorful and rich texture that practically melts in your mouth, these cookies are the best in the world and perfect for holiday baking!
Sour cream is the perfect "secret" ingredient in making roll-out sugar cookies that can speak for themselves. Adding frosting will of course make them colorful and fun, but the cookies on their own are still top-notch awesome. But don't worry, the sour cream is completely unnoticeable in the finished result and just leaves a fluffy and smooth texture behind.
Sour Cream Sugar Cookie Ingredients
-Butter: I use salted butter, but you can use unsalted if you prefer. No margarine!
-Egg: We only need 1 egg, but it helps to bind the dough together so that the cookies don't crumble before entering your mouth.
-Vanilla Extract: I suggest using a good quality vanilla extract or a Vanilla Bean Paste. I linked my favorites!
-Sour Cream: Adds to the soft texture of the cookies. You can use plain or vanilla Greek yogurt instead.
-Salt and Baking Soda: Leavening agent and flavor! I always add a bit of salt to all my cookies- it doesn't take much to make a difference!
-Flour: You can use all purpose flour, bread flour, or even pastry flour in this recipe!
Sugar Cookie Frosting Ingredients
-Butter: Again, I use salted butter, but you can use unsalted if you prefer. No margarine!
-Powdered Sugar: Giving us that thick frosting texture packed with sweetness and smooth creamy results. Yum!
-Milk: You can use almond milk, coconut milk or cashew milk in place of cow's milk.
-Vanilla Extract: See note above about what vanilla I use. I'm a huge proponent of good, high quality vanilla! The brand I love isn't crazy expensive either.
How to Make Sour Cream Sugar Cookies
Cream the butter and sugar together in a bowl.
Add in the vanilla and the egg, mix well after addition.
In a separate bowl, mix together the sour cream, salt, and baking soda.
Add the flour and the sour cream mixture into the butter mixture, beating until smooth.
Cover the bowl and let the dough chill in the fridge for several hours.
When you're ready to bake, preheat your oven to 375F degrees.
Roll out the dough and then cut with shaped cookie cutters. Bake at 375F degrees for 10 minutes.
Make sure not to overbake these cookies! They won't look 100% finished when baking but the bottoms should have a slight brown color.
Once cooled, frost and decorate as desired.
How to Make Sugar Cookie Frosting
Beat the butter in a mixing bowl until smooth and pale in color.
Beat it the remaining ingredients until the frosting is smooth, this takes about 2 minutes.
Add in a little additional milk (if needed) to thin the frosting consistency.
Spread or pipe the frosting onto the cookies and then top with sprinkles.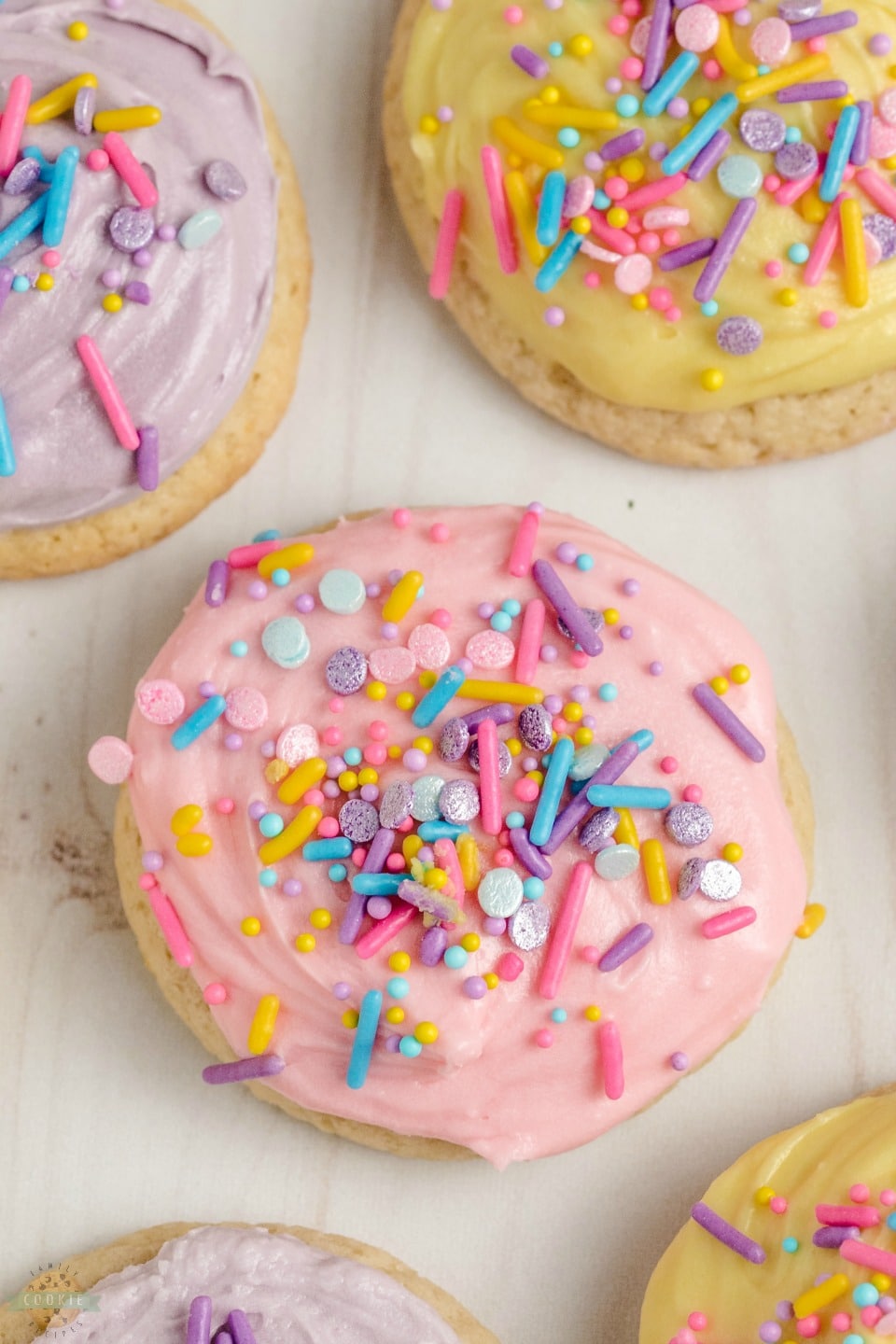 How do you keep sugar cookies soft?
This is another reason to love these cookies, thanks to the sour cream in the dough- they stay softer for longer! After the cookies have cooled, simply place them in an airtight container to keep them fresh for as long as possible. It also helps to make sure that when you roll out the cookie dough that you do it to the right thickness so that they don't become brittle when baking.
How long will decorated sugar cookies last?
If you keep your cookies properly stored you can expect them to last up to a week at room temperature.
Can I freeze decorated sugar cookies?
Yes. After frosting has been applied, allow them to set at room temperature for about an hour so that the frosting can firm up a bit. Then place the cookies in a single layer on a baking sheet and flash freeze until solid (about 1-2 hours). After that, transfer to an airtight container. I recommend laying a sheet of parchment paper between the cookie layers, just in case. Then simply remove and thaw to eat.
Other Delicious Cookie Recipes: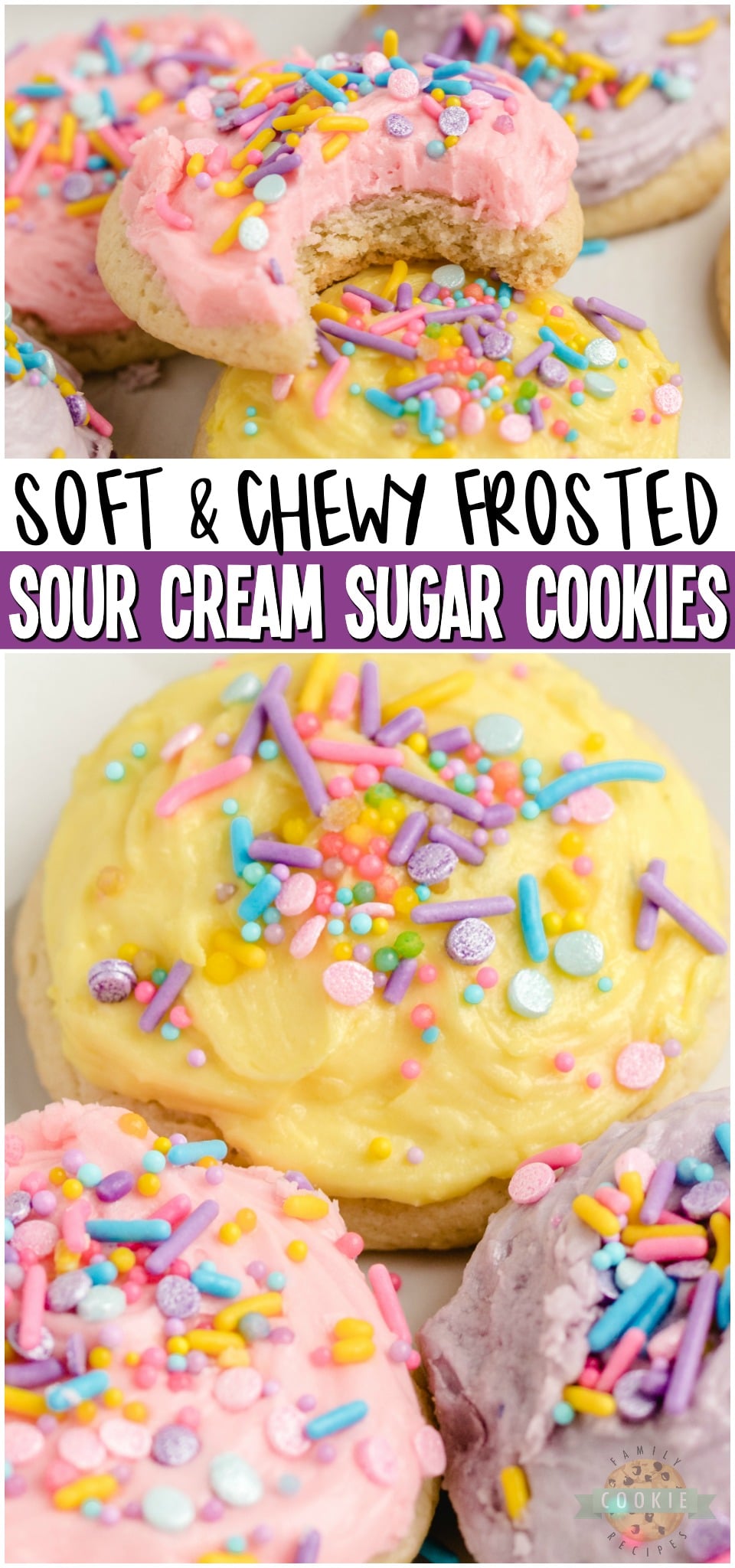 So if you're looking for some soft and fluffy cookies to shape and frost, these sour cream cut out cookies are definitely the ones to try first. Once you try sour cream sugar cookies, you'll never need another cut out sugar cookie recipe!