Salted Chocolate Shortbread Cookies
made with cocoa powder and butter & topped with flakes of sea salt for the perfect chocolate cookie! Buttery
shortbread slice & bake cookies
that everyone enjoys!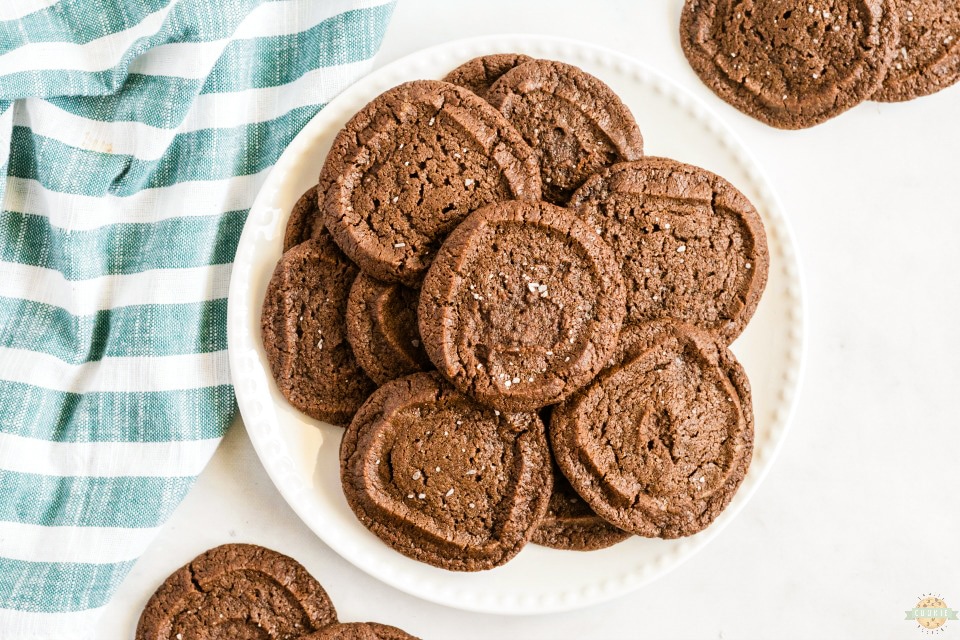 You're going to love this chocolate shortbread cookie recipe. Made with brown sugar and white sugar these cookies are full of flavorful depth and sweetness. The sprinkling of salt on top just makes them irresistible, so if you're on a diet- beware.
What are chocolate shortbread cookies?
Also known as chocolate slice and bake cookies these tasty cookies are made by making dough, rolling it into logs, and then chilling until it's nice and firm before slicing into the desired cookie thickness. The hardest part about making these cookies is waiting for them to chill for a few hours, but this is an important step that we don't want to skip!
Chocolate shortbread cookie ingredients
-Flour: We're going to need 1 1/4 cups of all-purpose flour.
-Cocoa powder: Using ⅓ cup of unsweetened cocoa powder we can create a chocolate-flavored cookie dough that tastes incredible.
-Baking soda: This is the leavening agent in the cookie dough which will help it to rise and be fluffy and delicious.
-Butter: 11 tablespoons of room temperature butter will help to bind the cookie together and give it a rich buttery taste. This is roughly ¾ cup of butter.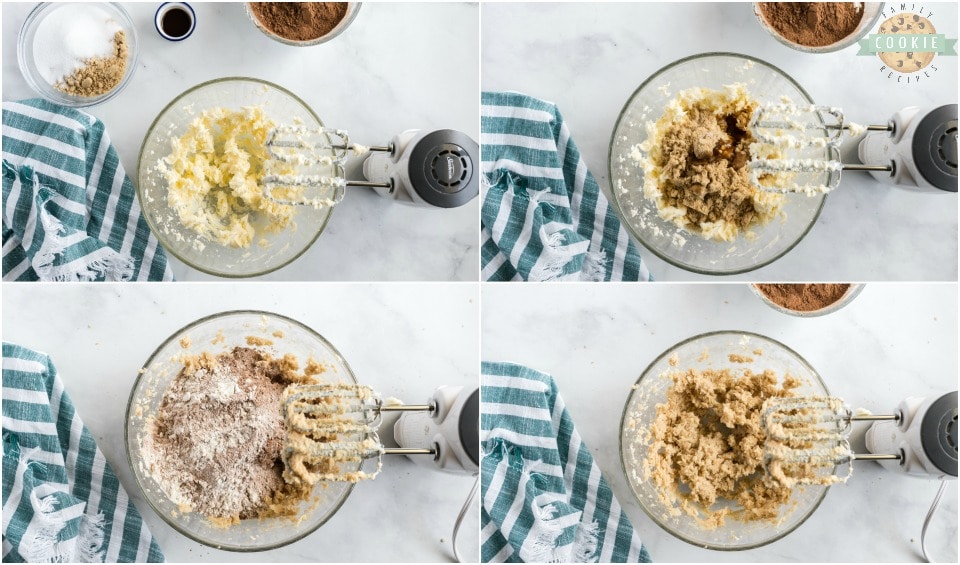 -Brown sugar: Brown sugar is a delicious way to add sweetness and depth to cookies.
-Granulated sugar: Adding sugar to cookie dough helps to make them chewy and caramelized.
-Salt: Salt in the cookie dough helps to make the flavors develop and POP, but having some sea salt sprinkled on top when they're baking is a great way to enjoy a salty-sweet cookie treat
-Vanilla: Vanilla extract in many recipes helps to give a solid flavor base for other ingredients to branch off of. While you won't taste the vanilla in the dough, you'll miss it if it wasn't there.
How to make chocolate shortbread cookies
In a small bowl, whisk together the flour, cocoa powder, and baking soda and then set it aside.
In another bowl, beat the butter on medium speed until it's soft and creamy. Add in the sugars, salt, and vanilla. Beat for 2 minutes.
Add in the dry ingredients and pulse on low speed to incorporate the flour mixture and mix until the flour has disappeared into the dough, it will appear crumbly.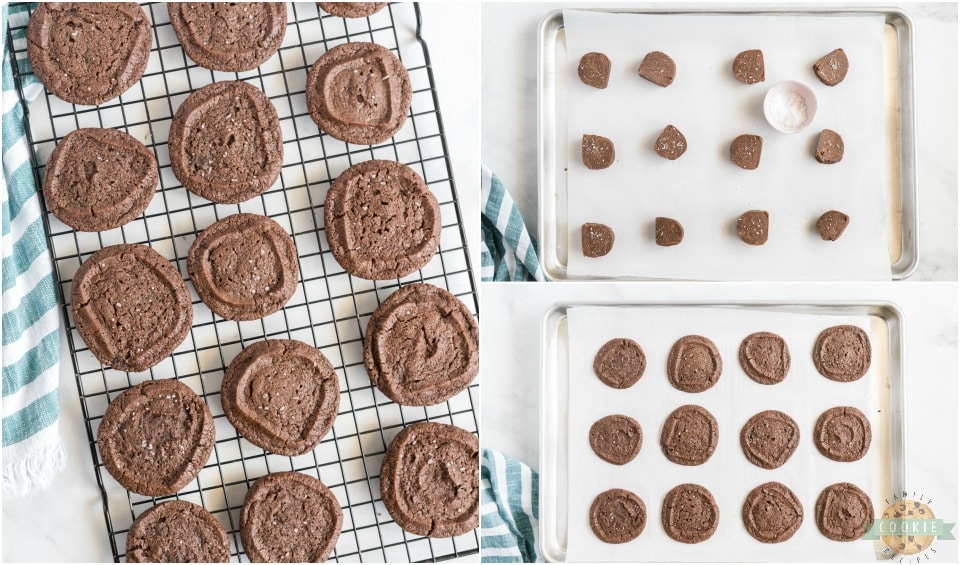 Turn the dough out onto a work surface and divide it into 2 equal-sized portions. Shape it into 2 9 inch long logs and wrap each one in plastic wrap. Place them in the fridge for at least 3 hours- the colder the better.
Arrange your oven racks so that they're centered and then preheat your oven to 325F degrees. Line two baking sheets with parchment paper or silicone baking mats.
Slice you dough logs into coins that are roughly ¾" thick and arrange them on the baking sheets.
Sprinkle the tops of each cookie with salt and then bake them, one sheet at a time for 11-12 minutes.
Remove the sheets from the oven and let them cool for 5 minutes before transferring the cookies to a cooling rack.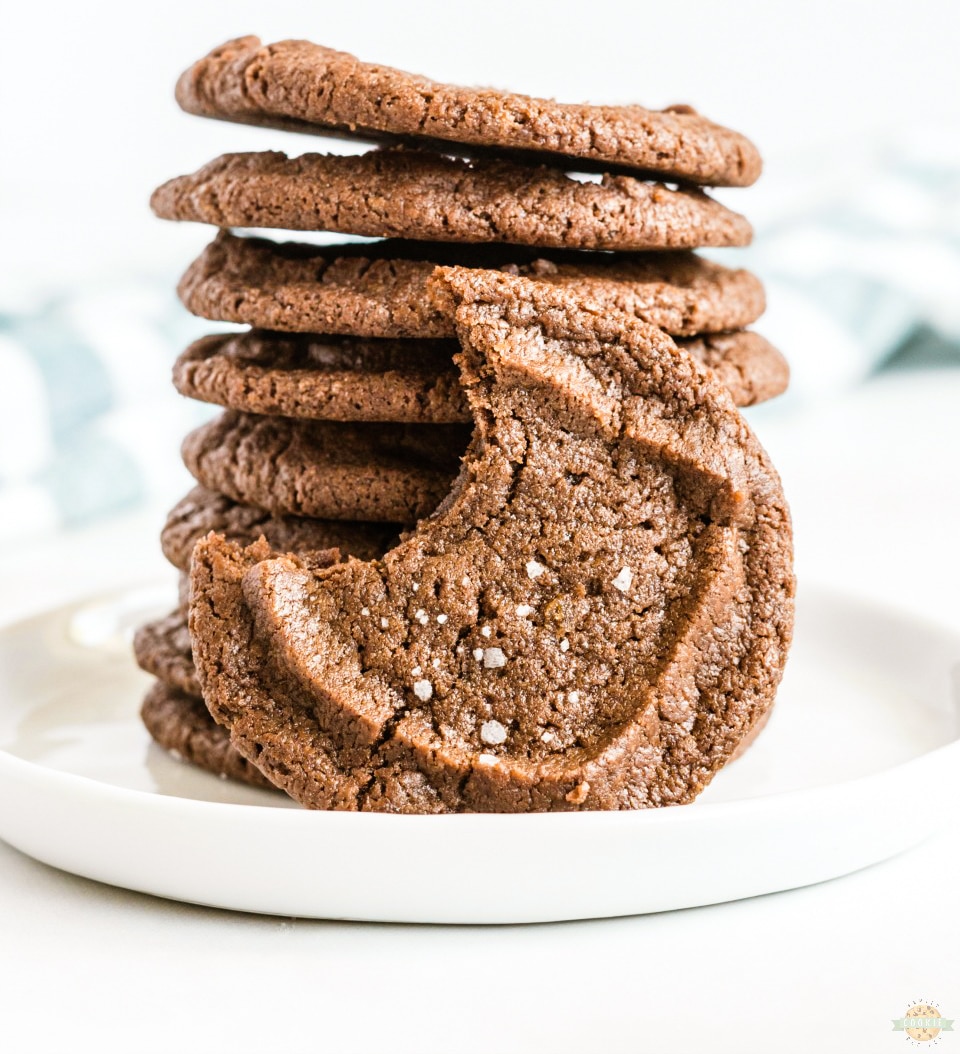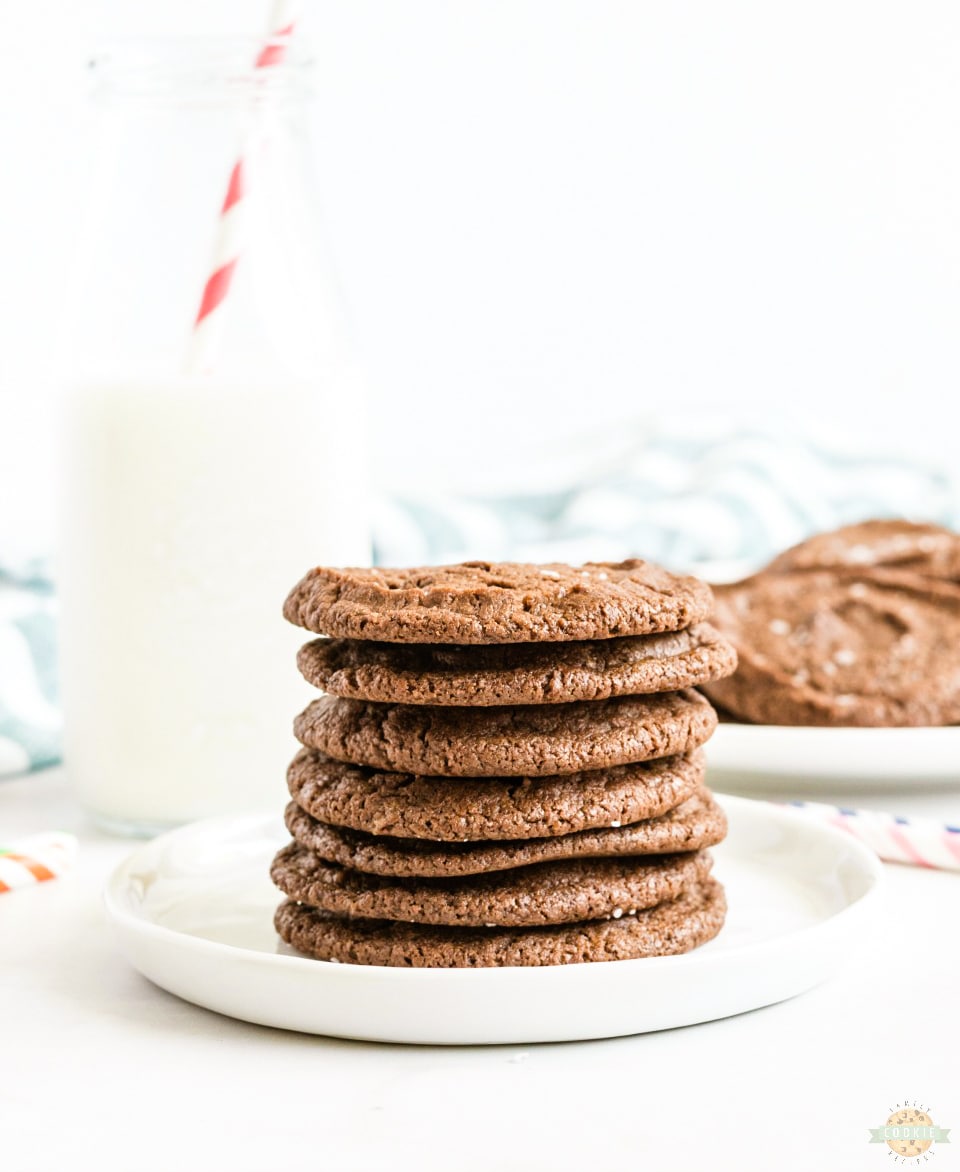 What kind of salt should I use for sprinkling?
I prefer salt varieties with larger grains of salt such as sea salt or flaked salt, but you're welcome to use whatever you have on hand!
Can I freeze chocolate shortbread cookies?
You can definitely freeze these cookies after they've been baked and cooled. You can also take the cookie dough after it's been rolled in plastic wrap and chill it in the freezer instead of the fridge to help it firm up even more quickly.
How long are shortbread cookies good for?
If kept in an airtight container at room temperature you can see them last about a week before becoming stale after that they may not be as enjoyable to eat or may even dry out. For longer storage, consider freezing them for up to 3 months.


I can't believe this tiny little boy is already over a decade old! They say time flies but it took me a few years to believe it. I get it now! It's so fun to think back to those early, tiny baby days where I was still getting to know him. Last night his team won their first season basketball game.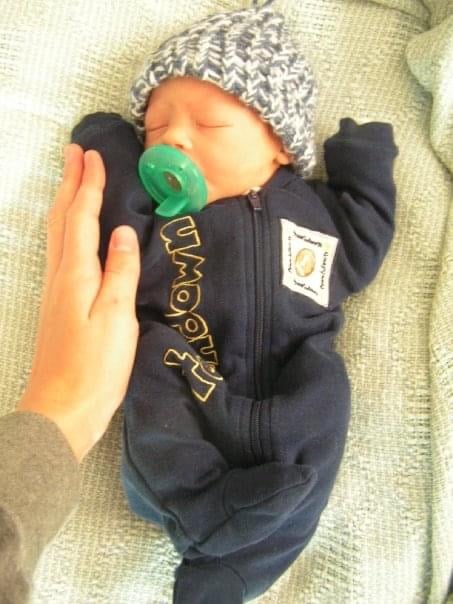 Being a mother is so amazing and I feel so honored to have a front row seat to watching these cute kids grow up!
If you like chocolate check out these other tasty chocolate cookie recipes!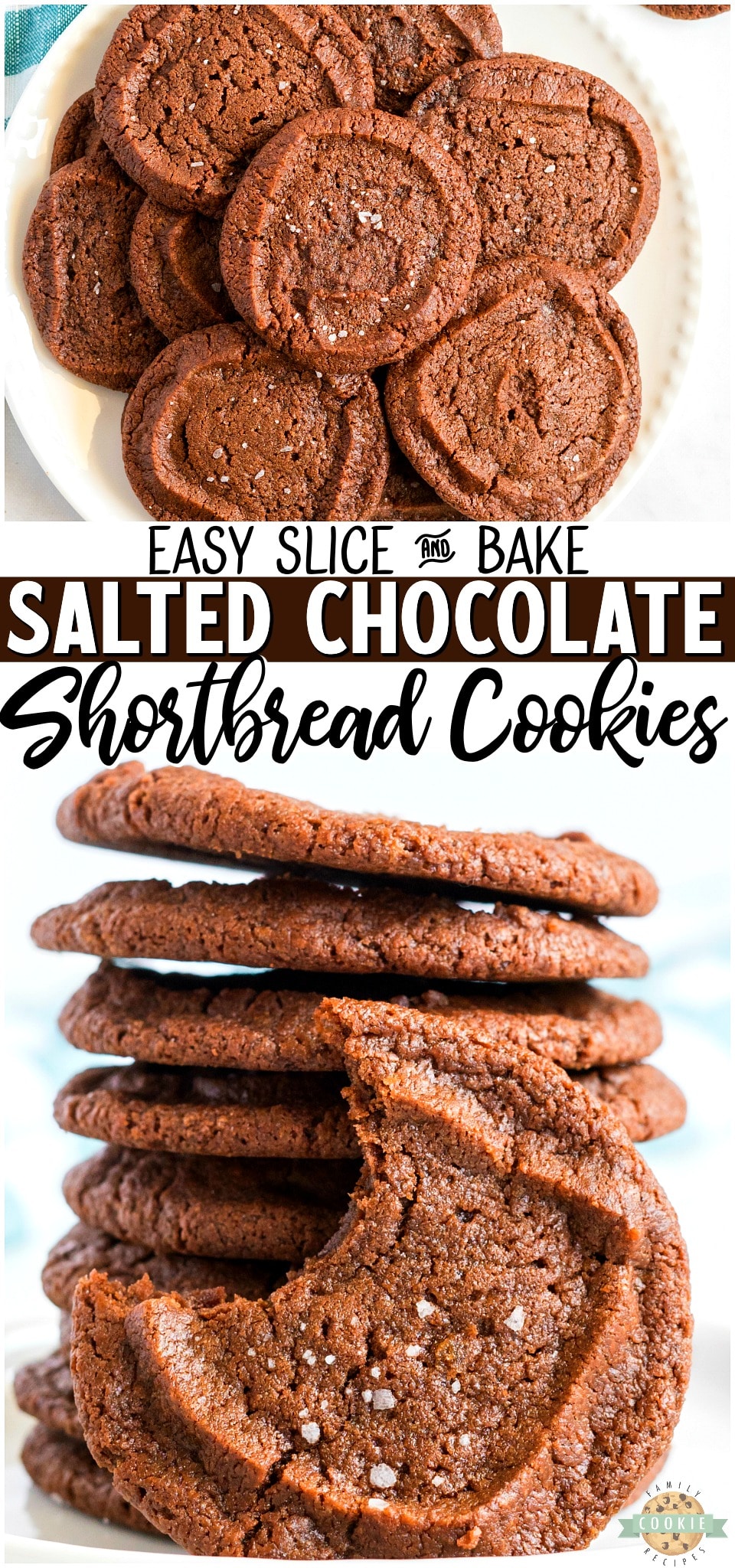 These slice and bake chocolate shortbread cookies are simple and delicious. Enjoy the salty-sweet chocolate flavored cookie treat whenever you're craving something unique.