Perfect M&M HALLOWEEN Cookies made with butter, sugars, pudding mix & festive M&M's candies! Fun & festive Halloween Cookie recipe that everyone loves!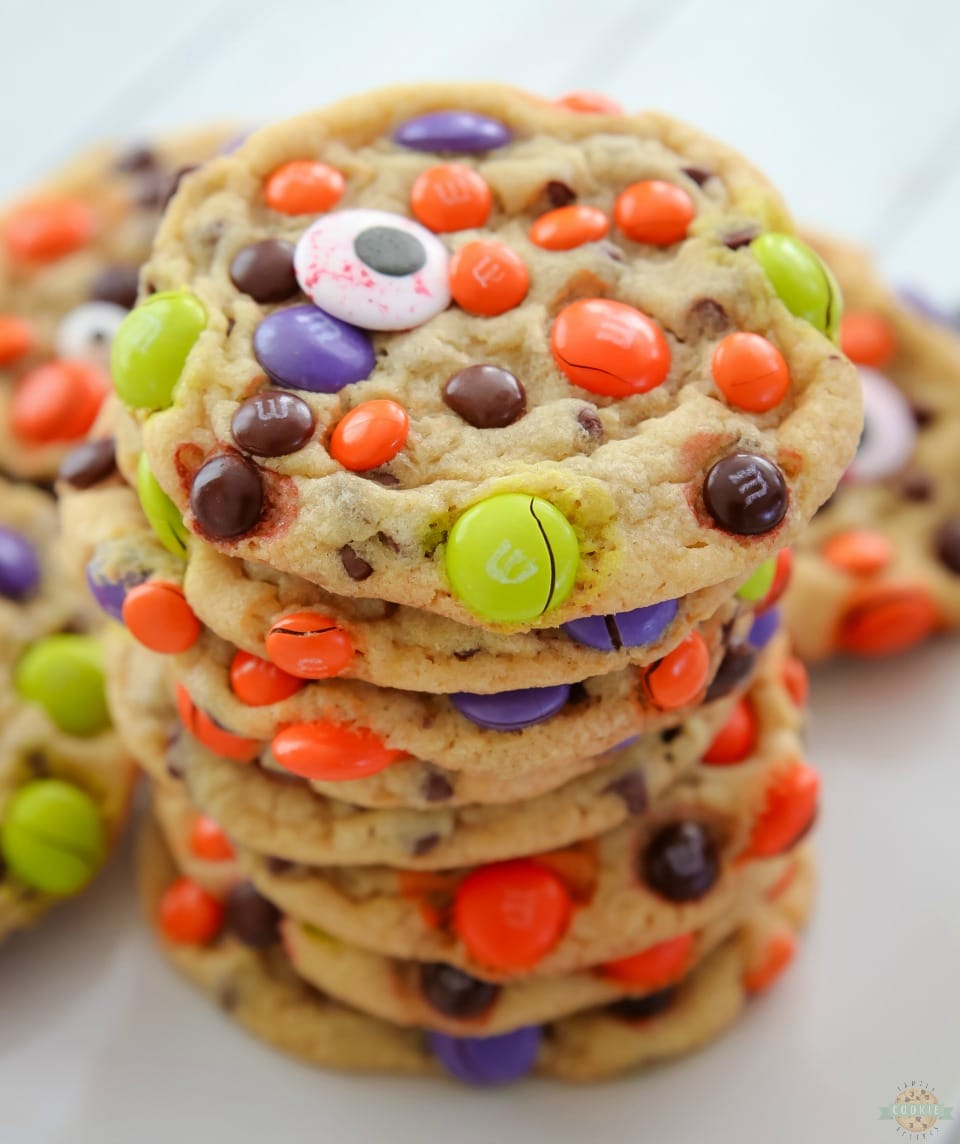 It's the perfect texture with slightly crispy edges and a soft & chewy center. Using mini chocolate chips and a combination of regular sized & mini M&M's is CRITICAL! The final result is very balanced cookie with just the right amount of chocolatey sweetness to cookie dough.
HALLOWEEN COOKIE INGREDIENTS
-Butter: Using softened butter we can get a creamy base that blends with sugars and that helps to make a rich flavored cookie.
-Shortening: Using shortening in cookies helps to get a crisp, light and airy texture.
-Sugars: We need both granulated sugar and brown sugar to make this cookie dough perfectly sweet and chewy!
-Eggs: Using eggs we get the binder that helps to keep these cookies together.

-Milk: A liquid that adds a little magic by helping to thin the dough down into a good consistency. You can use any type of milk that you may have on hand.
-Vanilla extract: I personally love the high quality stuff because nothing compares to how great it tastes, but a little vanilla can create a good base for the flavors to branch off of.
-Flour: Using all-purpose flour we get a good cookie dough base.
-Pudding mix: We only need the dry mix for a small box of vanilla pudding, but it adds chewy goodness and flavor!
-Baking Soda and Salt: The leavening agent and sidekick. Salt works to make other flavors taste great.
-Chocolate: We need mini chocolate chips and both regular sized & mini M&Ms to make sure that there is plenty of chocolate in every bite!
HOW TO MAKE SOFT M&M COOKIES
Preheat your oven to 350F degrees and line a cookie sheet with parchment paper. Set it aside.
With an electric mixer, cream the butter and shortening together for about 2 minutes until it's pale.
Add in the sugars and mix until it's well combined.
Add in the eggs, vanilla and milk, mix again.
In another bowl, whisk together the flour, pudding mix, baking soda, and salt.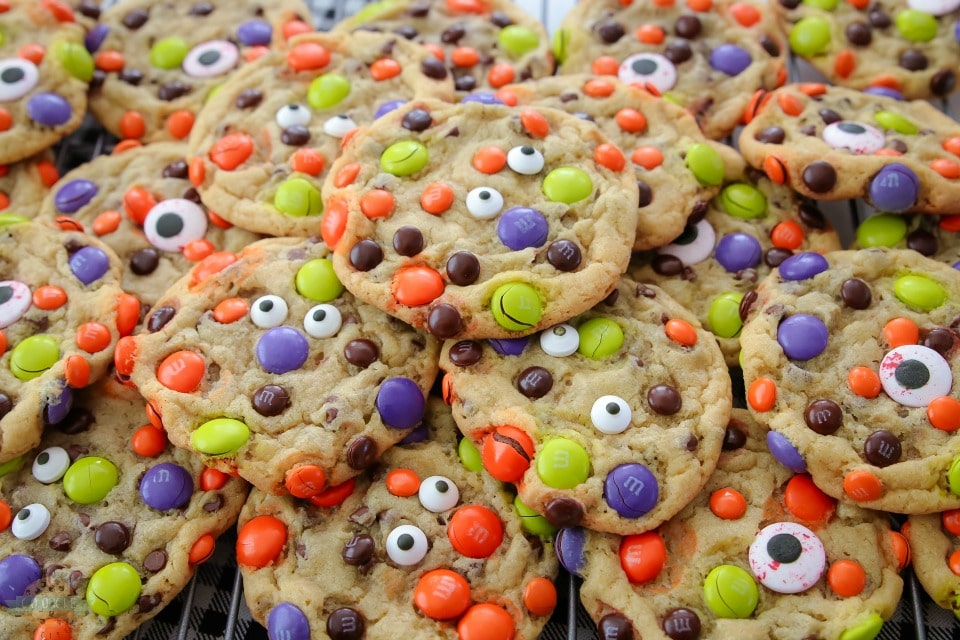 Pour the dry mix into the butter mix and mix them together until the flour is completely incorporated.
Stir in the chocolate chips and half of the bag of M&Ms and place the remaining M&Ms in a bowl to the side.
Scoop the dough out using a medium sized cookie scoop and then press the ball of dough into the bowl of M&Ms. Make sure to coat the top part of the cookie dough ball.
Place the dough balls on the prepared baking sheet about 1.5"-2" apart.
Bake for 11-12 minutes until the cookies just barely begin to turn lightly brown on the sides.
Let them cool on the baking sheet for 10 minutes before transferring to a wire cooling rack.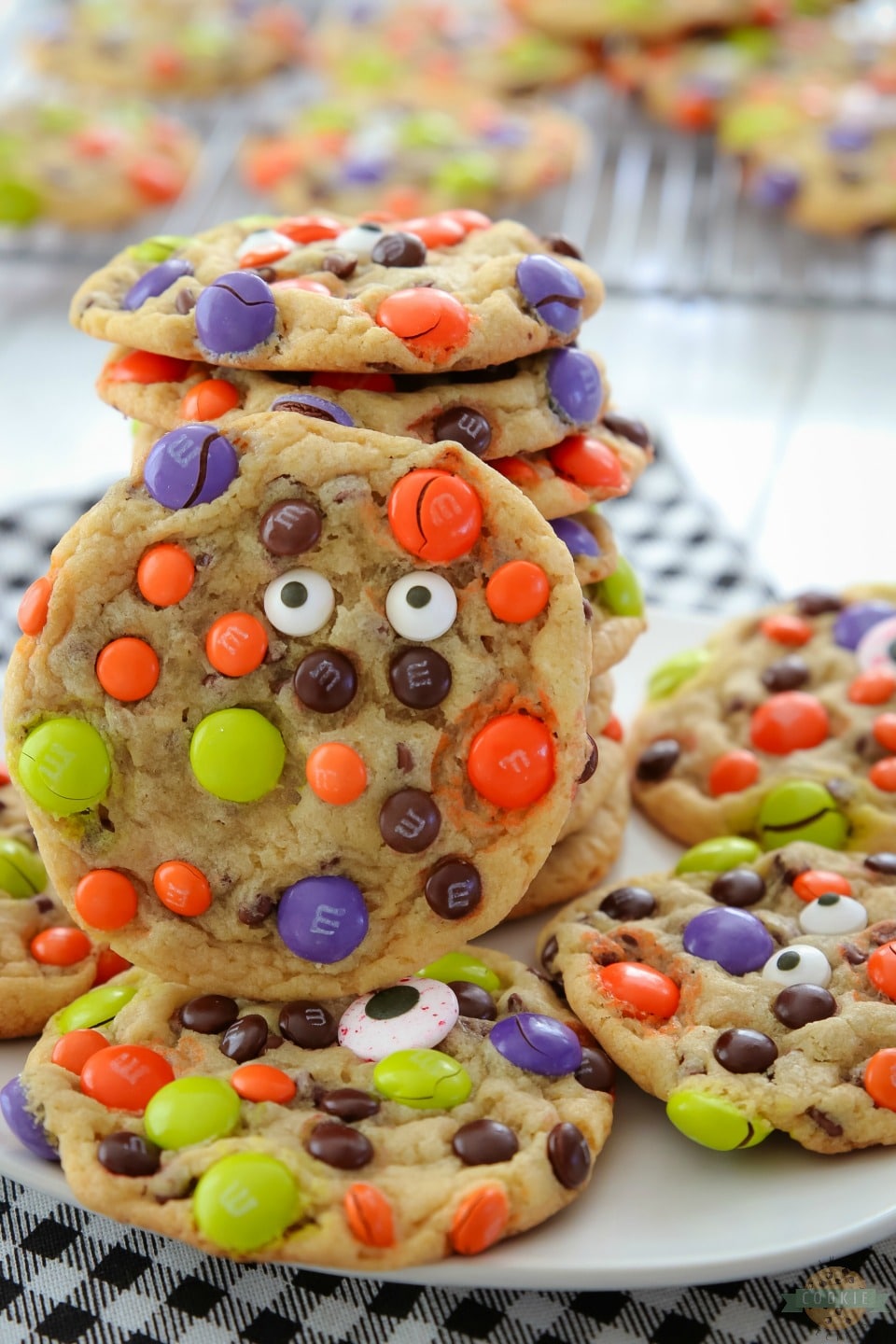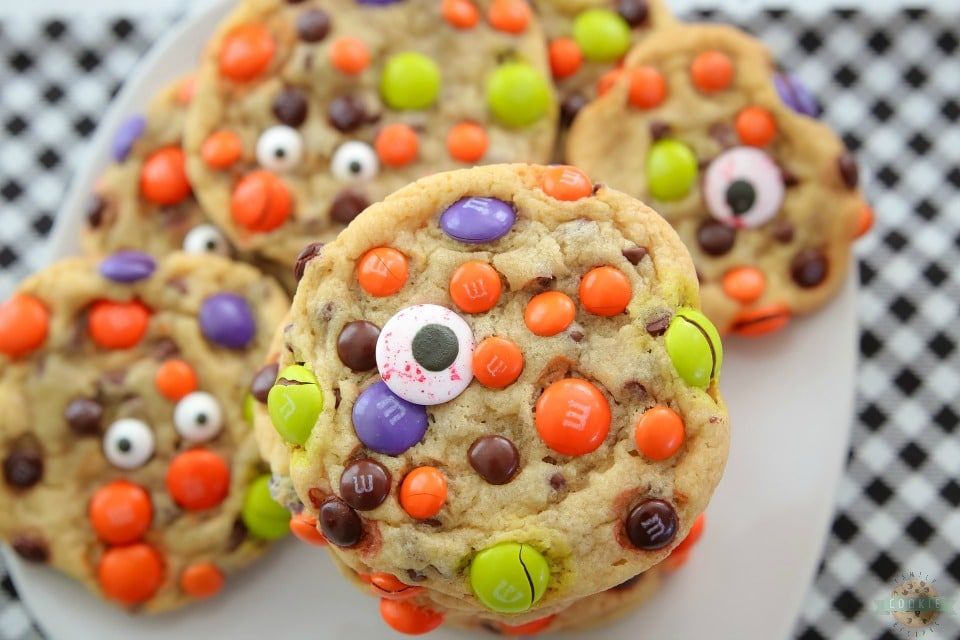 CAN YOU FREEZE Halloween Candy COOKIES?
YES! Freezing M&M cookies is a great way to prolong their shelf-life and enjoy a sweet treat whenever the mood strikes! Simply place the cooled cookies in an airtight container or Ziploc bag and freeze for up to 3 months.
CAN I USE ONLY REGULAR SIZED M&MS?
You definitely could, and it would still be incredible (of course) but you may have a little more trouble getting the cookie dough to hold so many M&Ms on the dough balls because they're bigger in size. But it'll work!
HOW DO I KNOW WHEN MY M&M COOKIES ARE FINISHED BAKING?
If they are lightly browned around the edges and still look a little doughy at the top, they're finished. Letting them rest on the cookie sheet for 10 minutes will allow them to complete their cooking process without overdoing it and allow them to solidify before transferring to the cooling racks.


I pulled a cute Halloween picture of my kids from about 6 years ago. Time flies! Look how darling they were- even the tall one.
Crazy to think that over half of these cute kids don't even trick-or-treat anymore.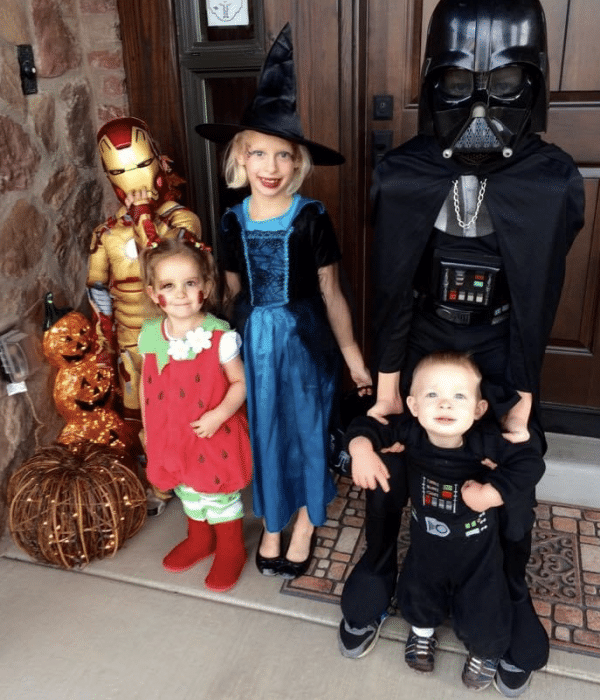 More Halloween Cookie recipes: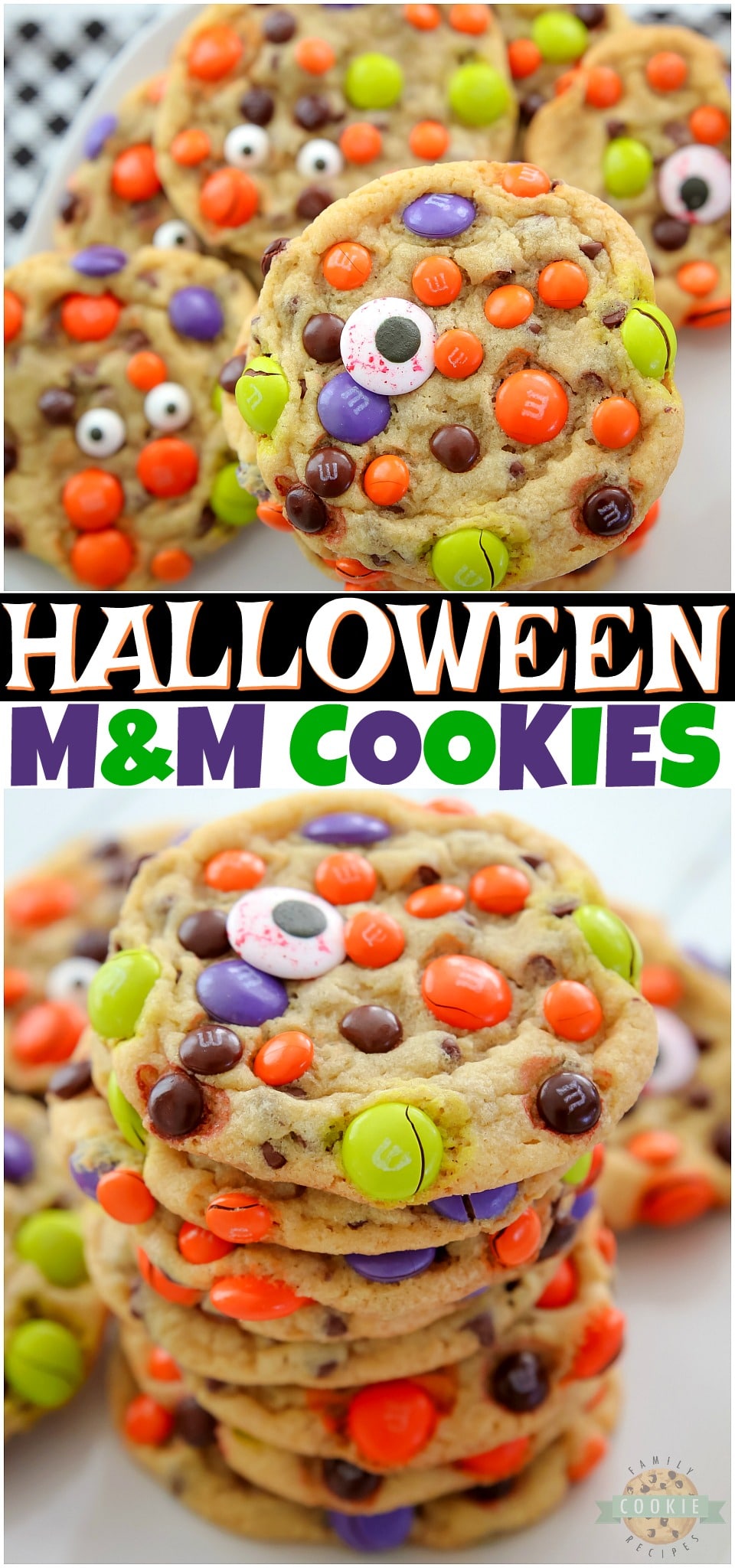 Perfect M&M HALLOWEEN Cookies made with butter, sugars, pudding mix & festive M&M's candies! Fun & festive Halloween Cookie recipe with candy that everyone loves!