Halloween Cobweb Cookies are spectacularly spooky and completely delicious! Sugar cookies topped with chocolate & vanilla icing- no coloring! Quick & easy spider web design made in seconds. Perfect Halloween treats!
My kids adore these festive, tasty Cobweb Cookies for Halloween. I had to call them cobweb cookies because I don't care for spiders, so the idea of putting them on cookies is a no-go. Ha! I love that they're made with all chocolate and vanilla icing- no food coloring. I'm not a big fan of the taste of food coloring, so the idea of not having to use it is wonderful.

How to make Perfect Sugar Cookies:
Three kitchen items make these cookies come together really fast. I actually use these items in nearly every cookie recipe I make, so they're quite versatile. First, I line my cookie sheets with a piece of parchment paper. They're sold in sizes that fit a 12×16 cookie sheet perfectly and enable to cookies to bake well without sticking- and no mess from spraying oil on the cookie sheets!
The second item is a KitchenAid mixer. I love mine! I have a Bosch as well but I find I use my KitchenAid for cookies. There is a cookie paddle that comes with every mixer that you attach to the top of the mixer. They're easy to use and help you mix the ingredients uniformly. I also use the metal whisk attachment in this recipe to make the frosting. It whips it up super fast! Add this to your wish list because it's one of my all-time used small appliances ever!
The third item is a cookie scoop! Years and years ago I used to use 2 spoons to measure and scrape cookie dough onto the pans. It wasn't a perfect process and I often ended up with oblong cookies in various sizes. A friend of mine brought cookies to a party and I noticed each and every one of her cookies looked PERFECT. Her secret? A cookie scoop! They come in three sizes- 1/2 tablespoon, 1.5 tablespoon and 3 tablespoon scoops. I used the middle size- 1.5 tablespoon for these, and most other cookies. (Although when I'm serving a large crowd, I use the small cookie scoop. People love having a smaller cookie, especially at an event with several other desserts. For this Sugar Cookie recipe, I used the middle scoop.

Halloween Cobweb Cookies Recipe
1/2 cup butter, softened
1/2 cup shortening
3/4 cup granulated sugar
1 egg
1 tsp vanilla
2 1/2 cups all-purpose flour
1 tsp baking powder
1/2 tsp salt
Chocolate Glaze
2 cups chocolate chips
1 cup heavy whipping cream
1/2 cup butter
Vanilla Glaze
2 TBSP melted butter
1 tsp vanilla
2 cups powdered sugar
4-5 TBSP milk
How to make Cobweb Halloween Cookies
Preheat oven to 350 degrees F. Line a baking sheet with parchment paper.
Cream butter, shortening and sugar until smooth. Add in egg and vanilla and mix again. Combine dry ingredients in a separate bowl; whisk to incorporate.
Add dry ingredients to butter mixture and mix to combine. Scoop out 1.5 TBSP balls. Place on parchment lined baking sheet. Using the bottom of a glass that's been sprayed with non-stick spray, gently flatten each cookie dough ball until each is about 1/4″ thick.
Bake cookies 10-12 minutes. Let cool for a few minutes on the baking sheet before transferring over to a cooling rack.
To make the chocolate glaze: Heat butter and whipping cream in a glass bowl in the microwave for 1 minute 30 seconds. Add in chocolate chips and cover bowl with a small plate. Let sit 5 minutes, then whisk mixture until the ingredients combine and the chocolate is smooth & shiny. Transfer 3-4 TBSP chocolate glaze into a small sandwich baggie. Cut the corner when ready to pipe.
To make the vanilla glaze: Melt butter. Add in vanilla, powdered sugar and enough milk to make the glaze smooth and spreadable. Transfer 3-4 TBSP vanilla glaze into a small sandwich baggie. Cut the corner when ready to pipe.
To make cobweb design: Spoon about 1 TBSP glaze onto a cookie. Pipe the opposite glaze onto the top, making circles in varying sizes. Begin in the middle, making a small circle, then make 2-3 more circles, increasing in size but taking care to not touch the lines of each circle. Take a toothpick and begin in the middle, dragging the toothpick through the lines of each circle. Make several identical lines all around the cookie. Icing will cool and set within minutes. Spiderweb design is easy to do when the icing is NOT SET, so don't try to do several cookies at the same time. I found you can really do 2 or 3 at once, max. I spooned vanilla icing on 3, then piped on the chocolate icing in circles and made the toothpick lines on each. Then I moved on to the next cookies, this time spooning on chocolate icing and piping vanilla lines. Continue until all cookies are glazed.
Store in an airtight container. Cookies can be made ahead of time! Cookies can also be stacked once icing is fully set.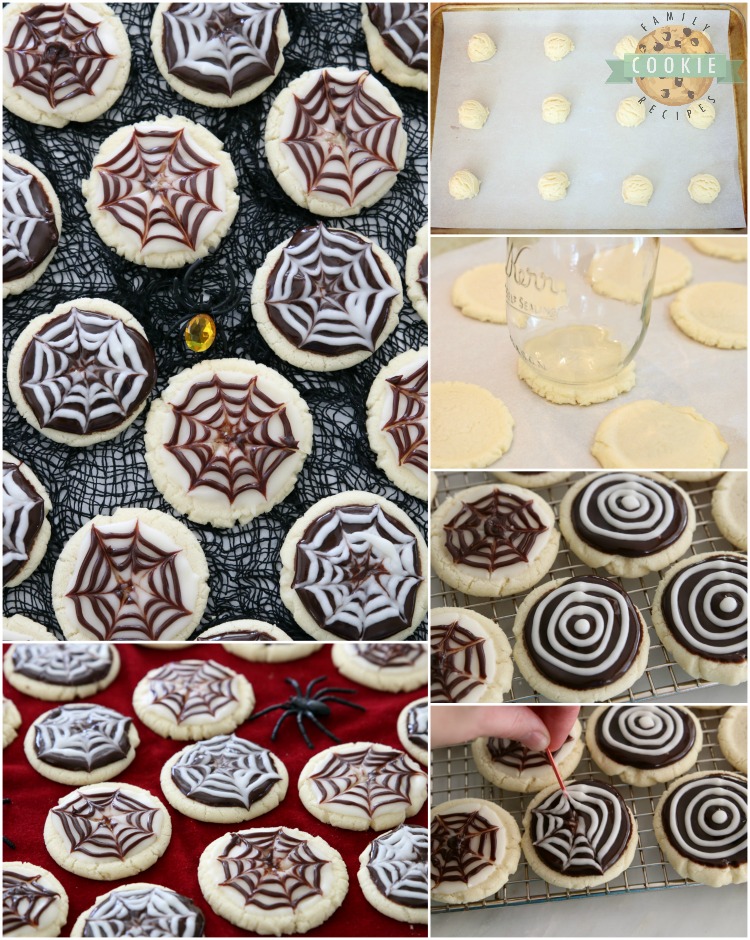 If you enjoyed these Cobweb Halloween Cookies, check out these other Fall cookie favorites: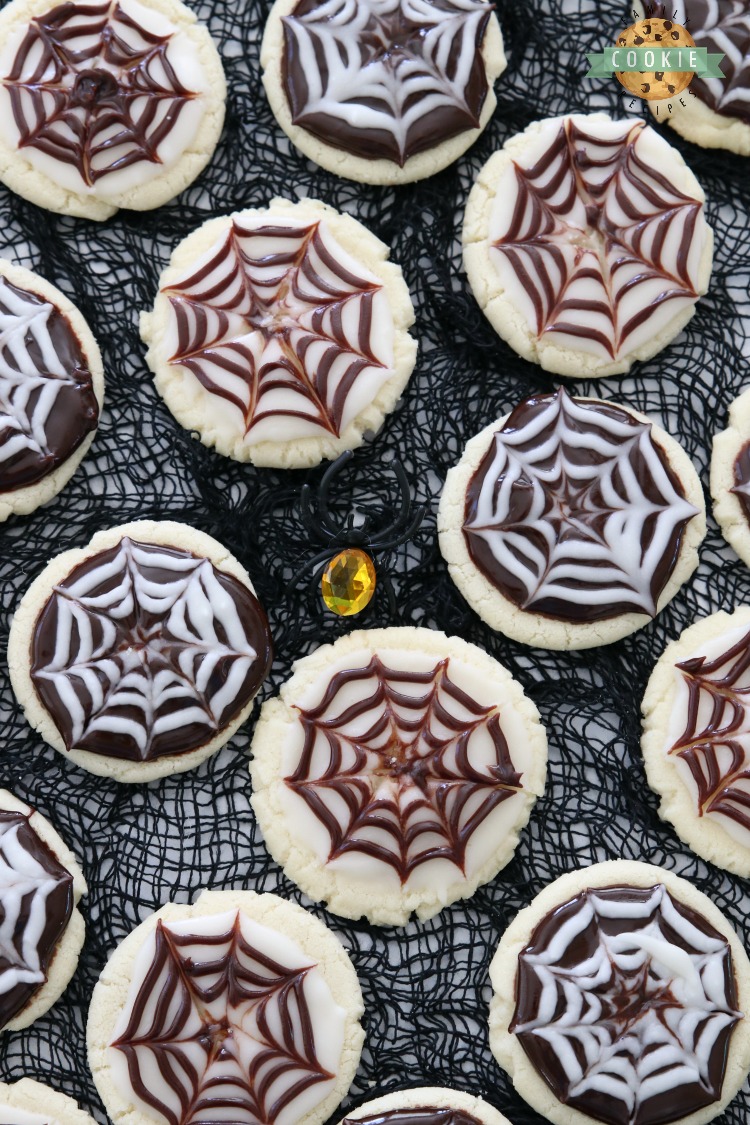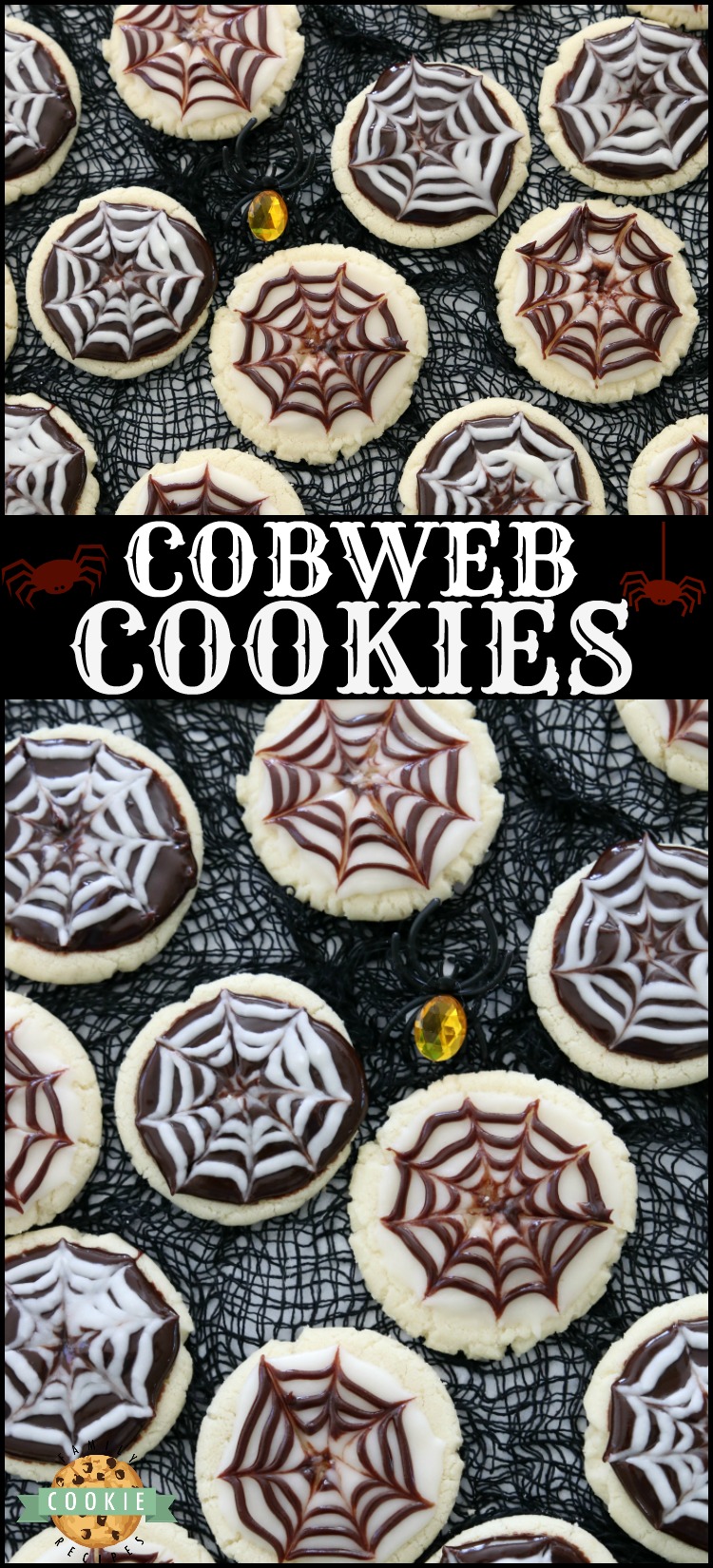 Having a large family means you take up several rows… well, pretty much everywhere, ha! My oldest son is taking the picture and this is the result as we're trying to hurry before the ride begins. We must have ridden this ride 5 or 6 times. Thank heavens for fast passes!