Smores Cookie Bars with chocolate chunks, graham cracker & marshmallow for a fun twist on a classic! Chocolate Chip cookies + s'mores in a delicious dessert bar everyone loves!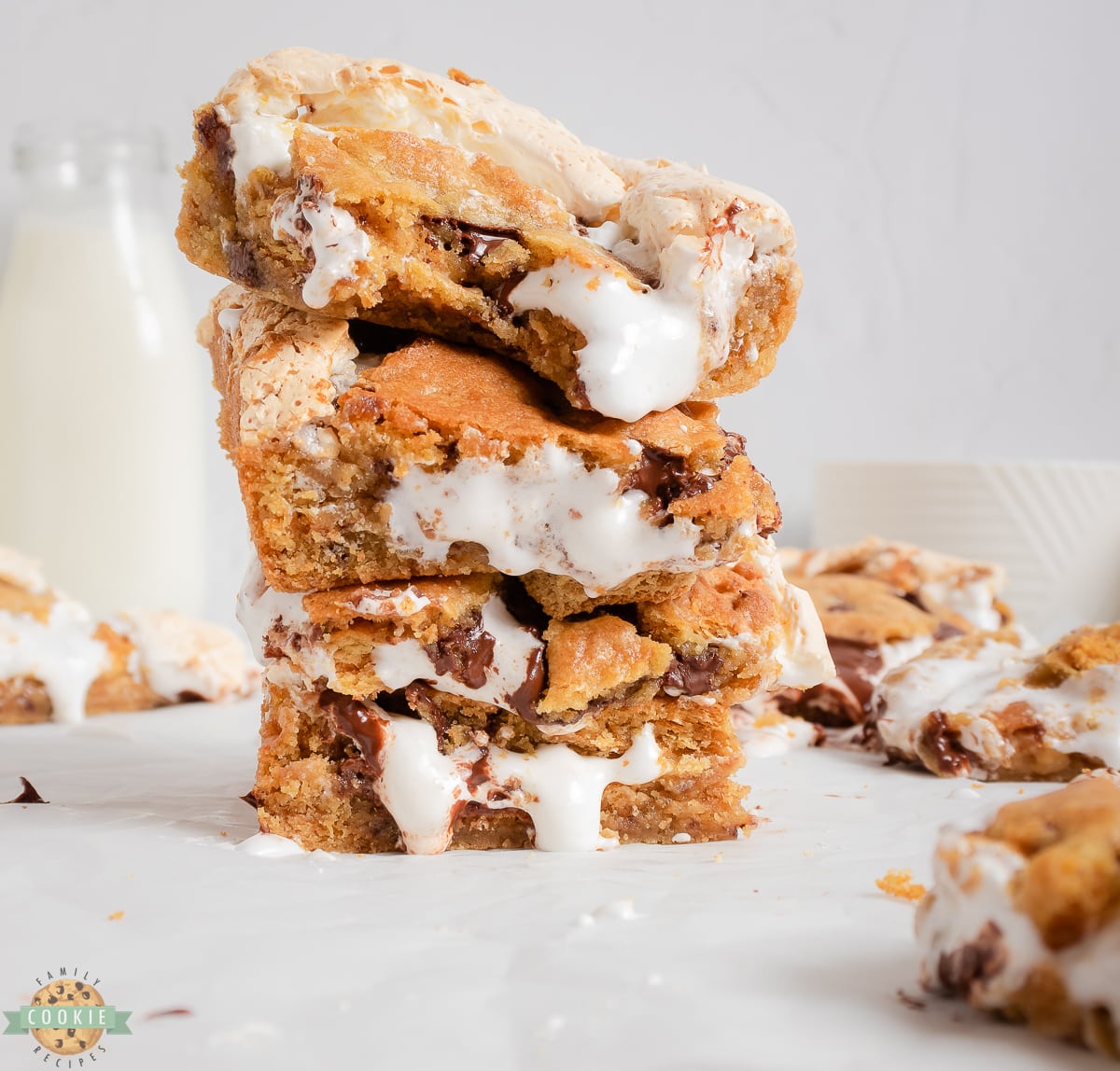 There is nothing better than a gooey melty smore on a nice summer evening but with our smores bars, you can get that same great taste year round, but without the big mess. Packed with your favorite flavors in every bite, this smores dessert is a recipe you will want to enjoy often.
Easy Smores Cookie Bars
This delicious cookie bars recipe is made by making a graham cracker flavored chocolate chip cookie dough and layered with marshmallow fluff for the ultimate experience in every square. It looks good, tastes great, and is so easy to make that it will no doubt become your next go-to dessert recipe. These Smore cookie bars are a great treat to make for kid sleepovers, on a warm summer night serve them up in the backyard and everyone is sure to enjoy them!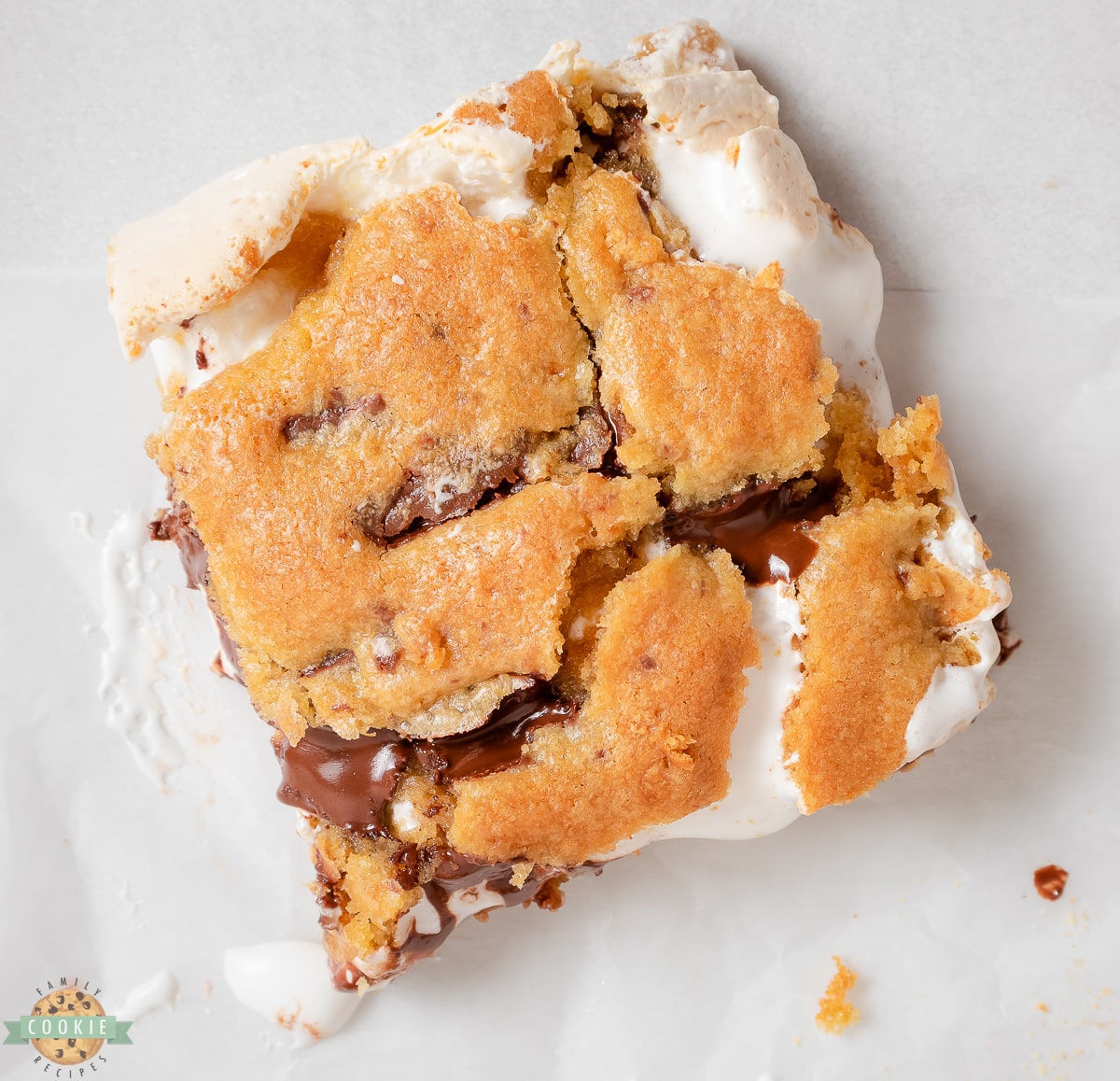 Why we think you will enjoy this amazing recipe!
Here are just a few reasons why you should try this delicious recipe today.
No campfire is needed! The weather and your location may not always allow for campfires so traditional smores may not be an option, but these oven baked smores cookies can certainly help to fill that void.
Basic ingredients. You do not need anything too fancy to make this recipe and you may even be surprised at how many of the ingredients are already in your home. Just a minimal shopping trip (if any) is needed.
No chilling is required! This recipe does not require any dough chilling or high levels of patience. Just make the dough, layer the bars and bake to perfection.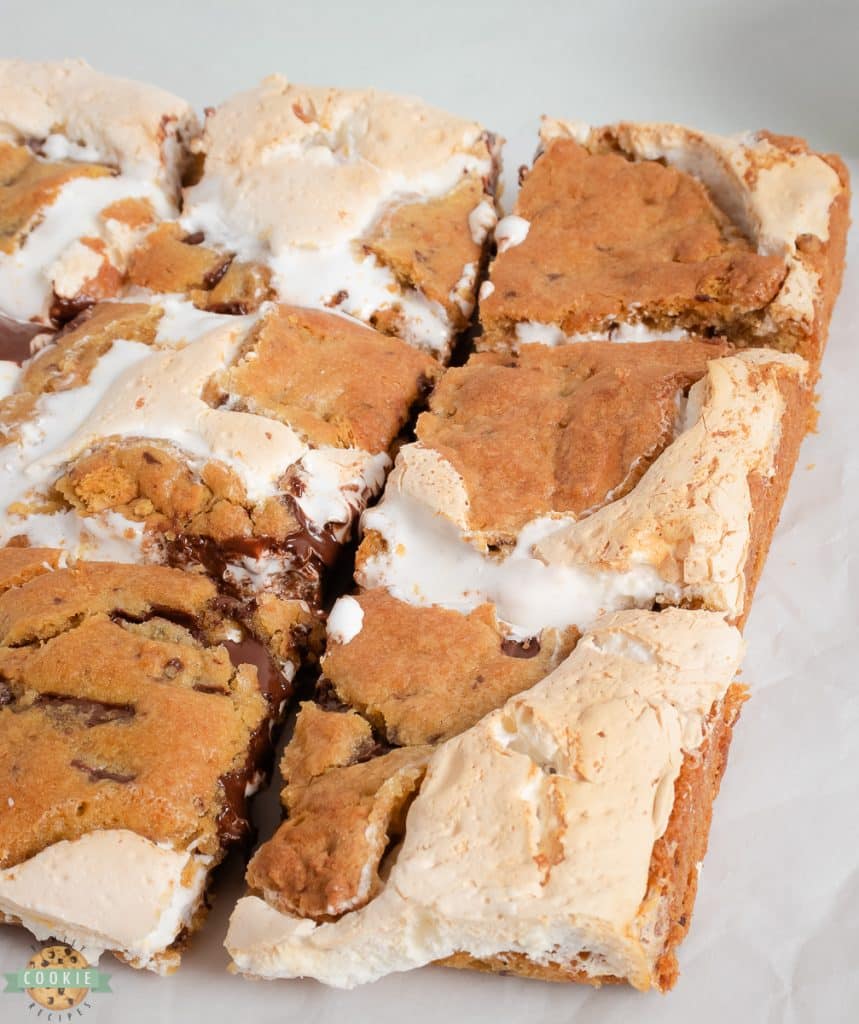 S'mores Bars Ingredients
Butter: You will need ½ cup of softened room temperature unsalted butter.
Sugars: Use ¼ cups of granulated sugar and ⅔ cups of packed light brown sugar, to give a nice sweet taste and depth of flavor.
Eggs: You will need 1 large egg and 1 large egg yolk only, that are both at room temperature.
Vanilla extract: Use 1 teaspoon of vanilla extract to make the cookies taste great.
Flour: The base of the dough is 1 ¾ cups of all-purpose flour.
Leavening agents: You will need ½ teaspoon of baking powder and ¼ teaspoon of baking soda to make the cookie puff up and rise properly as it bakes.
Salt: Adding in ½ teaspoon of salt will enhance the flavors of the dough well.
Chocolate chunks: You will need to use 4 ounces of semi-sweet chocolate chunks so there is plenty in every bite.
Graham crackers: You will need 2 ounces of graham crackers (about 4 crackers), that have been cut into bite sized pieces.
Marshmallow fluff: A 7 ounce jar of marshmallow fluff (or marshmallow creme) will be needed for the filling in these cookie bars.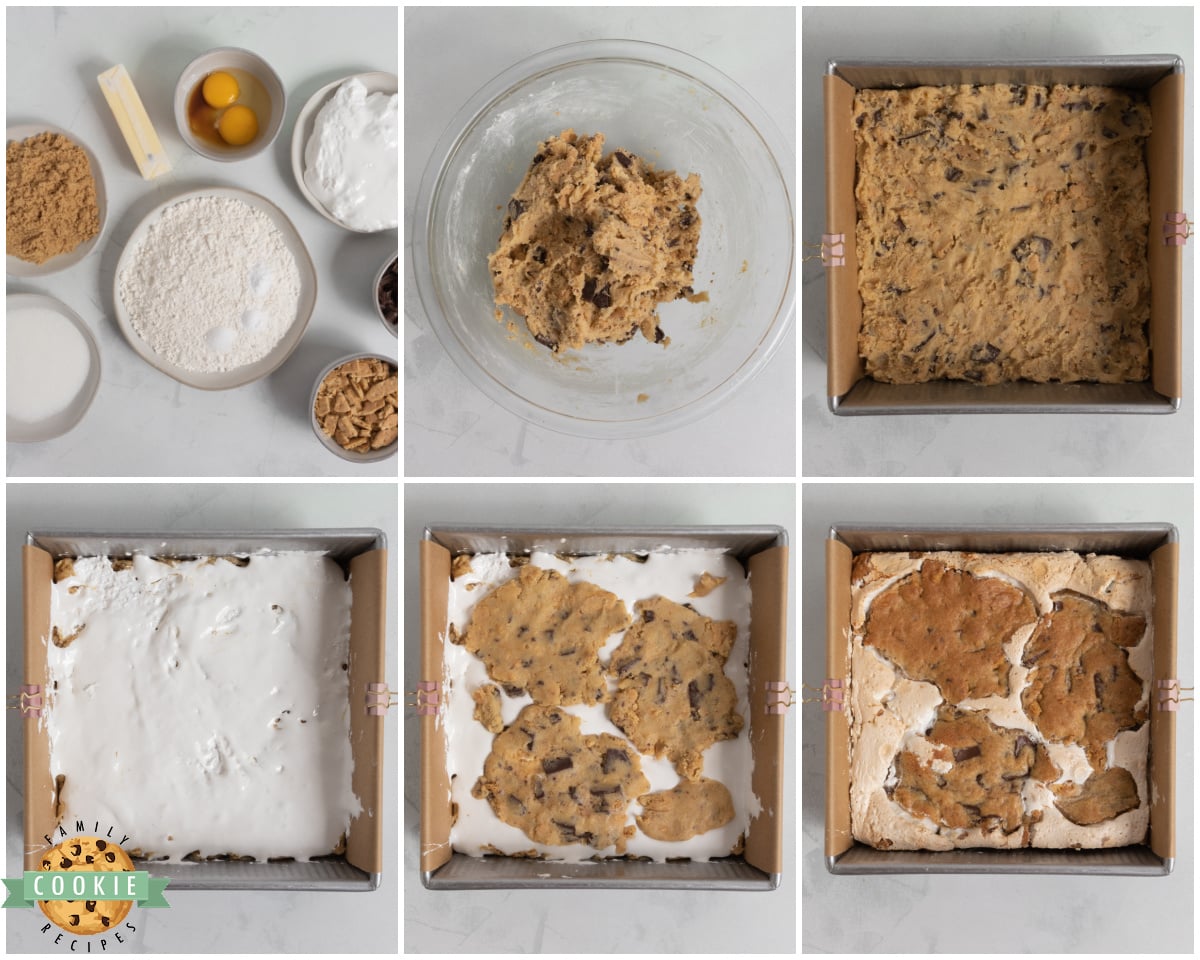 How to Make Smores Cookie Bars
Prep
Start by preheating the oven to 350 degrees F.
Then, line the inside of an 8×8 baking dish with parchment paper, making sure to leave enough hanging over the sides to make the bars easier to remove later. Set the pan aside.
Also, chop up the chocolate into chunks, as well as the four graham crackers. You want them both broken up into bite sized pieces. Set aside for later use.
Make cookie dough
In a bowl of a stand mixer, beat the butter and both sugars on medium speed for 1-2 minutes or until the mixture looks like wet sand. Scrape down the sides of the bowl.
Next, add in the egg, egg yolk, and vanilla extract. Beat on medium speed for 1-2 minutes or until combined. Scrape down the sides of the bowl again.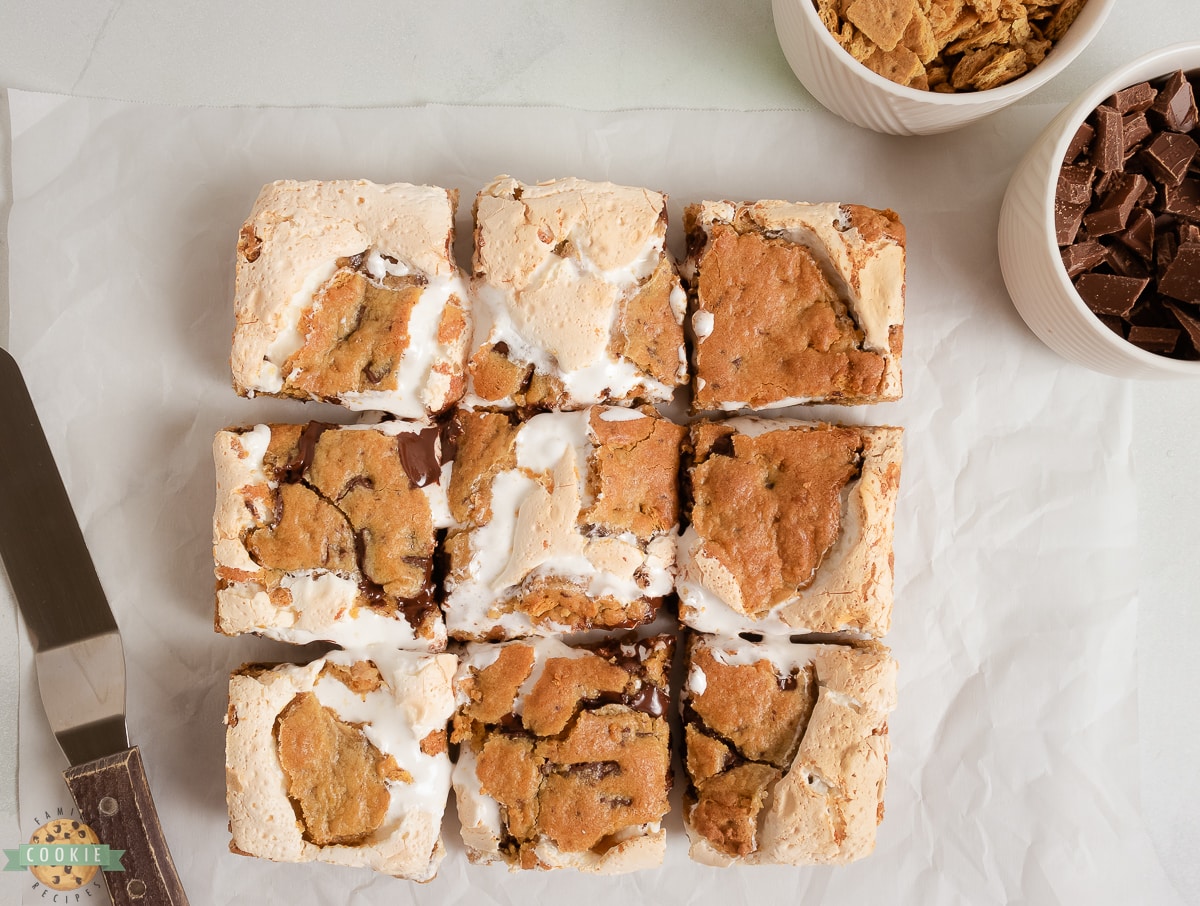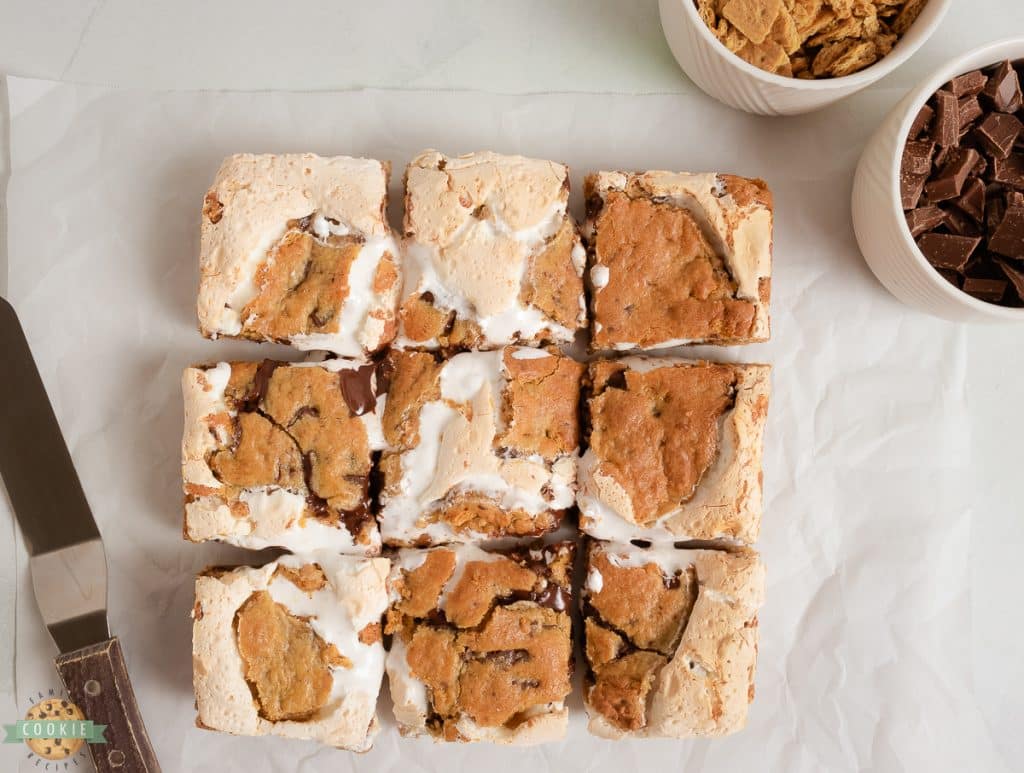 Then, mix in the all purpose flour, baking soda, baking powder, and salt on low speed until combined.
After that, stir in the chocolate chunks and graham cracker pieces on low speed until combined. If desired you can set some chocolate and crackers aside for topping later.
Assembly
Press ½ to ⅔'s of the cookie dough into the prepared baking dish. Compact the dough onto the bottom of the pan but not up along the sides.
Then, spread the marshmallow fluff over the top as evenly as you can. If it keeps sticking to your spatula, spray the spatula with cooking oil to prevent this.
Next, take the small amounts of the remaining cookie dough and flatten it into a few discs using your hands. Place the dough on top of the marshmallow fluff.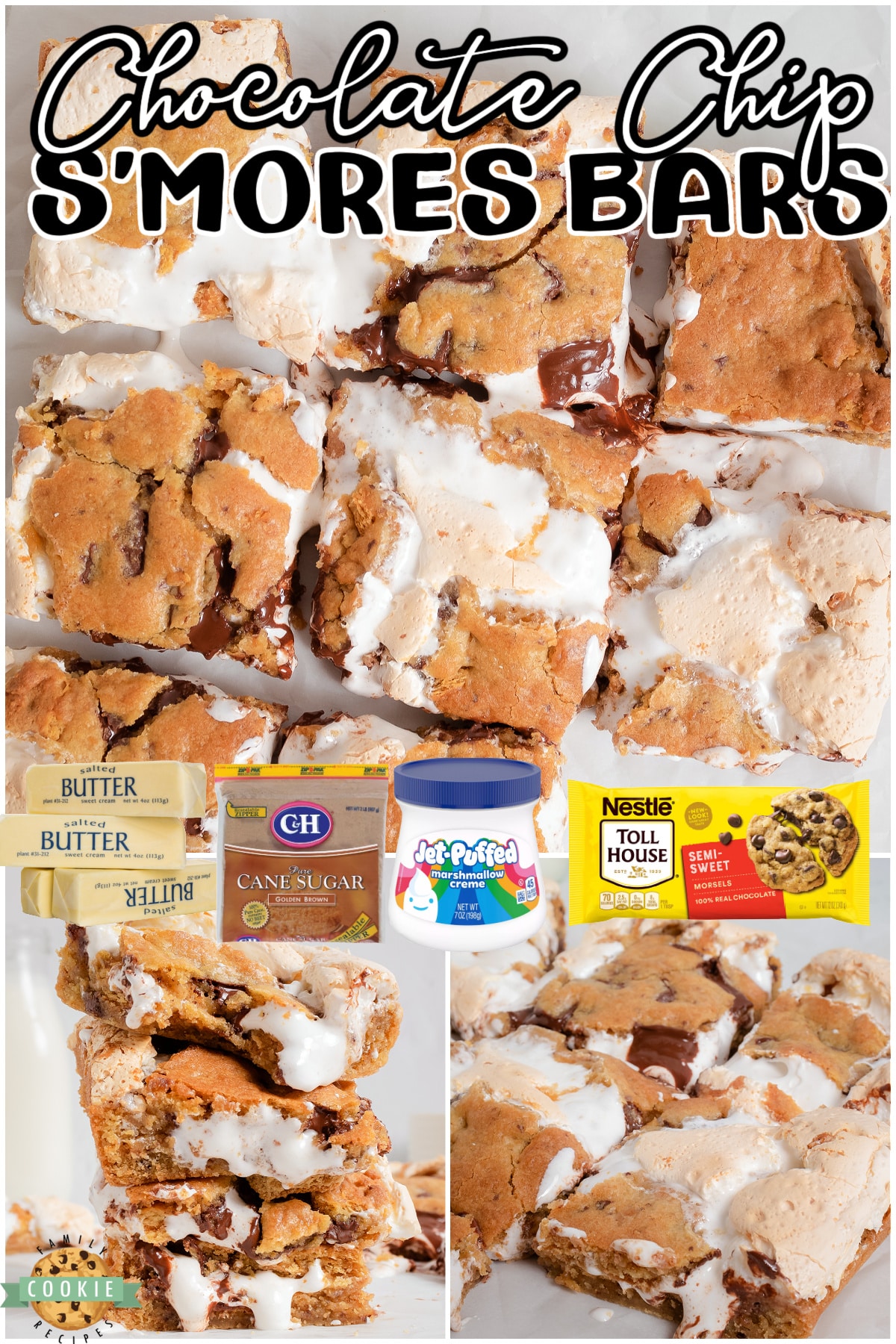 Bake
Proceed to put the dish in the oven and bake for 20 minutes or until the cookie is golden brown.
Let the dessert cool for about 1 hour, letting the marshmallow and chocolate cool and set completely.
Then, lift the bars out of the pan using the parchment paper overhang. Cut into serving sized squares and serve. Enjoy!
For a Sweeter Dessert Bar
If desired you can swap out the semi sweet chocolate chunks for milk chocolate chunks. This would also make it taste much more like actual smores because in traditional smores you would use a milk chocolate Hershey bar. In fact, if you cant find chocolate chunks you can use chopped pieces of your favorite chocolate candy bar instead. Or you could use chocolate chips as well, that would also work great.
How long are smores cookie bars good for?
You can keep these smores cookie bars stored in an airtight container at room temperature for up to 1 week. This should give you plenty of time to savor a sweet little treat every night.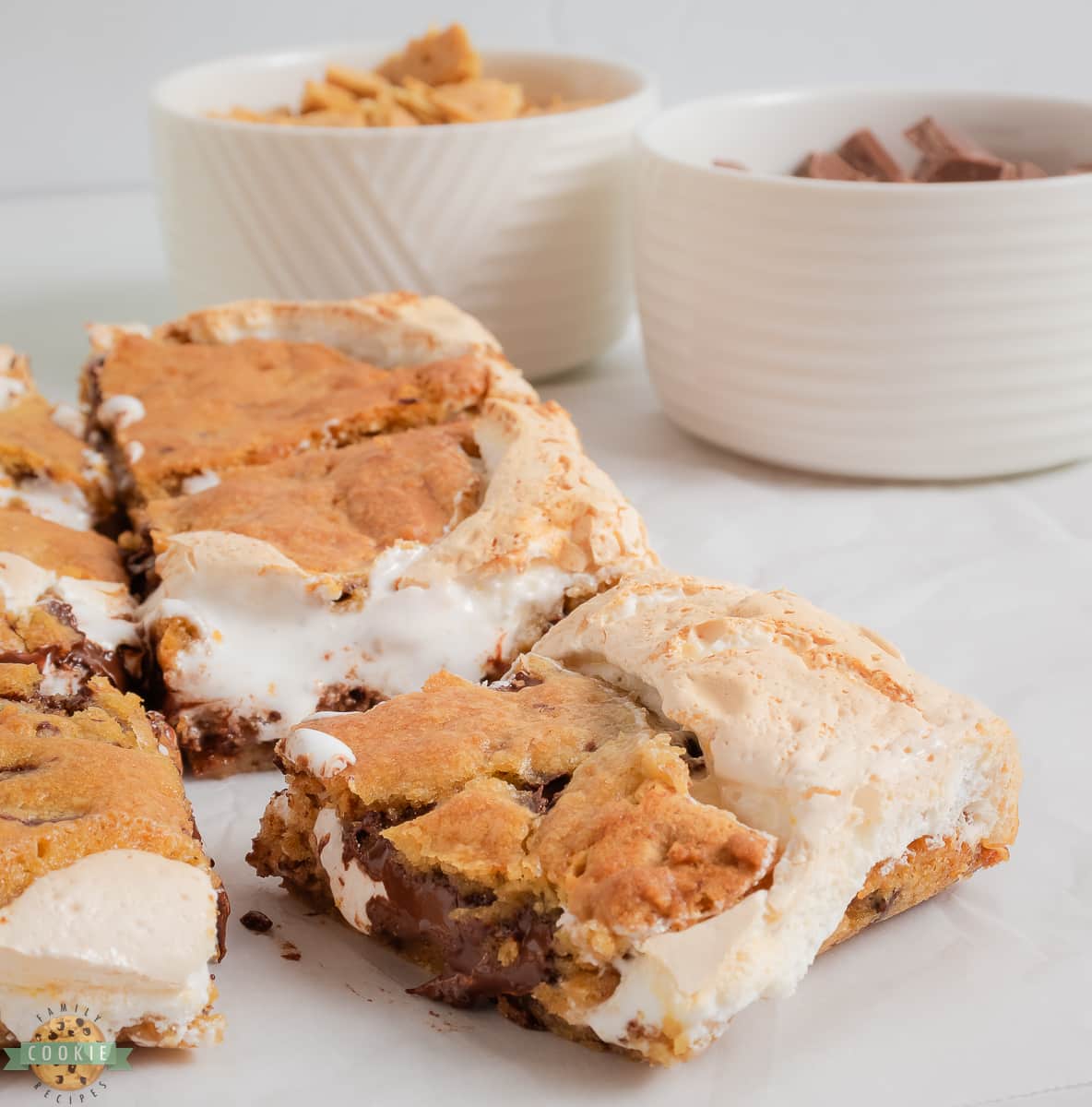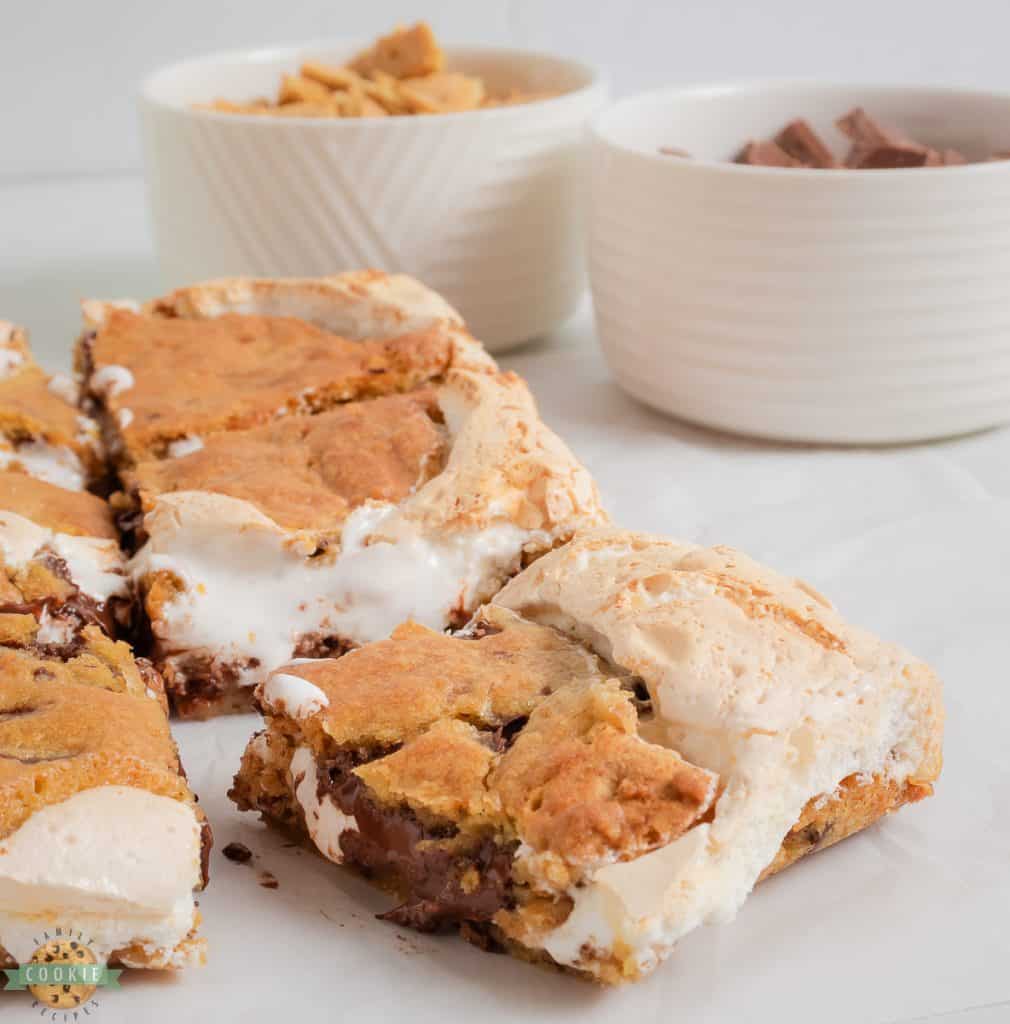 Can I use marshmallows instead of fluff?
I have not tried the recipe with marshmallows instead of fluff but I do not think it would work well to swap them for one another simply because marshmallows expand much more when heated which could cause the toppings to rise up above your pan and possibly make a mess in the oven.


My youngest child is one of those kids who just has NO fear. Like, I sometimes wish he had just a smidgen more… maybe I would worry less?! Other times it just so dang fun to watch him do his thing. The rest of us were pretty much done with roller coasters. Not him! So he went by himself… in the line, in the coaster- I got this great pic of him upside down, just thoroughly enjoying himself. Which reminds me, I love him just the way he is, even if I get Mom-anxiety more than I'd like!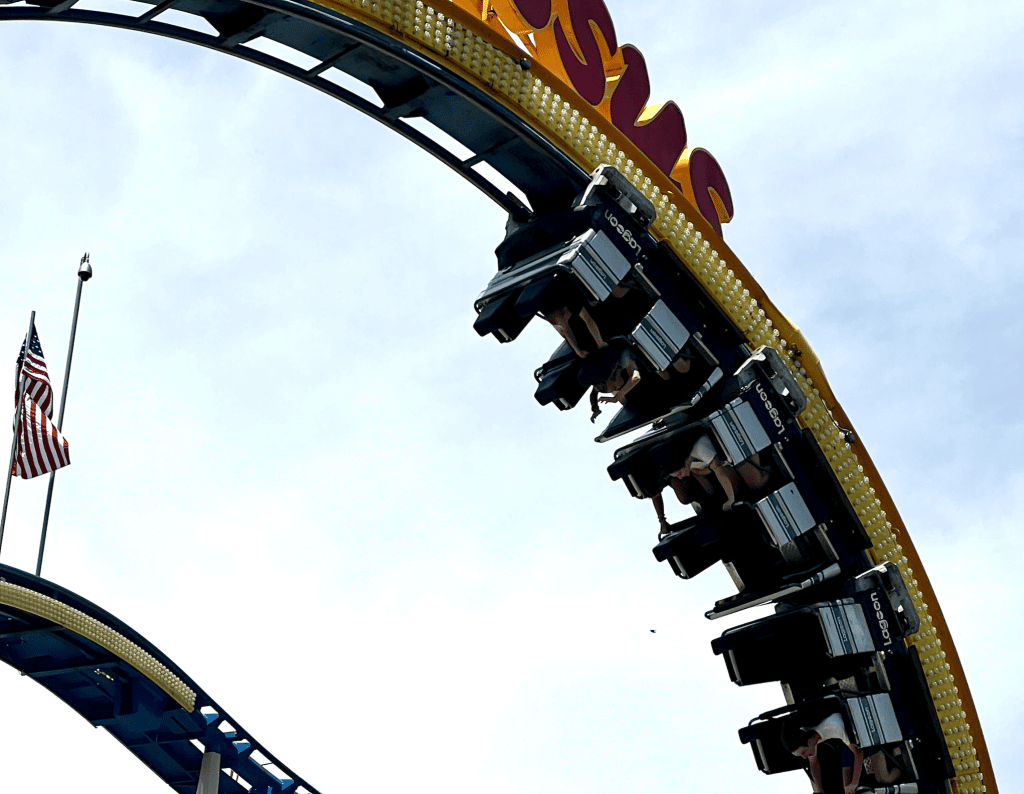 What is the difference between marshmallow fluff and marshmallow crème?
They are both incredibly similar and if you didn't look at the ingredients list on the back you may never notice a difference in appearance or taste but marshmallow creme often contains creme of tartar and xanthan gum whereas fluff does not. Both can be interchanged in recipes though without fail.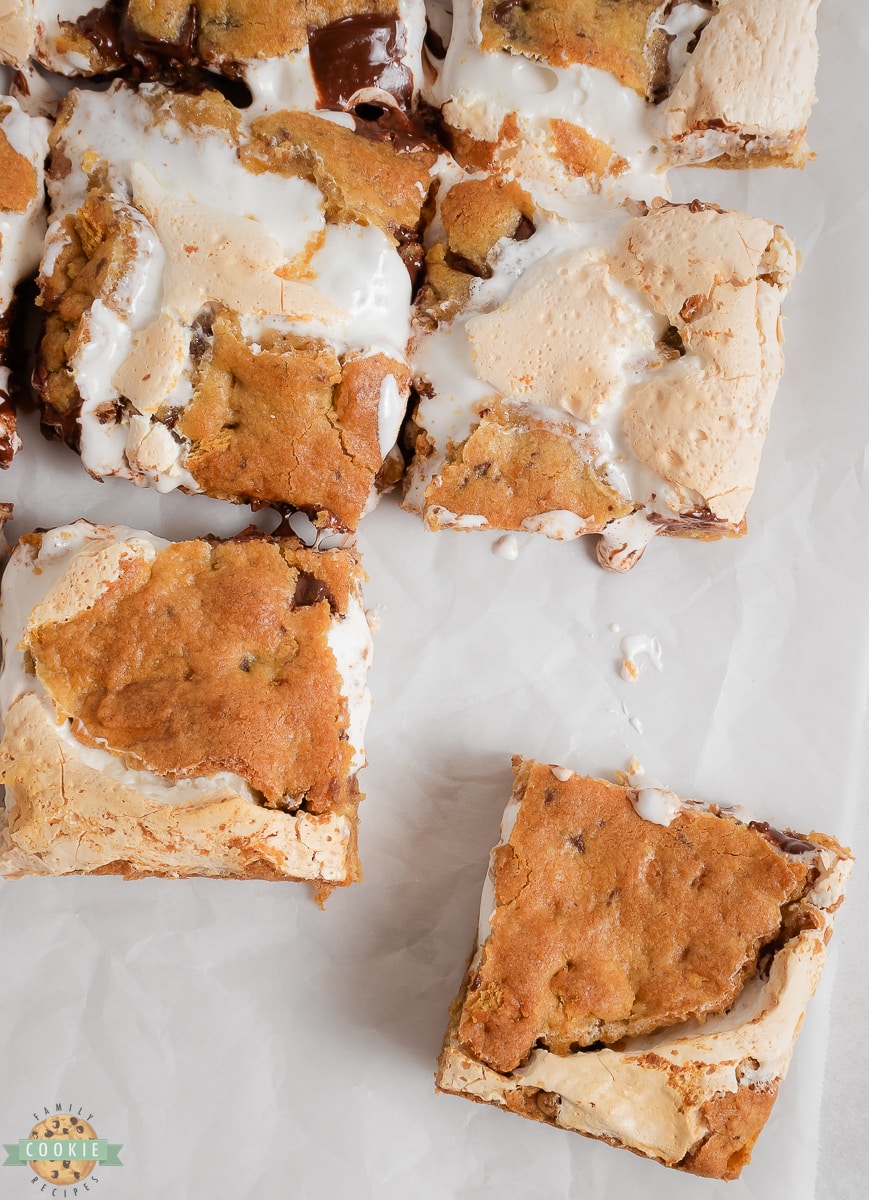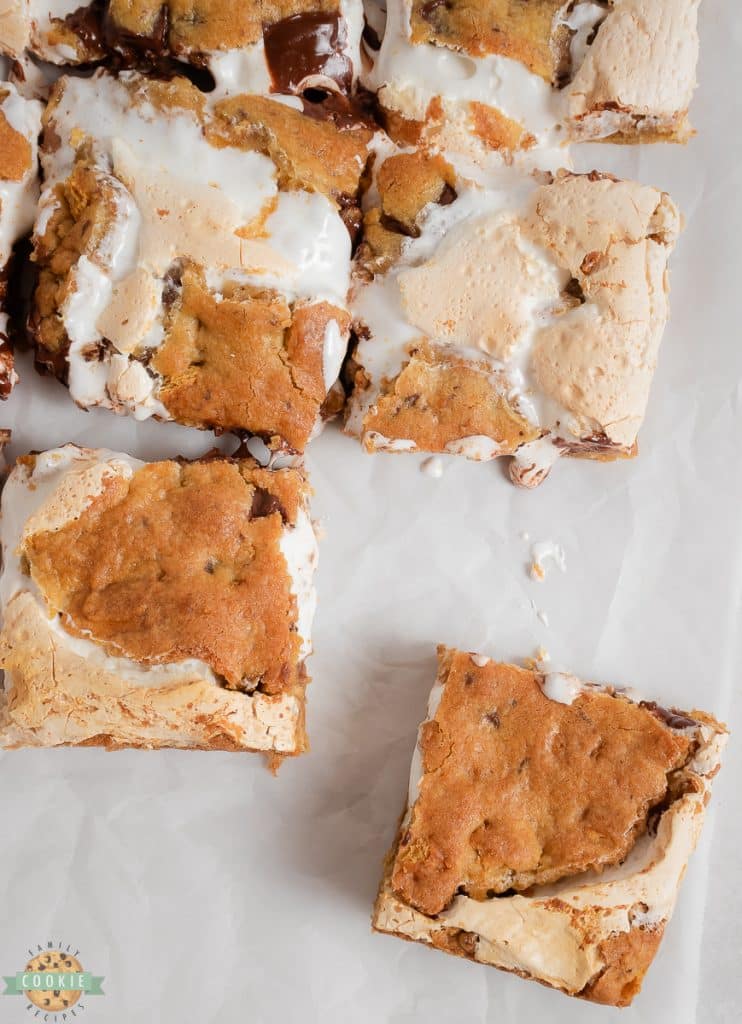 S'mores Cookie Bars are a fast, simple, and incredible way to enjoy this favorite summertime dessert. This baked smores dessert has amazing chocolate chunks, crunchy graham cracker pieces, and fluffy marshmallow to give the cookie bar amazing flavor!