Simple Reese's Cookie Bars made from Reese's Pieces added to a simple cookie dough recipe! Chewy, buttery cookie bars chock full of Reese's candies.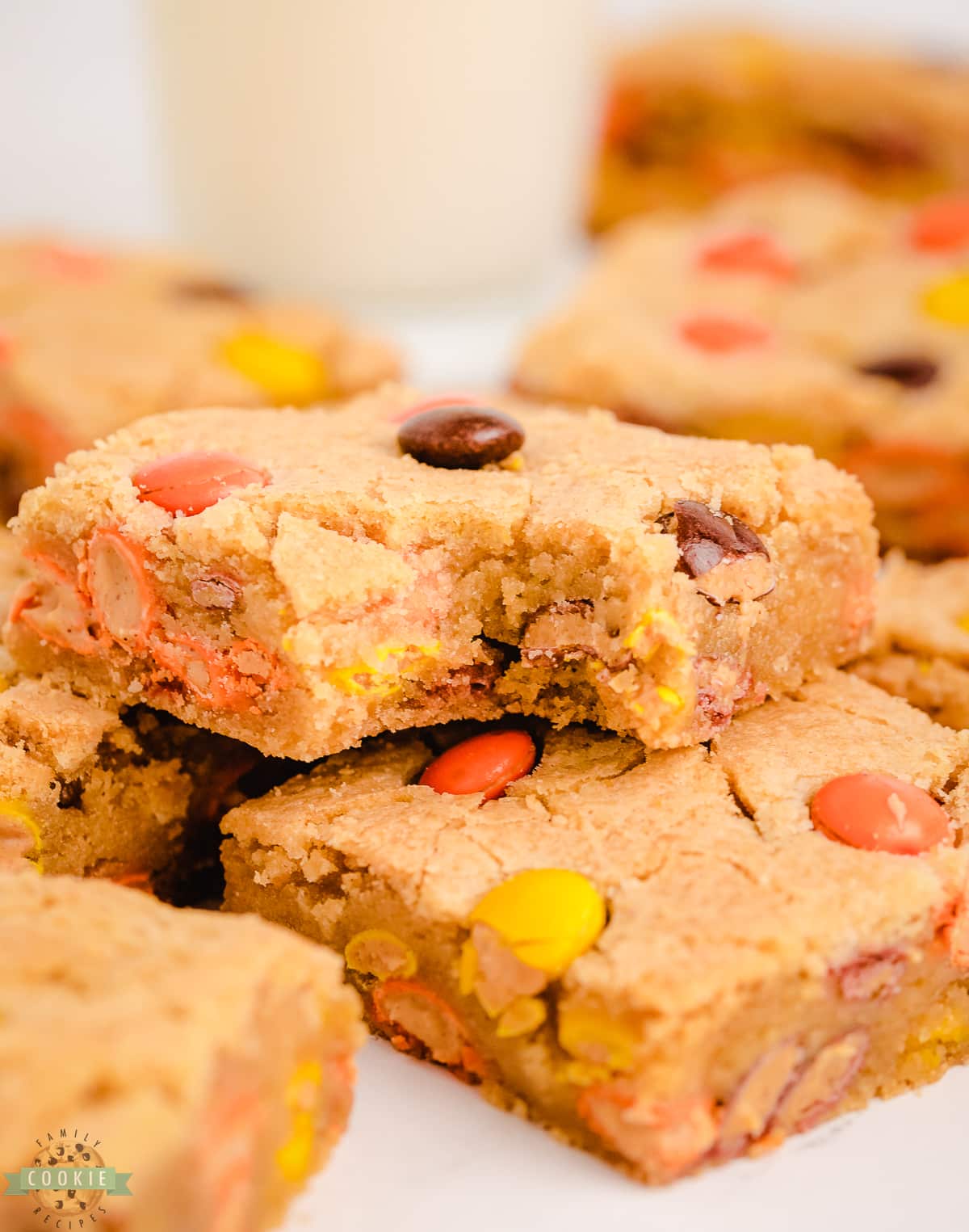 This recipe for cookie bars is so easy to make, no dough chilling or rolling required! Serve this amazing Reese's dessert at your next family gathering or share them during the holidays with your family and friends.
Candy Filled Cookie Bars
If you are anything like me, you regularly find yourself having a strong craving for something rich, sweet and decadent. Well, I have the recipe for you! These cookie bars are an easy dessert to whip up quickly, it only calls for a few basic ingredients and can be ready in just about 30 minutes. This delicious dessert is perfect for the peanut butter lovers in your life, the added bites of Reese's Pieces is absolutely heavenly. Reese's cookie bars are always a huge hit with my family and I love how simple they are to make. Next time you need a quick peanut butter fix, make these to satisfy your craving!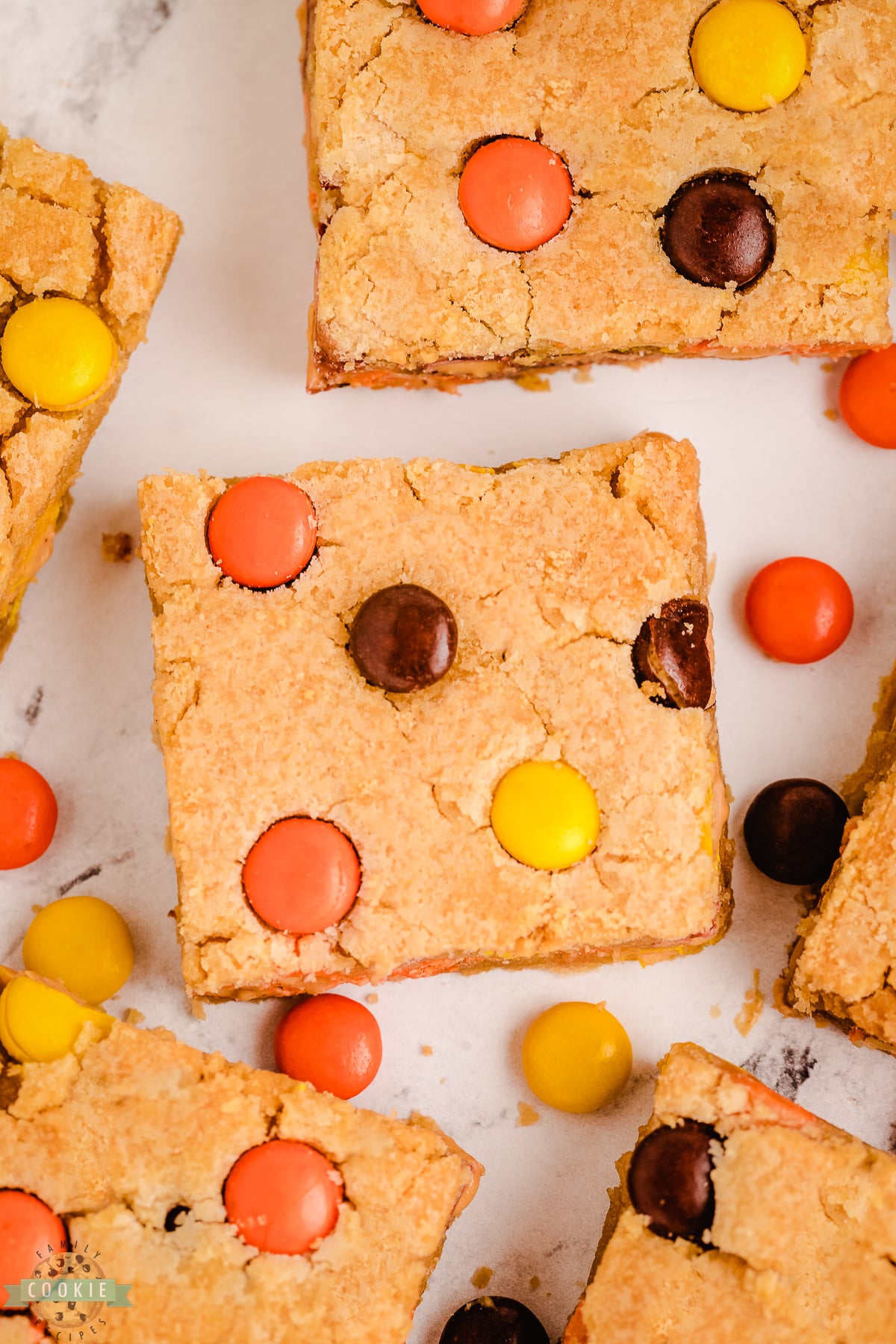 WHY YOU'LL LOVE THESE EASY COOKIE BARS
Comes together quickly. Making these cookies is so simple, the prep time and cook time are no more than 30 minutes combined. When the mood strikes and you want a fast sweet treat, look no further than this delightful cookie recipe.
Only 9 ingredients. What is easier than adding a few basic ingredients to a bowl, mixing, baking and enjoying? Absolutely nothing, this is a great recipe to try when you need to whip up a quick treat.
Extra delicious cookies. Is it possible that a cookie with only a few ingredients can be this delicious and flavorful? the addition of the Reese's Pieces candy takes the simple cookie dough to the next level!
Reese's Cookie Bar Ingredients
Butter: To give the cookies a lovely rich flavor, use 1 cup of butter, room temperature.
Sugar: Adding in ¾ cup of granulated sugar will help make them chewy and sweet.
Brown sugar: You will need 1 cup of brown sugar to give the cookies a wonderful depth of flavor.
Eggs: Use 2 eggs in this cookie dough recipe to give more great taste and texture.
Vanilla extract: Help enhance the amazing flavors in this dough by adding in 1 tsp of vanilla extract.
Flour: The structural base of this cookie dough is 3 cups of flour.
Salt: You need ¾ tsp of salt to balance the sweetness in these cookie bars.
Baking soda: Add in ¾ tsp of baking soda to help the cookie bars rise as they bake.
Reese's Pieces: For the tasty addition to these cookie bars, you will need 2 cups of Reese's Pieces candies. You can use the standard or mini size, whatever you prefer.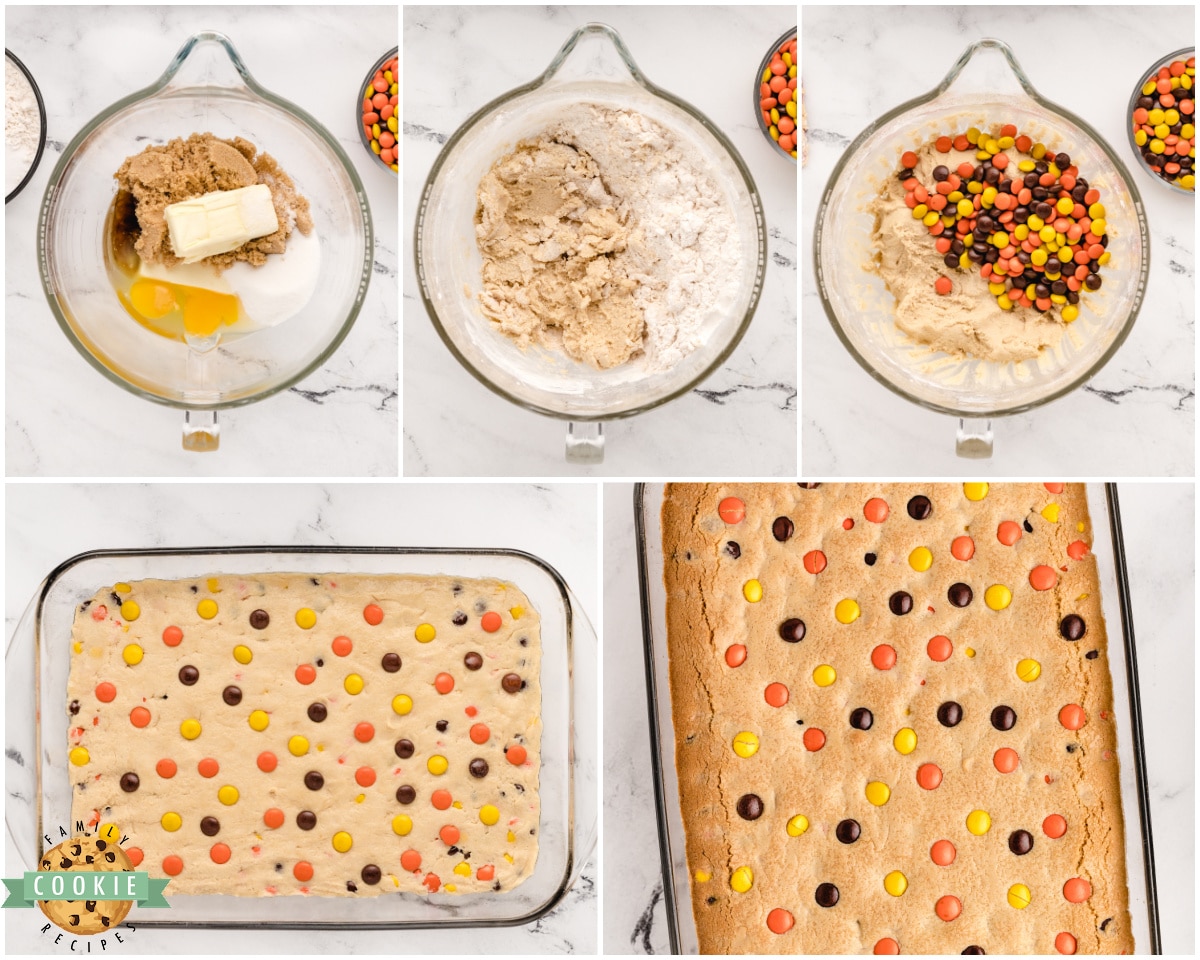 How to make Reese's Pieces Cookie Bars
Prep
Begin by preheating the oven to 350°. Then, spray a 9×13 pan with non-stick spray and set it aside.
Cookie dough
Next, in a large bowl, cream together the butter, white and brown sugar, the eggs and vanilla extract.
In a separate small bowl, sift together the flour, salt, and baking soda.
Proceed to combine the dry ingredients with the wet butter/sugar mixture, stir well to combine until no white streaks of flour are shown.
After that, continue to fold in the Reese's Pieces candy.
Bake
Now, press the prepared cookie dough into the greased 9×13 pan.
Place in the preheated oven and bake for 18-20 minutes or until the cookie bars are puffy and no longer glossy in the center. Be sure to allow the cookie to cool completely before cutting into bars.
Serve and enjoy!
CAN I FREEZE PEANUT BUTTER COOKIE BARS?
These cookies are great for freezing for later! You can either freeze them after they have been baked, or freeze the prepared dough. If you are freezing baked cookies, you want to store them in an airtight container or ziplocked bag to keep them as fresh as possible. Same goes for the cookie dough storage. The cookies/dough will be good for up to 3 months if stored properly.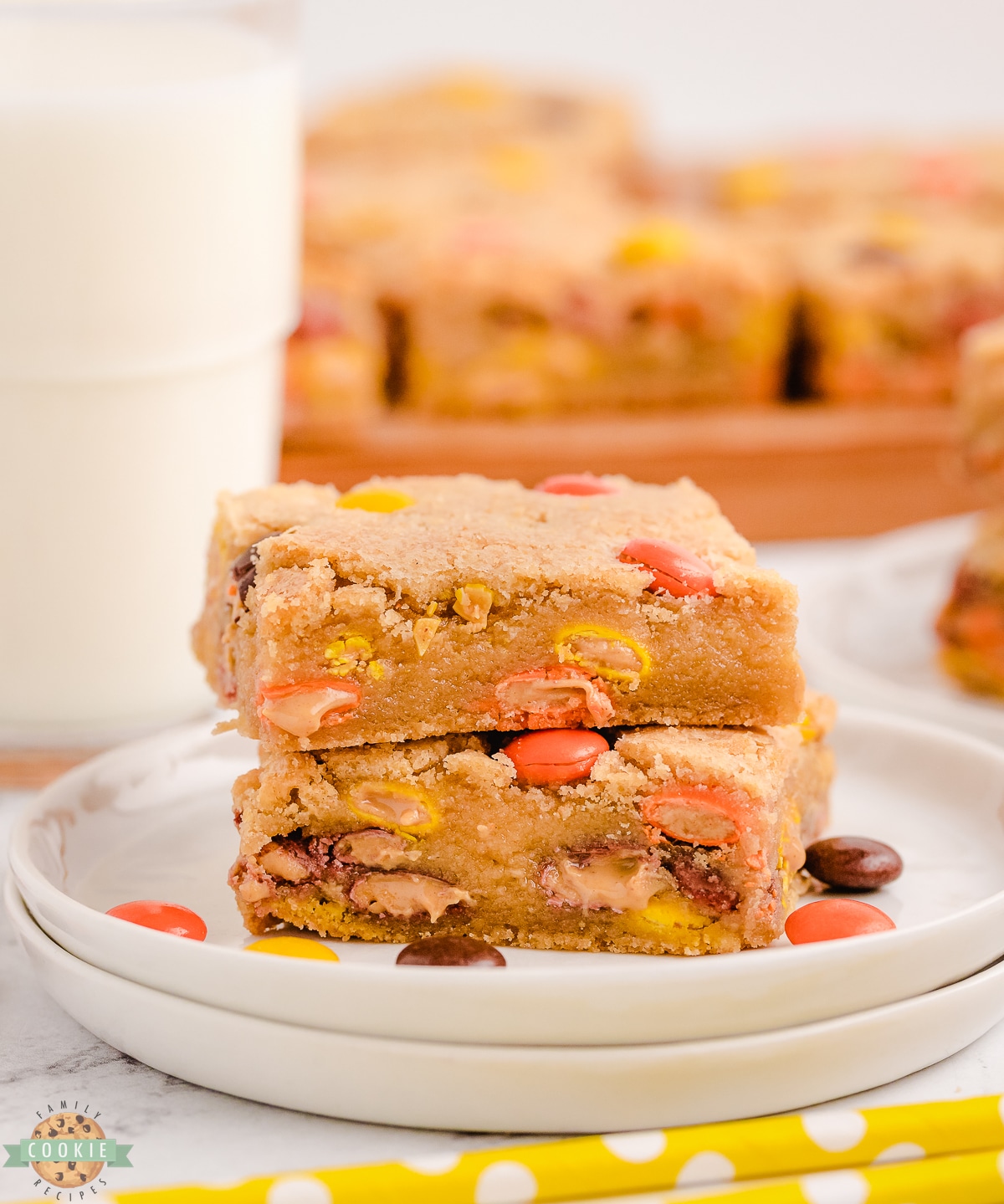 HOW LONG ARE THESE COOKIES GOOD FOR?
These cookies will be good for 3-5 days, if stored properly. To keep your treats as fresh as possible they should be kept in an airtight container or a ziplocked bag. A trick I learned to keep them extra fresh and soft is to put a piece of bread in with the cookies. The cookies absorb the moisture from the bread and stay soft and chewy a couple of days longer. Try it, you will be amazed!
WHAT TYPE OF VANILLA EXTRACT SHOULD I USE?
A few years ago I tested 10 different vanilla extracts and found new favorites! I love using TOTONAC's Mexican Vanilla for everyday use. It's pure vanilla and contains no alcohol, which I like because I don't like the taste of extracts made with alcohol. Each time I try another, I go back to Totonac's quickly afterward; it's so good! I also love using Nielsen Massey Vanilla Bean Paste. Again, this one has the best flavor by far!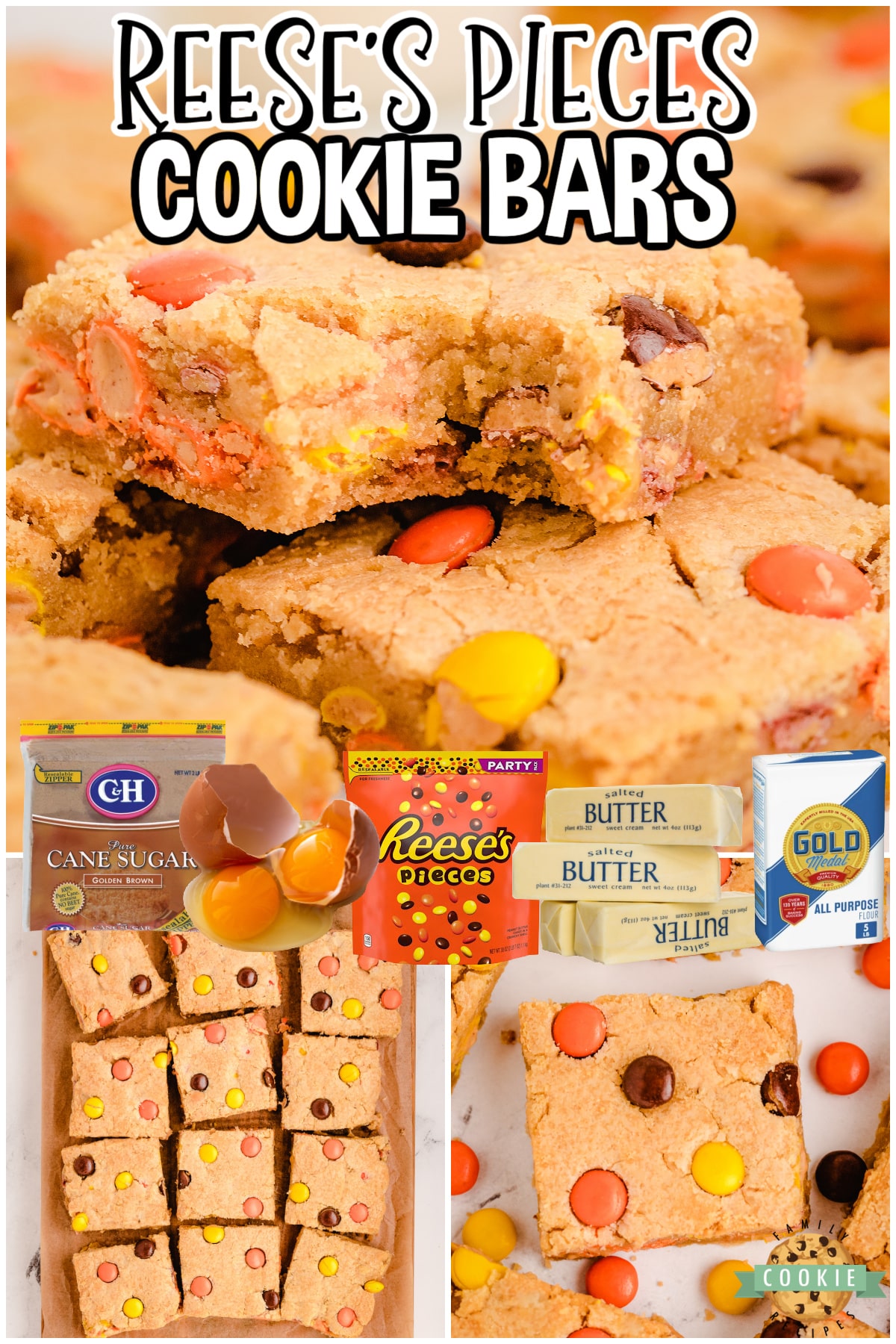 Love peanut butter treats? Try more delicious recipes here:
These easy Reese's Cookie Bars are made with Reese's Pieces in a simple cookie dough recipe! Sweet and delightful cookie bars loaded with Reese's candies.