Oreo Peanut Butter Cookies are soft and chewy peanut butter cookies made with Oreo pudding mix and crushed Oreo cookies.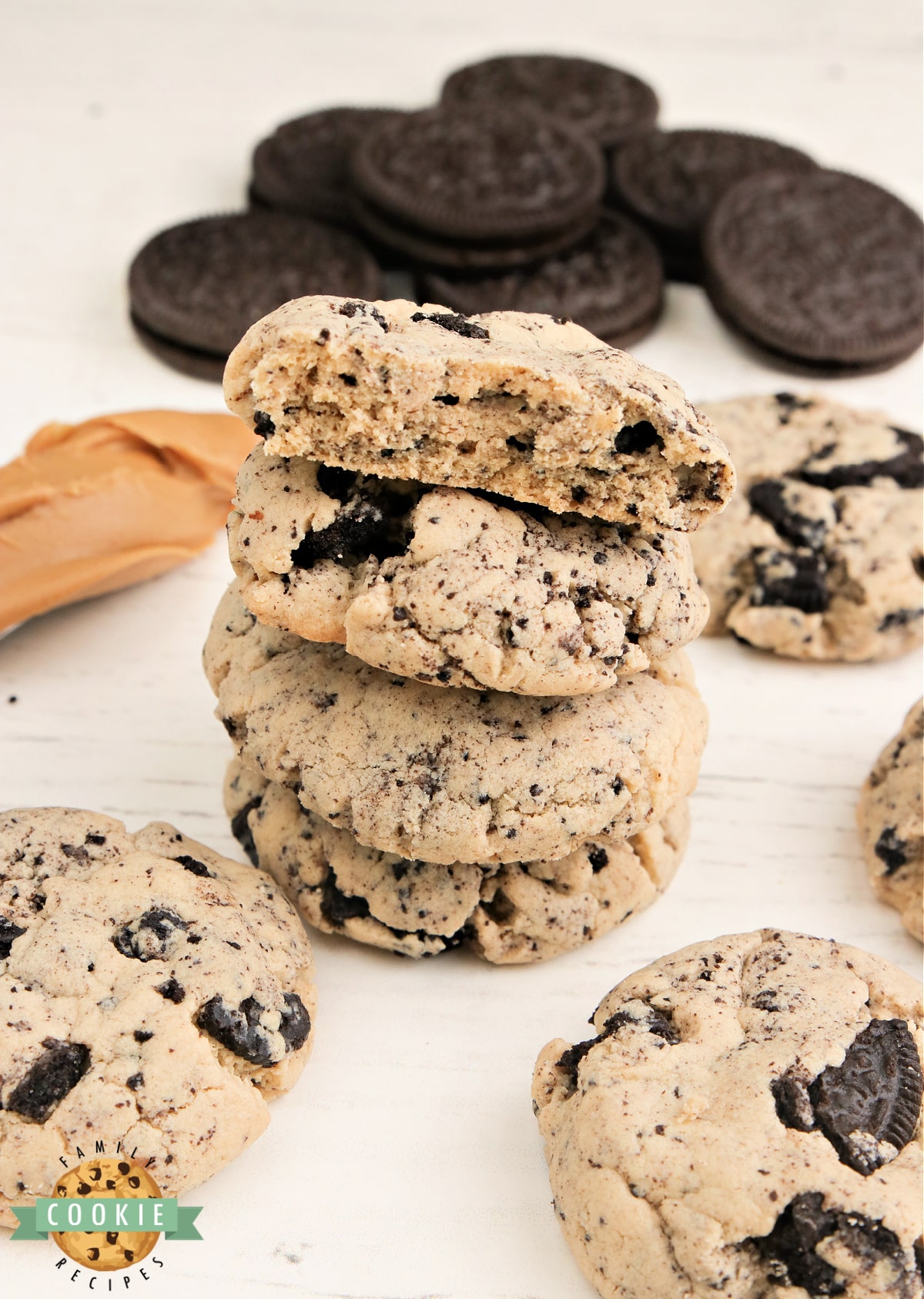 Oreo Peanut Butter Pudding Cookies are one of those recipes you've just got to try. I love peanut butter cookies. My go-to Chocolate Chip Peanut Butter Cookie recipe has been made at my home way more times than I'd like to admit and I loved it so much that I never even really tried any other recipe. And my other favorite cookie recipe of all time is my Cookies and Cream cookie recipe. So this new recipe is basically a combination of both of my favorite recipes…and the results are fantastic!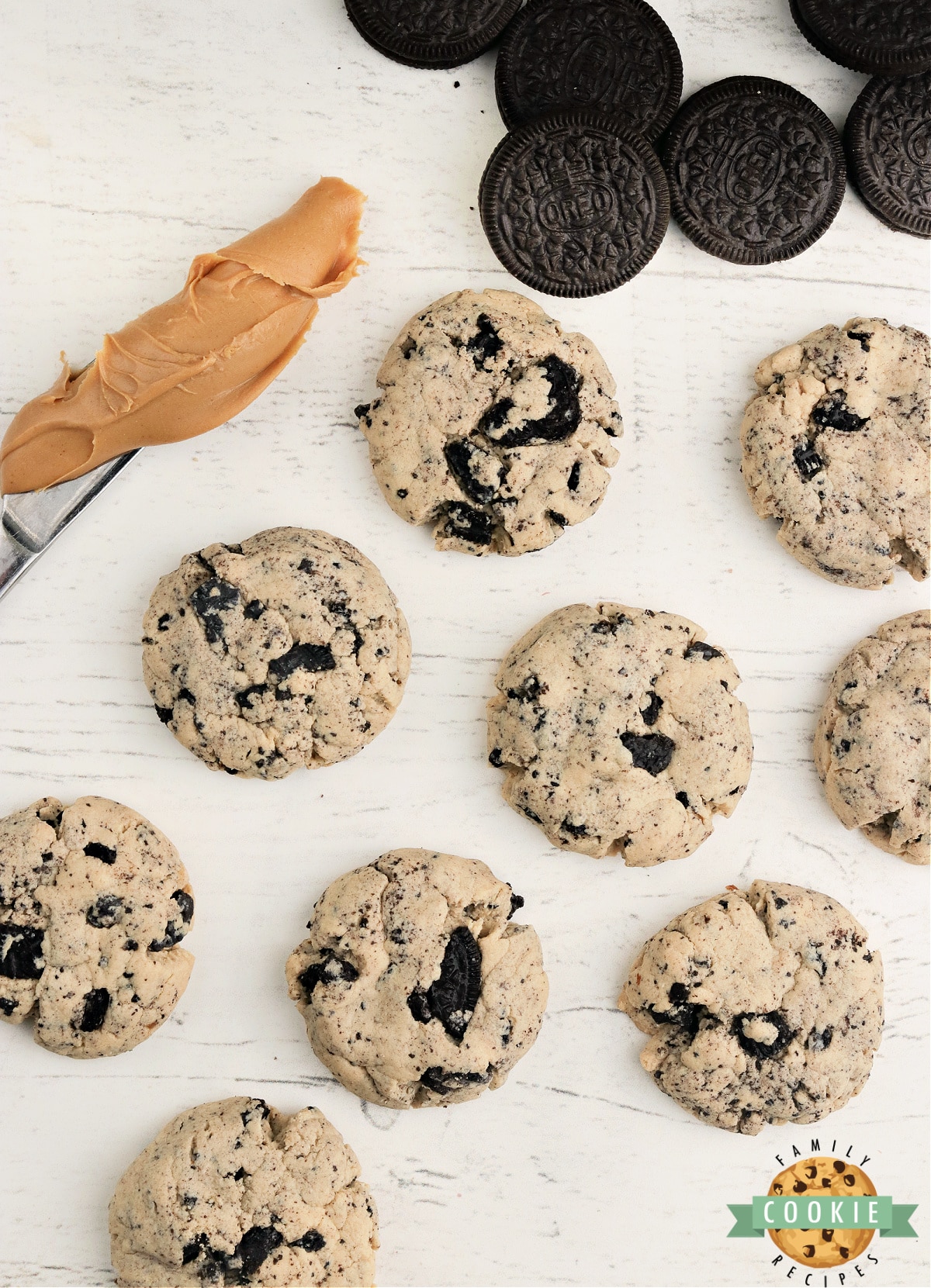 OREO PEANUT BUTTER COOKIES
Oreo Peanut Butter Cookies are made with the same basic ingredients needed for peanut butter cookies. Add in some Oreo instant pudding mix and crushed Oreo cookies and the combination of the peanut butter and Oreo flavors is absolutely perfect in cookie form!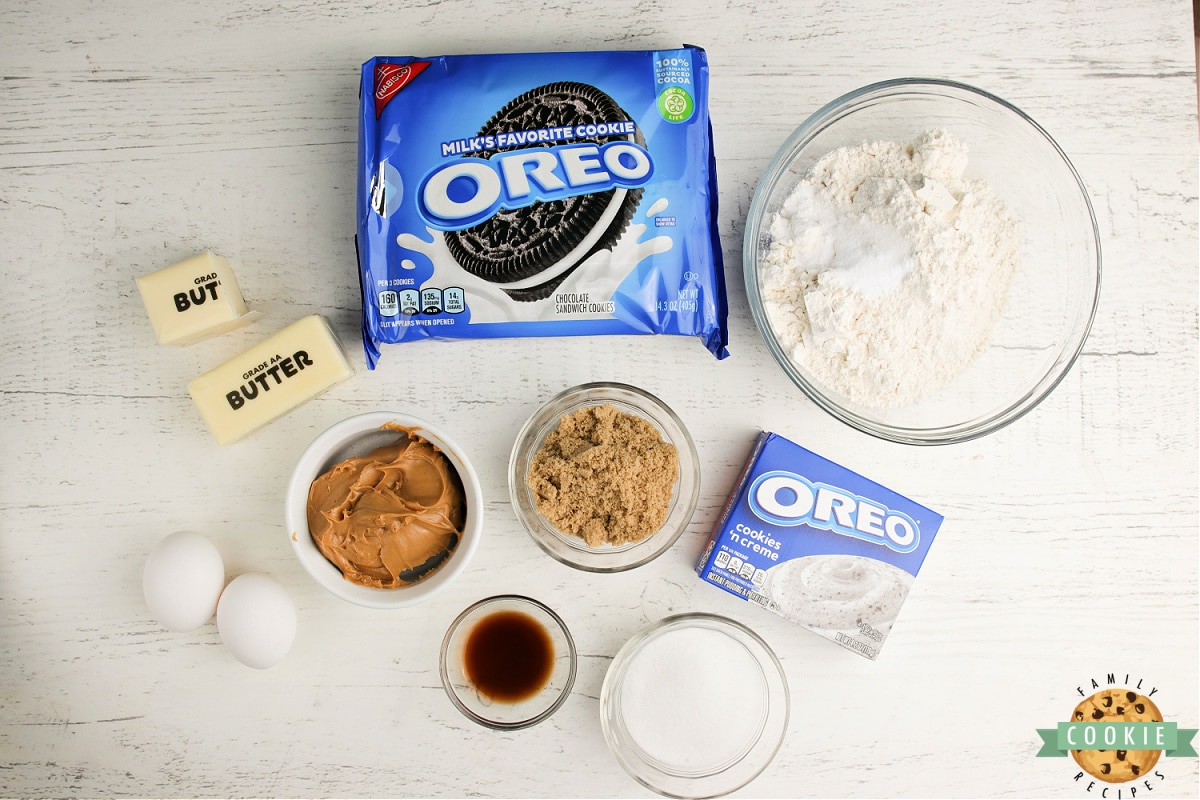 INGREDIENTS IN OREO PEANUT BUTTER PUDDING COOKIES
Butter – You'll need 3/4 cup (one and a half sticks of butter) for the cookies. Make sure it is softened to room temperature before mixing with the sugars.
Peanut butter – You can use creamy or crunchy peanut butter, but note that if you use a more natural peanut butter, the cookies won't quite turn out the same. Traditional peanut butter (Jif, Skippy, etc) tend to work better for baking. I use creamy peanut butter in these cookies, but that's just because that's the kind we always have on hand. I think the extra crunch in crunchy peanut butter would be great with the Oreos.
Sugars – You'll need 1/2 cup of granulated sugar and 1/2 cup of brown sugar. Make sure the brown sugar is fresh and soft.
Instant Oreo pudding mix – I love adding pudding to cookies because it makes them so soft. The Oreo pudding mix can easily be found at nearly every grocery store, but if you can't find any, you can use a small (3.4 oz) box of instant vanilla pudding mix instead.
Eggs – You just need 2 large eggs to bind everything together.
Vanilla extract – The higher the quality of the vanilla, the better!
Flour – All purpose flour works best in these cookies. Cake flour also works well.
Baking soda – This is the leavening agent in the cookies so make sure your baking soda isn't old or expired.
Salt – Just 1/2 teaspoon of salt helps to bring out the other flavors in the cookies.
Oreo cookies – The recipe calls for about a cup of coarsely crushed Oreos. You will need about 15 cookies. I like to place the cookies in a large Ziplock and crush them with a meat mallet or a rolling pin. You don't want to crush them too much – you want larger cookie chunks instead of fine crumbs.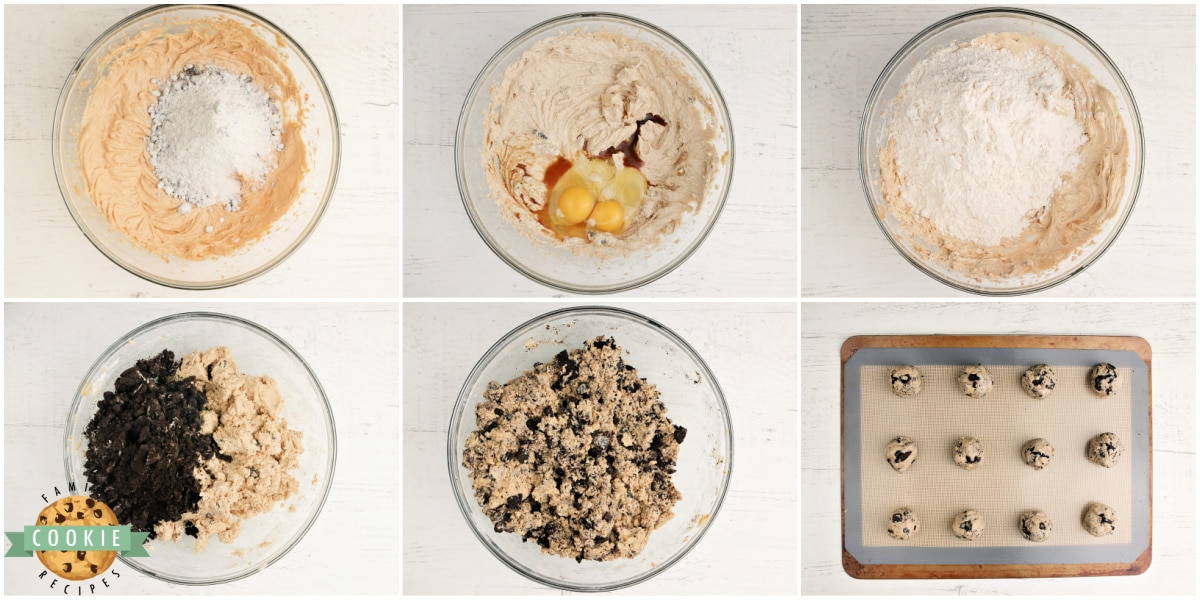 How to make Oreo Peanut Butter Cookies
Preheat oven to 350°.
In a large bowl, beat the butter until creamy and fluffy (about 2 minutes). Add the peanut butter and sugars and beat for another 2-3 minutes. Add the pudding mix and beat for another minute.
Add the eggs and vanilla and beat for another 2 minutes.
In a separate bowl, stir together the flour, baking soda and salt. Add this mixture to the butter mixture and mix just until combined.
Carefully fold in the crushed Oreo crumbs.
Use a cookie scoop to scoop the dough onto a prepared cookie sheet, placing the cookie dough balls about 2 inches apart.
Bake cookies for about 10 minutes – do not overbake! Let the cookies cool on the baking sheets for a few minutes before transferring them to a wire rack to cool completely.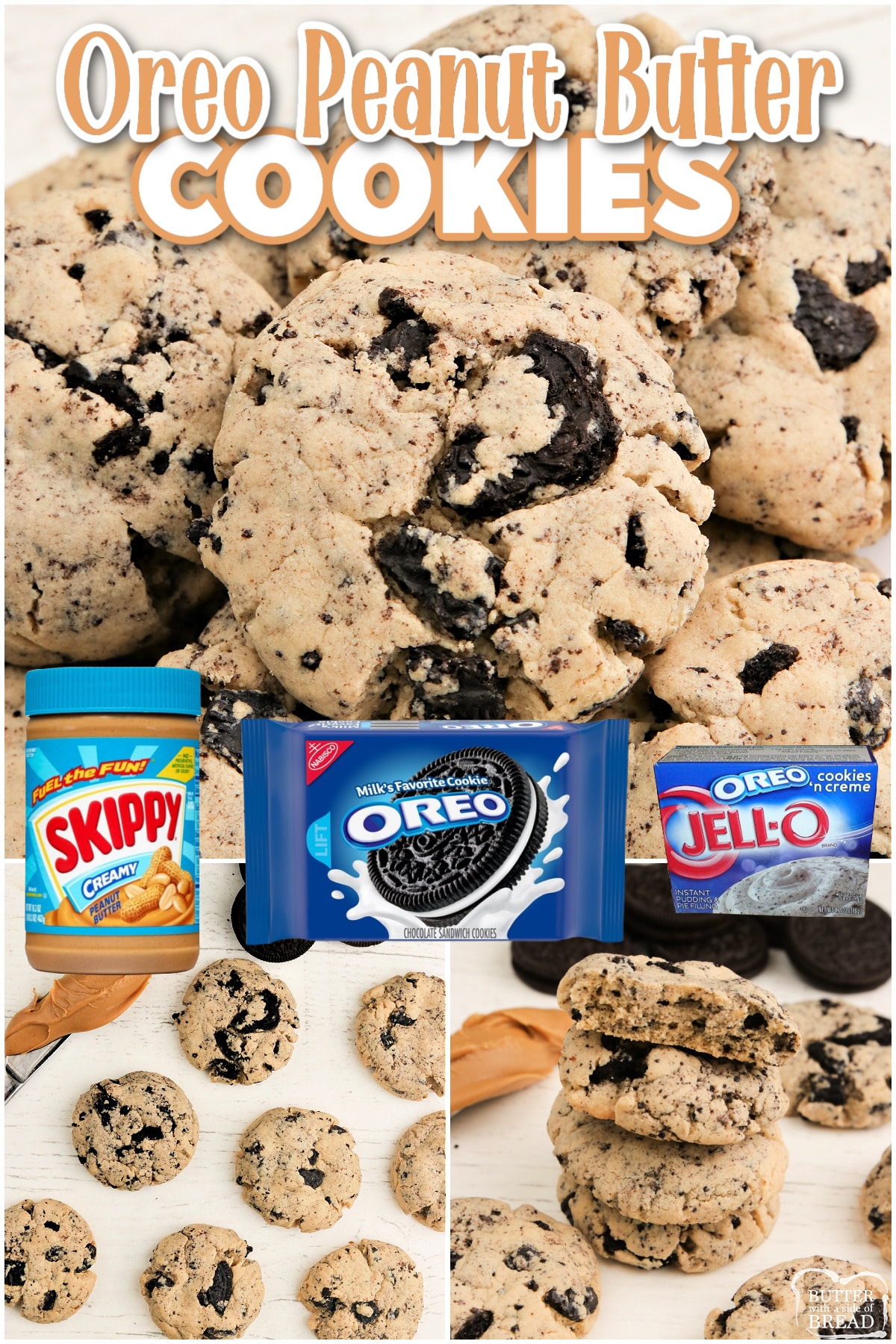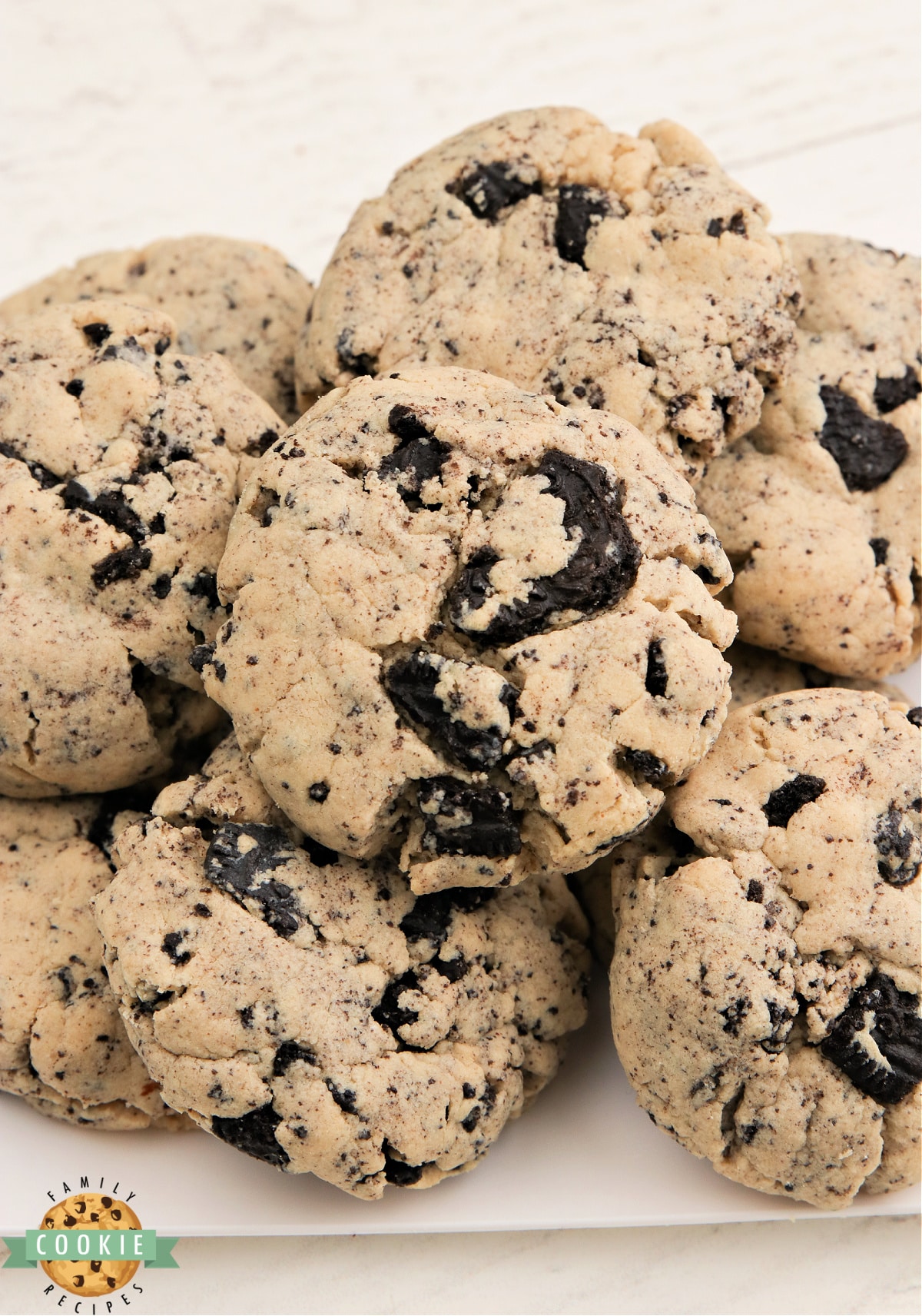 HOW DO YOU MAKE PERFECT PEANUT BUTTER COOKIES?
Making Oreo Peanut Butter Pudding cookies is easy! Here are a few tips to getting perfect cookies every time!
Make sure you use softened butter – DON'T melt it! One of the most common errors in cookie making is using butter that is either really cold and hard, or using butter that is too warm and melted. If you have time, just leave butter out on the counter for about 1-2 hours before making your cookies. If you are like me and don't plan your cookie cravings that far in advance, just place the butter in your microwave and soften in 5 second intervals, being very careful to pull it out before it melts. I actually like to use the defrost setting on my microwave to soften butter- I don't know the technical reasons behind it, but it seems to soften the butter more evenly and takes a little bit longer so I'm less likely to start melting it! 
Use regular peanut butter, not the more natural kind. The peanut butters where the oils separate out tend to be a little runnier and just don't yield consistently favorable results in baking!
Most cookie recipes require that you mix the dry ingredients separately before adding the wet ingredients. This is an important step!
Spend a little extra time when you mix the butter and sugars. Creaming them together for 2-3 minutes will improve the consistency of your cookies.
Preheat the oven. This will help your cookies turn out right every time!
Use a cookie scoop! If you want all your cookies to be perfectly shaped and have them all be the same size, a cookie scoop is the way to go.
Use parchment paper or a silicone baking mat. Doing this will make it really easy to remove the cookies from your cookie sheet so that you don't have to scrape them off the pan – they will just slide right off in perfect shape!
Don't over bake the cookies – when I take mine out of the oven, they still look slightly under baked but they will continue to bake on the cookie sheet for a couple more minutes so that's ok!
WHAT TYPE OF PEANUT BUTTER TO USE?
I have found that regular peanut butter (Skippy, Jif, etc.) works much better in most recipes than more natural peanut butters. The natural type peanut butters tend to be a lot runnier and they just don't turn out quite the same.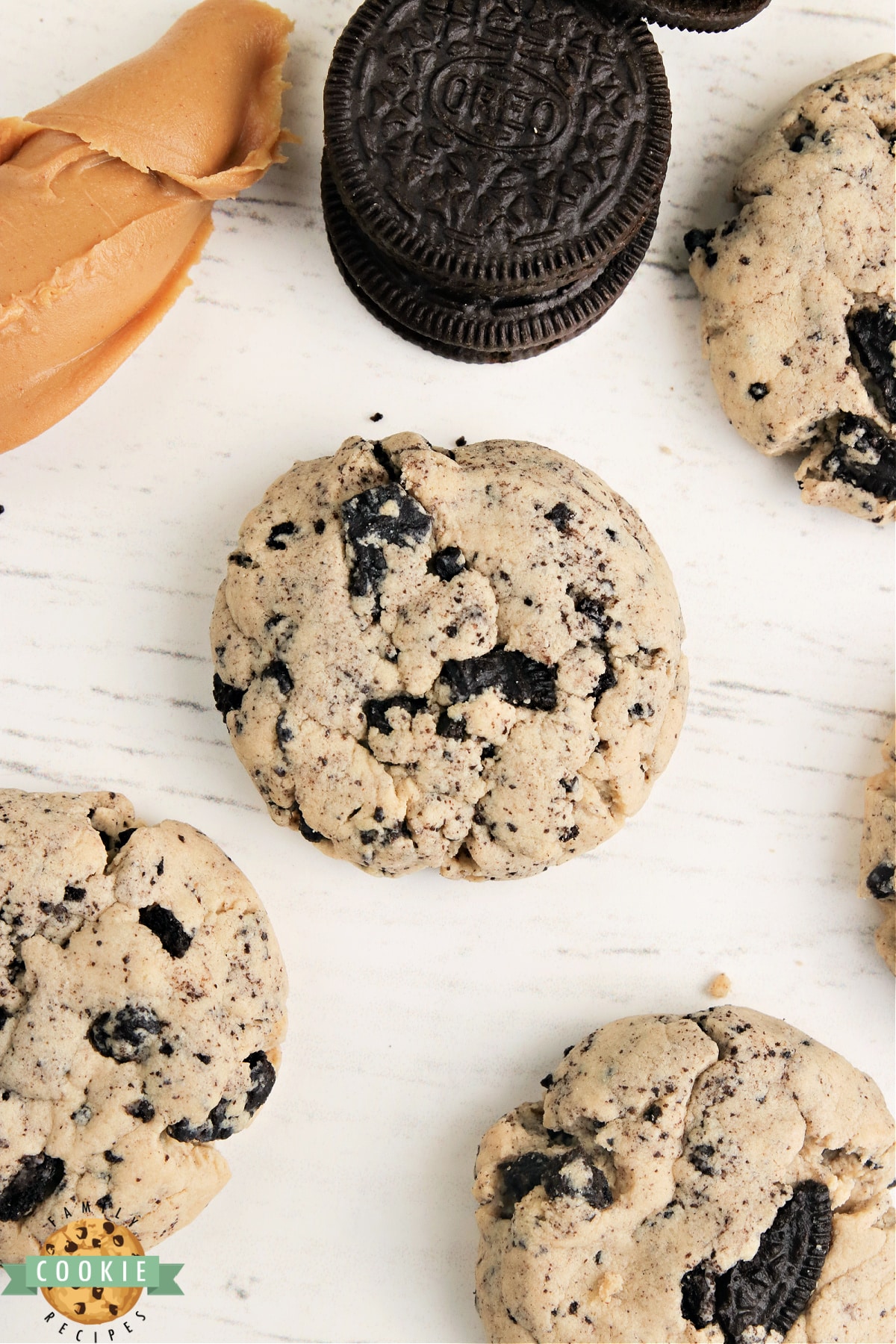 HERE ARE A FEW MORE PEANUT BUTTER COOKIE RECIPES YOU'LL ENJOY: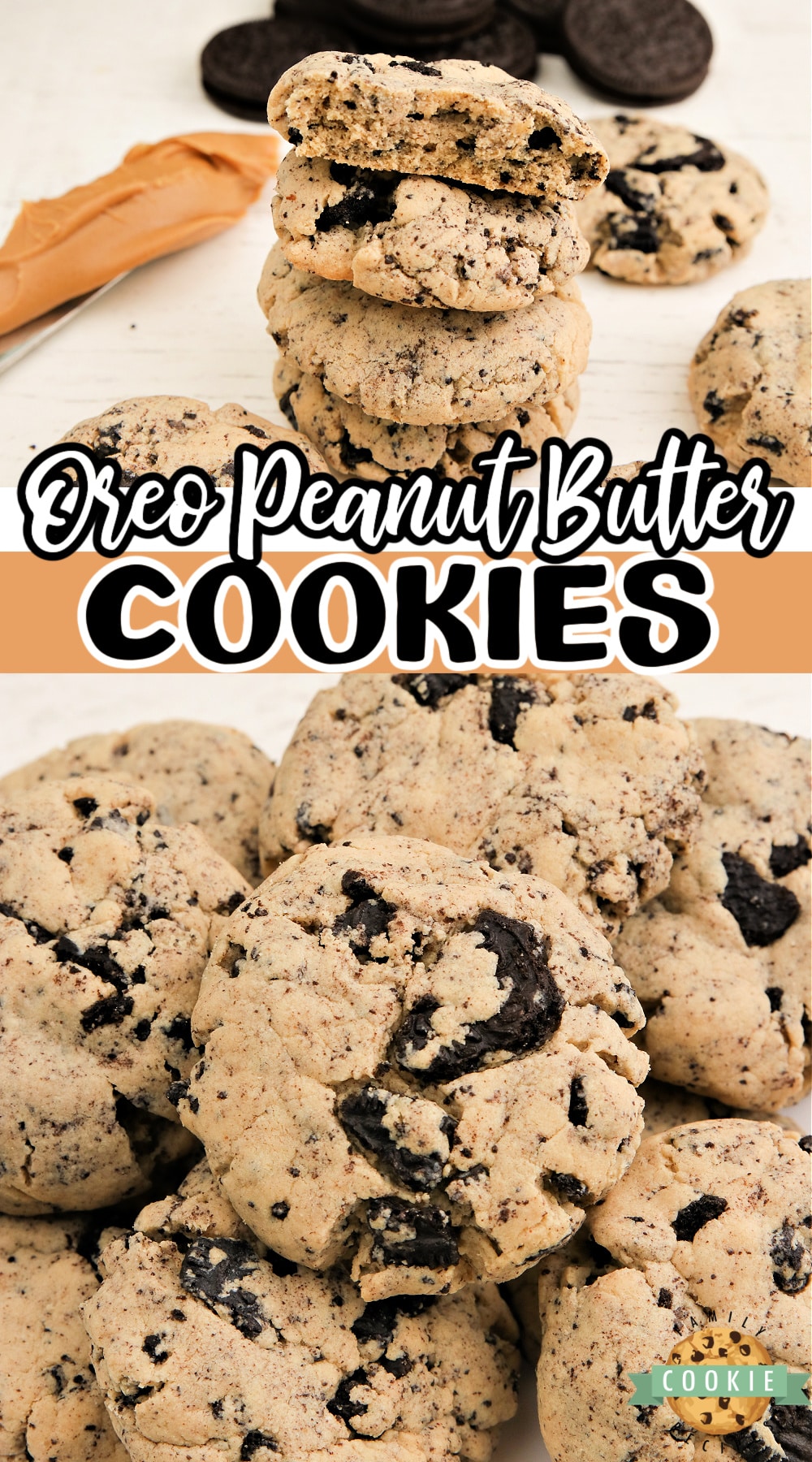 Oreo Peanut Butter Cookies are soft and chewy peanut butter cookies made with Oreo pudding mix and crushed Oreo cookies.