Apple Peanut Butter Cookies that are soft, chewy and packed with freshly grated apple. Delicious peanut butter cookie recipe that is even better with apples in it!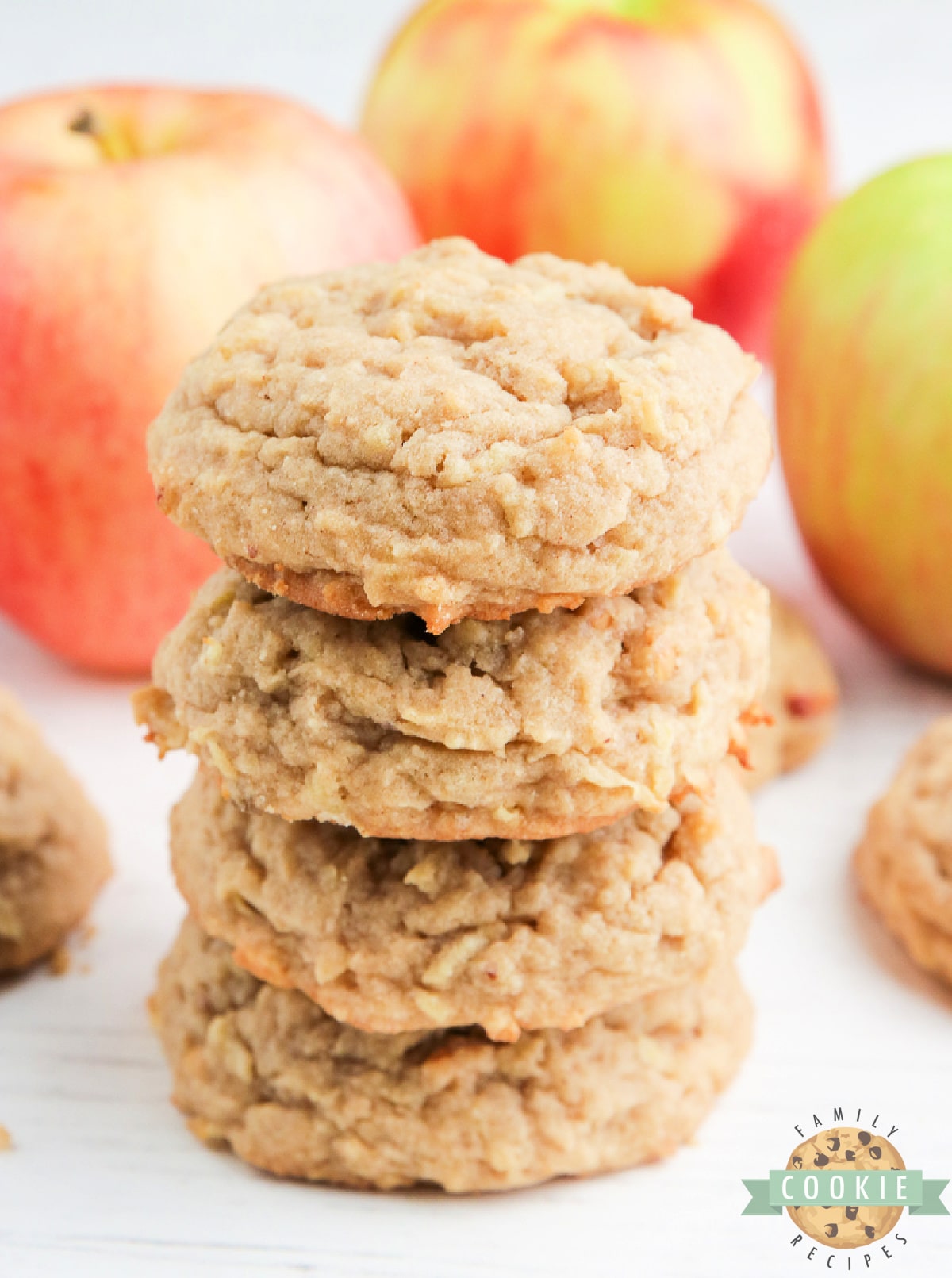 One of my absolute favorite cookie recipes ever is for these amazing Chocolate Chip Peanut Butter Cookies. Or maybe these Peanut Butter Oatmeal Chocolate Chip cookies…it's too hard to decide! But I really love pretty much any cookie that has peanut butter in it. And I love dipping apples in peanut butter, so I had the idea to try adding some apples to a peanut butter cookie recipe. Yep, it's as delicious as I thought it would be.
WHAT ARE APPLE PEANUT BUTTER COOKIES?
Apple Peanut Butter cookies are exactly what they sound like…peanut butter cookies with grated apple in them! Add a little bit of cinnamon and these cookies are absolutely delicious!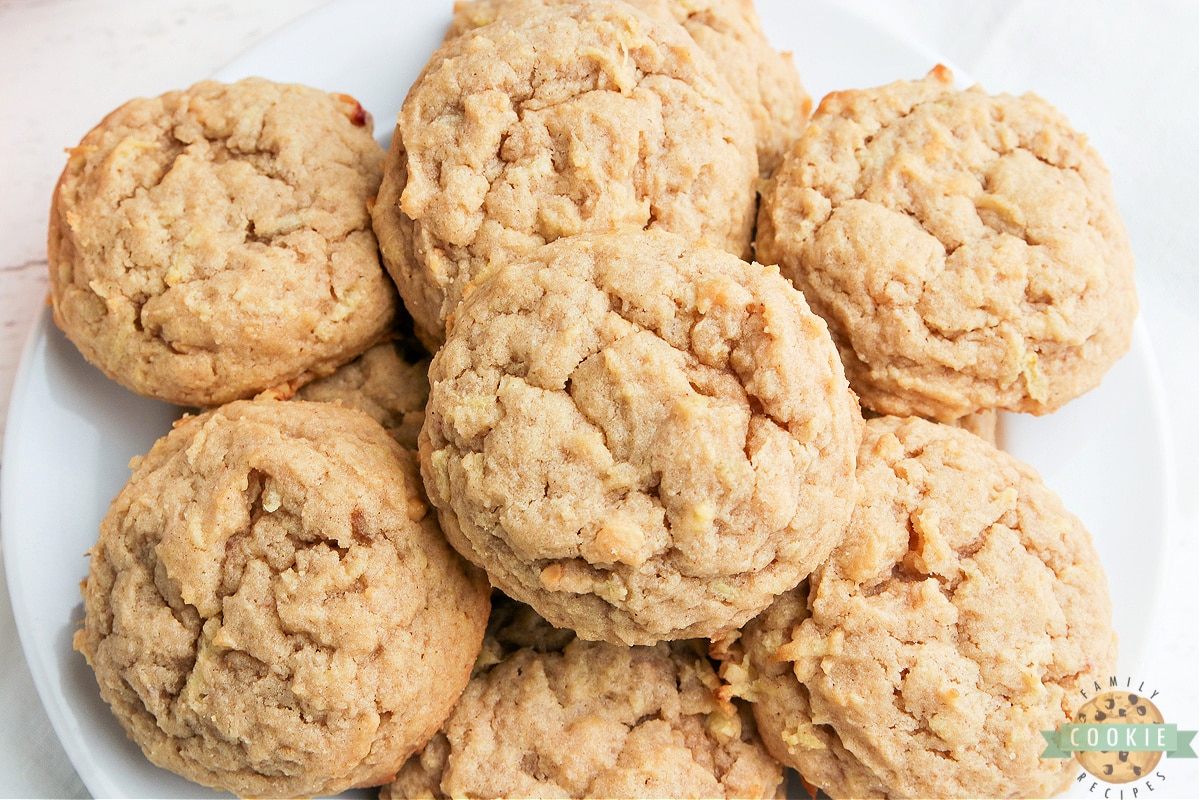 HOW DO YOU MAKE THE BEST PEANUT BUTTER COOKIES?
Making homemade peanut butter cookies is easy! Here are a few tips to getting perfect cookies every time!
Make sure that you have enough flour in the dough. If the dough is too sticky, you may need to add a little bit of flour.
Spend a little extra time when you mix the shortening and sugars. Creaming them together for 2-3 minutes will improve the consistency of your cookies.
Preheat the oven. This will help your cookies turn out right every time!
Use a cookie scoop! If you want all your cookies to be perfectly shaped and have them all be the same size, a cookie scoop is the way to go.
Make sure you use softened butter – DON'T melt it! One of the most common errors in cookie making is using butter that is either really cold and hard, or using butter that is too warm and melted. If you have time, just leave butter out on the counter for about 1-2 hours before making your cookies. If you are like me and don't plan your cookie cravings that far in advance, just place the butter in your microwave and soften in 5 second intervals, being very careful to pull it out before it melts. I actually like to use the defrost setting on my microwave to soften butter- I don't know the technical reasons behind it, but it seems to soften the butter more evenly and takes a little bit longer so I'm less likely to start melting it!
Use parchment paper or a silicone baking mat. Doing this will make it really easy to remove the cookies from your cookie sheet so that you don't have to scrape them off the pan – they will just slide right off in perfect shape!
Don't over bake the cookies – when I take mine out of the oven, they still look slightly under baked but they will continue to bake on the cookie sheet for a couple more minutes so that's ok!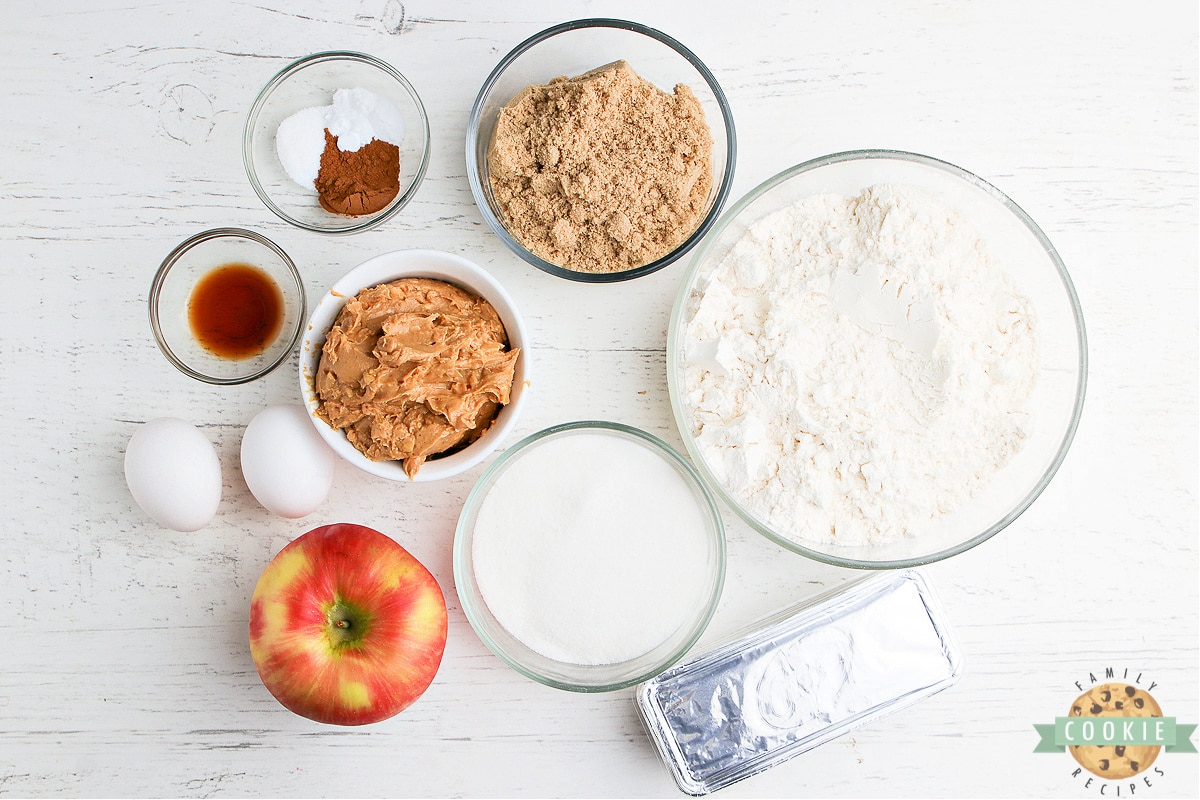 Ingredients in Apple Peanut Butter Cookies
Shortening – You'll need 1 cup of shortening for these cookies. You can swap this out with butter if you prefer, but the cookies will be a bit flatter and more dense. I like to use butter flavored shortening sometimes too!
Peanut butter – You can use creamy or crunchy peanut butter, but note that if you use a more natural peanut butter, the cookies won't quite turn out the same. Traditional peanut butter (Jif, Skippy, etc) tend to work better for baking.
Sugars – You'll need 1 cup of granulated sugar and 1 cup of brown sugar. Make sure the brown sugar is fresh and soft.
Eggs – The recipe calls for 2 large eggs to bind everything together.
Vanilla extract – The higher the quality of the vanilla, the better!
Flour – All purpose flour works best in these cookies. Cake flour also works well.
Baking soda – This is the leavening agent in the cookies so make sure your baking soda isn't old or expired.
Salt – Just a teaspoon of salt helps to bring out the other flavors in the cookies.
Cinnamon – Adds a burst of flavor to the cookies and pairs really well with the flavor of the apples.
Apple – You'll need about a cup of peeled, grated apple. I usually just use one large apple, but you can definitely add a little more if you'd like. Crisp, tart varieties work best (Honeycrisp, Fuji, etc).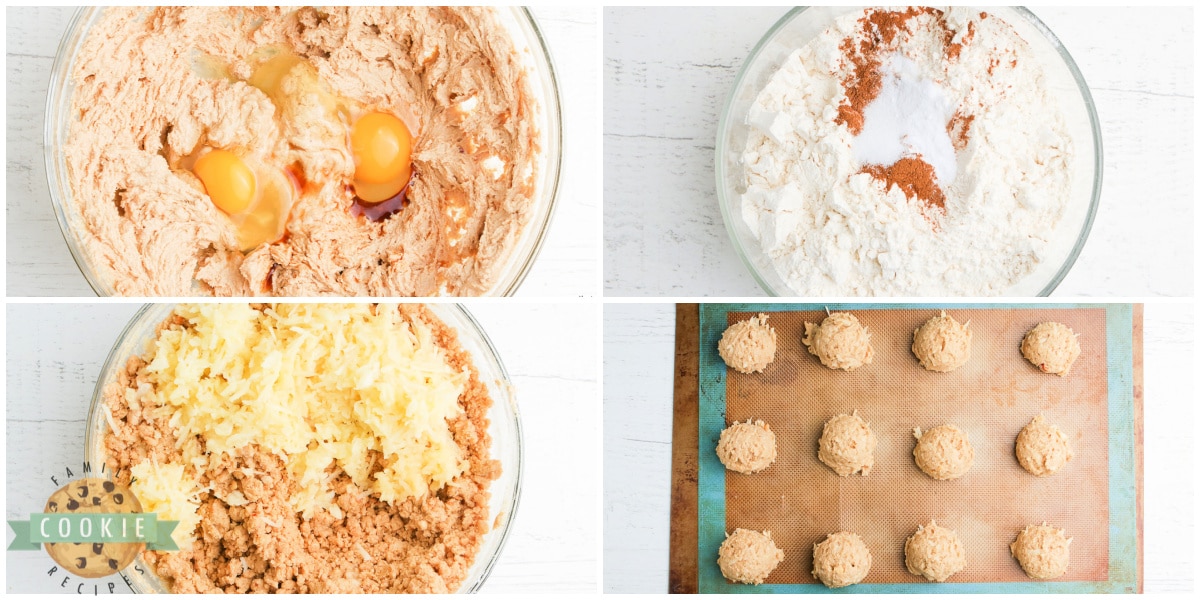 How to make Apple Peanut Butter Cookies
Preheat oven to 375°.
In a large bowl, cream together shortening, peanut butter, sugar and brown sugar together for at least 2-3 minutes or until light and fluffy.
Beat in the eggs and vanilla and mix for another 1-2 minutes.
In a separate bowl, mix the flour, baking soda, salt and cinnamon. Add the dry ingredients to the wet mixture and stir just until well combined. Fold in the grated apple.
Use a cookie scoop to drop by rounded tablespoonfuls onto greased cookie sheets or cookie sheets that have been lined with parchment paper or silicone baking sheets. Bake for 10-12 minutes or until the edges begin to barely turn a light golden brown. Cool for about 5 minutes before transferring to wire racks to cool completely.
WHAT TYPE OF APPLES TO USE IN COOKIES?
The best kinds of apples to use in baking are ones that are crisp and tart. I love to use Honeycrisp apples, but Fuji work well too.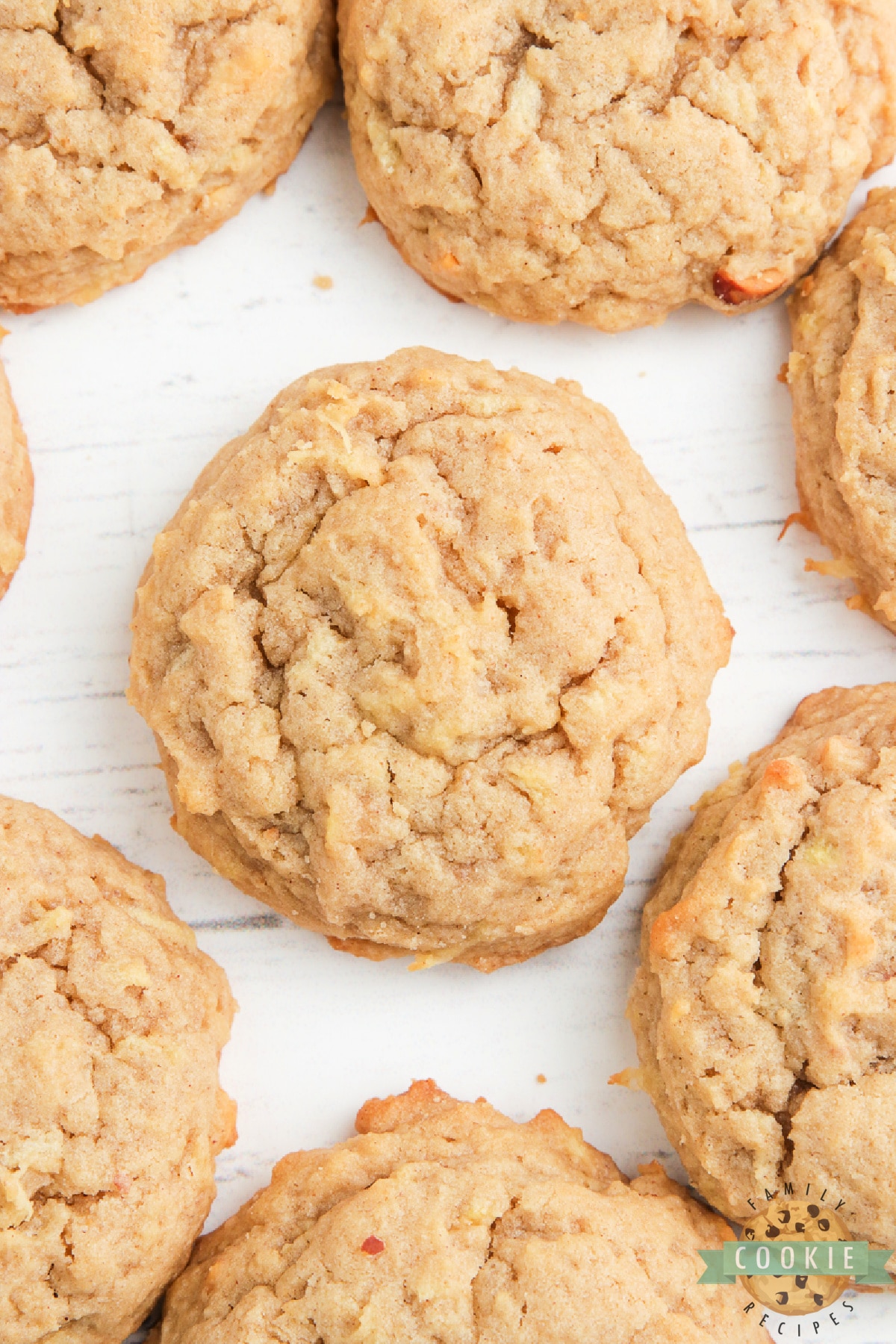 WHAT TYPE OF PEANUT BUTTER TO USE?
I have found that regular peanut butter (Skippy, Jif, etc.) works much better in most recipes than more natural peanut butters. The natural type peanut butters tend to be a lot runnier and they just don't turn out quite the same.
WHY DO PEANUT BUTTER COOKIES HAVE FORK MARKS ON THEM?
Most peanut butter cookie recipes require you to press the tops with the back of a fork. This helps the cookies to bake more evenly since they tend to be more dense than other cookies. Because these peanut butter cookies have a little more moisture in them due to the fresh apples, you don't have to make the fork marks, but you still can if you'd like!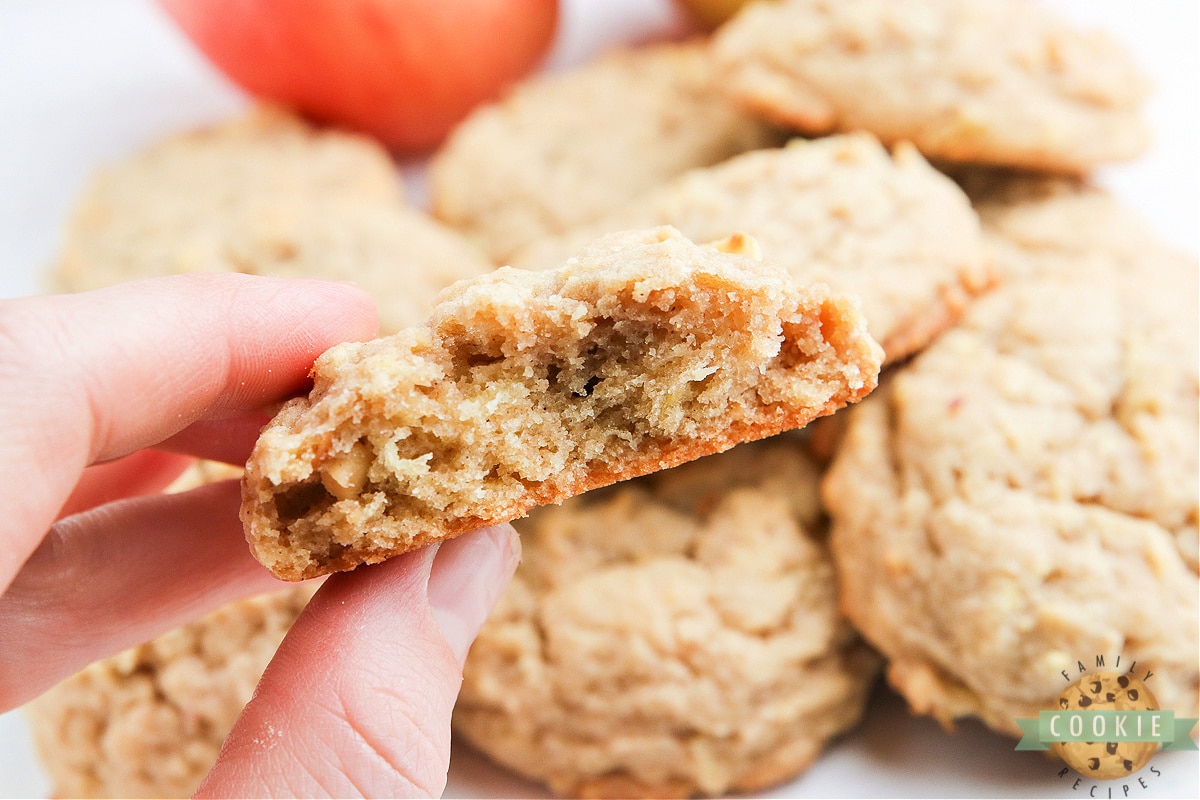 HERE ARE A FEW MORE PEANUT BUTTER COOKIE RECIPES YOU'LL ENJOY: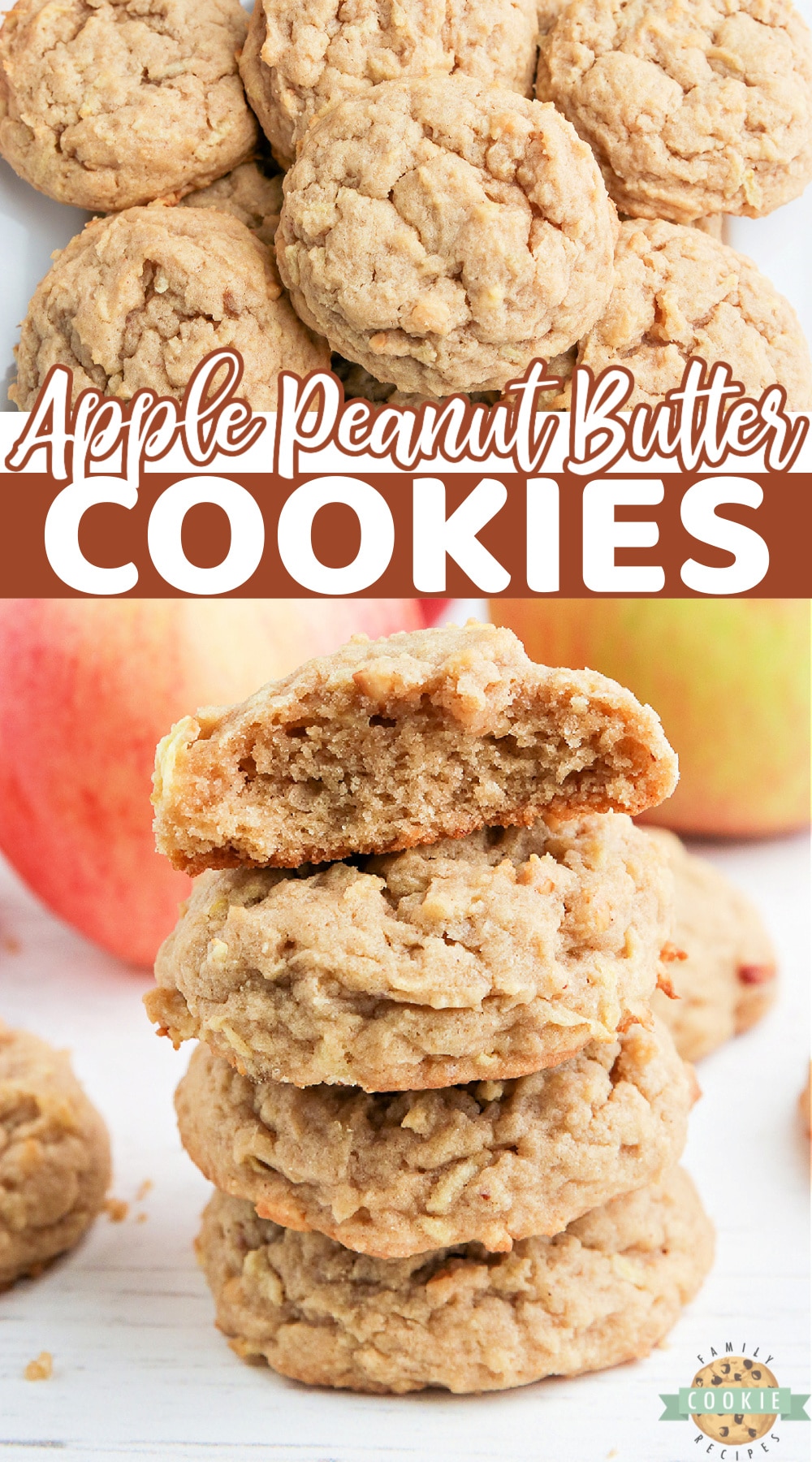 Apple Peanut Butter Cookies that are soft, chewy and packed with freshly grated apple. Delicious peanut butter cookie recipe that is even better with apples in it!



This little one has been to the dentist several times, but hasn't been super cooperative until this last visit. I was shocked when she climbed right up into the chair and opened her mouth as wide as she could for the entire duration of the appointment! She was so good the entire time and let them polish, floss and check all of her teeth. It's always so nice when kids surprise you in a good way!