Chocolate Peanut Butter Cookie Cups easily made with only 5 ingredients! Peanut butter cookie cups filled with creamy peanut butter and chocolate layers and topped with granola for a little bit of a crunch!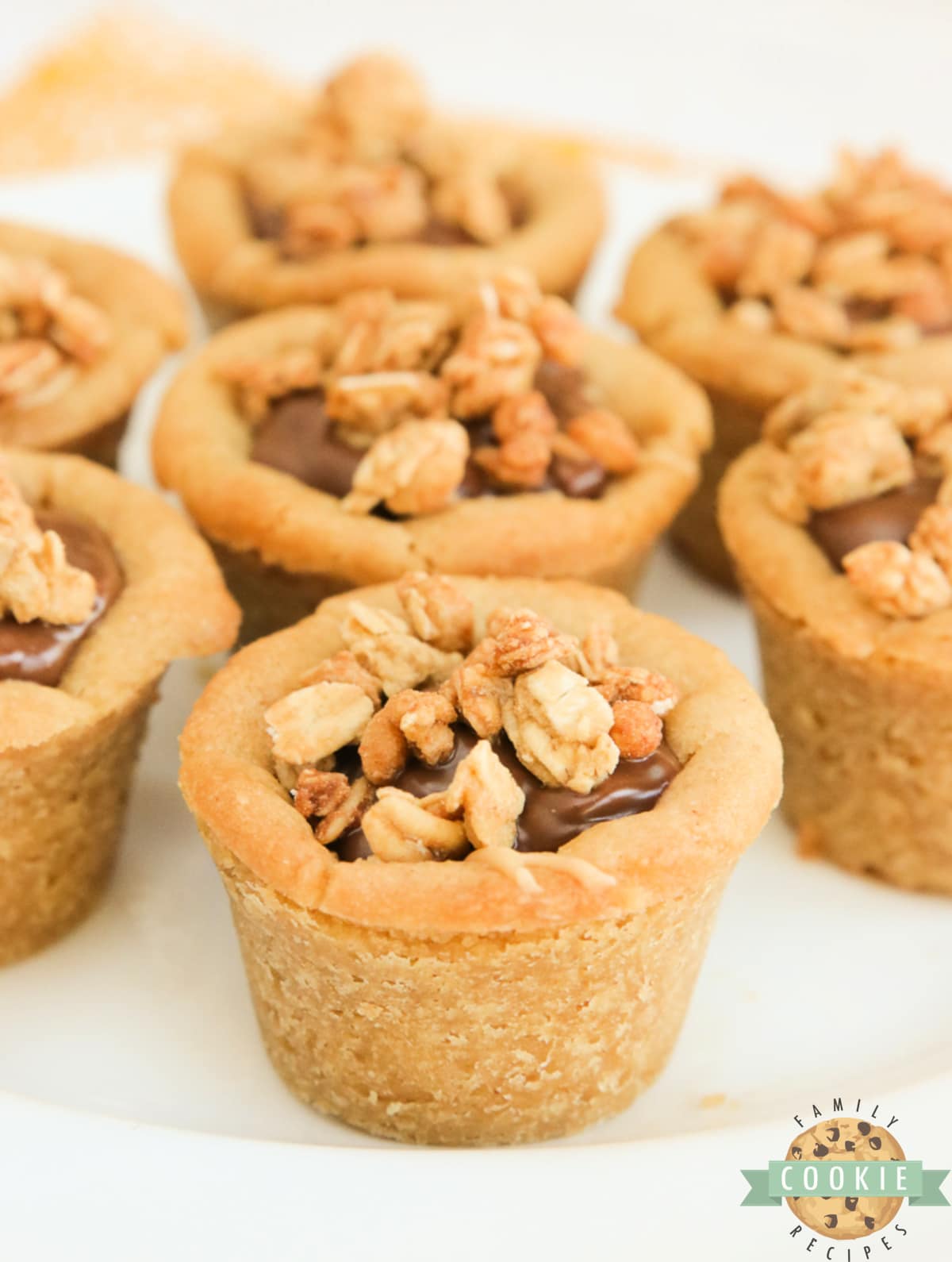 I make a lot of cookies. Many times my kids will barely even notice or touch them because they are used to just having cookies available all of the time – it doesn't even seem like much of a treat! I made these little cookie cups the other day and they were gone within hours. My kids kept asking me why I had never made these ones before because "they are the best!"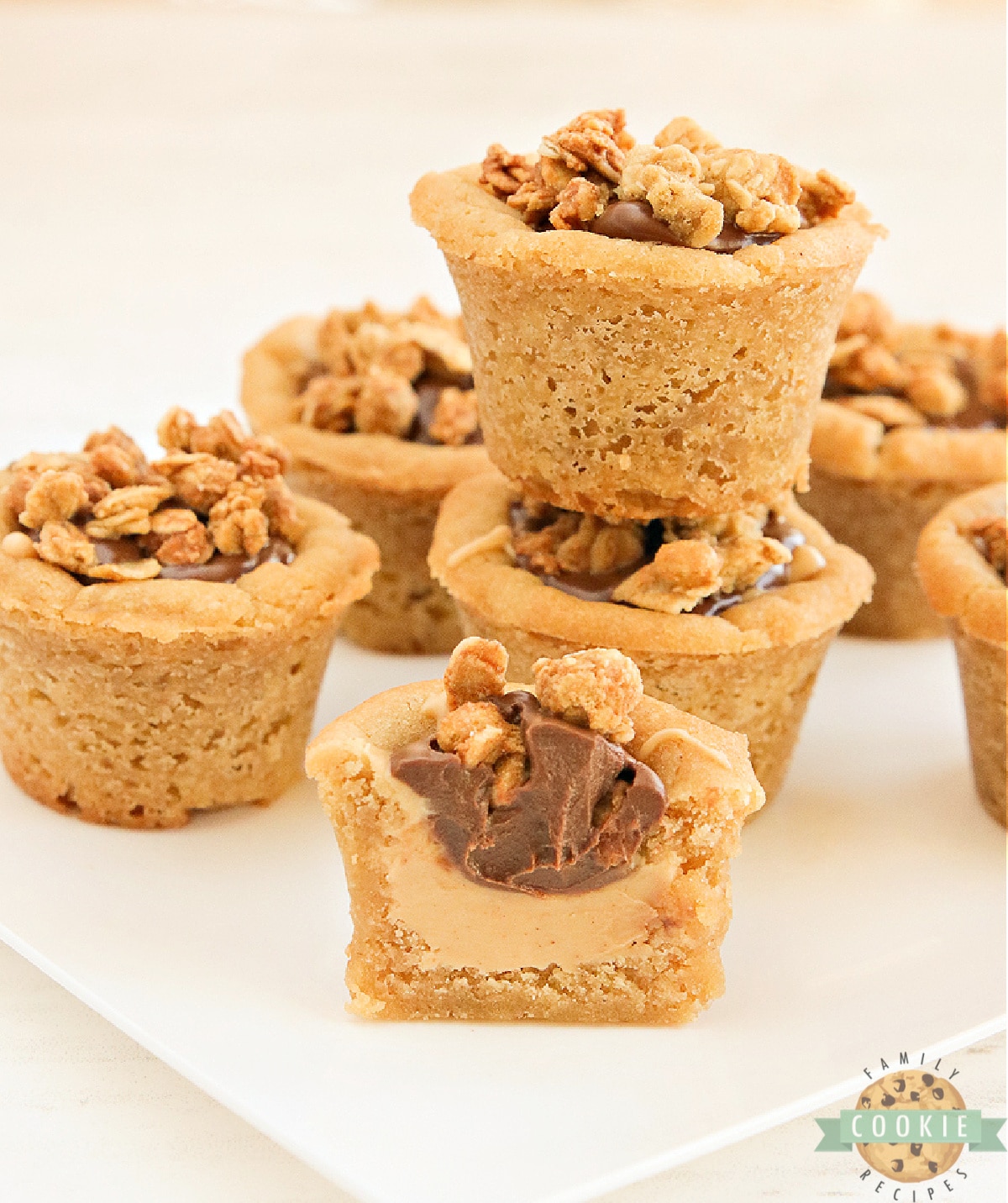 What are Chocolate Peanut Butter Cookie Cups?
These cookie cups are made with refrigerated peanut butter cookie dough in a mini muffin pan. Once the cookie cups are baked and cooled, you will pour a peanut butter layer and a chocolate layer. The peanut butter layer is made by mixing peanut butter with white chocolate chips and the chocolate layer is made from semi-sweet chocolate chips and peanut butter. And I love the granola on top – it's so simple, but it really adds the most deliciously crunchy flavor to the cookies!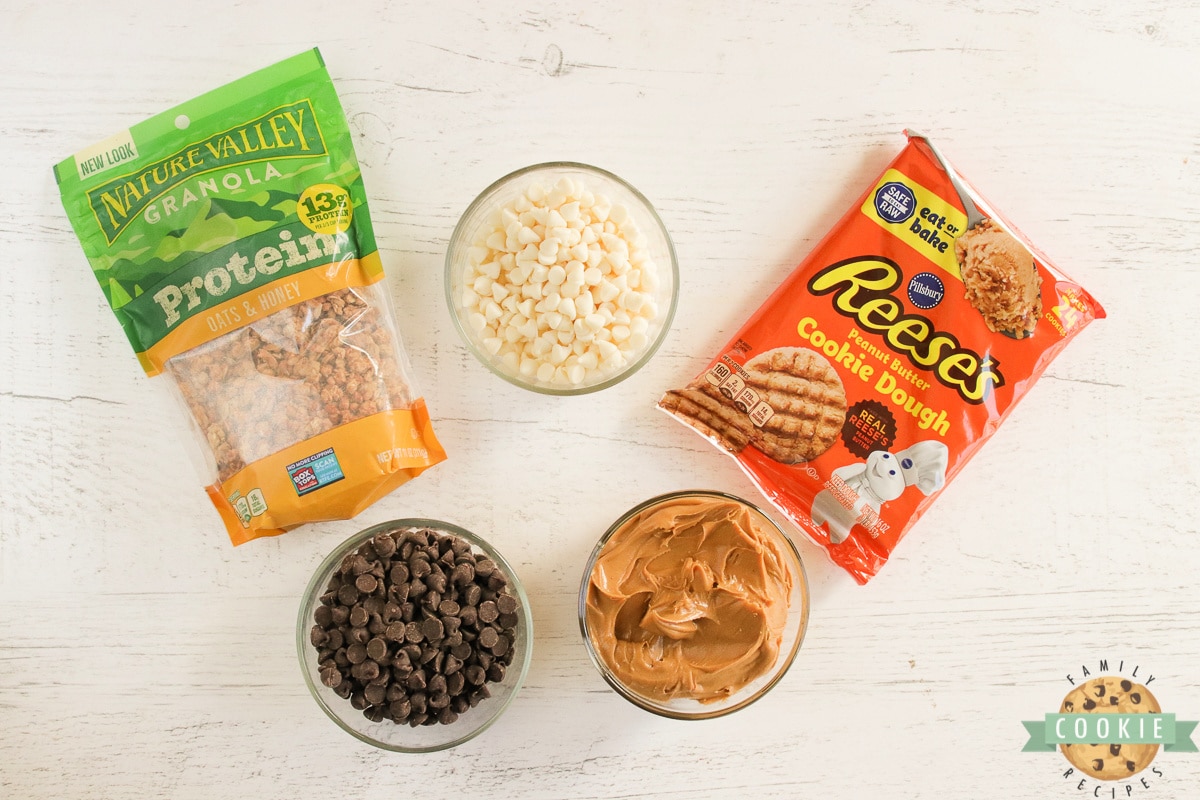 Ingredients in Chocolate Peanut Butter Cookie Cups
Peanut butter cookie dough – The easiest thing to do is to use refrigerated cookie dough. You can buy this at the store near all of the refrigerated cookie dough which is usually next to crescent rolls, canned cinnamon rolls, etc. You can make your own peanut butter cookie dough as well – many of the homemade recipes will yield more than 24 cookie cups, so you will need to increase the amount of filling that you make too. My favorite peanut butter cookie recipe is this one – I haven't tested it with this recipe, but I'm guessing you could make at least 48 cookie cups with it!
White chocolate chips – You will need 1/2 cup of vanilla baking chips. Sometimes they are called vanilla chips, sometimes white chocolate chips…just make sure they are white!
Peanut butter – You will need 3/4 cup of creamy peanut butter and you will need to divide that in half. Just kind of eyeball it, it doesn't have to be exact! I have not tested this recipe with a more natural peanut butter, but am guessing it may not work quite as well because they tend to be runnier and may not set up quite as well.
Semi-sweet chocolate chips – You can use milk chocolate or dark chocolate if you prefer, but I think semi-sweet taste the best with the peanut butter
Oats & honey granola – You can use whatever type of granola you'd like, but I'd recommend to use one that is more plain (just oats and honey). If you start adding in too many dried fruits or other flavors, it may not go together very well with the chocolate and peanut butter. I love the Nature Valley protein granola (I eat it with yogurt every day), so I used that because that's what I had on hand. You can also just crush up a couple of Nature Valley oats & honey granola bars and use that for the topping. I love the granola on top, but you could leave it off or swap it out with sprinkles, mini M&Ms, etc.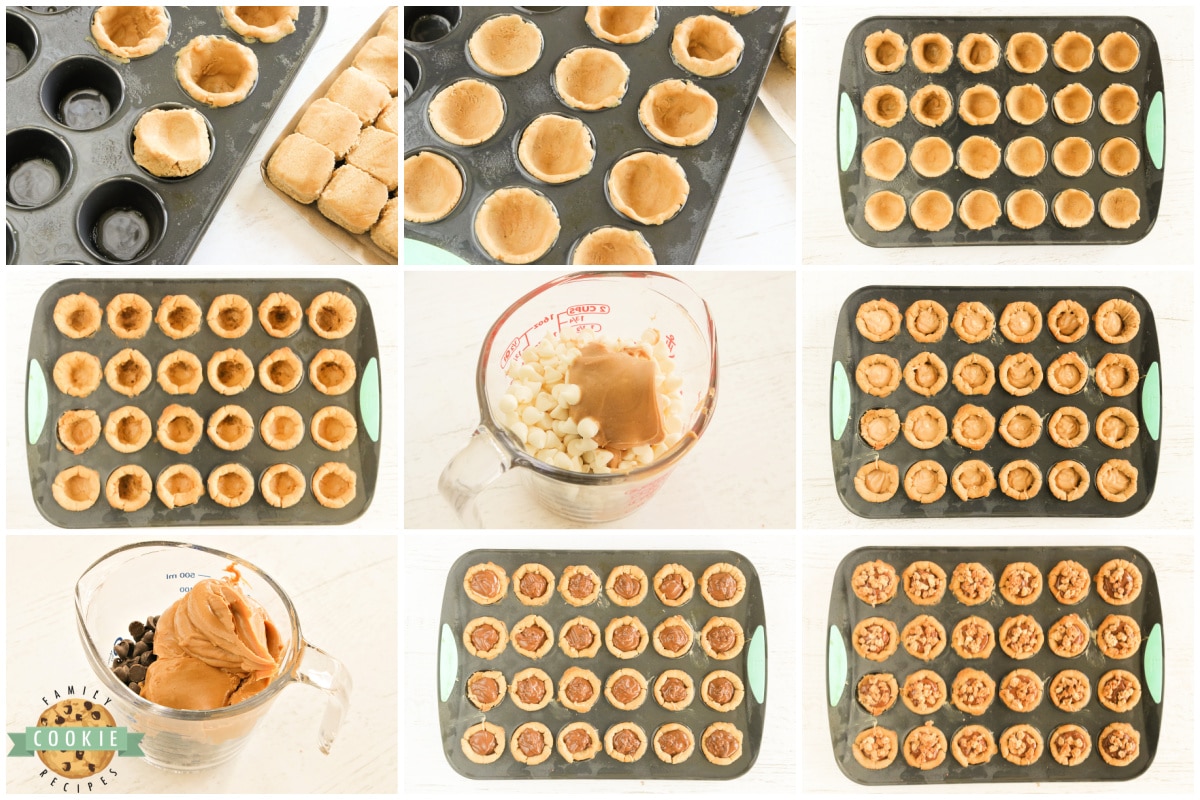 How to make Chocolate Peanut Butter Cookie Cups
Preheat oven to 350°. Grease a mini muffin pan with baking spray.
The cookie dough should be divided into 24 squares already. If you are using a different type of dough (or you want to use homemade peanut butter cookie dough), divide the dough into 24 pieces. Gently press each piece into a mini muffin cup, gently pressing the dough up the sides of the cup. Make sure you don't press the dough too thin -you don't want any holes!
Bake for about 10-12 minutes or until the edges are browned. Cool in the pans for about 5 minutes. The dough will have expanded a little bit, so you'll need to re-form your indentations a little bit. I used the back of a 1/2 teaspoon measuring spoon to gently press the indentations back down. Just be gentle so you don't destroy your cookie cups! Leave the cookie cups in the pan to keep cooling.
While the cookie cups are cooling, you can make the filling. Divide the peanut butter in half, placing each half in a microwaveable bowl. Add the vanilla chips to half the peanut butter and the semi-sweet chips to the other half.
Place the white chocolate/peanut butter bowl in the microwave for 45 seconds, remove and stir. Microwave for another 30 seconds and stir until completely smooth. Spoon the filling into each of the cookie cups, filling them about halfway.
Melt the semi-sweet chips/peanut butter mixture the same way and spoon it on top of the peanut butter layer. Sprinkle the granola on top. Refrigerate until set, about 1 hour. Remove from muffin cups once set. You can leave these out at room temperature or keep them in the refrigerator if you want to keep them cold – we liked them room temperature better.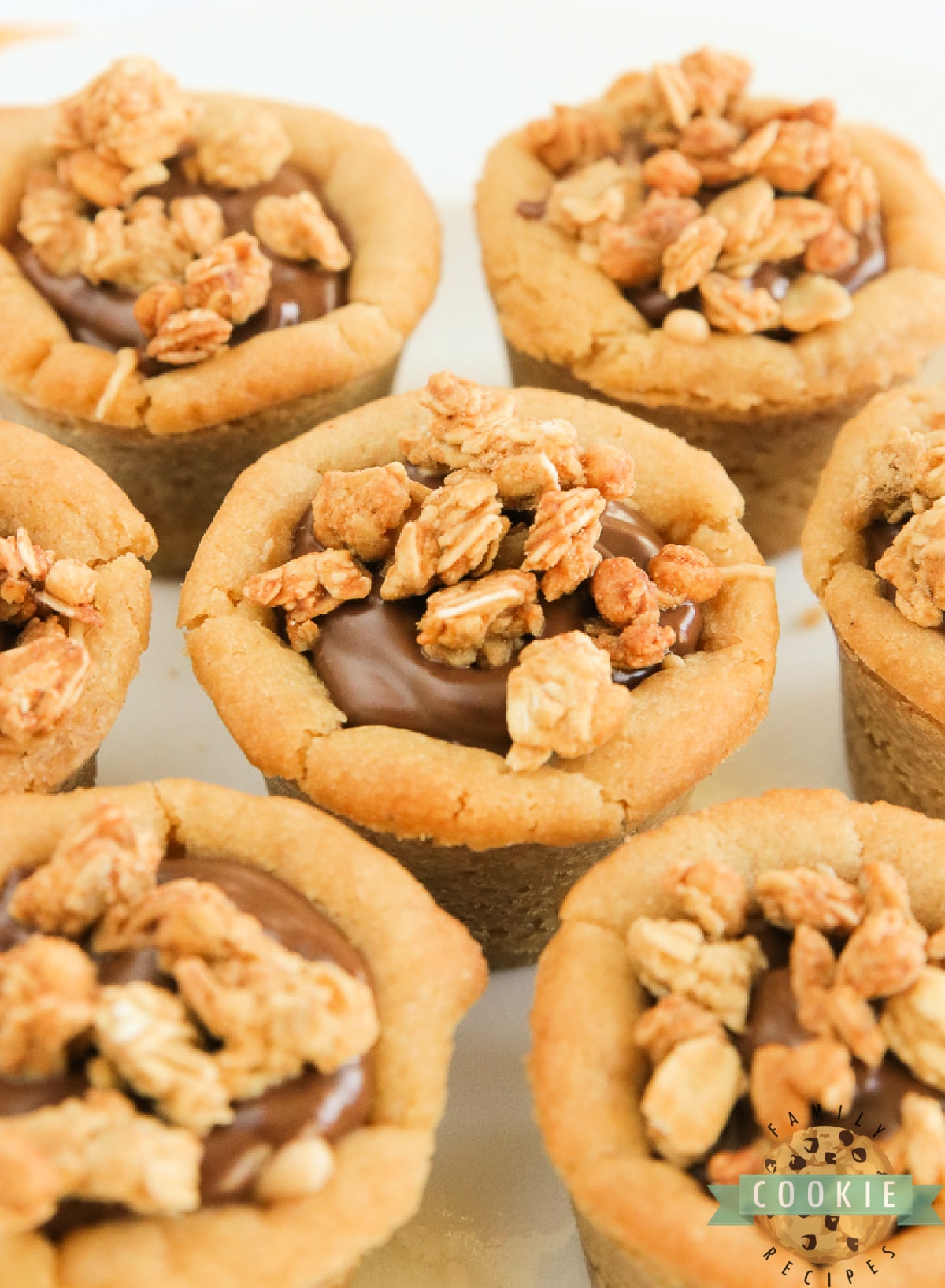 How to keep cookie cups from sticking to the pan
The mini muffin tin needs to be well greased so that the cups don't stick to the pan. You can use regular non-stick spray, but I prefer to use Baker's Joy Baking Spray because it has flour in it and works so much better for baked goods that tend to stick! I use this every time I make muffins or cookie cups or use a Bundt pan! The other thing that helps is to use a silicone muffin pan. That way, when you remove the cookie cups, you can just press up from the bottom to remove them and it's so much easier!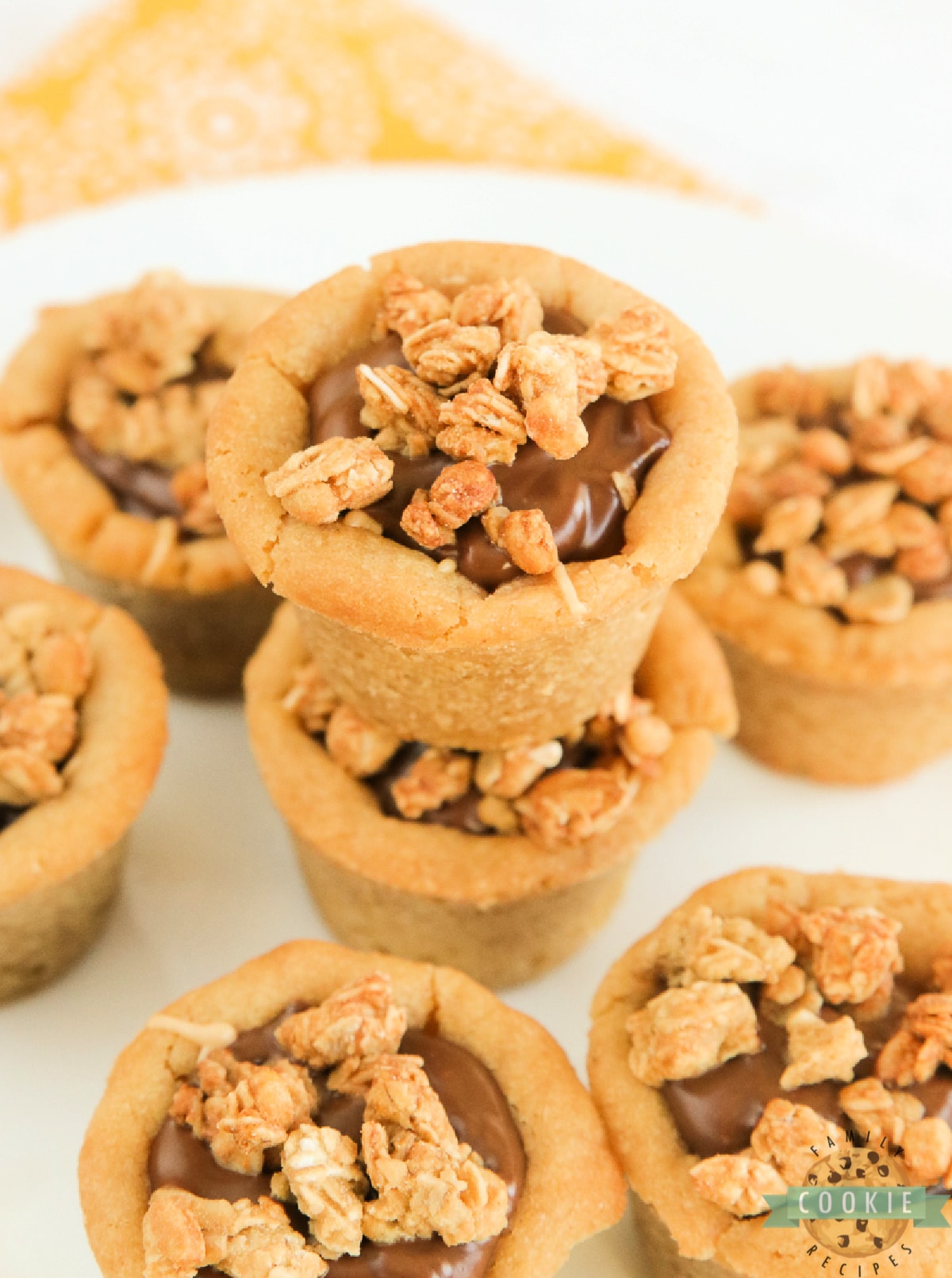 HOW DO YOU MELT CHOCOLATE IN THE MICROWAVE?
Melting chocolate in the microwave is easy if you go slowly. Always use a glass or ceramic bowl and chocolate that's not old. Start by microwaving the chocolate for about 45 seconds. Then, gently stir and see if chocolate begins to melt smooth. If it's still really solid, add 20-30 seconds in the microwave, then let it sit again. Often chocolate looks like it's not melted when it really is, so make sure to stir it up a little bit and see if it melts. You just want to be careful not to microwave the chocolate too long or it will seize up. That isn't as much of a concern in this recipe because you are mixing it with peanut butter, but you still want to be careful not to overheat the chocolate.
Love chocolate and peanut butter? So do we! Here are some of our favorite peanut butter chocolate recipes!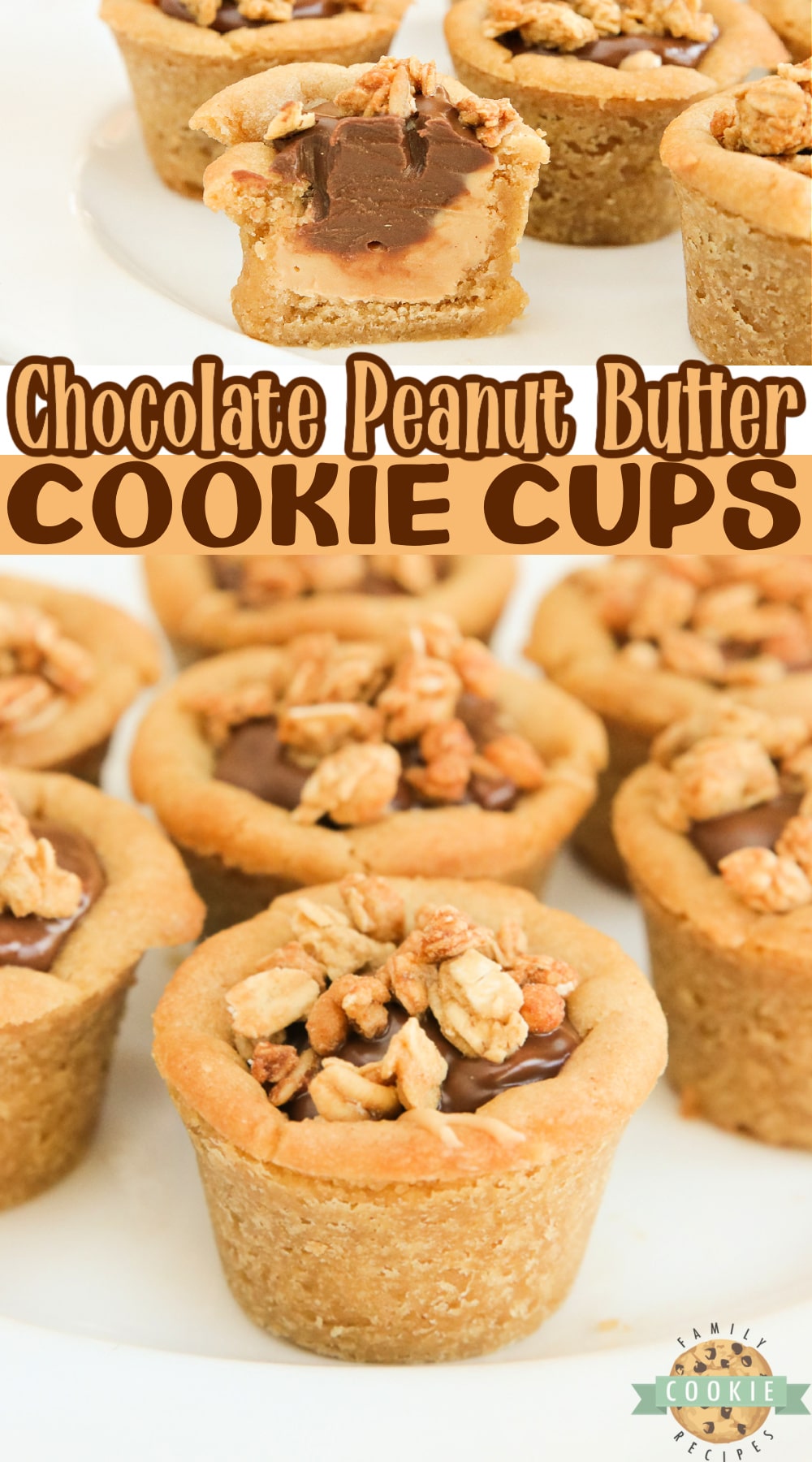 Chocolate Peanut Butter Cookie Cups easily made with only 5 ingredients! Peanut butter cookie cups filled with creamy peanut butter and chocolate layers and topped with granola for a little bit of a crunch!



I try to avoid taking this little one with me to the store as much as possible. It's not so hard considering all of the options for grocery shopping these days. I really love delivery and pick-up options and do that most of the time.
Sometimes though, I just have to run in for a few quick things and this little girl is a master at running away and finding things she wants. She found this bike and did NOT want to leave it behind. I let her ride it around for about 20 minutes before I had to drag her out of the store kicking and screaming. Yep, I was the mom with that kid that day.
My other four kids were much easier to take to the store…I blame her behavior on the fact that there was a pandemic that began when she was just a baby and so I avoided taking her to the store for almost a year and she never learned proper grocery shopping etiquette! We are working on it….