Peanut Butter Cookie in a Mug is a quick & tasty single serving treat to enjoy when your sweet craving strikes! This Cookie in a Mug recipe is ready in just 6 minutes, there is nothing better than that!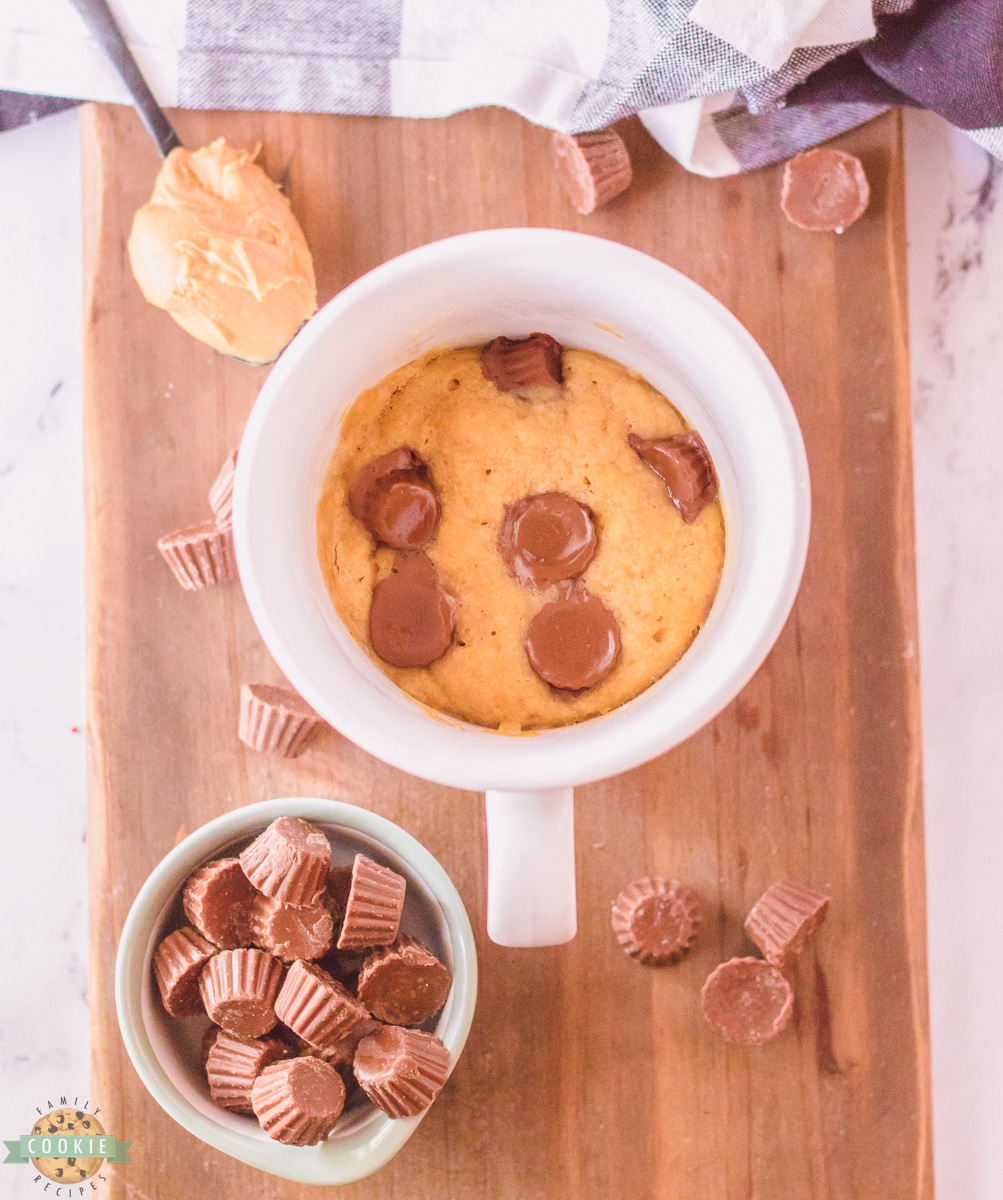 This Peanut Butter Cookie dough in a Mug is perfect for any occasion, like treating yourself after a long day or celebrating unexpected good news. It is a warm and gooey peanut butter cookie that just needs a spoon to be enjoyed. If you have never made a peanut butter cookie in a cup, there is no time like the present to try it. This cookie in a mug is soft, chewy, and packed with delightful peanut butter flavor.
What Are Mug Cookies?
These microwave peanut butter cookies are a simple and easy treat that is perfect for one person. A recipe so small you will not have any leftovers! You see recipes being scaled up all of the time for big parties, but this is one that has been scaled down to make one simple cookie in a mug.
Cooking your mug cookie in a microwave also helps to speed up the process so you do not have to wait for the oven to preheat, grease a large baking sheet, or deal with any of that hassle. It is so simple, it might change the way you enjoy your cookies from now on!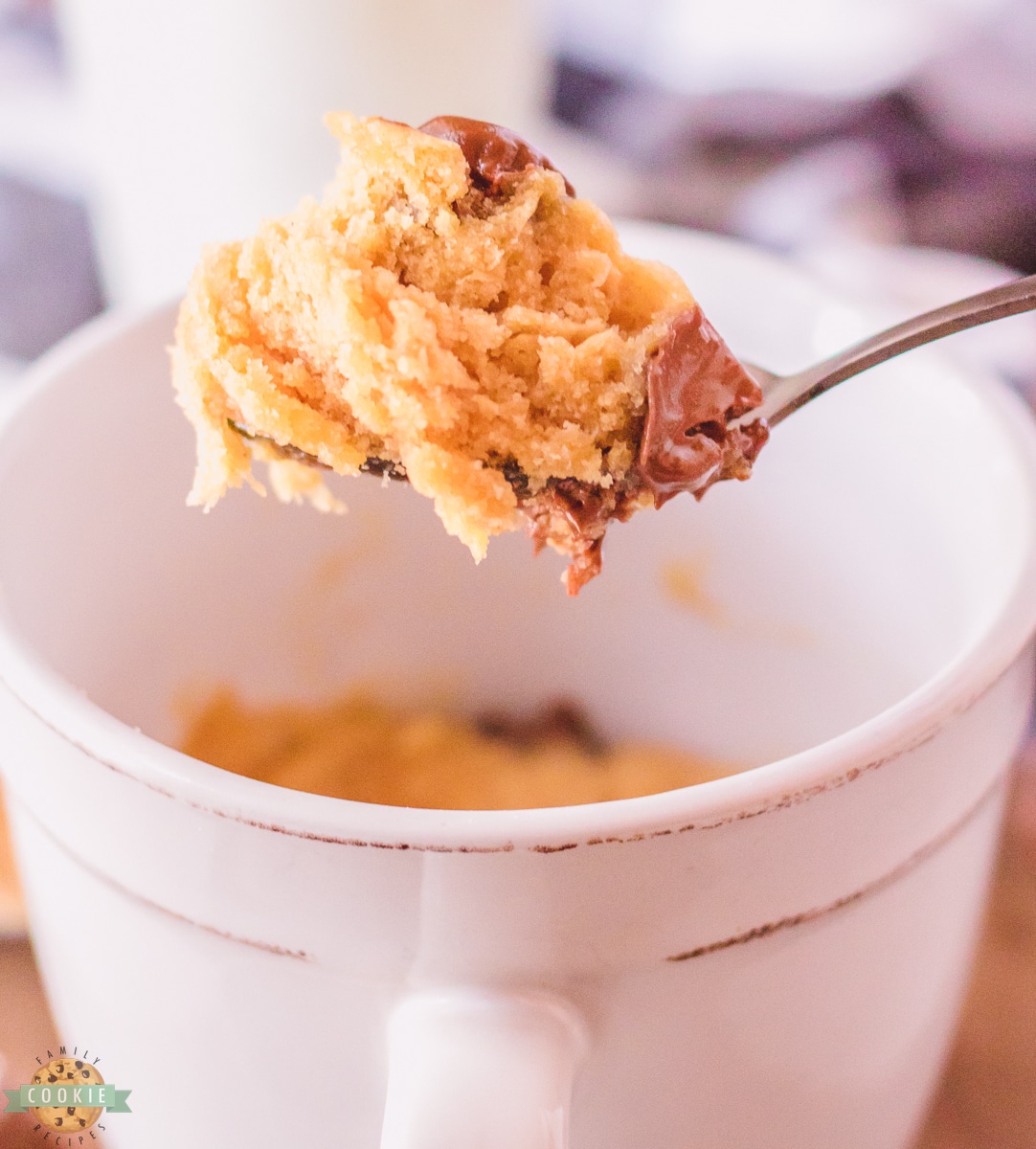 Peanut Butter Mug Cookie Ingredients
-Butter: You need 1 tablespoon of butter to give the cookie a nice rich taste.
-Sugar: Use 1 tablespoon of sugar to make the cookie sweet and chewy. Brown sugar or white granulated sugar will both work fine here so choose what you want.
-Vanilla Extract: Use ¼ teaspoon of vanilla extract to make your cookie taste great.
-Salt: You just need a pinch of salt to help enhance the flavors in this cookie.
-Egg: Using 1 egg yolk only it will give the cookie the perfect bit of richness and texture.
-Flour: You will need 2 ½ tablespoons of all-purpose flour for this cookie in a mug.
-Peanut butter: Using 1 teaspoon of creamy peanut butter will give your cookie the perfect balance of sweetness and peanut butter flavor.
-Peanut butter cups: If desired you can top off your mug cookie with some mini Reese's peanut butter cups for the perfect indulgent topping.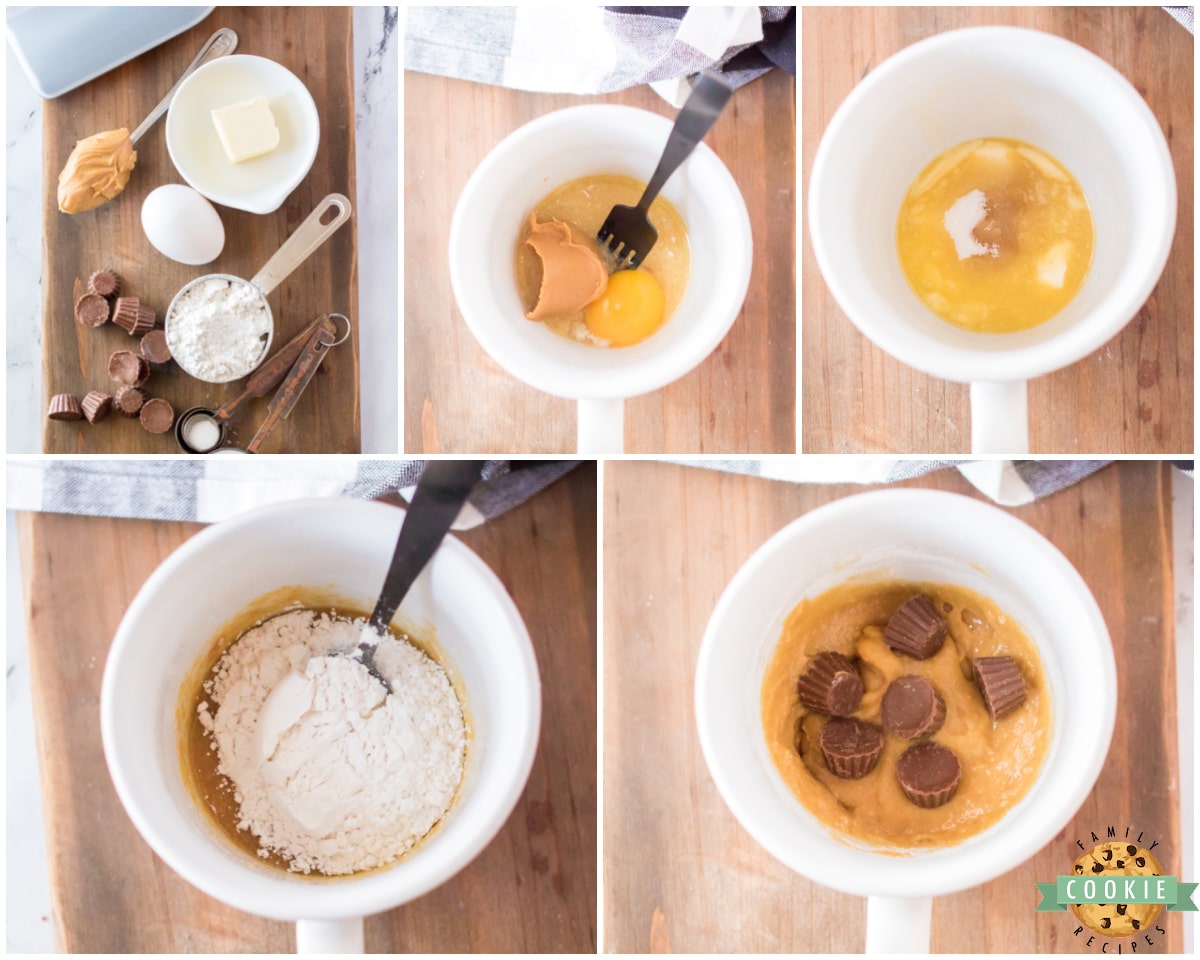 How to Make Peanut Butter Mug Cookie
Prep mug
Spray the inside of a coffee mug with non-stick cooking spray.
Place the butter into the mug and microwave it for about 20-30 seconds to melt it completely.
Add ingredients
Add in your sugar, vanilla extract, peanut butter, and salt. Stir to combine.
Then add in the egg yolk and mix again to combine.
Lastly, add in the flour, and stir again to fully incorporate into mixture.
Cook
If you choose, top it off with some mini peanut butter cups. Put in microwave and cook for 60 seconds.
Serve warm and immediately enjoy your cookie in a mug!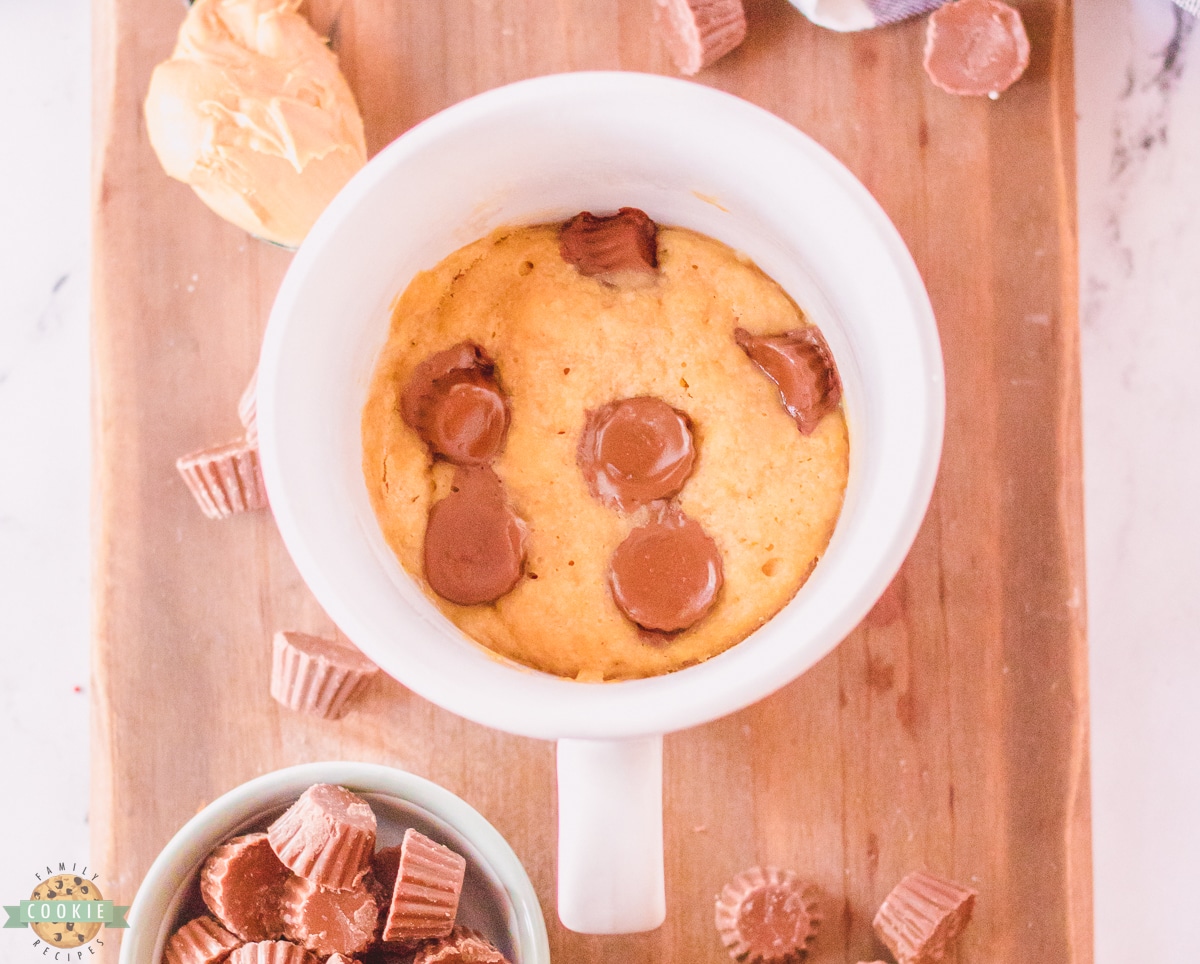 How do I know when my mug cookie is done cooking?
When your mug cookie has finished baking the top center of the cookie may look a little wet but the edges should look more firm and set. The cookie will also be puffed up and look almost cake-like within the coffee mug. If you need more reassurance that the cookie has cooked properly, you can check the internal temperature with an instant-read thermometer. It should reach 165 degrees F.
What size coffee mug do I need?
You will want to use a standard 10 or 12-ounce size coffee mug for this recipe. Just make sure that it is microwave safe. Using a smaller cup like a Cappucino cup is a bit tricky because they are always differently sized and shaped which means that you have to do some trial and error if you wanted to try using them. The cookie could puff up over the top and make a mess, so be warned.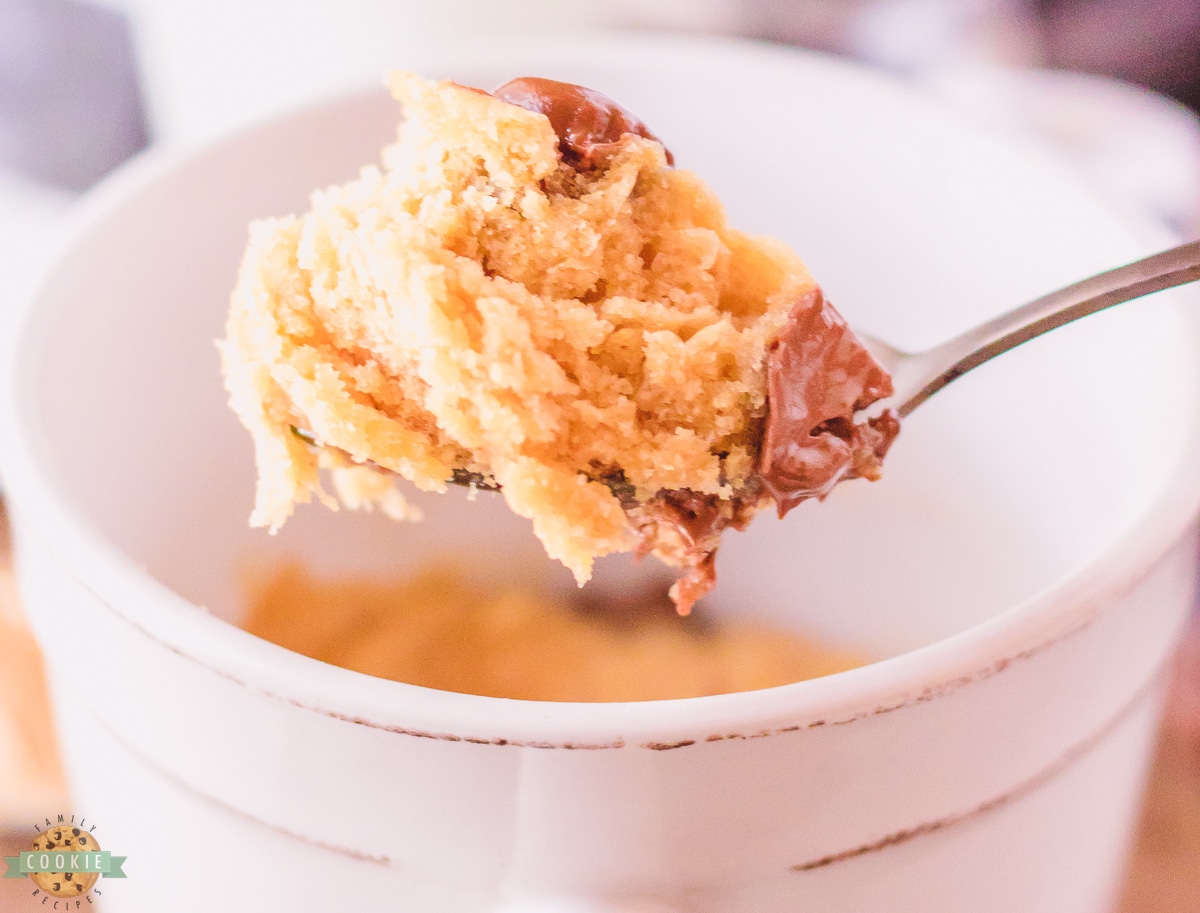 Is it safe to eat egg made in a microwaved cookie?
Yes, it is totally safe. The recommended temperate to cook eggs to be eaten safely is 160 degrees F. With the time this cookie in a mug is microwaved it should reach 165 degree F, so it will be perfectly safe to eat and enjoy!
Check out these other great peanut butter cookie recipes!

Some photos just make you laugh! No idea why Ruckus wanted to lick the bottom of my teenage son's foot, but more power to him! Dogs are hilarious. So are teenagers!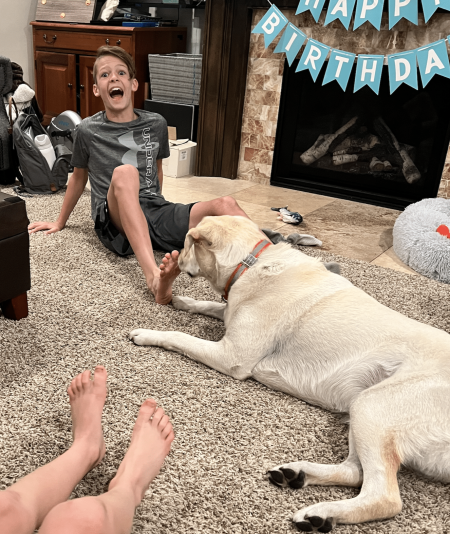 You are just 6 minutes away from enjoying a hot, gooey, and truly delicious treat. This peanut butter mug cookie recipe is the perfect single-serving dessert you need any time of the day. No sharing is required.