Honey Roasted Peanut Butter Cookies made with peanut butter and lots of honey roasted peanuts. Soft, chewy and delicious peanut butter cookie recipe with tons of peanut flavor!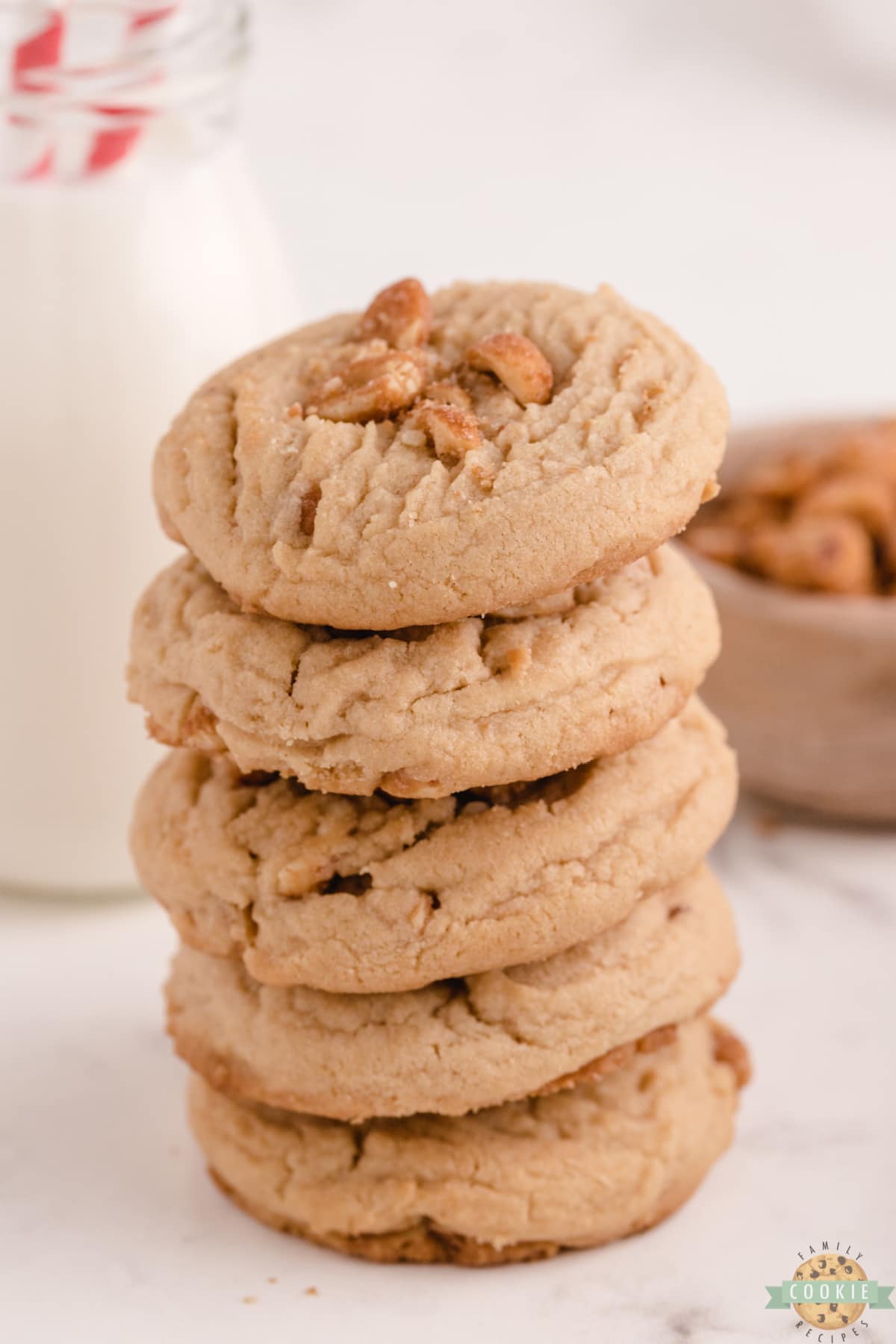 Peanut Butter cookies are one of my favorites and I absolutely love this version that has chopped honey roasted peanuts mixed in. The cookie recipe is pretty basic, but the addition of the peanuts really kicks it up a few notches. If you don't like honey roasted peanuts, you can just use regular ones instead.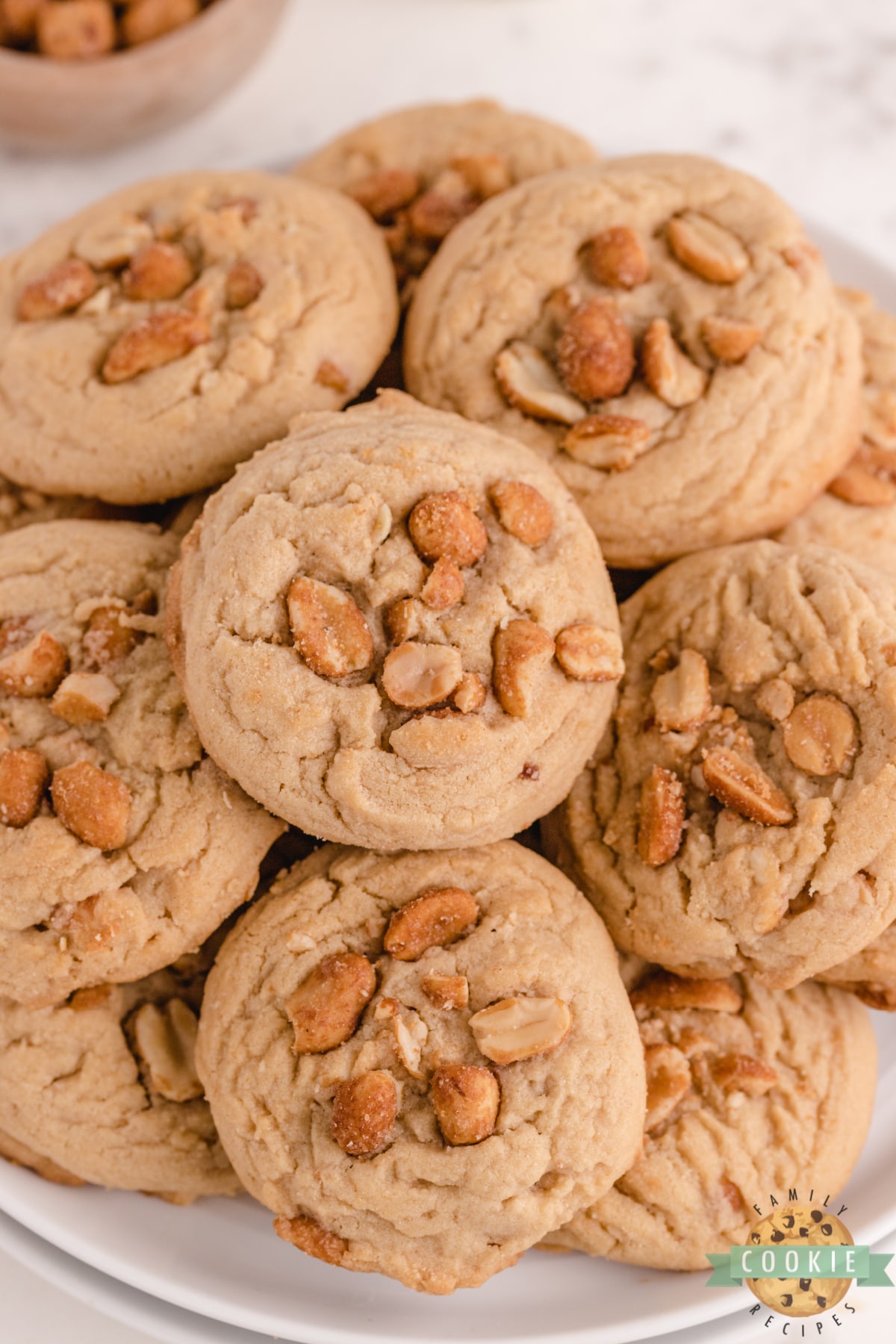 HOW TO MAKE PERFECT PEANUT BUTTER COOKIES
Make sure that you have enough flour in the dough. If the dough is too sticky, you may need to add a little bit of flour.
Do not melt the butter! The butter needs to be softened (at room temperature), but using melted butter will ruin the cookies.
Spend a little extra time when you mix the butter and sugars. Creaming them together for 2-3 minutes will improve the consistency of your cookies.
Preheat the oven. This will help your cookies turn out right every time!
Use a cookie scoop! If you want all your cookies to be perfectly shaped and have them all be the same size, a cookie scoop is the way to go.
Use parchment paper or a silicone baking mat. Doing this will make it really easy to remove the cookies from your cookie sheet so that you don't have to scrape them off the pan – they will just slide right off in perfect shape!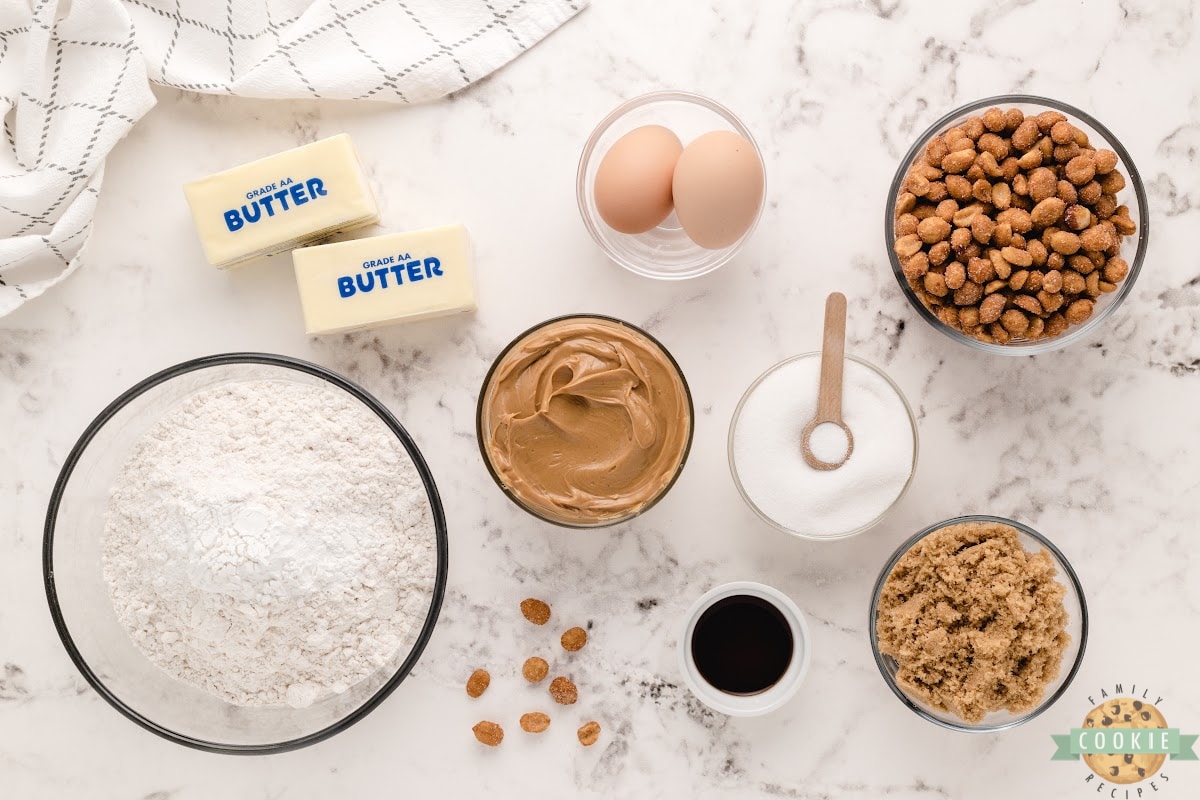 Ingredients in Honey Roasted Peanut Butter Cookies
Butter – You'll need 2 sticks of butter in this recipe. Make sure to soften the butter before mixing with the sugars.
Brown sugar and granulated sugar– I always use light brown sugar, but you can use dark if you prefer. For best results, make sure the brown sugar is soft and fresh.
Peanut Butter – I use creamy peanut butter in the recipe, but you can definitely use crunchy peanut butter if you prefer. I would recommend using a full-fat regular peanut butter. More natural peanut butters don't tend to work as well in baking.
Eggs – You'll need two large eggs to bind everything together and make the perfect cookies.
Vanilla extract – The higher the quality of the vanilla, the better!
Flour – I use all-purpose flour in cookies, but cake flour works fine too. You can even swap some of it out with wheat flour if you want, but the taste and consistency will be different.
Baking powder – Make sure the baking powder isn't old or expired.
Honey roasted peanuts – Honey roasted peanuts have been roasted in sugar and honey, which is what makes them so delicious. You'll find them right next to all of the other nuts at the store. If you don't like the sweetened version, you can use regular peanuts. You can crush them in a food processor or with a nut grinder…make sure not to grind them too much because you'll want larger chunks in the cookies.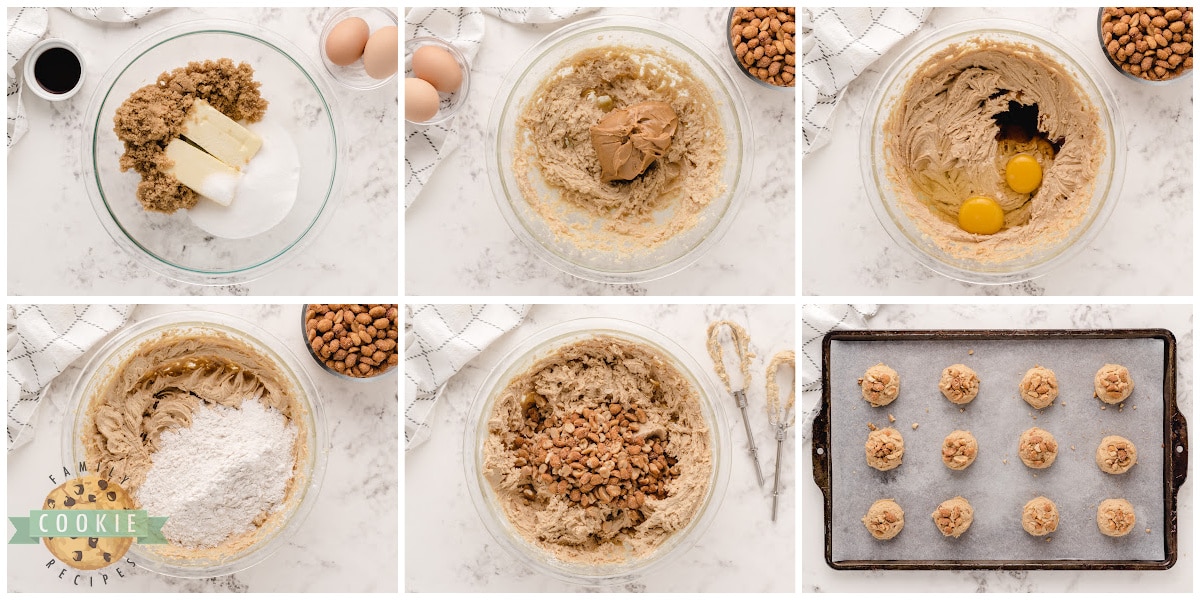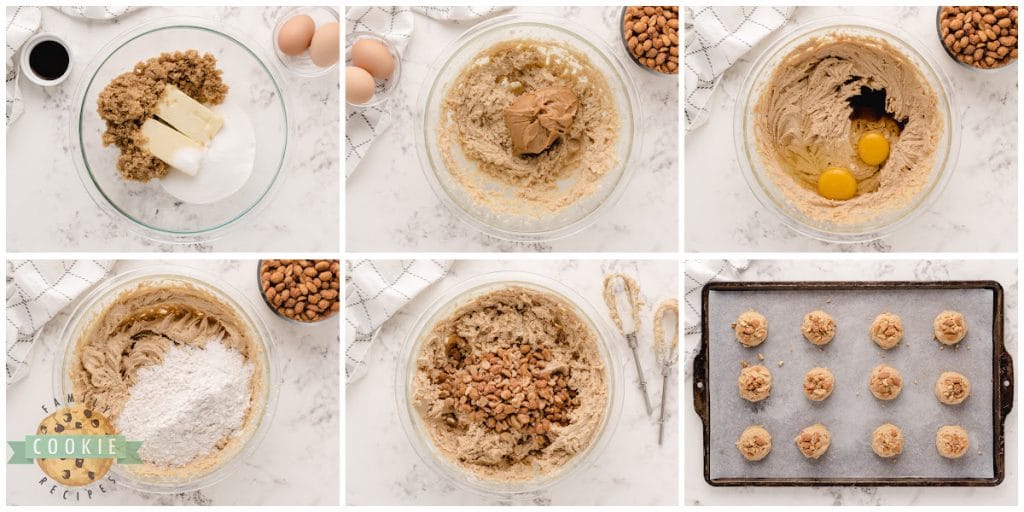 How to make Honey Roasted Peanut Butter Cookies
Preheat oven to 350°.
Beat butter with sugars for about 2- 3 minutes. Add peanut butter and mix 1-2 more minutes. Mix in eggs and vanilla and beat for another 2-3 minutes. Add the flour and baking powder and mix until well combined. Stir in half of the peanuts.
Use a cookie scoop to scoop out cookies onto parchment or silicone-mat lined cookie sheets. Lightly press the rest of the nuts on top of the cookies.
Bake for about 14 minutes. The very edges should be a light golden brown, but cookies should still be really soft in the middles. They may look slightly underdone but that's ok!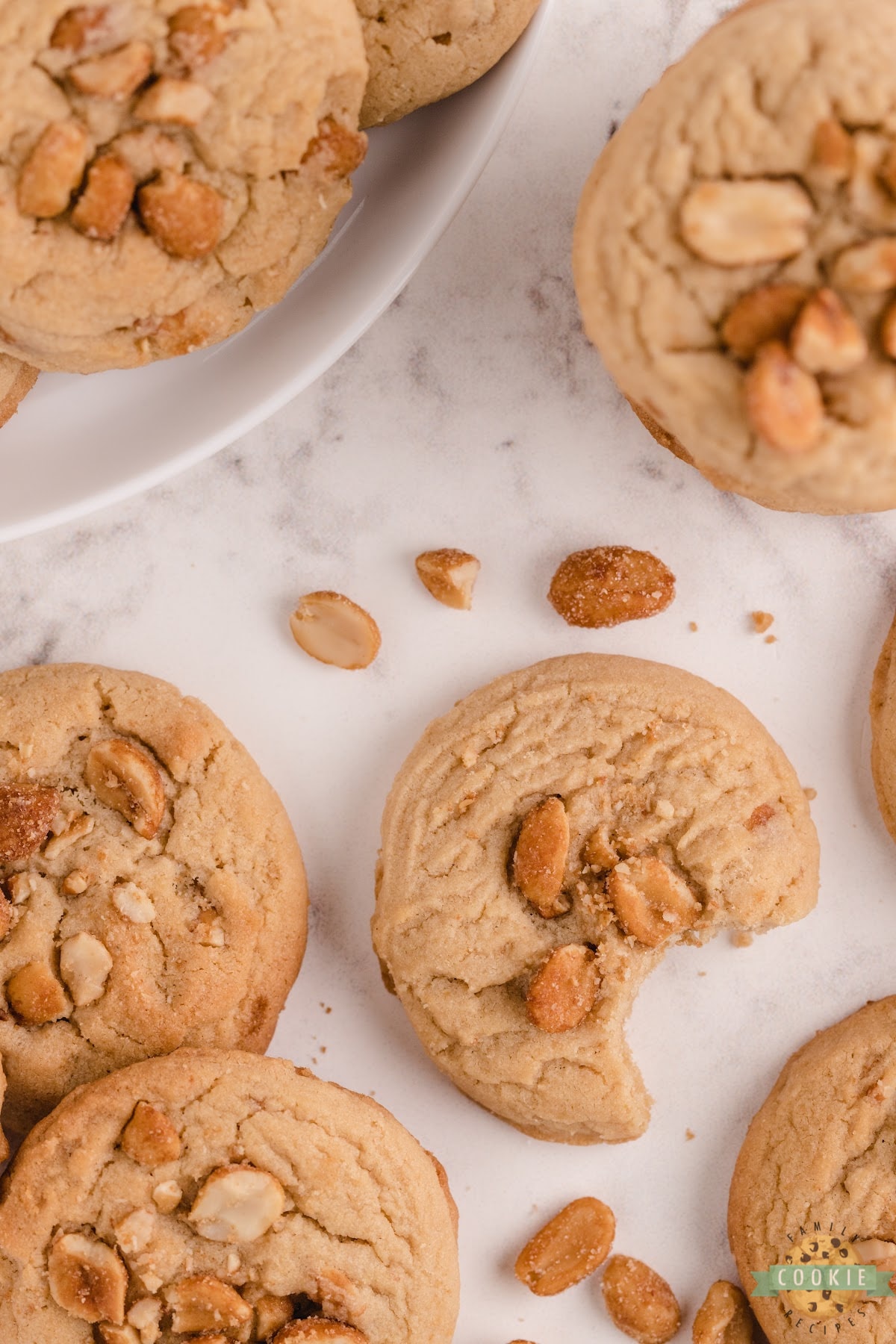 HERE ARE A FEW MORE PEANUT BUTTER COOKIE RECIPES YOU'LL ENJOY: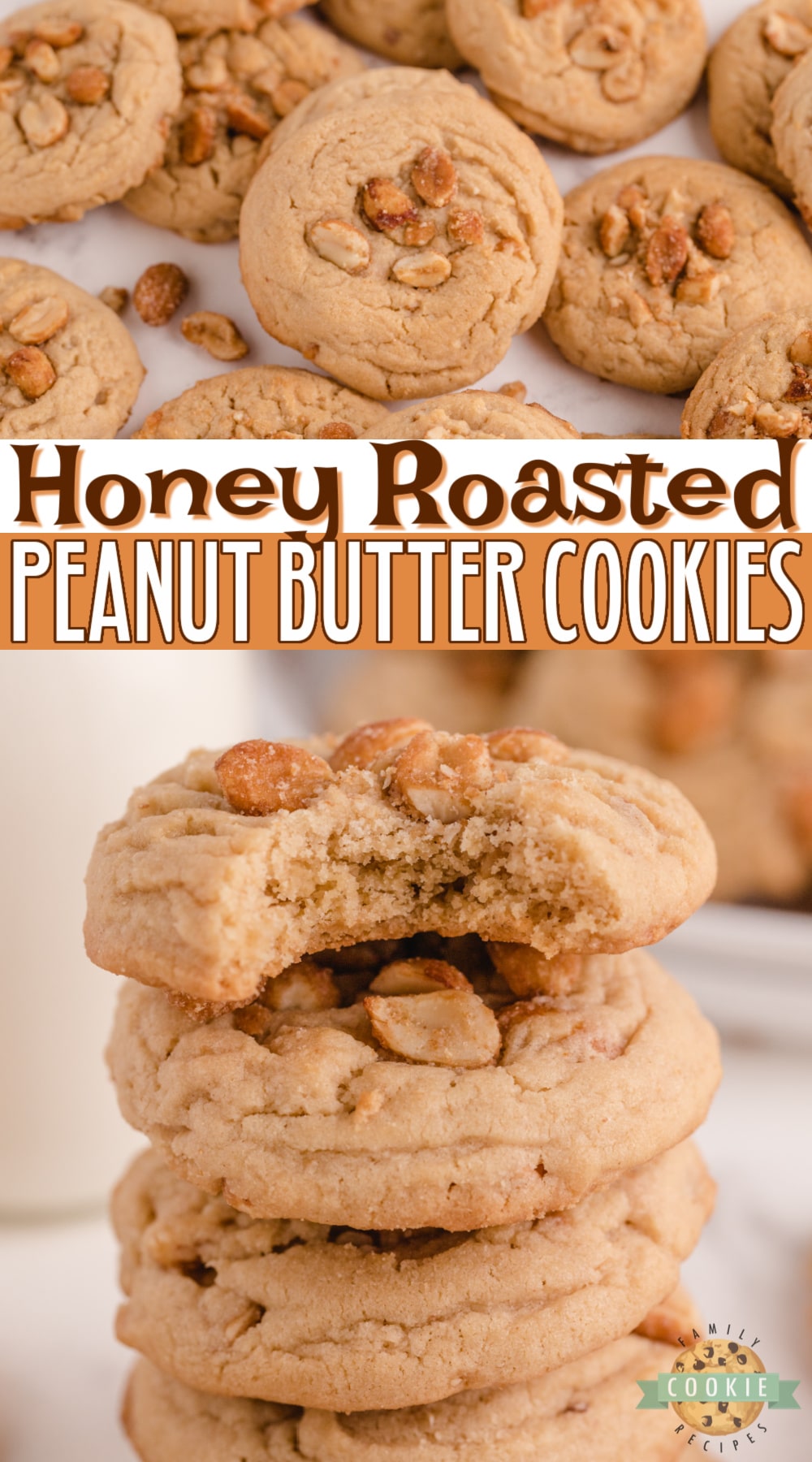 Honey Roasted Peanut Butter Cookies made with peanut butter and lots of honey roasted peanuts. Soft, chewy and delicious peanut butter cookie recipe with tons of peanut flavor!


Time is crazy. I was looking through pictures the other day and found this picture of my kids from 3 years ago. It was only three years ago, but they look so tiny! It's crazy how much they've grown and how much has happened since this photo was taken. The older kids are in 10th and 11th grade now and I have an almost 3 year old now too!