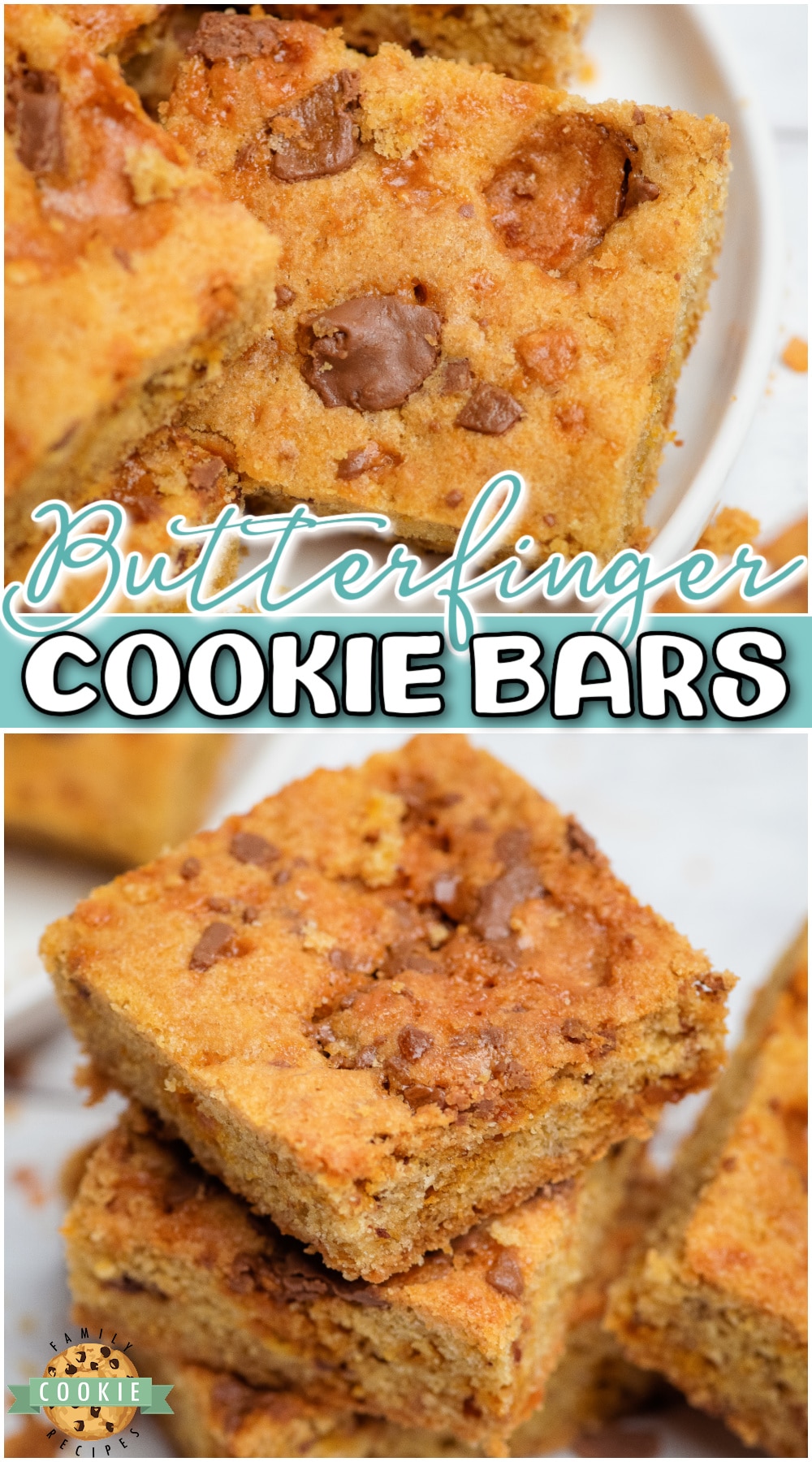 Butterfinger Cookie Bars ~your favorite candy bar in cookie form! Butterfinger cookies are chewy with that irresistibly crunchy texture!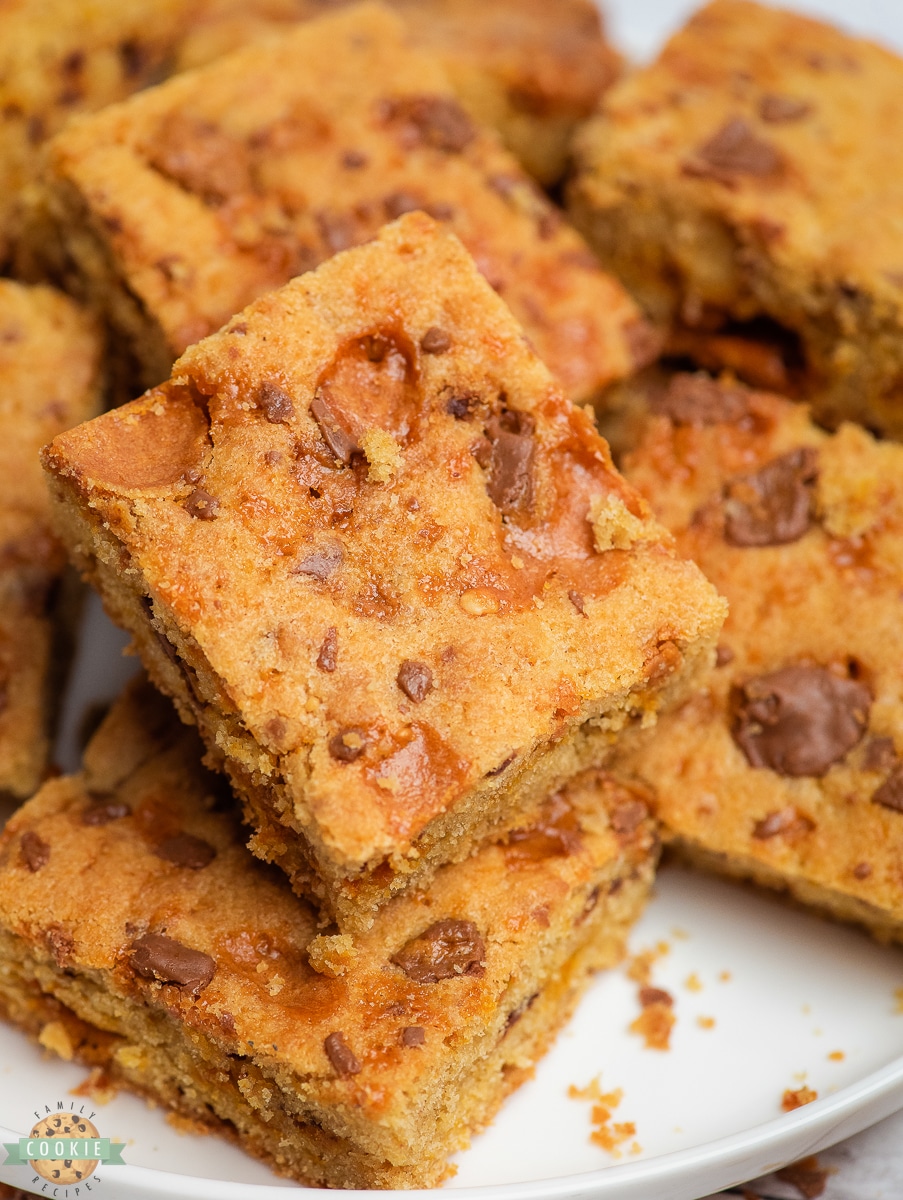 This butterfinger cookie recipe is made with yummy crunchy Butterfinger chips or crushed Butterfinger candy bars, these cookies are a wonderful blend of flavor and texture in every bite. These butterfinger bars are a wonderful treat to make any time of the year, but they are so great for using up leftover Halloween candy.
Butterfinger Cookie Recipe
This sensational cookie is made from scratch using simple ingredients that are most likely in your pantry already. Add in a tasty Butterfinger chocolate bar and the flavor and texture is incredible. Making these cookies in bar form is also so great, it makes serving them up so easy and there is no rolling or scooping during the prep time. This cookie recipe is a combination of an easy sugar cookie but it is amped up with the delightful addition of everyone's favorite candy bar. The sweet cookie taste with the peanut butter and chocolate delicious crunch makes this cookie one you will never forget!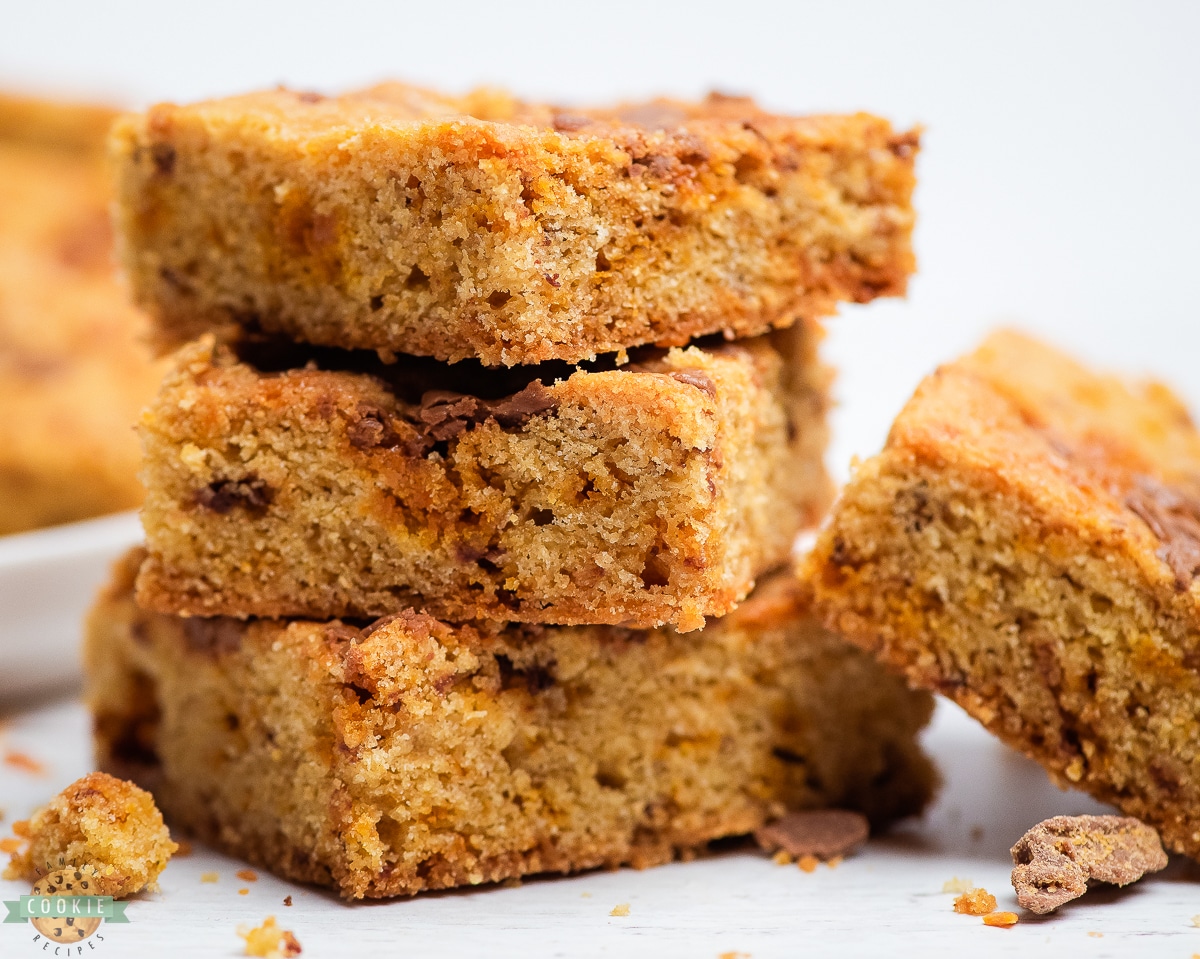 Ingredients
-Butter: Using 1 cup (2 sticks) of softened unsalted butter will make these cookie bars rich in taste and moist for days.
-Sugars: You will need 1/2 cup each of granulated sugar and brown sugar to make these cookies sweet and chewy.
-Eggs: Use 2 eggs to help bind the dough together well and give them perfect consistency.
-Vanilla extract: Adding in 1 teaspoon of vanilla extract will make the flavors in these cookies more pronounced.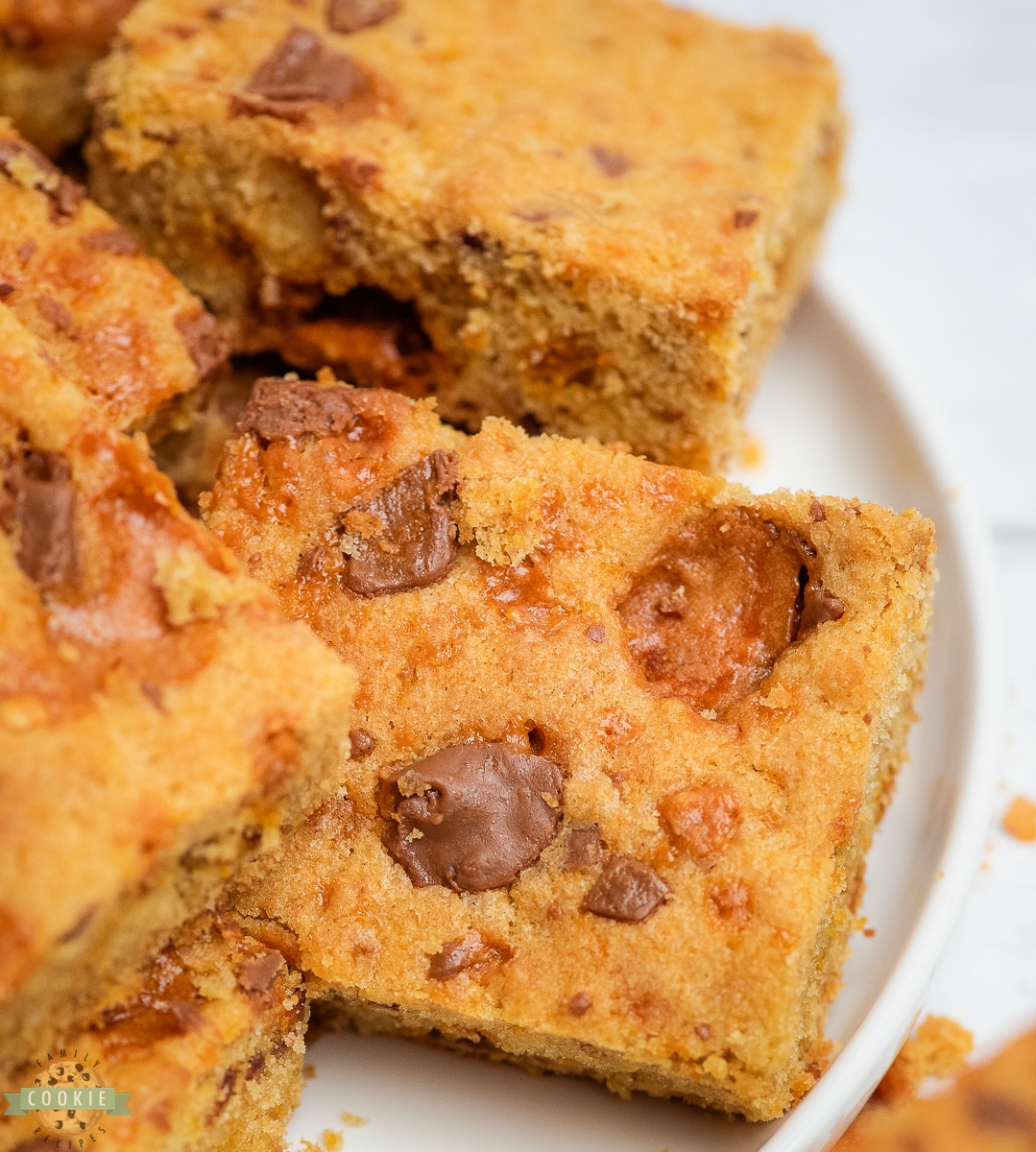 -Flour: Use 2 cups of all-purpose flour as the base of the cookie dough.
-Leavening agents: You will need 1 teaspoon of baking powder and 1/4 teaspoon of baking soda to make the cookie bars rise and puff up nicely during the baking process.
-Salt: Add in 1/4 teaspoon of salt to help enhance the flavors in these yummy cookie bars.
-Butterfinger chips: You will want an entire 8-ounce package of Butterfinger chips to really give these cookie bars great flavor. If you cannot find the chips, you can use 4-5 Butterfinger candy bars crushed into small pieces.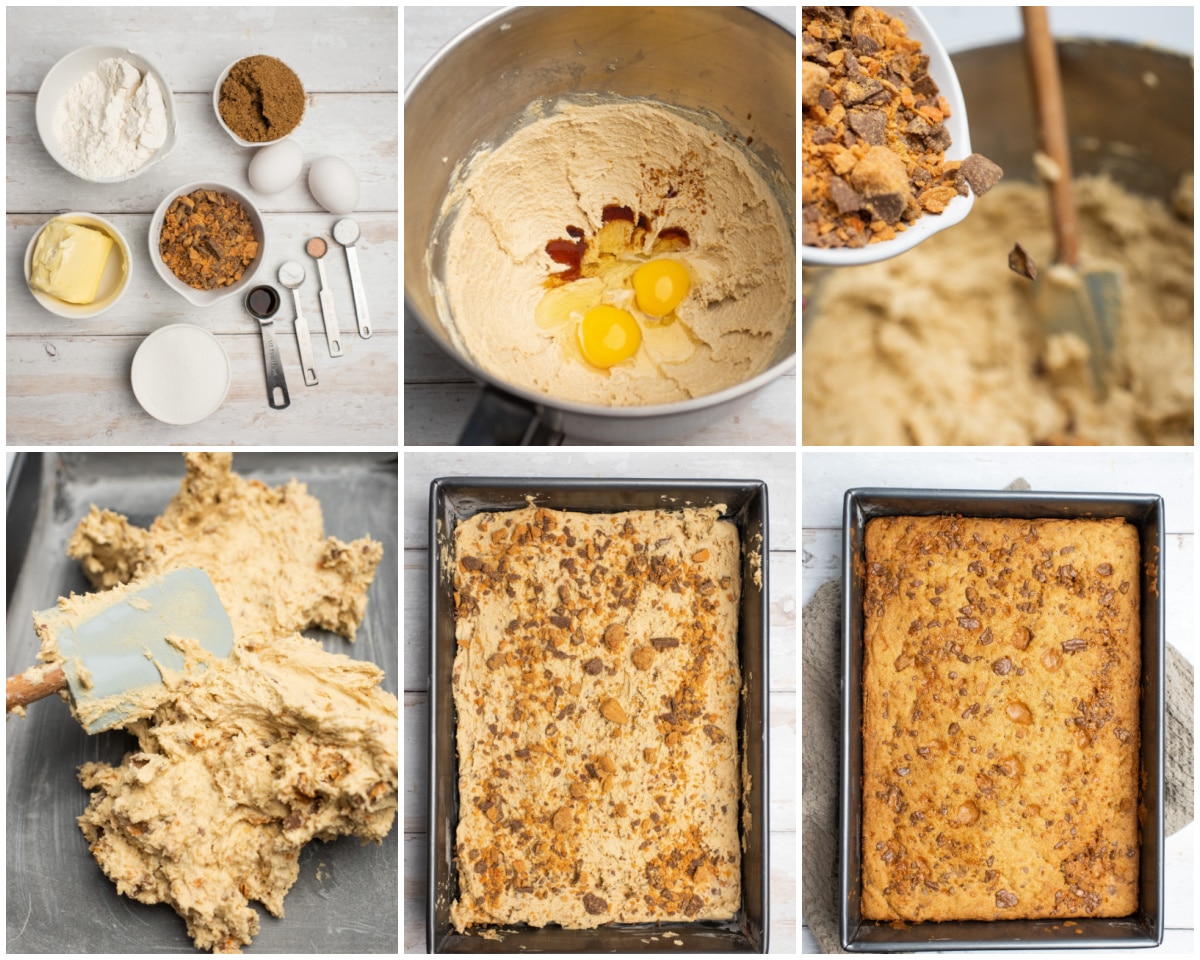 How to Make Butterfingers Cookie Bars
Prep
Start by preheating your oven to 350 degrees F.
Then, grease the inside of a 9×13 baking pan and set aside.
Make cookie dough
Then, in a small bowl, combine the flour, baking soda, baking powder, and salt. Set the bowl aside.
In another medium size bowl, use an electric handheld mixer to cream together the butter and both white and brown sugars.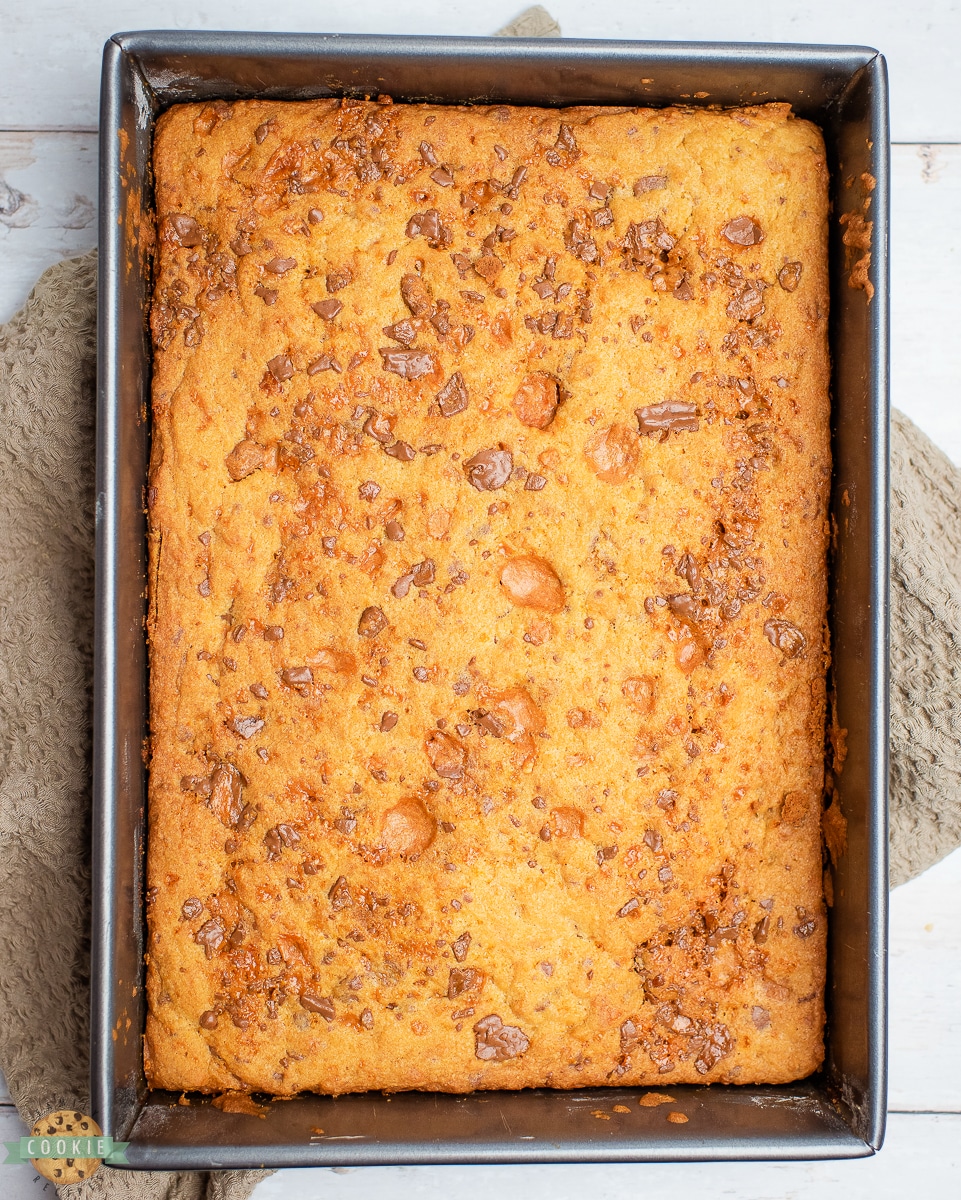 In the sugar mixture, add in the eggs and the vanilla extract and mix well to combine.
After that, slowly add in the flour to the egg and butter mixture. Stir well to combine until all the white flour is combined.
Lastly, stir in 3/4 cups of the Butterfinger chips. Mix to combine.
Bake
Proceed to spread the dough out evenly into the prepared baking sheet.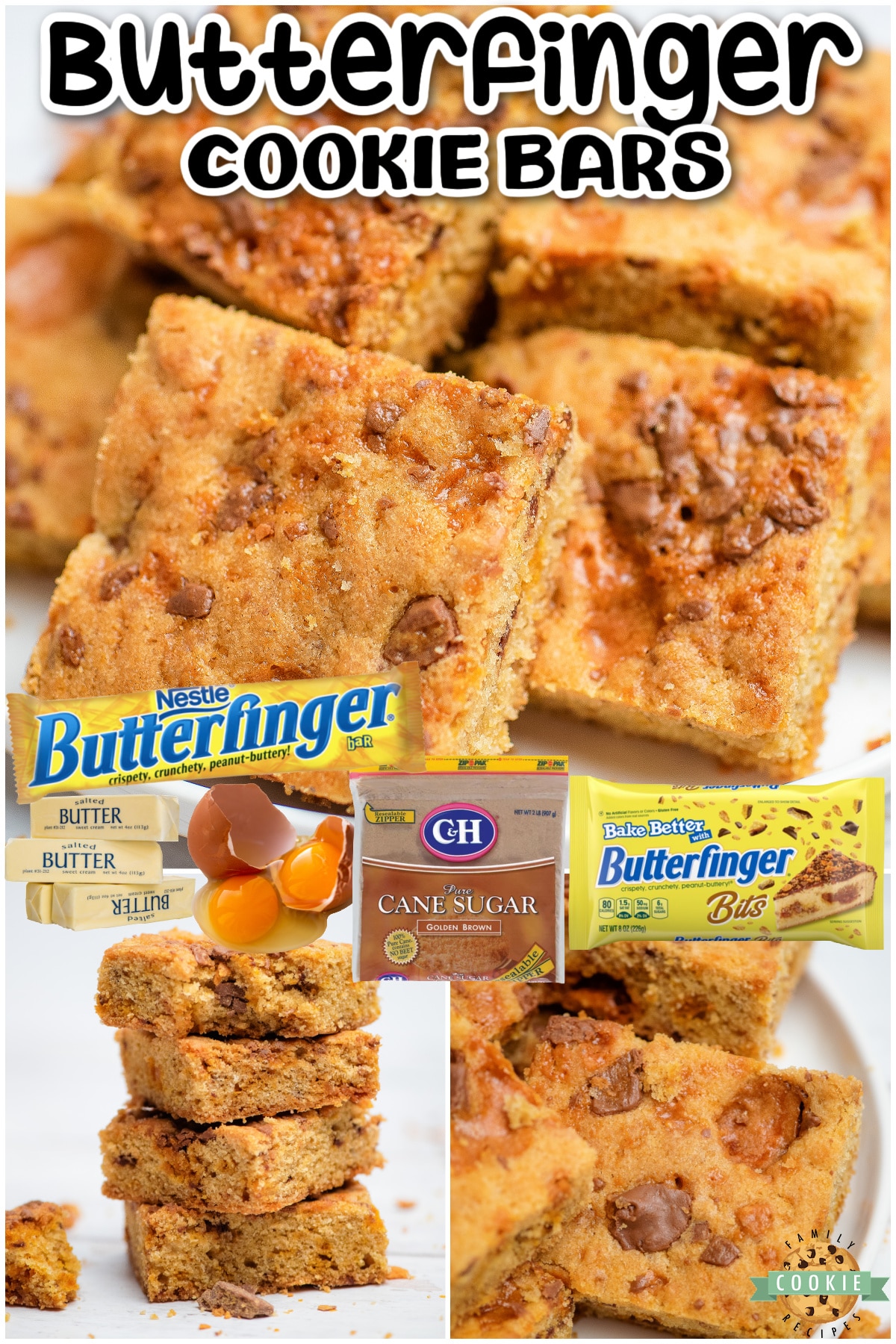 Then, sprinkle the remaining Butterfinger chips on top of the cookie dough.
Place in the oven and bake for 20-25 minutes or until the edges are browned.
Serve
Let the cookies cool before cutting into squares and serving. Enjoy!
How long are Butterfinger cookie bars good for?
If you keep these cookies well wrapped or stored in an airtight container at room temperature, they will last about 3-5 days and still taste great. You can also use the trick I learned, put a piece of bread in the container with the cookies. The cookies absorb the moisture from the bread and stay soft a few days longer.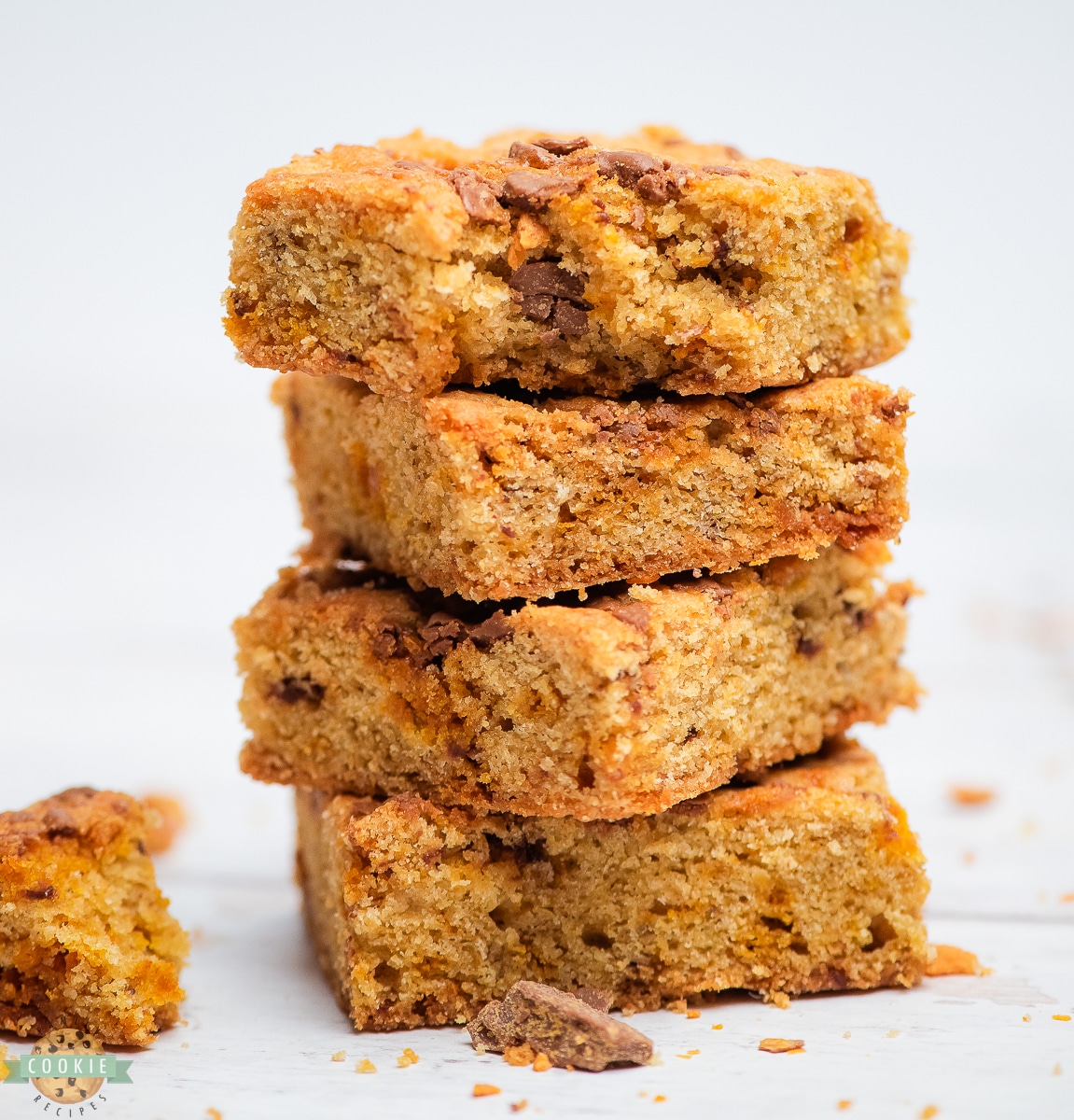 Can I freeze Butterfinger cookie bars?
Yes, these cookie bars actually freeze very well. Keep your cookies in an airtight container and freeze for up to three months before thawing. I recommend already having the cookies cut into serving-sized pieces because it makes it easier to simply grab one or as many pieces as you want at once. When you are ready to enjoy, just leave them out and let them come to room temperature before enjoying.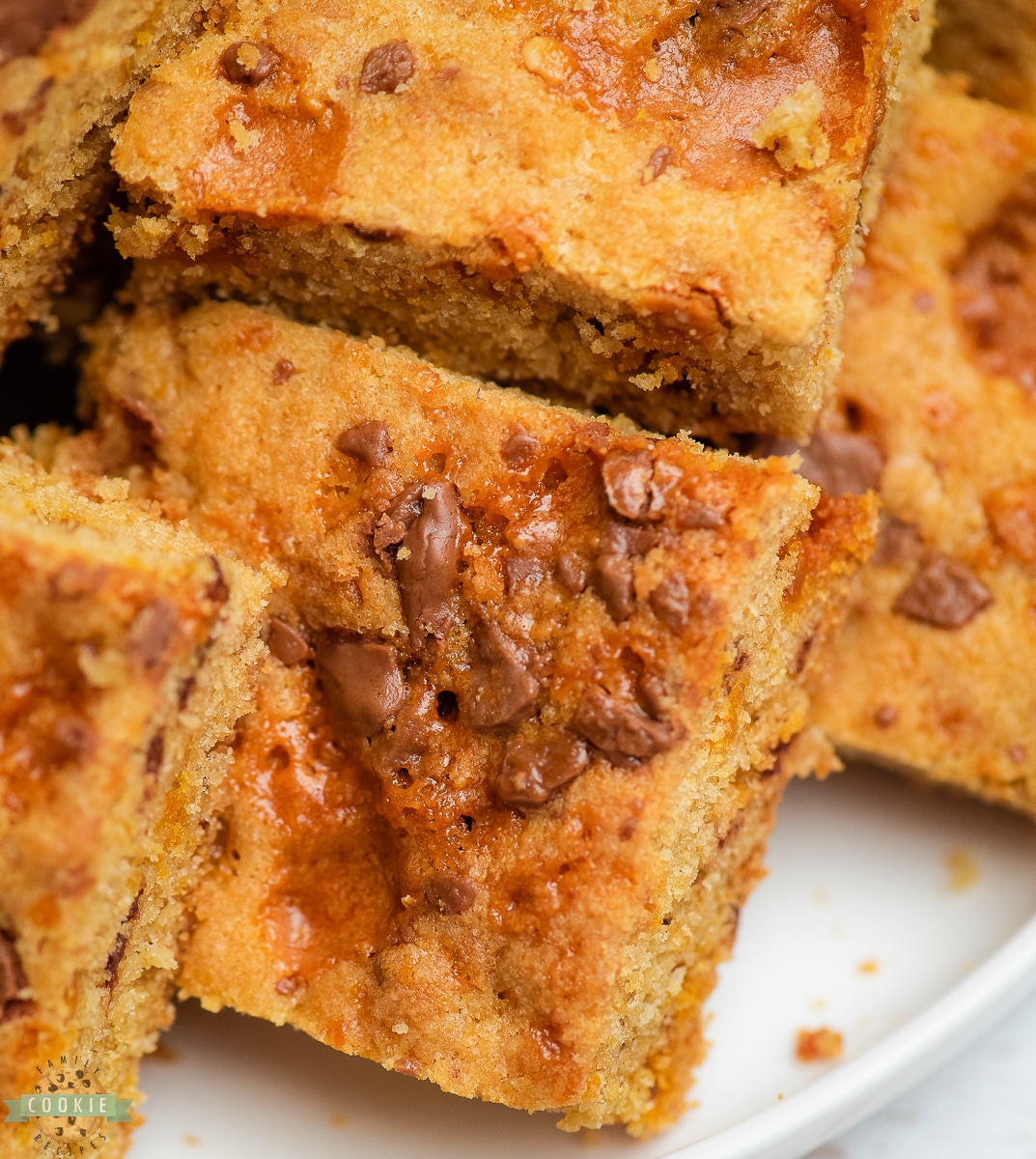 How do I use Butterfinger candy bars instead of Butterfinger chips?
To use crushed Butterfinger candy bars instead, just place them (unwrapped) into a ziplocked bag and roll with a rolling pin. Alternatively, you can use a food processor. You will need about 2 cups of crushed Butterfinger candy bars which are several large bars (about 4 king-sized or5 regular sized bars).


Sometimes I want to take family pictures and well, the kids just aren't into it! This last photo shoot was less than stellar, but you know what, we rolled with it and ended up doing some funny poses and got some good ones! They make us all laugh, and that's worth something, right?!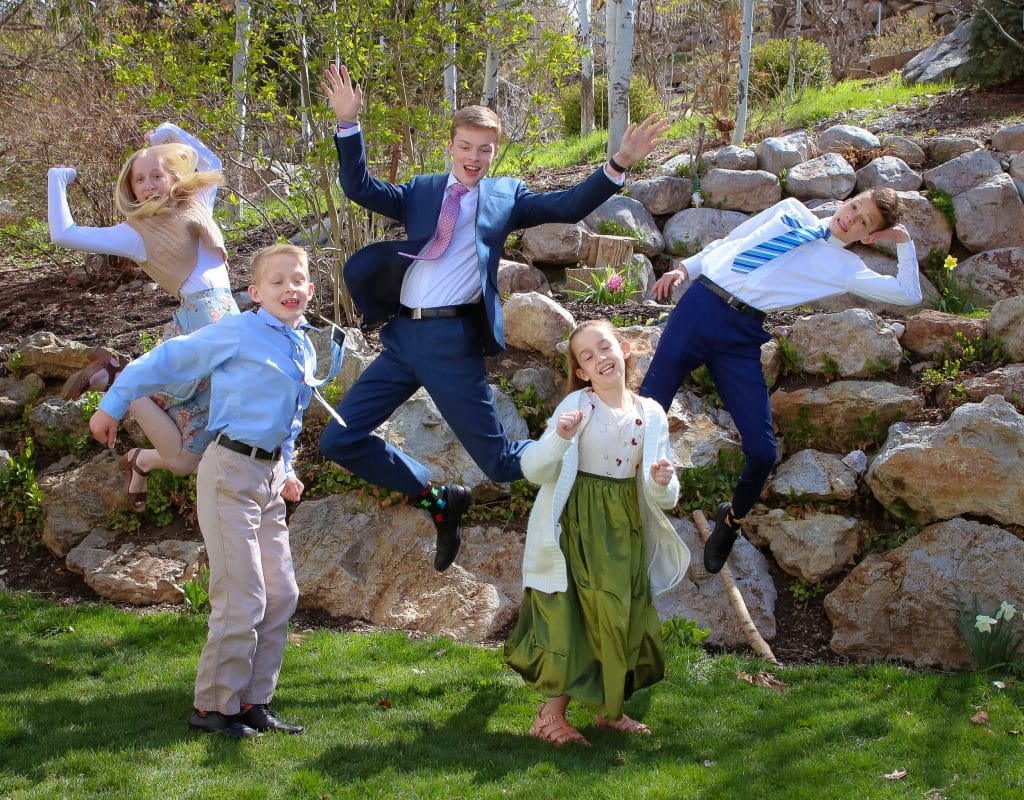 For more delicious cookie bar recipes check out these sweet suggestions:
This Butterfingers cookies bar recipe turns your favorite candy bar into something truly impressive. These cookie bars are soft, chewy, and hard to resist!