Gingerbread Cookie Bars are soft, thick, perfectly spiced and easy to make when you don't have time to scoop out individual cookies. Topped with cream cheese frosting, these gingerbread cookie bars are a big hit during the holiday season!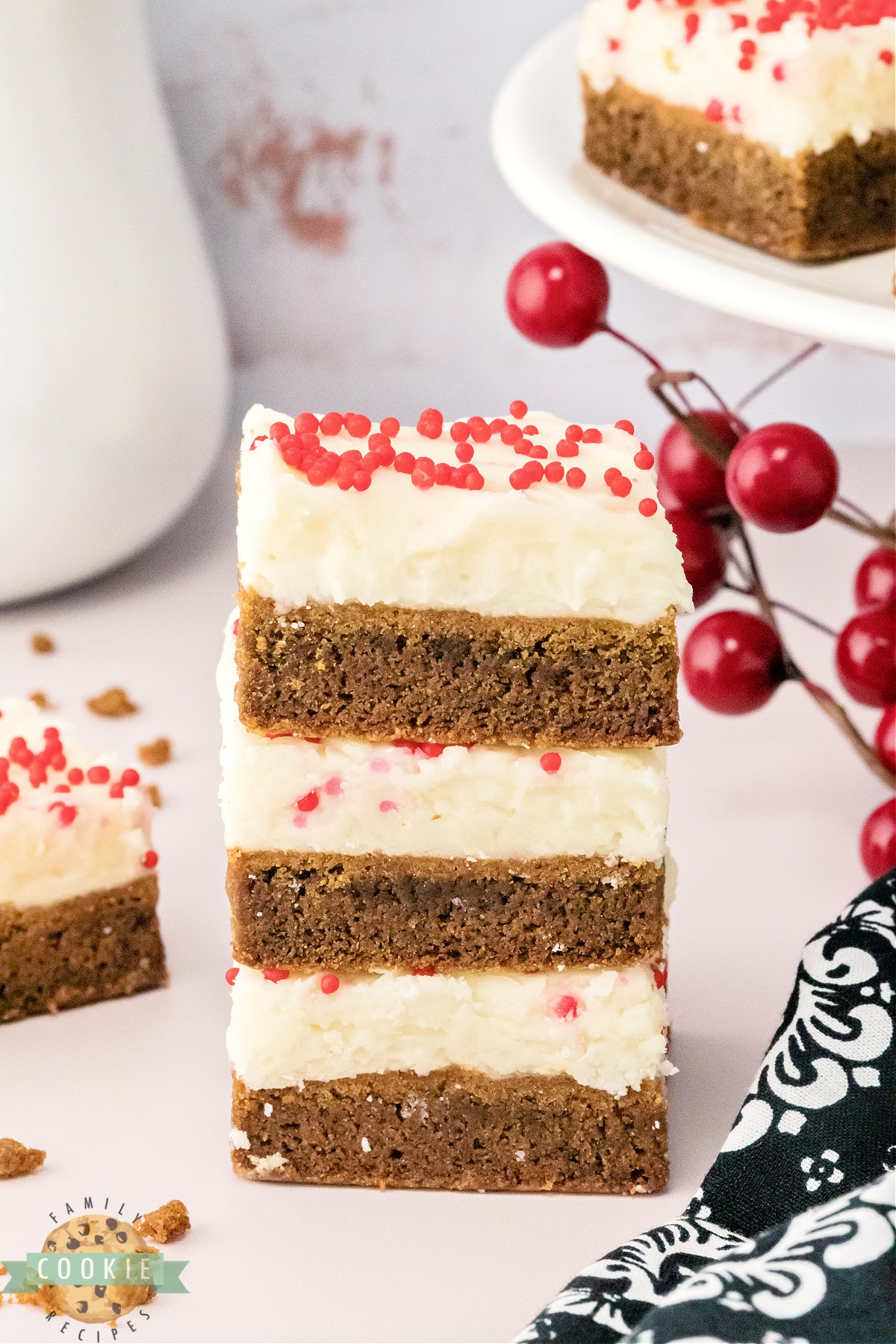 Gingerbread cookies are a favorite during the holidays…not only are they delicious, but they make your house smell amazing too! With all of the craziness of the holiday season, sometimes it's hard to find the time to make individual cookies, especially if you have to roll out the dough, cut out shapes, bake and frost them. Cookie bars are the perfect solution…you get the delicious taste of gingerbread cookies, but in a lot less time!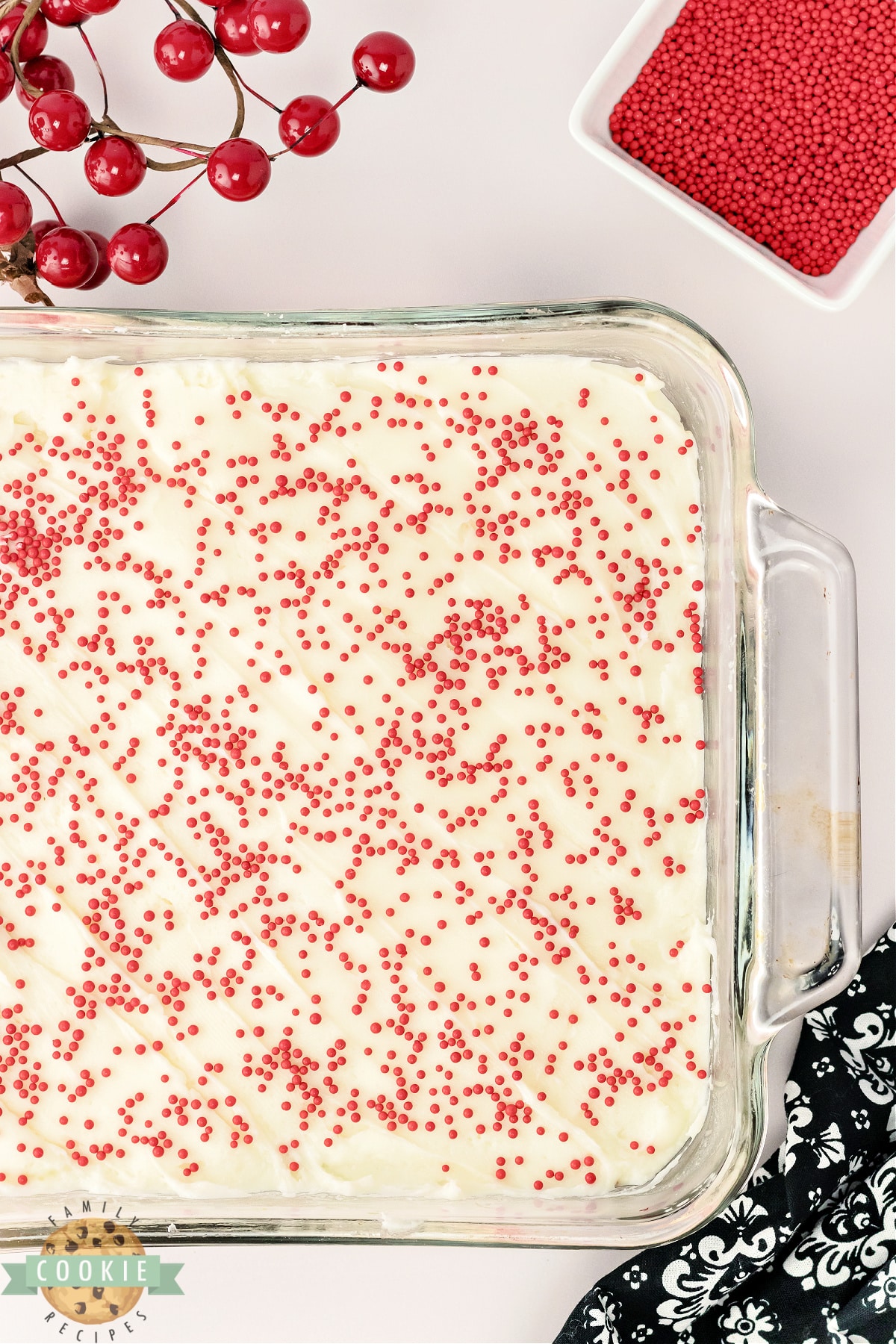 GINGERBREAD COOKIE BARS
Gingerbread Cookie Bars are made with basic cookie ingredients, along with cinnamon, molasses, ginger, nutmeg and cloves. The cookie dough is spread in a square baking pan before baking and then once the cookie bars have cooled, they are topped with a thick and sweet cream cheese frosting. Add some festive sprinkles to make the perfect holiday dessert!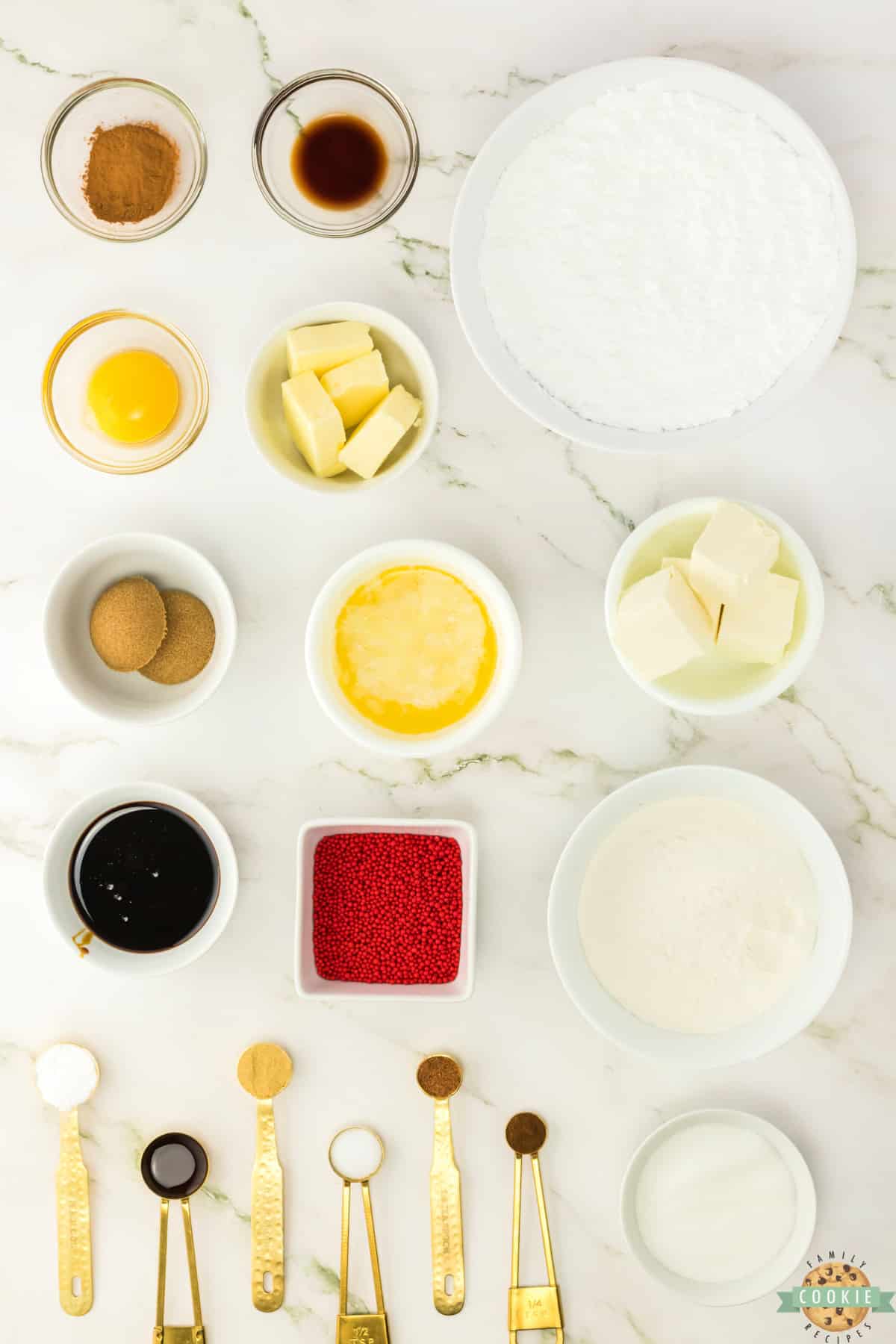 INGREDIENTS IN GINGERBREAD COOKIE BARS
COOKIE DOUGH:
Sugar – You only need 1/3 cup sugar in the cookie dough.
Butter – Make sure the butter is melted before adding to the other ingredients. For best results, use real butter.
Molasses – Just a little bit of molasses helps to give the cookie bars that rich, deep gingerbread flavor. You can use any variety of molasses that you like.
Brown sugar – A couple tablespoons of brown sugar will add a little more sweetness and depth of flavor.
Vanilla – The higher the quality of vanilla, the better.
Egg yolk – Strain out the egg white and only add the yolk to the cookie dough.
Flour – You will need one cup of all-purpose flour.
Baking soda – This acts as the leavening agent in the cookie bars so it's important that it isn't old or expired.
Cinnamon, ginger, nutmeg, cloves and salt – All of these spices and seasonings will give the gingerbread cookie bars that delicious, classic gingerbread flavor! And the amazing smell too!
CREAM CHEESE FROSTING:
4 ounces cream cheese (approximately half a brick)
1/4 cup salted butter, softened
1/2 teaspoon vanilla
2 cups powdered or confectioners sugar
holiday sprinkles for garnish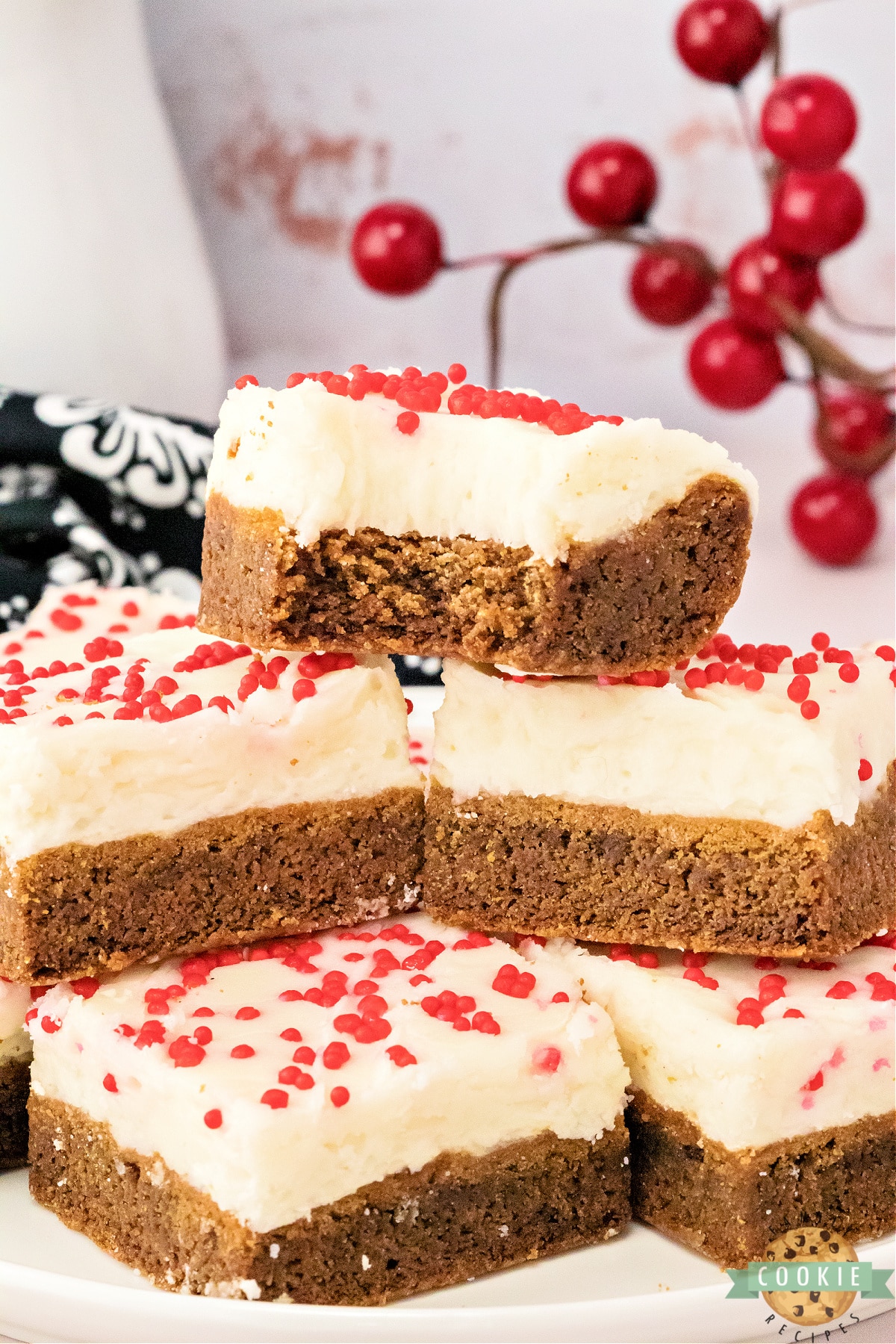 HOW TO MAKE GINGERBREAD COOKIE BARS
Preheat your oven to 350° F. Spray an 8 inch square baking pan with non-stick baking spray spray or grease with butter.
MAKE THE COOKIE DOUGH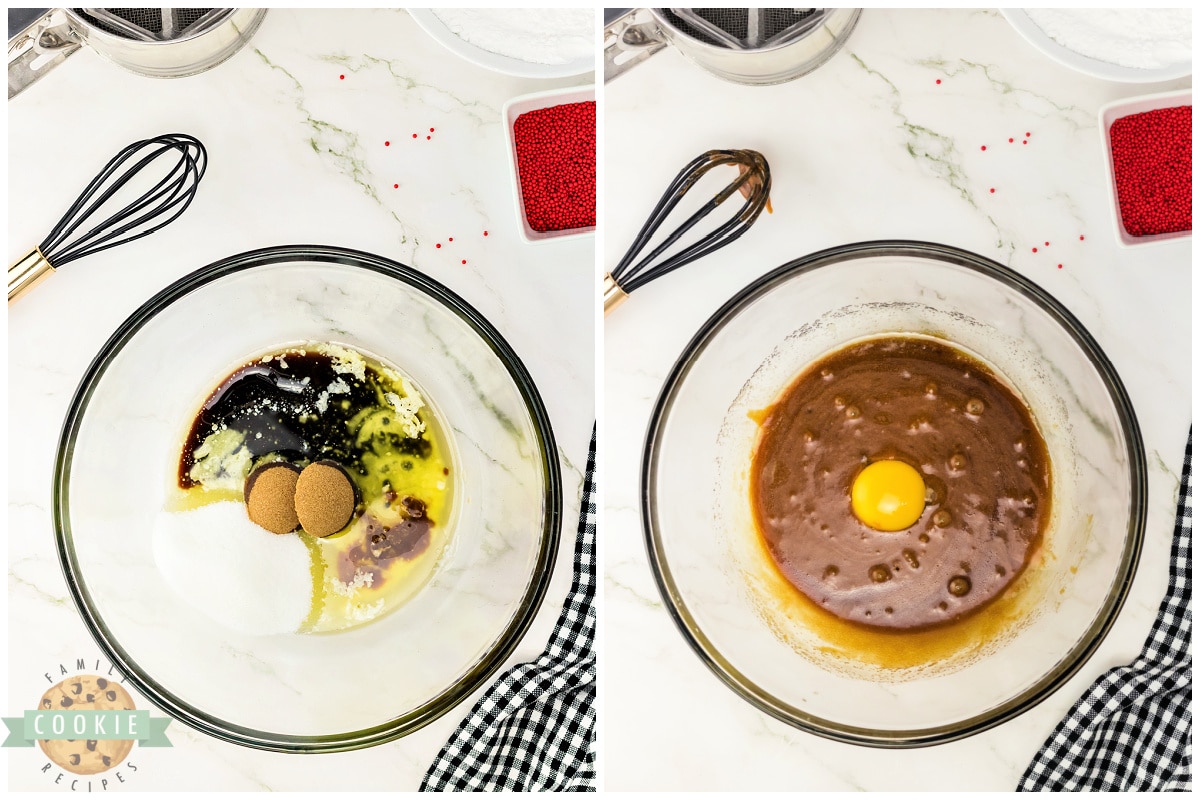 In a large mixing bowl, whisk together the granulated sugar, melted butter and molasses, brown sugar and vanilla until combined. Add the egg yolk and continue whisking.
In a separate bowl, combine the flour, cinnamon, baking soda, salt, ginger, nutmeg and cloves. Add to the sugar/molasses mixture.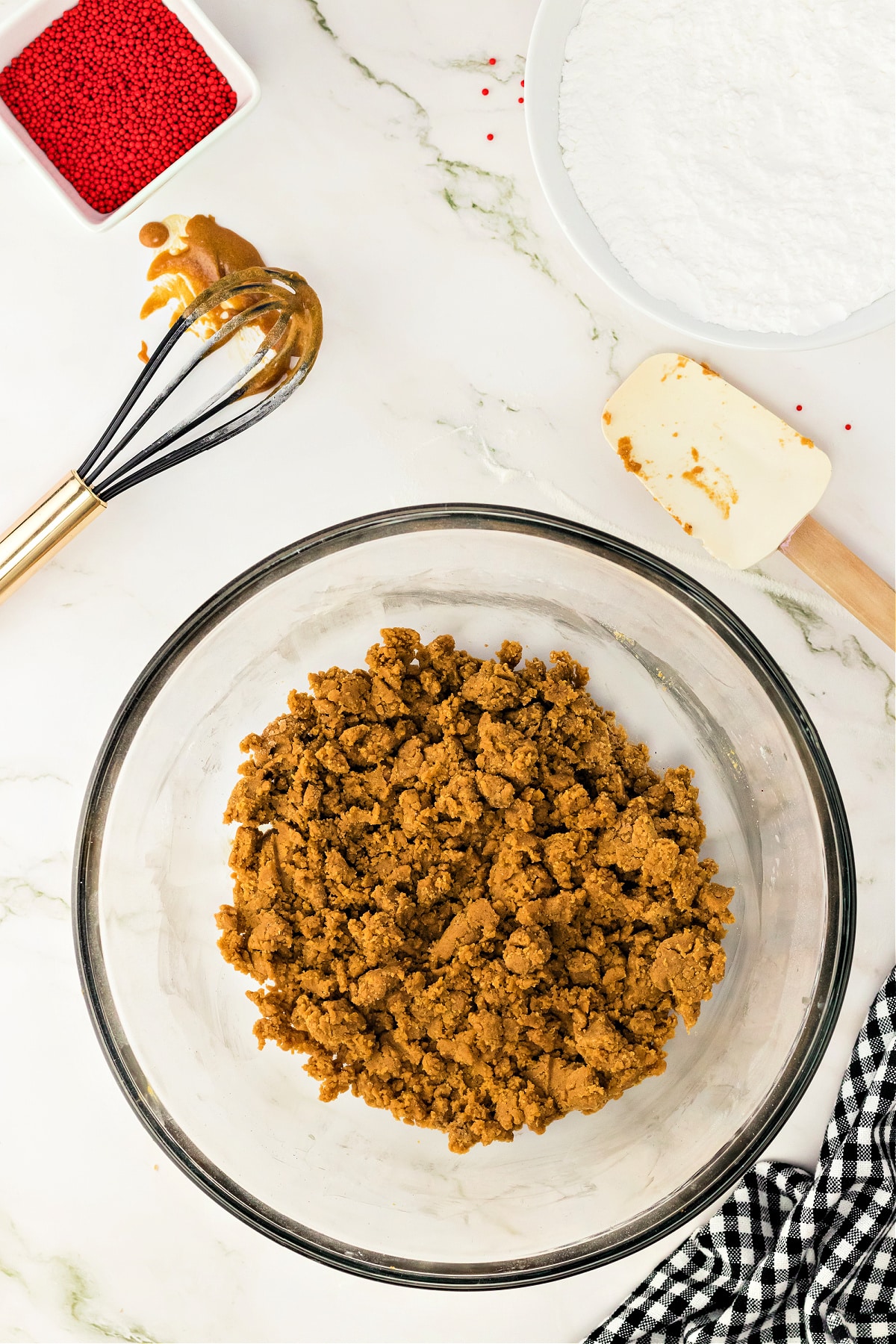 Using a rubber spatula, fold all the ingredients together. Mixture will be thick and a little crumbly.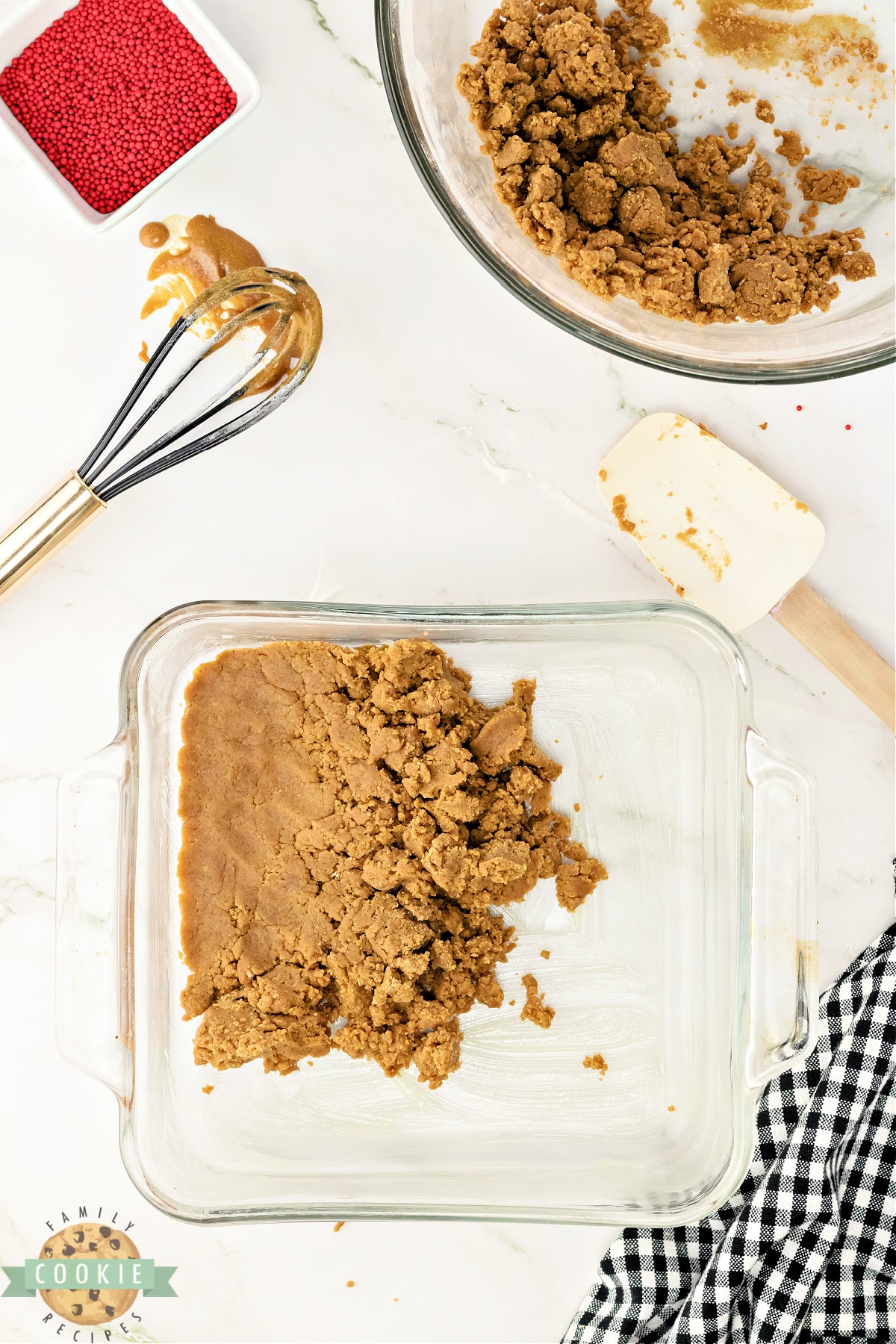 Press the mixture into the prepared pan and press dough down evenly.
Bake for 15-17 minutes. Let cool completely in the pan.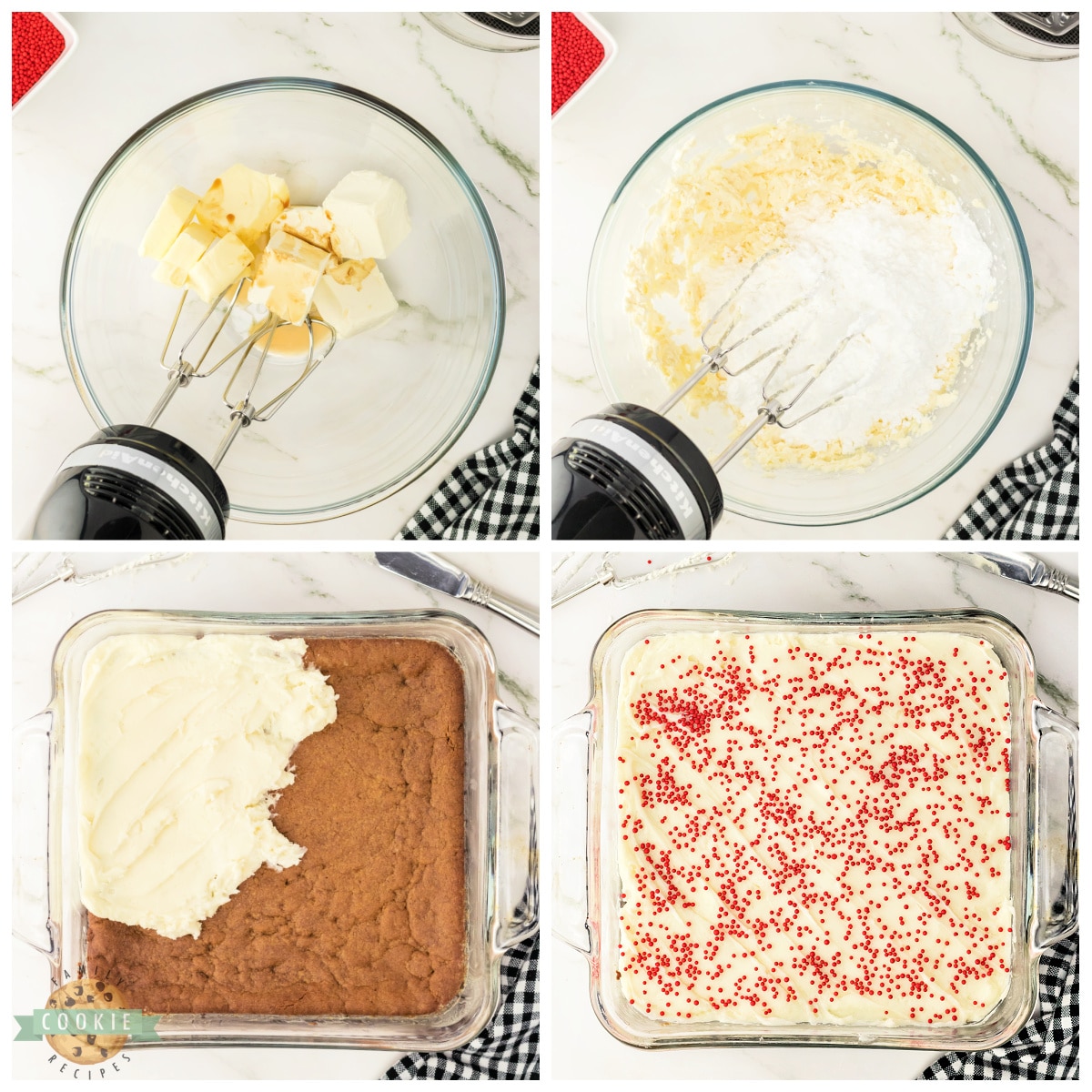 MAKE THE FROSTING
In a medium bowl, beat the cream cheese, butter and vanilla at medium speed until smooth.
Slowly add the powdered sugar to the mixture approximately 1/3 cup at a time. Beat until combined and don't forget to stop and scrape the sides of the bowl.
Spread the icing onto the cooled cookie base and add sprinkles to garnish.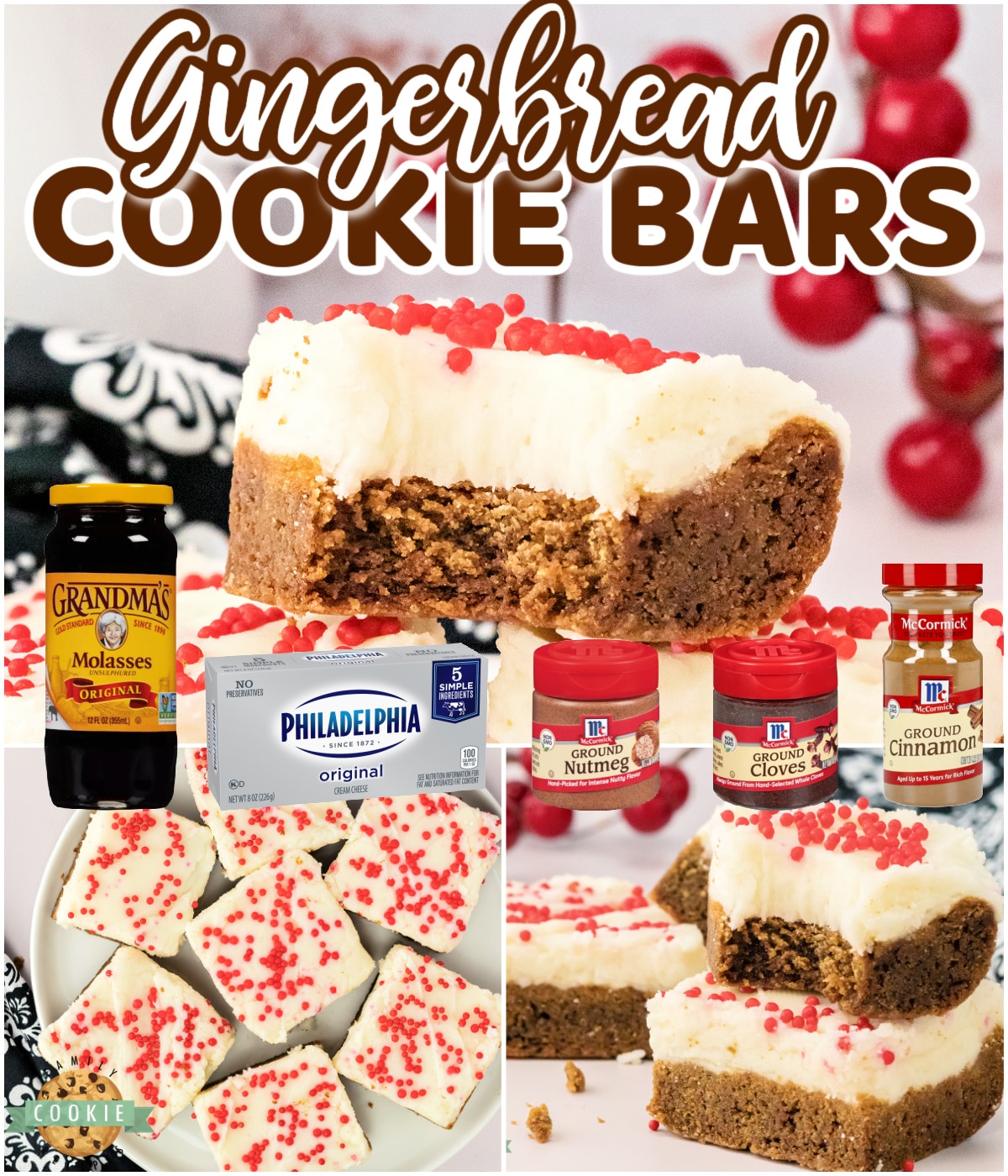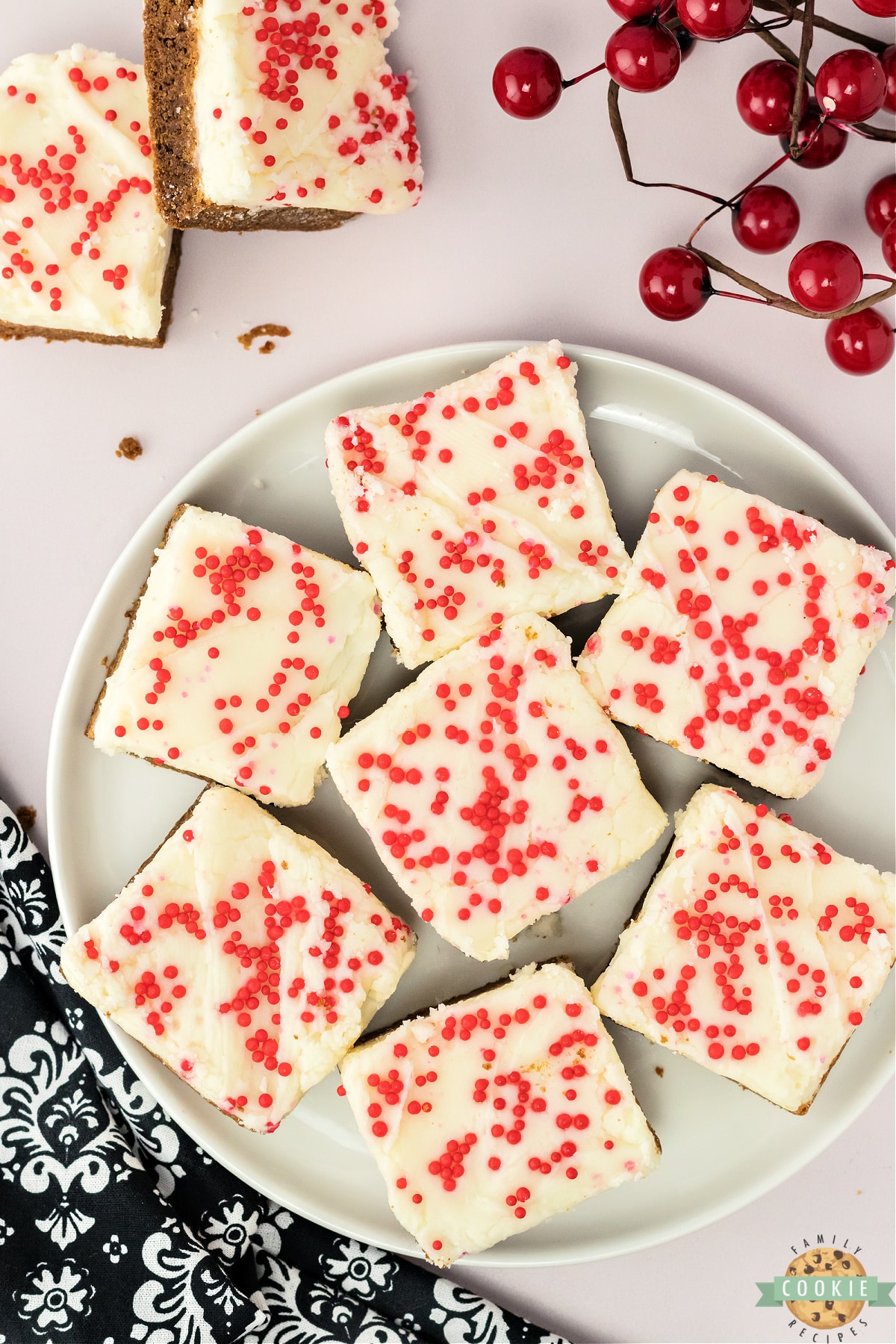 HOW TO CUT PERFECT COOKIE BARS
The answer to getting every single cookie bar cut and looking perfect is parchment paper! I used to always get frustrated with desserts that are made in a 9X13 or 8X8 pan because I felt like I had to destroy the entire first row trying to get them out of the pan! Then I discovered that if you use parchment paper, you can remove all the cookie bars from the pan and slice them perfectly.
If you don't have parchment paper, you can just grease your pan like you usually do but your first row may just not be quite as pretty! This cookie bar recipe is one of the easiest to cut into squares – they stay intact much better than many other desserts!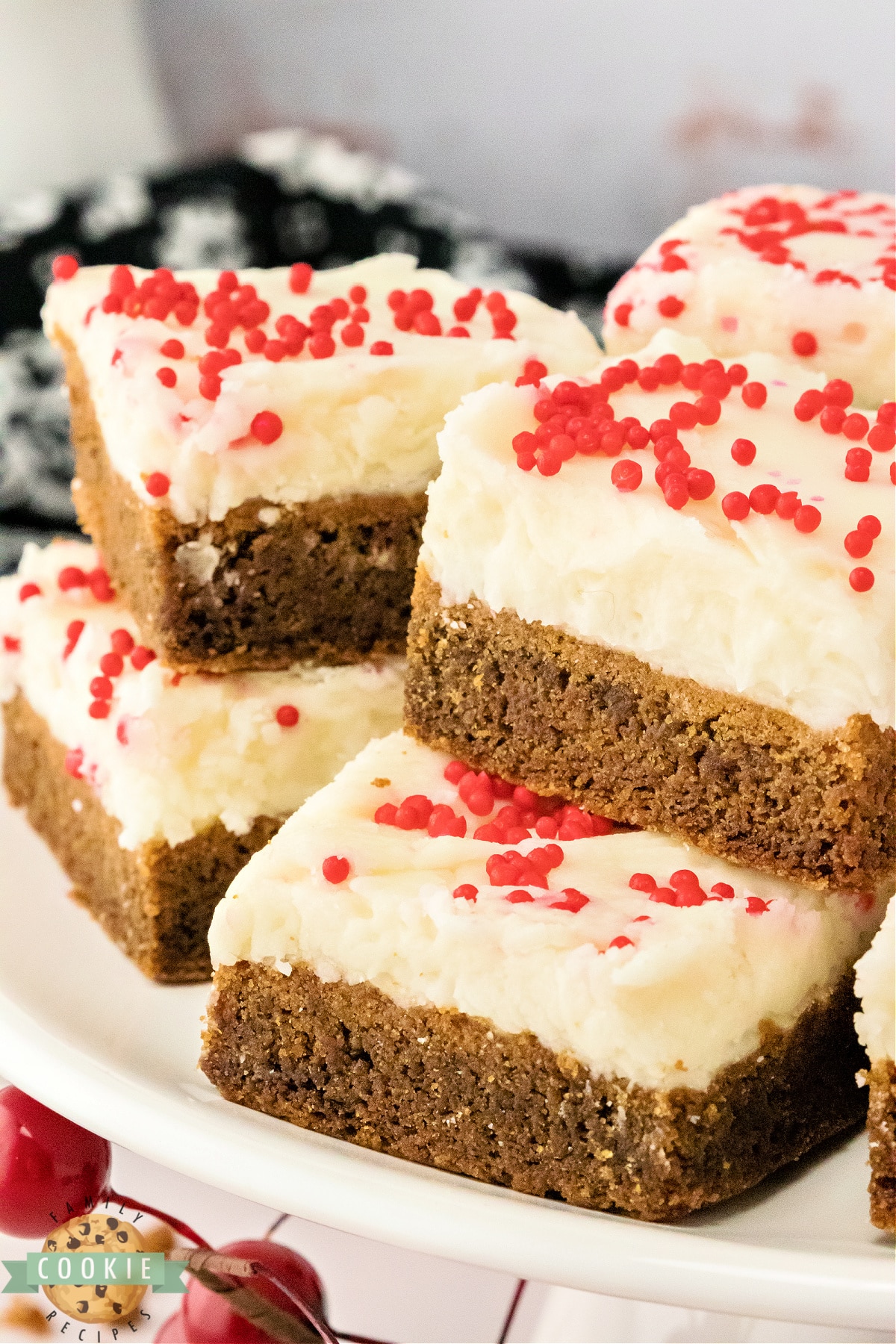 TIPS FOR MAKING THE BEST COOKIE BARS
Don't overmix the ingredients. You will want to whisk the wet ingredients for quite a while, but once you add the dry ingredients, only stir just enough to combine everything.
Preheat the oven. This will help your cookies turn out right every time!
Use parchment paper. Doing this will make it really easy to remove the cookies from your 9X13 pan.
Make sure not to over bake your cookie bars. Once the middle is set up, take them out of the oven! I prefer to err on the side of being slightly undercooked for cookies because if they cook even a little bit too long, they can get hard and I really like soft cookies!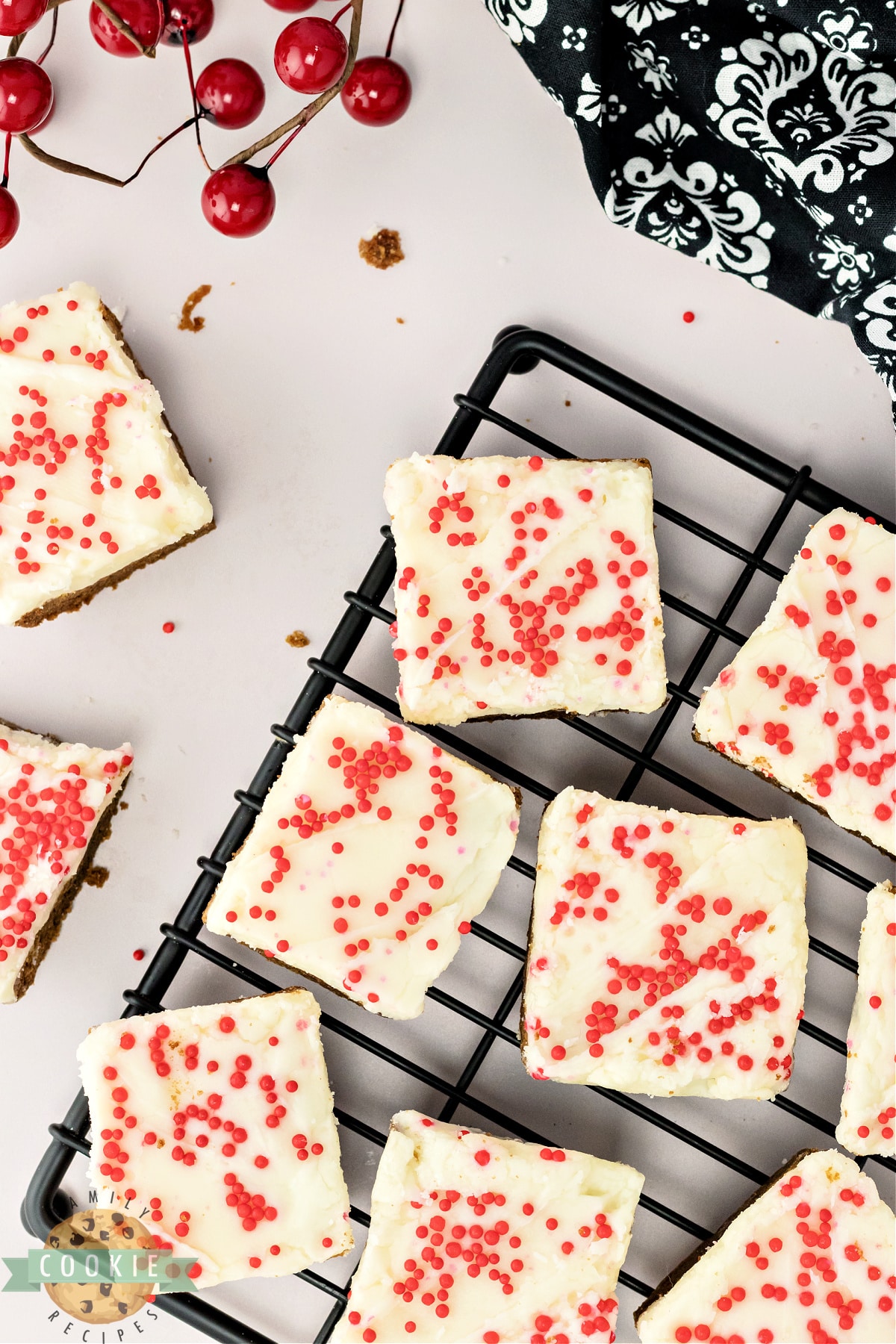 MORE GINGERBREAD RECIPES TO TRY: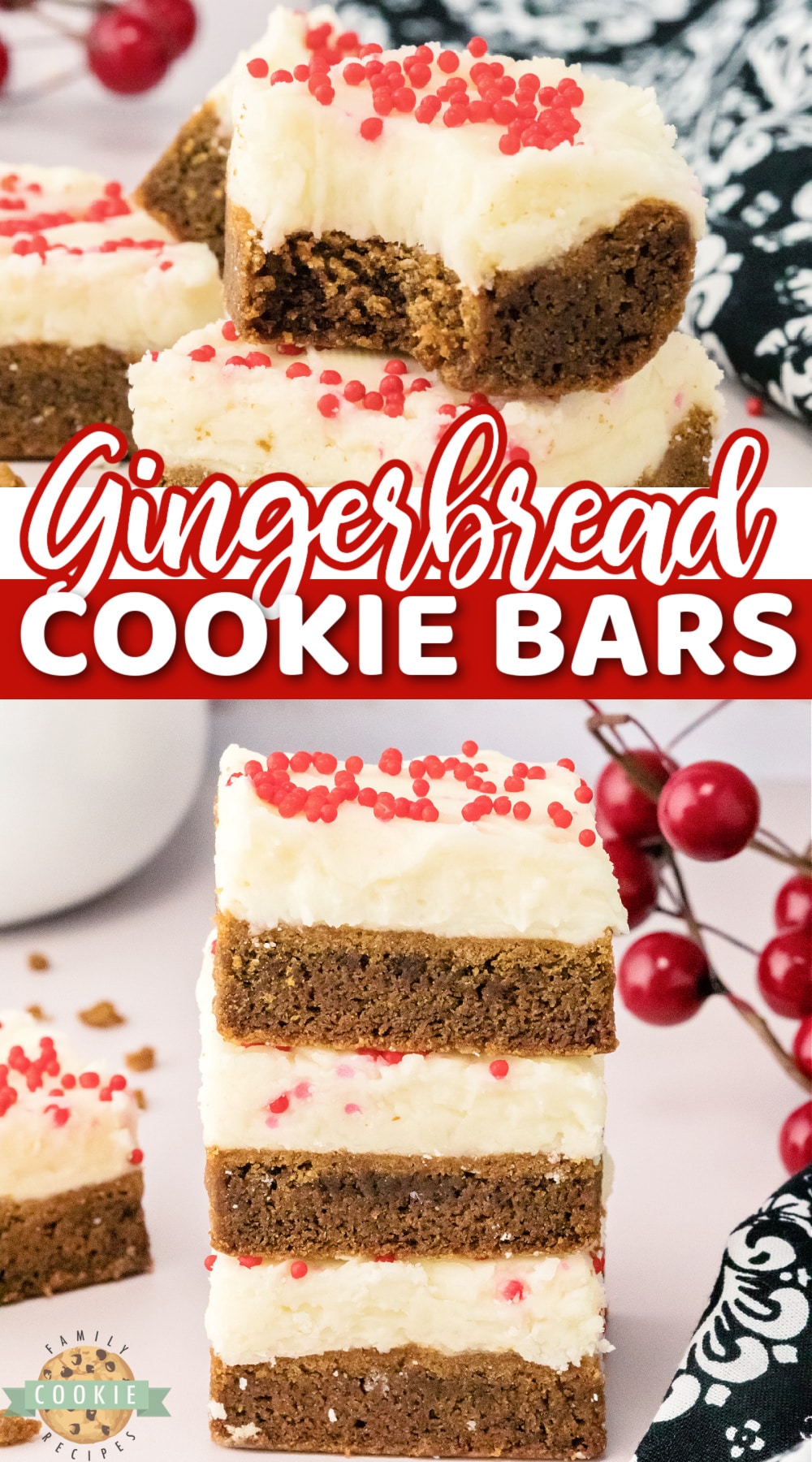 Gingerbread Cookie Bars are soft, thick, perfectly spiced and easy to make when you don't have time to scoop out individual cookies. Best gingerbread cookie bar recipe for the holiday season!