Frosted Gingerbread Sugar Cookies are soft, chewy and packed with spice and flavor. These delicious gingerbread cookies don't require any chilling, rolling out or cutting and they are frosted with a simple buttercream frosting.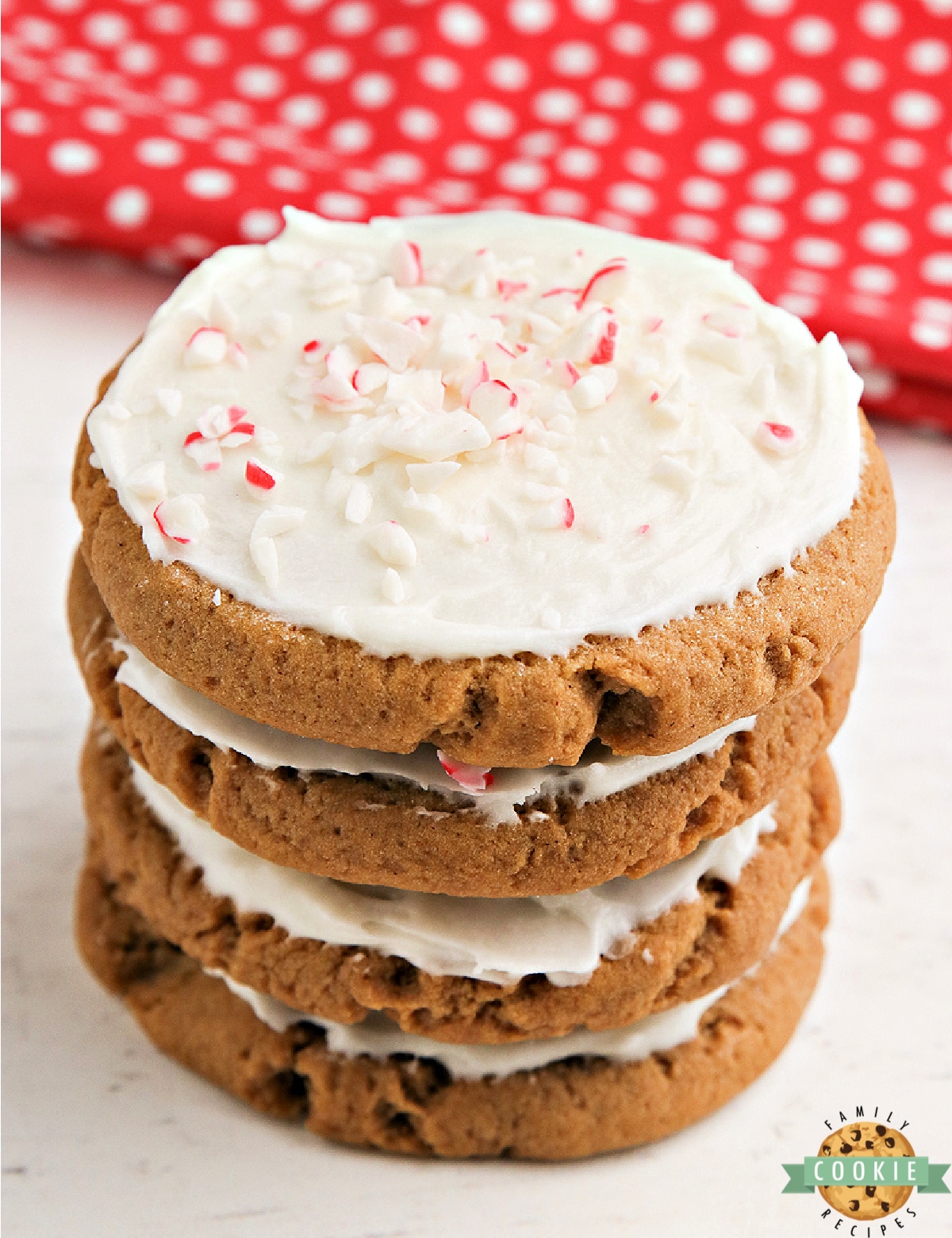 These gingerbread cookies are made with the same method used for my Copycat Swig Cookies that happens to be one of my absolutely favorite cookie recipes. No need for a rolling pin or cookie cutters! Use a sugar coated cup to lightly press your cookie balls down to make perfectly shaped cookies in a fraction of the time!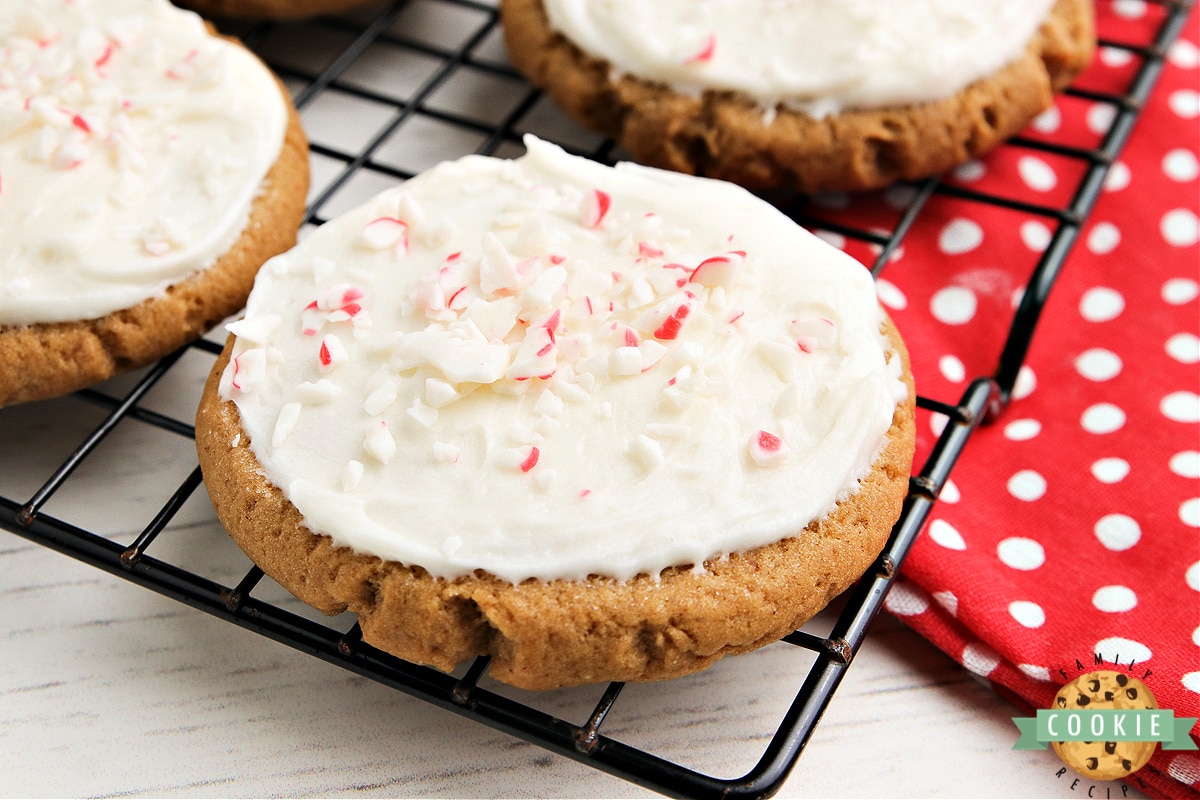 How to make perfect Gingerbread Sugar Cookies
Do not melt the butter! The butter needs to be softened (at room temperature), but using melted butter will ruin the cookies.
Spend a little extra time when you mix the butter/oil and sugars. Creaming them together for 2-3 minutes will improve the consistency of your cookies.
Make sure that you don't press the cookies too thin! You want them to be about 1/4 of an inch thick. If the cookies are too thin, they will get crispy and not be the deliciously thick and soft cookies that you are hoping for!
Preheat the oven. This will help your cookies turn out right every time!
Make sure not to over bake your cookies.  They may not even look totally done on the tops, but if the bottoms start to brown, I take mine out and they are perfect!
Use parchment paper or a silicone baking mat. Doing this will make it really easy to remove the cookies from your cookie sheet so that you don't have to scrape them off the pan – they will just slide right off in perfect shape!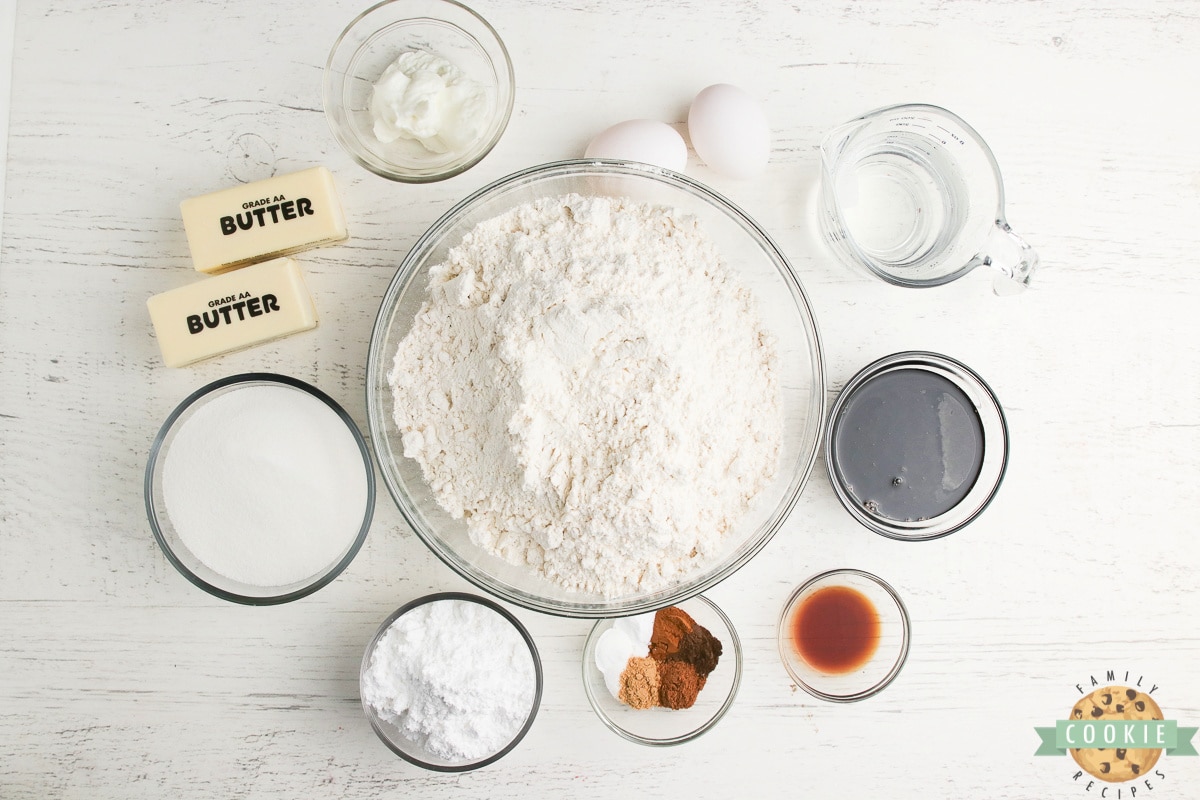 Ingredients in Frosted Gingerbread Sugar Cookies
Butter – You'll need 2 sticks of butter for the cookies. Just make sure they are completely softened to room temperature before making the cookies.
Oil – Part of what makes these cookies so soft is the oil in them. You can use vegetable or canola oil, but I almost always use coconut oil and it works great. There are so many other flavors in these cookies that you definitely won't be able to taste any coconut flavor. Just make sure to fully melt the coconut oil before adding to the batter.
Sugar – Granulated sugar gives these cookies the desired sweetness.
Powdered sugar – Adding powdered sugar to the dough also helps make these cookies so soft.
Eggs – 2 large eggs help bind everything together and provide the right consistency.
Sour cream – You'll only need a couple of tablespoons of sour cream. Sour cream in cookies really makes a huge difference and I love it! I usually swap out the sour cream with plain Greek yogurt and it works great!
Molasses – Just make sure to use regular unsulphured molasses for the right flavor (not black strap).
Vanilla extract – The higher the quality of the vanilla, the better.
Flour – Regular all-purpose flour works best in these cookies.
Cinnamon, all-spice, ginger and nutmeg – Adding a little bit of each of these spices really makes for the intense gingerbread flavor in these cookies.
Baking soda & baking powder – These are the leavening agents in the cookies, so for best results, make sure they aren't expired!
Salt – Just a half teaspoon of salt will help all of the other flavors to pop!
BUTTERCREAM FROSTING
Butter – Butter is an important ingredient in buttercream frosting! Just make sure it is softened to room temperature before making the frosting.
Sour cream -Adding sour cream to the frosting adds a little bit of extra creaminess that I love. You can also swap this out with plain Greek yogurt or you can use vanilla Greek yogurt for a little bit more flavor.
Vanilla extract – The higher the quality of the vanilla, the better.
Powdered Sugar – Provides all the sweetness for the frosting!
Milk (or cream) – Used to thin out the frosting to the desired consistency. Add as little or as much as you'd like!
Crushed candy canes – I love the look (and taste) of adding a few crushed candy canes on top of the frosting. The crunchiness and flavor of the candy canes really pair well with the soft gingerbread cookies. I usually cheat and buy a bag of crushed candy canes (found in the baking aisle during the holiday season).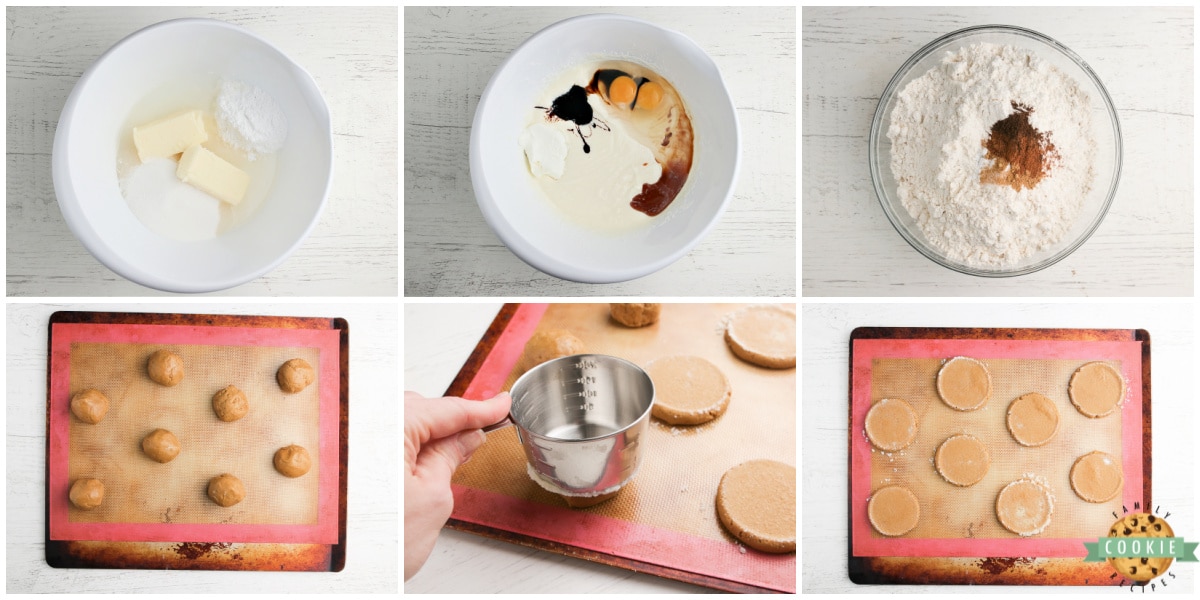 How to make Frosted Gingerbread Sugar Cookies
Preheat oven to 350°.
In a large bowl, beat together the butter, oil, sugar and powdered sugar for about 2-3 minutes. Add the eggs, sour cream, molasses and vanilla and beat for another 2-3 minutes.
In a separate bowl, mix the flour with the cinnamon, allspice, ground ginger, nutmeg, baking soda, baking powder and salt.
Add the flour mixture to the butter mixture and mix just until combined. Scoop the dough with a medium cookie scoop (about 2 tablespoons) and roll into balls.
Place the balls at least 2-3″ apart on a cookie sheet that has been lined with parchment paper or a silicone baking mat.
Place about 1/3 cup of sugar on a small plate. Lightly spray the bottom of a glass or flat-bottomed measuring cup with cooking spray. Press the sprayed surface into the sugar and then use that to press each cookie ball down to about 1/4″ thick. I like to re-dip in the sugar in between each cookie, and if the sugar stops sticking, you can re-spray during the process as well.
Bake for 8-9 minutes. Do not overbake!!! Let the cookies cool on the cookie sheet for about 5 minutes before transferring them to a wire rack to cool completely. Once the cookies are completely cooled, make the frosting.
To make the frosting, combine the butter, sour cream and vanilla extract in a medium mixing bowl. Beat together for about 1-2 minutes and then add the powdered sugar and milk. Start with 2 tablespoons of milk and then add more after mixing if the frosting is too thick. Use a knife to spread the frosting on each cookie and sprinkle crushed candy canes on top if desired.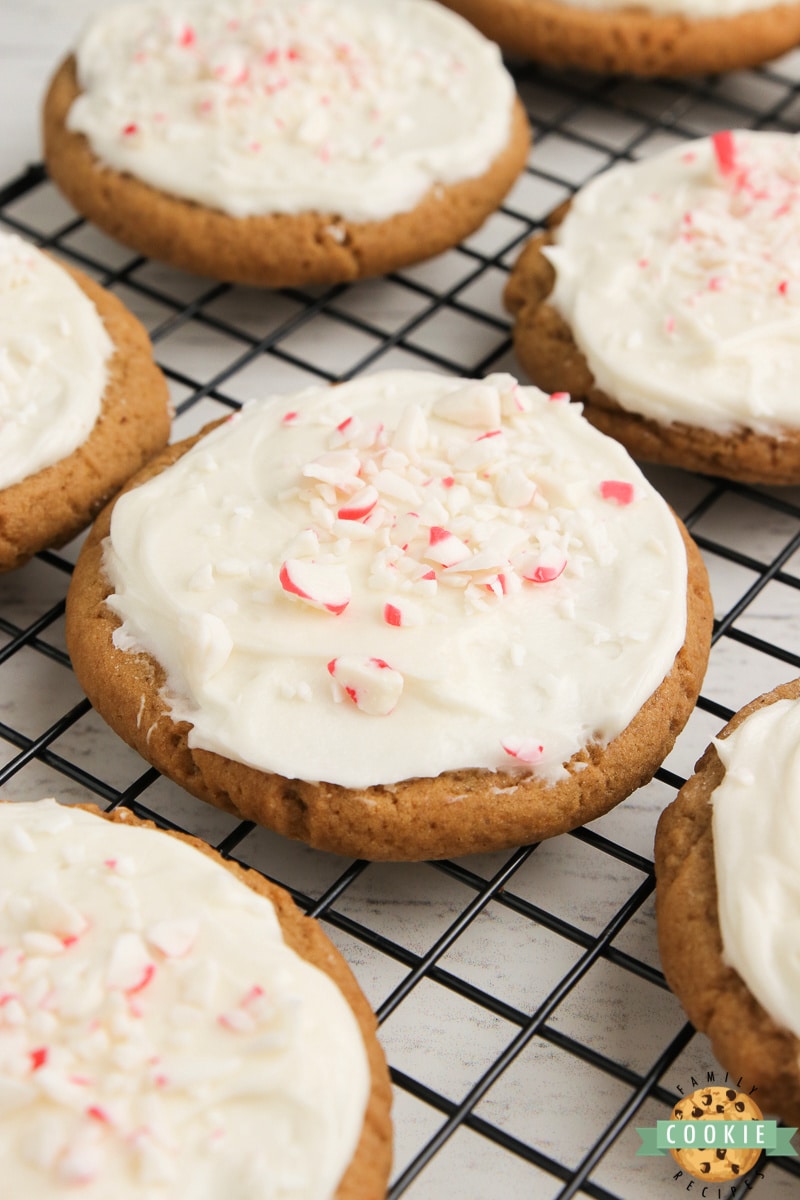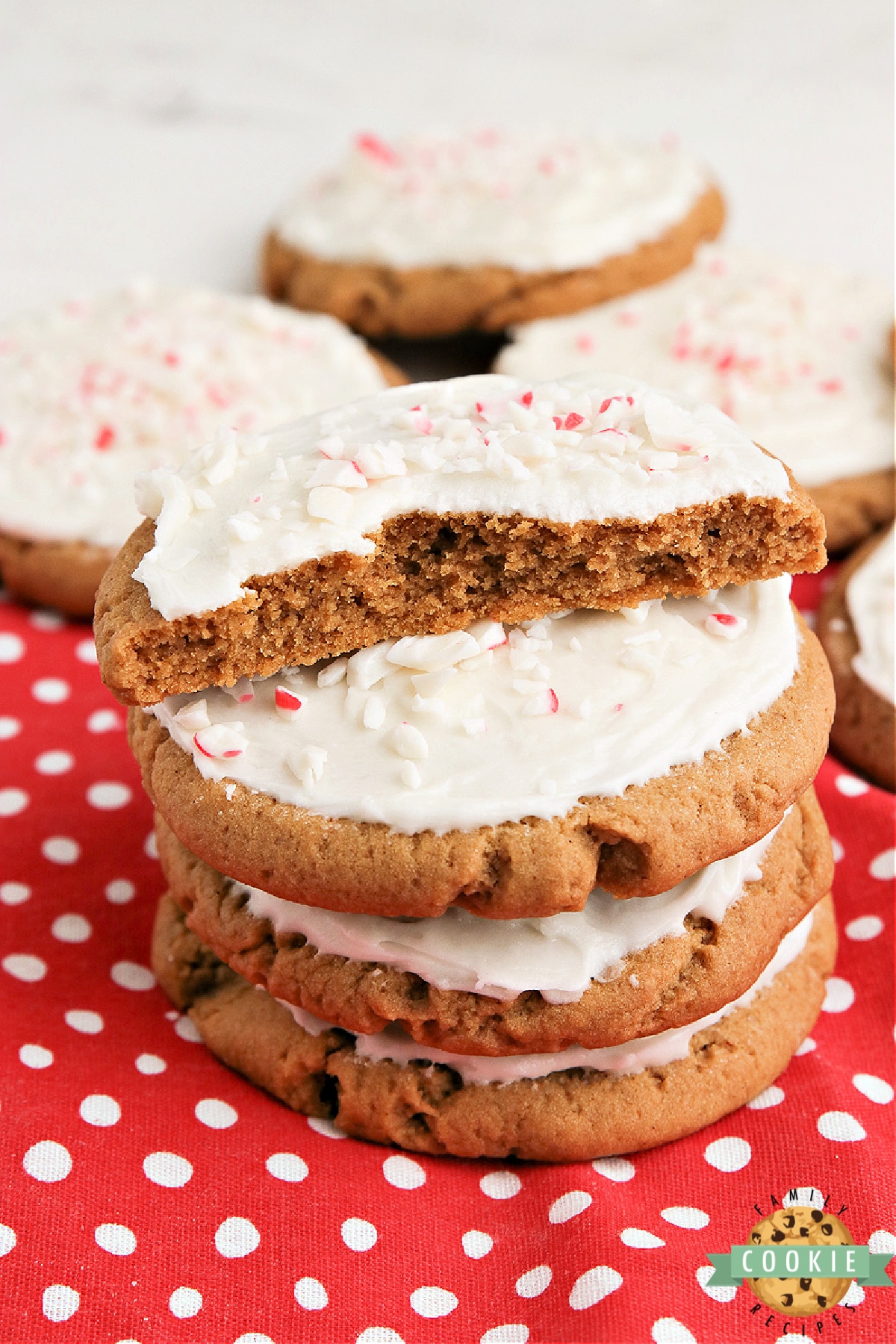 CAN YOU FREEZE FROSTED GINGERBREAD SUGAR COOKIES?
I have made these cookies many times and have had the best luck with baking the cookies and then freezing them without the frosting. Just place the completely cooled cookies in an airtight container or ziplock freezer bag and they can be frozen for up to a couple of months. A few hours before serving, pull them out of the freezer and lay them out to thaw. Make the frosting and then frost the thawed cookies.
You can also freeze the dough once it has been formed into balls. Lay the balls out onto a baking sheet and freeze them individually for about an hour and then place all of the frozen balls into a ziplock freezer bag. When you are ready to bake them, lay the balls out on a baking sheet and let them thaw so that you can press them down. Bake like normal, cool and then frost.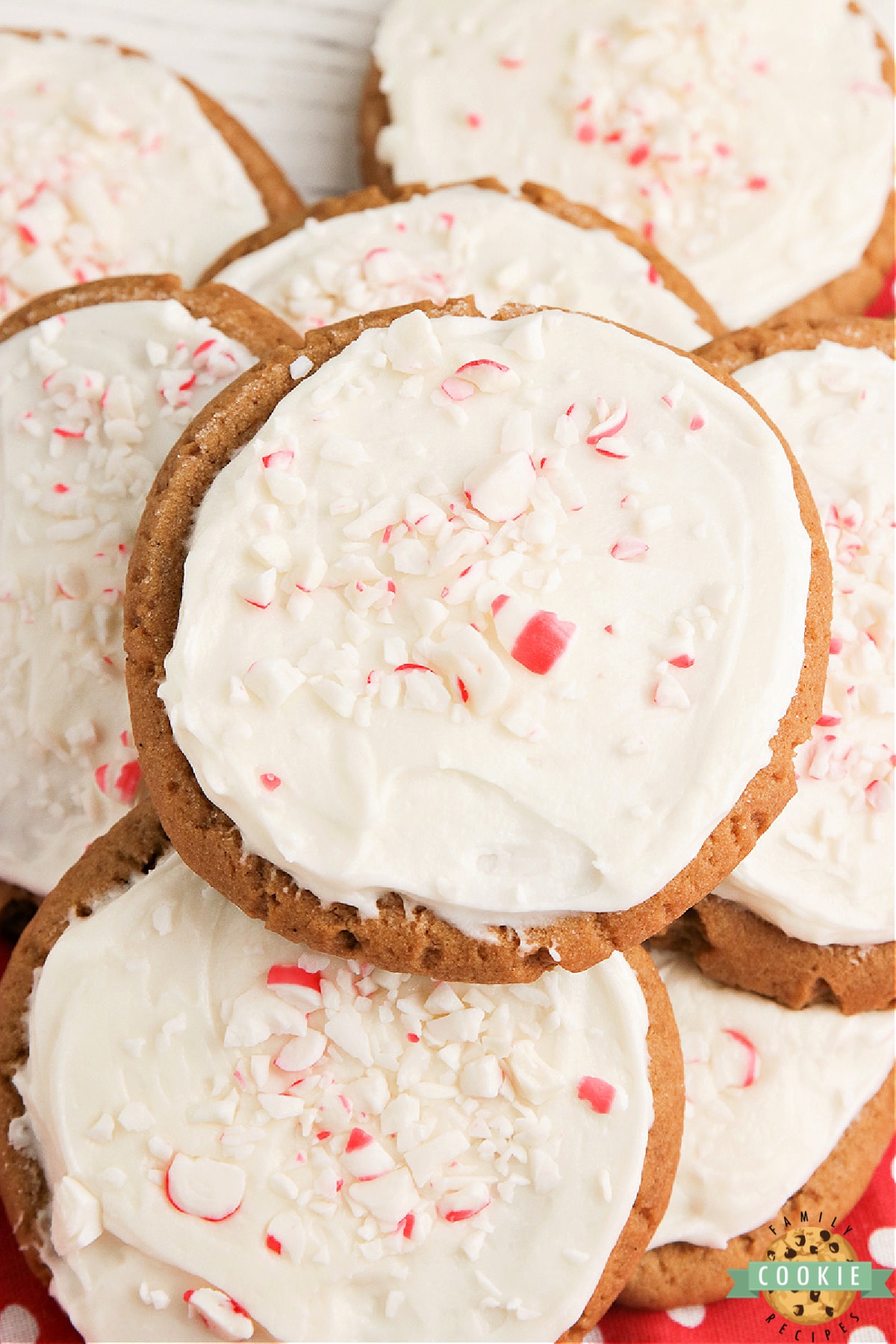 HOW DO YOU SOFTEN BUTTER TO ROOM TEMPERATURE?
The best way to soften butter is to set it out for a few hours before you make your cookies. Since most of us (or maybe just me!) aren't that prepared or don't think that far in advance, there are a few tricks to softening butter perfectly in just a matter of minutes.
My favorite way to soften butter is in the microwave. It's definitely fast, but you do have to be very careful not to melt it. Just put the whole stick of butter in the microwave (as long as it isn't wrapped in foil!) and microwave for about 6-7 seconds. If the butter is still really cold, try another 5-7 seconds and check it again. You may need a few intervals, and if the butter is starting to feel soft, you can shorten the final interval to just a few seconds to make sure it doesn't start melting.
I actually prefer to use the defrost setting on my microwave – I don't know exactly what that mode does differently, and it takes a little bit longer (closer to 30 seconds), but it seems to be easier to get the butter to soften without melting.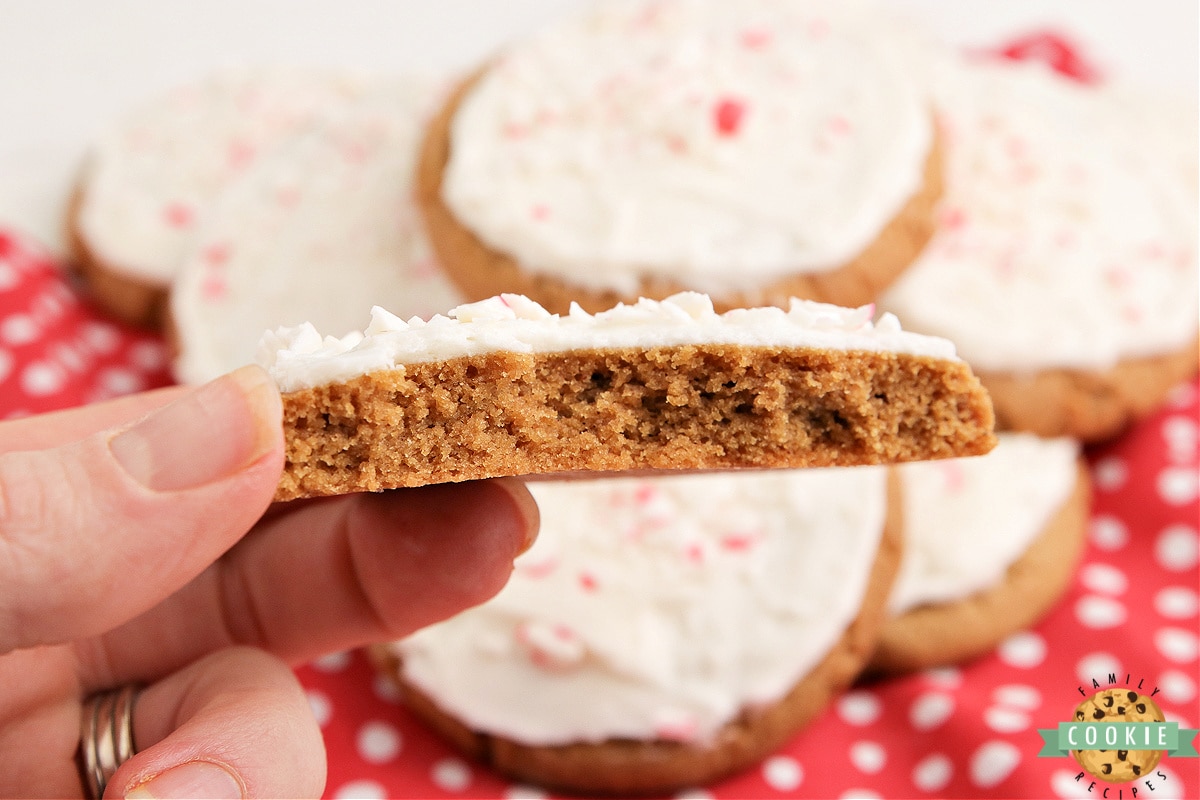 MORE CHRISTMAS COOKIE RECIPES THAT WE LOVE!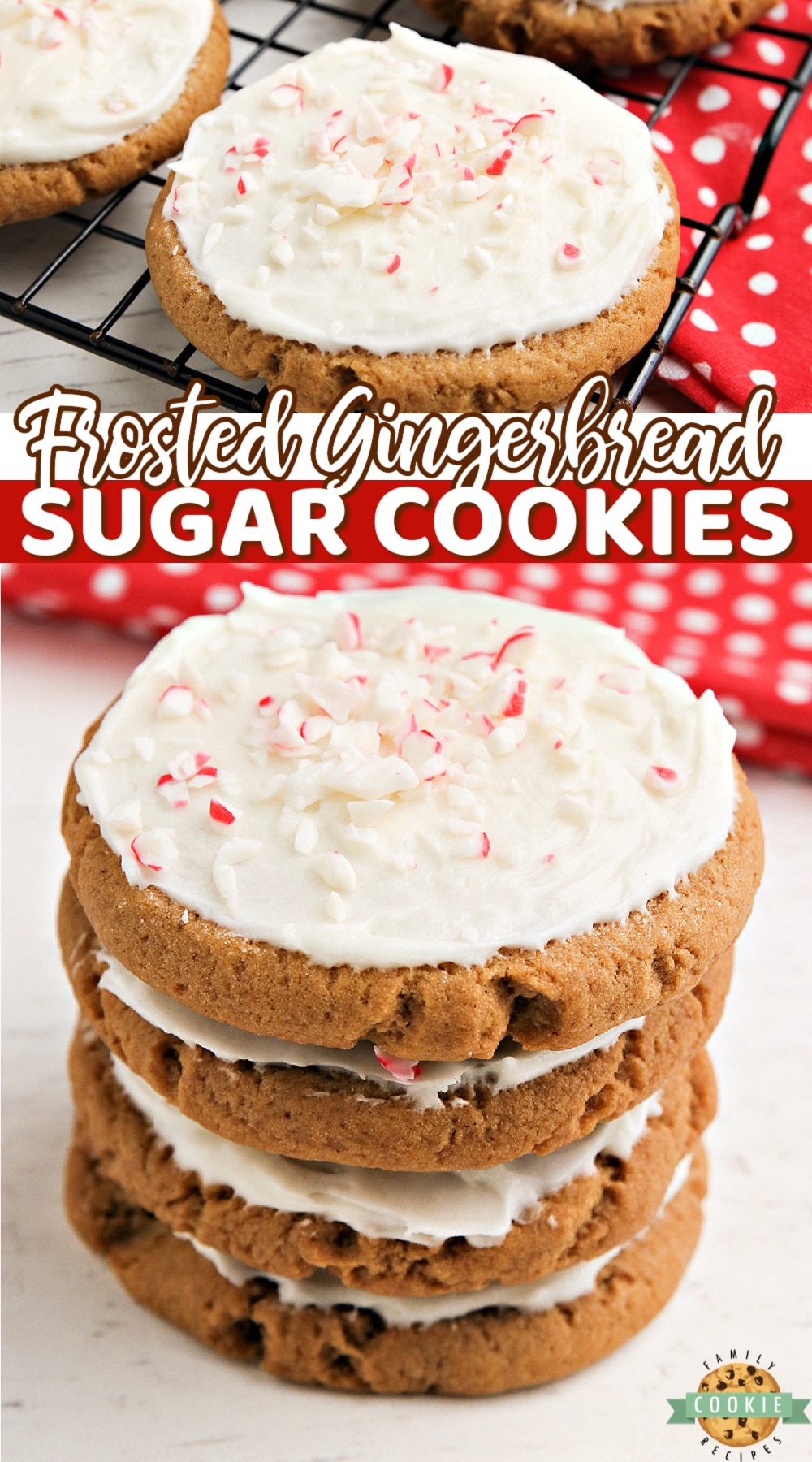 Frosted Gingerbread Sugar Cookies are soft, chewy and packed with spice and flavor. These delicious gingerbread cookies don't require any chilling, rolling out or cutting and they are frosted with a simple buttercream frosting.



This little baby of mine just turned 3! Time is such a crazy thing. In some ways, it seems like those 3 years have flown by, but I also feel like the day she was born was practically another lifetime ago! Little Miss B has brought so much light and joy into our home and I can't even remember what life was like without her. Actually, I'm pretty sure it was a little quieter.
She really wanted a Peppa Pig cake and I found a few ideas on Pinterest and then just kind of made up my own plan after that. She seemed to be pretty happy with it and it wasn't very complicated, so I'm chalking it up as a win-win. It was so fun to have her be old enough to be excited and involved in all of the birthday planning and preparations, and she just loves telling everyone that she is 3 now. In my experience, 3 is one of the harder years so I'm just crossing my fingers that we all survive!