Chocolate Peppermint Cookies are a delicious double chocolate minty cookie that's dipped in white chocolate! Festive holiday cookie perfect for goodie trays!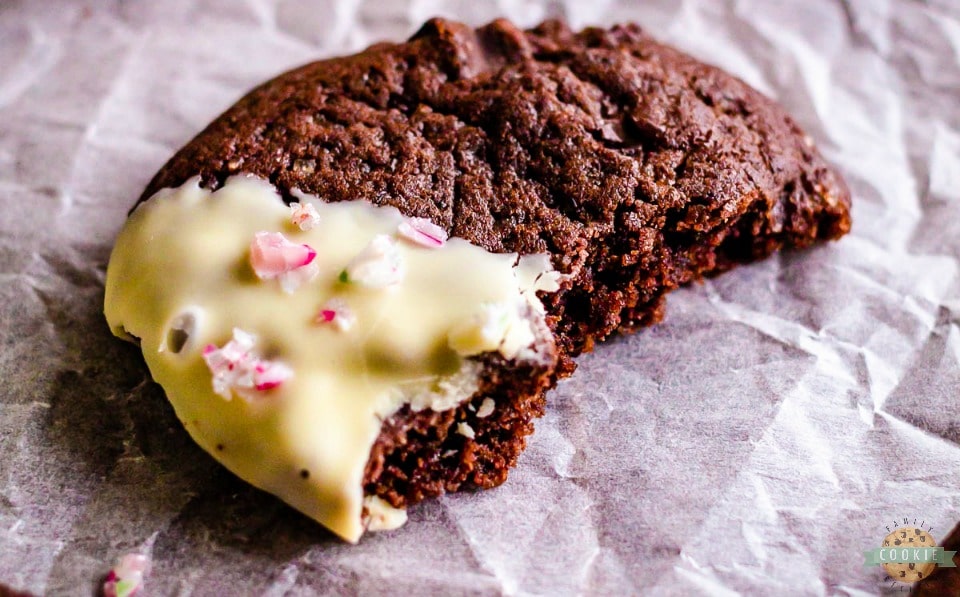 Making double chocolate peppermint cookies is a great way to get into the holiday mood. With chocolate chunk chocolate peppermint cookies you can bet every bite is going to be incredible. Soft chewy, crunch, minty and sweet are all things to look forward to as you devour these cookies, preferably with a side of milk.
What are chocolate peppermint cookies?
These chocolate cookies are chewy, soft, and flavorful bites of awesome with peppermint oil (or extract) giving every bite a tasty minty bite. Top it off with some nice white chocolate and crushed candy cane and you have a cookie that looks almost too good to eat!
Chocolate peppermint cookie ingredients
For the cookies you will need:
-Flour: We need 1 1/2 cups of all-purpose flour for the gluten-filled cookie dough base.
-Brown sugar: Giving us a soft and chewy cookie texture is 7/8 cups of brown sugar (this is 3/4 cups plus 2 tablespoons).
-Cocoa powder: We need 3 tablespoons of cocoa powder to get a good chocolate cookie dough flavor.
-Butter: With 1/2 cup (one stick) of melted butter we can get a richer flavor in every bite.
-Egg: We need 1 egg to work as the binder in this dough recipe so that the cookies don't crumble.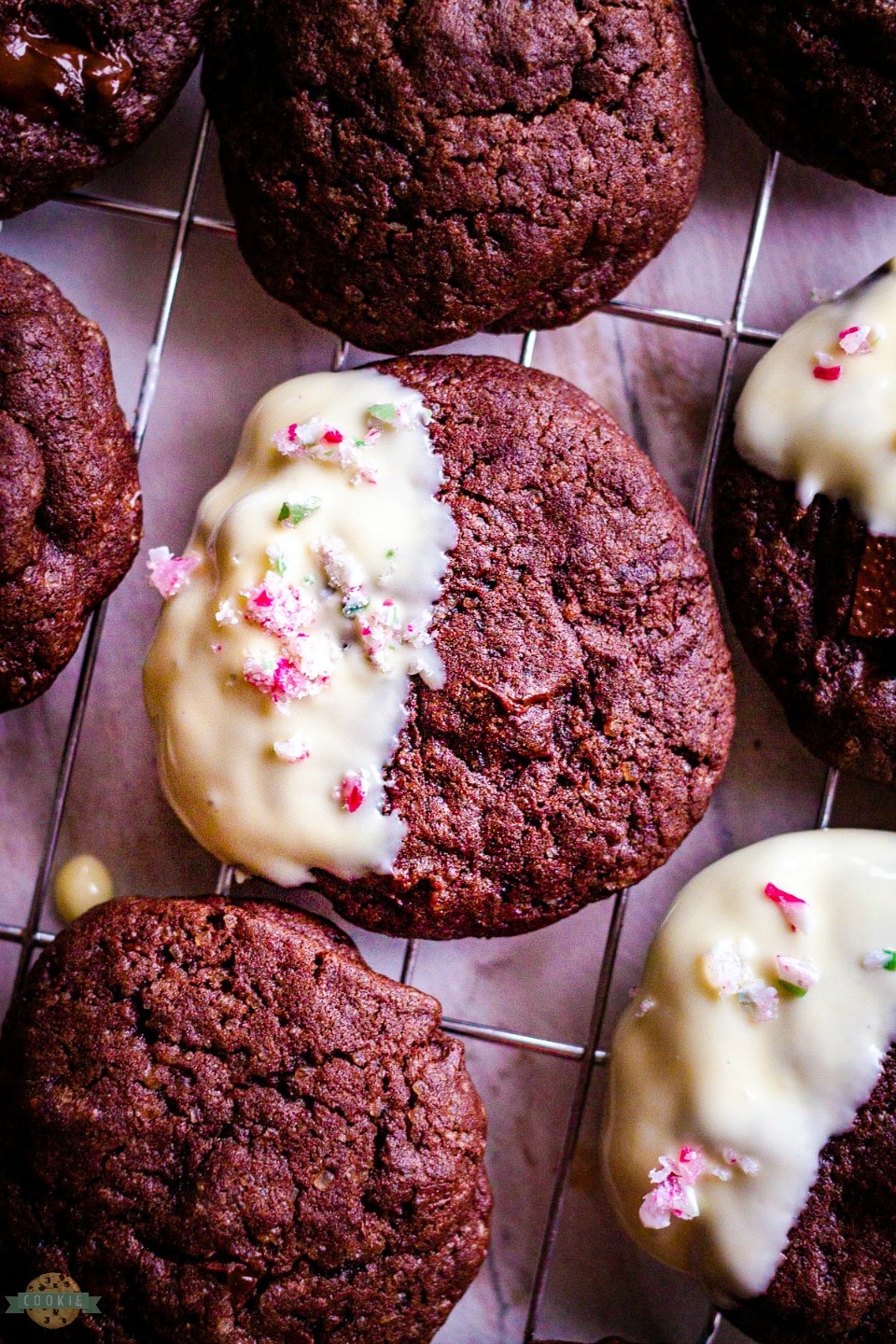 -Baking Powder: 1 teaspoon of baking powder will be our leavening agent to help the cookies puff up a little while they bake.
-Salt: 1/3 teaspoons of salt will help to enhance the flavors in these cookies and make them incredible.
-Chocolate: We need 3.5 ounces of dark chocolate chips or a block of chocolate that's been chopped into bits. The chopped chocolate will give us bigger chunks of chocolate and give us a stronger cocoa flavor too.
-Peppermint oil: We will need 3 drops of peppermint oil or 1 teaspoon of peppermint extract to get a good peppermint flavor throughout the cookie dough.
For the topping we will need:
-White chocolate: With 3.5 ounces of white chocolate chips, or a block of white chocolate we can have enough to cover or drizzle these cookies once it's been melted.
-Crushed candy canes: Adding crushed candy cane pieces not only adds to the pretty appearance but also gives us more peppermint in every crunchy bite.
How to make chocolate peppermint cookies
Combine the flour, cocoa powder, baking powder, and salt in a medium sized bowl and mix well. Set it aside.
In a large bowl, whisk together the butter and sugar for 30 seconds until combined. Add in the egg and peppermint oil or extract and whisk until smooth.
Gradually add the dry ingredients to the wet ones while mixing with a wooden spoon until all has been absorbed.
Mix the dark chocolate chips (or chunks) into the dough.
If desired, you can place the cookie dough in the fridge for 30 minutes to 2 hours to chill before baking.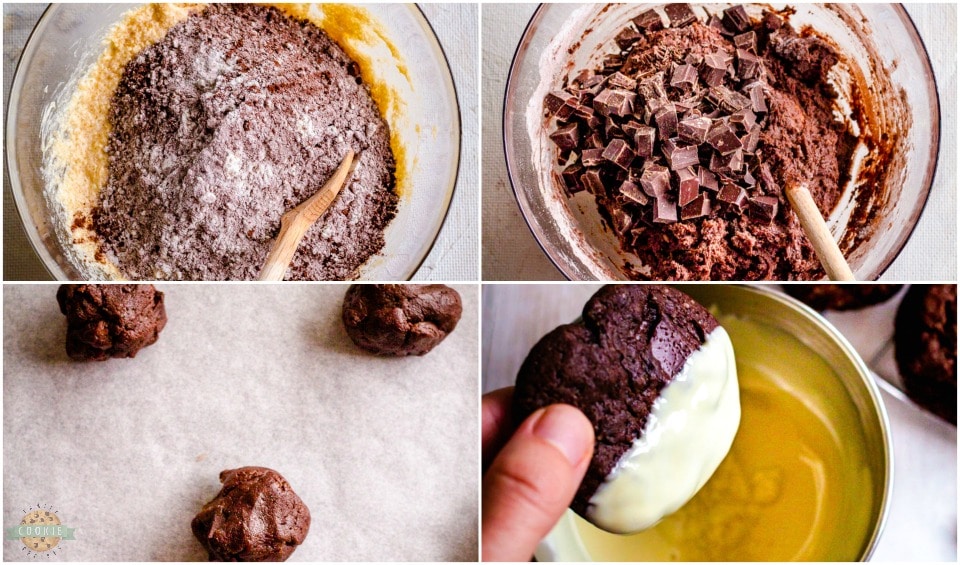 Preheat your oven to 350 F degrees.
Line two large baking sheets with parchment paper and roll out walnut sized balls of dough. Arrange on baking sheets, giving at least 2 inches of space between balls to allow for the cookies to grow.
Bake for about 12 minutes until the tops are still a bit soft but the bottoms are well set.
Let the cookies cool on a wire rack or on the baking sheets.
Once cooled, dip half of each cookie into melted white chocolate and sprinkle crushed candy cane over the top. Let set. Enjoy!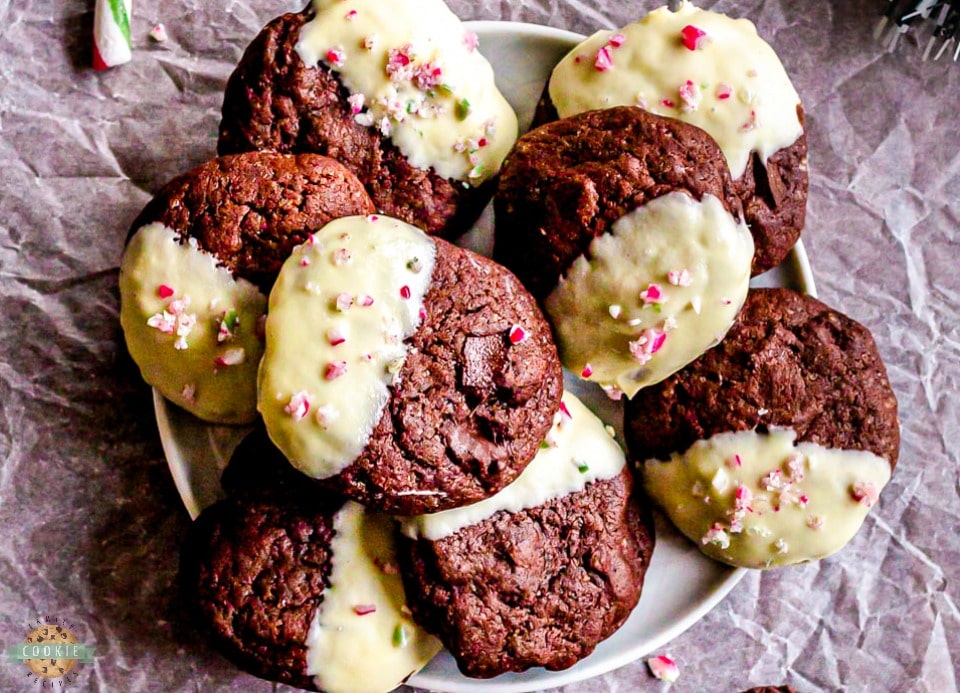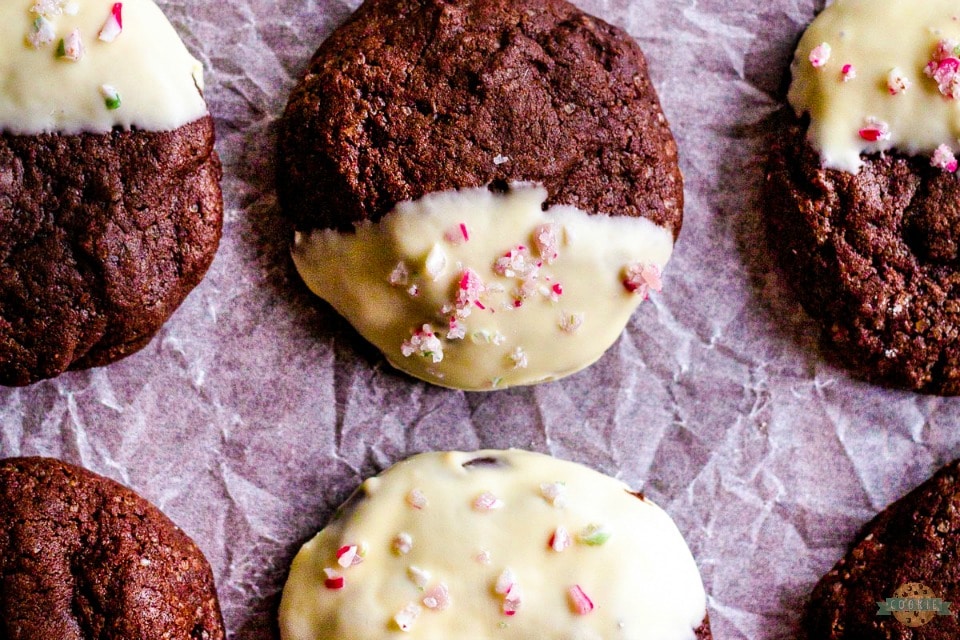 How long are chocolate peppermint cookies good for?
These cookies are good for about a week if kept stored in an airtight container at room temperature. This should be plenty of time to enjoy a tasty cookie when the mood strikes!
Can I freeze chocolate peppermint cookies?
Yes, but I recommend freezing the cookies only after the white chocolate has completely set because otherwise, you risk cookies sticking together to create a lump. You could also store them layered in a container with wax paper between each layer or flash freeze them on a baking sheet before transferring to a container to avoid this issue as well.
Is there a difference between mint extract and peppermint extract?
Yes, there's a rather large difference although I'm sure regular mint extract would taste good with these cookies as well. Regular mint is closer to spearmint and mint leaves whereas peppermint is more like candy canes.
More delicious cookies recipes to check out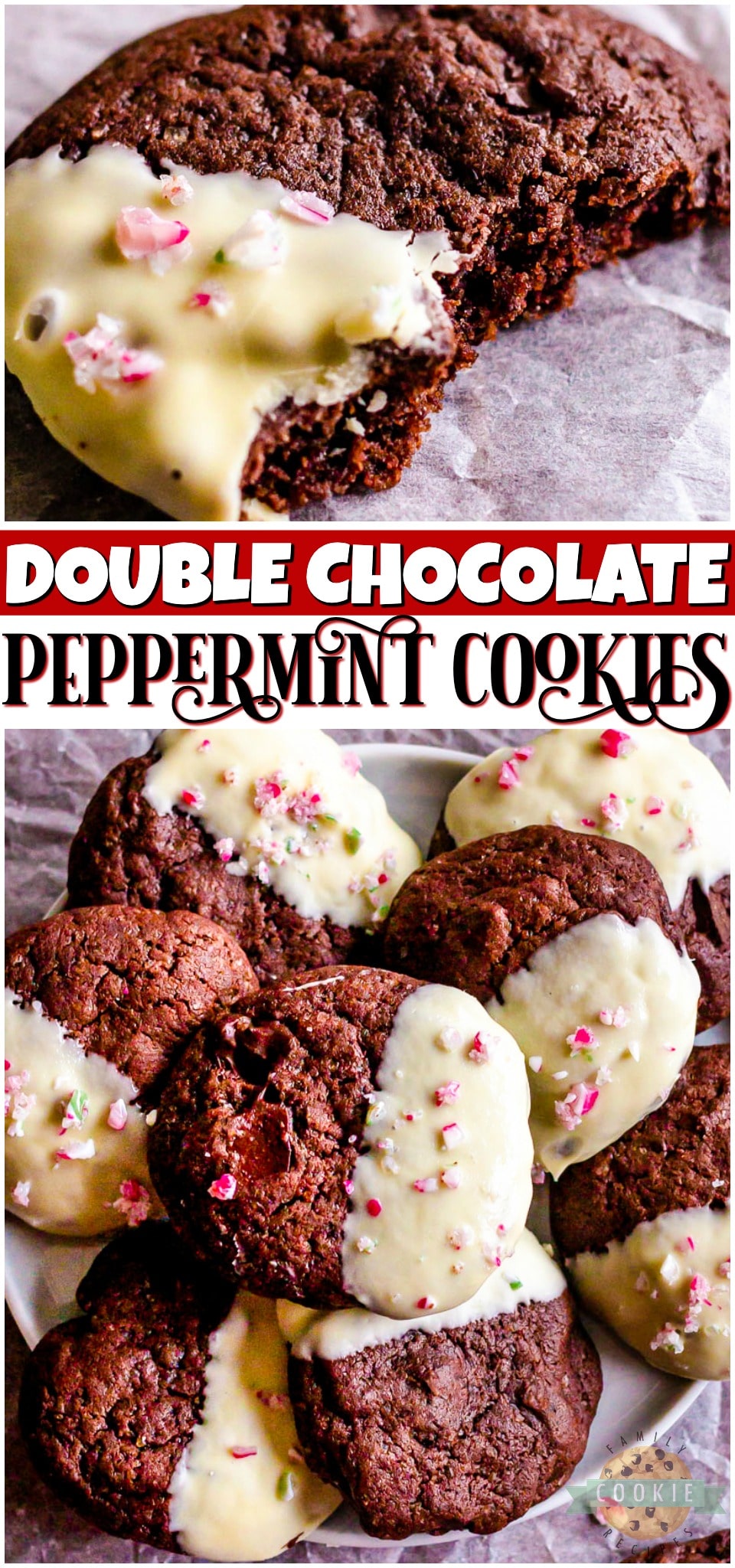 Homemade chocolate peppermint cookies are a delicious chewy double chocolate treats! With chocolate chunks, chocolate chips, and crushed peppermint candies, these white chocolate dipped cookies really have it all!