Christmas Reindeer Cookie Cake made with chocolate chip cookie dough & topped with simple candy to look like reindeer! Easy, festive holiday cookie cake that's Rudolph approved!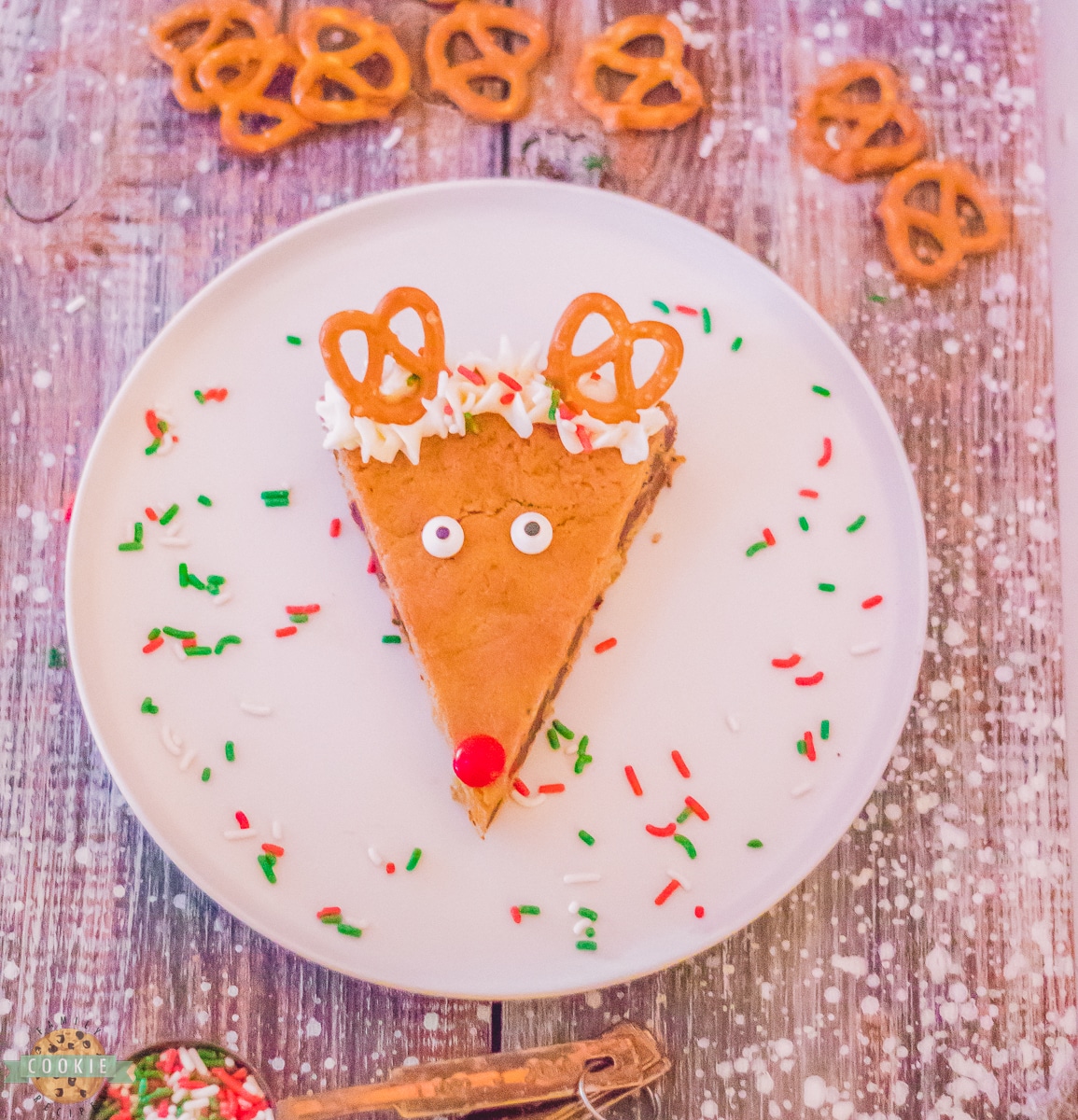 This reindeer cookie craft is an edible and fun creation to make and eat. Your oversized cookie is filled with holiday spirit and perfect for serving up during the holidays. Adorned with 8 reindeer on top, this is a cookie cake Santa would definitely approve of!
What is a Reindeer Cookie Cake?
Made with an oversized chocolate chip cookie for the base and then decorated like a cake, this easy reindeer cookie is then sliced and served amongst everyone. It's decorated with pretzels, M&Ms, and candy eyes so that it looks like there are multiple reindeer on top. When sliced correctly you may be able to give everyone a reindeer with their slice.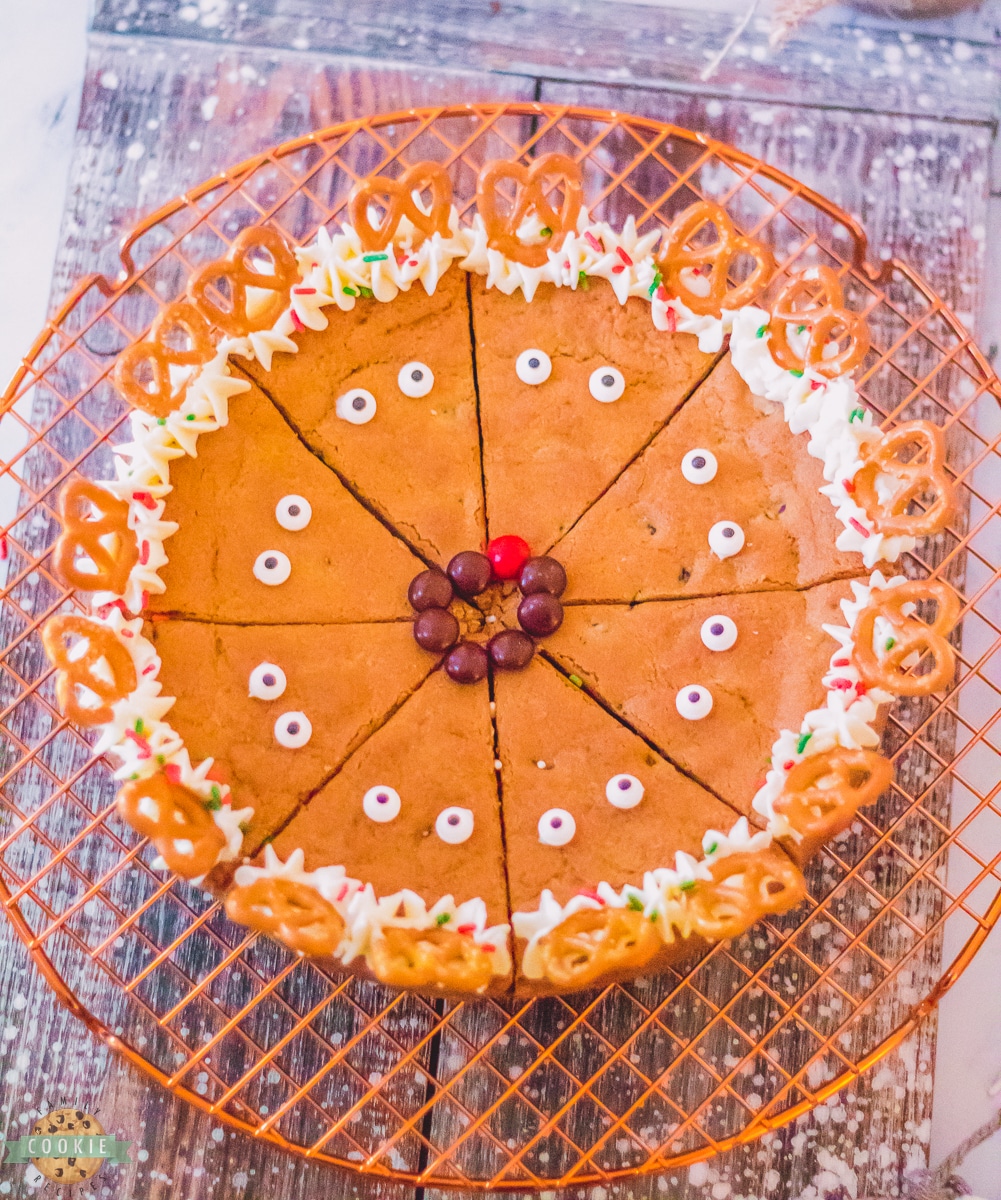 Reindeer Cookie Ingredients
-Butter: You will need 1 cup of softened butter, this is two sticks.
-Brown sugar: Use ¾ cup of brown sugar for a chewy cookie with a nice depth of flavor.
-Granulated sugar: Adding in 3.4 cups of granulated white sugar will make the cookie sweet and crisp.
-Eggs: You will need 2 large eggs to help bind together the dough well.
-Vanilla: Use 2 teaspoons of vanilla extract to help make the flavors in this cookie taste great.
-Flour: You need 2 ⅔ cups of all-purpose flour for the base of this cookie dough.
-Baking soda: To help the cookie puff up nicely, use 1 teaspoon of baking soda.
-Salt: Using ½ teaspoon of kosher salt will help to enhance the flavors in this cookie well.
-Chocolate chips: Adding in 2 cups of chocolate chips will help to make this cookie taste great.
-Frosting: You will need 1 stick of butter (½ cup), 4 cups of powdered sugar, and 1 teaspoon of vanilla to make a simple homemade buttercream frosting.
-Toppings: You will need to use 16 mini pretzels, 16 candy eyes, 7 brown M&Ms, and 1 red M&M (plus sprinkles, if desired).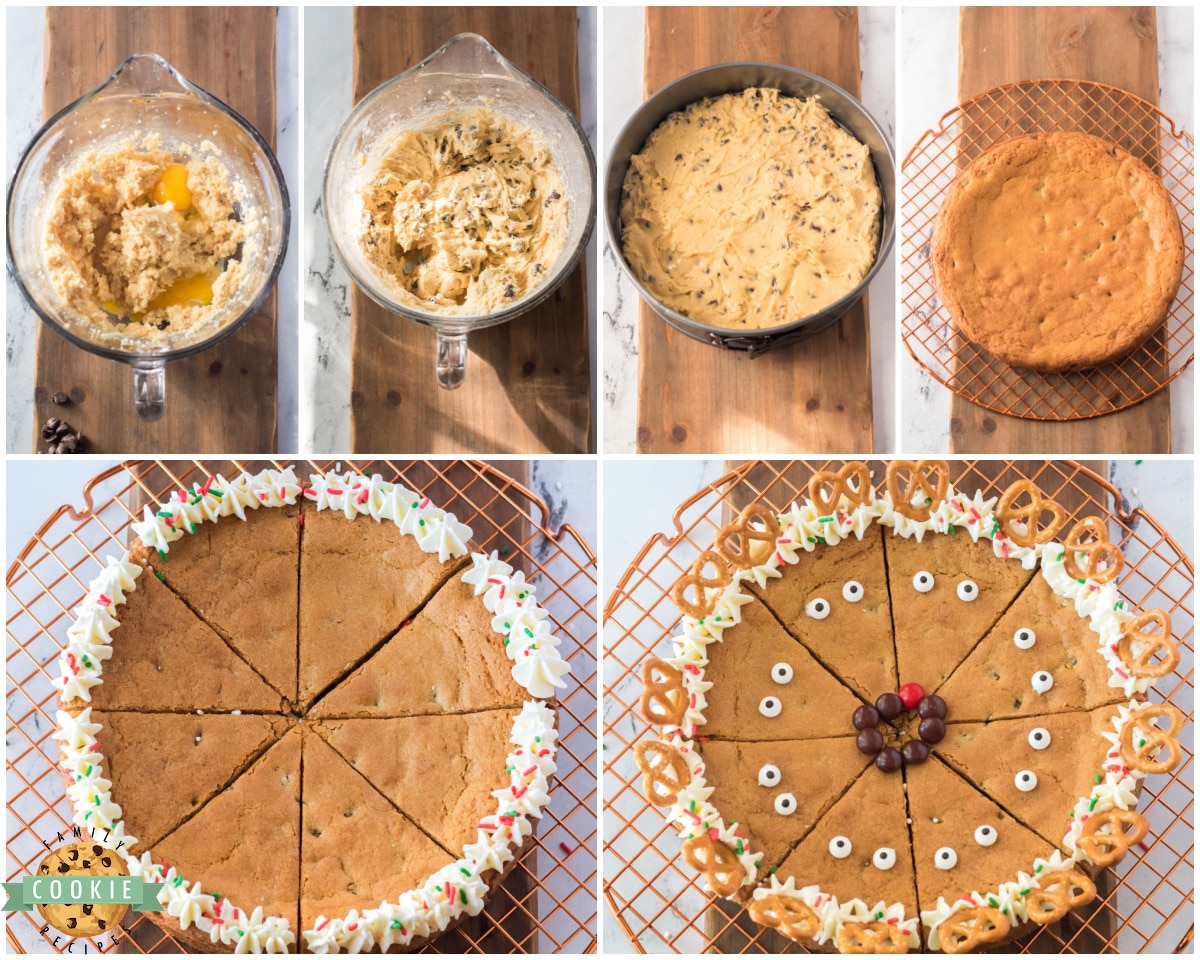 How to Make Reindeer Cookie Cake
Prep
Preheat your oven to 350 degrees F.
Spray the bottom and the sides of a 9-inch springform pan and then set it aside.
Make Dough
Using a hand mixer and a large mixing bowl or the bowl of a stand mixer, beat together the butter and sugars until light and fluffy.
Add in the eggs, one at a time. Stir in the vanilla and mix again.
Now add in the flour, baking soda, and salt. Mix on low speed until just combined.
Gently stir in the chocolate chips.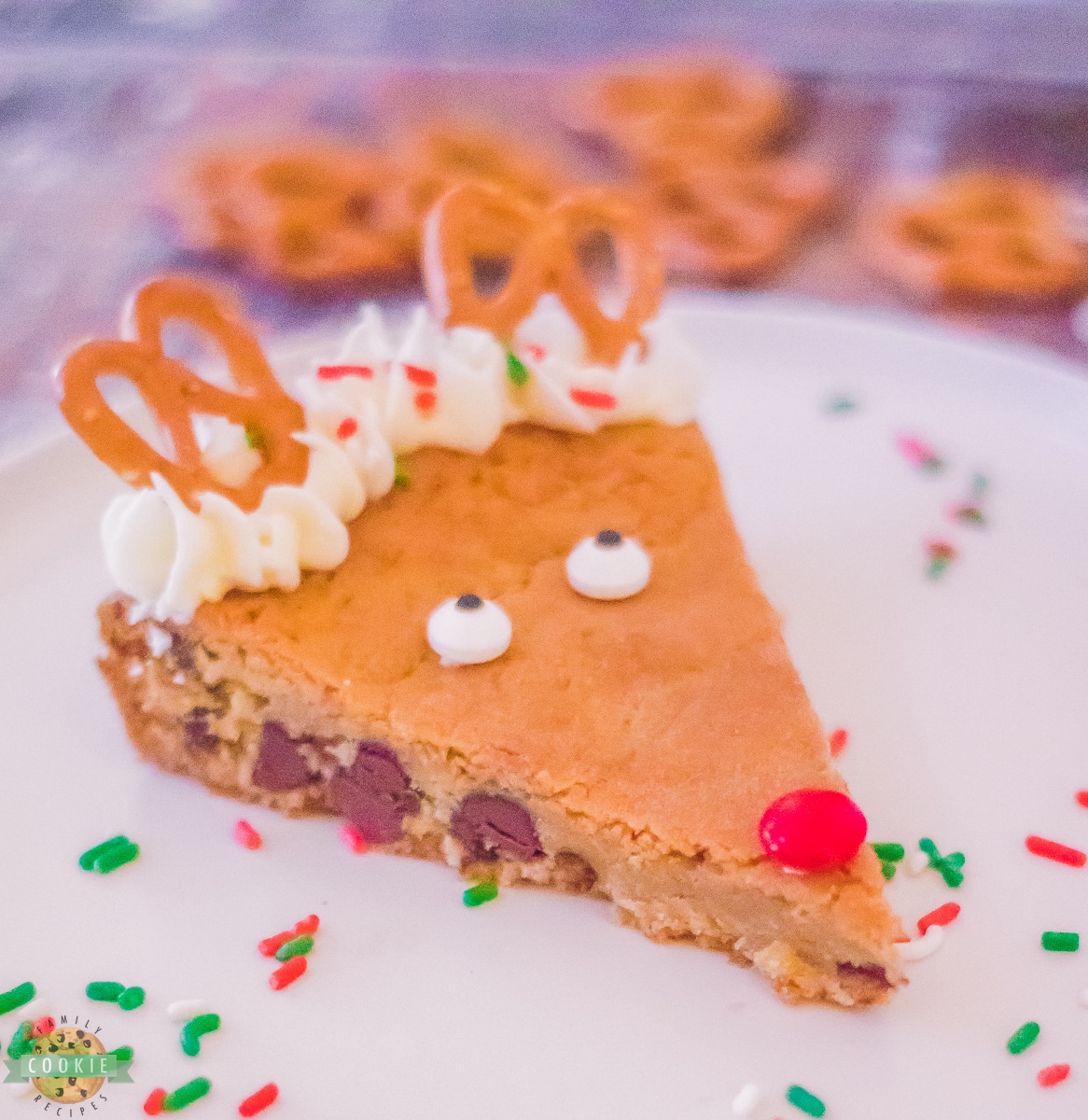 Bake
Press your cookie dough down into the prepared pan and press it into an even and smooth layer.
Bake in the oven for 35-40 minutes or until the cookie is golden and just set in the middle.
Allow the cookie to cool for 15 minutes and then remove the rim and transfer the cake to a cooling rack to cool completely.
Frosting
Prepare your frosting by whipping the butter in a bowl with an electric mixer until fluffy.
Add in the vanilla and the powdered sugar and beat until fluffy. If the buttercream appears to be too thick, add in a splash of milk or coffee creamer to thin it down.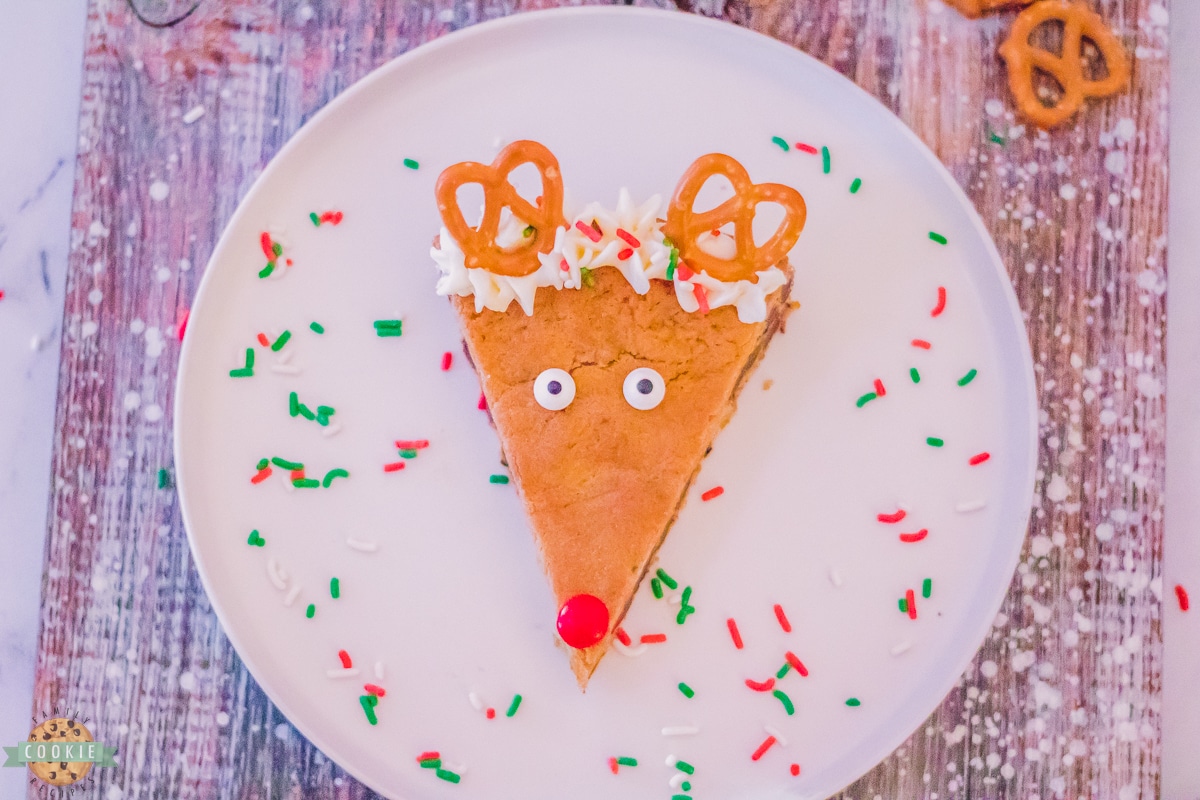 Decorate
Once the cookie cake has cooled completely, you can begin to decorate.
Slice the cake into 8 pieces.
Transfer the frosting to a piping bag fitted with a large star tip and pipe frosting around the edges of the cake.
Place 2 pretzels into each slice as antlers. Use a touch of frosting to hold the eyes and nose in place on each cookie wedge.
Serve & enjoy!
How long is cookie cake good for?
If you keep these cookie wedges well covered in the fridge you can expect them to last up to a week and still be safe to eat, but you really want to consume them within a day or two. This is because the frosting and moisture in the air of the fridge will cause the pretzels to be stale and chewy instead of crunchy.
How many reindeer does Santa have?
Santa has 8 reindeer, not including Rudolph so this cake is missing someone, but who? To make the cake more traditionally you can omit the red nose and add an extra brown to make sure the regular crew of reindeer is all included in this dessert.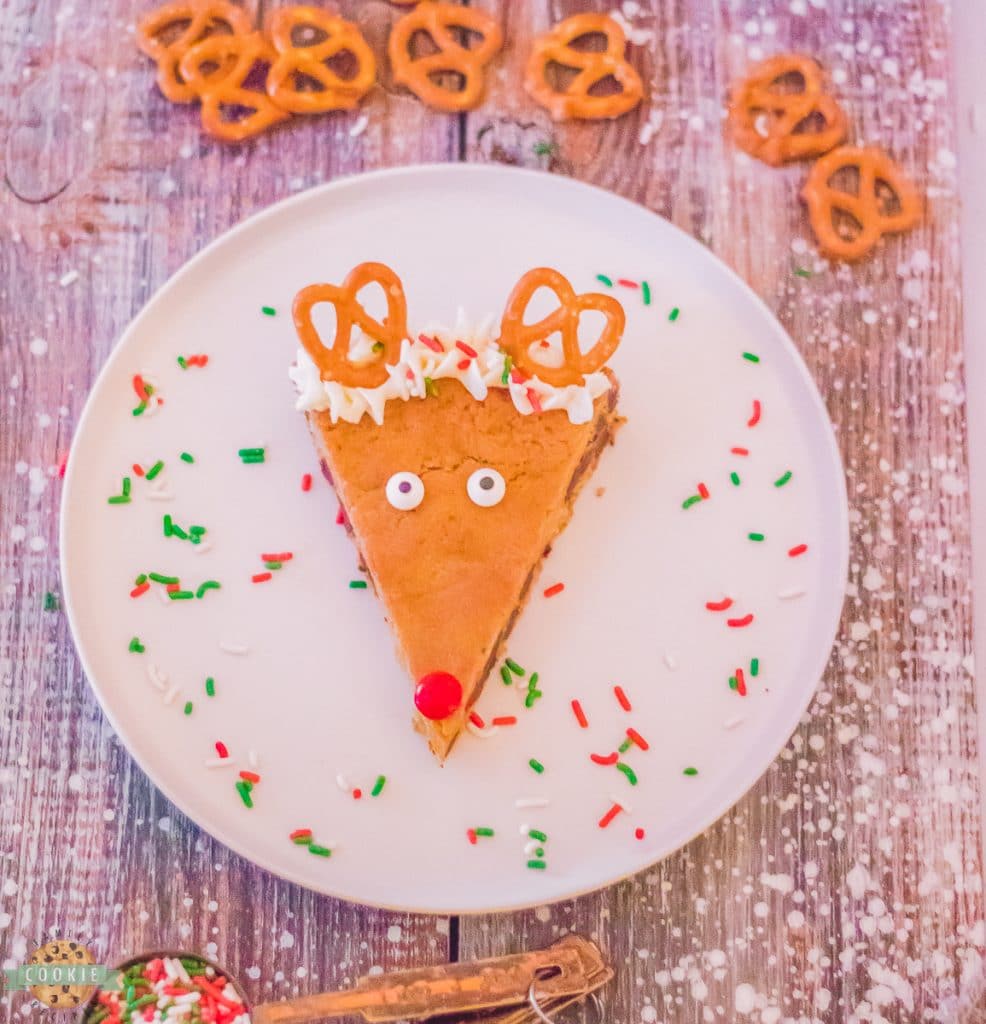 Check out these other festive cookies sure to put you in the Christmas spirit!

Birthdays were always a big deal growing up, so I've tried to continue that tradition in our family. I do my best to decorate the house & make each child feel extra special on their big day! Here's my sweet youngest daughter enjoying a picture with her birthday presents. So fun!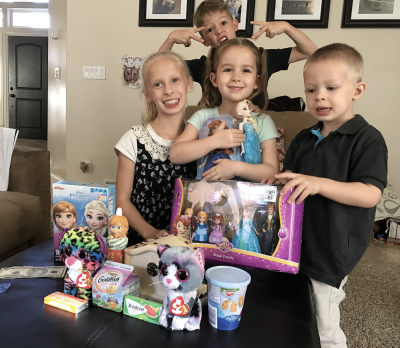 This reindeer cookie cake is a large dessert to share with friends and family. Made with a chocolate chip cookie base and adorned with 8 tiny reindeer this cookie really takes the cake!