Festive Christmas light cut-out cookies are bright & colorful cookies perfect for Christmas trays! Simple butter cookies cut out, baked & frosted to look just like sparkly holiday lights on the tree!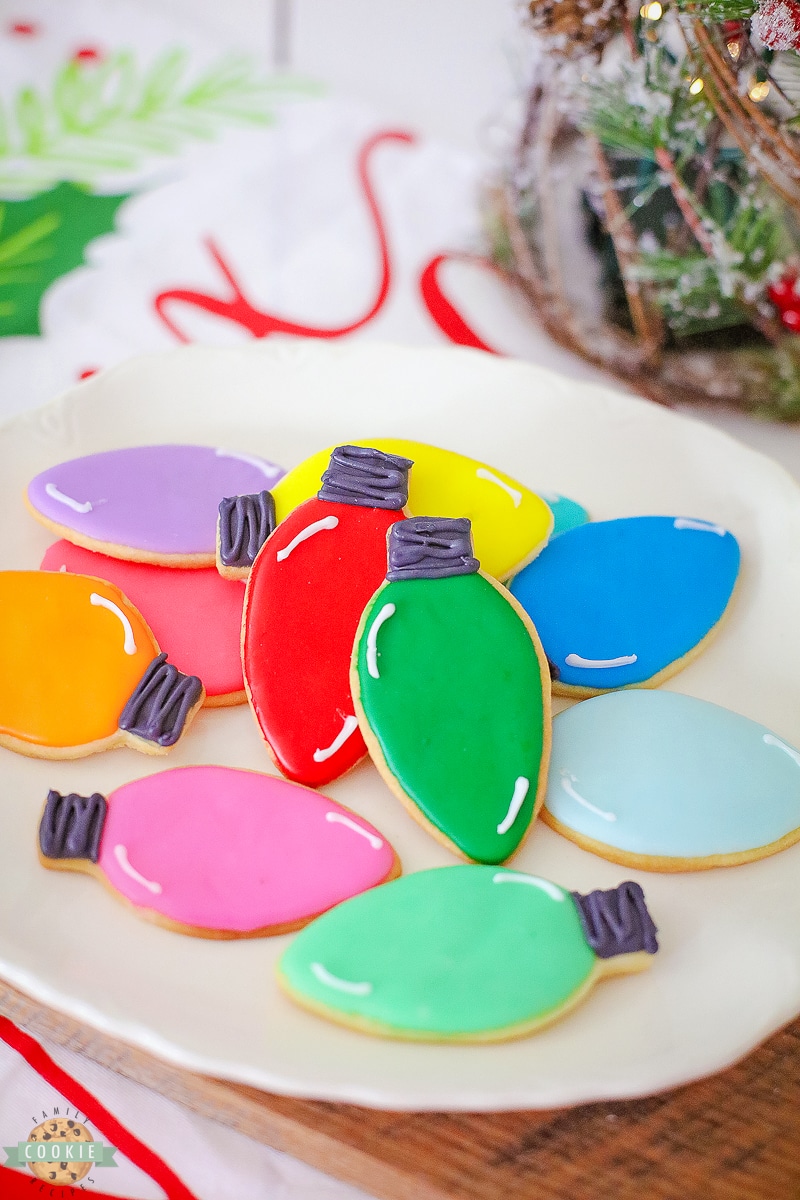 You're going to love how simple and fun these Christmas light-shaped cookies are to make. They're a perfect addition to the holiday table and cookie exchanges and always unexpected. Christmas lights have always been synonymous with spreading joy and happiness when you see them in a home, but these cookies can do so much more than that because you'll be feeling joy from the first look to the last bite.
What are Christmas light cookies?
There is super fun and easy Christmas cookie cut-out recipe made using a basic shortbread cookie dough and then cut out with Christmas light-shaped cookie cutters. Bake until golden and then frost with colored icing for bright bulbs that look almost too good to eat.
Christmas lights cookies ingredients
For the cookies, you will need
-Butter: You will need 1 cup of butter for rich-tasting cookie dough.
-Sugar: Use 1 cup of granulated sugar for a sweet and chewy cookie.
-Egg: Using 1 egg will help to add rich taste and bind the dough together well.
-Flour: You will need 2 ½ cups of all-purpose flour for the base of this dough.
-Vanilla Extract: 2 tsp high quality vanilla extract adds the perfect flavor to these cookies!
For the icing, you will need
-Powdered sugar: the base of the icing is 2 cups of powdered sugar.
-Meringue powder: Add 3 tablespoons of meringue powder to get your icing to set perfectly.
-Milk: You'll need ¼ cup of milk to get the icing to the right consistency.
-Food coloring: You'll want to use gel food coloring because it's the most vibrant. Use colors like red, green, aqua, yellow, orange, purple, pink, light blue, and black.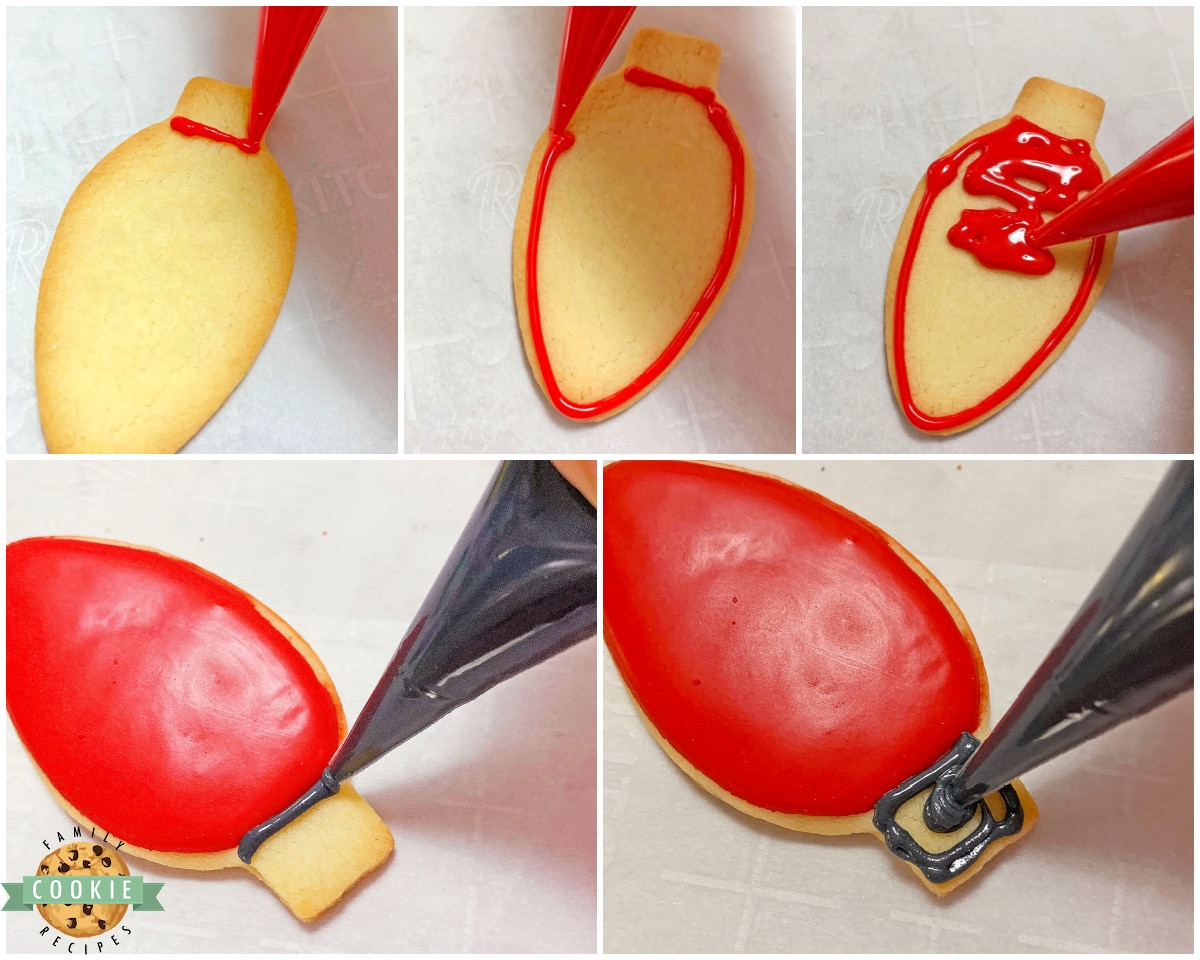 How to make Christmas light cut out cookies
Make the Cookies
Cream the butter and sugar together in a large mixing bowl until light and fluffy.
Add in the egg and vanilla and then mix again to combine.
Add in the flour a little at a time, mixing well after each addition.
Roll the dough out to be about ¼ of an inch thick and then use a light bulb-shaped cookie cutter to cut out the cookies.
Place the cut shapes onto a parchment paper-lined baking sheet and bake in the oven at 350 degrees F for 15-18 minutes.
When the cookies have cooled completely, you can prepare the icing.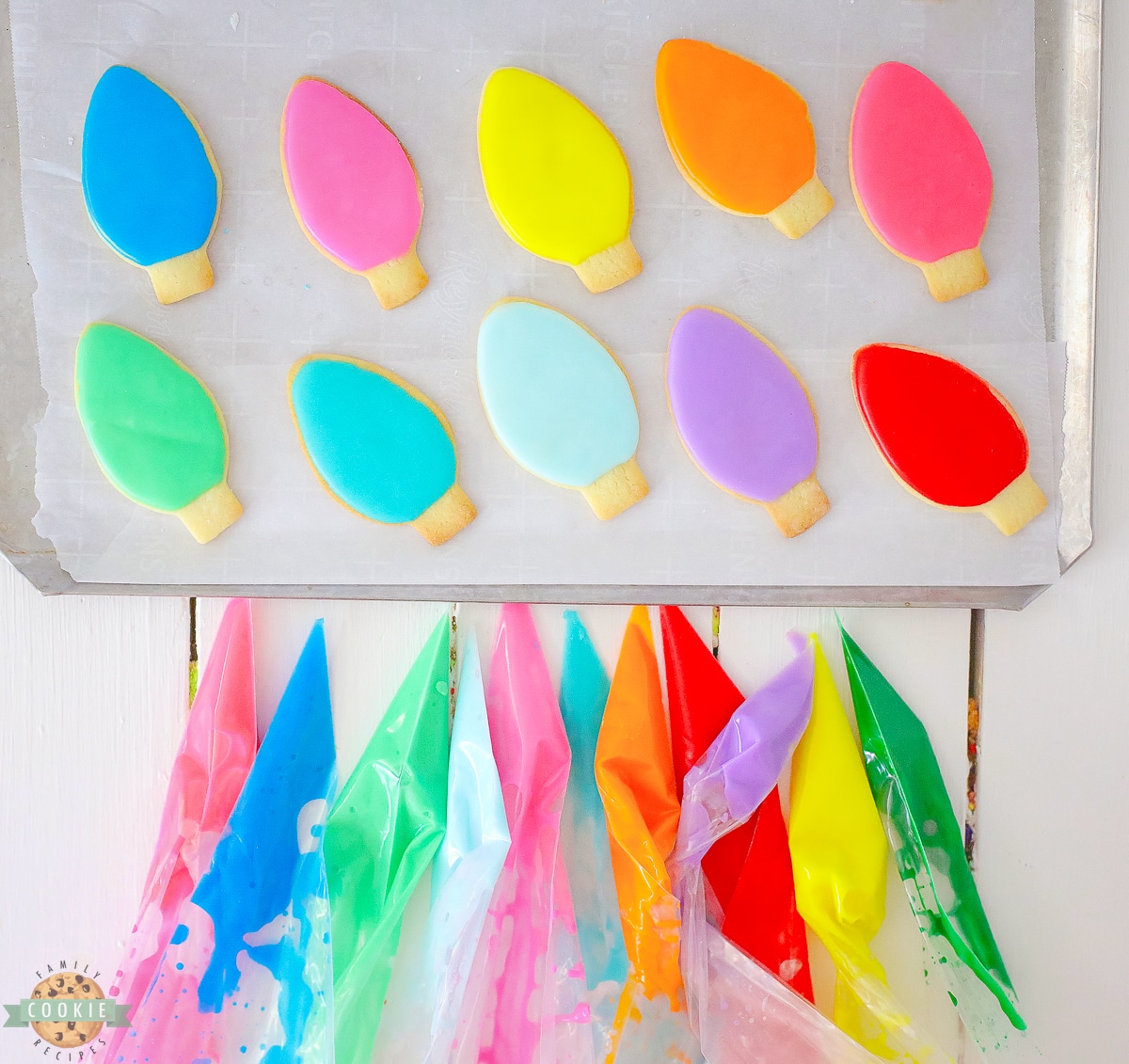 Make the Icing
Mix together two cups of powdered sugar, the milk, and meringue powder in a bowl until smooth and then set aside.
Set aside 13 piping bags and divide the frosting into 13 small bowls. Add a little bit of a color to each bowl and mix until the desired hues are achieved. Make sure that one of the colors is designated for the tip of the bulb.
Fill each piping bag with a frosting color and set it aside.
Frost and Decorate
Take one cookie and pipe around the edges. Fill in the blank space with a solid color but do not color the tip of the bulb. This will be for the black icing.
After each cookie bulb has been iced, take the black icing and trace around the edges, gently flooding in the small end section of each cookie.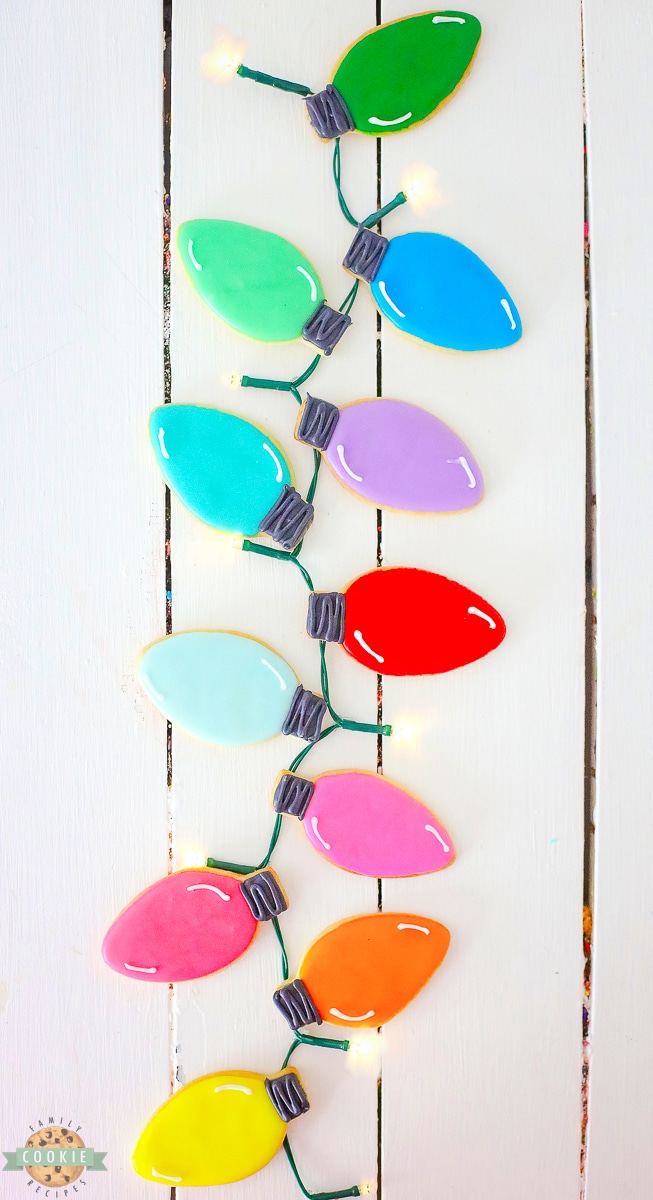 Let it dry for 15 minutes or until set and then go over the solid black part with 3 lines of black icing to make a zigzag pattern.
Next, take a piping bag filled with white icing and make 2 small lines on each cookie at each end of the bulb to look like a light reflection.
Let set before eating & enjoy!
How long are iced cookies good for?
These iced cookies will be good for up to a week if stored in an airtight container at room temperature. I do not recommend freezing the cookies once iced because the colors can bleed as they thaw.
Can I make a chocolate version of these cookies?
Of course, just add 1/4 cup cocoa powder to the dough to make a chocolate version.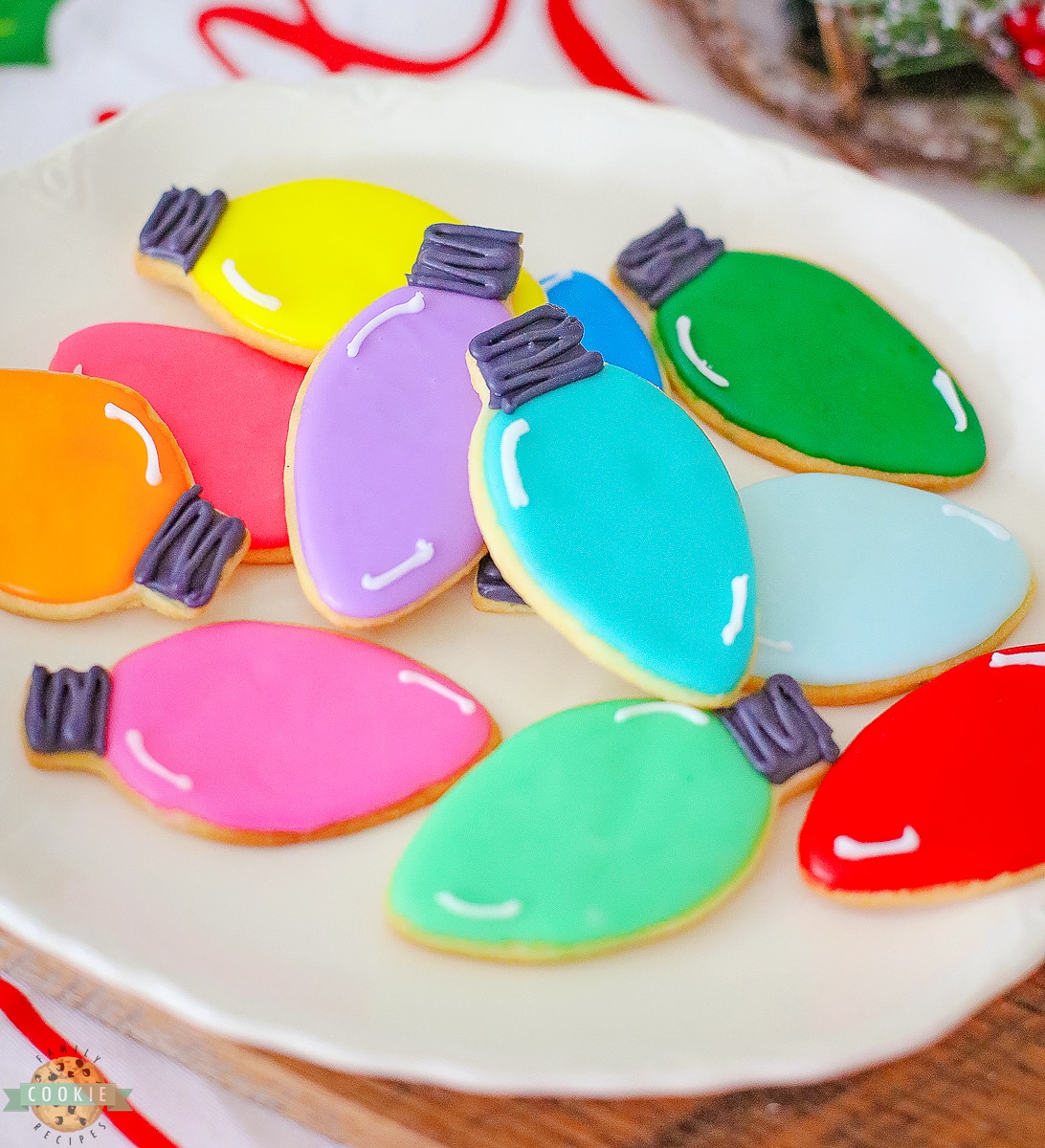 You may be able to find these cookie cutters at retailers like Walmart, Michaels craft stores, or Joann if you are trying to find them in person. Otherwise, I recommend online retailers like Etsy or Amazon.

We live near the Great Salt Lake in Utah, so we have a tendency to get several incredible snow storms with lake effect snow throughout the year. Sometimes I just declare it a snow day and the kids stay home & play! Doesn't that sound so fun?!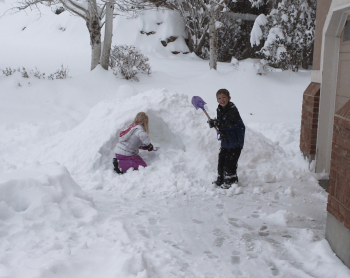 Check out these other great Christmas recipes
These Christmas light bulb cookies are a perfect way to brighten up your holiday sweets. with these easy-to-make cookies and simple designs, these cookies will be a fun tradition in your home for years to come.