Caramel apple gingerbread cookies are made with apple filling inside a gingerbread cookie, topped with caramel cream cheese frosting & drizzled with caramel! This mashup of two classic desserts is a show stopper!
Holiday cookie baking isn't really a competition, but if it was, these little cookie bites would win. Apple gingerbread cookies are a combination of flavors and textures that can't help but sing to your soul. Made to taste like your spiced holiday favorites these cookies are a first-place dessert.
Caramel Stuffed Gingerbread Cookies
We make these caramel apple pie cookies with homemade gingerbread cookie dough as the base. Making the cookie cups in a mini muffin pan also helps us to get the perfect one or two bite-sized servings so there's plenty to share. The apple pie filling is also completely homemade and only takes a few ingredients to do so. Making these apple gingerbread cookies from scratch is so simple and easy you may make it your new holiday go-to cookie recipe.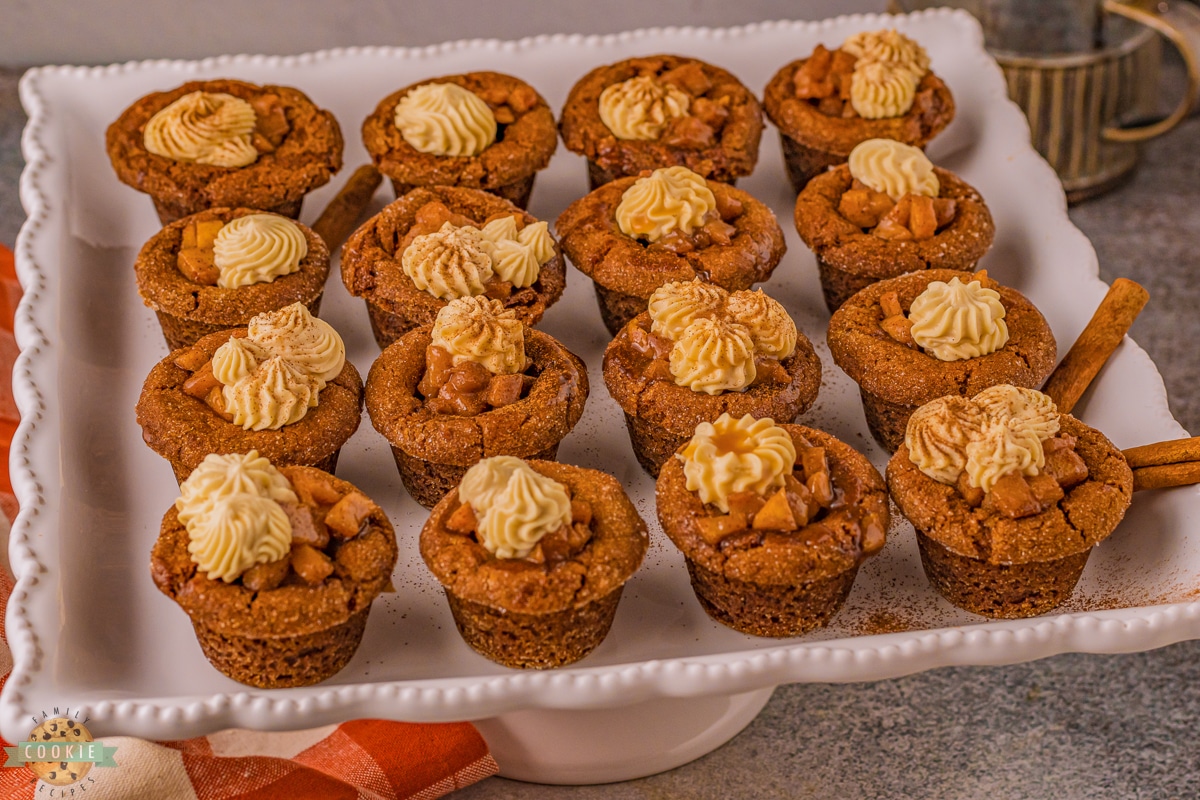 Caramel Apple Gingerbread Cookies Ingredients
For the Gingerbread cookie cups, you will need:
-Butter: You will need ¾ cups of softened butter or margarine. This is 1 and a half sticks.
-Brown sugar: Use 1 cup of brown sugar for a chewy sweet cookie.
-Egg: You will need 1 egg to act as the binder for the dough so that the cookies hold together well.
-Molasses: To make these cookies taste like the gingerbread you know and love add in ¼ cup of molasses (not blackstrap molasses).
-Flour: The base of the cookie dough will be 2 ¼ cups of all-purpose flour.
-Baking soda: Use 2 teaspoons of baking soda to help the cookies leaven properly as they bake.
-Salt: Adding in 1/4 teaspoon of salt will help to enhance the flavors in the cookies.
-Spices: You will need 1 teaspoon each of ground ginger, cinnamon, and nutmeg plus ¼ teaspoon of ground cloves to make these cookies well spiced.
-Sugar: You will need about ¾ cups of granulated sugar to roll the cookie dough balls in before baking.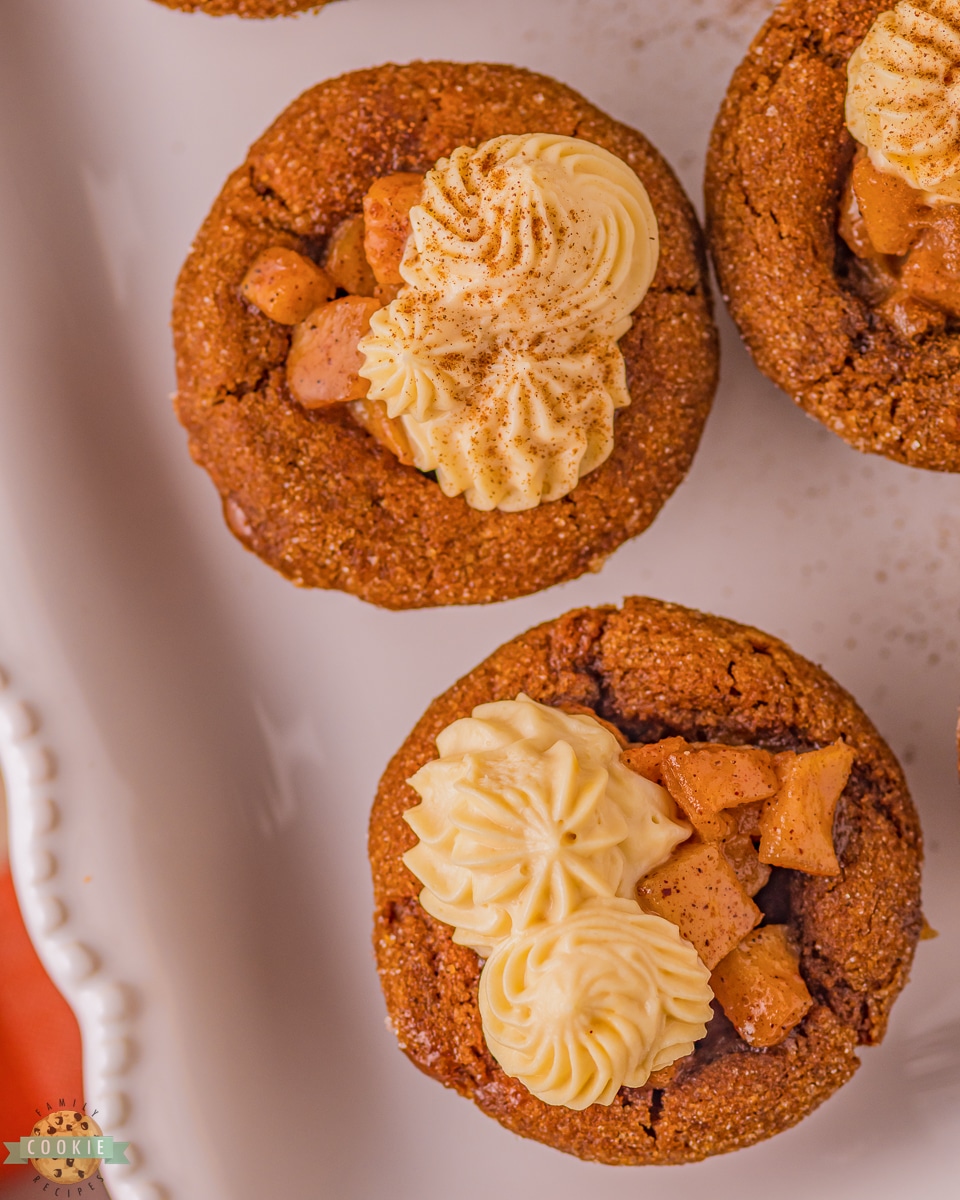 For the Caramel apple filling, you will need:
-Apples: You will need 3 cups of apples that have been peeled and chopped into small cubes. You can use any apple variety you want but I prefer granny smith.
-Butter: You will need 1 tablespoon of unsalted butter.
-Lemon juice: Use one teaspoon of lemon juice to help add a little acidity and freshness to the filling.
-Brown sugar: To sweeten the filling and give a depth of flavor you will need 3 tablespoons of brown sugar.
-Spices: Use 1 teaspoon of cinnamon and 1/4 teaspoon each of nutmeg, cloves, and ground ginger to make the filling well spiced.
-Salt: Adding ¼ teaspoon of salt will help to make the filling flavors stand out more.
-Caramel: You will need ½ cup of Caramel tidbits but note that they will not melt all of the ways and will have a chewy texture. If you want the caramel to be creamier use soft caramels that have been cut into smaller-sized pieces.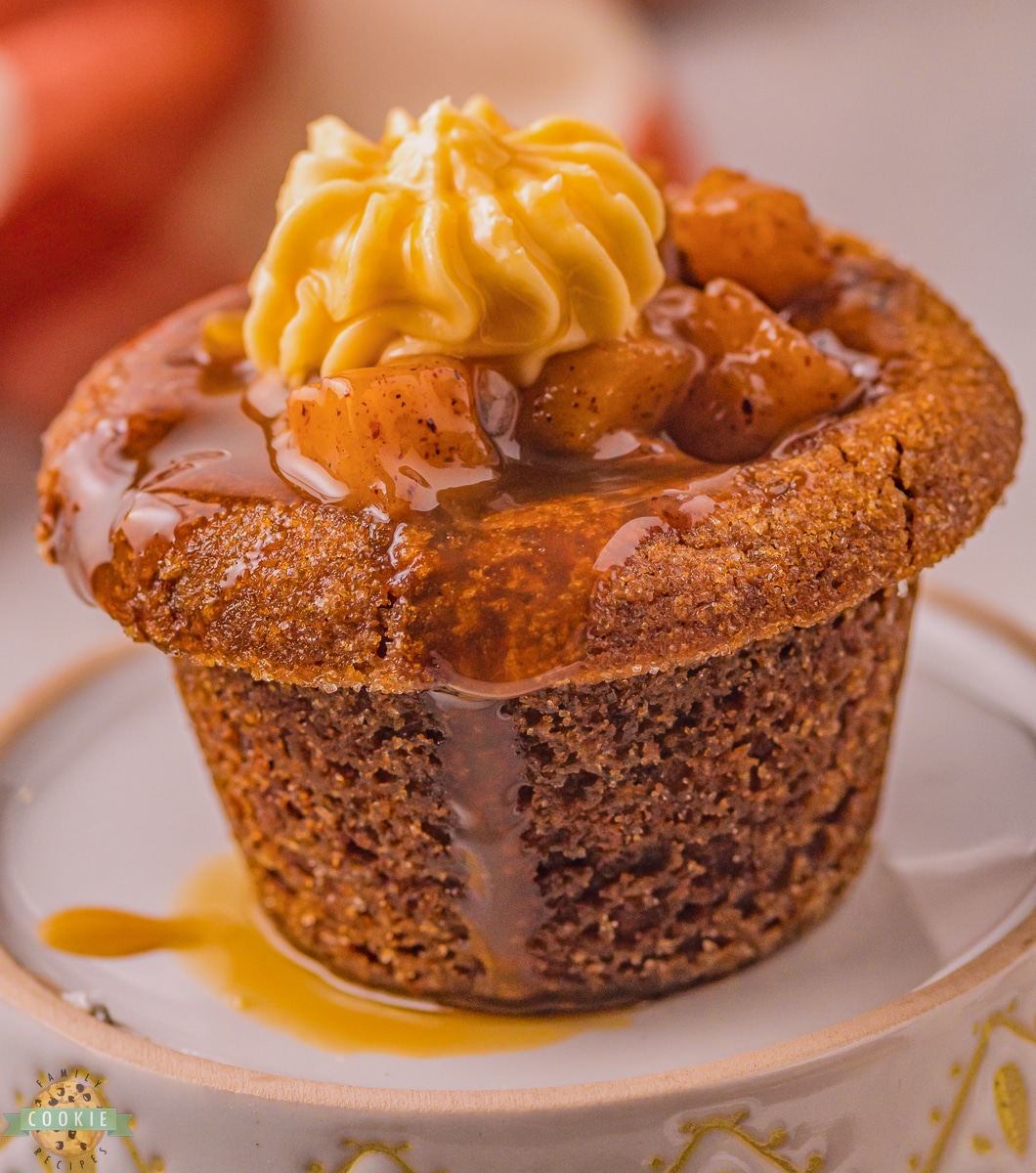 For the Whipped topping, you will need:
-Cream cheese: Use 8 ounces of softened cream cheese (one brick).
-Caramel sauce: To give the topping a nice caramel flavor add in ¼ cup of caramel ice cream topping.
-Whipped cream: Adding in ⅔ cups of whipped cream will help to make it be fluffier.
How to Make Caramel Apple Gingerbread Cookies
Preheat your oven to 350 degrees F. Grease a mini muffin pan with nonstick cooking spray and then set aside.
In the bowl of a stand mixer, cream together the butter and brown sugar.
Add in the molasses and egg. Beat until combined.
In a small bowl, combine the flour, baking soda, salt, ground ginger, cinnamon, ground cloves, and ground nutmeg.
Add the flour mixture to the mixing bowl, mixing until just combined.
Use a small cookie scoop to roll the cookie dough out and place it into the mini muffin pan. Repeat until all of the dough has been used.
Using the back of a spoon, or your fingers, press the dough around the muffin cups so that it creates a bowl and lip around the top edge.
Place the pan into the oven and bake for 10 minutes.
When the cookies have finished baking, press the back of a teaspoon into the centers of the cookies to create a cup. Allow the cookies to cool completely before removing them from the pan.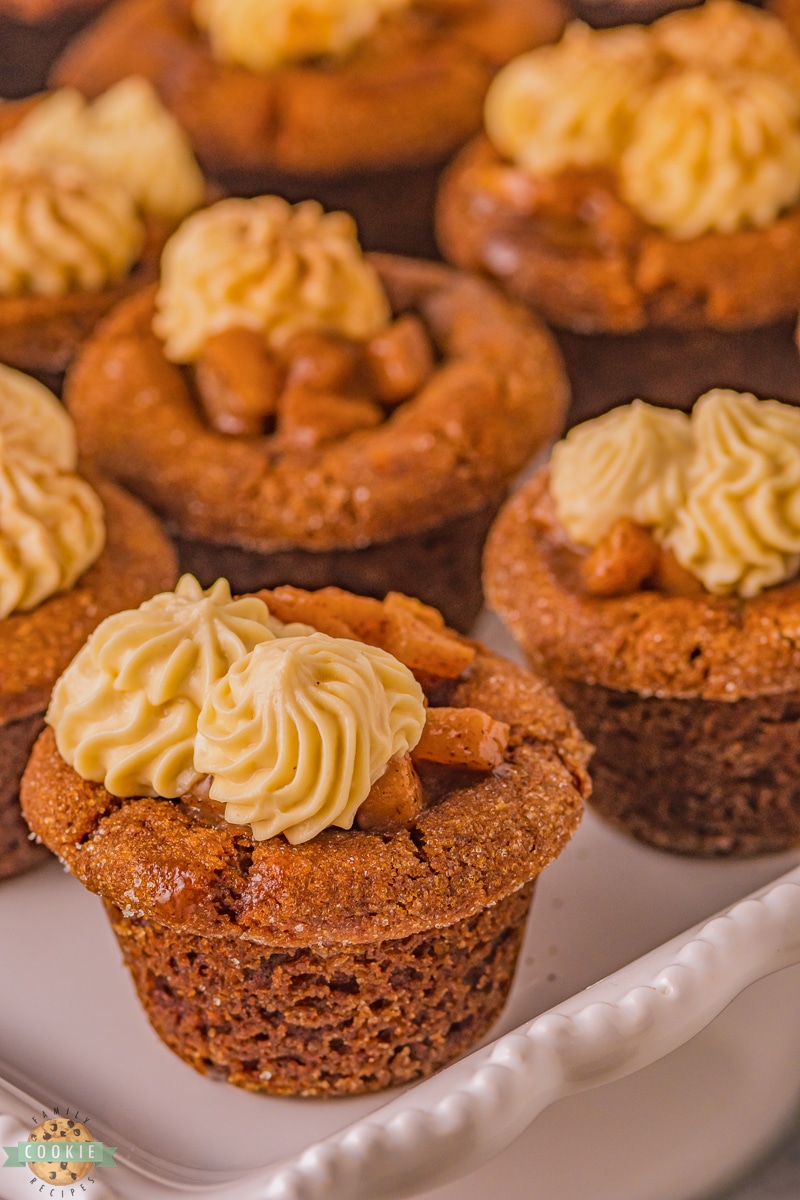 Prepare the caramel apple pie filling by melting the butter in a saucepan over medium heat. Add in the apples, lemon juice, cinnamon, nutmeg, cloves, and salt, mixing to combine.
Cook until the apples are fork-tender. This should take about 5 minutes. If the apples become too dry add in a teaspoon of water occasionally, as needed.
Add the caramel tidbits and allow them to melt slightly.
Prepare the topping by whipping the cream cheese in the bowl of a stand mixer until fluffy.
Add in the caramel ice cream topping and mix again to combine.
Use a spatula to fold in the whipped cream.
Assemble the cookies by dividing the caramel apple pie filling evenly between the gingerbread cookie cups.
Pipe or spoon the frosting on top.
Sprinkle the tops with more cinnamon if desired.
Enjoy!
Why are my cookies dry or crumbly?
This is a sign that you may have used too much flour in your cookie dough which can result in drier cookies. To measure flour, use a spoon to fill the measuring cup. If the measuring cup is overfilled, run the back of a butter knife across the top to brush off any extra. Scooping into the flour bag can cause the flour to pack, and will result in using too much flour.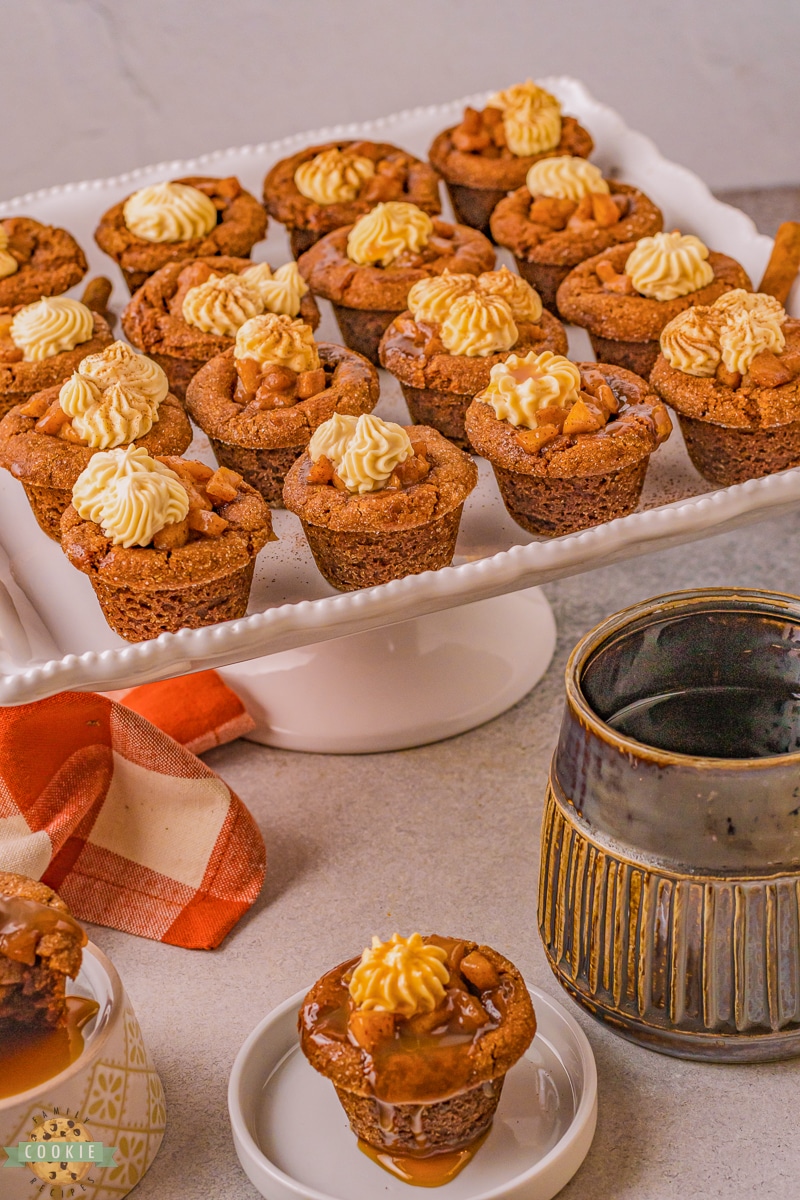 How long are these cookies good for?
These cookie cups can last in an airtight container in the fridge for up to 5 days. Keep in mind that the cookies will soften as they age thanks to the moisture so if you want them chewy, eat them sooner, but if you want them soft, they should be softer after a day or two.
Check out these other great holiday cookie recipes


Taking photos with your kids really changes as they get older. They're posing, they're photo bombing, or they simply didn't catch that I was taking a picture in the first place. I love this crazy crew of mine!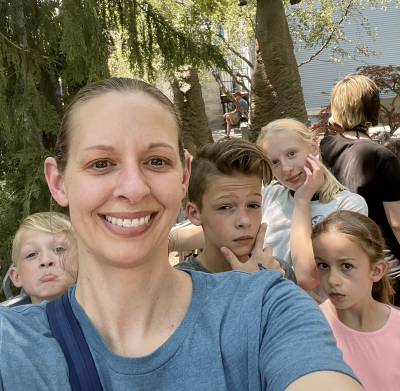 Caramel Apple Gingerbread Cookies are a deliciously sweet treat packed with spice, apples, and a caramel topping in every gingerbread cookie cup. You're going to love passing these cookies around this holiday season!