Pecan Sandies are a tender, buttery cookie flavored with cinnamon, vanilla and plenty of pecans! Pecan cookies dipped in dark chocolate and sprinkled with chopped pecans for the ultimate cookie!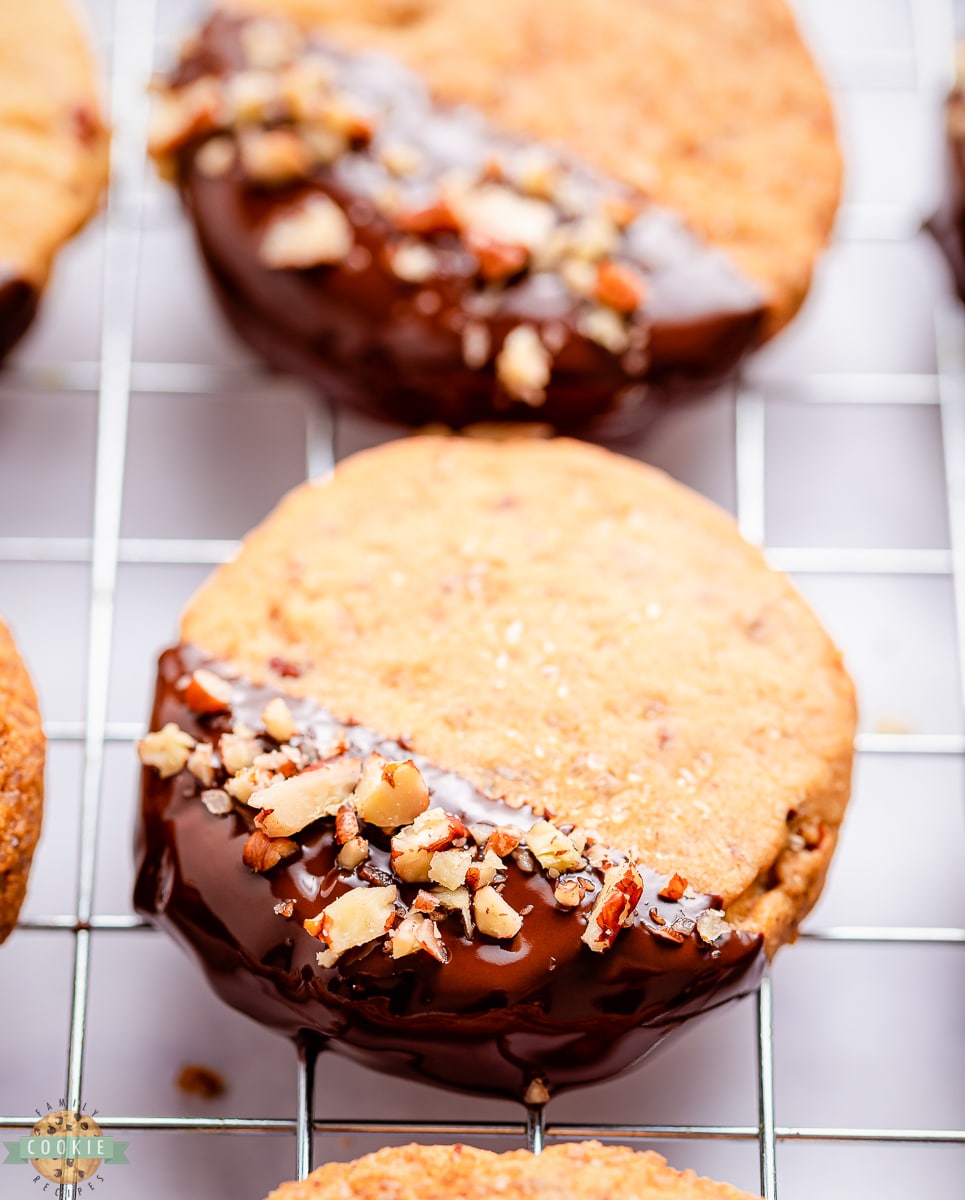 There's no wrong time to enjoy a batch of old-fashioned Pecan Sandies. These cookies have been around for a very long time and remained a popular classic. Homemade pecan Sandies are always a perfect sweet for any occasion and these chewy cookies are always a huge hit.
What Are Pecan Sandies?
Pecan Sandies are a buttery, crispy and nutty treat full of delicious crunchy pecans with a hint of cinnamon that pairs perfectly. They are amazing plain or if you want to raise them to the next level, dip them in melted chocolate and sprinkle with more chopped pecans for the most satisfying crunch. These are excellent to serve with coffee or tea or as a cookie exchange for holidays!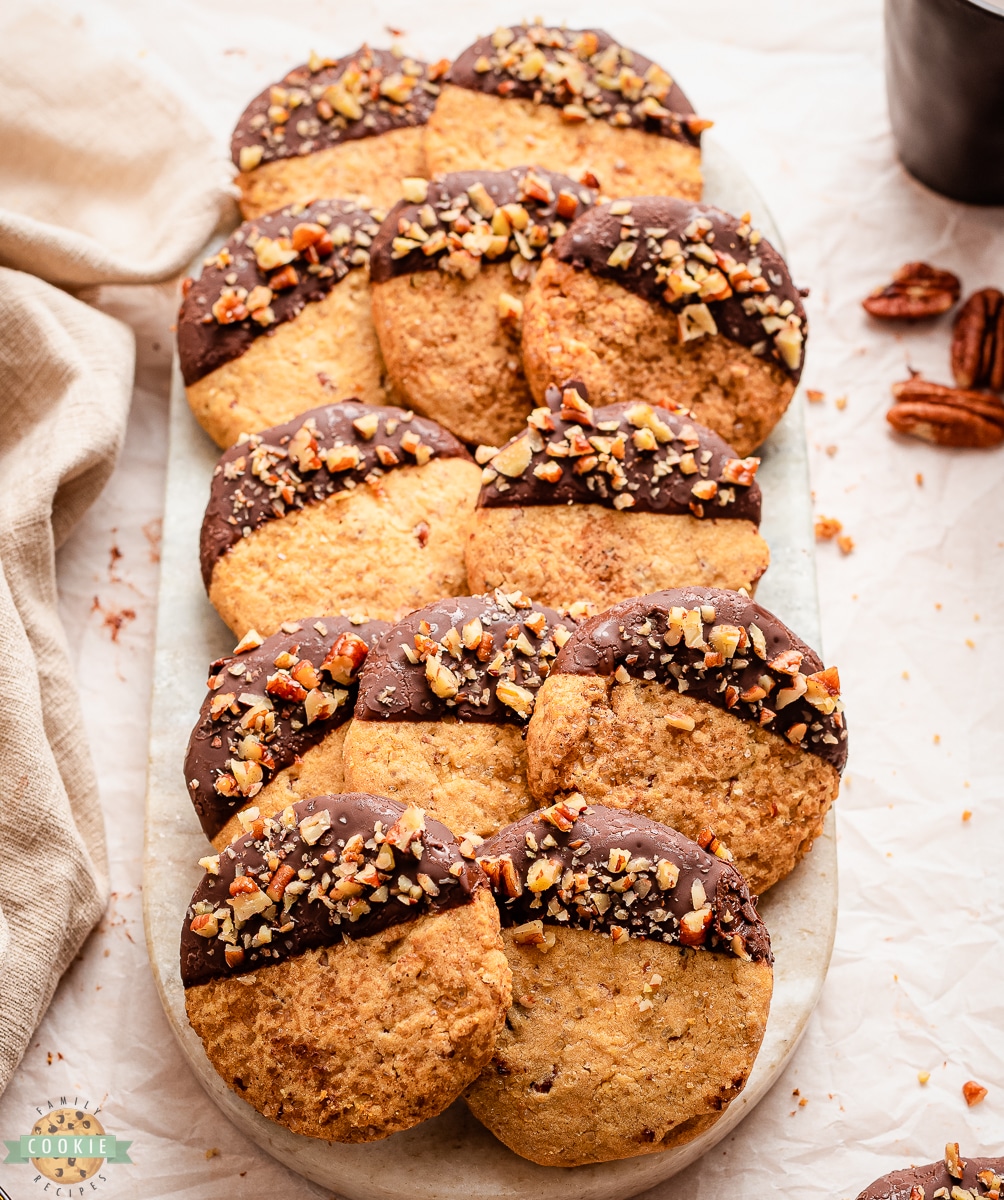 Sandies Cookies Ingredients
-Butter: You will need ¾ cups of softened butter, this is 1 ½ sticks.
-Sugar: Use ½ cup of packed light brown sugar to make these cookies sweet and chewy.
-Salt: Adding in ¼ teaspoon of salt will help to enhance the flavors in the dough.
-Egg: Use 1 room temperature egg yolk to help bind the cookies together and add in a richer taste.
-Pecans: You will need ⅓ cup of ground pecans and 1 cup of chopped pecans so that every cookie is packed with nuts. For a more intense flavor, you can toast the pecans prior to use.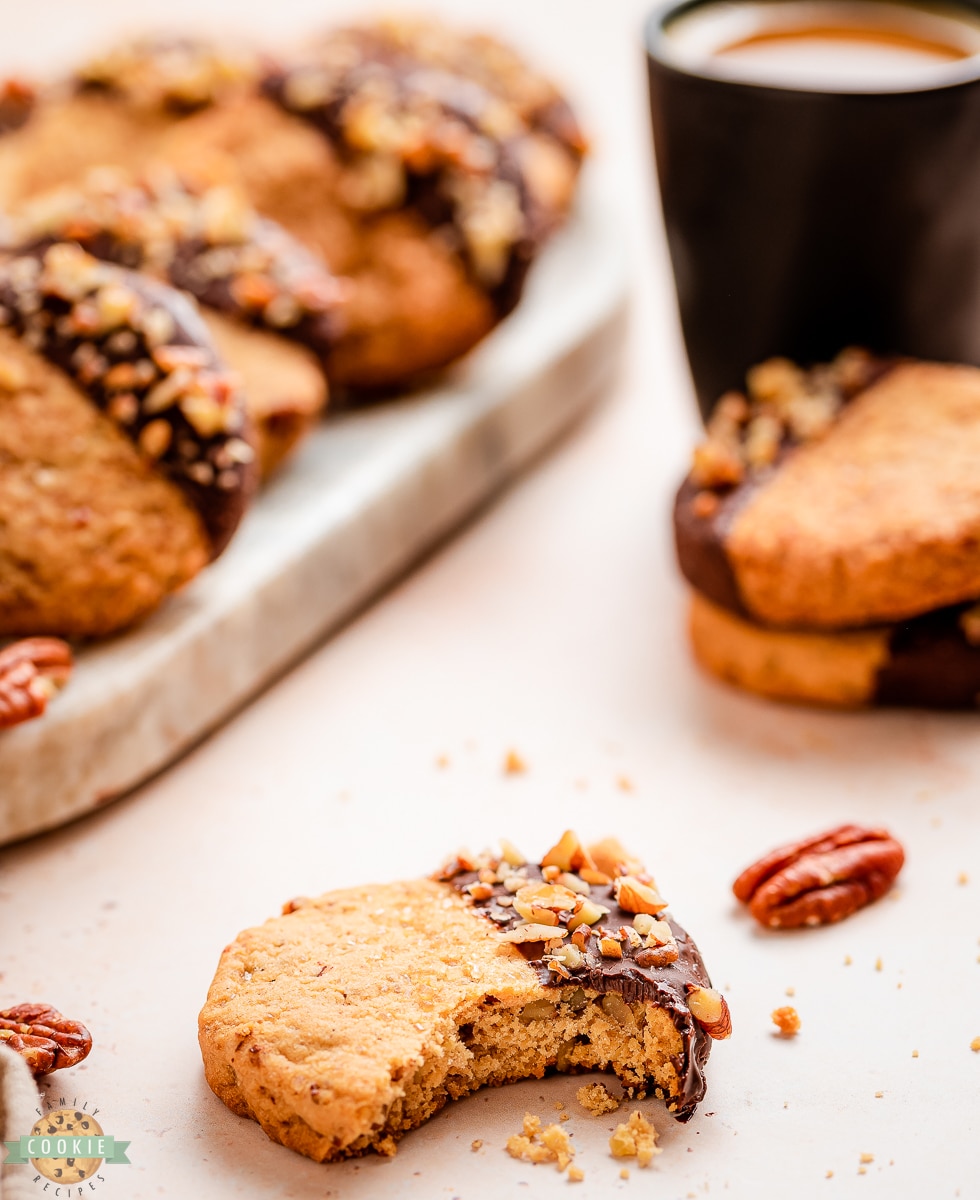 -Vanilla: Add in 1 teaspoon of vanilla extract to help enhance the flavors.
-Cinnamon: Use ½ tsp of cinnamon to make the cookies well spiced.
-Flour: The base of this cookie dough is 1 ¾ cups of all-purpose flour.
-Cinnamon sugar: Use 4 tablespoons of granulated sugar and ½ teaspoon of cinnamon to make a spiced sugar mixture for the cookies.
-Garnishes: To garnish these cookies you will want to use 6 ounces of melted dark chocolate and more chopped pecans, but this is optional and can be omitted.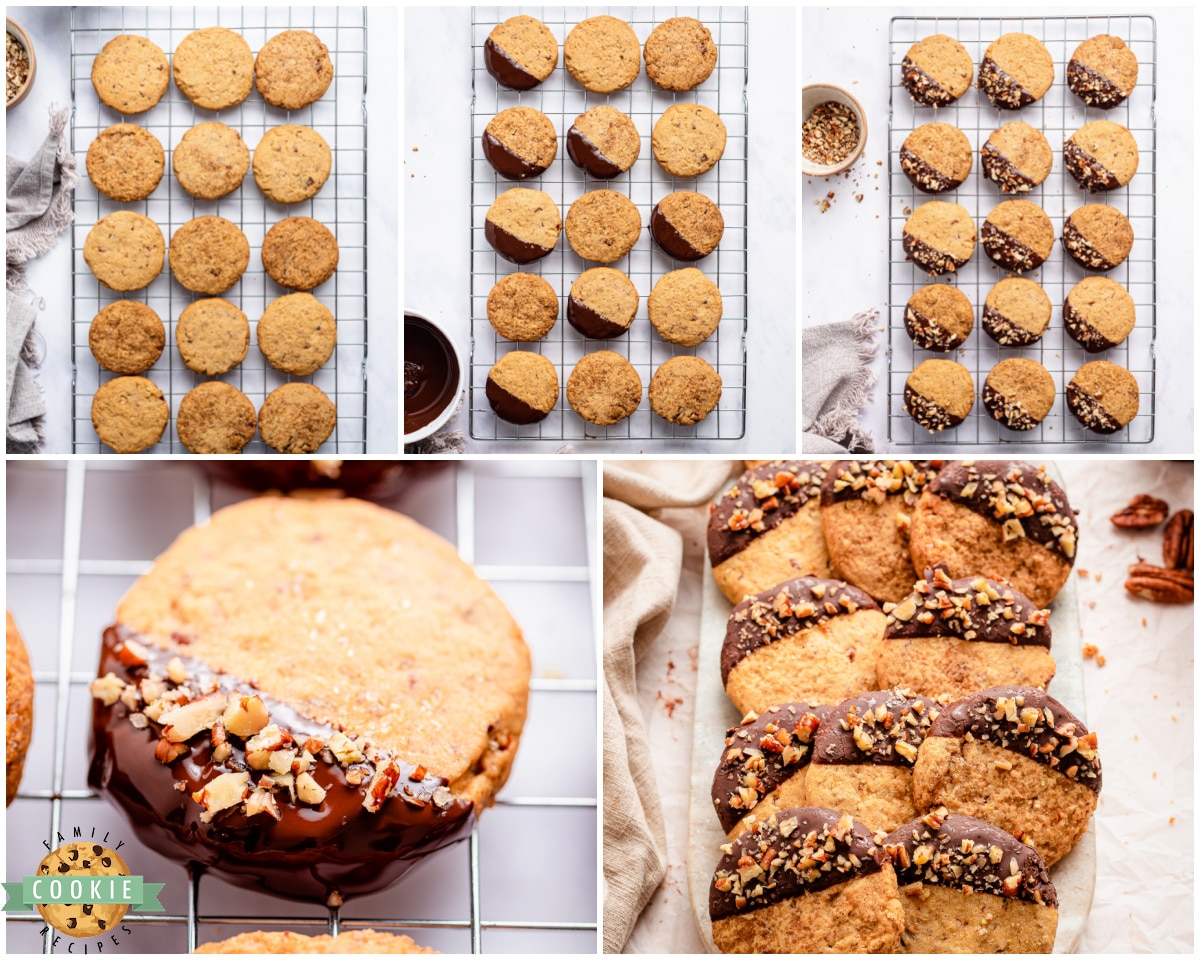 How to make pecan Sandies
Beat together the butter and brown sugar in a large mixing bowl until creamy. This should take about 3-4 minutes.
Add in the egg yolk and vanilla and then mix again to combine, beating for 1 minute.
Mix in the flour, ground pecans, cinnamon, and salt until fully incorporated.
Fold in the chopped pecans.
Cover the bowl of dough and place it into the fridge to chill for at least 2 hours.
Preheat your oven to 350 degrees F and line 2 baking sheets with parchment paper.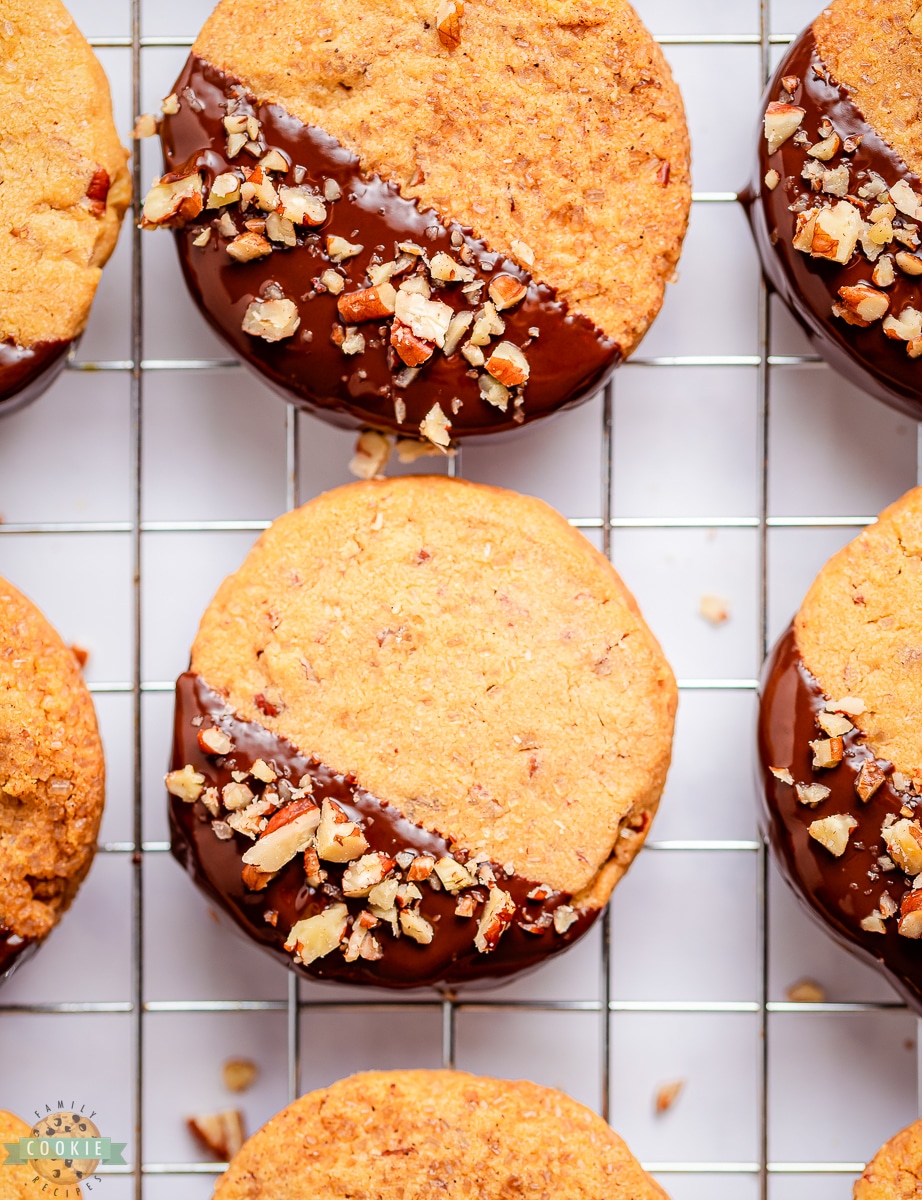 Ina small bowl, mix together the cinnamon-sugar mixture. Reserve 1 tablespoon of the mixture.
Divide your cookie dough into 18 same-sized pieces and roll them into one ounce-sized balls.
Dampen a paper towel and then press a glass onto the paper towel. Dip the glass into the reserved cinnamon sugar and flatten the cookies with the glass, reshaping a bit if needed.
Bake in the oven for 13-15 minutes, rotating the sheets halfway through cooking. For a crunchier cookie, bake longer.
Cool the cookies completely on a wire rack.
For garnish dip ⅓ of the cookies into the melted chocolate and transfer to a wire rack, sprinkle with the chopped pecans. Let set. Enjoy!
How to store Pecan Sandies
Store your cooled cookies in an airtight container at room temperature for up to three weeks. If the cookies have been coated in chocolate for garish the shelflife is only one week.
Can Pecan Sandies be frozen?
Yes, these cookies can be placed into an airtight container and frozen for up to 3 months before being thawed and eaten. I recommend not dipping the cookies in chocolate before freeing because the chocolate will "sweat" as it thaws and can become messy.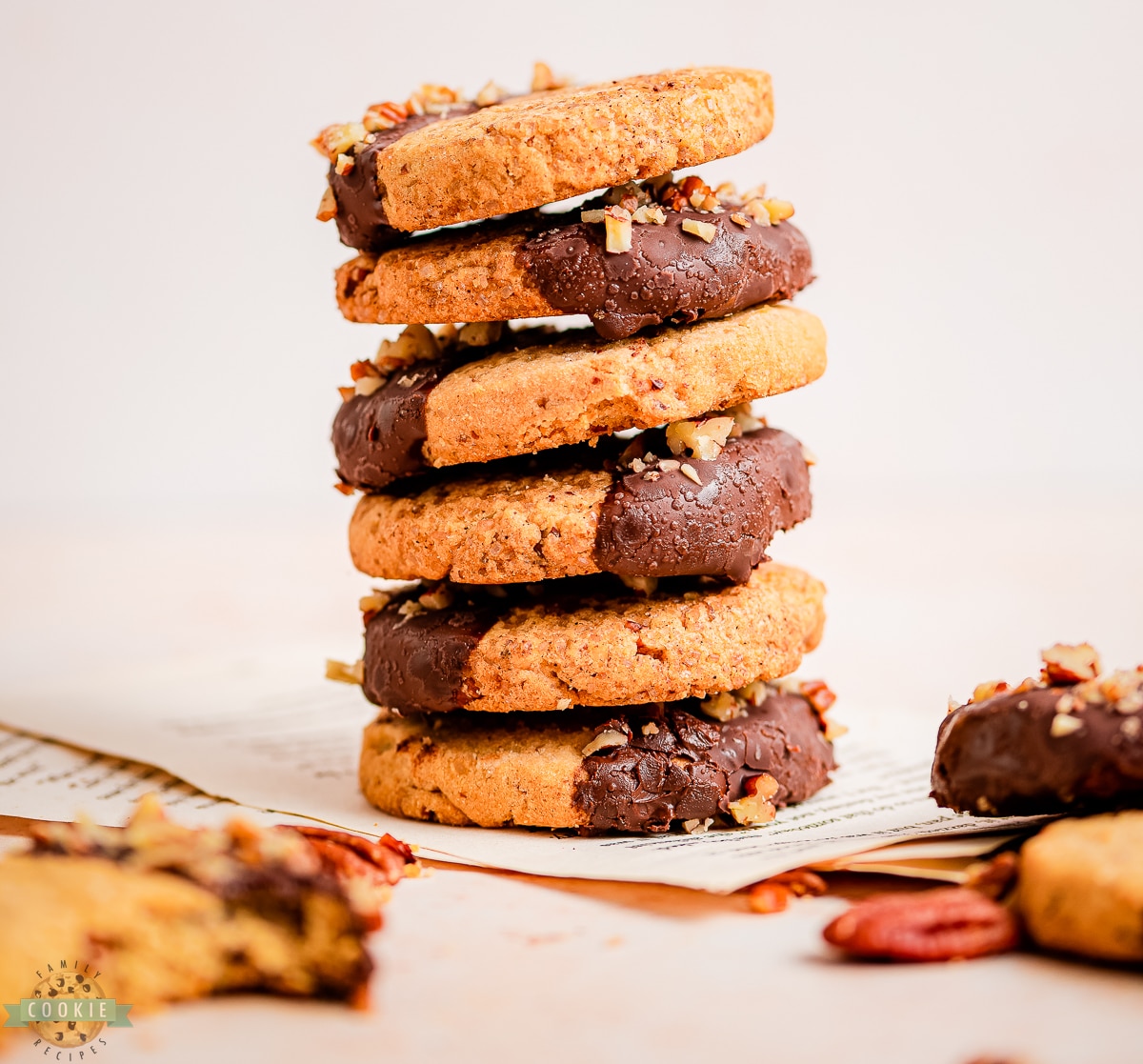 Check out these other tasty cookie recipes!
These old fashioned Pecan Sandies are a tasty treat that's perfect for any occasion. A chewy cookie packed with pecans and cinnamon flavor brings the warmth of Fall and Winter to every bite.