S'mores Cookie Sandwiches are made with graham cracker chocolate chip cookies and a simple marshmallow filling. Even if you don't love s'mores, you will love these cookie sandwiches!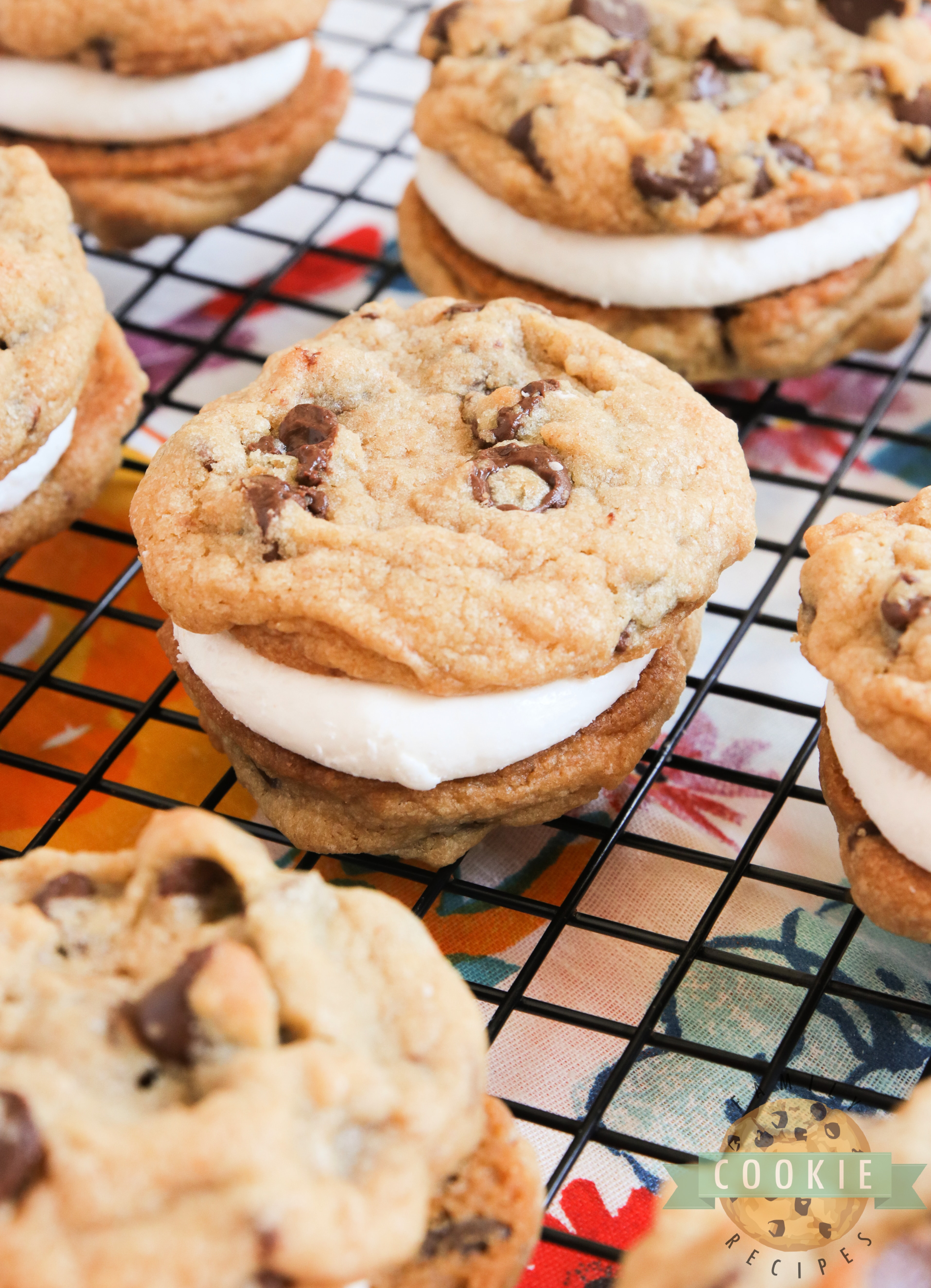 What are S'mores Cookie Sandwiches?
S'mores Cookie Sandwiches are one of my new favorite treats! Add some graham cracker crumbs to a basic chocolate chip cookie recipe and then make an extremely simple marshmallow filling in between two of the cookies to make a cookie sandwich.
These little treats have all the flavors of a s'more – chocolate, graham crackers and marshmallow. But these are even better than s'mores because the cookies are so soft and the marshmallow filling doesn't come with the risk of burning or the smell of a campfire!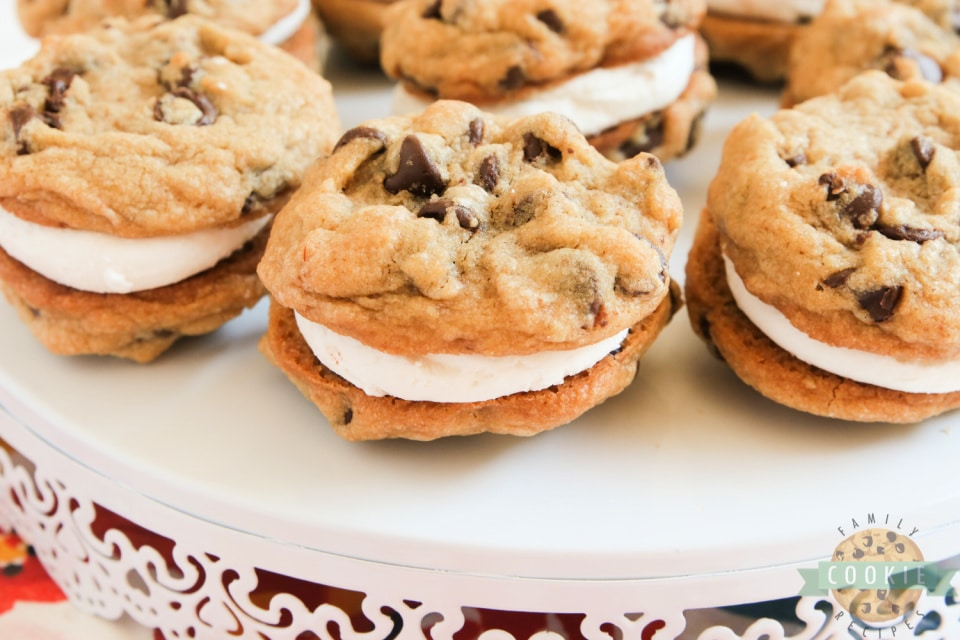 Ingredients in S'mores Cookie Sandwiches
3/4 cup butter – softened to room temperature
1/2 cup sugar
1/2 cup packed brown sugar
1 egg
2 Tbsp milk
1 tsp vanilla extract
1 1/4 cups flour
1 1/4 cups graham cracker crumbs (about 20 graham cracker squares)
1/2 tsp baking soda
1/4 tsp salt
2 cups semi-sweet (or milk chocolate) chips
Marshmallow filling
2 cups powdered sugar
7 oz jar marshmallow creme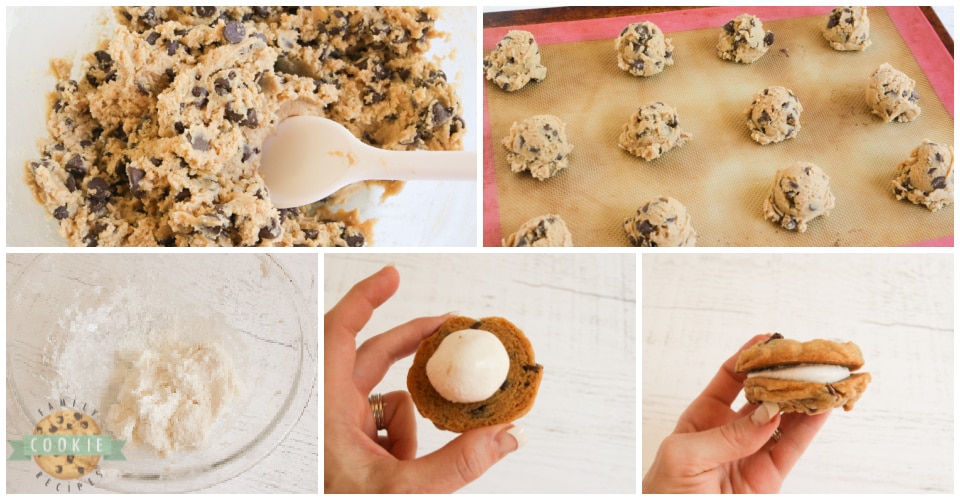 How to make S'mores Sandwich Cookies
Preheat oven to 375°.
In a large bowl, cream butter and sugars together for 2-3 minutes. Add egg, vanilla and milk and beat for 2-3 more minutes.
In a separate bowl, mix the flour, graham cracker crumbs, baking soda and salt. Add to the butter/sugar mixture and mix just until well combined.
Use a cookie scoop to scoop out tablespoonfuls of dough onto a cookie sheet, about 2 inches apart. Bake for 8-10 minutes or until the edges begin to turn a light, golden brown. Remove from oven and cool on cookie sheets for a few minutes before transferring to a wire rack to cool completely.
Once cookies are cooled completely, mix the powdered sugar and marshmallow creme together until smooth and then divide into 12 equal portions. Roll each portion into a ball and place between 2 cookies, carefully pressing together to flatten out the filling.
Store at room temperature for up to several days in an airtight container.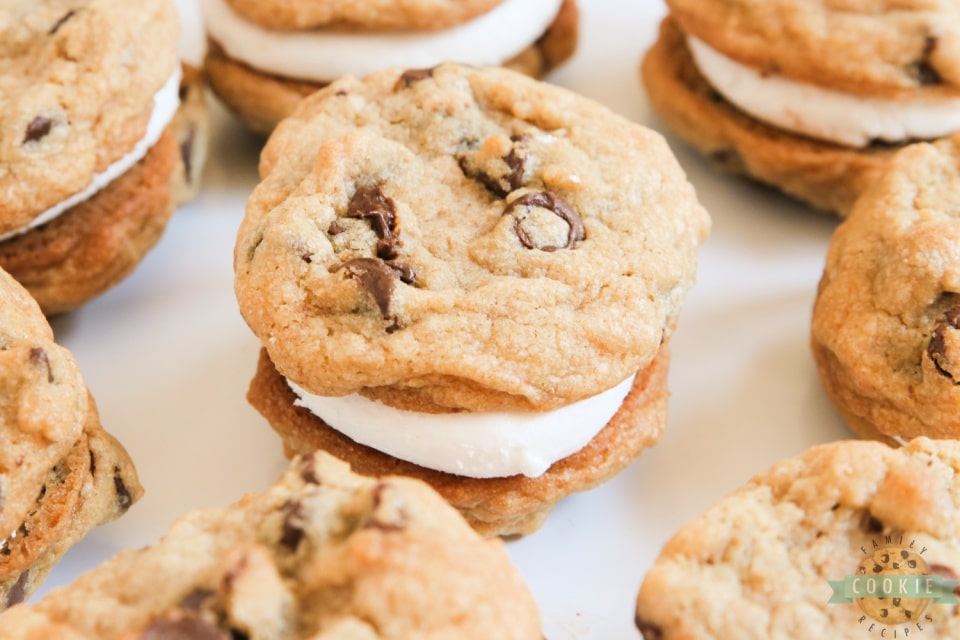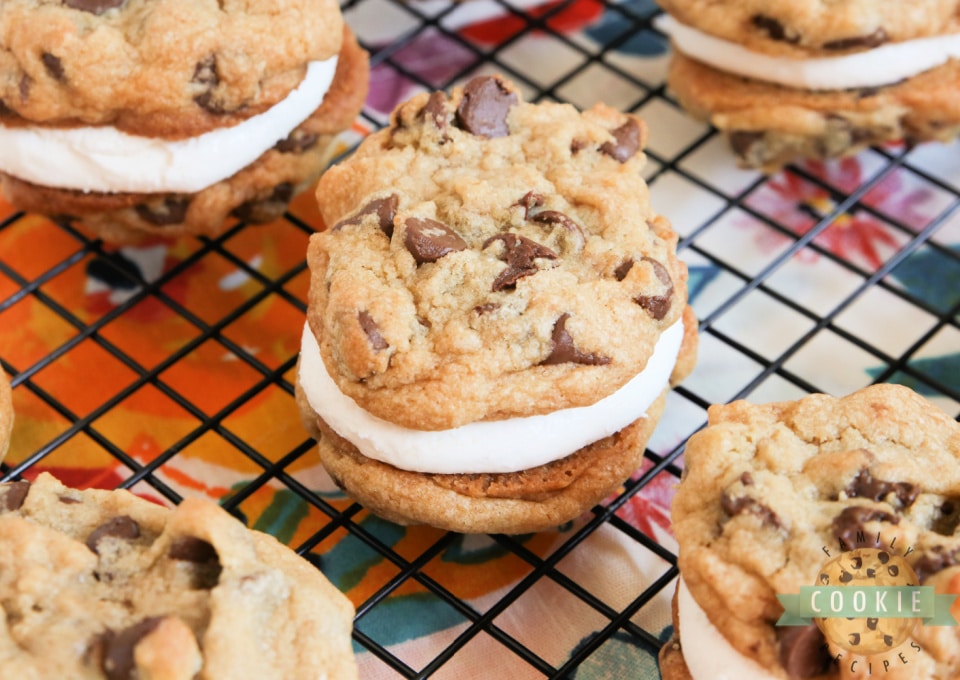 HOW DO YOU MAKE PERFECT CHOCOLATE CHIP COOKIES?
Making chocolate chip cookies is easy! Here are a few tips to getting perfect cookies every time!
Make sure you use softened butter – DON'T melt it! One of the most common errors in cookie making is using butter that is either really cold and hard, or using butter that is too warm and melted. If you have time, just leave butter out on the counter for about 1-2 hours before making your cookies. If you are like me and don't plan your cookie cravings that far in advance, just place the butter in your microwave and soften in 5 second intervals, being very careful to pull it out before it melts. I actually like to use the defrost setting on my microwave to soften butter- I don't know the technical reasons behind it, but it seems to soften the butter more evenly and takes a little bit longer so I'm less likely to start melting it!
Most cookie recipes require that you mix the dry ingredients separately before adding the wet ingredients. This is an important step!
Spend a little extra time when you mix the butter and sugars. Creaming them together for 2-3 minutes will improve the consistency of your cookies.
Preheat the oven. This will help your cookies turn out right every time!
Use a cookie scoop! If you want all your cookies to be perfectly shaped and have them all be the same size, a cookie scoop is the way to go.
Use parchment paper or a silicone baking mat. Doing this will make it really easy to remove the cookies from your cookie sheet so that you don't have to scrape them off the pan – they will just slide right off in perfect shape!
Don't over bake the cookies – when I take mine out of the oven, they still look slightly under baked but they will continue to bake on the cookie sheet for a couple more minutes so that's ok!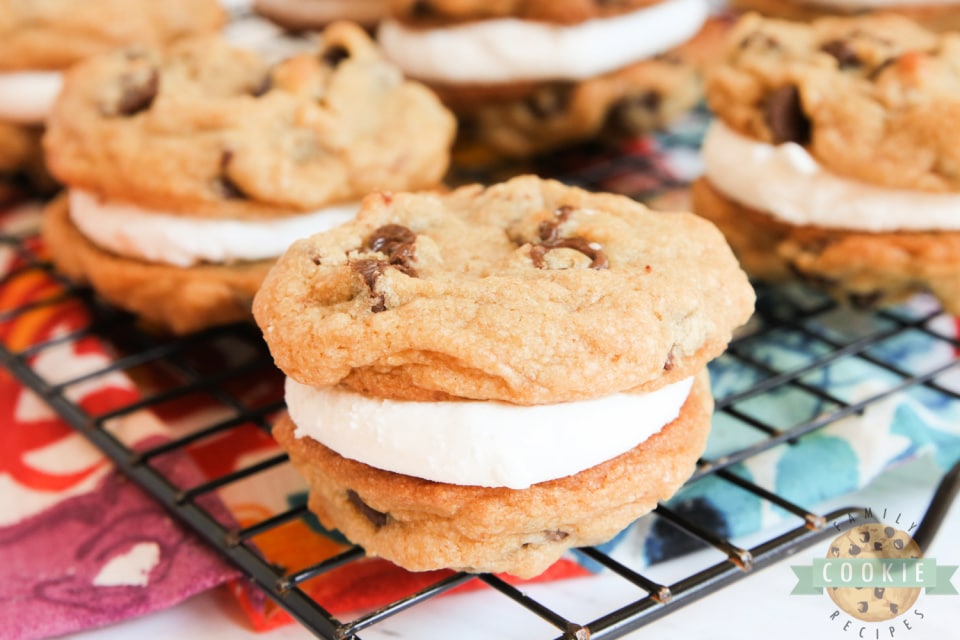 WHY DO MY COOKIES BURN ON THE BOTTOM BUT AREN'T DONE IN THE MIDDLE?
If your cookies are always burning on the bottom, it is probably a cookie sheet issue! If you are using really dark cookie sheets, the bottoms of your baked goods will tend to burn before they are actually cooked all the way through. If you use a lot of cooking spray, the same result can happen. I prefer to use lighter colored non-stick pans so that I don't have to use cooking spray at all. As mentioned above, I have been converted to silicone baking mats over the last couple of years and I love how easy it is for cookies to come off the tray – no sticking ever!
LOVE CHOCOLATE CHIP COOKIES? SO DO WE! HERE ARE SOME OF OUR FAVORITE CHOCOLATE CHIP COOKIE RECIPES!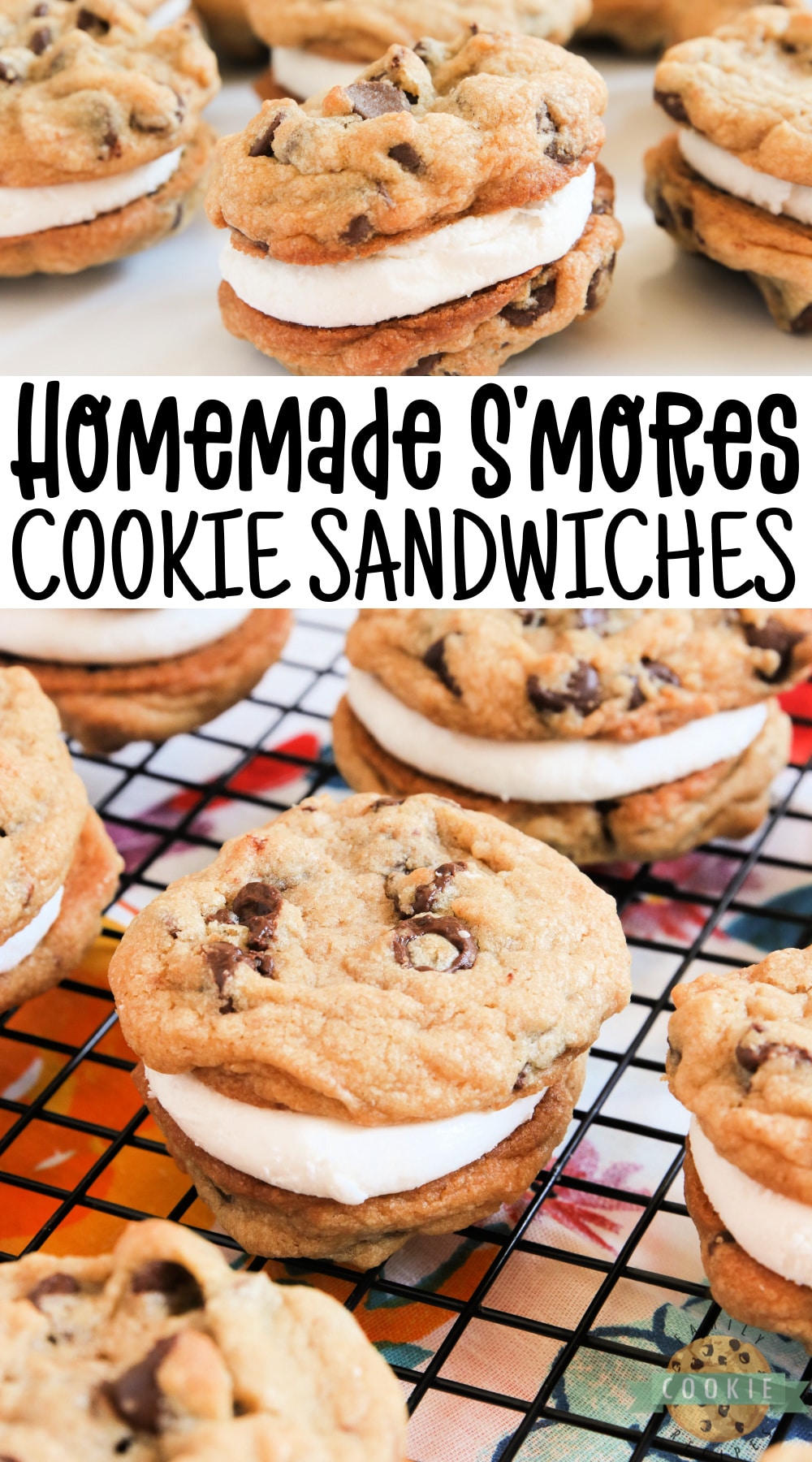 S'mores Cookie Sandwiches are made with graham cracker chocolate chip cookies and a simple marshmallow filling. Even if you don't love s'mores, you will love these cookie sandwiches!



A few weeks ago, I got remarried! It's been a little bit of a whirlwind, but it has been so wonderful and I feel so blessed. He is amazing and things have gone about as smoothly as I think they could possibly go! My kids have been so incredible with all of the adjustments they have had to deal with over the last couple of years with changes in our family, moving, the pandemic and all that has affected, and everything else that kids have to handle regularly too! I am so grateful for my family and for these amazing kids who have been so resilient and so supportive and cooperative through all of the transitions.