NESTLE TOLL HOUSE COOKIES recipe from the classic bag of chocolate chips with a few tweaks to make them even BETTER! Fantastic buttery chocolate chip cookie recipe with perfect flavor & texture.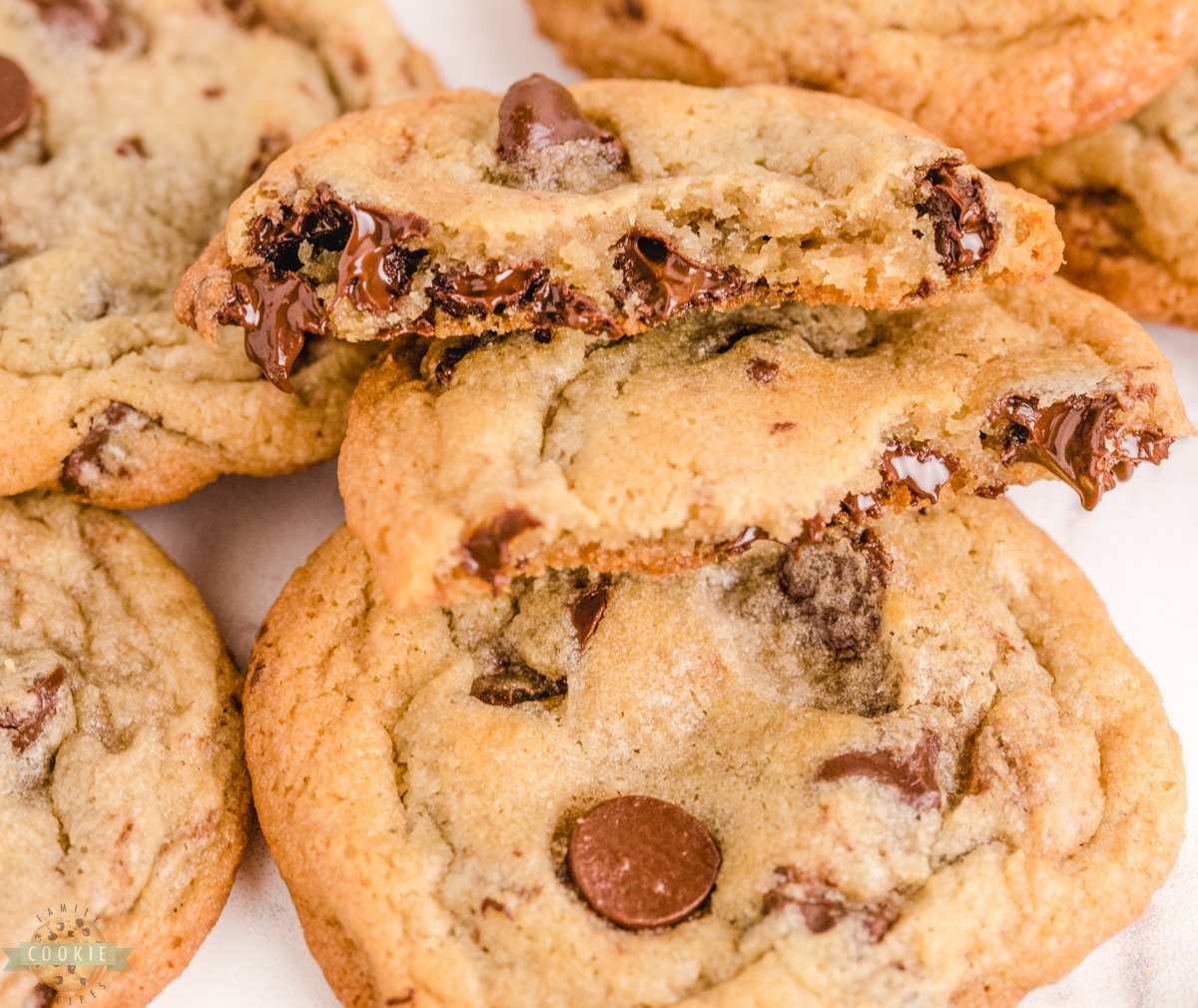 In fact, you may even say this cookie recipe is good enough to pass down for generations…
If you're a fan of the hit 90's comedy show called "Friends" then I'm sure you're reading the words "Nestle Toll House" with a french accent, similar to I am as I write this. While Phoebe Buffay may have been disappointed to find that her grandmother's chocolate chip cookie recipe wasn't as authentic as she had thought, I promise you won't be disappointed by these cookies.
What are Nestle Toll House Cookies?
They're a chocolate chip cookie recipe that has survived decades and still ranked in the top contenders for the best chocolate chip cookie recipe in the world. Try these for yourself and you'll see why. The semi sweet chocolate chips and buttery chewy soft cookies, practically melt on your tongue. These cookies are easy to make and use simple ingredients, which just adds to their appeal and charm.
Nestle Toll House Cookies Ingredients
-Butter: We need 1 cup (two sticks) of softened butter to make our cookies rich tasting and delicious.
-Sugars: We need 3/4 cups each of packed brown sugar and granulated sugar to give our cookies a sweet and chewy texture.
-Vanilla: We want a teaspoon of vanilla to help enhance the flavors in these cookies. Stronger vanillas work better, but use what you have on hand.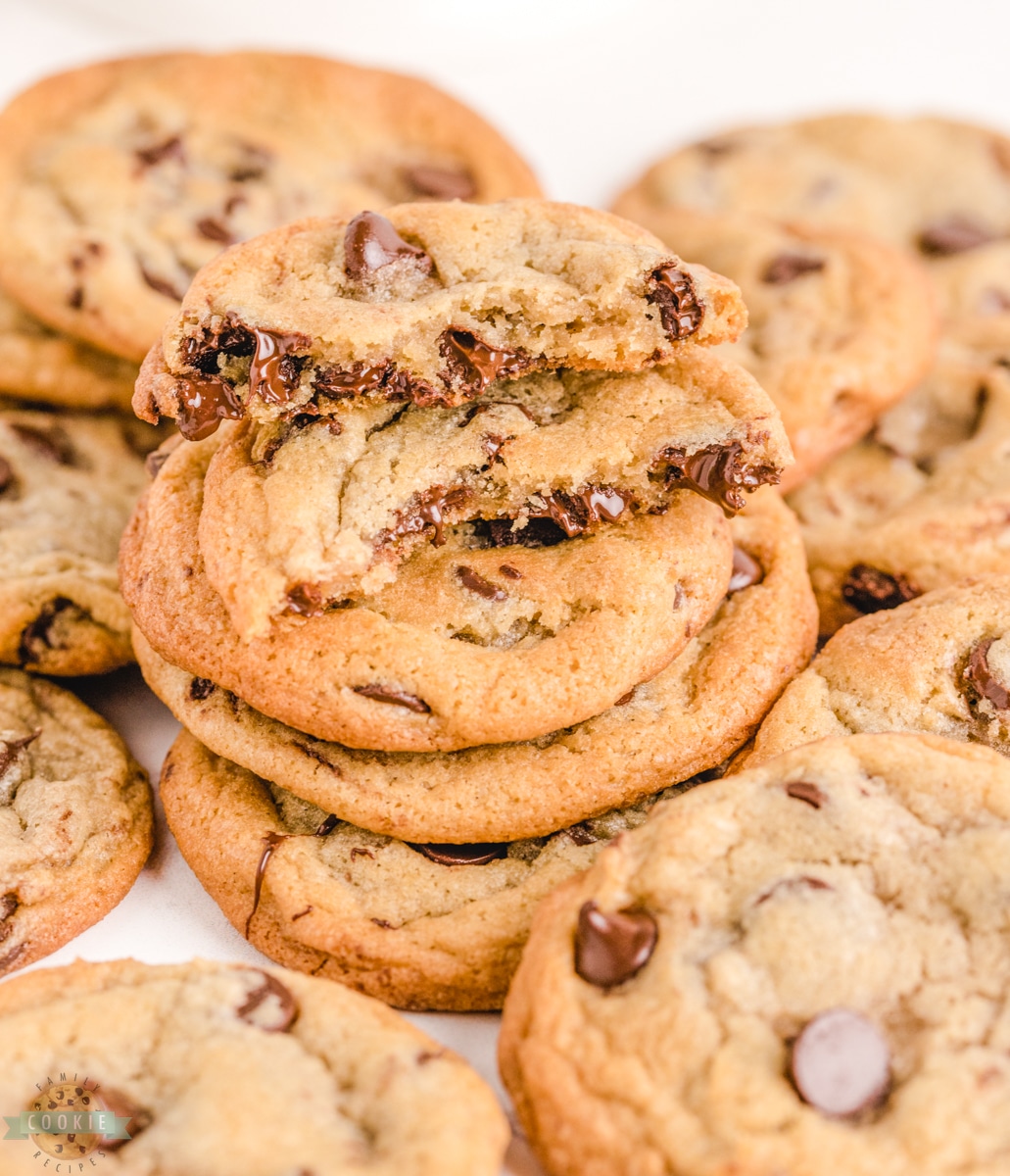 -Eggs: 2 large eggs will bind together the cookies wonderfully so that they hold up to being grabbed off the serving plate.
-Flour: The base of our cookie dough is 2 1/2 cups of all-purpose flour.
-Baking soda: Adding 1 1/4 teaspoons of baking soda will help our cookies to puff up and rise nicely as they bake.
-Salt: To enhance the flavors in these cookies we want to use a 1 teaspoon of salt.
-Chocolate Chips: We want to use 2 cups ( a 12 ounce bag) of NESTLÉ® TOLL HOUSE® Semi-Sweet Chocolate. Any other brand and these cookies wouldn't be as authentic.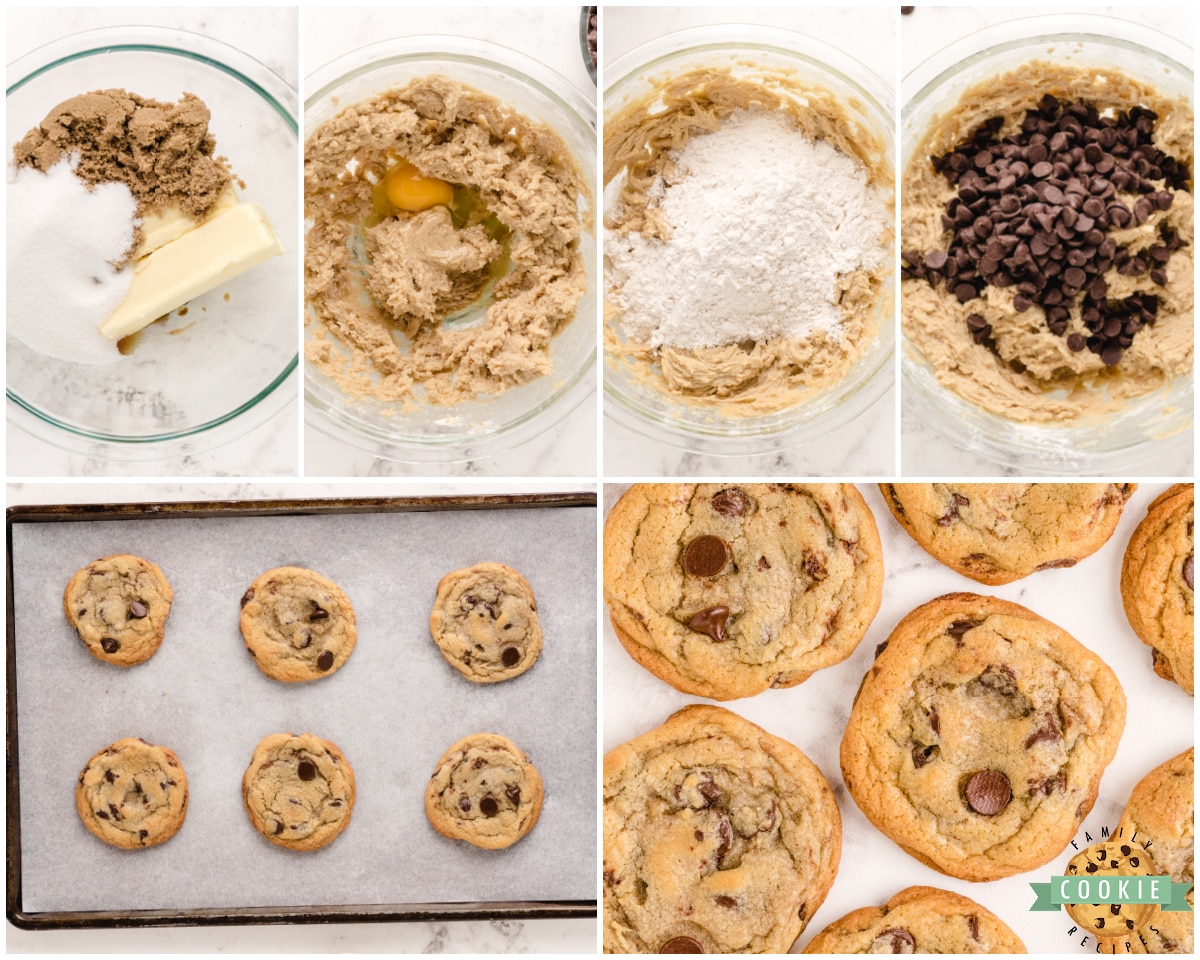 How to Make Nestle Toll House Cookies
Preheat your oven to 375 degrees F.
In a small bowl, combine the flour, baking soda, and salt.
In a large mixing bowl, beat together the butter, granulated sugar, brown sugar, and vanilla until creamy.
Add in the eggs, one at a time, beating well after each addition.
Gradually beat in the flour mixture.
Stir in the chocolate chips.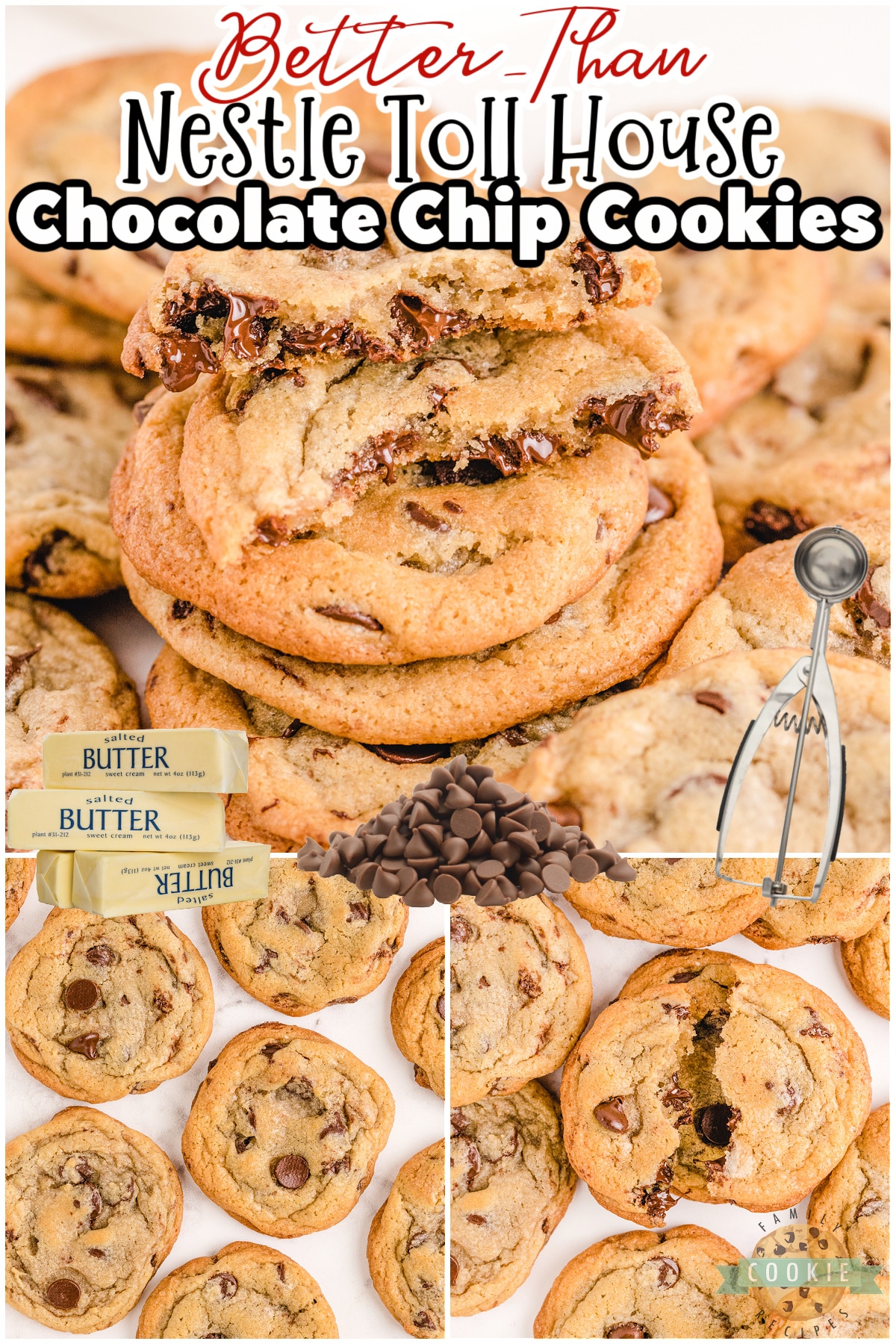 Cover the bowl of cookie dough and place it in the fridge for at least 4 hours.
Remove the dough from the fridge and let it sit for 20 minutes.
Drop it by the rounded tablespoons onto ungreased baking sheets.
Bake in the oven for 9-11 minutes or until golden brown in color.
Let the cookies cool on the baking sheets for 2 minutes before removing and placing them on wire racks to finish cooling completely. Enjoy!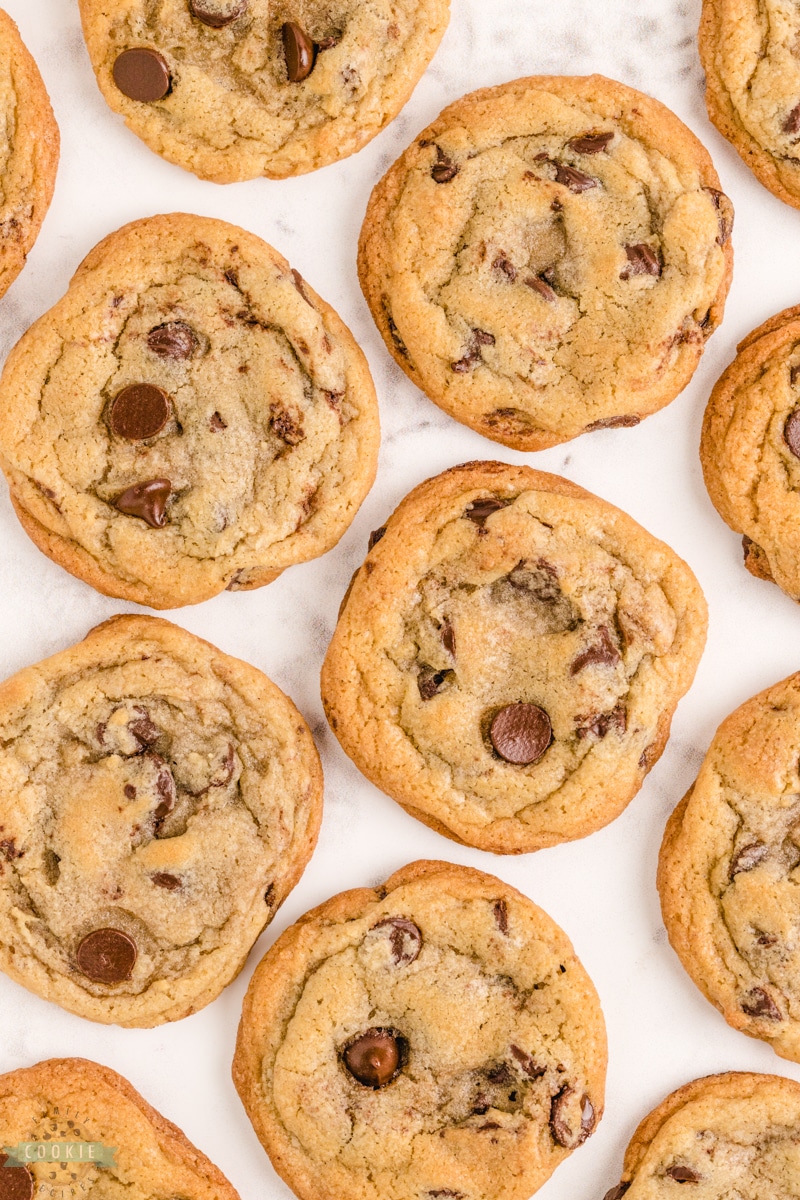 How long should I let these cookies cool?
Cookies are best left to cool on the baking sheet they're cooked on for 3-4 minutes, then you can transfer them to a cooling rack to cool further. This way, they don't fall apart as cookies are pretty soft still when they're pulled out of the oven. After a couple minutes on a cooling rack, cooking are usually cool enough to eat! Warm cookies are the best!
How long to chill chocolate chip cookie dough?
We recommend that you let the dough chill for at least 4 hours because it helps the flavors in the cookies to really develop and taste incredible. That said, you could also chill the dough for up to 24 hours in advance if you really wanted to (or if you happen to forget that it's in there).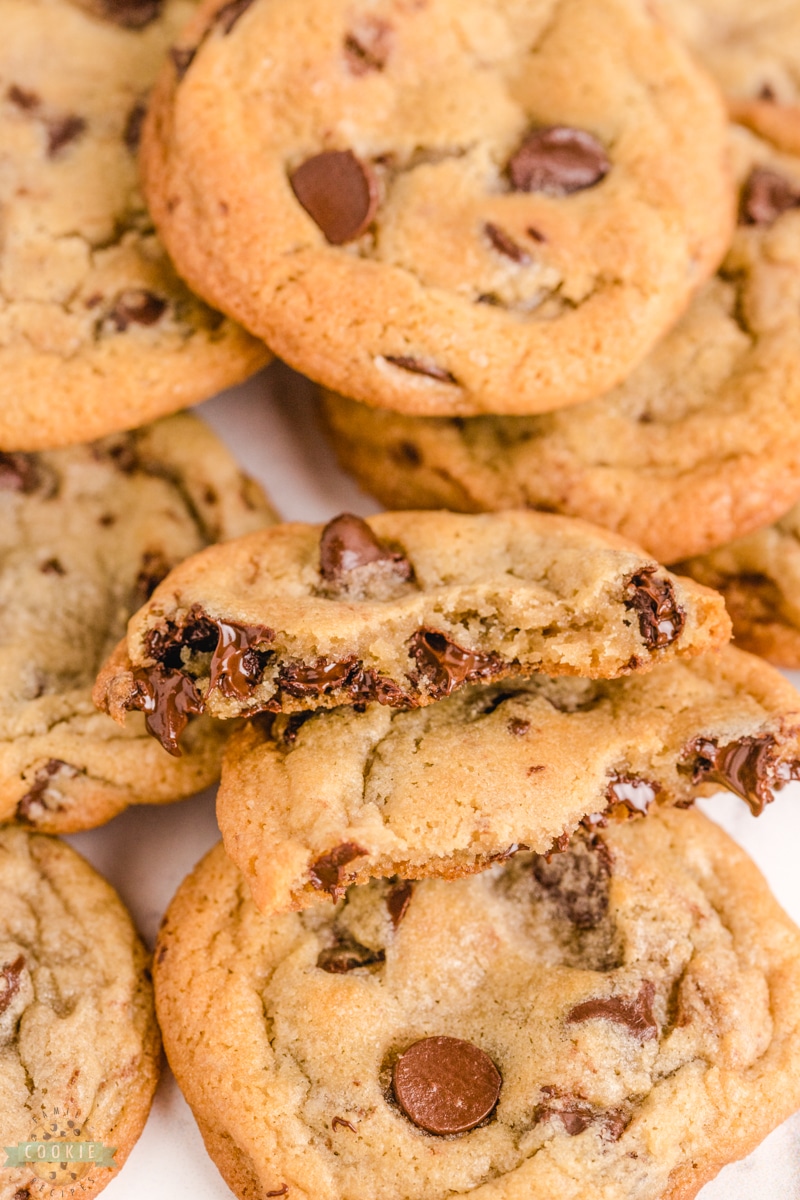 How long are nestle toll house cookies good for?
These cookies are good for about a week if stored properly in an airtight container at room temperature.
Can I freeze cookie dough?
Yes, if you plan on freezing your dough, I recommend having it already portioned into the proper-sized cookie scoops so that you can place them on a baking sheet and let them thaw a minute or two as you preheat the oven. Then bake at the recommended time and enjoy.


We tagged along on a business trip of my husband's to Vegas and made a stop at the Paris Hotel. Have you been? I love the quiet elegance of it! My daughter's taken French for the last couple of years, so she was excited to go and walk through the shops.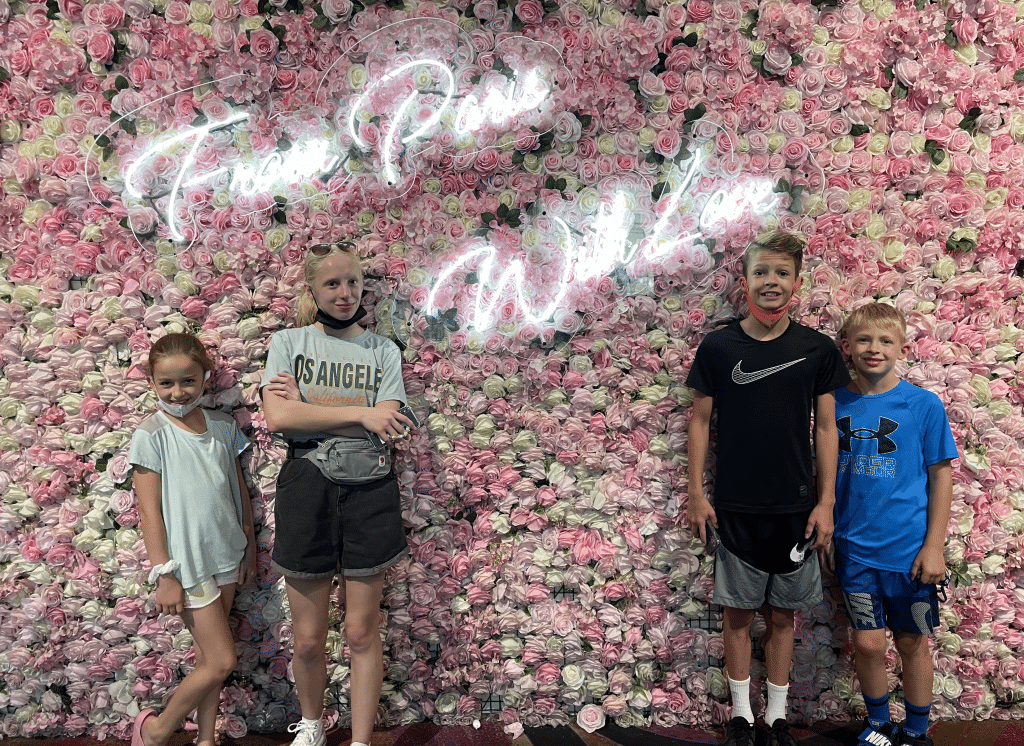 We got some crepes of course! We all loved the fact that it's designed to look like you're walking along a Parisian street. So many pretty things to look at- I think my daughter took a hundred pictures! Such a fun little outing! Someday we'll go see the real thing…
More cookie recipes you'll love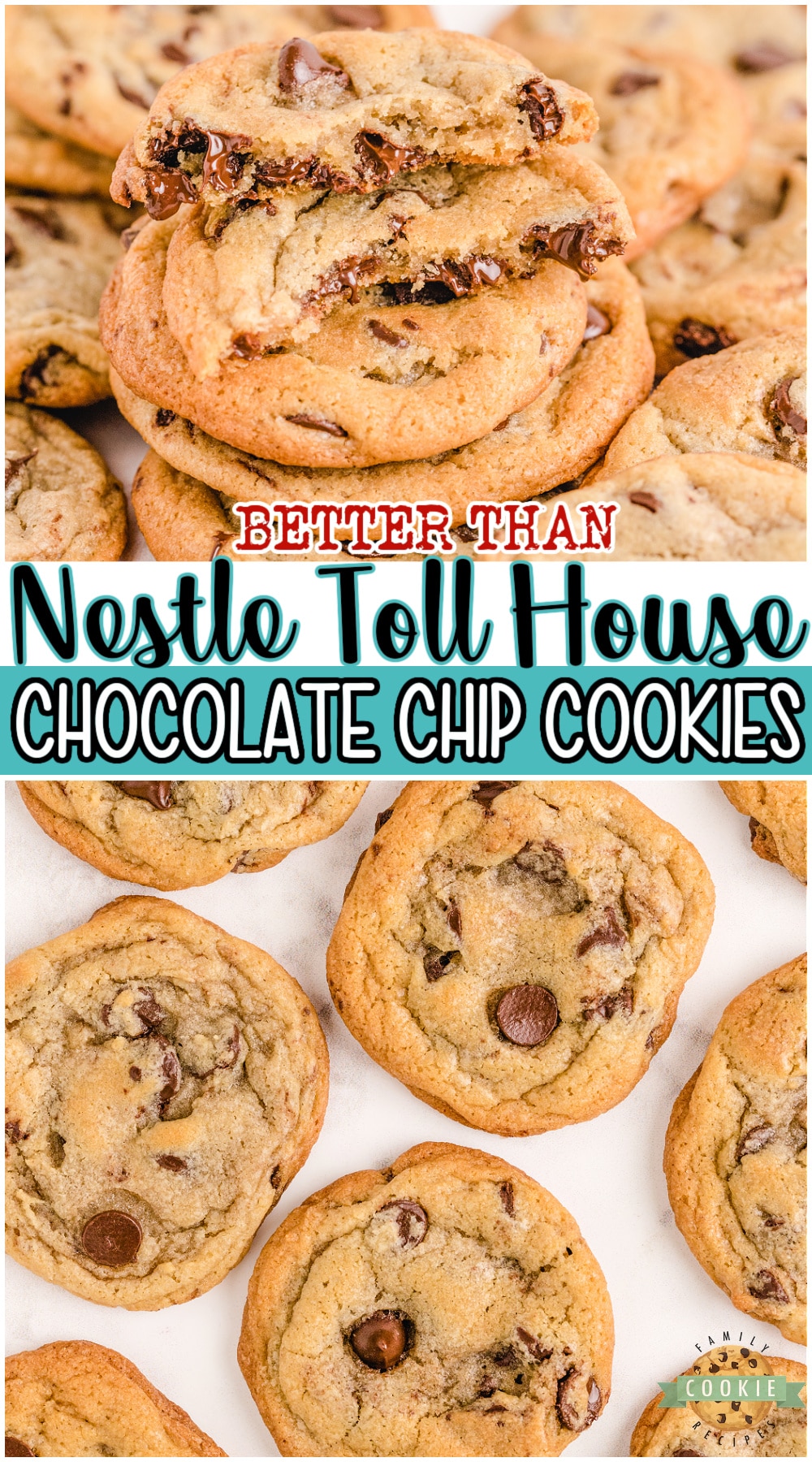 NESTLE TOLL HOUSE COOKIES recipe from the little yellow bag of chocolate chips with a few tweaks to make them even BETTER! Fantastic buttery chocolate chip cookie recipe with perfect flavor & texture.