White chocolate chip macadamia nut cookies made with buttery cookie dough & chock full of white chocolate chips & macadamia nuts! Soft & chewy cookie recipe that everyone loves!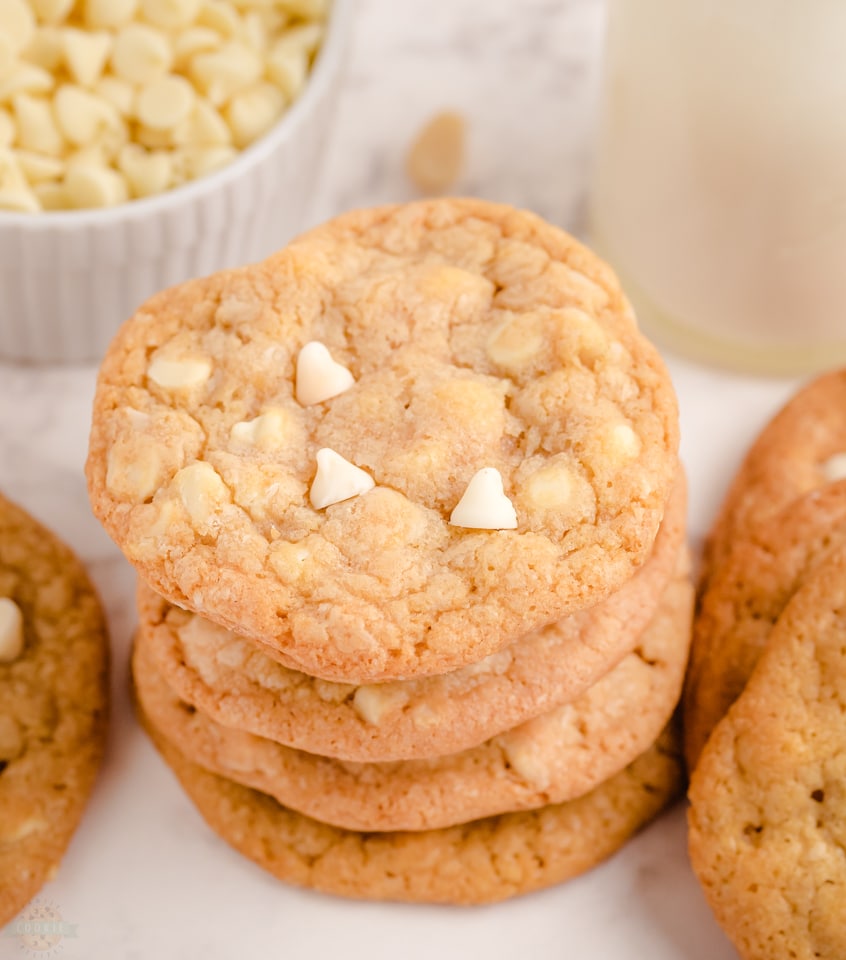 With this copycat cookie recipe, you can have that perfect cookie made fresh in your oven. Warm white chocolate cookies right out of the oven are the perfect snack for pairing with a cold glass of milk, wouldn't you agree?
White Chocolate Chip Cookies
They're a perfectly soft and chewy cookie packed with white chocolate chips and chewy macadamia nuts in every bite. With this recipe, you can bring the iconic Mrs. Fields cookies to your very own oven!
Ingredients for white chocolate macadamia nut cookies
-Flour: We need 2 1/2 cups to be the gluten-filled base of our cookie dough.
-Baking soda: With 1 teaspoon of baking soda we can help these cookies to puff up nicely while baking.
-Salt: Salt is a flavor enhancer and adding 1 teaspoon of salt into the dough will make all of the other flavors tastes wonderful.
-Butter: We will need 1 cup (2 sticks) of softened butter to make sure that the cookies are nice and rich tasting.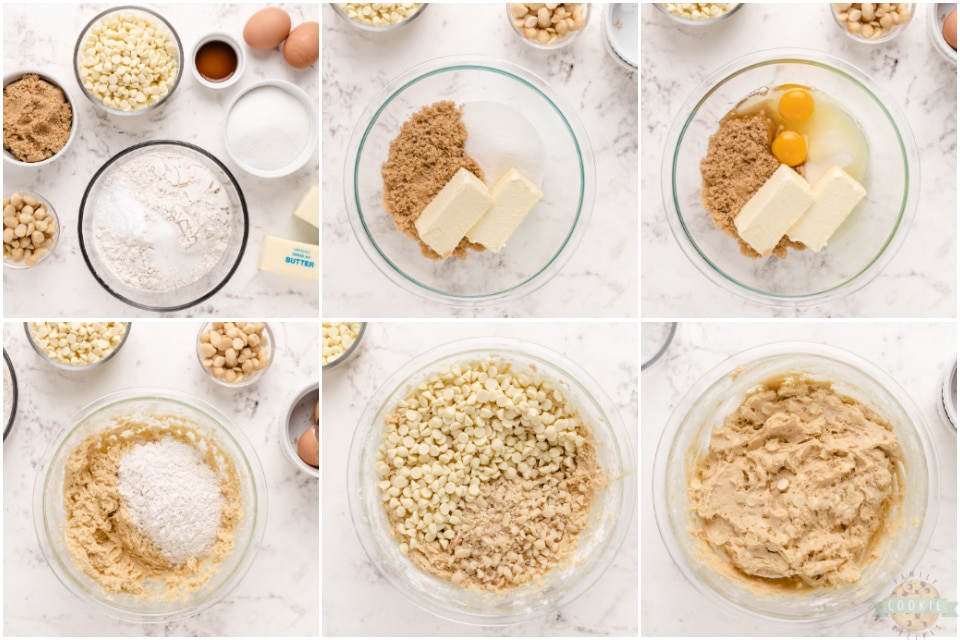 -Sugars: With a combination of 3/4 cups white sugar and 3/4 cups of packed brown sugar we can have sweet and moist cookies with a nice chewy texture.
-Vanilla: 1 1/2 teaspoons of vanilla will make the cookies perfectly flavored.
-Eggs: We want 2 eggs to help bind the cookies together and give us a good texture.
-Macadamia nuts: 1/2 cup of chopped macadamia nuts will go into the cookie dough but we will need more for additional topping.
-White chocolate chips: 2 cups of white chocolate chips will go into the dough but having more for topping will give us a melted chocolate look.
How to make macadamia nut cookies
Mix the flour, baking soda, and salt in a small mixing bowl and set it aside.
In a larger mixing bowl combine the granulated sugar, brown sugar, butter, and eggs.
Add in the vanilla and mix well.
Add in the flour mixture and mix again.
Stir in the nuts and the chocolate chips.
Cover a cookie sheet with parchment paper and use a cookie scoop to drop cookie dough onto the baking sheet. For larger cookies, you can use a 3tbsp scoop and for smaller ones use a 1 1/2 tbsp sized scoop.
Add in a few more white chocolate chips and macadamia nuts to the top of each cookie dough ball before baking.
Bake in an oven set at 350 degrees F. Large cookies will bake in about 12-14 minutes and smaller cookies bake in about 9-11 minutes.
Leave the cookies on the tray for 5 minutes to finish cooking and start cooling enough for easy transfer.
Transfer cookies to a rack to finish cooling completely. Enjoy!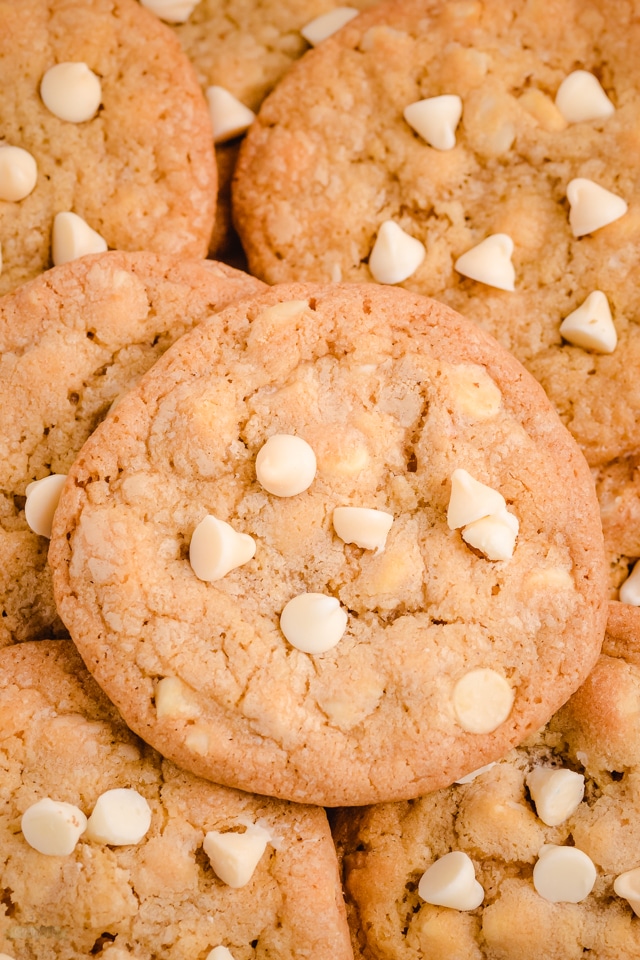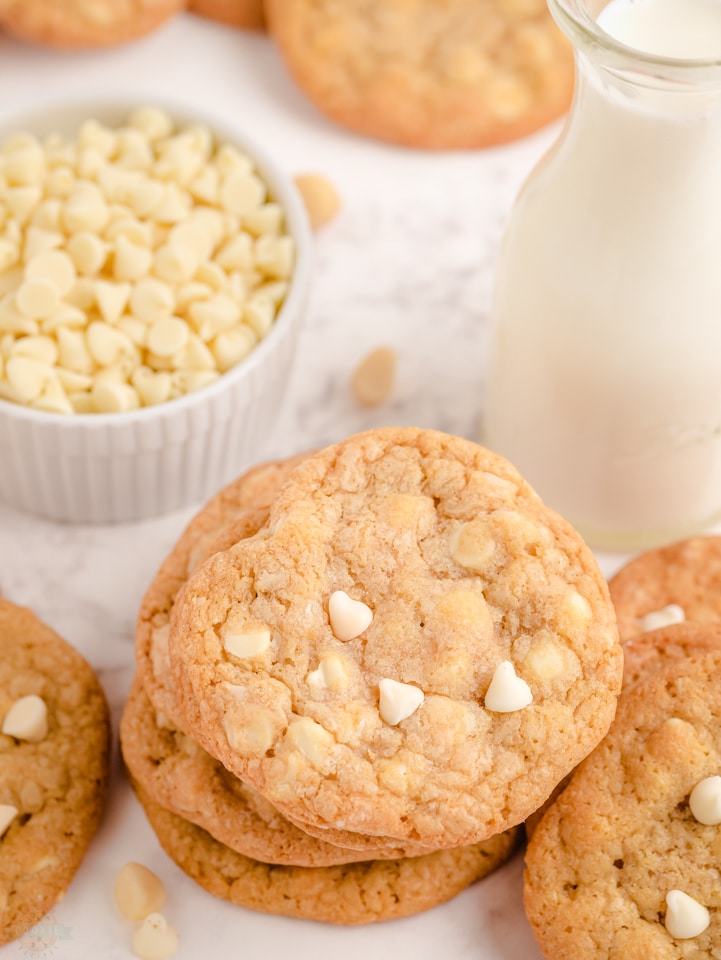 Awesome tips to get the PERFECT Mrs.Fields White Chocolate Chip Cookies:
I like to use 3 special items to help make the perfect cookies. These items not only make the cookies turn out perfectly every time but also help to make my job (as the baker) to be even easier.
1- I use pre-cut parchment paper. This paper comes already sized so I just take a sheet and lay it in my 12×16 cookie sheet with no added hassle. Using parchment paper prevents cookies from overcooking on the bottom and keeps the pan from getting messy.
2- I use my KitchenAid mixer. This does all of the mixing work for me so that I don't have to strain my wrist muscles using a whisk or electric hand mixer. It's fast and easy and thanks to the stand mixer my dough is uniformly mixed.
3- I use a cookie scoop. My cookies turn out much nicer looking and more even in size thanks to a cookie scoop. I highly recommend them as they can come in different sizes and be used for multiple things including scooping cupcake batters and more.
More tasty cookie recipes to try soon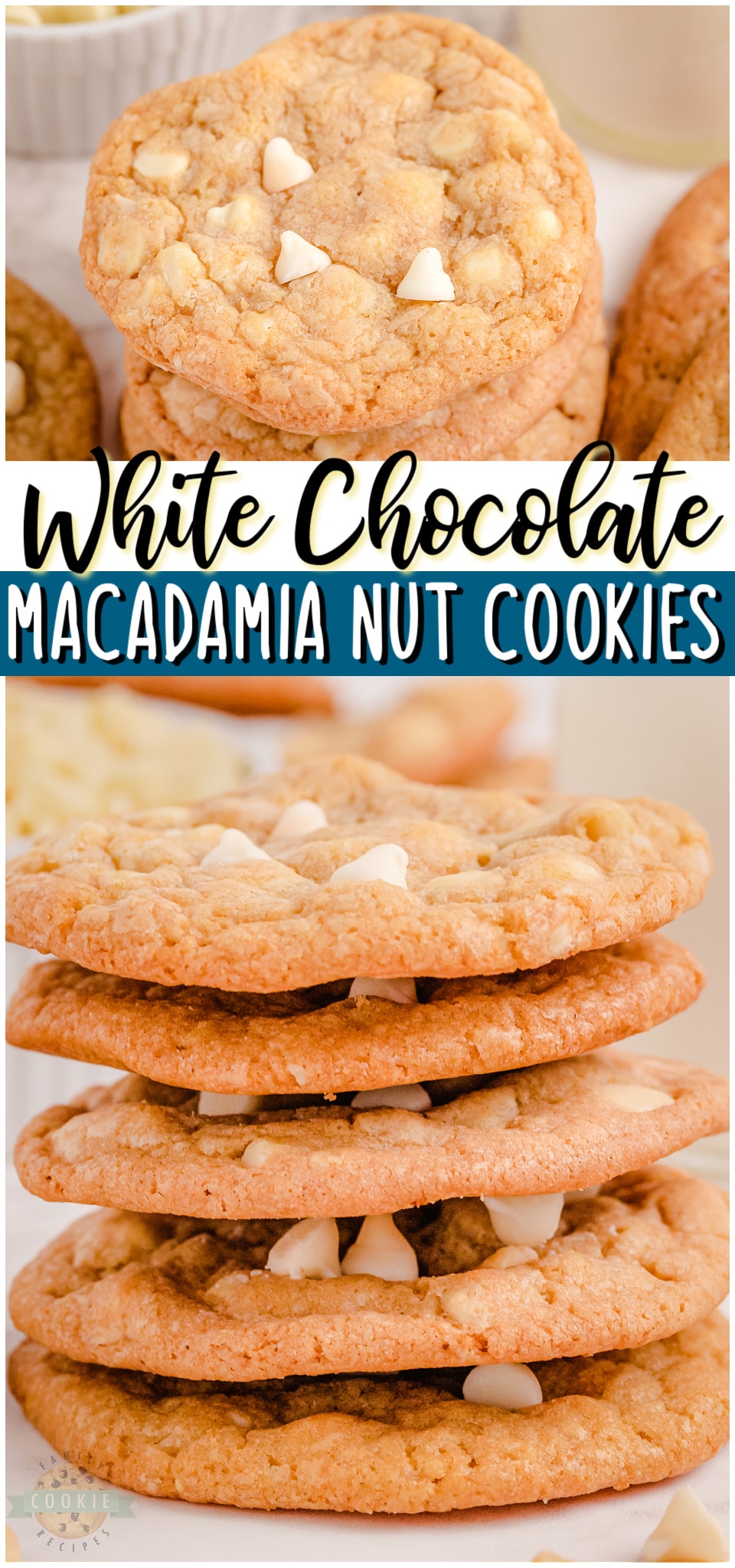 White chocolate chip cookies with macadamia nuts are a tasty treat that everyone can enjoy. With the soft and chewy cookies, buttery nuts and melt in your mouth chocolate chips, each bite is amazing!