Iced Pumpkin Cookies are spiced with cinnamon, nutmeg & vanilla for a soft & sweet pumpkin dessert. These easy pillowy pumpkin cookies iced with smooth vanilla icing are perfect for pumpkin lovers!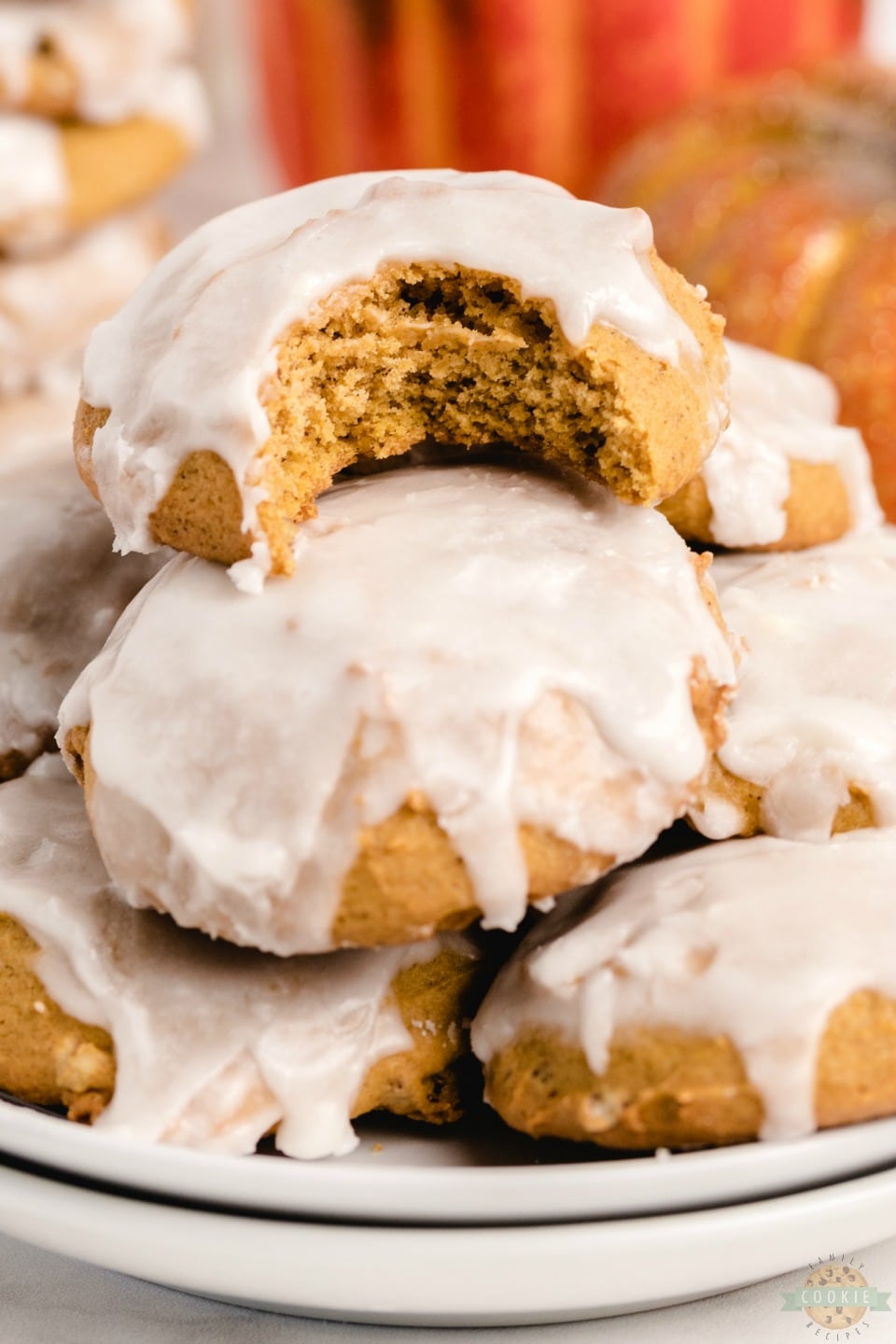 Easy pumpkin desserts with canned pumpkin (or fresh homemade pumpkin puree) are a fantastic way to celebrate Fall. With every bite of this spiced pumpkin cookie, you're going to be filled with the comforting feeling of Autumn.
What Are Pumpkin Cookies?
These pumpkin cookies are a simple drop cookie made with very simple ingredients. Topped off with an easy and fast DIY powdered sugar frosting, these cookies are well spiced and not overly sweet! You're going to love how simple and easy they are to make and fall in love at first bite.
Iced Pumpkin Cookie Ingredients
-Flour: We need 2 1/2 cups of all-purpose flour to create a good gluten-filled base for these cookies.
-Baking Soda: This leavening agent will help the cookies to rise so they're nice and fluffy. We only need 1 teaspoons worth.
-Salt: 1/2 teaspoon of salt will work to help enhance the other flavors in the dough.
-Spices: We need 1 teaspoon of cinnamon and 1/2 teaspoon of nutmeg to get that great comforting fall flavor and aroma that we want.
-Butter: You can use 1/2 cup (one stick) of softened butter or margarine to make these cookies.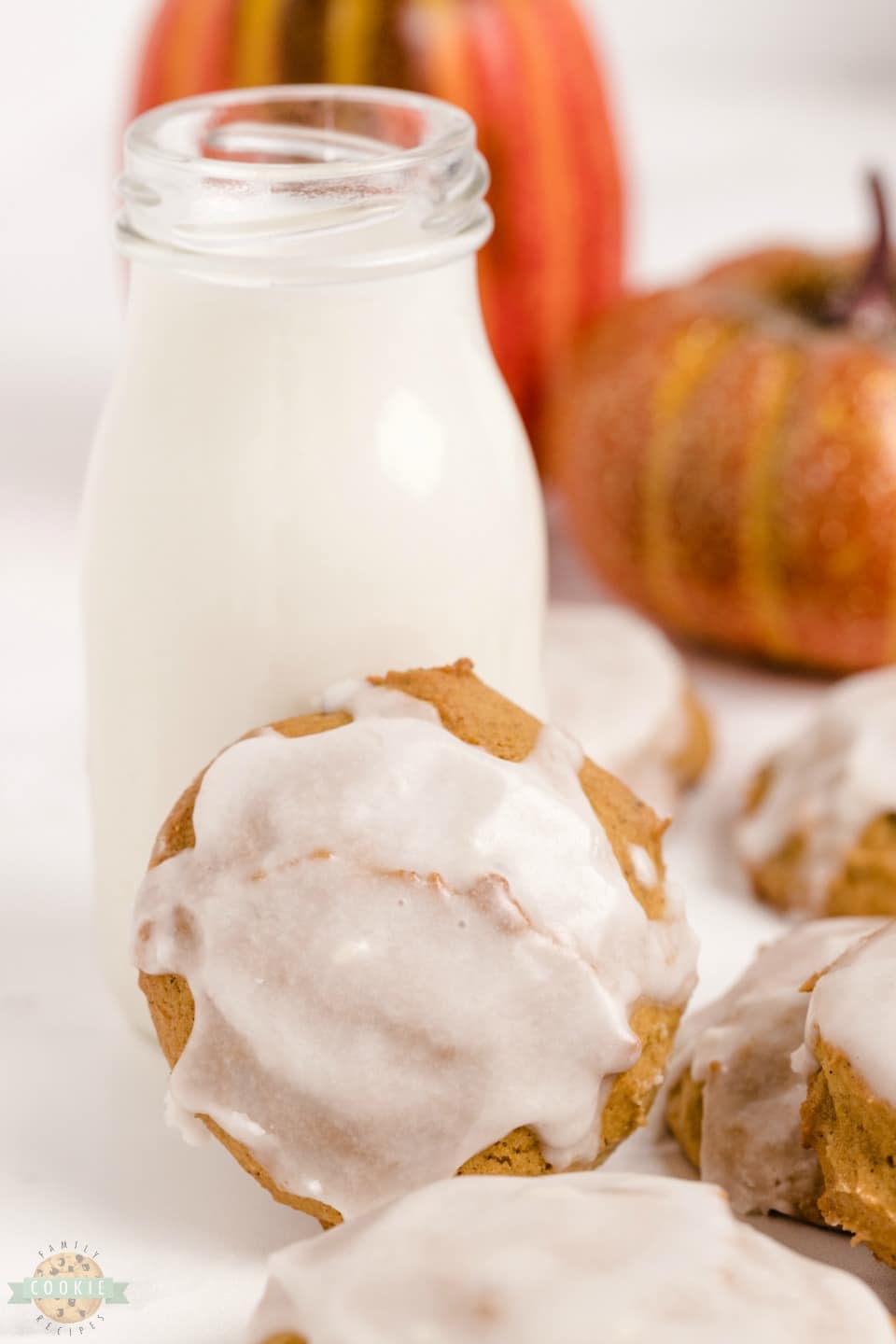 -Sugar: 1 1/2 cups of granulated sugar will give us some deliciously sweet cookies.
-Pumpkin: 1 cup of fresh or canned pumpkin puree will help to give a natural pumpkin flavor and orange color.
-Egg: One egg in this dough will help to bind the cookies together so that they don't crumble and fall apart.
-Vanilla: Vanilla extract will enhance other flavors and create a base for them to branch off of. We need 1 teaspoon of vanilla to do this (I like the higher-quality vanillas, but use what you have on hand).
-Nuts or Chocolate Chips: These are optional add-ins that you can use to create unique cookie flavors.
-Icing Ingredients: Powdered sugar, milk, butter, and vanilla make a simple powdered sugar glaze that will taste great on top of these cookies.
How to Make Pumpkin Cookies
Preheat your oven to 350 degrees F and lightly grease a cookie sheet. Set aside.
In a medium sized bowl, combine the flour, baking soda, salt, cinnamon, and nutmeg. Mix together. Set aside.
In another bowl, mix together the butter, sugar, pumpkin, egg, and vanilla. Add in any of the optional add-ins if desired. This mixture may look lumpy but that's okay.
In 2-3 batches, slowly add the flour mixture to the egg and pumpkin mixture until fully incorporated.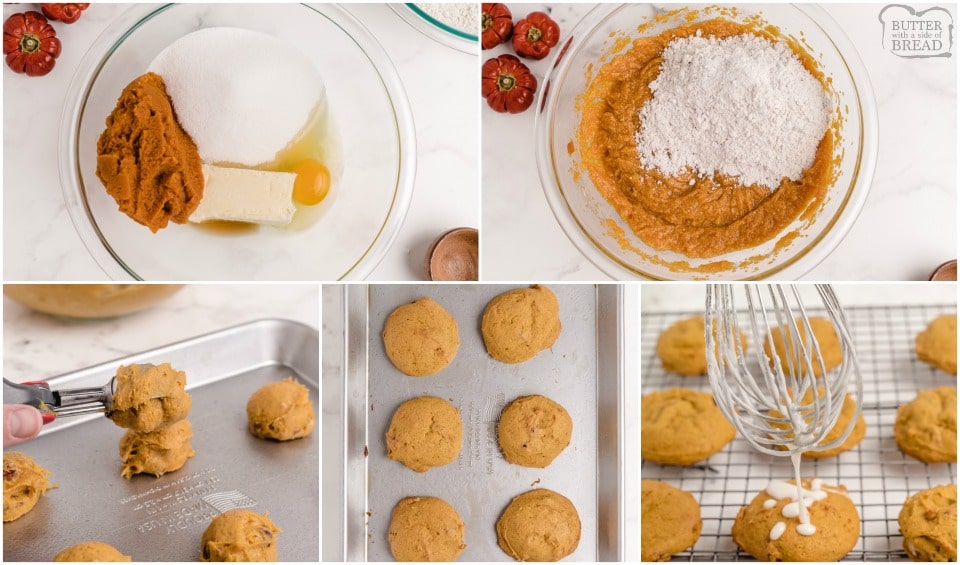 Using a spoon or cookie drop, drop the cookie dough batter onto the prepared baking sheet. Place the cookies at least 2 inches apart.
Bake in the oven for 15 minutes.
Place the baked cookies on a wire cooling rack until cooled and place the wire rack on top of the cookie sheet before adding the glaze. This will help to catch drips.
Make the icing by whisking together all of the ingredients needed in a small bowl until smooth. Add more milk if needed to thin down the consistency into the desired thickness.
Pour over cookies and let cool and set.
Best served with a tall glass of cold milk. Enjoy!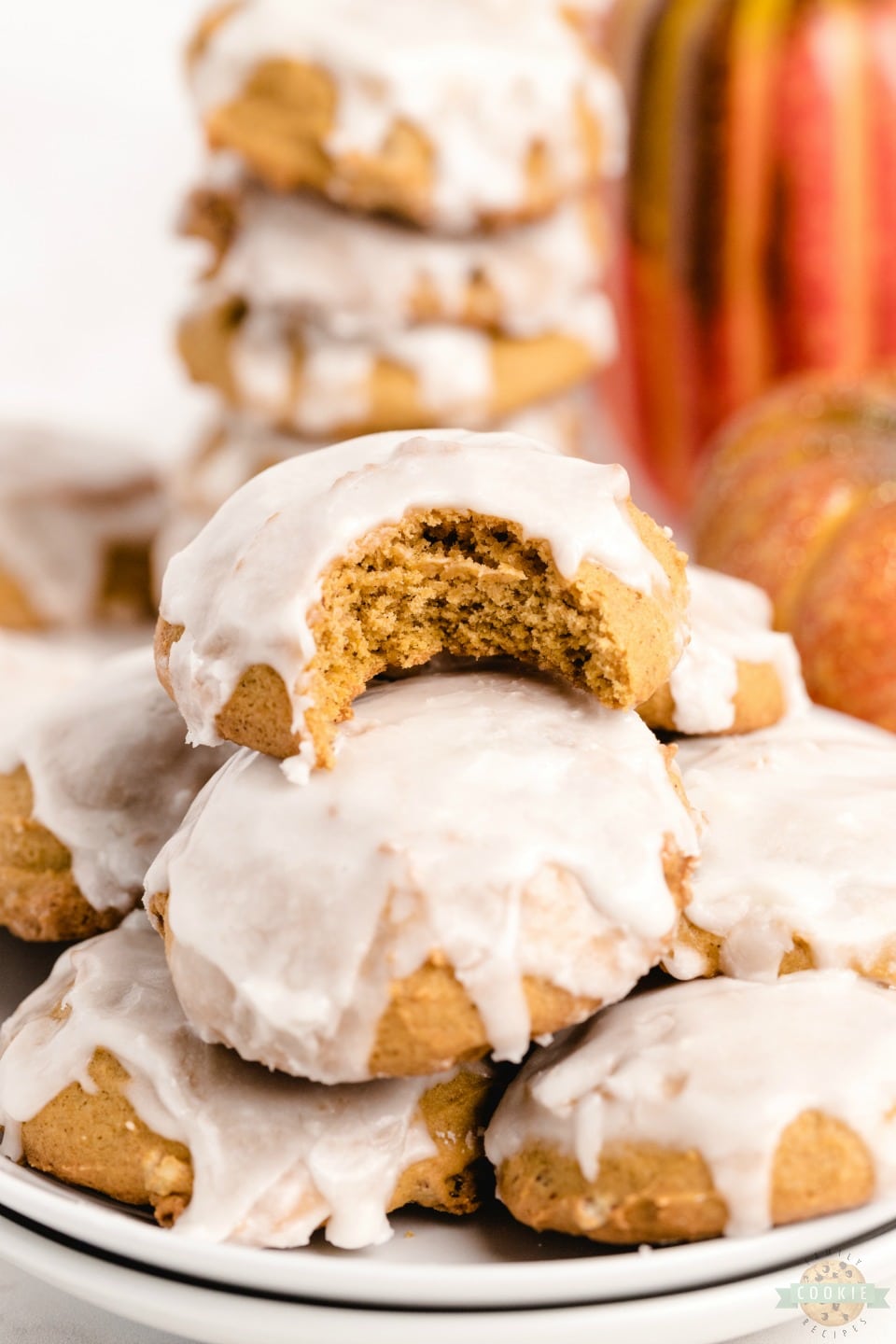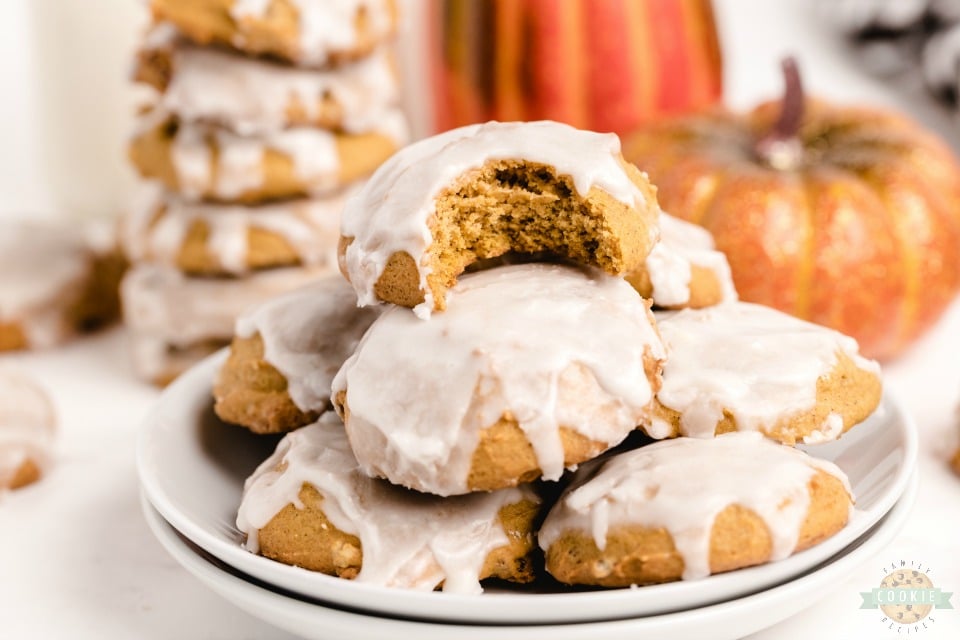 Are Pumpkin Cookies Dairy Free?
No, but they can be. If you want to make these cookies dairy free, simply use a dairy free milk variety and plant based margarine instead of butter. Then these cookies can be dairy free!
How long are pumpkin cookies good for?
After the cookies completely set, place them in an airtight container at room temperature and they can last up to a week and still taste great!
Can I freeze pumpkin cookies?
Absolutely! Simply let the cookies cool and set completely before either flash freezing on a baking sheet or layering in an airtight container with wax paper between each layer to prevent sticking. They can last in the freezer for up to 3 months.
More cookie recipes that you're sure to enjoy!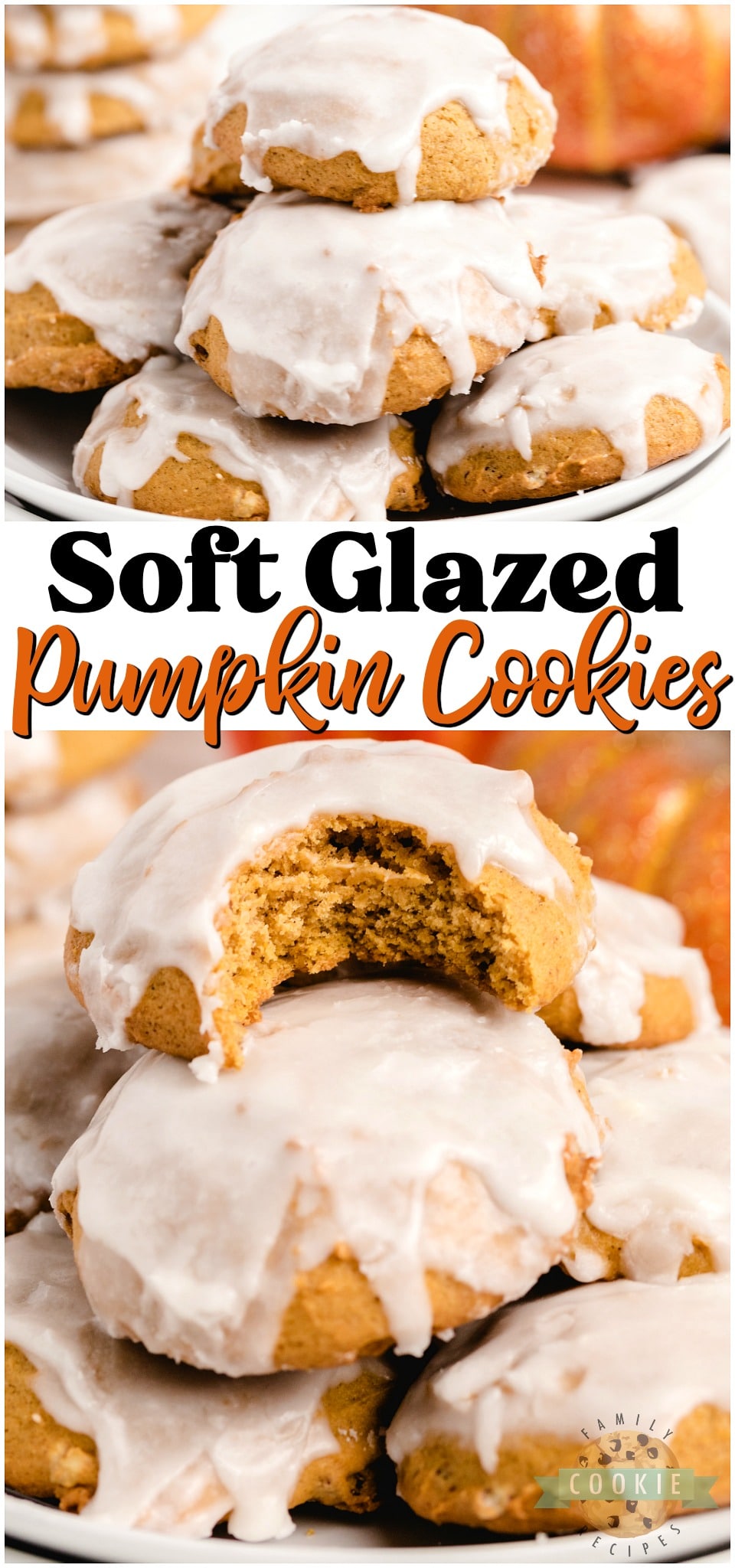 These Iced Pumpkin Cookies are filled with pumpkin puree, cinnamon, nutmeg, and topped with a simple powdered sugar glaze.  You're going to love this simple homemade pumpkin cookie recipe!